Healthy Christmas Cookies make the season just a bit more merrier and a tad lot brighter! Whether you need grain free almond flour treats, classic sweets made with less sugar or even just a bite sized bar or cookie ball, your kitchen will be full of sugar and spice and everything nice!
To round out that holiday cookie platter, don't forget to add some fudgy almond flour brownies, slices of healthy gingerbread loaf and serve it all with a cup of healthy hot chocolate! Tis' the season!
Don't let the season pass you by, by literally passing on every cookie because it doesn't fit into your "diet".
These healthy Christmas cookie recipes are here to get you in the holiday spirit and I am pretty sure Mrs. Claus would agree that these are the best Christmas cookie recipes!
Here you will find over 20 healthy cookie recipes that are sure to please not only your own family, but anyone who needs a low carb, sugar free, gluten free, grain free, keto friendly or optionally vegan treat! Included also, are tips on how to ship holiday cookies for gifting.
What You'll Love These Recipes
Grain free options: Using nutrient dense almond flour in cookies is great for those following a lower carb, gluten sensitive diet.
Always less sugar: Without losing any of the classic holiday cookie taste!
Sugar free alternative: Many recipes can use a sugar free replacement such as granulated (or powdered) erythritol.
Reduced butter: You don't need pounds of butter for any of these cookies or bars, and sometimes you don't even need butter at all because you will be using coconut oil!
Versatile: Make them sugar free, swap dairy butter for dairy free butter etc. Be sure to check each recipe for substitutions.
Freezer friendly: Eat some healthy Christmas cookies now and then save some for later.
Best Almond Flour Christmas Cookies
It's no secret, I love baking with wholesome almond flour! It replicates all-purpose flour in many baked goods recipes and creates a tender cookie with a chewy bite.
Follow my tried and tested almond flour cookie recipes and you will end up with delicious treats that are not flat or dense, but buttery and crispy just like holiday cookies should be.
Filled with jam or jelly of choice, these grain free almond flour thumbprint cookies are a favorite around the world! Called hallongrotta in Sweden, they are filled with raspberry jam, in Poland they call them Polish tea cakes and yet in other parts of the world they are called birds nest cookies. Regardless, these are the one of the best Christmas cookie recipes in my opinion.
A perfectly sweet, buttery treat, shortbread cookies with almond flour are the perfect pairing for a cup of hot tea! Make these cookies sugar free, dip them in chocolate and be sure to make an extra batch for the freezer because they are irresistible.
A classic cookie makeover with almond flour! Chewy inside, crisp outside and no one will believe these chocolate chip cookies are grain free and use less butter and sugar.
When you want that warm out of the oven cookie treat sooner rather than later, skillet cookie to the rescue! Made in a cast iron skillet, pop this cookie in the oven while you eat dinner, then enjoy an after dinner dessert that will make you feel like you are in a restaurant!
A classic holiday cookie recipe, cinnamon and sugar snickerdoodless are naturally gluten free made with almond flour! Soft in the middle with that classic crispy edge, no one will even guess that these are healthy! Still need more cinnamon sugar taste? Make almond flour cinnamon bread next.
Craving a chocolate chip cookie but don't want to turn on the oven? Healthy edible chocolate chip cookie dough is here for you! This recipe is both gluten free and vegan, made with almond flour, oat flour, coconut oil and maple syrup.
Festive and bright, oatmeal cranberry cookies with orange zest will fill your kitchen with the most amazing scent! These healthy Christmas cookies ensure your season is merry and bright.
A classic Christmas cut out made into a healthy holiday cookie recipe! No need to skip decorating cookies with the family this year, these grain free almond flour cookies can also be made sugar free.
Classic meltaway cookies are one of the best Christmas cookie recipes with walnuts, powdered sugar and butter. Bet you can't eat just one of these bite sized holiday goodies.
Peanut butter lovers, rejoice! This Healthy Peanut Butter Cookies recipe is for you. With minimal ingredients and nutty taste, these are perfect for keeping to yourself or gifting to friends.
Healthy Lemon Cookies are light and delicate! Perfect for gifting and will brighten anyone's day. Made with almond flour and suitable for any gluten free family or friends.
Less Sugar Healthy Cookie Recipes
Healthy cookie recipes with less sugar are possible! These whole grain cookies may have reduced sugar, but as the reviews will show you they bring on all the classic taste that you crave at the holidays. Be sure to check each one of the healthy Christmas cookie recipes, as some can even be made into sugar free holiday cookies.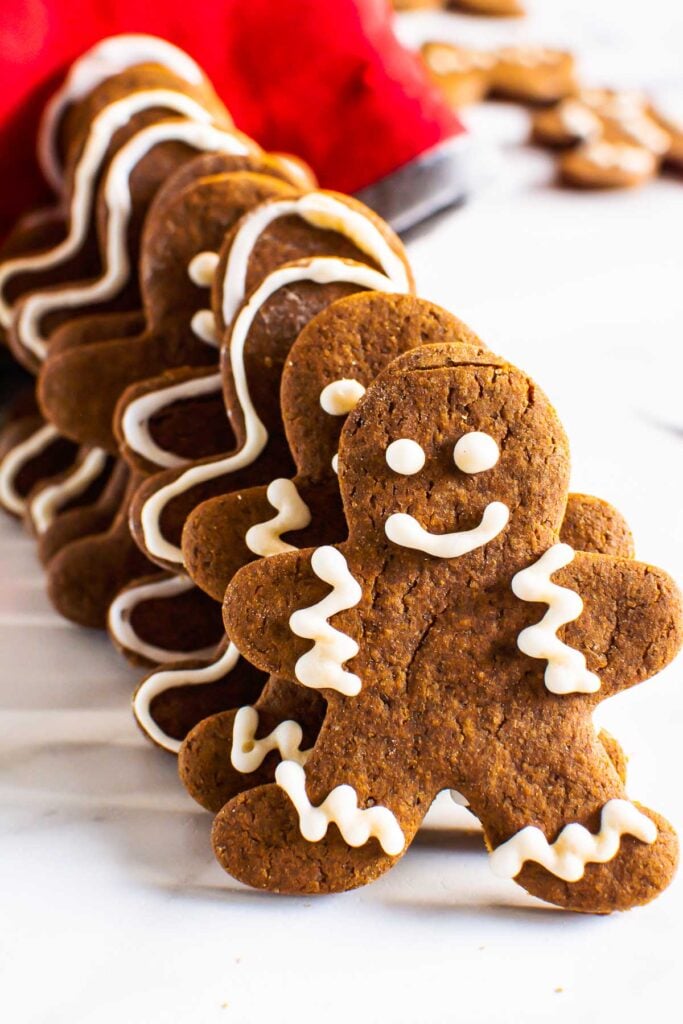 The cutest gingerbread men I ever did see! Filled with warming spices, classic molasses taste and a combination of whole wheat and all purpose flour, get ready to have some family fun decorating these gingerbread cookies!
Soft and chewy gingersnap cookies not only use less sugar but are also whole wheat and dairy free! Filled with the classic flavors of ginger and cinnamon, no one can resist sneaking one of these off Santa's cookie plate.
Oat cookies filled with dark chocolate chips are ready in 30 minutes and perfect for an afternoon pick me up after a long day of holiday activities. No artificial flavors or ingredients in these oatmeal cookies make them one of the most perfect healthy cookie recipes you will make!
When you need a fiber filled energy pick me up, these sugar free oatmeal cookies will become your new go-to! These cookies contain no added sugar, relying only on the sweet taste of bananas. Also, called trail mix cookies, they contain oats, nuts and seeds, coconut oil and dried fruit.
Pumpkin is not only for healthy Thanksgiving recipes, but for all winter season long! Made with oats, whole wheat flour and pumpkin spice, no one can resist a bite of these chewy cookies.
Chocolate chip cookies made with whole grain flour, less butter, less sugar and no one will be the wiser. My family calls these classic and yours will too!
The perfect Christmas cookies to send in the kids lunchboxes (or adults, who are we kidding!). Wholesome ingredients of oats, oat flour and more make these Healthy Banana Oatmeal Cookies naturally gluten free, plus egg free and dairy free optional.
Best Christmas Cookie Bars and Balls
Sometimes it's just easier to make a pan of cookie bars or a bite sized ball perfect for popping into your mouth! These heathy Christmas 'cookies' may be more square than round or even a ball shape, but that doesn't make them any less delicious for enjoying at the holidays.
Ooey-gooey with classic pecan pie taste but made a bit more easier in a bar shape! This pecan pie is also feel good with no refined sugar, no gluten and no dairy and yet no one will be able to tell when they take a bite. Perfect for any healthy Christmas cookies platter, tray or gifting box!
With only 8 ingredients and no oven required, these oat bars are made with peanut butter, almonds, oats and coconut flakes. Top them with a chocolate ganache for that classic irresistible peanut butter chocolate combo! You may also want to try this no bake peanut butter pie!
Truffle like in nature, these rum balls may be healthier, but no one can tell as they pop one or two into their mouth! Decadent, fudgy with the classic bourbon taste, this is one of the best Christmas 'cookie' recipes!
A guilt free holiday 'cookie' recipe, these bite sized treats are a healthy version of a homemade mounds bar! Made with only 5 ingredients and naturally vegan, store these cookie balls in the refrigerator or freezer for a chocolate fix whenever the mood strikes.
Healthy Cookie Recipes Baking Staples
Below is a list of the most common ingredients you will find in my kitchen during holiday baking season!
Before starting your cookie extravaganza, check each baking ingredient you have in the pantry to determine whether it is expired or you need to buy fresh. Most products, flour and baking powder included, have a shelf life!
Almond flour: High protein and wholesome, almond flour works best in most healthier cookie recipes.
Whole wheat (or spelt) flour: Better source of fiber and nutrients compared to bleached white flour.
Oats or Oat flour: Oats add texture and nutrients to cookies and oat flour contains iron and calcium. Make your own budget friendly oat flour by grinding oats, easy peasy!
Organic cane sugar: Is unrefined and grown without the pesticides found in non organic sugarcane.
Erthyritol (granulated and powdered): I find this sugar free replacement does not leave any odd aftertaste.
Powdered sugar: A staple for icing cookies, this is just granulated sugar blended into a powder.
Coconut oil: When used in cookies, it creates a crisp result, as well as is naturally vegan.
Pure vanilla extract: For best cookie or baked goods results, avoid imitation vanilla.
Baking powder/soda: Leavening agents that give cookies a light and fluffy texture.
Salt: Enhances the taste of the other ingredients in recipes.
Warm spices: Such as cinnamon, nutmeg, ginger etc. – the flavors of the holidays.
Chocolate chips: Dark, semi-sweet, milk or even sugar free.
Nuts and seeds: Walnuts, pecans or hazelnuts add crunch or go nut free with sunflower seeds/pepitas.
Unsulfured molasses: A must for any proper gingerbread treat.
Variety of sprinkles/cookie decorations: Adds a festive look to healthy Christmas cookies! Use your favorite brand.
And that's just shelf stable items! Cold items I always have in my refrigerator include maple syrup, butter, eggs, fresh cranberries and jam!
How to Ship Holiday Cookies For Gifting
Most of these healthy holiday cookies are able to be shipped which makes a fun and thoughtful gift at Christmas! Items you will need to to ship cookies:
Plastic wrap
Airtight container
Box
Packing supplies (tissue wrap, foam peanuts or bubble wrap)
Packing tape
A black marker to indicate 'fragile' on box
For most recipes, let cookies sit for a day to dry out slightly and hold their shape better during shipping. Next, place 2 cookies back to back then wrap with plastic. Place in an airtight container with a slice of bread to absorb moisture.
Add your container to a shipping box, then 'pad' them so they don't jostle around. Be sure to write "fragile" on the top of the box. Ship anywhere where they will arrive in 3-5 days. Any longer and your cookies may be spoiled when they reach their destination!
Also, be aware some cookies may not ship as well, be sure to check each recipe to determine whether or not it is "hippable' or if you need to modify it slightly for shipping, i.e. shortbread cookies are best to ship when they are not dipped in chocolate.
21 Healthy Christmas Cookies: Sugar Cookies
Healthy Sugar Cookies made with almond flour and cane sugar are light and buttery and naturally gluten free! Optionally, make these holiday cookies sugar free to suit any dietary preference.
Ingredients
Icing and sprinkles (optional)
Instructions
In a large bowl, add almond flour and baking soda. Whisk and set aside.

In another large bowl, cream with electric mixer butter and sugar.

Add eggs and vanilla extract, beat until just combined.

Add flour mixture and stir with spatula until a ball of dough forms. Dough will be on a wet side.

Divide dough into two balls, flatten into discs, place on two separate sheets of plastic wrap, wrap and chill in refrigerator for 2 hours or in the freezer for 1 hour.

Preheat oven to 350 degrees F and line two large baking sheets with unbleached parchment paper or silicone baking mats. Set aside.

Remove chilled dough from the fridge (or freezer) and unwrap. If very hard, let it warm up on the counter for 5 minutes. Dust the surface and rolling pin with all-purpose flour or coconut flour (for gluten free). You will need quite a bit as this dough is wet. Roll the dough 1/3 inch thick – a bit thicker than for regular cookies because this dough is delicate.

Using your favorite cookie cutters, cut out cookies and transfer to previously prepared baking sheet (loosening with small spatula if necessary), leaving 2 inches in between. These cookies spread a bit. Combine the dough scraps into a ball, roll it out, cut out cookies and repeat until you run out of dough. Repeat the same step with the second disc of dough.

Bake for 12 minutes. Remove them from the oven before visible browning and edges start to brown. You do not want that with sugar cookies – they should be of light color. Remove from the oven and let them cool off first on a baking tray for 15 minutes, then transfer onto a cooling rack to cool off completely.
To decorate cookies (optional)
In a small bowl, add icing sugar and water; whisk until smooth and no lumps.

Transfer to a sandwich size resealable bag, push to one corner, twist bag on top and cut a small hole at the tip.

Decorate cookies as you wish by pushing icing through the hole. Pipe the outline of the shape of a cookie, fill in the middle and push around with small spatula or tip of piping bag to cover completely.

To add sprinkles, place a few cookies while icing is still wet in a large bowl with edges, sprinkle with sprinkles, shake off excess and transfer onto flat surface to dry. You can transfer remaining sprinkles back into the bottle when done.

Let icing dry and it will harden and set within a couple of hours. Do not stack them until then.
Notes
Store: Store in an airtight container for up to 1 week or freeze for up to 6 months.
Flour substitutions? Unfortunately not with this recipe. You have to use only fine or super fine blanched almond flour.
Measure flour correctly: Spoon flour into a measuring cup or dunk it into a bag with flour, then level it off. This ensures cookies that are light and fluffy not dense.
Can I make cookies sugar-free? Yes, you can replace sugar with erythritol or monk fruit extract (has to be only dry sweetener). And if making icing,

you can use powdered erythritol or monk fruit.

What is softened butter? Do not confuse softened butter with melted butter. Melted butter will not work in this recipe – baking is a science.
Making 100% gluten free cookies: Use coconut flour for dusting the rolling pin and surface as it absorbs moisture well.
Do not overbake cookies: They should be of light color.
Nutrition
Serving:
1
cookie (with cane sugar)
|
Calories:
159
kcal
|
Carbohydrates:
12
g
|
Protein:
3
g
|
Fat:
12
g
|
Saturated Fat:
3
g
|
Trans Fat:
1
g
|
Cholesterol:
22
mg
|
Sodium:
149
mg
|
Fiber:
2
g
|
Sugar:
9
g