Frozen Avocado is diced avocado that is frozen when it turns ripe. These frozen avocado chunks are popping up in grocery stores, can be used in a variety of recipes and is a great way to be able to make guacamole on a whim.
Learn how to thaw avocado from the freezer, what the texture of 'frozen' guacamole looks like, tastes like and discover other ways to use it.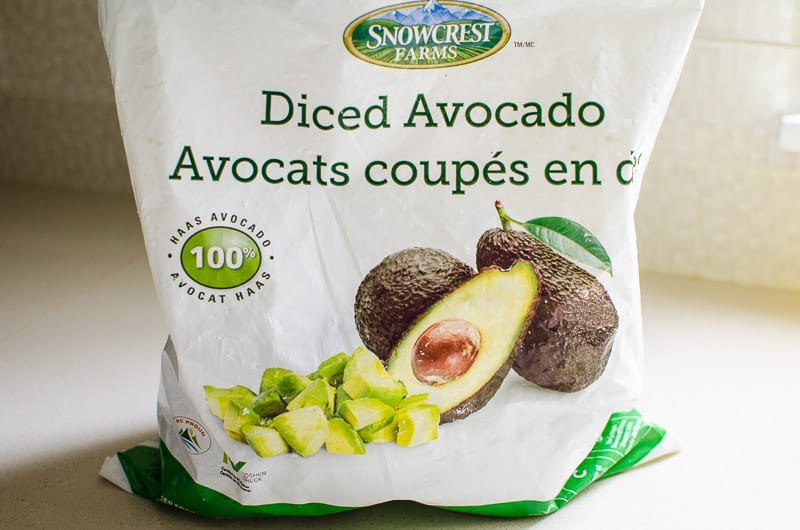 Frozen Avocado
When I first saw frozen avocado chunks at Costco, my initial reaction was "This is weird". I think due to the fact that avocado browns so quickly once cut open. But the price was good (around $10 for a few lbs) and in an attempt to nourish my family's bodies with healthy fats as easy as possible, I grabbed a bag.
"What the heck, how bad could it be?! It's a fruit at the end of the day, I always buy frozen fruit!"
Frozen chunks of avocado are "washed, peeled, diced and ready to use". That's their beauty! I thought I can have guacamole any time now. It's perfect!
No more hunting stores not for a brick hard or mushy ready for compost avocado, but for perfectly ripe avocado I need ASAP, like an hour ago. No more waiting 3-4 days for an avocado to ripen. No more brown avocados in the garbage. No more guacamole with brownish spots I have to explain to the kids. No more "disappearing" avocado – you know that avocado you have been waiting for 3 days, just to find out your husband turned it into an avocado toast earlier that morning?!
Perfect!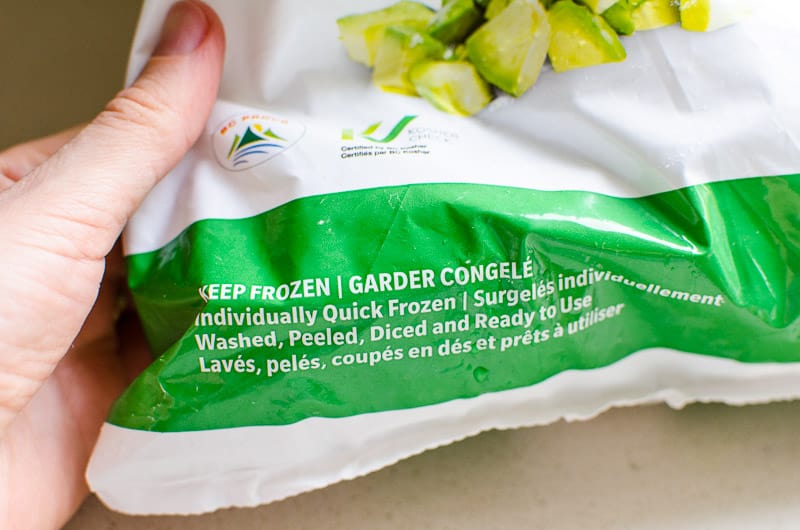 Why Frozen Avocado Guacamole Works?
Avocado is always ready to use.
No need to wash, peel or dice (although if you follow these steps, your fresh ripe avocado is ready to use within minutes!)
When you add salt and garlic, making guacamole with avocado that is frozen tastes almost as good as fresh!
If you are a regular smoothie drinker, having a bag on hand in the freezer is a great way to amp up your smoothie nutritional content.
Making Guacamole with Frozen Avocado
How to Thaw
First, you have to thaw the avocado chunks. For about an hour on the counter. I wouldn't microwave it. You just have to plan 1 hour ahead but hey, that's better than 4 days, right?!
I repeat: don't microwave it, it does not taste good and results in an odd texture.
It looks completely "normal" once thawed due to the addition of citric acid added when frozen (this is akin to squirting your fresh avocado with lemon or lime juice to retain color).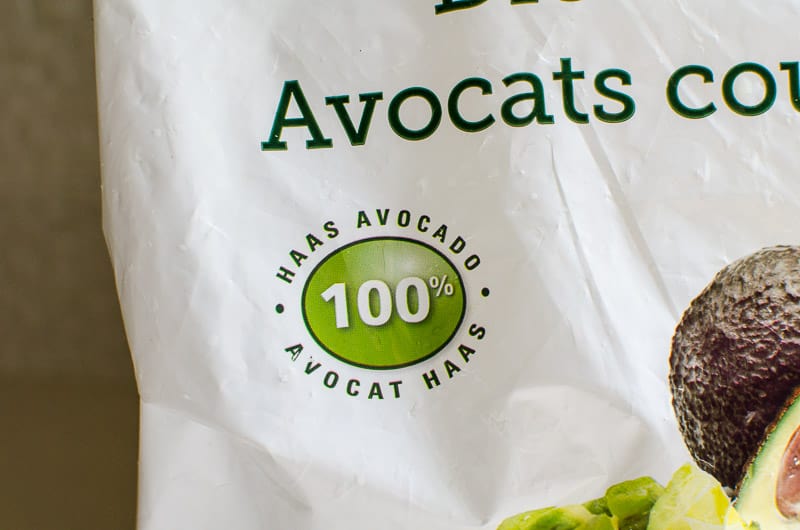 Texture
I think it's important to buy Haas avocado which is the best kind. It mashed very easily, just like perfectly ripe avocado. Like with any frozen fruit, some kinds and brands can freeze under ripe avocados (I made a fair share of smoothies with green mango and sour pineapple), so if that's the problem you run in, try another brand.
Guacamole
Here is our guacamole recipe we like – mashed avocado with some chunks, cilantro, garlic, salt and pepper. Basic, easy, simple and the best! There are so many variations of guacamole, do what you usually do with yours. Although don't try salsa guacamole with frozen avocado, that didn't taste good. You may like to try it in Greek yogurt guacamole!
Once cilantro, garlic and salt "met" thawed avocado for guacamole, it tasted 90% normal (but I'm a biased Ukrainian who thinks garlic makes everything taste better). It also didn't brown much and leftovers stayed quite normal green colour for 36 hours. Sign me up!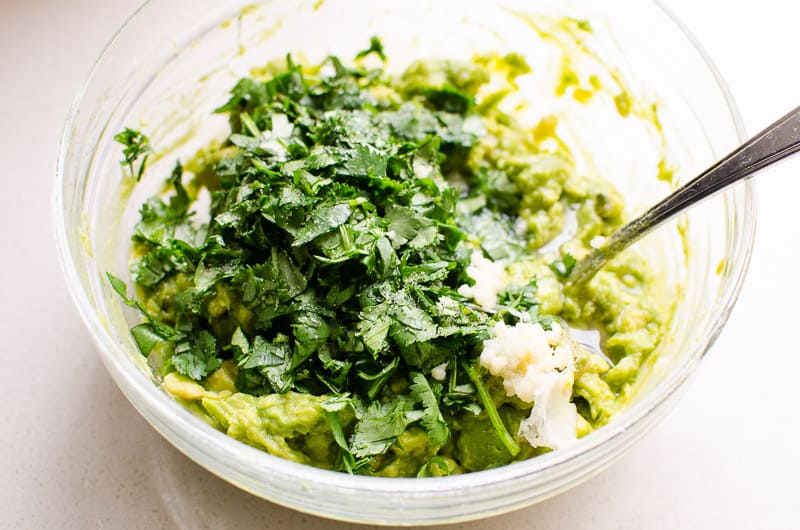 My Frozen Avocado Review
Thawed frozen chunks of avocado taste a little bit different than fresh. Their texture is smoother and more oily. There is a bit of an after taste. So, I wouldn't eat them on their own. I also tried adding frozen avocado to a vegetable soup and that wasn't a "wow" experience either. I think they would be good in smoothies (if you like avocado in a smoothie), salads (if you like it mashed into salad), desserts (like an avocado pudding or milkshake) and any other dishes with a strong spice and herbs presence. Using it on avocado toast is another way we have heard it works, of course, only when you add some seasoning or hot sauce as well. Seems like the best use of avocado that is frozen is to use it when you are able to mask that your avocado has been frozen.
I will definitely keep a bag of freezer avocado on hand to make guacamole for an unexpected company on a Friday night (when you are just too tired to cook any fancy appy, and don't want to eat junk) and for hot summer days.
Have you ever tried frozen avocado?
FAQs
Can mashed avocado be frozen?
Yes, it can for 4 – 6 months. Similar to frozen chunks or slices, texture might adjust after thawed and you may want to add a touch of lime or lemon to retain color.
Where can I buy frozen avocado?
This fruit is popping up in a lot of store to purchase these days! You can find it near the frozen fruit. I bought mine at Costco, so can only speak to how Costco brand can be used. Other brands now carrying avocado that is frozen include Welch's and Dole. Store brands I have heard of are Aldi's and Walmart Great Value.
How do you freeze avocado?
It's easy to freeze, just slice, dice or chunk your fresh ripe avocado (use our easy cutting method) and brush lightly with citrus. Wrap in freezer safe plastic and store in a resealable bag.
How to defrost frozen avocado?
Thaw on a plate or bowl on the countertop for an hour. Another method may be to place in a bowl of water overnight in the refrigerator, I have not tried that method.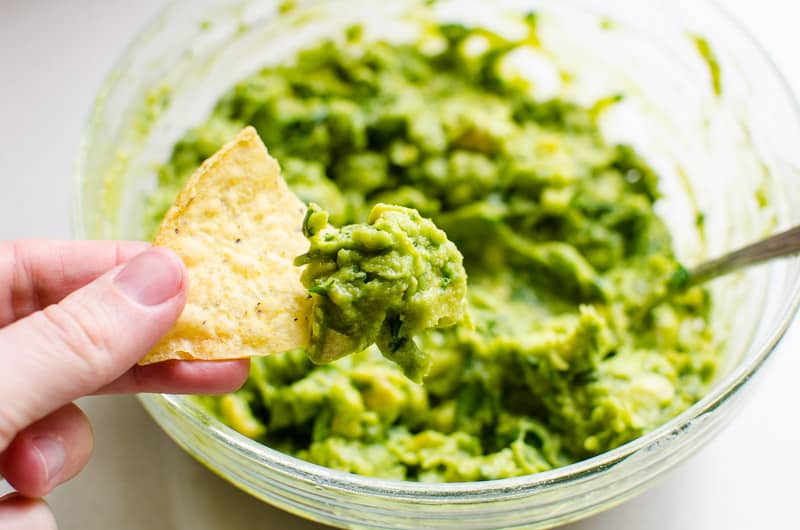 More Avocado Recipes to Try