Chicken quinoa bowls with quinoa, kale, chili chicken, mango, black beans, cilantro, jalapeños, and creamy Cilantro Avocado Dressing. Customizable to each family member's preference which is perfect for any family, especially with kids (haha, we all can talk about this one for hours).
This high-protein, fully-loaded quinoa bowl is just one of several meals we love to make, including this one-pot chicken and quinoa, ground turkey quinoa casserole, shrimp and quinoa with asparagus, or meat-free parmesan pumpkin and spinach quinoa.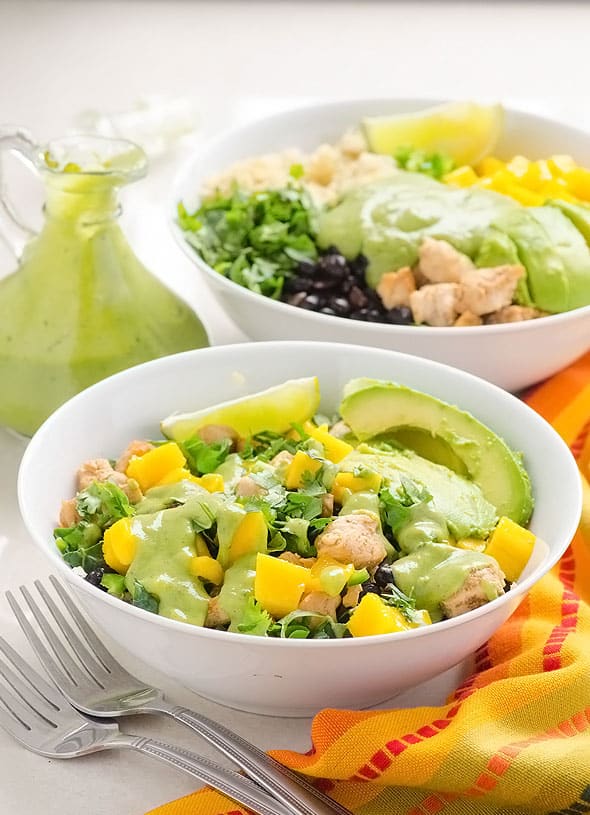 Last week me and Alex had this conversation while walking, how we like to cook one pot or pan meals where you throw everything together and stir. And how much we love easy shrimp tacos, black bean zucchini burger, Instant Pot chicken burritos and zucchini noodle bowls but do not make them often at home. And I feel like we are missing out.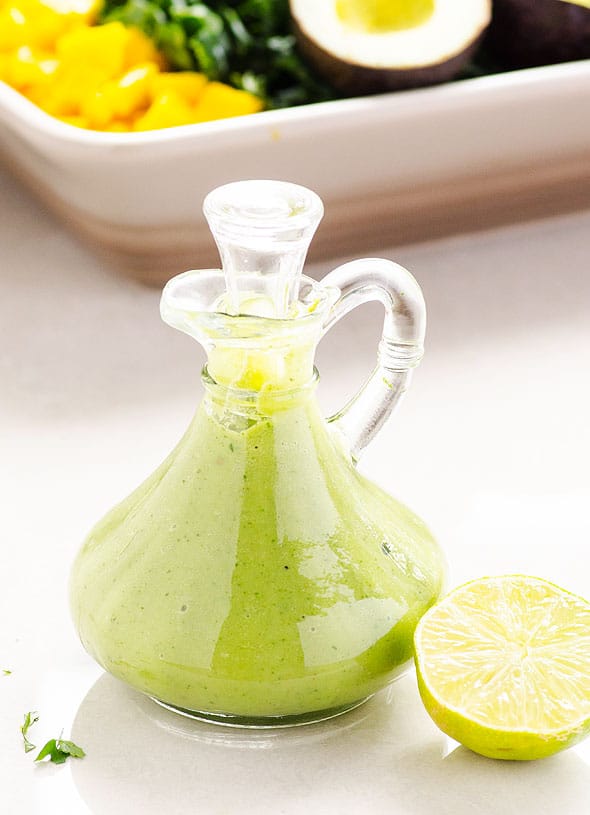 I just do not like to dirty many bowls, wrap them with plastic, put them in the fridge. Another problem is I cook mainly during the day so everything has to be refrigerated and reheated for dinner. Then for leftovers, everything is separated again and I have to re-open bowls and remake the meal again. So much work, it drives me crazy.
But because all of us love all the above-mentioned dishes I decided to re-invent the way I serve them.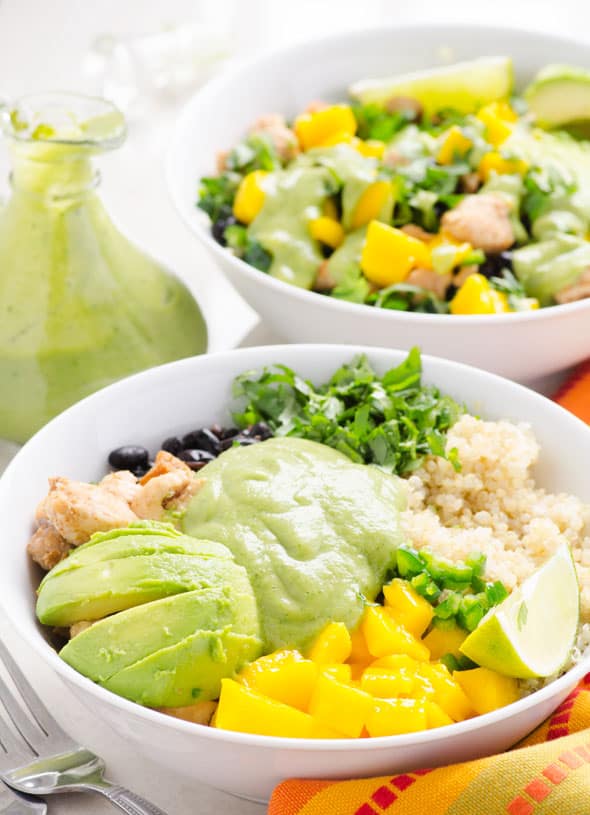 I grabbed large baking dish I use for making casseroles and added all ingredients to it as I was chopping. Smaller items went into smaller bowls on top. Then I covered everything with one large piece of plastic wrap and refrigerated. For dinner, I placed it in the middle of the kitchen table along with Cilantro Avocado Dressing and pot of quinoa. Voila! All was left to do was to remove the plastic wrap. This method worked really well and you might have been using it forever which makes you very smart.
The combination of chicken, mango, avocado, black beans, and kale with high-protein quinoa is delicious. Its a healthy salad but also a full meal – like this Mediterranean quinoa salad, Southwest quinoa salad, or quinoa black bean salad!
Plus, I love the combination of sweet and savory- especially with creamy mango. It's why I have a mango salsa, and mango black bean salad, and mango slaw!
m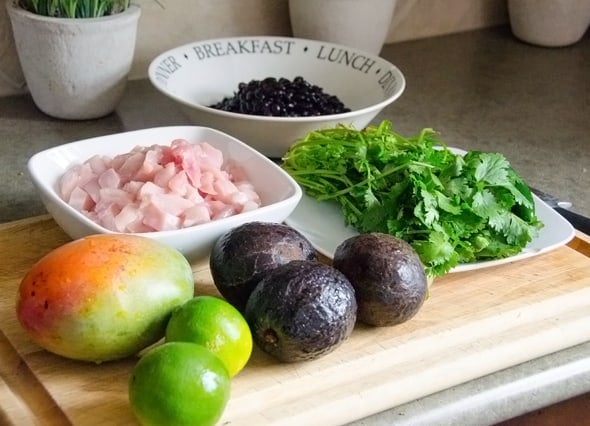 Kids grabbed what they wanted, nobody was whining they don't like kale or cilantro, and I didn't hear "It's spicy". Everyone loved dinner. Great! Stay tuned for more of these kind of recipes.
I recently discovered my kids enjoy black beans, but only as part of a delicious bigger meal like a black bean quinoa casserole, nachos, salsa, and – most recently- I've even hidden them inside some no-bake brownies!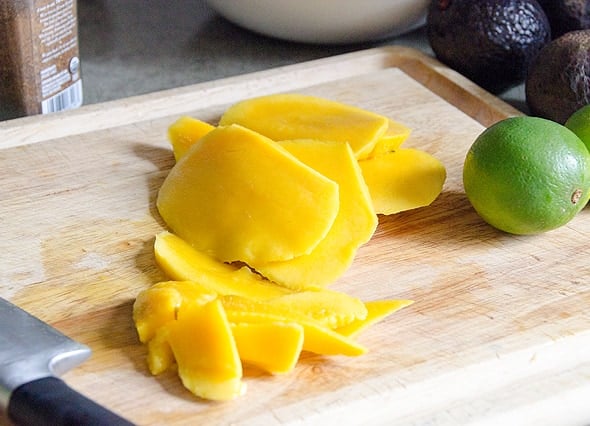 Does anybody else cut mango like me? Is this a non-traditional way? Despite all rules this is my preferred method – peel, slice it off the pit and then dice.
Anyone else's spice labeling "techniques" are similar to mine? I try hard to keep everything clean and organized but the reality is it is a busy life and a big house to keep up with. Especially now in the summertime when figs have to harvested, plants watered, beaches to attend. I really love Simply Organic glass spice jars so I keep empty ones and refill them with bulk spices at times. In this case I used "slightly" different refill powder.:) Can you tell I was in a rush?! But at least saves me from another Alex question. And is it a problem to find a black sharpie at your house too?! LOL
Enjoy these chicken quinoa bowls, they are magnificent!
More Healthy Quinoa Recipes
You might also like this compiled list of the 30 best quinoa recipes, 45 healthy salad recipes or 65 lunch ideas!
Chicken Quinoa Bowls with Mango and Black Beans
Chicken Quinoa Bowls Recipe with quinoa, kale, chili chicken, mango, black beans, cilantro, jalapeños and healthy Cilantro Avocado Dressing.
Print
Rate
Ingredients
1

cup

quinoa

uncooked

1

lb

boneless & skinless chicken breasts

cut into 0.5" pieces*

1

tbsp

coconut oil or avocado oil

1/2

tsp

chili powder

1/2

tsp

salt

1

bunch Lacinato kale

stalks removed & finely chopped

1

large ripe mango

peeled & diced

14

oz

can black beans

drained & rinsed

2

large avocados

pitted and sliced

1

lime

cut into wedges**

1

jalapeno pepper

seeded & minced (leave seeds in if you like heat)

1

bunch cilantro

finely chopped**
Instructions
In the meanwhile, preheat

large non-stick skillet

on medium - high heat and swirl oil to coat. Add chicken, chili powder and salt; cook for 10 minutes or until cooked through, stirring occasionally. Set aside.

Chop vegetables/fruits and get other ingredients ready. Make Cilantro Avocado Dressing.

To serve, I like to place everything in a large baking dish for self-serve or divide evenly among 4 bowls and drizzle with dressing. Enjoy warm or cold.
Store: Refrigerate covered for up to 2 days. Dressing doesn't turn brown if kept refrigerated in a glass airtight container for up to a few days. Shake before use.
Notes
*You can skip chicken or replace with tofu for a vegan version.
**1 lime and a bunch of cilantro are enough for bowls themselves as well to make Cilantro Avocado Dressing.
Nutrition
Calories:
618
kcal
|
Carbohydrates:
52
g
|
Protein:
35
g
|
Fat:
24
g
|
Saturated Fat:
6
g
|
Cholesterol:
73
mg
|
Sodium:
566
mg
|
Potassium:
1320
mg
|
Fiber:
14
g
|
Sugar:
8
g
|
Vitamin A:
2336
IU
|
Vitamin C:
56
mg
|
Calcium:
70
mg
|
Iron:
3
mg
Join today and start saving your favorite recipes
Recipes and images are a copyright of ifoodreal.com. It is against the law to republish recipes anywhere including social media, print and all world wide web. Nutritional info is provided for informational purposes only and to the best knowledge.