This Chicken Quinoa Bowl is packed with color, flavor and a whopping 35 grams of protein per portion. Meal prep it, mix and match the ingredients and enjoy warm or cold!
Our other top quinoa favorites include including this one pot chicken and quinoa, ground turkey quinoa casserole.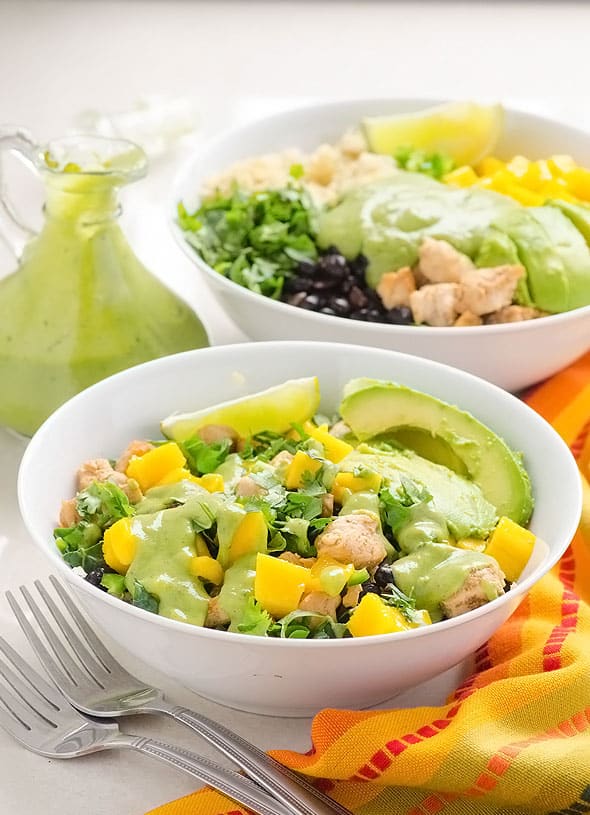 This sweet and savory chicken quinoa bowl combines fresh, vibrant, and bright ingredients like mango, avocado, quinoa, chicken, kale, and black beans, all tossed with a creamy cilantro avocado dressing.
The result is a versatile bowl meal packed with flavor, nutrients, and everything you need for a filling and balanced meal.
These quinoa bowls are ready in just 30 minutes and are super adaptable. Use fresh or leftover cooked chicken or substitute it entirely for another protein, swap out the dressing, add other veggies, etc.
Ingredients You Will Need
I carefully selected every ingredient in this quinoa bowl recipe for flavor, texture, and what it can add to the dish in terms of macro and micronutrients.
Quinoa: Use white, red, or tri-color quinoa. The latter two are firmer and best for this recipe.
Kale: I use Lacinato kale, but other varieties will work, as will spinach.
Mango: Make sure it's ripe and sweet. If you aren't a fan of sweet and savory, omit this. You may be able to use frozen or canned mango out of season. Alternatively, pineapple may work in its place.
Black beans: Use low sodium canned beans or 1 ½ cups of cooked beans. Swap out the black beans for a multi bean mix, white beans, etc.
Avocado: Make sure they are ripe, but not overly so.
Chicken: I recommend using boneless, skinless chicken breasts.
Oil: Any neutral cooking oil will work, like coconut oil or avocado oil.
Seasonings: For the chicken. I use a combination of chili powder and salt.
Lime: Use organic, unwaxed limes when possible. Lemons will also work.
Jalapeno: Adjust the amount to taste or omit it entirely if preferred. Other chilies would also work.
Cilantro: Fresh cilantro is a wonderful fresh garnish for this chicken and quinoa bowl. Parsley or green onion would also work.
Cilantro avocado dressing: Cilantro, avocado, oil, lime, garlic, salt and pepper.
How to Make Chicken and Quinoa Bowls
This black bean and mango chicken and quinoa bowl requires just a few simple steps to prepare and about 45 minutes. Even less when using leftover chicken or quinoa.
Cook the Quinoa
First, cook the quinoa using your favorite method. I do not rinse it because quinoa usually comes pre-washed.
Cook quinoa as per package instructions or I personally like to cook quinoa with a ratio of 1 cup dry quinoa to 1.5 cups water. Unlike most packages that state 1:2 ratio.
Bring to a boil, cook on low for 12 minutes, let stand for 5 minutes and fluff. This way quinoa comes out less mushy. Here is detailed tutorial on how to cook quinoa.
Cook the Chicken
Then, preheat a large non-stick skillet over medium-high heat and swirl with oil to coat.
Once it's hot, add the chicken, chili powder, and salt. And cook for ten minutes, or until the chicken is cooked through, stirring occasionally.
Once it's ready, turn off the heat and set it aside.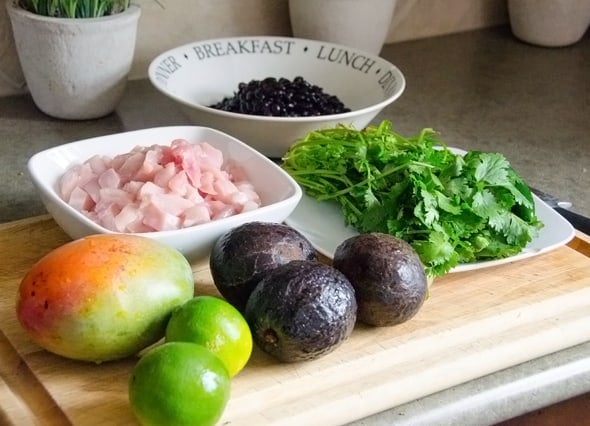 Chop Vegetables and Fruits
Several elements need to be prepared in some way for this chicken and quinoa bowl, including:
Kale: Remove the stalks and then finely chop the kale into ribbons.
Mango: Peel and dice the mango into cubes.
There are several ways to chop mango. I first peel the fruit, then slice the flesh away from the pit before chopping those slices down into smaller pieces.

Alternatively, you could slice away the un-peeled cheeks from the pit, cube that in the peel, then invert it and scoop or chop the flesh from the skin.
Black beans: Drain and rinse them.
Avocado: Pit and slice or slice it. Check out this post on how to cut an avocado for all the top tips.
Lime: Cut into wedges.
Jalapeno: Slice it in half, remove the ribs and seeds, and then finely mince. Leave some or all of the seeds in if you want additional heat.
Cilantro: Rinse and finely chop it.
Prepare the Dressing
If you haven't already done so, you'll need to prepare the cilantro avocado dressing. Just add all ingredients in a food processor or blender and process until smooth.
Assemble Chicken Quinoa Bowl
Assembling these chicken quinoa bowls is the best part. I recommend placing all the elements in small piles in a large serving dish. That way, your family or guests can simply grab the elements they want, and no one is complaining about it being too spicy.
Alternatively, divide the ingredients between four bowls. Top them off with a drizzle of the creamy avocado dressing, and then serve!
You can enjoy the chicken quinoa bowl warm or chilled.
What Else Could I Add?
Corn: Use canned, boiled, or charred corn for extra sweetness, color, and flavor.
Bell pepper: I recommend using red, orange, or yellow rather than green, which is more bitter. Use them fresh or roasted and finely diced. Canned roasted peppers would also work.
Cucumber: Use a Persian or English cucumber, finely chopped.
Red onion: Finely sliced. Soak in ice water for 10 minutes to reduce the harsh, raw flavor.
Tomatoes: Small cherry or grape tomatoes work best for flavor even outside of tomato season.
Cumin: Optionally add a pinch of cumin when cooking the chicken.
Smoked paprika: Also delicious for seasoning the chicken.
Other proteins: Air fryer shrimp, fried tofu, or even grilled or blackened fish, like this grilled salmon, would work.
Cheese: A sprinkle of feta cheese or Cotija could work well.
Seeds: Garnish the chicken quinoa bowls with pumpkin seeds or sunflower seeds for extra crunch.
Tips for Best Results
To save time: You could use pre chopped mango and cooked chicken leftovers.
For extra flavor: Cook the quinoa in chicken or vegetable broth.
Mix and match veggies: Experiment with prepping additional veggies and fruits so you can mix and match the elements of this chicken quinoa bowl over several days for healthy lunch ideas.
Use the best produce: Ripe and in season is always optimal. This will ensure the best flavor, texture, and freshness. This is especially true with mango, as unripe mango is firm and lacks flavor.
Can I Meal Prep This Quinoa Bowl?
Make ahead: There are several elements you can meal prep in this chicken quinoa bowl. You can cook the quinoa 3-4 days in advance, the chicken 2-3 days in advance, and chop the mango and kale a day in advance.
You could also prepare the dressing the day before and pre-cook the beans several days or even months ahead when stored in the freezer.
Store any pre-prepared elements in separate airtight containers in the refrigerator until ready to use.
Storing: You can store any leftovers in an airtight container in the fridge for two days. Store the dressing in an airtight glass container. Shake it each time before use.
Without the avocado and dressing, this chicken and quinoa bowl will last 3-5 days.
FAQs
Is this chicken and quinoa bowl healthy?
Absolutely! Quinoa alone contains all nine essential amino acids and is rich in fiber, minerals, and antioxidants.

With its combination of ingredients, this healthy bowl recipe packs in a whopping 35 grams of protein per portion.

It's also filled with heart-healthy fats, antioxidants, fiber, omegas, and an impressive range of vitamins and minerals such as vitamin A, vitamin C, etc.
What is the best chicken to use?
I recommend using boneless, skinless chicken breasts for their fast cooking time and lower fat content. Boneless and skinless chicken thighs will work as well.
Can I substitute the dressing?
Several dressings would work with these bowls. For example, a simple lime and olive oil vinaigrette could work well. Add a drizzle of honey and garlic to the vinaigrette for extra flavor.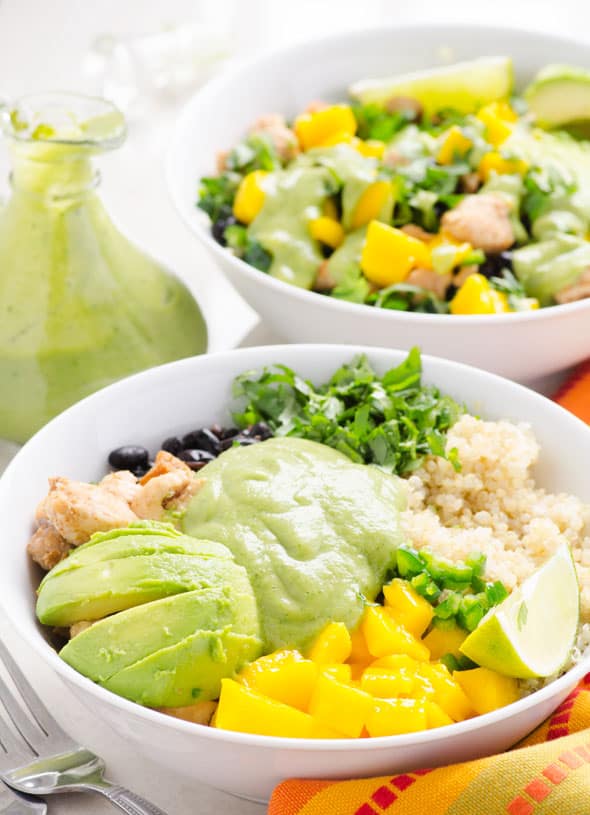 More Chicken and Quinoa Recipes
You might also like this compiled list of the 30 healthy quinoa recipes!
Chicken Quinoa Bowl with Cilantro Avocado Dressing
Chicken Quinoa Bowls Recipe with quinoa, kale, chili chicken, mango, black beans, cilantro, jalapeños and healthy Cilantro Avocado Dressing.
Ingredients
1

cup

quinoa

uncooked

1

lb

boneless & skinless chicken breasts

cut into 0.5″ pieces*

1

tbsp

coconut oil or avocado oil

1/2

tsp

chili powder

1/2

tsp

salt

1

bunch Lacinato kale

stalks removed & finely chopped

1

large ripe mango

peeled & diced

14

oz

can black beans

drained & rinsed

2

large avocados

pitted and sliced

1

lime

cut into wedges**

1

jalapeno pepper

seeded & minced (leave seeds in if you like heat)

1

bunch cilantro

finely chopped**
Instructions
Cook quinoa as per package instructions or I personally like to cook quinoa with a ratio of 1 cup dry quinoa to 1.5 cups water. Unlike most packages that state 1:2 ratio. Bring to a boil, cook on low for 12 minutes, let stand for 5 minutes and fluff. This way quinoa comes out less mushy. See detailed tutorial how to cook quinoa.

In the meanwhile, preheat large non-stick ceramic skillet on medium – high heat and swirl oil to coat. Add chicken, chili powder and salt; cook for 10 minutes or until cooked through, stirring occasionally. Set aside.

Chop vegetables and fruits, get other ingredients ready. Make Cilantro Avocado Dressing.

To serve, I like to place everything in a large baking dish for self-serve or divide evenly among 4 bowls and drizzle with dressing. Enjoy warm or cold.
Notes
Store: Refrigerate covered for up to 2 days. Dressing doesn't turn brown if kept refrigerated in a glass airtight container for up to a few days. Shake before use.
Vegan: You can skip chicken or replace with tofu for a vegan version.
How much lime and cilantro? 1 lime and a bunch of cilantro are enough for bowls themselves as well to make Cilantro Avocado Dressing.
Quinoa: Got pressure cooker? Try Instant Pot quinoa

.
Nutrition
Calories:
669
kcal
|
Carbohydrates:
55
g
|
Protein:
36
g
|
Fat:
34
g
|
Saturated Fat:
7
g
|
Trans Fat:
1
g
|
Cholesterol:
73
mg
|
Sodium:
717
mg
|
Fiber:
16
g
|
Sugar:
9
g