This Carne Asada Tacos recipe is filled with juicy, tender carne asada steak with guacamole, onions, and crumbled feta or cotija cheese! The result is savory, creamy, salty, tangy street tacos that'll impress healthy grill recipes enthusiasts on taco Tuesdays and at potlucks- in under 30 minutes!
Healthy taco recipes are a perfect addition to your Mexican-inspired dinner list along with chicken quesadillas, enchiladas, or a healthy Mexican casserole!
The Best Street Food Carne Asada Tacos
Taco night is always a favorite in our household; whether I'm serving up grilled fish tacos, ground beef tacos, chicken street tacos, or this carne asada tacos recipe – there are never any complaints from anyone at the table (Yay! That's always a good thing when multiple kids are involved).
I first tried these Mexican street tacos in Mexico and knew I HAD to create my own recipe as soon as we got back home. That way, there's no need to go chasing down taco trucks, and I get to be in control of exactly what's in the tacos, so I know what I'm feeding my children!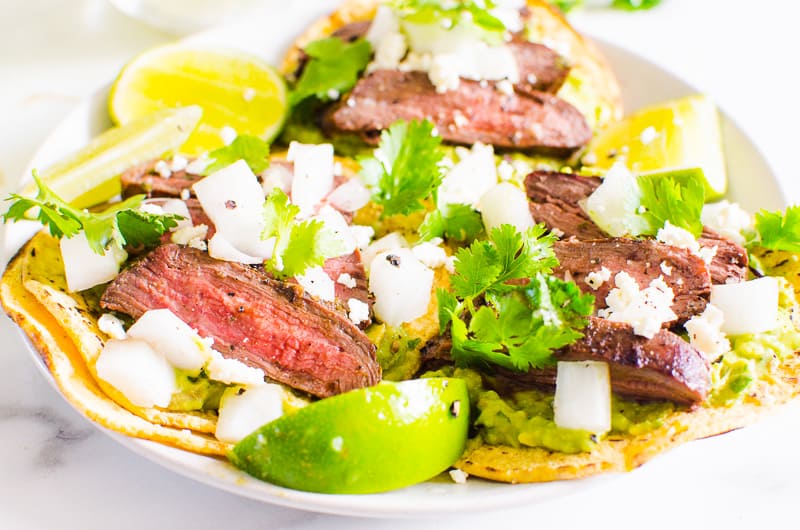 Why This Carne Asada Tacos Recipe Works?
All you need is just four simple elements for these simple steak tacos – the carne asada steak, guacamole, some fresh onions, and cheese. They couldn't be any simpler!
The meat is marinated to perfection before being quickly seared over high heat for the juiciest, tender, and flavorful results!
The steak takes just 25 minutes to cook, rest, and chop, and you can prepare other elements while the meat cooks, so you can have everything from the kitchen to the table in under 30 minutes!
Just remember to marinate the steak for 4-5 hours minimum for succulent, tender, flavorful results! – I like to prepare this at the same time I make lunch, that way, I don't spend too much extra time in the kitchen – perfect!
You can make this carne asada tacos recipe year-round too by grilling the steak in summer and cooking it on the stovetop during winter.
Plus, it's not every day of the week that my family gets to enjoy steak, so they always love it and it's not a very expensive cut of meat either.
Ingredients and Substitutions
Carne asada: I use my homemade carne asada steak, for these street food tacos, which combines a simple marinade of soy sauce, lime juice, garlic, cilantro, jalapeno, and spices over flank or skirt steak.
Tortillas: If possible, use soft corn tortillas for the most authentic carne asada street tacos. Though, flour ones will work too.
Guacamole: I use my healthy homemade guacamole. Though you could also this creamy Greek yogurt guacamole or even use diced or avocado slices.
White onion: I love the slight acidity that fresh raw onion adds to these tacos. If you're not a fan of the pungent flavor of raw onion, you could allow the onion to sit in ice water or lemon/lime juice for 10-15 minutes to allow the flavor to mellow slightly. Use red onion if preferred.
Cheese: I prefer to use either cotija or feta cheese, which can be crumbled over the tacos and have a salty flavor that pairs excellently with the steak.
Lime: Also optional, but I love to serve these tacos with lime wedges to add a touch of brightness and zing!
Keep reading for street food tacos add-ins and variations below!
How to Make Carne Asada Tacos
Marinate and grill the meat: It's best to leave the meat for at least 4 hours to marinate. For that reason; I recommend doing this step when making lunch earlier on in the day- however, it can be done up to 24 hours in advance. Follow this authentic Mexican carne asada steak method for marinating and cooking the steak!
You can optionally set aside some steak marinade to spoon over the prepared tacos when serving – for extra flavor! You could even heat it on the stovetop with a bit of cornstarch to thicken it into a 'sauce.'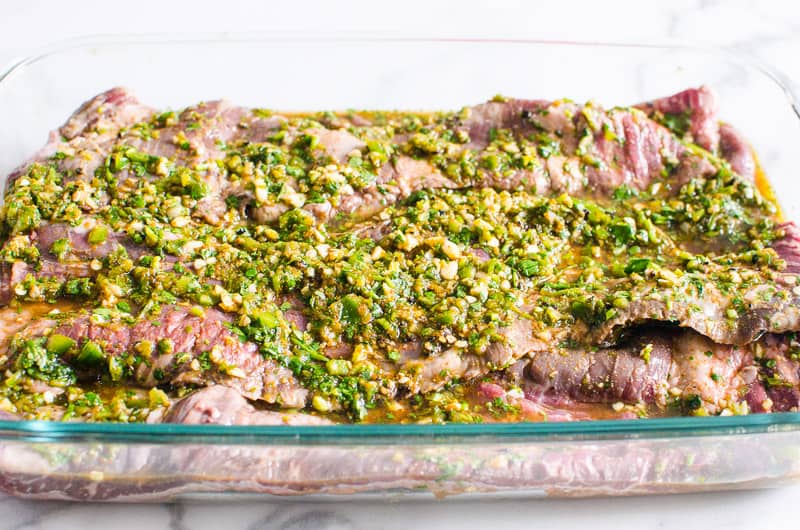 Prepare the toppings: While the steak cooks, it's time to prepare the carne asada taco toppings. Dice the onion, crumble the cheese, chop the cilantro, and prepare the guacamole (or avocado slices).
Prepare the tortillas: Corn tortillas are best enjoyed while warm – not just for the flavor but also for flexibility.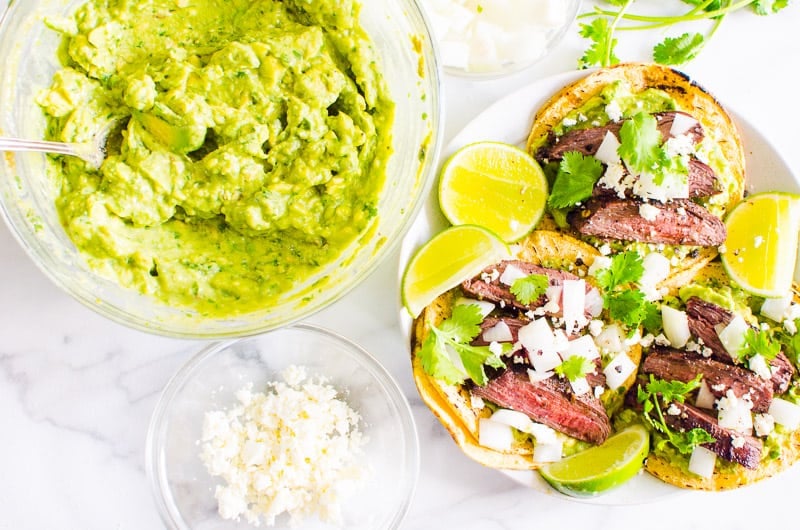 Grill: You can warm them up for just around 1-2 minutes over the grill (a few char marks will add extra flavor but don't char it too much or the tortilla will dry out).
Skillet: Heat for 30-40 seconds each in a skillet over medium heat (no oil necessary).
Microwave: Stack them up in a barely damp towel and microwave for 30-40 seconds or until warm through. I like to do this with stacks of 6.
Oven: You can even heat them in the oven by wrapping them in stacks in the oven (with foil) and baking for 10-15 minutes at 350F.
Once warm, store them under a clean tea towel or in a tortilla 'cozy' to keep them warm until serving.
Assemble the carne asada street tacos: Once the steak is cooked and rested, you can either slice it against the grain into thin slices or cube the meat. To assemble the best asada steak tacos, first, add a little guacamole to the bottom of each taco, then add the meat, onion, cilantro, and cheese – enjoy!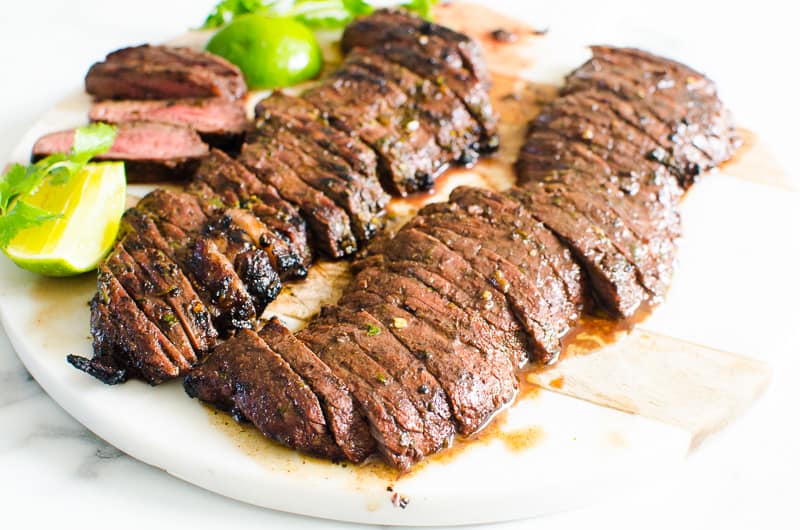 My Top Recipe Tips
Experiment with salsas: These carne asada tacos pair well will all kinds of salsas, including Pico de Gallo, Salsa Roja, Salsa Verde, and even fruity salsas like pineapple jalapeno salsa. So, experiment to find your perfect combination.
Adjust the heat level: You can easily adapt the spice level of these street food tacos by adjusting the amount of chili used in the steak marinade.
Optional Add-ins and Variations
There are several other options you could add to these steak tacos. Here are a few options:
Salsa: This is optional, but several salsas work well with these steak tacos. I prefer to use Pico de Gallo (no need for extra white onion then!).
Grilled vegetables: A little grilled corn, grilled zucchini, or bell peppers taste wonderful in these street food tacos.
Sour cream: For serving – or a crema sauce.
Beans: For extra heartiness and creamy texture you can add some cooked black beans or kidney beans.
Radish: For extra fresh crunch.
Sliced chili: For those whole love extra spice. Alternatively, you could add a little hot sauce or a spicy red salsa.
FAQs
How do you cut carne asada for tacos?

There are two ways to prepare the steak for these tacos. The first way is to slice it (against the grain) into slices around ¼-inch in thickness. Alternatively, you can finely cube the meat into small pieces.
How do you reheat carne asada leftovers?

To reheat the steak without overcooking it, you can either heat it in the microwave in 40-50 second increments until warmed or heat in the oven at 325F until warmed through – usually 15-20 minutes.
What can I use the leftover carne asada for?

There are tons of ways to use up leftover steak if two nights of tacos aren't what you're in the mood for. Serve the carne asada with salads, Mexican rice and beans or Mexican cauliflower rice.
Can I freeze carne asada street tacos?

Yes, you can freeze the carne asada meat pre- or post-cooking.

Raw: Add the steak and marinade to a large freezer-safe bag. Seal the bag, squeeze out the excess air and then freeze for up to three months. Allow it to thaw in the refrigerator before cooking – it will marinate while it thaws.

Cooked: Allow the steak to cool completely before transferring to a freezer-safe container or bag and freezing for up to 3 months. Allow it to thaw in the refrigerator before reheating.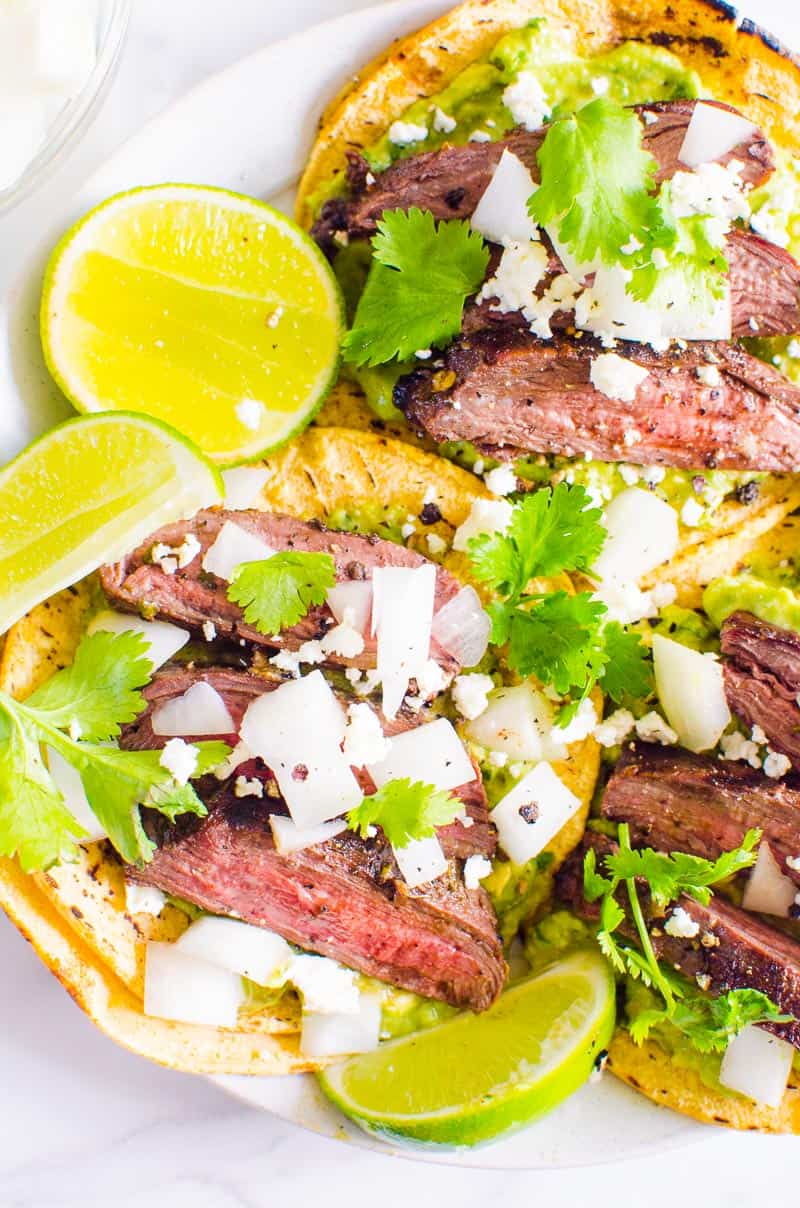 What to Serve With Mexican Street Tacos?
Whenever I serve tacos, I make sure to have several other dishes and potential 'toppings' on the table for everyone to pick and choose from. For this carne asada tacos recipe, you could also prepare:
How to Make The Tacos Ahead and Store Them
Make ahead: The steak can be marinated up to 24 hours in advance. The guacamole can be prepared up to 6 hours in advance too.
Store: The leftover steak can be stored in the refrigerator for up to five days in an airtight container. Any guacamole may last 1-2 days but tends to brown quickly.
More Healthy Taco Recipes
Alternatively, browse through my entire collection of Mexican and healthy taco recipes for more meal inspiration!
Browse more healthy grill recipes for summer!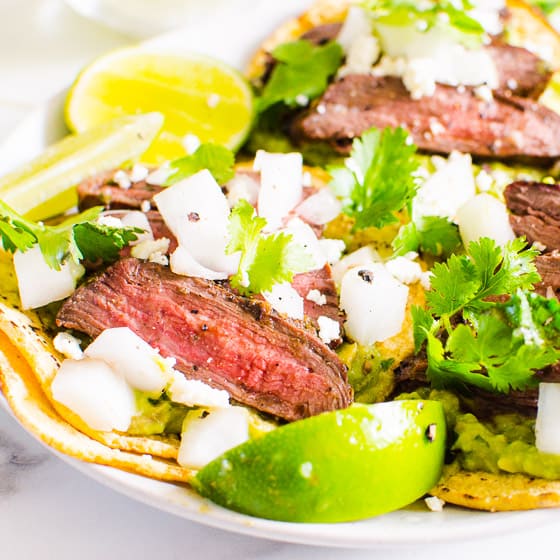 The Best Carne Asada Tacos
Ingredients
1

batch of carne asada steak

12-16

corn or flour tortillas

small

1

batch guacamole or 3 avocados

sliced

Toppings: diced white onion

chopped cilantro, any fresh salsa like pico de gallo, crumbled feta or cotija cheese, sliced jalapenos, lime wedges.
Instructions
Make carne asada steak following the recipe. You will need to plan ahead at least 4 hours.

Prep toppings – chop veggies and crumble cheese.

Warm up tortillas by placing on well preheated cast iron skillet or gas burner and cook for 20-30 seconds per side. Keep warm on a plate under the towel.

Let steak rest and then cut into thin slices or small cubes.

To assemble tacos, I like to smear guacamole on tortilla, then add meat, toppings and finish off with a squeeze of lime. Serve immediately.
Notes
Store:

The leftover steak can be stored in the refrigerator for up to five days in an airtight container. Any guacamole may last 1-2 days but tends to brown quickly.  

Make ahead:

The steak can be marinated up to 24 hours in advance. The guacamole can be prepared up to 6 hours in advance too.
Nutrition
Serving:
1
taco
|
Calories:
451
kcal
|
Carbohydrates:
24
g
|
Protein:
41
g
|
Fat:
22
g
|
Saturated Fat:
7
g
|
Cholesterol:
107
mg
|
Sodium:
889
mg
|
Fiber:
5
g
|
Sugar:
3
g