This Easy Guacamole Recipe requires just 5 simple, fresh ingredients and under 10 minutes to prepare!
This post also includes tips to store leftover guac and prevent it from browning.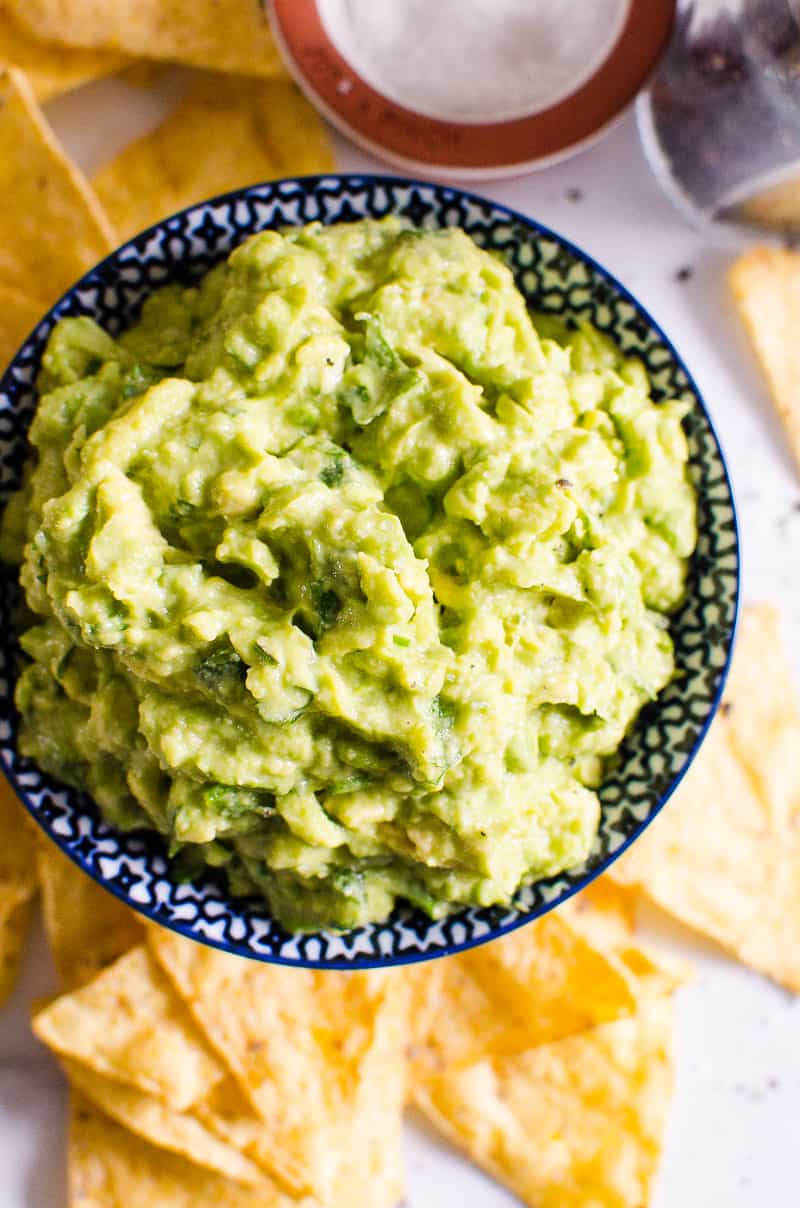 Why This Guacamole Recipe Is the Best?
Easy: This fresh guacamole requires just one bowl, fork, knife and a cutting board.
Quick: It takes just 10 minutes to prepare!
Simple ingredients: This simple guacamole recipe relies on just 4 main ingredients as its base.
Versatile: There are several ways to adapt this recipe to your liking. Keep things super simple or add extras like minced jalapeno for spice or finely chopped tomatoes.
Healthy: It's packed with healthy fats and antioxidants.
Ingredients and Notes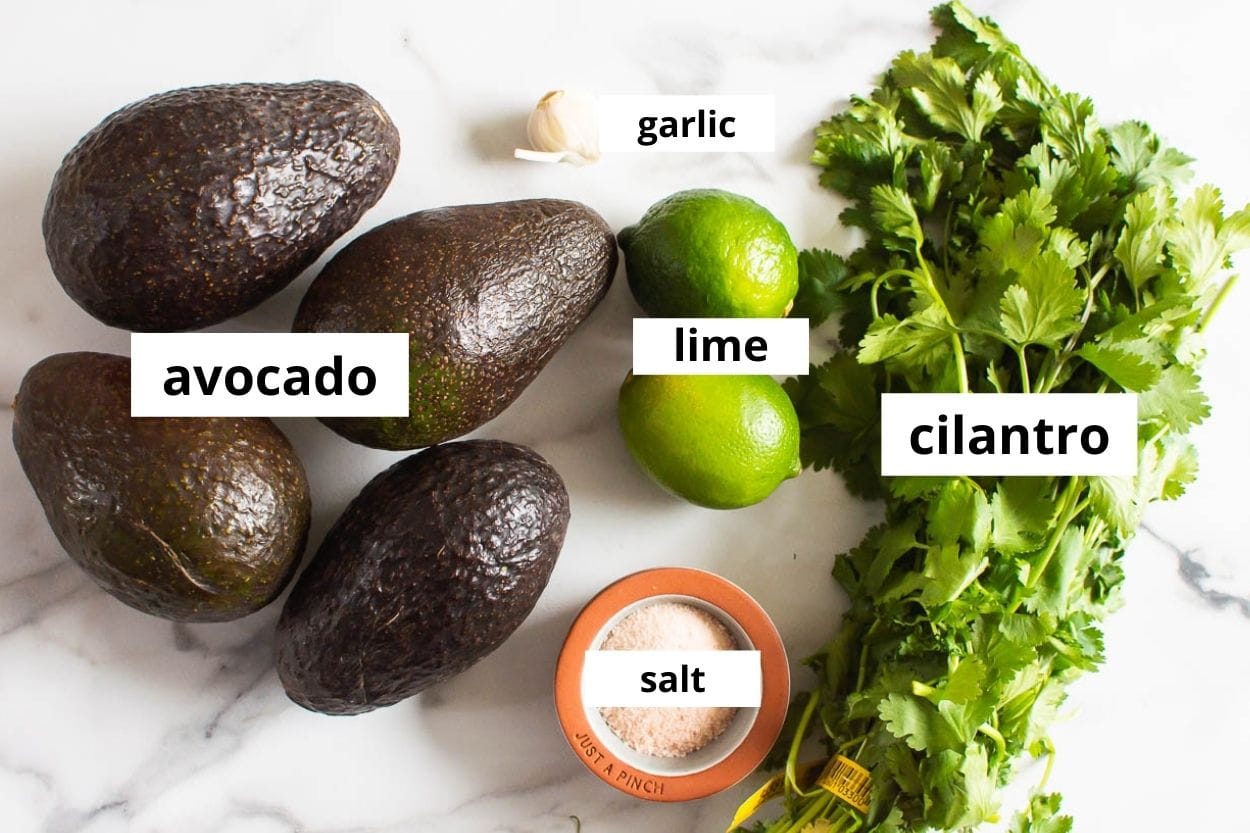 Over the years, I found that I keep using few very simple ingredients to make my fresh avocado dip. Of course, there are many ways to make guacamole, here is what I like.
Avocado: The key ingredient. Make sure to use fresh, ripe avocados without lots of brown spots for the best texture and fresh flavor.
Lime: You can use fresh lime juice or lemon juice but using fresh juice is the best way to ensure the dip tastes authentic!
Cilantro: In my eyes, you can't have guac without fresh cilantro but I know many of you are not fans of it. Then feel free to use parsley instead or omit it entirely.
Garlic: This may not be authentic guacamole ingredient but it is delicious. Maybe it's just the Ukrainian in me, but garlic is a must-have for this creamy dip. You can omit it.
Salt: Just enough to season the guacamole to personal preference. Make sure to limit the amount if you plan on serving this healthy guacamole with chips or other salty dishes.
Guacamole Variations
Everyone adds different things to their bowl of guacamole. It is a matter of personal preference. Here are a couple of extra ingredients you could add:
Minced jalapeño pepper
Finely chopped red onion
Hot sauce
Diced tomato
Cotija cheese
How to Choose Ripe Avocados
Since using the best avocados is key to the best homemade guacamole recipe, knowing how to choose perfectly ripe avocado is vital.
Here are a couple of ways that I use to buy perfect avocados at the grocery store:
Squeeze the avocado: Ripe avocado should be firm but with a slight give. Solid and very hard avocados means unripe avocados. If it is mushy, more likely the fruit is overripe.
Look at the stem: Pull the little cap of the stem from your avocado to tell how ripe it is. If it won't come off the avocado easily, then it's likely overripe. If it removes and is green underneath, then the avocado should be ripe. If it's brown underneath, then the avocado likely also has brown spots inside.
How to Make Easy Guacamole Recipe
Here is how to make the basic guacamole recipe. You can taste test at the end and add other ingredients. My version is not spicy!
Chop and de–pit fresh avocados: Using a sharp knife, first cut avocado in half lengthwise and twist the fruit halves in opposite directions to open it. Then gently tap your knife into the center of the pit and twist it to remove it.
Mash avocado: Scoop out flesh of the avocado and add it to a large bowl. Then use a fork or potato masher to mash creamy avocados to the texture of your preference.
Add the remaining ingredients: Add the lime juice, roughly chopped cilantro, minced garlic, and salt to the bowl. Stir thoroughly.
Adjust to taste: Give it a taste and adjust anything – more lemon for tang, salt, cilantro, etc.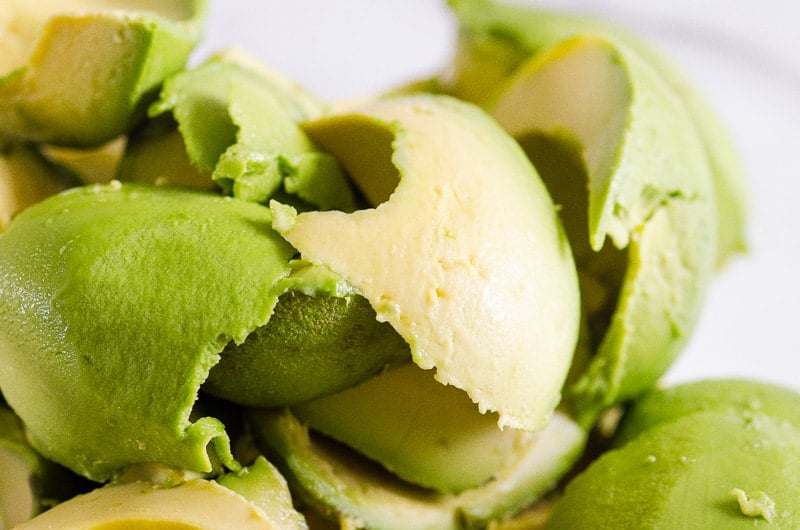 Tips for Best Results
The texture: Adapt it to your personal preference. I love to make this quick and easy guacamole recipe so that it's chunky, but feel free to make it super smooth, if preferred.
Mash by hand or food processor: Depending on the texture you want for the guacamole, feel free to mash it by hand, with a mortar and pestle, or using a food processor.
Let the flavors marinate: While there's nothing wrong with digging into your guacamole as soon as it's made, if you let it sit for 15-20 minutes, then the flavors will meld more.
How to Store Leftovers and Keep Them Fresh
After years of making guacamole, I've learned it is possible to keep this easy homemade guacamole recipe green for longer.
Here are 2 methods to help keep leftover guacamole green for longer:
Plastic wrap: Place the guacamole in a glass container with a lid and flatten it with a spoon. Then cover the guac with a piece of plastic wrap and gently press on it. So it is touching the guacamole with minimum air bubbles to stop the avocado from oxidizing. Then, cover with the lid.
Cover it with cold water: Pour a thin layer of cold water over the guacamole in an airtight container with a lid. When you're ready to serve, drain the water carefully and stir.
Now you can store your guacamole in the fridge for 2-3 days.
Recipe Tip
If your guacamole dip still gets a thin brown layer on top, just scrape it off from surface of the guacamole.
What to Serve with This Guacamole Recipe?
Although we all know how a big bowl of this delicious dip can be tasty with classic tortilla chips, here are more great ways you can enjoy this quick easy guacamole recipe:
FAQs
What if I can't find ripe avocado at the grocery store?
To speed up ripening process, you can place it in a paper bag or a fruit bowl next to ethylene-producing fruits like bananas and apples.
How many avocados do I need for guacamole?
For this guacamole recipe, you need 4 large avocados and it serves 8 people.
More Healthy Mexican Dips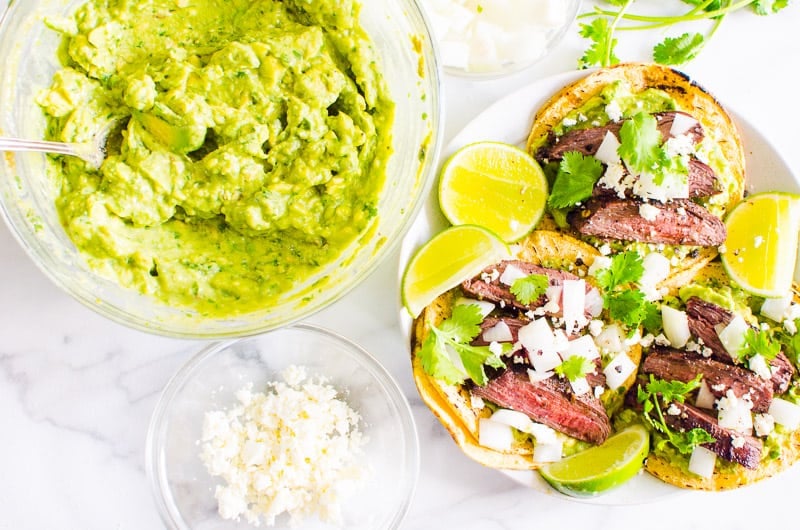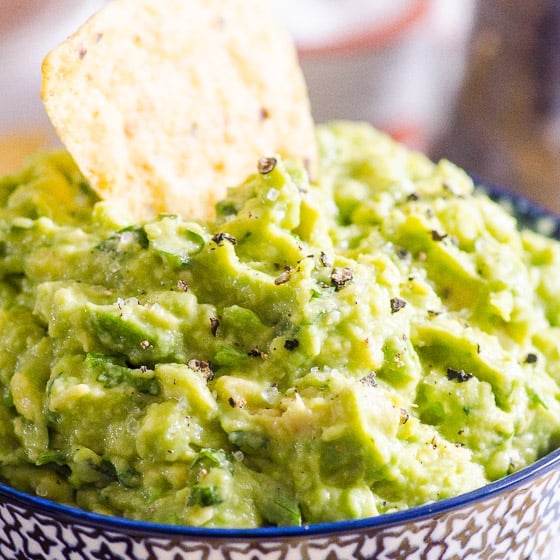 Easy Guacamole Recipe
This Easy Guacamole Recipe requires just 5 simple, fresh ingredients and under 10 minutes to prepare!
Instructions
To cut avocado, slice in half lengthwise and twist both halves to open. Gently tap your chef's knife into the pit and twist.

Scoop out avocado with a tablespoon and transfer to a medium bowl. If avocado is on a harder side, cut in big chunks right inside the half and attached to the skin first.

Mash using a potato masher (my favorite) or fork until desired consistency. We like chunky.

To squeeze lime juice, roll limes on a cutting board first and then cut in half and squeeze. This step helps to get more juice from citrus.

Add lime juice, cilantro, garlic, salt and stir gently. Adjust salt and anything else to taste.

Serve as a dip with chips or as a side dish with your favorite Mexican recipes.
Notes
Store:

Place guacamole in a glass container with a lid, flatten with a spoon and do not close yet. Either place a sheet of plastic wrap and press on it to remove air bubbles. Or pour a thin layer of cold water. Then close tightly and refrigerate for 2 days. When ready to serve, remove either, stir and serve.

Choose avocado with brown skin, firm but when pressed it gives in, and with a tip attached.
Cilantro is optional. It is good but many times I make guac without it because i didn't have any on hand and it is still so good!
Do not add too much salt if serving with chips. And you can always adjust to taste later.
Nutrition
Serving:
0.25
cup
|
Calories:
167
kcal
|
Carbohydrates:
10
g
|
Protein:
2
g
|
Fat:
15
g
|
Saturated Fat:
2
g
|
Sodium:
153
mg
|
Fiber:
7
g
|
Sugar:
1
g