Tomato Mozzarella Avocado Salad with a balsamic drizzle is a simple, fresh, and colorful side salad perfect for summer. With just a few ingredients, this flavorful salad is ready in only 15 minutes!
Along with cucumber and tomato salad, we take advantage of local produce by making salads all season long!
There's nothing better than enjoying a salad with only a few key, fresh ingredients and this tomato mozzarella avocado salad takes advantage of the juiciest, in season cherry tomatoes!
Other favorites we can't just get enough of include avocado corn salad, Italian chopped salad and avocado tomato salad.
This salad is a twist on your classic caprese salad. It includes a simple yet perfectly balanced combination of ripe and juicy cherry tomatoes, high-quality mozzarella, freshly picked basil, with the addition of creamy avocado and a little balsamic to finish.
It has an Italian feel with Mediterranean fresh flavors. It was inspired by my caprese chicken zucchini tomato recipe and caprese pasta salad which are reader favorites!
It takes just 15 minutes to prepare and practically two minutes to devour. The tomato juices seep onto the plate and combine with the olive oil and balsamic for a simple, delicious dressing, don't forget a piece of crusty bread to soak it up!
Why You'll Love This Recipe
Fresh and flavorful: Perfect for summer tomato season or vine-ripened tomatoes in December!
Creamy: The addition of avocado adds creaminess, healthy fats, and tons of antioxidants for a more complete side.
Easy: All you need is one dish to prepare this quick and simple salad!
Crowd pleaser: Perfect for your next cookout or summertime BBQ.
Ingredients For Your Salad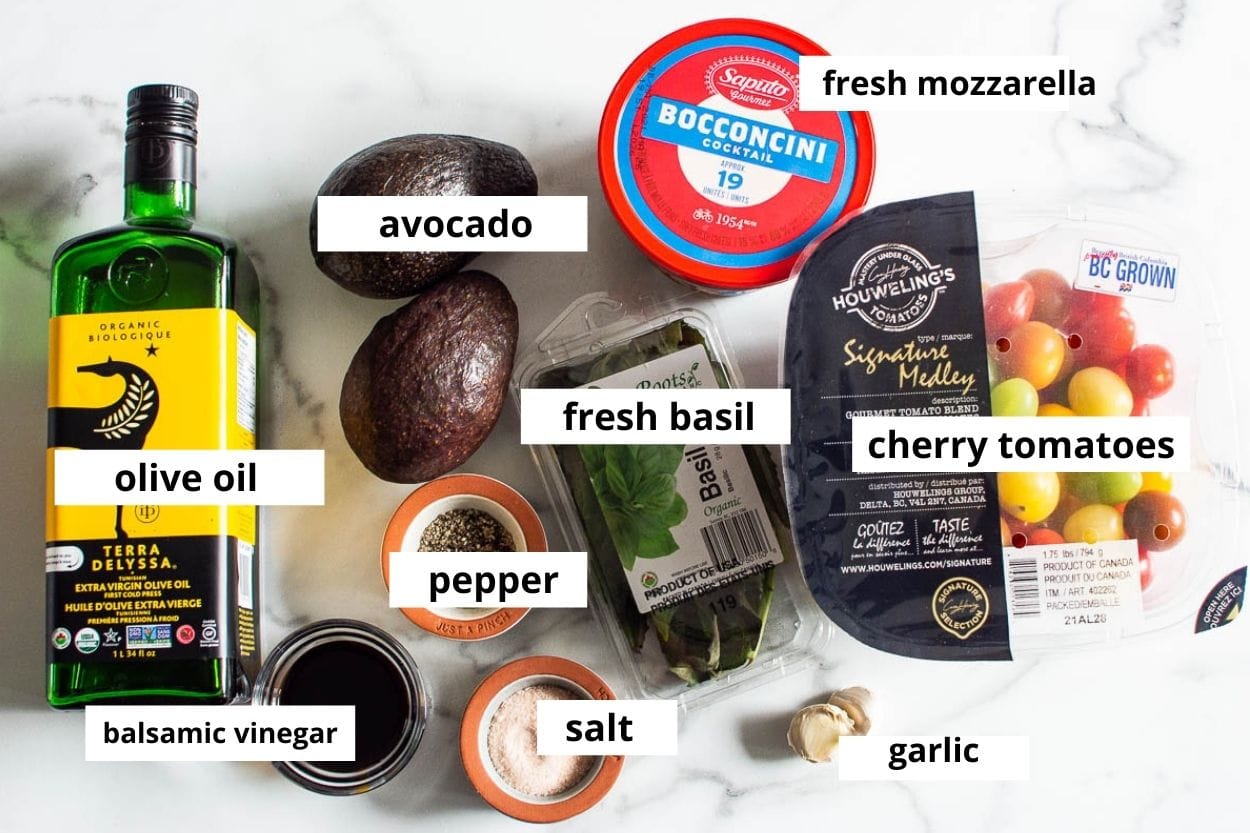 With just 7 fresh and simple main ingredients, anyone can make this caprese avocado salad.
Tomatoes: Grape or cherry tomatoes cut in half are my preference. Local in-season tomatoes like beefsteak and Heirloom tomatoes also work and during the winter tomatoes on the vine could be used, too.
Fresh mozzarella cheese: I used bocconcini here, which are tiny fresh mozzarella balls.
Avocado: Use ripe avocados without lots of brown flesh.
Fresh basil: The fresher, the better. Avoid using dried basil.
Olive oil: A high quality extra virgin olive oil is essential when making such a simple dressing.
Balsamic vinegar: Look for a balsamic that is well rounded in flavor.
Garlic, salt and ground black pepper: To season and taste.
How to Make a Tomato Mozzarella Avocado Salad
All you need is 15 minutes to prepare this quick avocado tomato mozzarella salad. Perfect as a last minute side dish for potlucks, picnics, or cookouts!
Prepare the tomatoes: If you are using small cherry tomatoes, simply chop them in half or quarters. For larger tomatoes, chop them into even sized smaller cubes.
Make sure to use a sharp knife, so you don't squash the tomatoes too much. Then transfer the tomato to a large serving bowl.
Prepare the mozzarella: Drain the liquid from the bocconcini and then slice each ball in half and transfer to the bowl with the tomatoes.
Some people believe that tearing the mozzarella rather than chopping it will yield a better texture. Feel free to experiment.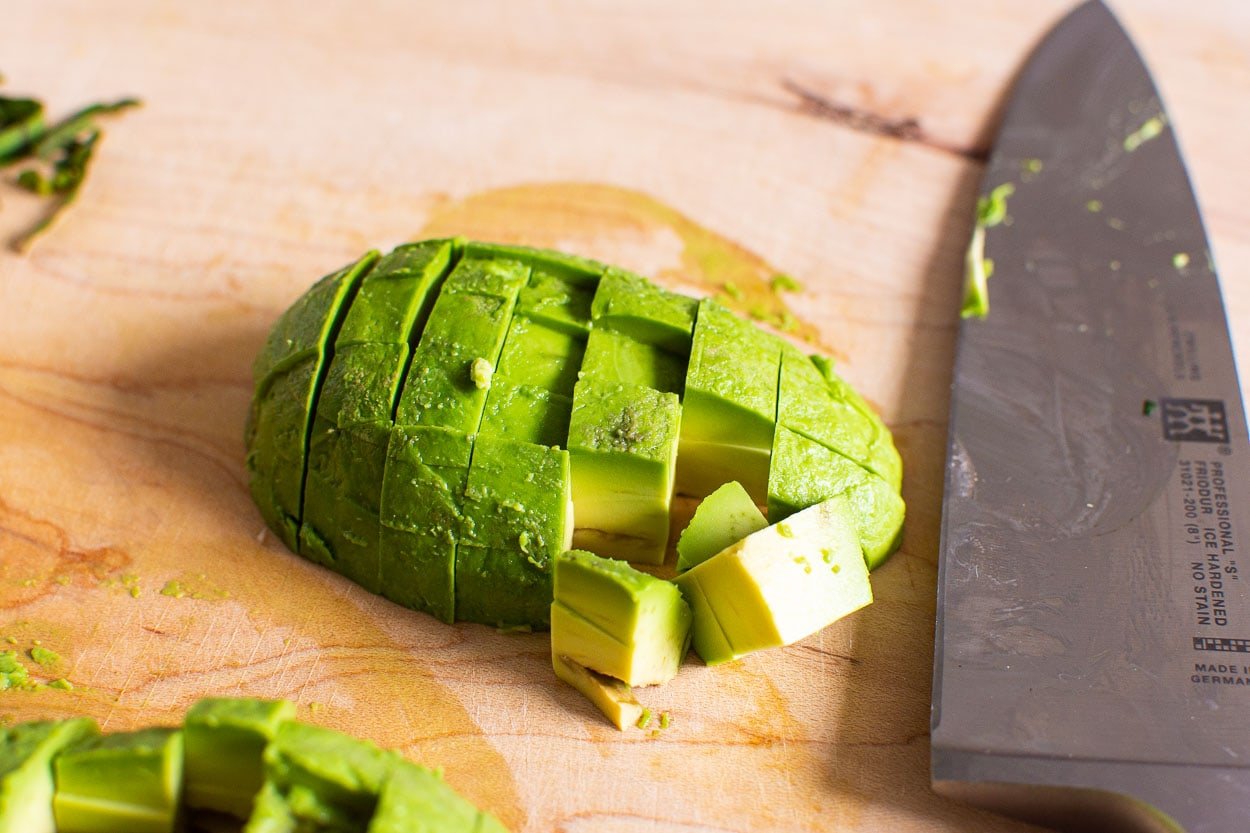 Chop the avocado, garlic and basil: This is best done last to prevent them from turning brown quickly. Yes, basil oxidizes and darkens too, like avocado does.
I diced the avocado and then just roughly chopped the larger fresh basil leaves. You could alternatively 'ribbon' them. Then add it to the salad bowl.
Check out how to cut an avocado for tips on best ways to cut your avocado with ease.
Add the dressing: Finally, add the olive oil, balsamic, and salt and pepper (to taste) and toss gently to thoroughly combine. Serve immediately!
Recipe Tips and Substitutions
Use the freshest ingredients: This goes without saying but, a salad as simple as this relies on using ripe, fresh, high-quality ingredients!
Presentation: Aim to chop ingredients roughly the same size. Don't want this salad finely chopped? Feel free to use larger sliced tomato and mozzarella and 'stack' or layer the salad in a serving dish.
Toss the avocado in a little citrus: Tossing the diced avocado in a little lemon juice will help to prevent them from browning as quickly.
Mozzarella balls: If you can't find bocconcini, you could also use Mozzarella di Bufala which comes in liquid and needs to be sliced. Burrata could another option. Do not use pre-shredded or 'hard block' mozzarella.
Try it with this balsamic vinaigrette instead.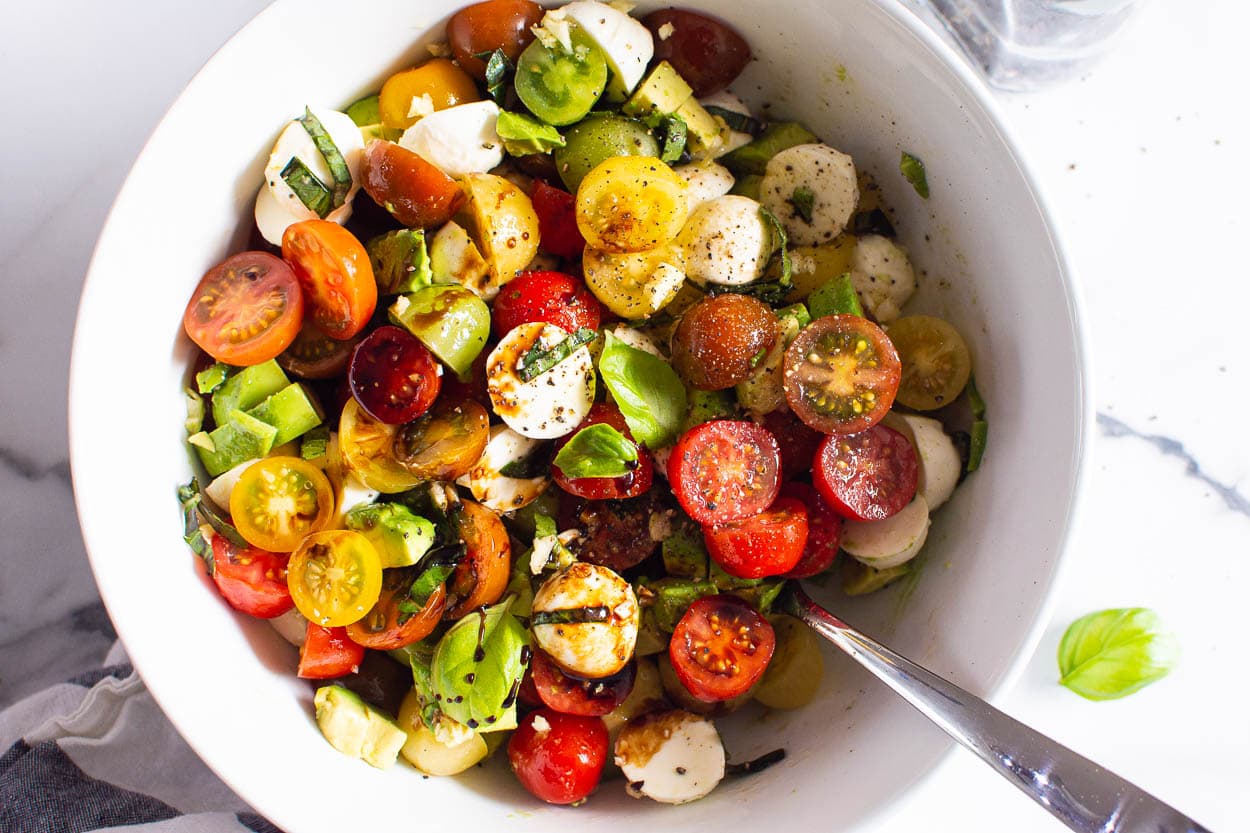 FAQs
Can I freeze it?
I don't recommend it as the texture of pretty much every ingredient will be affected for the worse.
Can I make a balsamic glaze vs. a drizzle?
Sure, it will just take a little longer. To make, add vinegar and optionally some honey or sugar to a small saucepan and bring to a gentle boil. Reduce to a simmer and heat until the vinegar reduces to a thick, syrups consistency that coats the back of a spoon.
Serving Suggestions
Crusty bread or ciabatta appetizer: To soak up all the juicy tomato olive oil juice at the bottom of the tomato mozzarella avocado salad.
Pasta: You can combine this tomato and mozzarella salad with pasta for a delicious version of tomato pasta salad.
Chicken: Serve alongside baked chicken breast or grilled chicken.
Salmon: Or alongside baked salmon in foil.
How to Store
Make ahead: You can prepare the chopped tomatoes and mozzarella up to 8 hours in advance, covered and refrigerated. Add the remaining ingredients just before serving.
Storing: This is best served immediately, at room temperature, within a few hours. Once refrigerated, it loses some of its fresh quality. However, if you must, you can store leftovers, tightly wrapped, in the refrigerator for up to a day.
More Healthy Salad Recipes
You might also enjoy browsing through my entire collection of salad recipes!
Tomato Mozzarella Avocado Salad
Tomato Mozzarella Avocado Salad is made with just a few ingredients and ready in 15 minutes! Simple, fresh, and colorful summer side dish!
Instructions
In a medium salad bowl, add bocconcini, tomatoes, basil, garlic, and avocado. Chopping avo last keeps salad more pretty and less messy.

Drizzle all salad ingredients with olive oil and balsamic vinegar. Sprinkle with salt and pepper.

Stir gently using metal spoon just a few times just until combined. Keeps salad pretty. Serve immediately with crusty bread, chicken or meat.
Notes
Store: This salad is best served immediately.
Make ahead: Only thing you could make ahead is to slice tomatoes and cheese, cover and refrigerate for up to 8 hours.
Regular size tomatoes and mozzarella: Feel free to use but chop into even size pieces. 
Can I omit avocado? Yes. Or just use 1 avocado fruit. Then add less salt and pepper.
Can I use balsamic drizzle? Absolutely. It adds more sweetness though.
Lime or lemon juice: Replace balsamic vinegar with 1 tbsp of fresh lime or lemon juice.
Nutrition
Serving:
0.75
cup
|
Calories:
268
kcal
|
Carbohydrates:
11
g
|
Protein:
10
g
|
Fat:
22
g
|
Saturated Fat:
6
g
|
Cholesterol:
26
mg
|
Sodium:
412
mg
|
Fiber:
6
g
|
Sugar:
4
g