Taco Skillet is everything you love about tacos in one pan. Easy, quick, and healthy Mexican food you can make exactly the way your family likes it. Please meet a 25-minute crowd pleaser.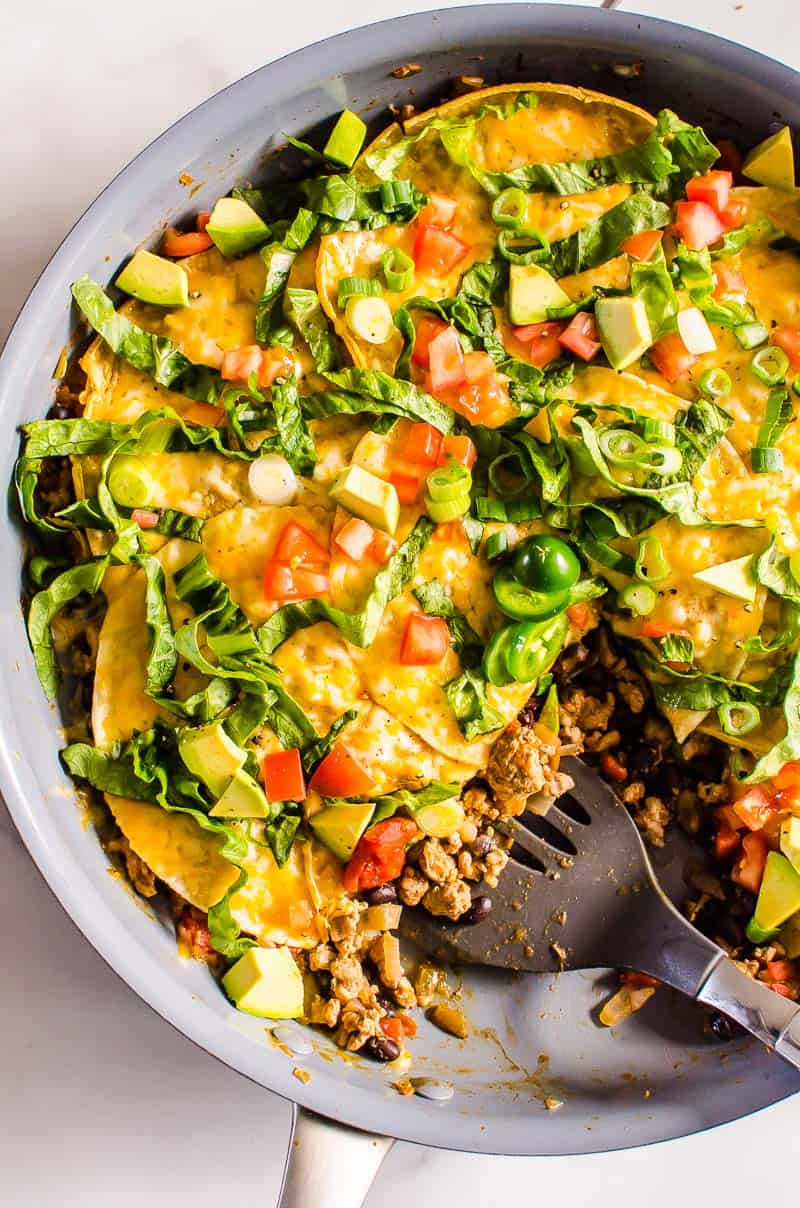 Taco skillet! Skillets are one of my favorite healthy meals. They remind me my childhood in Ukraine when grandma used exact measurements only when baking. The rest was "eyeball" and "use what you have".
Plus, skillet meals work so well with Mexican and Tex-Mex cuisine! I've already shared recipes for a chicken burrito skillet, sweet potato skillet, quinoa skillet and for skillet enchiladas!
What do we have here?
Ground turkey (my whole family loves ground turkey tacos so why not in the skillet?)seasoned with onion and taco seasoning.
Then simmered with black beans, green chiles, and tomatoes.
Cover with tortillas, let the cheese melt and you will be able to slice it with a spatula. Even your kids can perform self-serve.
I truly-truly enjoyed making this taco skillet about 3 times this month. Kids loved it!!! I've also made vegetarian quesadillas and chicken quesadillas, a healthy Mexican casserole, and sheet-pan steak fajitas… do you sense a theme?!

The truth is, in this house we probably have some kind of taco at-least weekly (that's what taco tuesdays are for, right?!); ground chicken tacos, shrimp tacos, fish tacos recipe, carne asada tacos, you can never have too many taco recipes!
Ingredients for Taco Skillet
Protein: Use any ground meat like beef, pork, lamb, chicken, or like me – ground turkey. Drain fat from fattier meat. If vegetarian, fry tofu, use tofu crumbles or any other sub.
Seasonings: Taco skillet flavor is built with sauteed onion, taco seasoning and diced green chiles. No chiles? Use extra taco seasoning, chili powder, or throw in some jalapenos or green pepper to saute with the onion.
Veggies: Involved are canned veggies/beans like diced tomatoes and black beans. And fresh veggies to top the skillet – lettuce, tomatoes and cilantro. You can add corn, mushrooms, zucchini or bell pepper to saute.
Tortillas: Corn tortillas add the most authentic Mexican flavor. You can also use wheat tortillas or tortilla chips. Skip completely for low carb version. Also, this reminds me, you can skip beans for lower carbs too.
Cheese: I am using marble cheese, a mix of white and yellow cheddar. Use Tex Mex cheese, or yellow or white cheddar.
How to Make Taco Skillet
Saute your veggies and spices quickly in a bit of oil. It will brighten their flavors.
Then you add ground meat of choice and saute for about 7 minutes or until almost cooked. This step requires muscle work – constant stirring and breaking meat into small pieces.
Add canned goods like diced tomatoes (do not drain), black beans (drained), green chiles (see recipe notes for sub) and maybe even frozen corn.
Simmer this mix for about 5 minutes. Using baking sheet as a lid is very classy or shall I say Ukrainian classic hack. 🙂
Top with tortillas and cheese and let stand covered with heat off to allow tortillas to soften and cheese melt. Just wait till you dig in!
Now top with fresh veggies like typical taco fixings – lettuce, tomatoes, cilantro, green onion, diced avocado or guacamole or salsa guacamole.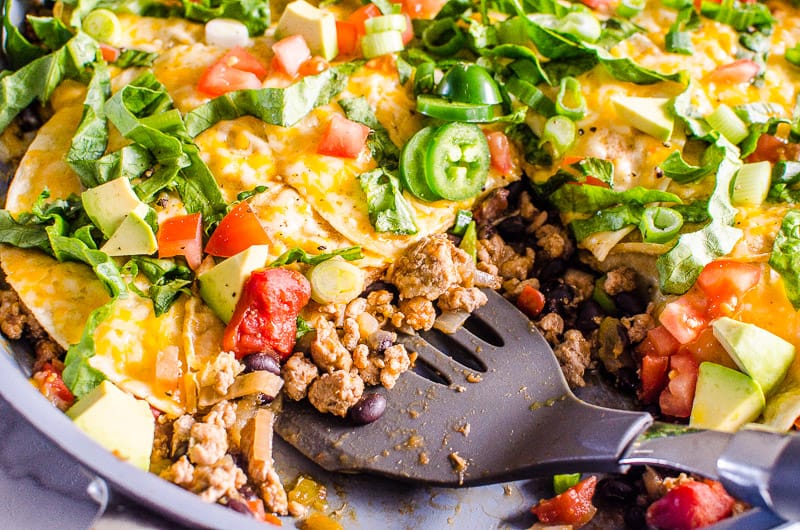 How to Store, Reheat and Freeze
Taco skillet is almost indestructible. 🙂
Refrigerate leftovers in a glass container with tight lid. Better and more fresh taste than from a plastic container – just try. Up to 3-4 days is great.
Reheat for healthy lunch ideas in good old microwave or right in the pan with a splash of water, covered and simmered on low for 7ish minutes. Also if you turn off heat and let skillet stand covered for a few more minutes, it will keep heating through.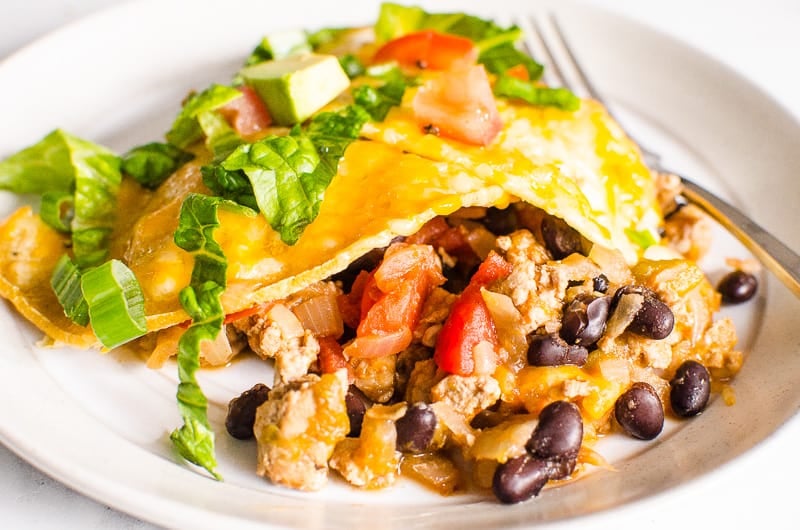 Freeze in a glass airtight container for up to 3 months. Thaw before reheating in the fridge overnight or on a counter during the day. Then reheat as per instructions above.
Easy-peasy. Hope you enjoy this taco skillet and I would love to hear from you!
More Delicious Mexican Recipes
You might also enjoy browsing through my entire collection of Mexican Inspired recipes!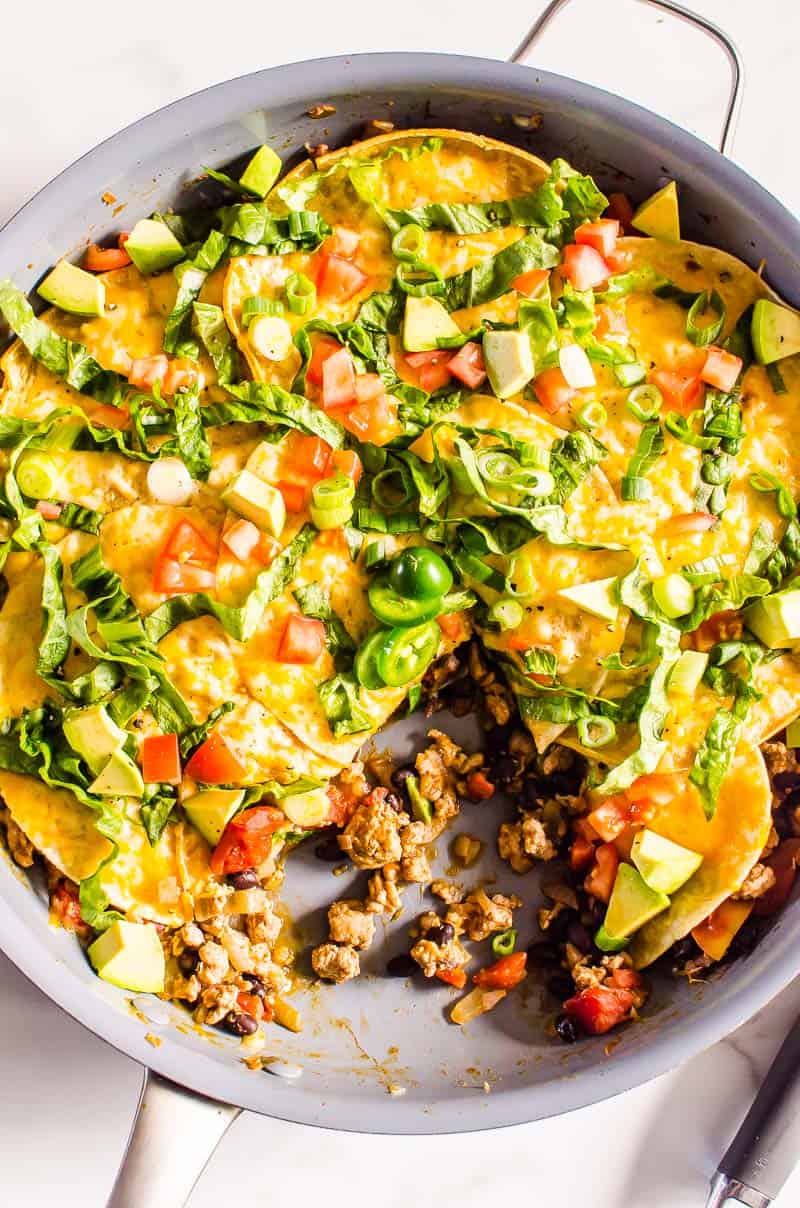 Taco Skillet
Taco Skillet is everything you love about tacos in one pan. Easy, quick and healthy Mexican food you can make exactly the way your family likes it.
Ingredients
1

lb

ground meat

I used ground turkey

1

large onion

finely chopped

1

tbsp

oil

2

tsp

taco seasoning

low sodium

1/4

tsp

salt

4

oz

can diced green chiles

14

oz

can low sodium diced tomatoes

not drained

14

oz

can low sodium black beans

rinsed & drained

1

cup

Tex Mex or cheddar cheese

grated

Handful Romaine or iceberg lettuce

shredded

2

small tomatoes

diced

More toppings like avocado

cilantro, green onion, if you wish
Instructions
Add onion and saute for 1 minute, stirring occasionally.

Add ground meat, taco seasoning and salt. Saute for 7 minutes, constantly stirring and breaking into small pieces with spatula.

Add diced green chiles, diced tomatoes, black beans; stir and bring to a boil. Cover and simmer on low for 5 minutes.

Lay tortillas overlapping each a other abit, sprinkle with cheese, turn off heat, cover with a tight lid and let stand for 5-10 minutes.

Sprinkle with lettuce, diced tomatoes and whatever else Mexican topping you like.

Serve hot with desired toppings like cilantro, green onion, avocado, yogurt, salsa etc.
Notes
Store: Refrigerate leftovers in an airtight container for up to 3 days.
Freeze: Up to 3 months.
If using ground beef or pork, I recommend to drain the fat.
Wheat tortillas would work just fine.
If you don't have diced green chiles, use more taco seasoning or chili powder. Also green bell pepper or jalapenos amount to taste and sauteed works. Throw it in with onions.
Add corn, skip beans or tortillas – make skillet yours. 🙂
See recipe post for more tips and FAQs.
Nutrition
Calories:
473
kcal
|
Carbohydrates:
29
g
|
Protein:
21
g
|
Fat:
25
g
|
Saturated Fat:
10
g
|
Cholesterol:
73
mg
|
Sodium:
455
mg
|
Fiber:
6
g
|
Sugar:
6
g