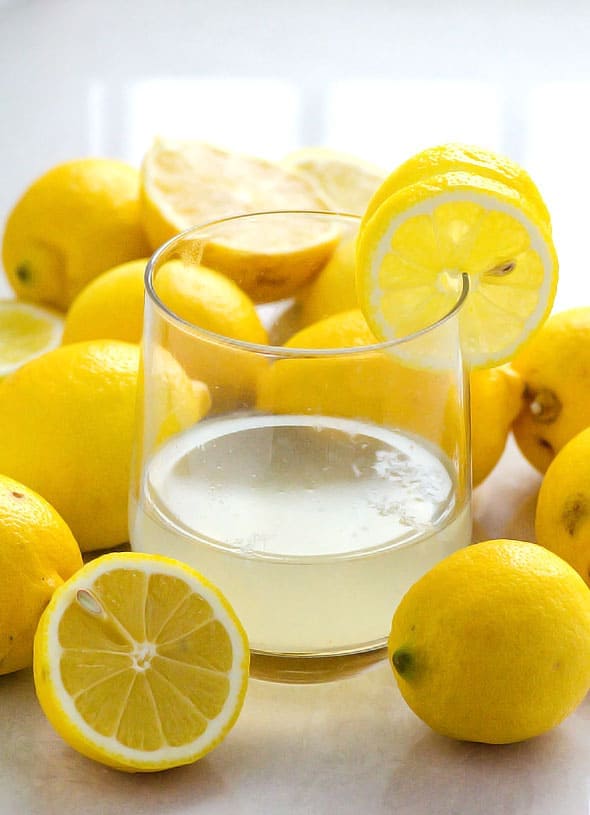 [convertkit form=977197]
I recently started drinking warm lemon water first thing in the morning.
Health Benefits of Drinking Lemon Water:
Lemons contain a lot of vitamin C that boosts your immune system.
Lemon water helps your digestion, flushes out toxins and cleanses the liver.
It helps reduce pain in your knees and joints.
You can read more about full benefits here. To reap the most benefits from hot lemon water you have to do it first thing in the morning. And it has to be warm.
Is Lemon Water Good for You?
I do not think drinking lemon water is a cure for everything, I still think lemon water is pretty powerful. Just like kombucha. So, while I don't think lemon water is "a miracle pill", there are definitely health benefits from warm lemon water in the morning.
Final verdict – lemon water is just good for you. Chances are you wouldn't eat half a lemon on its own each day, so adding some to water is a great alternative.
How to Make Lemon Water:
Squeeze lemon juice into a glass. Both hand held lemon reamer and glass lemon juicer reamer work well. It's a matter of personal preference. The only difference – glass one catches the seeds. 
Add warm water. To make water warm, I mix boiling water with cold filtered water. Another option is to turn off kettle before water reaches boiling (you just have to wait by the kettle).
Tips to Prevent Teeth Enamel Damage
A reader brought to my attention that lemon water (like limes, grapefruits and apple cider water) can damage your teeth enamel with time. Dr. Sara Solomon gives us 5 tips to prevent teeth damage without giving up our morning ritual:
Dilute lemon juice in 8 oz of water – I would do 1/2 cup + 3 tbsp boiling water + rest cold water.
Drink lemon water with a straw.
Rinse your mouth right after drinking lemon water.
Avoid brushing teeth for 60 minutes after.
Use soft toothbrush and avoid aggressive brushing.
More FAQs:
Some are funny and cute but we are all humans. So bare with me.
Does lemon water make you lose weight?
Lemon juice itself doesn't have fat burning properties. Despite popular belief even warm lemon water will not speed up your metabolism. But it can help with weight loss if you are drinking lemon water instead of pop or juice. Otherwise, lemon water doesn't make you lose weight on its own.
Does it make you poop?
Sorry but have to cover this popular question. Lemon water helps to soften stools and make them pass easier. Drinking warm lemon water in the morning can help with constipation issues.
Does it make you pee?
Lemon water is a natural diuretic. It makes you pee and keep the bloat off. Excess of citric acid in lemon will increase urine production. And don't forget you are consuming more water overall.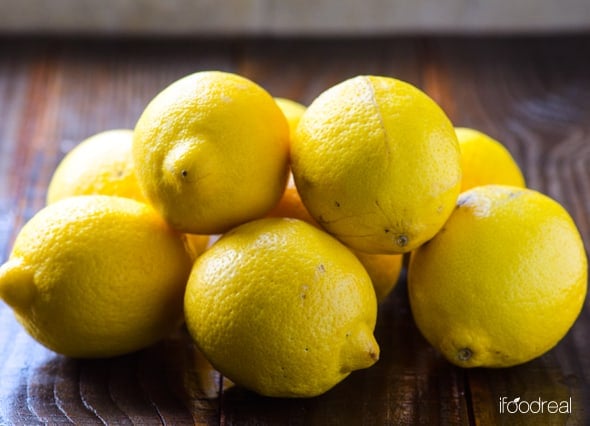 Does lemon water detox your body?
Because lemon water increases urine production, it will offer certain detox benefits. Remember to drink warm lemon water in the morning for the most effect.
How to make lemon water with bottled lemon juice?
Bottled lemon juice contains sulphites (preservative) and tastes weird. I would not recommend to use bottled lemon juice. It offers no health benefits compared to fresh lemon juice.
How to make lemon ginger water?
Add 1 tsp or more to taste of chopped fresh ginger to a cup with warm lemon water. Steep for about 2 minutes.
How to make honey lemon water?
Add 1 tbsp honey and stir in warm lemon water until dissolved.
Does lemon make water alkaline?
Lemon is an alkaline food. It is acidic on its own but inside your body it becomes alkaline.
Does lemon water make your teeth yellow?
Undiluted lemon juice or highly concentrated lemon drink is acidic enough to wear off enamel from your teeth. Whatever you do, do not brush your teeth right after drinking lemon water. Wait at least 30 minutes or brush 30 minutes before.
Can drinking too much lemon water make you sick?
Too much of anything is not good. Everything in moderation.
This article is for information purposes only and is not a medical advice. Please consult your physician.
More Good for You Drinks:
Print
How to Make Lemon Water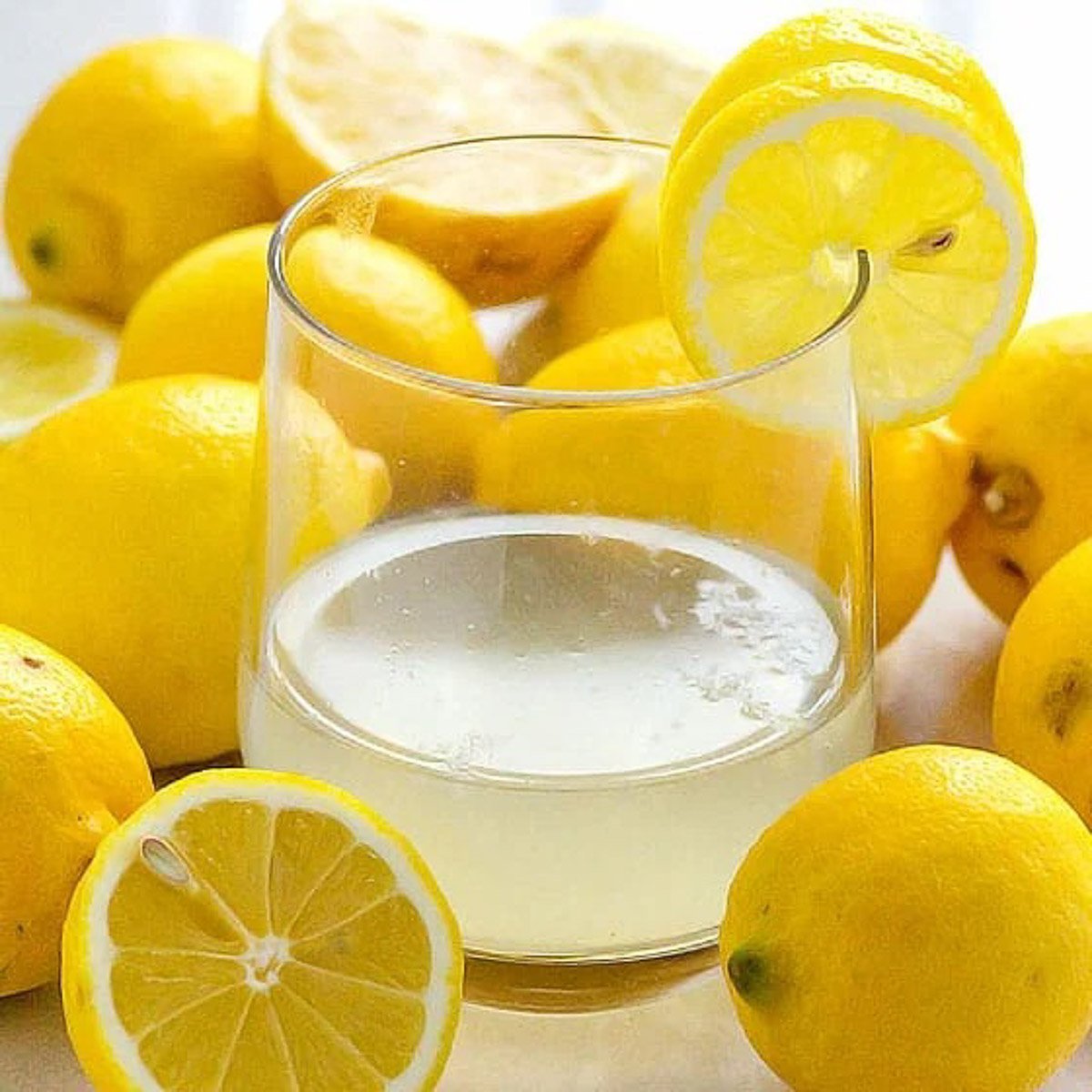 Easy warm lemon water recipe. Plus its health benefits, best tips and how to prevent teeth enamel damage.
Author:
Prep Time:

3 minutes

Cook Time:

0 minutes

Total Time:

3 minutes

Yield:

1

serving

1

x
Category:

Drink

Method:

No cook

Cuisine:

North American
Scale
Ingredients
1/2

lemon

1/4 cup

cold water*

1/3 cup

boiling water*
Instructions
In a glass, squeeze lemon juice with hand held lemon reamer or glass lemon juicer reamer. Discard seeds if necessary.
Add water, stir and drink while warm.
Notes
*To make warm water, I usually mix boiling water from the kettle (I hope you have one?!) and fridge filtered water. Another option is to turn off kettle before water reaches boiling. You just have to wait by the kettle and turn it off on time.
★ Did you make this recipe? Please give it a star rating in the comments.