Let's talk, guys. Enough of food and recipes. Considering the fact I work from home and the only people I talk to during the week are my kids, I really need to have no-minecraft-spiderman-gangnam-style adult conversation.
1. This week I decided I want to see my abs. I stocked my fridge with lots of veggies and protein. I also did meal preps.
Greens, chopped veggies for green smoothies, chia pudding, overnight oats, Greek yogurt, boiled eggs, sweet potatoes, celery, lemons, peanut butter, feta cheese, quinoa with broccoli and chicken, berry smoothie. 97% organic fridge!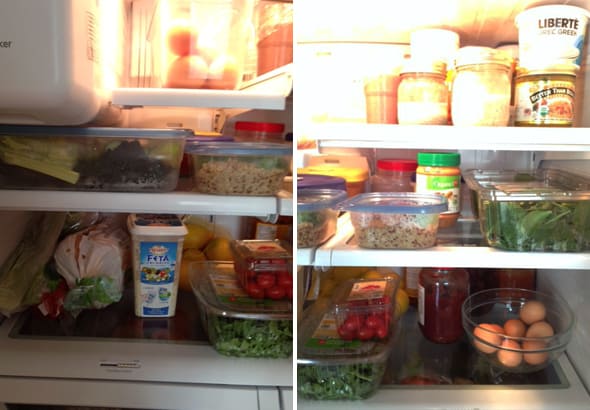 The fridge doors are pretty clean too – milk, maple syrup, wine for cooking, mustard, ketchup, sriracha, fish sauce, almond milk, cherry juice, kid's drinkable yogurt, tamari sauce, citrus vinegar, Tabasco, Thai sauce (that's Alex's). About 80% organic.
Vegetables, herbs and some fruit (I keep most fruit on a counter).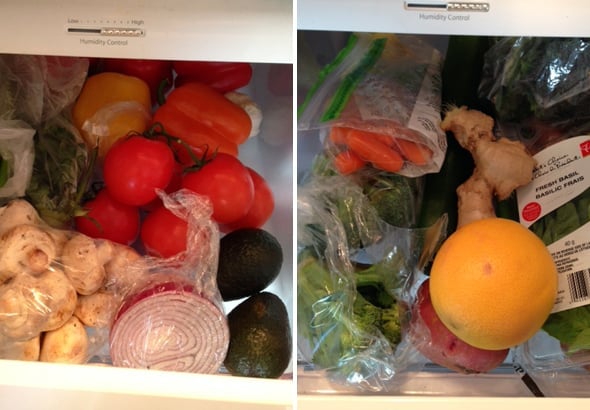 And then the deli drawer is full of cheese mostly for the kids and this lasts a month. I eat only cheese strings once in a while.
2. I've been drinking a lot of post-workout protein berry smoothies again.
3. If you have been following me on Instagram, you know I saw my tricep for the first time this week. Now I'm determined to meet my abs I have never seen before.
4. Made some chicken for you. Perfect for meal preps. Will post recipe next week.
5. I want to go somewhere warm, preferably an all-inclusive resort with full-time daycare. Resort like this one in Riviera Maya, Mexico. This time my abs will look different though.
6. Another goal for this year is a trip to Las Vegas with my man. Just me and him. We have been parents for too long. Although this time I won't be drinking my face off and eating at the Bellagio buffet like 5 years ago. I will go to bed at 11PM to enjoy the next day full of fun. Yeah, I can definitely see my triceps better now and all that makeup…
7. I would like start going to yoga classes in the evening. For health and mental reasons.
8. I got bored with home DVD workouts and started doing various circuits I find on Instagram. So much fun! I'm addicted to Instagram. I also run once in a while.
9. It amazes me that this whole video has been shot with iPhone 5. Who knew it's that good?! We own 7 Apple devices. It's bad. At some point of the day we are all on devices. It works.
10. I wish someone invented measuring spoons like ice cream scoops so I stop using my index finger to scrape off the last bits of agave and maple syrup. I'm cheap, I can't let my organic food go to waste.
11. I've been obsessed with overnight oats this week. I know I'm behind.
12. I think these guys are having fun. I hope my boys never get ideas like this.
13. I think Chalene did Happy Song pretty well. She also gives you a breakdown of the moves. I like her swimming pool.
14. We have been watching Olympics every night. We cheered for Canada but really we cheered for everyone. The athletes worked so hard and majority of them have so many injuries. I truly don't think I want to be a mom of an athlete. Stay home boys, mama will bake you cookies.
We are very proud of Team Canada and especially what matters most in this country is hockey! Needless to say we couldn't be happier with 2 Gold Medals! Waking up at 4 AM to watch the game was for a reason. Great job, Canada, eh! So proud of you!
15. Was going through our photos and found a picture with these two cuties on our trip to Tofino. If I weren't there I would never think they are related, you know what I mean?!
16. Me and Kyle hit the slopes a few times this year. It's been fun. It's his first year boarding and he loves it! Alex has dislocated his shoulder on the first run and now he is our go-to babysitter for Adam.
And I truly love my home. Especially considering the events taking place in Ukraine right now. My heart goes out to all of them. So sad.:(
Under the clouds lies the heart of Vancouver surrounded by the ocean and mountains.
What are your travel plans this year? Did you watch Olympics? Do you ski/snowboard?