Mexican Tuna Salad Recipe with black beans, corn, crunchy vegetables and creamy spicy dressing. This 15 minute salad is perfect for meal prep and is to-die-for!
Love tuna? Make my healthy tuna salad, avocado tuna salad or tuna egg salad and enjoy easy lunches all week long.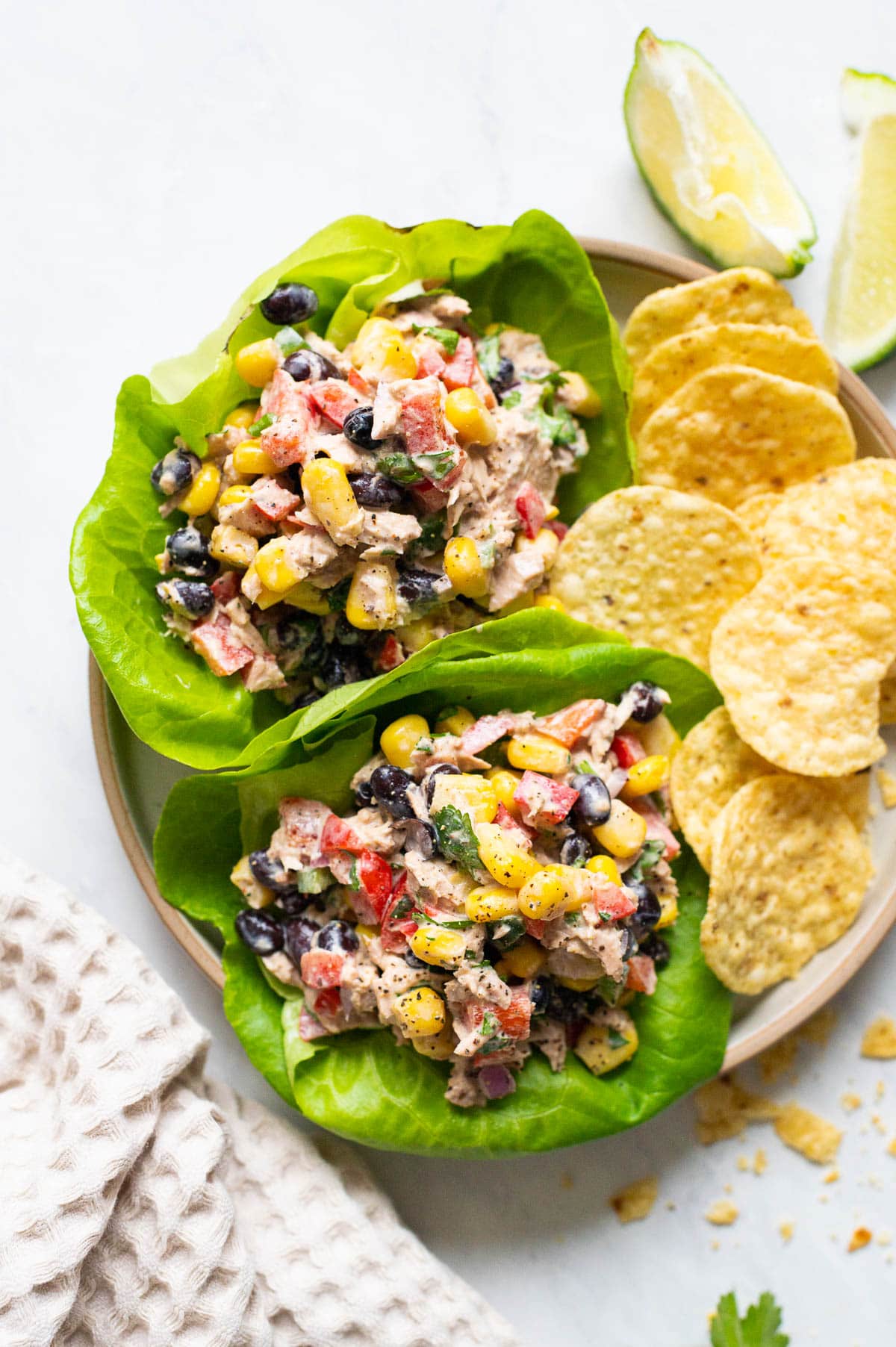 This Mexican tuna salad is one of my latest salads I am obsessed with!
It is ready in 15 minutes with no cooking required. And not only it is absolutely delicious and full of different textures and bright flavors, it is also a good source of protein. Perfect for healthy lunch!
In the past decade, tuna has come a long away and is no longer considered a food we frown upon. If you visit a grocery store near you, you will find many varieties of canned tuna including packed in water and oil.
Grab a few cans, a few veggies and let's make a bowl of delicious chickpea salad with tuna or this Mexican tuna salad recipe.
Canned Tuna 101
Types of tuna:
Albacore tuna: White in color tuna, with a firm texture and with less "fishy" taste. According to US FDA, its mercury levels are higher because it eats more fish that might contain mercury.
Light tuna: Is a mix of tuna species like yellowfin tuna, skipjack tuna and yellowtail tuna. It is yellow to pink in color, more soft and has more flavor. Lower mercury levels than albacore tuna and lower price tag too.
Flakes size:
Solid tuna: A whole piece of tuna packed inside the can.
Chunk tuna: Smaller pieces of solid tuna packed in one can.
Flake tuna: Tuna fish pressed through a fine mesh screen.
What it's packed in:
Packed in water: Has less added flavor and is cheaper.
Packed in oil: Which adds slight flavor and increases the price.
Ingredients You Will Need
To make Mexican salad with tuna you will need a few simple ingredients. Most of them are pantry staples and fridge regulars, so grab a few veggies and you are golden.
Canned tuna: I prefer to use chunky light tuna packed in water due to its price and lower mercury level. You can use any tuna you have on hand.
Black beans: Low sodium canned beans that have been rinsed and drained.
Corn: This time I used drained corn from a can, you can also use fresh corn or frozen corn that has been thawed.
Fresh vegetables: Red bell pepper adds crunch, red onion for zest, cilantro for flavor, jalapeno for spice and lime for lime juice.
Seasonings: I use low sodium homemade taco seasoning, salt and pepper. If you use not low sodium taco seasoning, add less salt.
Mayo: I like to combine both mayonnaise and yogurt for a more healthy dressing. You can omit and use all yogurt.
Yogurt: Regular yogurt or Greek yogurt will work in this tuna corn salad. I recommend at least 2% fat content.
How to Make Mexican Tuna Salad
Here is how to make Mexican tuna salad in a few simple steps. You just need 15 minutes of your time.
Drain and flake tuna: Drain in a colander and then give a squeeze with your hands. Less water in a tuna salad is always better.
Make the dressing: In a small bowl, combine yogurt, mayo, lime juice, taco seasoning, salt and pepper. Whisk with a small whisk or fork to combine.
Prep and chop the veggies: Rinse and drain pre-cooked beans and corn well. Again the less water, the better. Chop and dice bell pepper, red onion, jalapeno and fresh cilantro. Combine all ingredients in a large bowl.
Combine and chill: Pour dressing over the salad and gently but thoroughly stir the salad. If you have time, let it chill for 30 minutes in refrigerator as that's when creamy salads taste even better.
Tips and Variations
Add avocado: If you are not planning to eat salad for days, add cubed 1-2 large avocados. It adds healthy fats making this delicious salad a complete meal, however it browns quickly.
Thick dressing is OK: If you use Greek yogurt, your salad will be very thick at first. It will thin out as other veggies "leak" their juices.
More heat: Leave the seeds in jalapenos.
Add crunch: Add tortilla chips, crushed tostada shells or tortilla strips.
Add cheese: Shredded sharp cheddar cheese or Mexican cheese, and crumbled feta cheese or cotija cheese will add even more flavor.
Add more vegetables: Sliced in half grape tomatoes or cherry tomatoes, chopped cucumber, diced celery, chopped lettuce.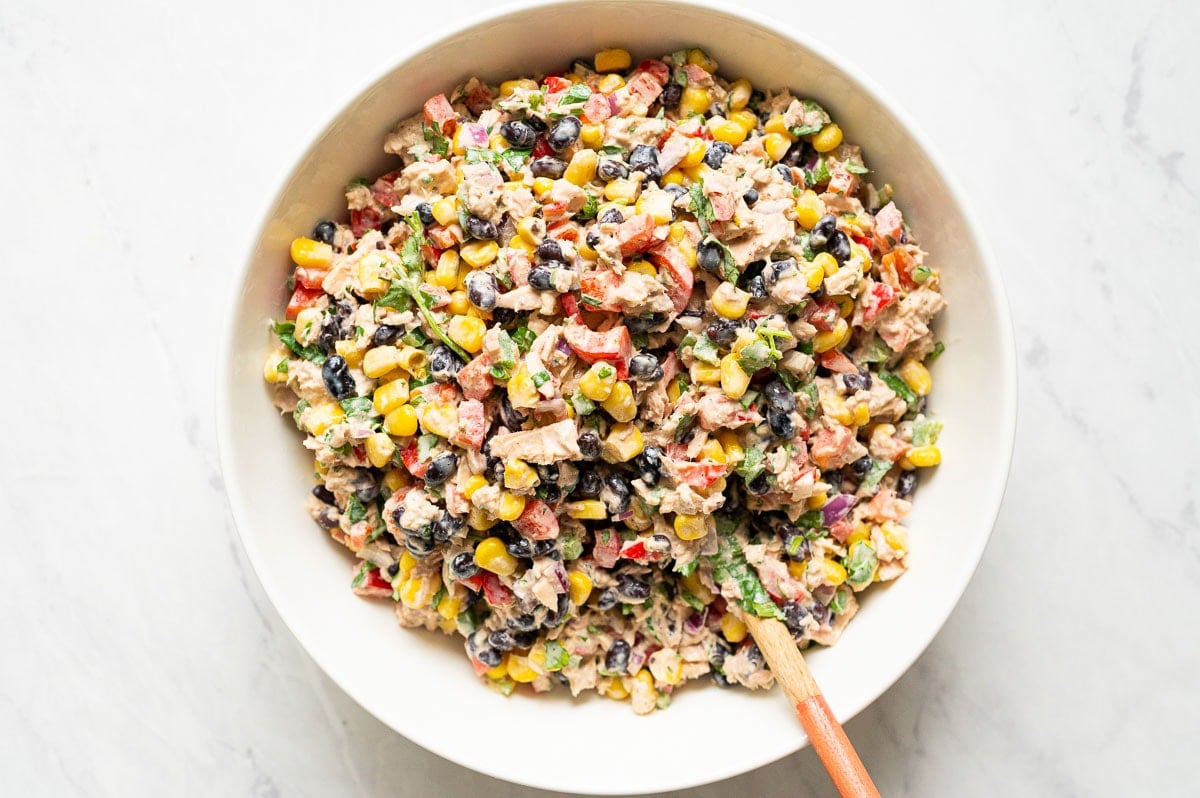 Ideas for Serving
I love to meal prep this Mexican tuna salad for a week of easy lunches.
Serve on its own with tortilla chips, crackers or saltines, and guacamole on a side. Or make 2-3 layered lettuce wraps with any lettuce like romaine lettuce, iceberg lettuce, butter lettuce and add salad on top. Even more fresh veggies!
Make classic tuna salad sandwiches with it!
Bring it to a Mexican potluck. In no way this salad is authentic Mexican food but it has all Mexican flavors I love. Good thing is you don't have to worry about salad becoming soggy!
For Taco Tuesday, pair with carne asada tacos and fresh pineapple salsa.
How to Store The Salad
Store salad leftovers in an airtight container or a salad bowl covered with plastic wrap for up to 5 days. Good thing is because there is no lettuce to go soggy or avocado to turn brown, you can refrigerate this salad for days and it will always taste fresh.
Do not freeze it.
FAQs
What type of canned tuna is best?
Best canned tuna is the one you have on hand. I prefer to use light tuna, in chunks, packed in water as it's cheaper and lighter in mercury. Albacore tuna works too. I go over all canned tuna types above in the post.
Can you swap canned tuna for another type of canned fish?
Yes. Canned salmon will work great in this recipe.
What can I use instead of mayo?
More yogurt or a few tablespoons of extra virgin olive oil. Or mashed avocado but salad will turn brown sooner than later.
More Tuna Recipes
Other Salad Recipes to Try
Mexican Tuna Salad Recipe
Mexican Tuna Salad Recipe with black beans, corn, crunchy vegetables and creamy spicy dressing. Perfect for meal prep and is to-die-for!
Instructions
In a large bowl, add drained tuna and flake with a fork.

Add black beans, corn, bell pepper, red onion, jalapeno and cilantro.

In a small bowl, add yogurt, mayo, lime juice, taco seasoning, salt, pepper and whisk well.

Pour dressing over salad ingredients, stir and enjoy cold! If have time, let salad chill for 30 minutes to allow flavors develop.
Notes
Store: Refrigerate tightly covered for up to 5 days. Do not freeze.
Nutrition
Serving:
1
cup
|
Calories:
145
kcal
|
Carbohydrates:
12
g
|
Protein:
3
g
|
Fat:
6
g
|
Saturated Fat:
1
g
|
Trans Fat:
0.01
g
|
Cholesterol:
5
mg
|
Sodium:
407
mg
|
Fiber:
3
g
|
Sugar:
3
g