This Mexican Bean Salad recipe is quick and simple salad that is hearty, fresh and flavorful. Ready in 15 minutes, it's a perfect addition to taco Tuesdays and gatherings!
Love Mexican dishes? Why not try this mango black bean salad, white bean salad, or some corn tomato avocado salad!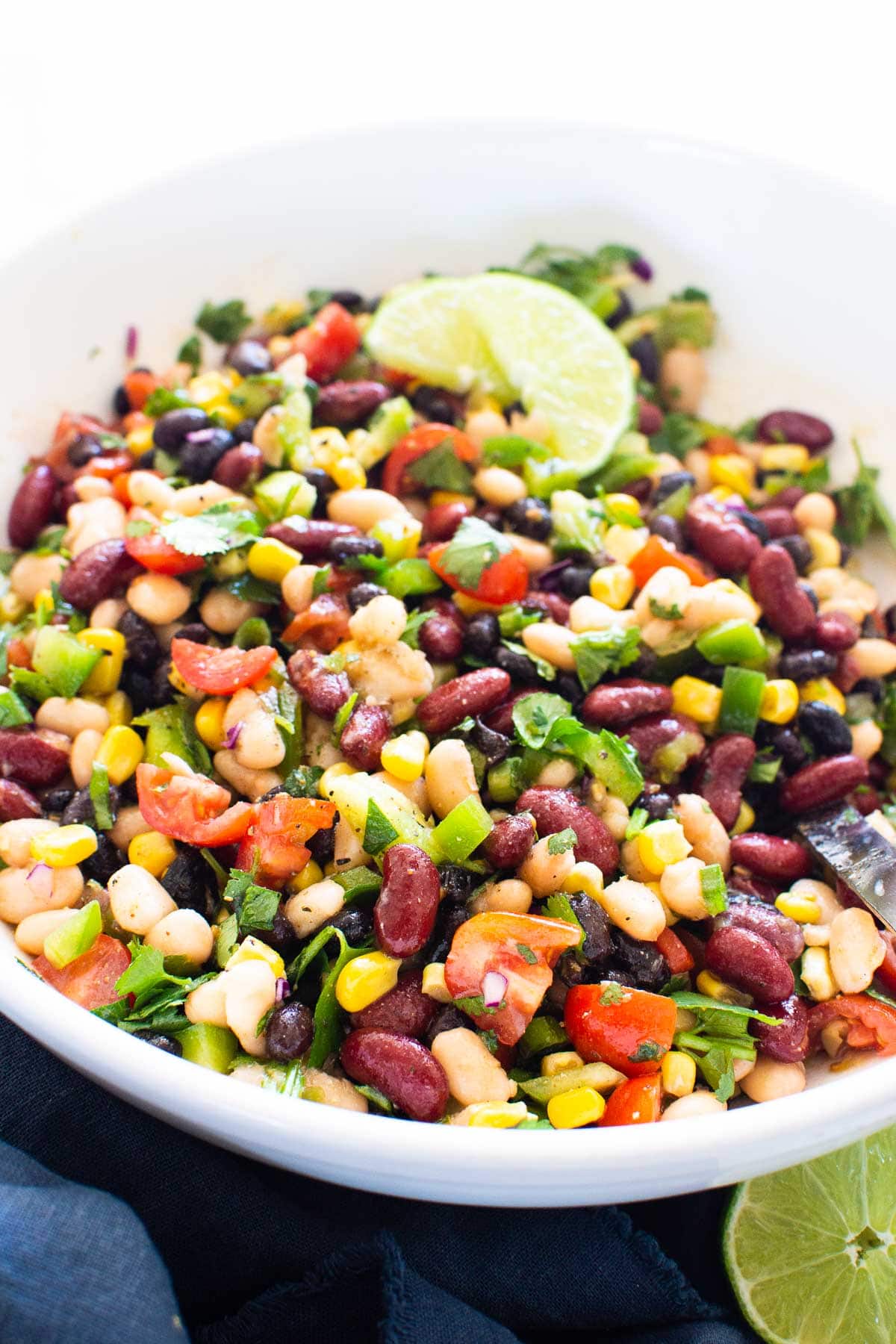 As much as I love a simple green salad and leafy salads like this Mexican kale salad, sometimes you want something that has a little more hearty oomph. And this Mexican bean salad recipe certainly has that.
Packed with legumes and several vegetables, this simple salad recipe has flavor and texture and is sure to satisfy. There are never any leftovers!
Ingredients for Mexican Bean Salad
This Mexican bean salad combines a selection of beans with corn, tomato, bell pepper, and a simple spicy dressing.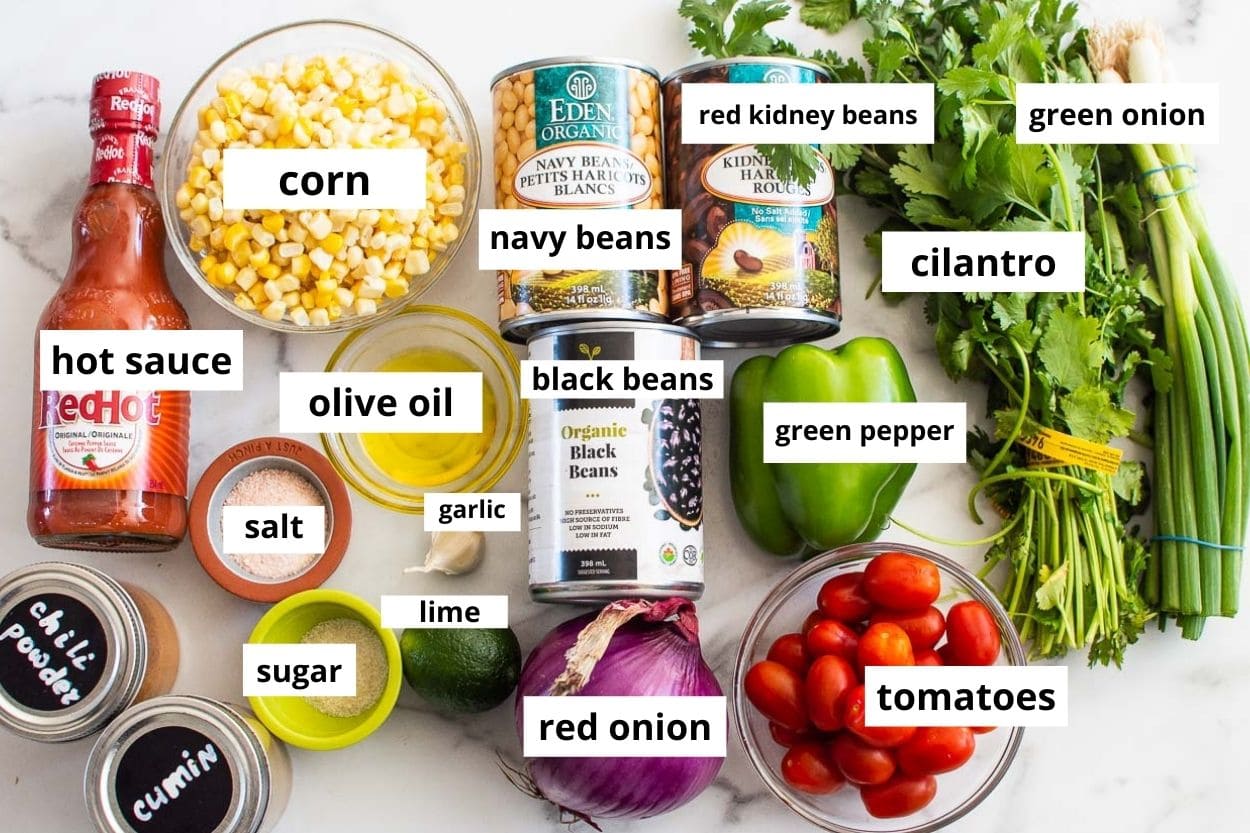 For the salad
The beans: I use a combination of low sodium black beans, red kidney beans, and either navy beans, cannellini beans, great northern beans, or black eyed peas. Feel free to adapt this Mexican bean salad recipe to a four bean salad.
Corn: You can use fresh corn or frozen corn that has been thawed. I don't recommend canned corn if you want the best flavor and texture. You can use leftover grilled corn, Instant Pot corn on the cob or crock pot corn on the cob.
Bell pepper: Any color bell pepper will work like green, red, orange, or yellow peppers. I tend to go for green bell pepper for the slight bitterness it adds. This will add crunch and extra freshness.
Tomatoes: I like to use cherry tomatoes or grape tomatoes, which are easy to quarter and chuck into the salad. Feel free to use larger tomatoes and chop them into small pieces.
Red onion: Since the onion is added to the salad raw, I prefer to use red onion, which is slightly milder. You can also use white onion. The acidity in the salad dressing will help mellow the onion's flavor over time too. Sometimes I'll even use green onion.
Cilantro: If you're not a huge cilantro fan, you can use fresh parsley instead although it won't be exactly the same. Or omit it entirely.
For the dressing
The liquids: A combination of extra virgin olive oil and fresh lime juice as the salad dressing base and add spice with hot sauce. Feel free to add chili sauce or hot sauce to your personal taste.
The seasonings: There are just a few ingredients added to the dressing to boost the flavor including fresh garlic, cumin, chili powder, salt, and a little sugar to balance the flavors. I've tried it with honey and maple syrup, but their flavors are stronger and affect the dressing more. So, I tend to stick with sugar.
How to Make Mexican Bean Salad
Mexican bean salad takes just minutes to prepare and is a perfect appetizer or side dish for warm summer evenings. Full recipe card is located below.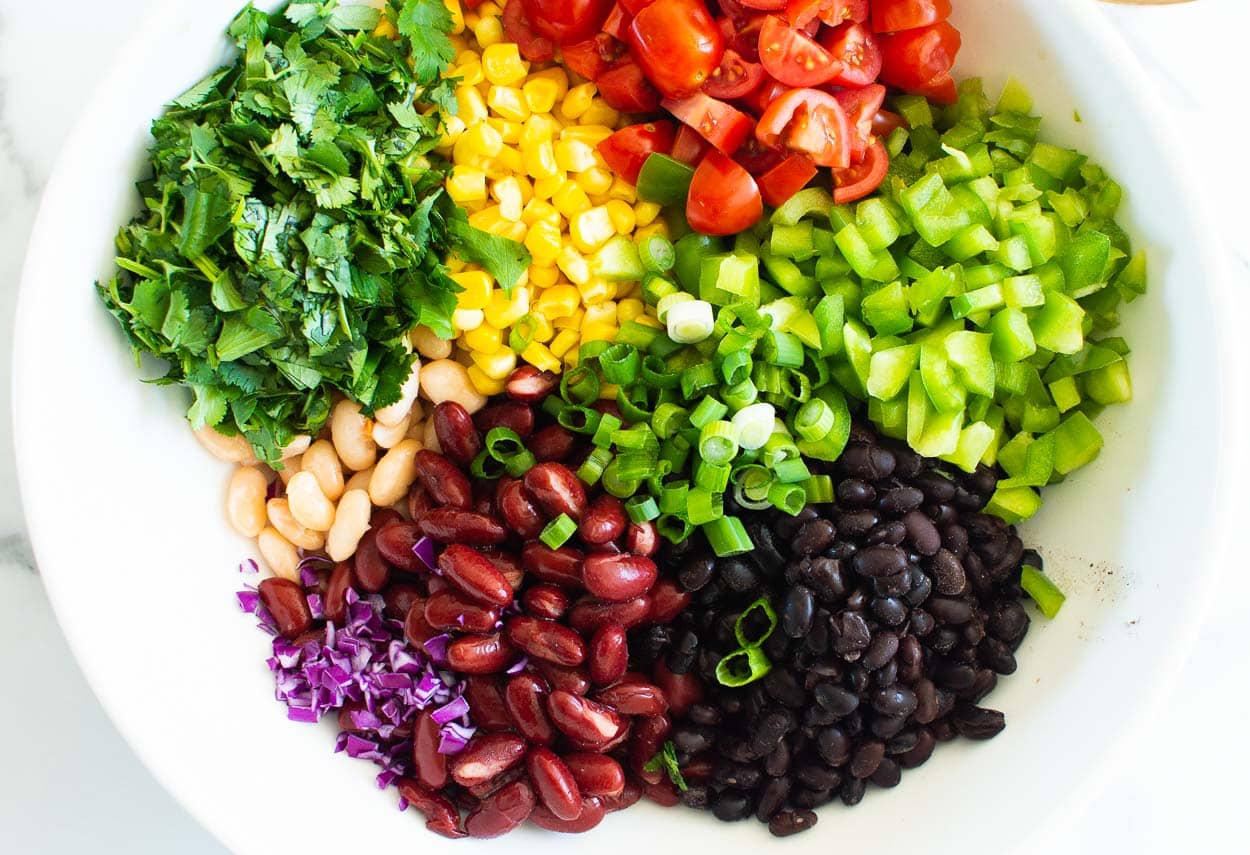 Prepare the vegetables and legumes: Drain and rinse the beans and finely dice the pepper and red onion.
Then quartered the small cherry tomatoes and roughly chop the cilantro. Then add all the chopped ingredients into a large bowl.
If you use larger tomatoes, you may want to dice them finely. Feel free to de-seed the tomatoes if you don't want them making Mexican bean salad soggy.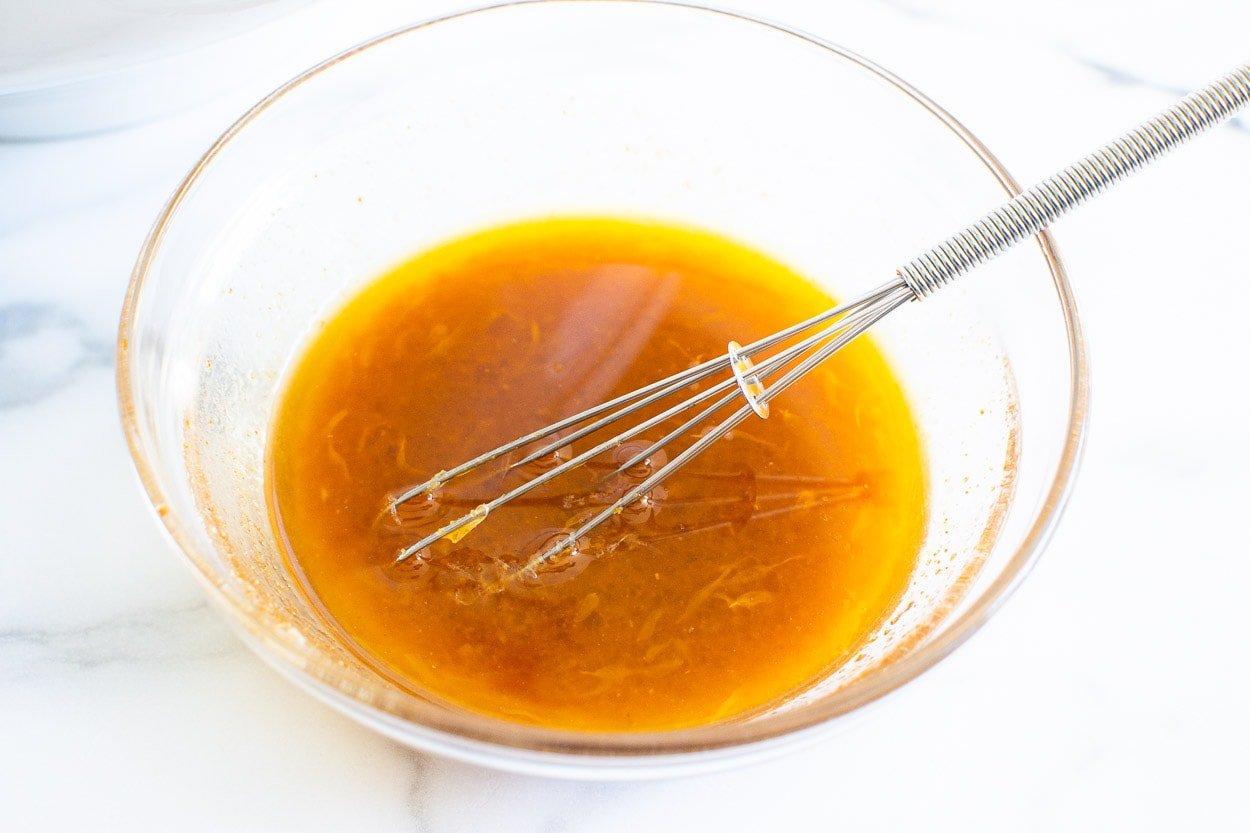 Prepare the dressing: In a small bowl, combine olive oil, lime juice, garlic, sugar, cumin, chili powder, hot sauce, salt and whisk well.
Taste it and adjust any of the ingredients to personal taste.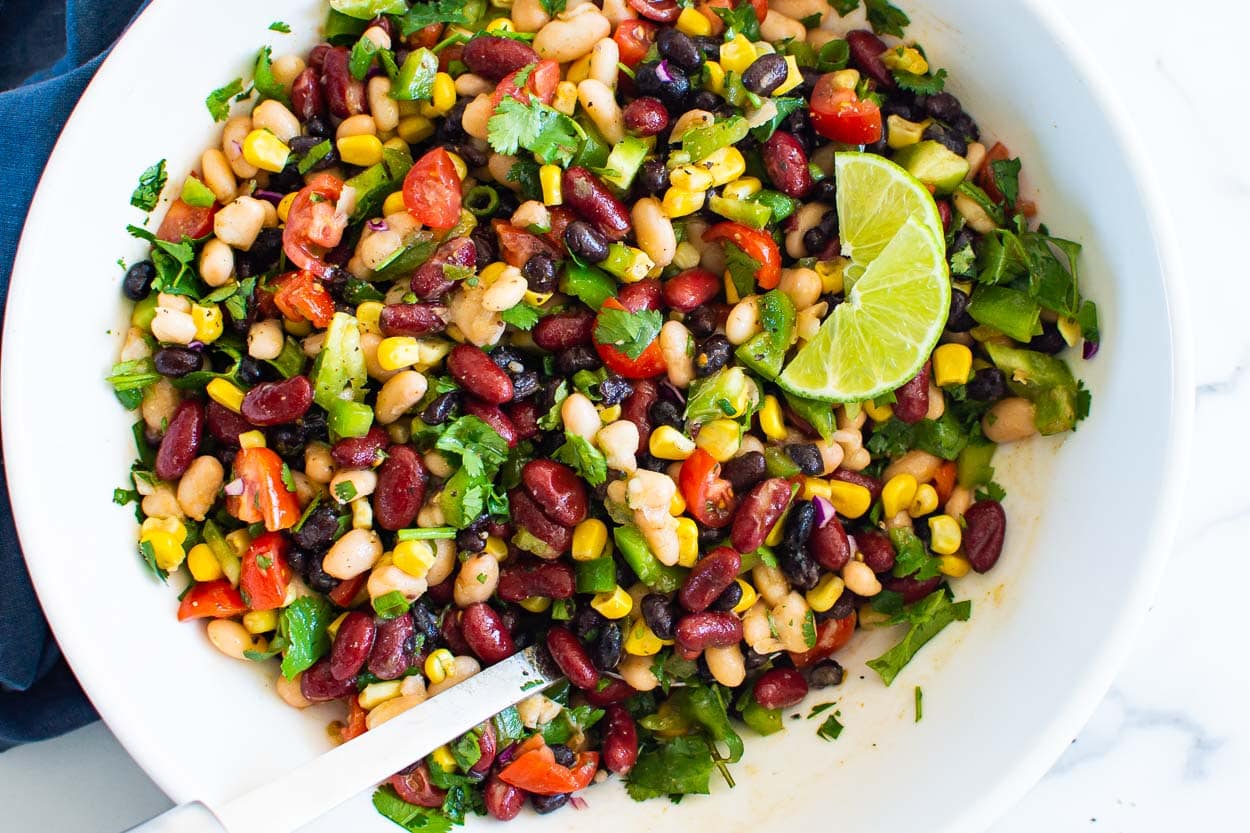 Assemble the salad: Pour the dressing over the Mexican bean salad and toss a few times to make sure it's thoroughly incorporated.
If you have the time, I like to let salad chill in the refrigerator for 20-30 minutes before serving to allow all the flavors to marinate and because it tastes best when chilled.
You can garnish Mexican three bean salad with some slices of jalapeño and lime wedges.
Tips and Variations
Here are my top tips for the best Mexican bean salad recipe in the world!
Experiment with beans: This easy bean salad is super versatile, so mix up the beans based on what you have on hand. Red kidney beans, pinto beans, black beans, black-eyed peas will be great.
Allow it to rest: After preparing the salad, it's a great idea to allow it to chill and marinate for 20-30 minutes. If you have time to wait for 1-2 hours, the flavors will develop even further.
Adding extra ingredients: Be aware that any added ingredients may affect the shelf life of the Mexican bean salad. For example, if you'd like to add avocado, I recommend doing so just before serving.
Make it more of a meal: By adding a grain like cooked quinoa, greens and potentially more protein. To keep the recipe plant-based, use fried tofu recipe. Otherwise, grilled chicken breast would be a simple option.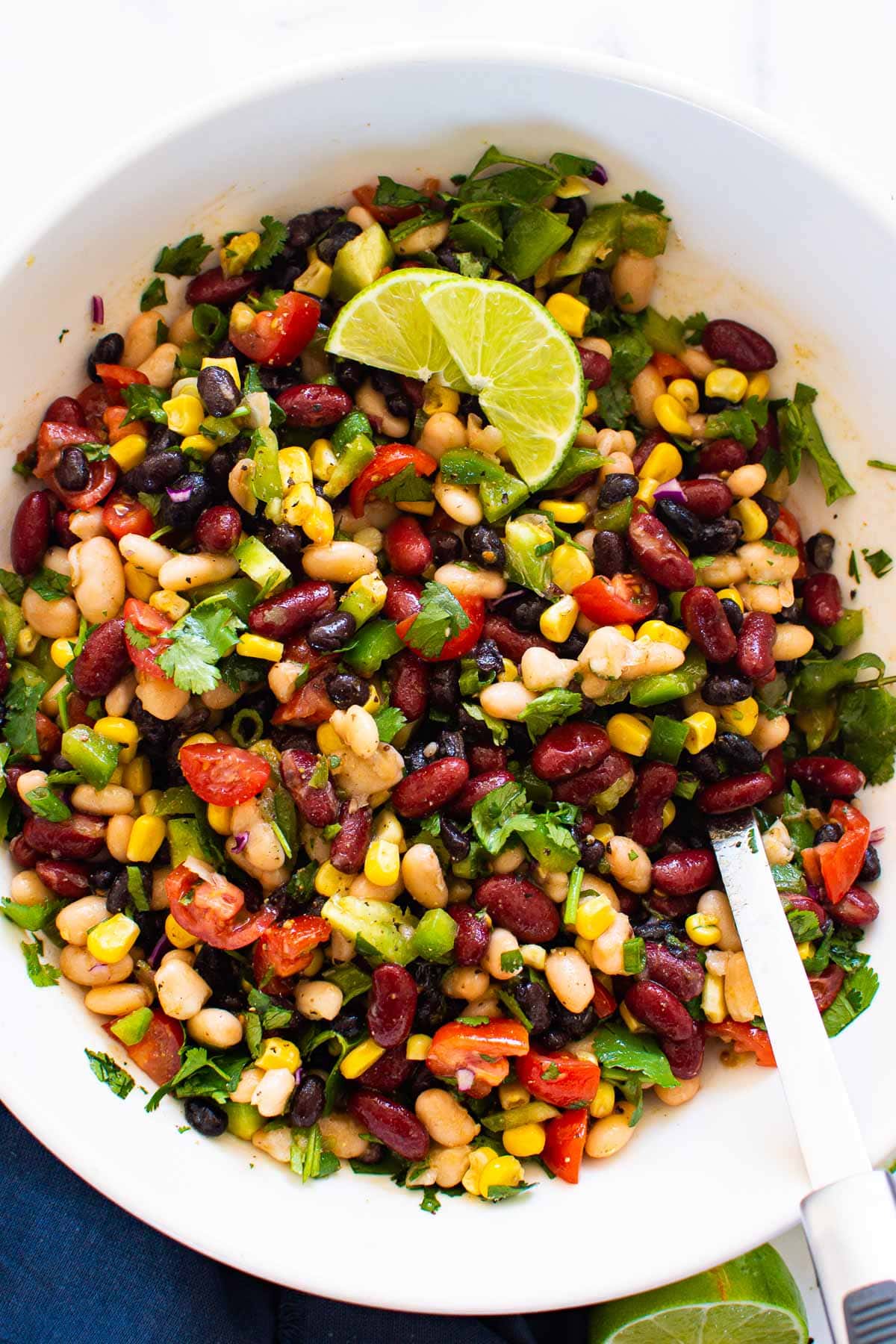 What to Serve Mexican Bean Salad with?
This Mexican bean salad recipe makes for a wonderful addition to both themed and unthemed dinner tables and events. Here are just a few ways you can enjoy it:
Can I Make It Ahead?
You can prepare this Mexican bean salad and the dressing separately up to 1 day in advance and combine the two a few minutes before serving.
Olive oil in the dressing will solidify in the fridge. Just place the container in a bowl of hot water for a few minutes to bring it back to the melting point.
How to Store
Store: Once fully assembled, any leftover Mexican bean salad will keep in an airtight container in the refrigerator for up to 2 days. If you haven't included tomatoes, then it may last 3-4 days.
If you find the flavors have mellowed too much over time, add a splash of lime juice or lemon juice to freshen them up again.
FAQs
Can I use dried beans?
Yes. As dried legumes require a long soaking and then cooking time, I would suggest cooking them in batches and freezing. That way, any time you want to make a salad like this, all you need to do is allow them to thaw. I do this with Instant Pot black beans.
Can I freeze Mexican bean salad?
I don't recommend freezing Mexican bean salad because of the various fresh vegetables. Their texture will become unpleasant upon thawing.
Is Mexican bean salad healthy?
Mexican bean salad is packed with beans! According to Healthline, beans are full of protein, fiber, and are low in fat and calories. They contain high amounts of zinc, copper, manganese, selenium, and vitamins B1, B6, E, and K. Drain and rinse canned beans to reduce the salt content of even low-sodium canned beans or cook your own dried beans.
More Bean Salad Recipes to Try
If you enjoyed this Mexican bean salad recipe, you may also enjoy browsing through my entire collection of Mexican recipes!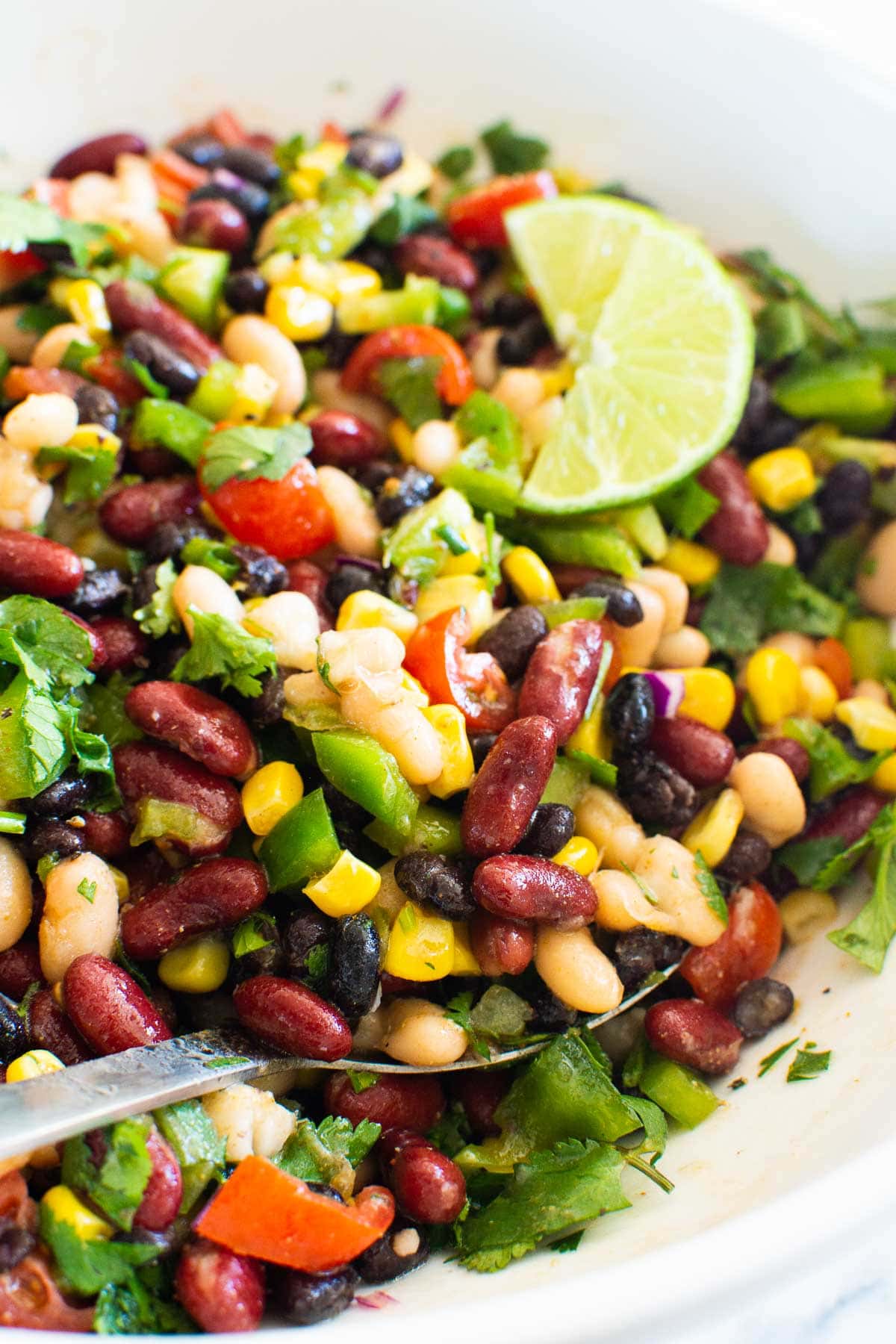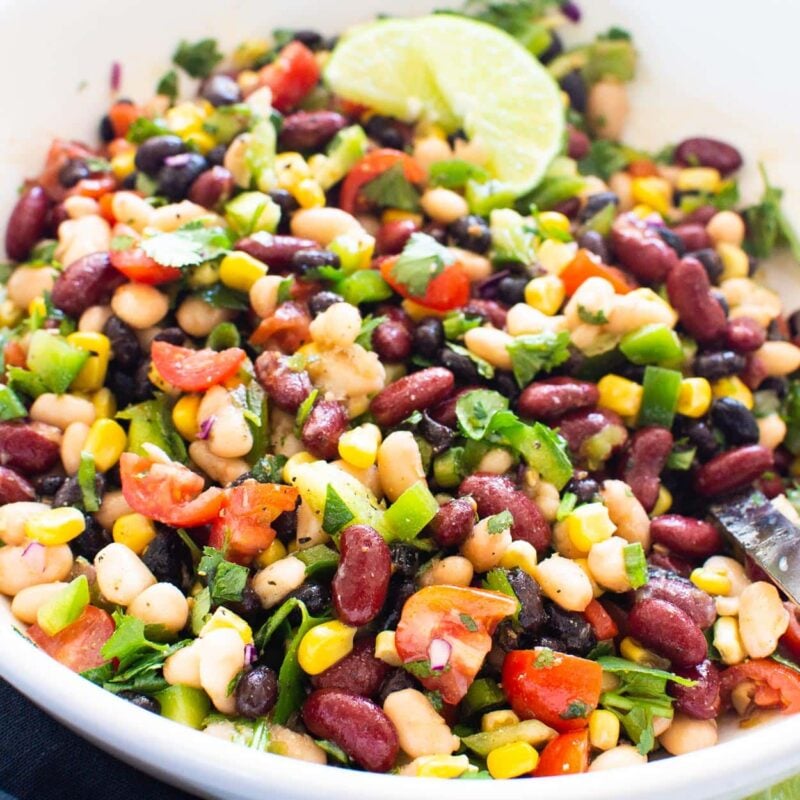 15 Minute Mexican Bean Salad Recipe
Mexican Bean Salad recipe is quick simple salad with canned beans. Hearty yet light, fresh, flavorful, and ready in 15 minutes.
Ingredients
For the Salad:
15

oz

can low sodium black beans

rinsed and drained

15

oz

can low sodium red kidney

rinsed and drained

15

oz

can low sodium navy, cannellini, great Northern beans or black eyed peas

rinsed and drained

1

cup

corn

fresh or frozen

1

large

any color bell pepper

chopped

1

cup

tomatoes

chopped

1/2

cup

cilantro

finely chopped

1/4

cup

red onion

finely chopped
Instructions
In a small bowl, add olive oil, lime juice, garlic, sugar, cumin, hot sauce, chili powder and salt; whisk well and set aside.

In a large bowl, add beans, corn, bell pepper, tomatoes, cilantro and red onion.

Give dressing a good whisk, pour over salad and gently mix with large spoon until well combined.

Serve cold. It would be also great to let salad sit in the fridge for 15-30 minutes if you have time.
Notes
Store: Refrigerate in an airtight container for up to 2 days.
Make Ahead: Refrigerate without the dressing for up to 24 hours, and then add before serving. Dressing can be also refrigerated separately, before mixing place jar in a bowl with hot water for a few minutes to melt olive oil.
Bell pepper color: I used green bell pepper because I love less sweet taste it adds. You can use any.
Why add sugar? It really rounds out the dressing. I wouldn't use maple syrup or honey.
Any beans work: Use a combination of beans you love or have on hand. The key is variety, no other rules.
Nutrition
Serving:
1.25
cups
|
Calories:
240
kcal
|
Carbohydrates:
29
g
|
Protein:
8
g
|
Fat:
7
g
|
Saturated Fat:
1
g
|
Sodium:
353
mg
|
Fiber:
9
g
|
Sugar:
4
g