This Mexican Bean Salad recipe is for a quick, simple corn and black bean salad that is hearty yet light, fresh, packed with flavor, and ready in no time at all. It's a perfect addition to taco Tuesdays, Mexican potlucks, picnics, and gatherings!
Love Mexican dishes with legumes? Why not try this mango black bean salad, black bean salsa, or some Instant Pot refried beans!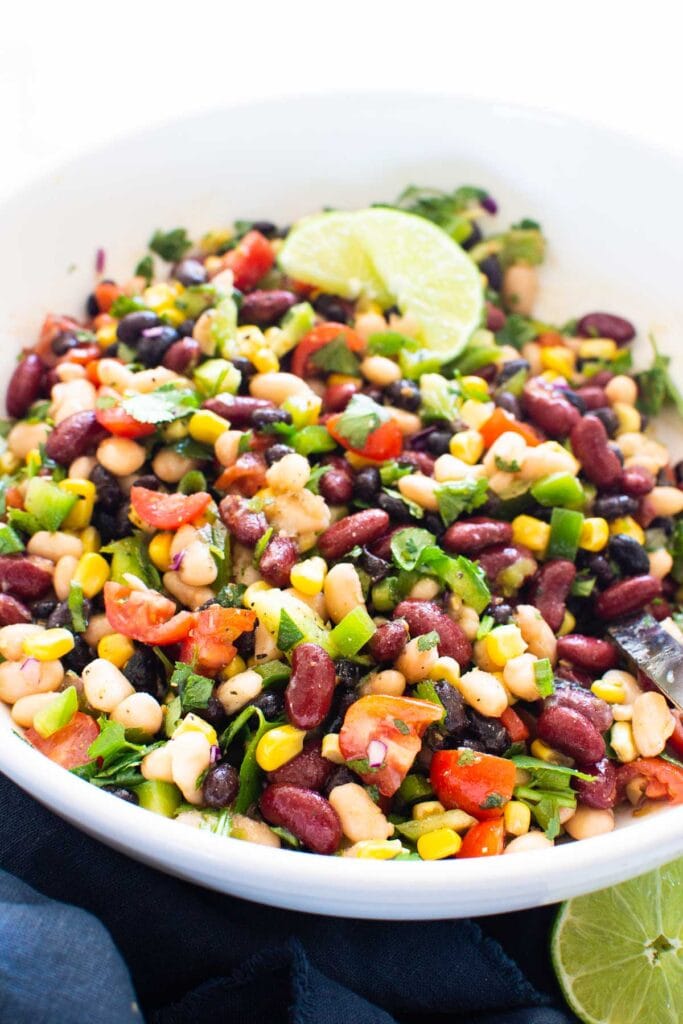 Quick and Fresh Mexican Bean Salad Recipe
When taco night comes about, I love to fill my table with lots of appetizers and sides for everyone to choose from, like Mexican street corn salad, mango salsa, avocado salad, and this Mexican bean salad.
This Mexican corn and black bean salad combines a selection of tasty beans with corn, tomato, bell pepper, and a simple spicy (adjustable!) salad dressing for a dish that seems too simple to be as delicious as it is. Yet there are never any leftovers whether you're serving it at home or for potlucks and larger gatherings!
As much as I love a simple green salad and leafier salads like this Mexican kale salad, sometimes you want something that has a little more hearty 'oomph,' and this authentic Mexican bean salad recipe certainly has that. Packed with legumes and several vegetables, this simple salad has flavor and texture and is sure to satisfy. Best of all, though, it takes just minutes to prepare and is a perfect appetizer or side dish for warm summer evenings.
Best of all, as quick as this Mexican three bean salad is to prepare, it's also versatile. Make the most of what beans you have in your pantry, use fresh or frozen corn depending on the time of the year, and adapt the salad dressing to your liking, whether you prefer things mild or with a punch of heat.
As long as you have a few cans of beans in your pantry, this Mexican corn bean salad is stress-free, ready-in-minutes, crowd-pleasing dish waiting for you! Serve it up alongside corn tortillas, pico de gallo, and tacos for a delicious Mexican-inspired spread!
Ingredients and Substitutions
For the Mexican 3 bean salad:
The beans: I use a combination of low-sodium black beans, red kidney beans, and either navy, cannellini, great northern beans, or black-eyed peas – luckily, there's tons of room for variation. You could even adapt this Mexican 3 bean salad recipe to a healthy 4-bean salad if preferred!
Corn: You can use fresh or frozen corn (thawed), and this will add a wonderful subtle sweetness to the salad. I'd avoid canned corn if you want the best flavor and texture. You could use leftover grilled or roasted corn for a slightly smoky, charred flavor, though.
Bell pepper: You can use any bell pepper; green, red, orange, or yellow – though I tend to go for green for the slight bitterness it adds. This will add crunch and extra freshness to the Mexican bean salad.
Tomatoes: I use cherry tomatoes or other small tomatoes, which are easy to quarter and chuck into the salad. Feel free to use larger tomatoes, though, based on what's in season and chop them into small pieces.
Red onion: Since the onion is added to the salad raw, I prefer to use red onion, which is slightly milder/sweeter. You could use white onion, though. The acidity in the salad dressing will help mellow the onion's flavor over time, too. Sometimes I'll even use green onion when I have no others in the fridge.
Cilantro: If it's a Mexican dish that I'm making, then cilantro is always nearby! If you're not a huge cilantro fan, you could use parsley instead, though it won't be exactly the same. Alternatively, omit it entirely.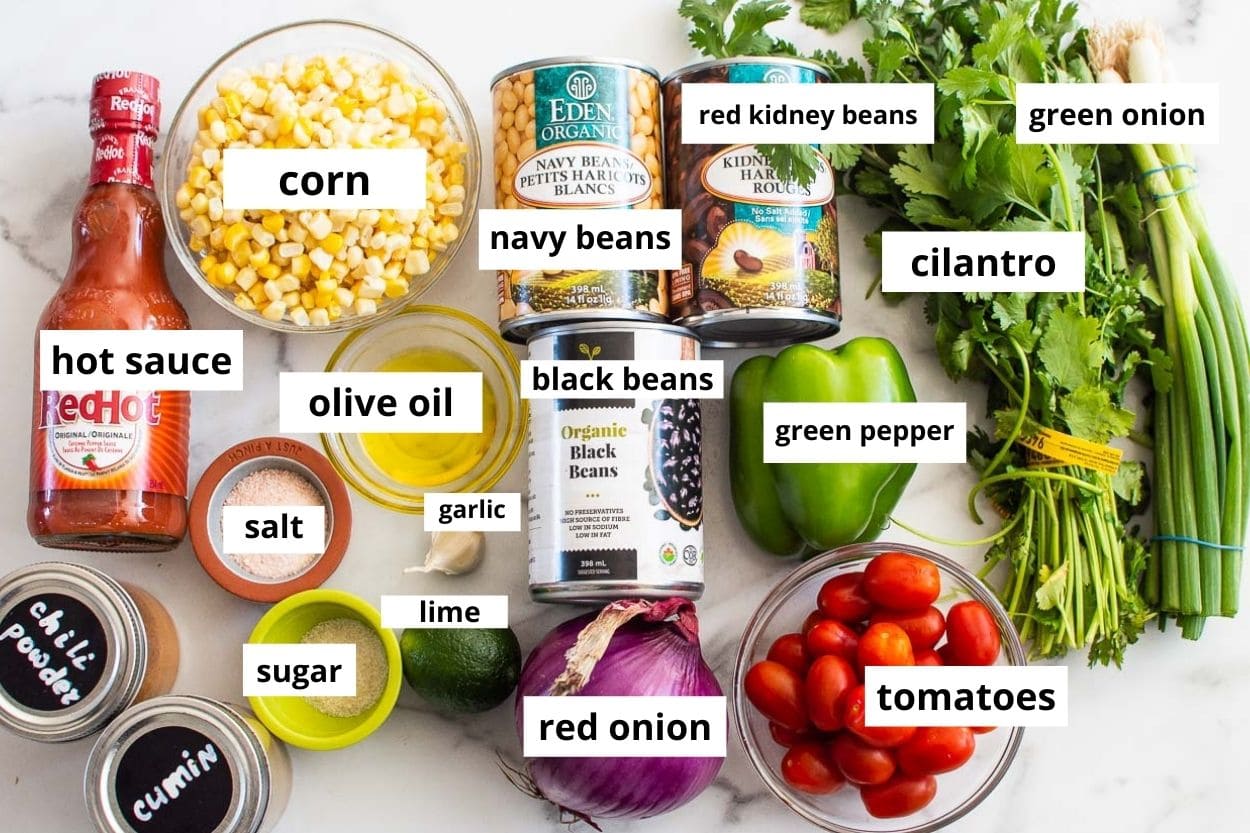 For the dressing:
The liquids: I use a combination of extra virgin olive oil and lime juice as the dressing base and add spice with hot sauce. You could use the chili sauce/hot sauce of your choice and adjust the amount to personal taste.
The seasonings and aromatics: There are just a few ingredients added to the dressing to boost the flavor, including fresh garlic, cumin, chili powder, salt, and a little sugar to balance the flavors. I've tried it with honey and maple, but their flavors are stronger and affect the dressing more, so I tend to stick with sugar for my preferred results.
Optional Add-ins:
Avocado: You could include sliced avocado, easy healthy guacamole, or creamy Greek yogurt guacamole.
Cheese: A little cotija or feta is a great addition to this mixed bean and vegetable salad.
Chili: If you like things spicy, you can add a finely diced jalapeño (de-seeded or with a few seeds for extra heat). You could use a serrano pepper for a hotter option, and for a milder option, a poblano pepper would work.
Leafy greens: Like kale, spinach, or lettuce. These aren't traditional additions to this easy Mexican bean salad recipe but help to add bulk and pair well if you have leafy greens that need using.
How to Make Mexican Bean Salad
Prepare the vegetables and legumes: You'll need to drain and rinse all the beans (if using canned) and finely dice the pepper and red onion. I then quartered the small cherry tomatoes and roughly chopped the cilantro. Then add all the chopped ingredients to a large serving bowl.
If you use larger tomatoes, then you may want to dice them finely. Feel free to de-seed the tomatoes if you don't want them making the Mexican three bean salad 'soggier.'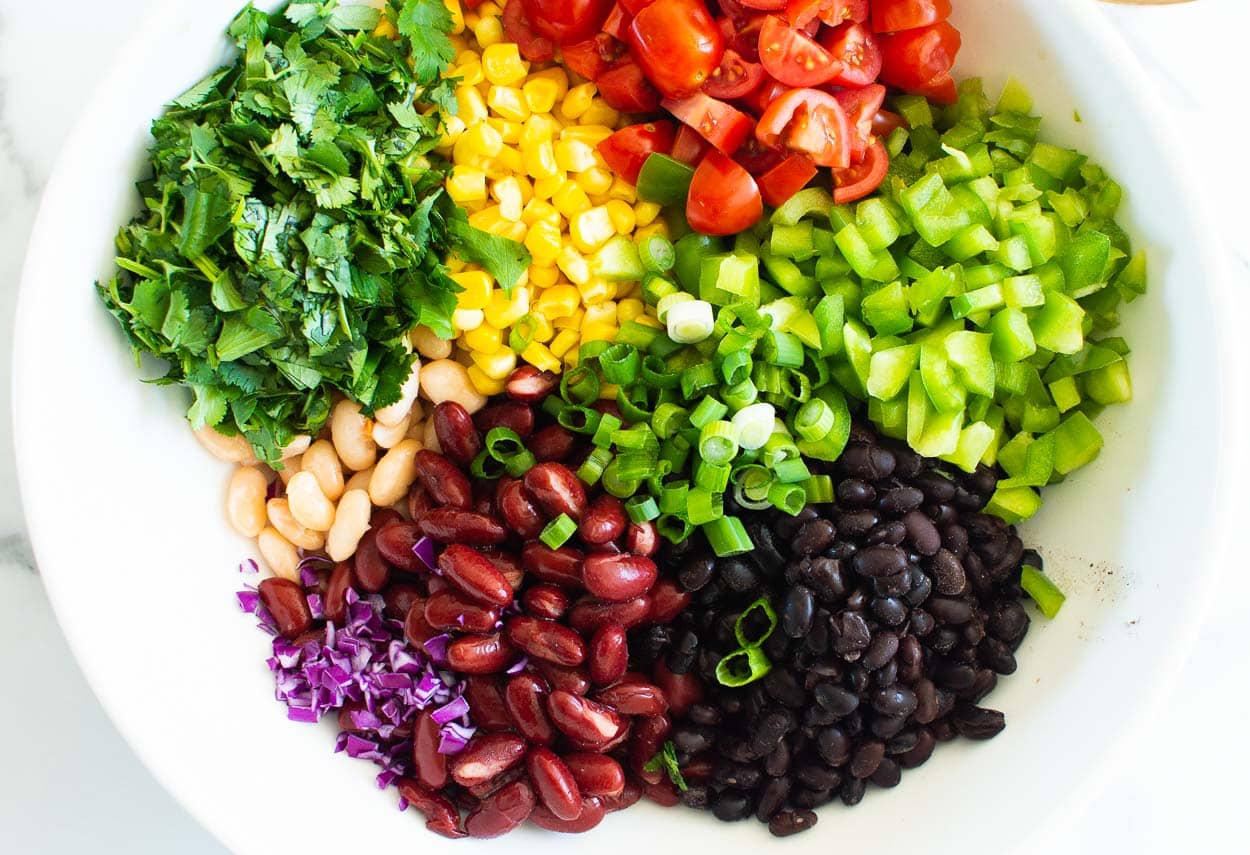 Prepare the dressing: In a small bowl, combine all the dressing ingredients and whisk well. Taste it and adjust any of the ingredients to personal taste. I.e., more sugar for sweetness, more hot sauce or chili for spice, etc.
Assemble the salad: Pour the dressing over the salad and toss a few times to make sure it's thoroughly incorporated. If you have the time, I like to let it chill in the refrigerator for 20-30 minutes before serving to allow all the flavors to marinate and because it tastes best when chilled.
Optionally you could garnish the three-bean salad with some slices of jalapeño and lime wedges.
How to Serve?
This Mexican bean salad makes for a wonderful addition to both themed and unthemed dinner tables and events. Here are just a few ways you could enjoy it:
Like a salsa: Serve with corn tortilla chips as an appetizer.
Tacos: With fish or shrimp tacos, chicken tacos, carne asada tacos, etc. Alternatively, you can serve this up within a corn tortilla with some avocado or guacamole for simple meat-free tacos.
Quesadillas: Like these chicken quesadillas or vegetarian quesadillas
Burritos: Like this chicken burrito or burrito skillet. You could even use this Mexican bean salad as a burrito filling along with some rice and cheese.
Enchiladas: Alongside chicken enchiladas (or an enchilada skillet)!
Wraps: You can easily make them into lettuce wraps with a bit of guacamole and cheese.
Meat: You can serve this as a fiber-rich side salad to tons of proteins like this coconut lime chicken or chili lime chicken, Carne Asada, healthy pulled pork, etc.
Fish: Let's not forget fish dishes like grilled shrimp skewers, grilled salmon, lime ginger salmon, shrimp ceviche, etc.
Eggs: This Mexican corn bean salad is also a great side to various light egg dishes like this one-pan sweet potato and eggs, crustless zucchini quiche, sweet potato hash, egg muffins, etc.
As part of a spread: Alongside other sides like this Instant Pot corn on the cob or Mexican street corn salad, avocado salad, Instant Pot refried beans, and salsas like Pico de Gallo or a fruity option like peach or pineapple salsa.
You could also add more greens and some protein to turn this Mexican corn and black bean salad into a complete meal or even just serve it over some toast or crostini for a quick and healthy snack!
How to Make Ahead, Store and Reheat
Make ahead: You can prepare this Mexican 3 bean salad and the dressing separately up to a day in advance and combine the two a few minutes before serving. The olive oil in the dressing can solidify somewhat in the fridge, so you'll likely need to place the container in a bowl of hot water for a few minutes to bring it back to the melting point.
Store: Once fully assembled, any leftover Mexican three bean salad will store in an airtight container in the refrigerator for up to 2 days. If you haven't included tomatoes, then it may last 3-4 days.
If you find the flavors have mellowed too much over time, add a splash of lime juice to freshen them up again.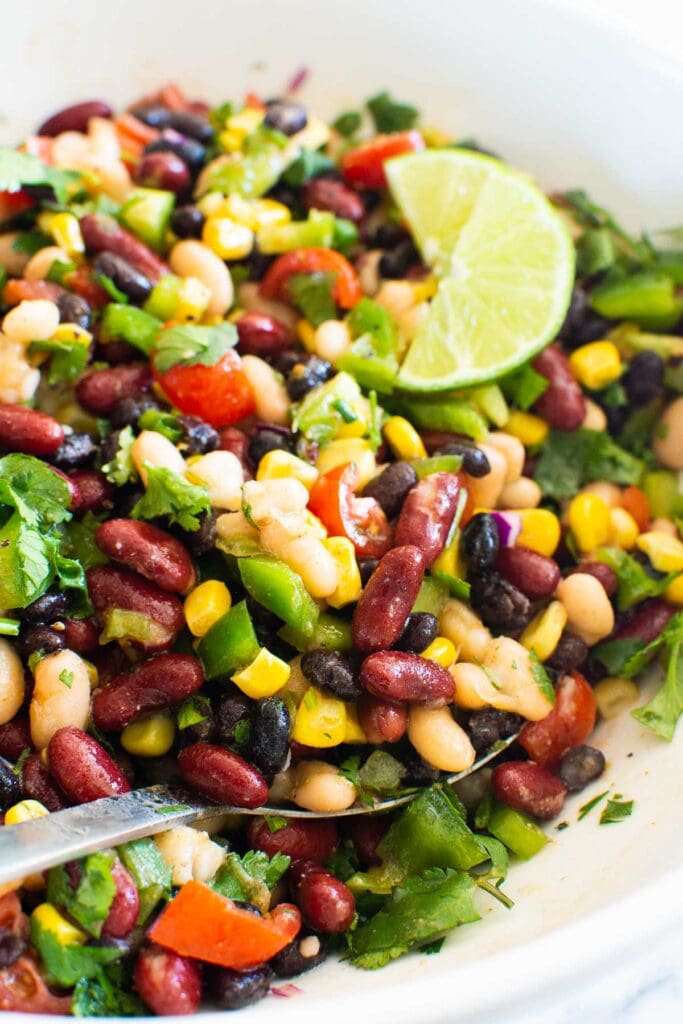 FAQs
Can I use dried beans?

Yes, of course. As dried legumes require a long soaking and then cooking time, I would suggest cooking your dried legumes in large batches and storing them in your freezer. That way, any time you want to make a dish like this, all you need to do is allow them to thaw. I do this with black beans.
Can I freeze Mexican 3-bean salad?

I wouldn't recommend trying to freeze this Mexican bean salad recipe because of the various fresh vegetables in the salad. Otherwise, the textures of the ingredients can change.
Is Mexican 3 bean salad healthy?

It sure is – beans are packed with protein, fiber, and several vitamins and minerals. Drain and rinse canned beans to reduce the salt content of even low-sodium cans or make them yourself with dried beans. Along with the beans, this salad contains other veggies packed with vitamins, minerals, and antioxidants for a highly nutritious dish.
More Recipe Tips and Variations
Experiment with beans: This Mexican corn and black bean salad is super versatile, so mix up the beans based on what you have available. Red kidney beans, pinto beans, black beans, black-eyed peas – there are several options that you can choose from.
Allow it to rest: After preparing the salad, it's a great idea to allow it to chill and marinate for a while in the fridge while 20-30 minutes will be fine; if you have time to wait for 1-2 hours, the flavors will develop even further, and it really becomes something special!
Adding extra ingredients: Be aware that any added ingredients may affect the shelf life of the Mexican bean salad. For example, if you'd like to add avocado, I recommend doing so just before serving.
Make it more of a meal: by adding a grain like quinoa and potentially more protein. To keep the recipe plant-based, you could use pan-fried tofu. Otherwise, grilled chicken would be a simple option.
More Mexican Bean Recipes
If you enjoyed this Mexican bean salad recipe, you may also enjoy browsing through my entire collection of Mexican and Tex-Mex inspired recipes!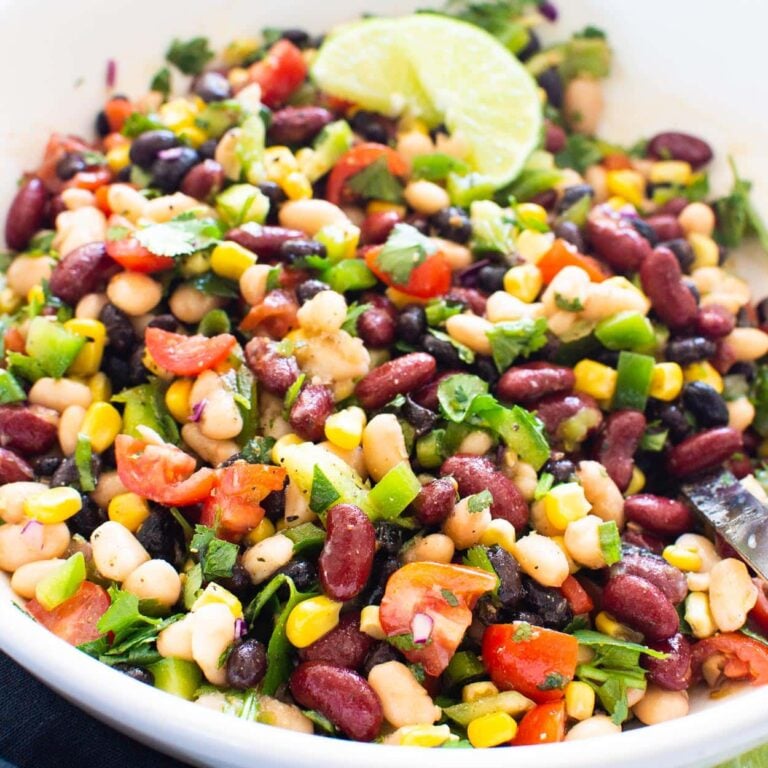 Easy Mexican Bean Salad
Mexican Bean Salad recipe is a quick, simple corn and black bean salad that is hearty yet light, fresh, packed with flavor, and ready in no time at all.
Print
Rate
Ingredients
For the Salad:
15

oz

can low sodium black beans

rinsed and drained

15

oz

can low sodium red kidney

rinsed and drained

15

oz

can low sodium navy, cannellini, great Northern beans or black eyed peas

rinsed and drained

1

cup

corn

fresh or frozen

1

large

any color bell pepper

chopped

1

cup

tomatoes

chopped

1/2

cup

cilantro

finely chopped

1/4

cup

red onion

finely chopped
Instructions
In a small bowl, add olive oil, lime juice, garlic, sugar, cumin, hot sauce, chili powder and salt; whisk well and set aside.

In a large bowl, add beans, corn, bell pepper, tomatoes, cilantro and red onion.

Give dressing a good whisk, pour over salad and gently mix with large spoon until well combined.

Serve cold. It would be also great to let salad sit in the fridge for 15-30 minutes if you have time.
Store: Refrigerate in an airtight container for up to 2 days.
Make Ahead: Refrigerate without the dressing for up to 24 hours, and then add before serving. Dressing can be also refrigerated separately, before mixing place jar in a bowl with hot water for a few minutes to melt olive oil.
Notes
Bell pepper color: I used green bell pepper because I love less sweet taste it adds. You can use any.
Why sugar? It really rounds out the dressing.  I wouldn't use maple syrup or honey.
Any beans work: Use a combination of beans you love or have on hand. The key is variety, no other rules.
See Recipe Post for more Tips and FAQ's
Nutrition
Serving:
1.25
cups
|
Calories:
240
kcal
|
Carbohydrates:
29
g
|
Protein:
8
g
|
Fat:
7
g
|
Saturated Fat:
1
g
|
Sodium:
353
mg
|
Potassium:
152
mg
|
Fiber:
9
g
|
Sugar:
4
g
|
Vitamin A:
394
IU
|
Vitamin C:
23
mg
|
Calcium:
13
mg
|
Iron:
1
mg
Join today and start saving your favorite recipes
Recipes and images are a copyright of ifoodreal.com. It is against the law to republish recipes anywhere including social media, print and all world wide web. Nutritional info is provided for informational purposes only and to the best knowledge.