This Healthy No Bake Nutella Pie is packed with a creamy chocolate filling, wrapped in healthy nut crust and tastes like a decadent Ferrero Rocher candy!
Want more healthy no bake twists on everyday classics? Try healthy banana cream pie and no bake peanut butter pie!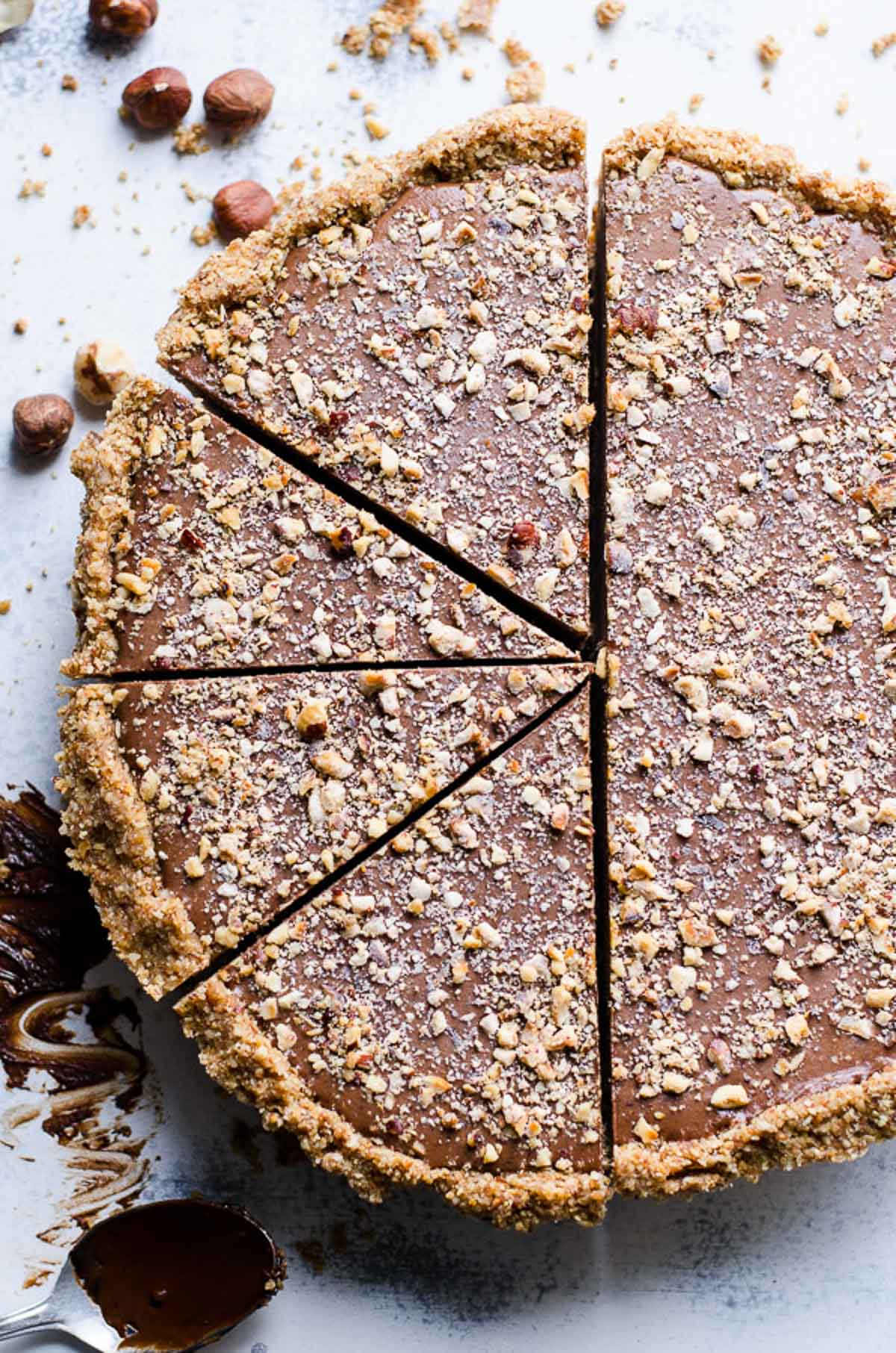 The combination of nuts and chocolate has always been a dynamic duo. Just think about recipes like no bake peanut butter oatmeal bars! Maybe it's the creamy crunchy textures or the sweet and salty flavors. Whatever it is, it's magic!
This healthy chocolate and hazelnut pie is all of that plus it has the appeal of not having to turn on the oven!
It tastes as dreamy as a Ferrero Rocher candy but is made with wholesome ingredients that deliver healthy fats, complex carbs, iron, fiber, and a bit of organic sugar.
My healthy version of Nutella gives us just 14g of sugar in an entire slice of this pie as opposed to the 11g of sugar found in just 1 tablespoon of the commercial Nutella.
This healthy no bake Nutella pie is a tradition for our family around Christmas time. We're not married to the idea of eating healthy pumpkin pie every year, so sometimes we'll serve Nutella pie instead.
If there's any leftover we keep it frozen and enjoy a piece now and again throughout the month.
Why Is This Nutella Pie Healthier?
Traditional Nutella you'd pick up in the store has high amounts of sugar, fat from palm oil or soybean oil, and synthetic ingredients.
In this pie, healthy fats come from coconut oil and coconut milk, omega 3s and antioxidants from the nuts, and iron and fiber from the dates.
Plus this recipe uses much less refined sugar. It's also dairy-free, vegan, and delightful.
Ingredients You'll Need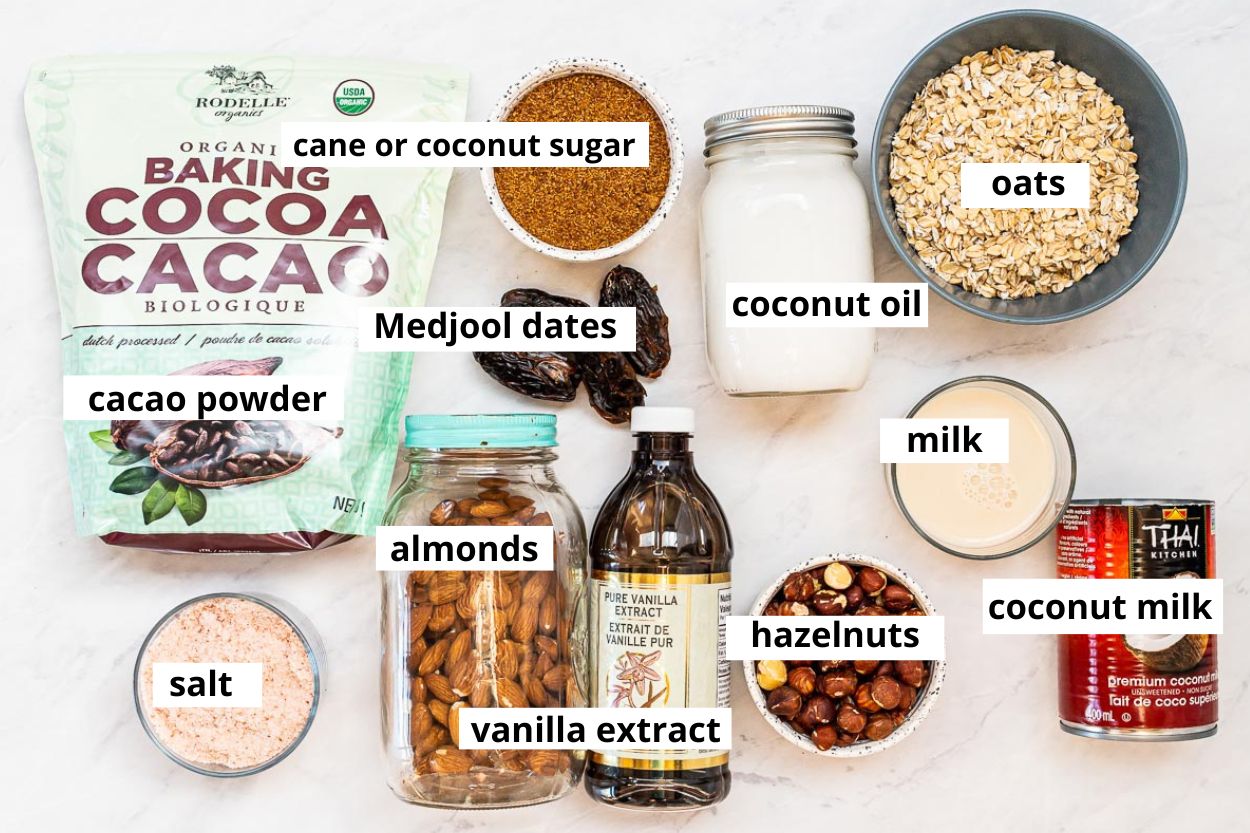 We use almonds and oats instead of flour for the base of the crust, making it gluten free. I also add in some almond milk and coconut oil to keep it dairy free too.
This filling is made with things like toasted hazelnuts, cacao powder, and coconut milk which make it thick, creamy, and chocolaty. Then, topped with a garnish of toasted hazelnuts for that extra crunch!
Almonds & Rolled oats: Combined they create the flourless base of the crust. Use quick oats or rolled oats, they both work.
Salt: Brings out a bit of extra flavor from the oats and almonds. It also does the same for the filling.
Medjool dates: Remove the pits or buy them already pitted. These gems are a natural sweetener and will also help to create a paste that forms the dough.
Melted coconut oil: Melt first, measure after. Used instead of traditional butter, to add moisture to the crust and to solidify it once it has set.
Milk: The liquid needed to balance out the dry ingredients. To keep it dairy free I use almond milk.
Hazelnuts: We'll be toasting them to bring out that crispy, buttery nuttiness! Keep some aside for decoration.
Coconut milk: Full fat from a can is needed for richness and to help keep the filling a thick consistency.
Organic cane sugar: Or organic coconut sugar. Needed to sweeten the filling.
Cacao powder: Cocoa powder could also work, however, I prefer to work with cacao powder as it is less processed.
Pure vanilla extract: Use a good quality extract here! There aren't many ingredients in this pie so they all rely heavily on each other for flavor.
How to Make Healthy No Bake Nutella Pie
Here are the simple steps to making a crust and filling for a healthy homemade Nutella pie.
It's a bit denser than a traditional Nutella pie because we're not using any cream cheese or cool whip, thank goodness, but it is still as decadent and indulgent as a slice of heaven should be.
It's ridiculously easy to make and because it's served chilled and is so refreshing it is the perfect summer dessert as well!
No Bake Crust
Add toasted almonds and oats to a food processor, along with salt. Process until you see fine crumbs form, but don't allow it to get to a paste.
Add in the Medjool dates, coconut oil, and almond milk and process until a dough has formed. Now it's OK to form a paste!
Place two pieces of parchment paper criss-cross on top of each other into the bottom of a pie dish. Trust me, you'll be happy to have the help when it comes to lifting the pie!
Transfer the dough from the processor to the parchment lined dish and use your hands to flatten the crust into an even layer on the bottom and up the sides.
Press it down to compact for a nice even edge. Set that aside for now.
The Filling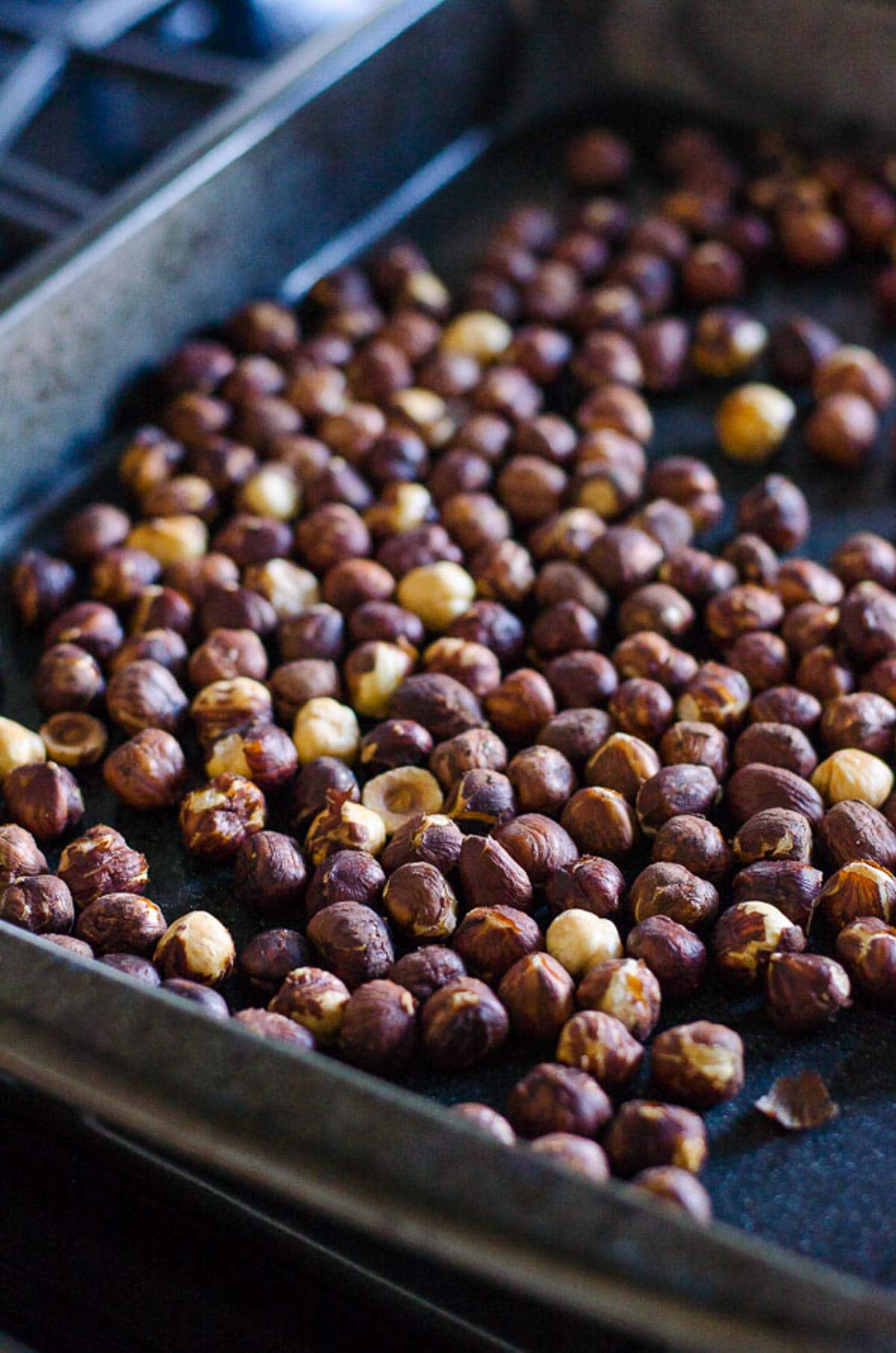 Bake the hazelnuts on a tray in a 375-degrees F oven for 15 minutes. This can be done when you're toasting the oats and almonds too.
The creamy dreamy Nutella filling starts with roasted hazelnuts mixed with full fat coconut milk, cocoa powder, and cane sugar.
I've tried using honey or maple syrup in place of the sugar, and as much as I'd love to recommend it, I can't. It's just not Nutella without quality sugar!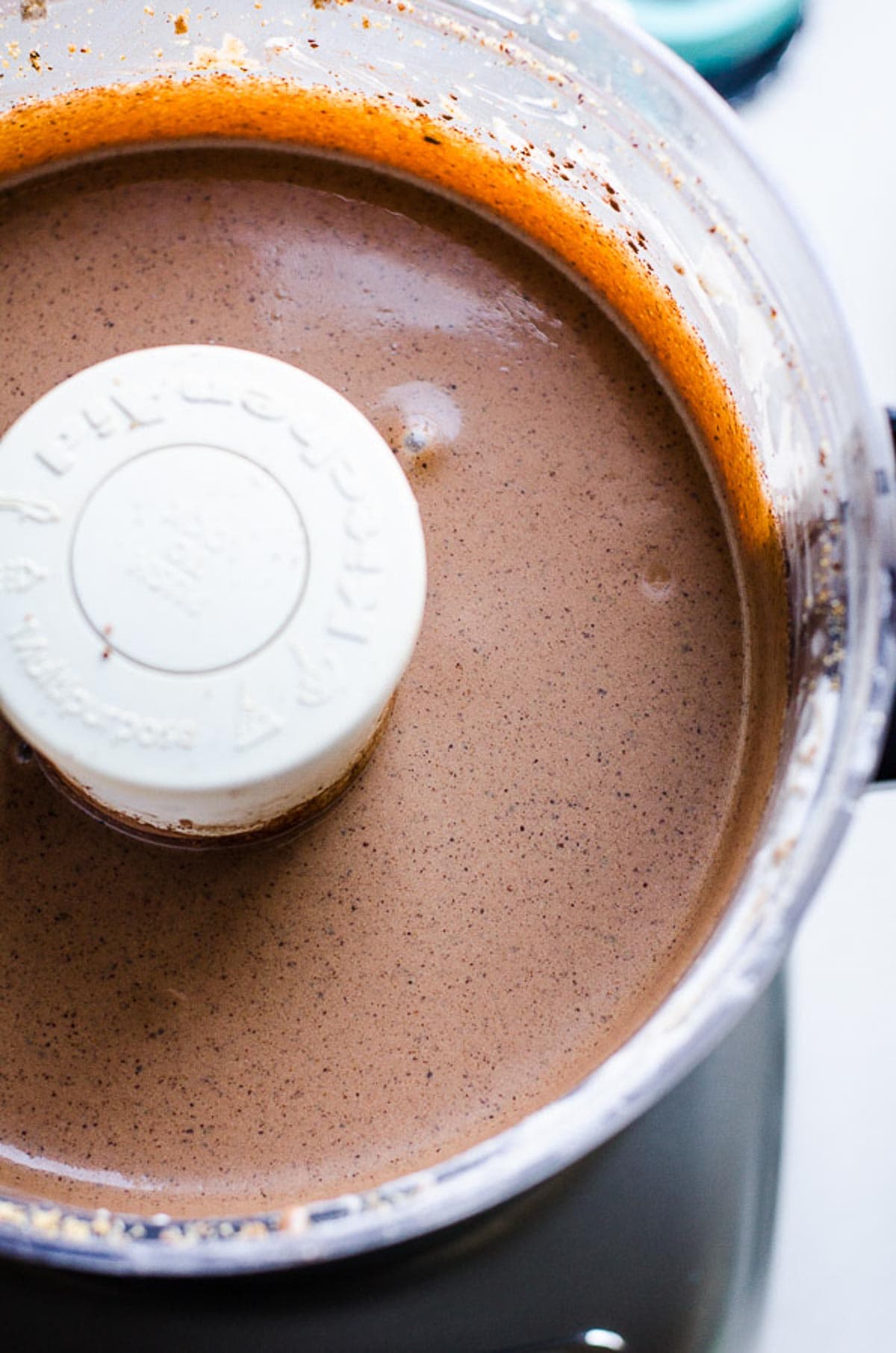 Process 2 cups of hazelnuts until a nut butter forms. It'll start as ground nuts, then wet nuts, then a paste, then butter. Stop to scrape down the sides to make sure you get as much of it incorporated as you can.
Add coconut milk, sugar, cacao powder, vanilla, and salt. Process until it's smooth.
Doesn't this filling looks OMG amazeballs?!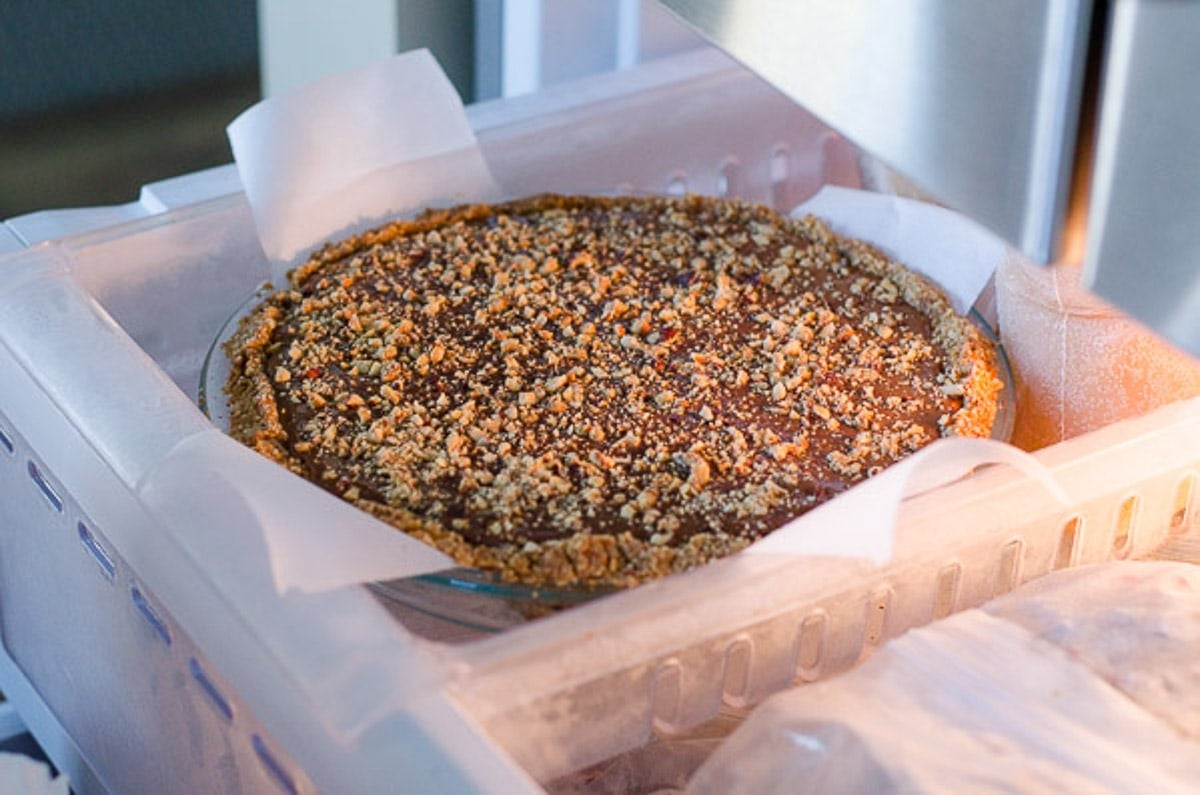 Pour the filling into the pie crust and garnish with the remaining toasted hazelnuts. Freeze for at least 4 hours or overnight. Thaw for an hour before slicing and serving. Enjoy!
Substitutions
Cacao powder. As mentioned above, cocoa powder is a great substitute. Use it if that's what you have.
Sugar. As long as you avoid a liquid sweetener, especially one that has such a strong flavor like maple syrup or honey, you should be good. Any type of granulated monk fruit can be used but may alter the taste a bit.
Almonds. Swap with another nut. Try walnuts or pecans instead.
Recipe Tips
Slicing tip. If you're going to be freezing the whole pie for a later date, freeze for the first 4 hours. Take it out, slice it and wrap it individually. Freeze the slices rather than the whole pie together. It's easier to thaw and serve!
Dates. Use Medjool dates only! You'll notice they are plump, moist, and provide a delicious caramelization. They're not dry or too sweet like other types of dates.
Coconut milk. Use full fat coconut milk from a can. It's the cream on top that we need to keep it nice and thick which helps it to set. Thin milk from a carton will turn into a runny mess.
Presentation tip. Wiping the knife clean in between each slice helps to keep the edges nice and neat. When placed on a simple white plate, garnished with hazelnut crumbs, it is just so pretty!
FAQs
Can I make this pie ahead of time?
Yes! That's the best part of a no bake chilled pie. It can be made the day before and taken out while you and your crowd are enjoying dinner. Easy entertaining!
How long will this keep?
Up to 3 months in the freezer. Store in an airtight container. Wrap individual slices so you can take out what you need at a time.
More Healthy No Bake Recipes
Or check out my full list of healthy desserts for tons more inspiration! I hope you enjoy this healthy no bake Nutella pie as much as we do!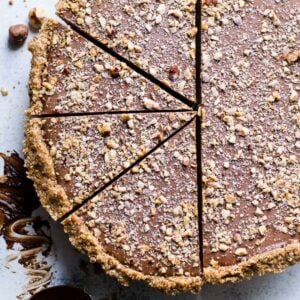 Healthy No Bake Nutella Pie
This Healthy No Bake Nutella Pie is packed with a creamy chocolate filling, wrapped in healthy nut crust and tastes Ferrero Rocher candy!
Instructions
Preheat oven to 375 degrees F. Add almonds and oats to a large rimmed baking tray and stir. Bake on lower rack for 10 minutes, stirring once. Transfer to food processor.

Place hazelnuts on the same baking tray and bake for 15 minutes.

While hazelnuts are roasting, make the pie crust. Add almonds, oats and salt to the food processor and process until fine crumbs form. Do not over process because nuts will begin to turn into a nut butter. Add Medjool dates, coconut oil and almond milk; process until combined. "Dough" should stick together when pressed between fingers.

Line a pie dish with 2 narrow pieces of parchment paper crosswise (for easier pie removal) and transfer "dough" on top. Using your fingers flatten it into a pie crust. Make sure to press sides well and even make a nice edge. Set aside.

In a food processor (no need to rinse), add 2 cups of roasted hazelnuts and process until nut butter forms. At first you will see ground nuts, then wet ground nuts and finally a paste. You will have to stop and scrape the sides of the bowl a few times. Add coconut milk, sugar, cacao powder, vanilla and salt; process until very smooth.

Pour into prepared pie crust and sprinkle with crushed hazelnuts (if desired). Freeze for at least 4 hours or overnight.

To serve, let pie thaw on a counter for 45-60 minutes, remove from the pie dish holding onto parchment paper flaps and cut into 12 slices. Serve immediately.
Notes
Store: Freeze tightly covered or in an airtight container for up to 3 months.
Medjool dates: You have to use Medjool dates (not small dry dates).
Coconut milk: Full fat (not light) coconut milk from a can (not a carton) if you want to eat a pie and not a frozen mess. I'm sure you do, right?!
Slicing tip:

It helps a lot to cut up chilled pie into slices right away and freeze separate slices vs. freezing the whole pie, thawing it and slicing.
Nutrition
Serving:
1
slice
|
Calories:
419
kcal
|
Carbohydrates:
26
g
|
Protein:
9
g
|
Fat:
34
g
|
Saturated Fat:
13
g
|
Sodium:
109
mg
|
Fiber:
7
g
|
Sugar:
14
g