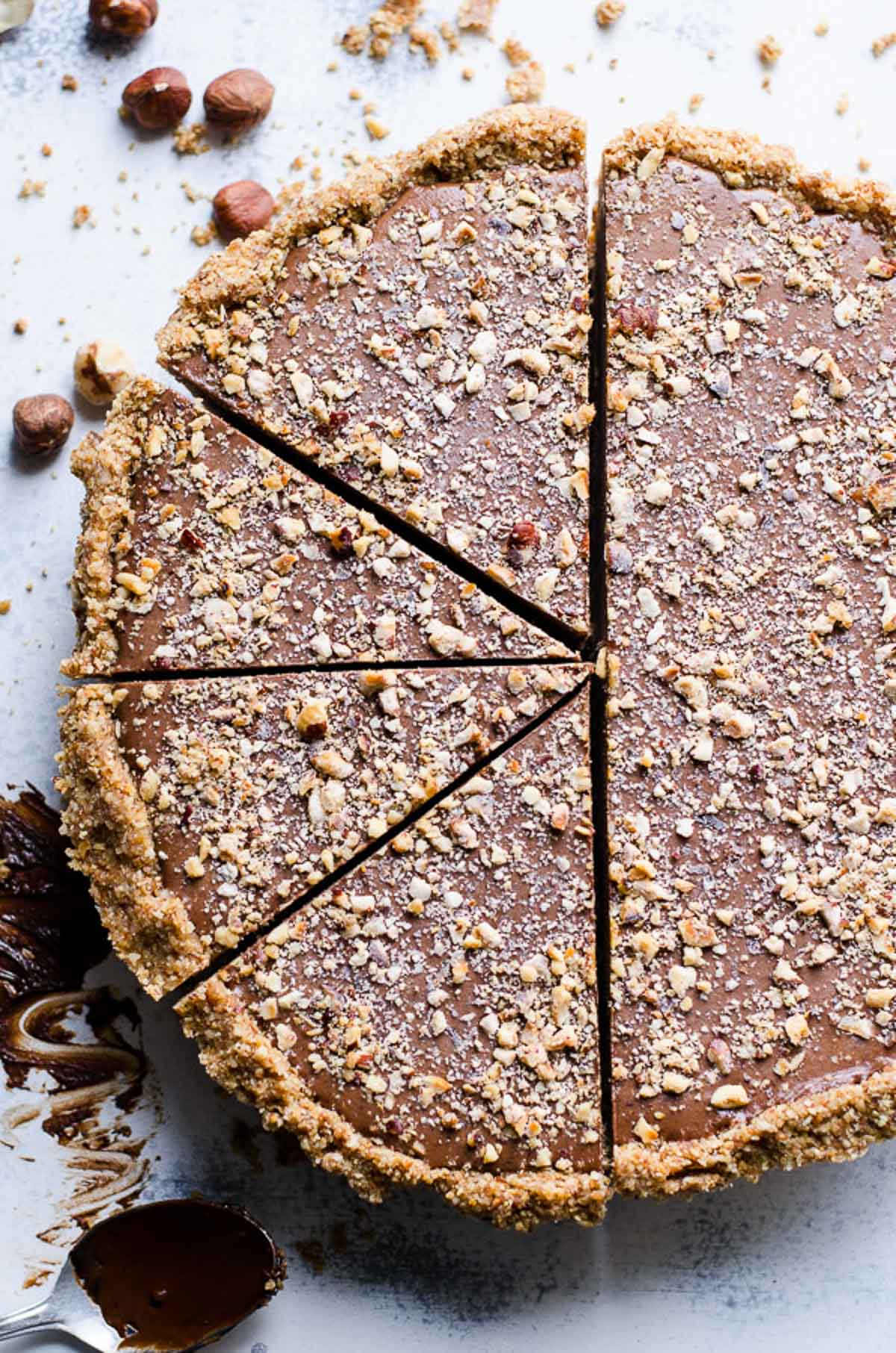 After promising this no bake nutella pie recipe a bazillion of times, it is finally here. It ended up being easier said than done in December. Amazing how time gets "eaten" by what we have to do vs. what we would rather do. But I finally did it – "baked", photographed and "gave birth" online to this healthy chocolate hazelnut pie. And if you are not into chocolate, you might like my healthy peanut butter pie, no bake banana cream pie or no bake pumpkin pie.
Prepare to be amazed because nobody on the whole entire world wide web has got nothing on my pie! I checked and was pleasantly surprised since entire online recipe industry seems to be overtaken by bloggers. How does Martha and Inna stay in business? Oh wait, only 5% of people actually care about a healthy nutella pie. Oh-ah, that is why.
So, are you ready?! No, seriously, are you ready to make this pie next week for holidays and eat a healthy no bake nutella pie that tastes EXACTLY like a Ferrero Rocher candy and is loaded with healthy fats, complex carbs and a tiny bit of organic sugar.
Are you ready? I am! This is our Christmas Eve and Christmas Day dessert. You are looking at it. Exact this pie is individually sliced, wrapped and waiting in the freezer.
A side note: it is vegan and gluten free.
So, about a month ago I received a few jars of Nutiva's organic chocolate hazelnut spread and got obsessed. It doesn't taste exactly like nutella but I got used to the taste of flaxseed oil kinda. Fine. The fact that it is made with only good for us ingredients got me sold. Kids love it and I feel good about treating them.
I have got an idea of a nutella pie. Without nutella. Because we don't eat nutella. You know why, right?! Here is why…
On one of our evening walks I picked up a few cups of hazelnuts to make this pie. I paid $18. Yes, that is the only problem with this pie – it is pricey. But if you go buy a cake full of sugar and crap how much do you pay? Exactly. So, stop freaking out. Stop using fabric softener and dryer sheets which are useless and toxic, and you will have enough money for hazelnuts.
Yes, I said it.
Whatever amount Alex is holding takes to make the jar of nutella that again Alex is holding. Alex is great at holding and eating food. OK, and making money to buy food. Let's be fair. I will keep him.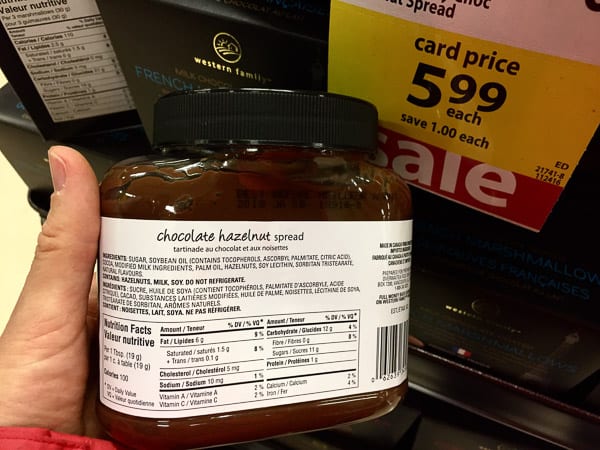 When you flip over to read the ingredients, the first ingredient you see is…sugar. That is correct. And then soybean oil. Keep reading. So, now think how many hazelnuts is in a 725 gr jar to make it profitable at a sale price of $5.99.
20 hazelnuts? Maybe 21. Seriously, throw out this poison immediately and stop embarrassing me.
Another quick fact: 1 tablespoon of store bought nutella contains 11g of sugar. 1 slice of my healthy no bake nutella pie = 14 g of sugar. Aha. Are you processing what I am saying?!
So, I rolled the sleeves and got to work, and made the most amazing pie ever!!!!!!!!!!!!!!!!!!!!!!
The crust consists of roasted rolled oats and almonds, coconut oil, Medjool dates and almond milk. No nasty oreo cookies. Ew. I won't even capitalize that stuff.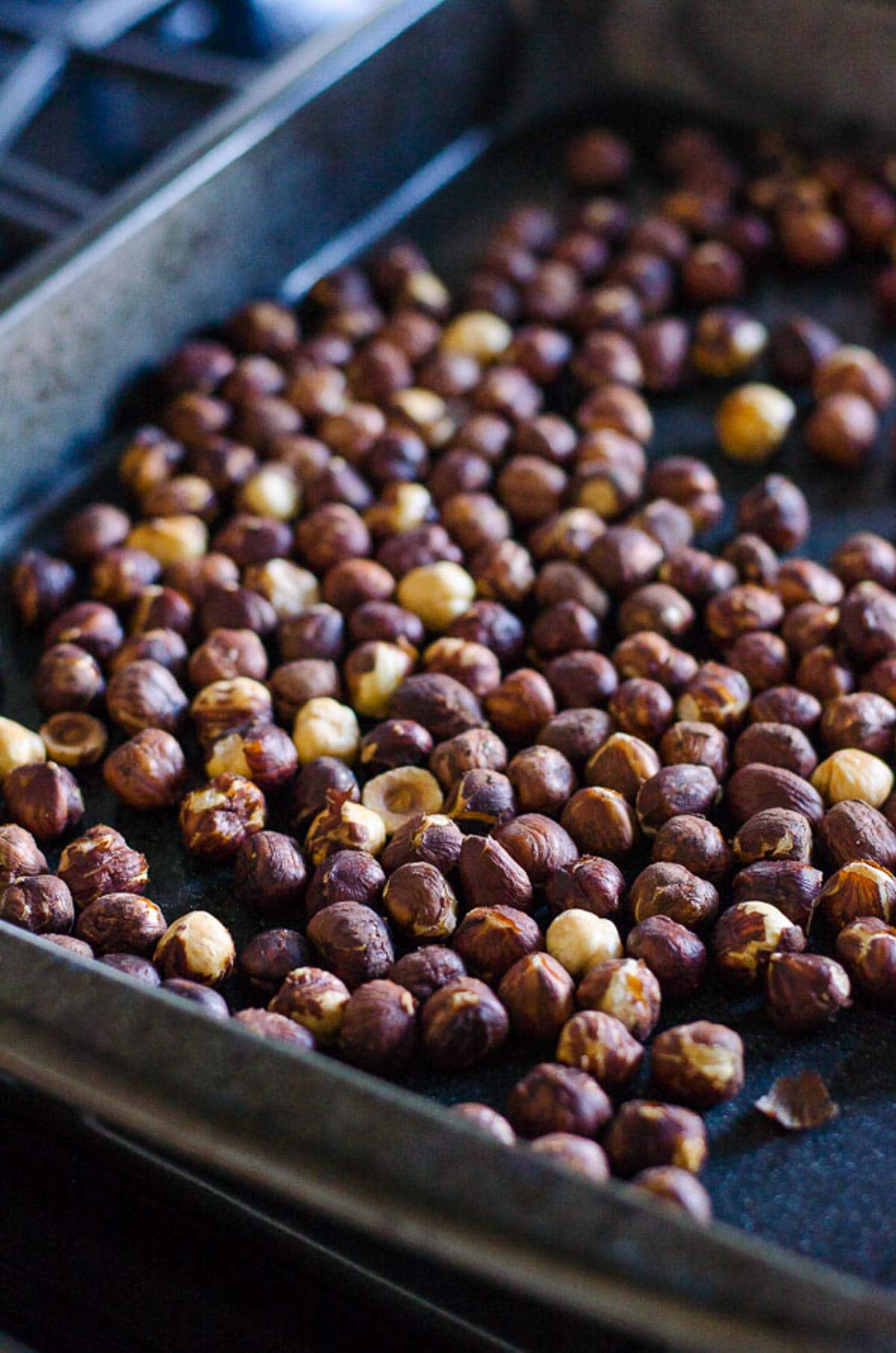 The creamy dreamy nutella filling starts with expensive roasted hazelnuts mixed with full fat coconut milk, cocoa powder and cane sugar. YES, sugar, OMG! OMG. OMG. OMG.
But did you hear what I said above about sugar? 14 g per slice. Of organic cane sugar or coconut palm sugar which can't compare to GMO cheap beet sugar. Listen, don't ask me about maple syrup or honey. Nutella with those is not nutella. I tried. You need a bit of quality sugar. I mean sugar is sugar, maple syrup or sugar. It is about nutrients and amount of sugar.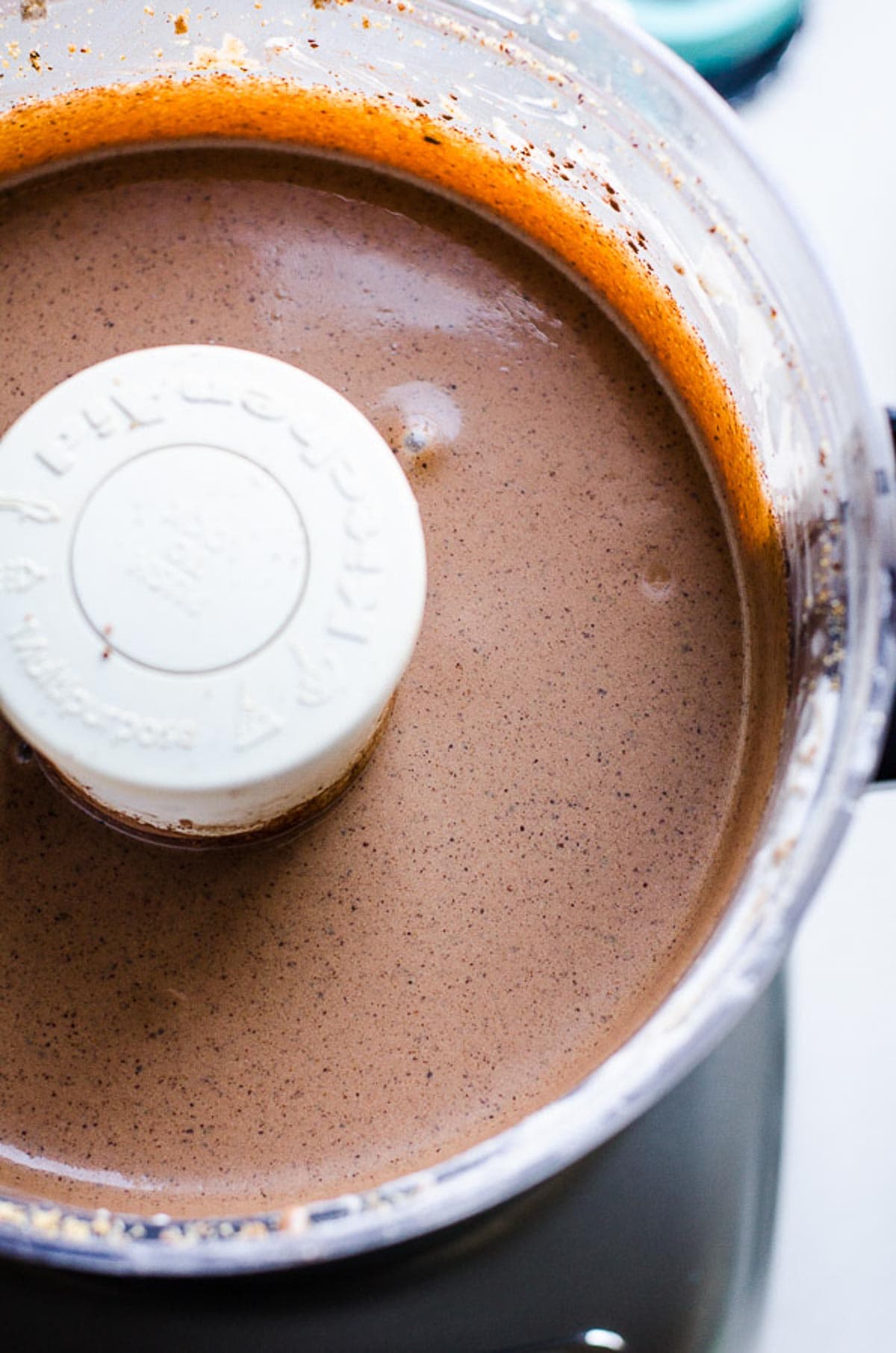 Doesn't this filling looks OMG amazeballs?! I based the recipe on Karina's nutella. I made it and it was delicious! I will say it again – nutella with dates, maple syrup or honey is not nutella IMHO. I tried. Kids wouldn't eat it and I agree with them.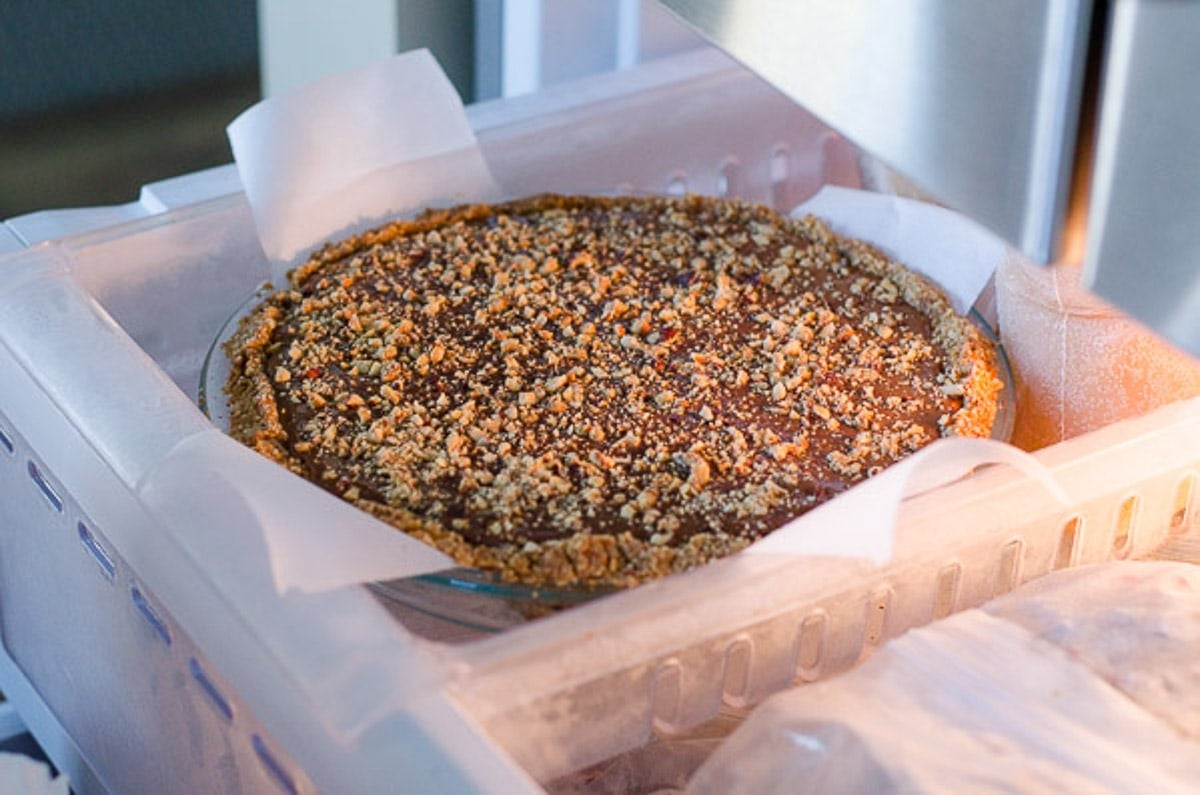 After freezing, this is what this no bake nutella pie looks like. And it is all good for ya and moi. Yum!
I'm so happy this recipe is off my to do list because I do not like to promise and under deliver. So, here you go. Now "no bake" away, friends! I think I'm done cooking for the blog this year. I have so much work to do to prep for January when suddenly 15% of population decides to eat healthy. Plus kids, lots of kids, a bazillion of my wonderful kids. And a tiny bit of family. My mom is coming right after Christmas and we have so many wonderful friends to drink wine with for health and wealth. Wealth matters, just like health. Well, fine, a bit less.
I will have one post for you before Christmas and it is my immigration story. Christmas brings a ton of memories for anyone and I'm no exception. I can't help but think how me and my mama packed our clothes and two wool rugs (floor size ones – yes!!! – it tells you I owned 3 pairs of underwear) and crossed the ocean with $100 in our pockets to begin a dream American life 16 years ago. And it worked! That's the best part of this crazy shit!
So, next week. I've got lots of writing to do. Mwah.
No Bake Nutella Pie
No Bake Nutella Pie Recipe without cream cheese, cool whip, oreo cookies, pounds of butter or nutella. All healthy here and tastes just like a Ferrero Rocher candy.
Print
Save
Rate
Instructions
Place hazelnuts on the same baking tray and bake for 15 minutes.

While hazelnuts are roasting, make the pie crust. Add salt to the food processor and process until fine crumbs form. Do not over process because nuts will begin to turn into a nut butter. Add Medjool dates, coconut oil and almond milk; process until combined. "Dough" should stick together when squeezed between fingers.

Line

a pie dish

with 2 thin pieces of

parchment paper

crosswise (for easier pie removal) and transfer "dough" mixture on top. Using your fingers flatten it into a pie crust. Make sure to press sides well and even make a nice edge. Set aside.

In a food processor (no need to rinse), add 2 cups of roasted hazelnuts and process until nut butter forms. At first you will see ground nuts, then wet ground nuts and finally a paste. You will have to stop and scrape the sides of the bowl a few times. Add coconut milk, sugar, cacao powder, vanilla and salt; process until very smooth.

Pour into prepared pie crust and sprinkle with crushed hazelnuts (if desired). Freeze for at least 4 hours or overnight. To serve, let pie thaw on a counter for 45-60 minutes, remove from the pie dish holding onto parchment paper flaps and cut into 12 slices. Serve immediately. P.S. It helps a lot to cut up the pie right away and defrost slices vs. the whole thing and cut again etc.
Store: Freeze tightly covered or in an airtight container for up to 3 months.
Notes
You have to use Medjool dates (not small dry dates) and full fat (not light) coconut milk from a can (not a carton) if you want to eat a pie and not a frozen mess. I'm sure you do, right?!
Nutrition
Serving:
1
slice
|
Calories:
419
kcal
|
Carbohydrates:
26
g
|
Protein:
9
g
|
Fat:
34
g
|
Saturated Fat:
13
g
|
Sodium:
109
mg
|
Potassium:
457
mg
|
Fiber:
7
g
|
Sugar:
14
g
|
Vitamin A:
12
IU
|
Vitamin C:
2
mg
|
Calcium:
92
mg
|
Iron:
3
mg
Join today and start saving your favorite recipes
Recipes and images are a copyright of ifoodreal.com. It is against the law to republish recipes anywhere including social media, print and all world wide web. Nutritional info is provided for informational purposes only and to the best knowledge.