These healthy key lime pie bars are a tangy, sweet no-bake dessert – perfect for the warmer months and for BBQs, potlucks, picnics, and other gatherings to impress!
Why not also bring along some healthy lemon bars, no-bake strawberry cheesecake, or healthy strawberry cheesecake bars at the same time!
A few weeks ago we started to get "boiled" here in Vancouver and I think I "spit out" about 5 no-bake desserts during that time. Global warming at its finest because it is only May. I made healthy chocolate ice cream a gazillion times, homemade fruit popsicles), no-bake black bean brownies and these healthy key lime pie bars.
Although, they're definitely not the only summer-friendly treats I have on the blog – like this healthy no-bake Nutella pie, no-bake peanut butter pie, Instant Pot cheesecake bites, and coconut oil chocolate fudge!
They turned out purely sensational! In all honesty, I never had a key lime anything in my life. That is an issue with me and many traditional local treats. But I thought to myself "How hard could it be – limes, cream and sugar?!". I contemplated for the longest time whether to buy a 2 lbs bag of key limes and opted out for 2 regular limes. Add another 5 simple ingredients and you have a show-stopping dessert within minutes!
Surprisingly, this is one of the first times I've shared a sweet recipe using limes at all. I've shared recipes for cilantro lime cauliflower rice, lime ginger salmon, chili lime chicken, and cilantro lime chicken – now it's finally time to take this delicious citrus into a sweet treat!
Many no bake desserts call for graham crackers crust. However, I got cleaner, cheaper and probably even tastier solution for you – we are using Nature's Path Organic Corn Flakes that are Fruit Juice Sweetened.
Ingredients: cornmeal, juice concentrate and sea salt. This is the most brilliant cereal I have ever seen – it is like sweetening chocolate ice cream with dates (pat on the back). And so perfect for making clean and organic summer treats like these key lime squares. Gluten free and vegan too for those with allergies and sensitivities. And so far, I have seen these flakes available at any grocery store I go to!
Using corn flakes as a crust idea came to me while I was browsing Nature's Path's recipe collection (which is awesome, by the way) and came across this icebox cake submitted by One Smiley Monkey. I had my "aha" moment and decided to experiment.
I have collected all organic ingredients to make the squares. As of March, I'm concentrating on food quality vs. calories and trends => organic on a budget – 120 cheap organic foods.
Key Lime Squares turned out to be gluten free, naturally. Coincidentally May is a Celiac Awareness month and I thought it would be a great opportunity to get the following information off my chest. I feel like everyone around me is trying to eat gluten free nowadays. Last year I was shocked to learn only 1% of population has Celiac Disease and then 6-8% have non-celiac gluten sensitivity. Shocking, right?! Therefore, wholesome and organic foods are my top priority and ironically many are naturally gluten free. Just like with these Healthy Key Lime Pie Bars – I felt corn flakes would do so well with lime flavours, so I went for it. Obviously, Nature's Path is doing an amazing job at offering tasty, healthy and organic gluten free options for everyone (many packaged gluten free foods are far away from being healthy).
So, the crust. I processed 3 cups of corn flakes into ground-coarse texture in my blender. Food processor would do just as fine. Because corn flakes contain sea salt already, all I had to add was coconut oil, honey and pure vanilla extract.
I first levelled crust with a spatula (make sure to get edges nice and straight) and then packed firmly with a back of my stainless steel measuring cup (1 cup). Off to the freezer for coconut oil to solidify and honey do its "glue" magic. Takes about 15-20 minutes, so in the meanwhile we prepare the filling.
Limes. They are not as easy squeezable like lemons, I learnt that hard way. First, roll them to squish on a cutting board to get juices flowing inside. Then zest 1 lime – zesting juiceless halves is not as easy, trust me, been there. Owning a sharp zester is very helpful – you will zest way more often, therefore enjoy more flavourful dishes with less calories. Many strong natural flavours like lime, lemon, ginger and garlic need a good zester to be fully extracted. Buy one at your grocery or department store (that looks just like pictured above) or get microplane – it is fantastic!!!
Coconut milk. I honestly don't know what happened here but I kind of suspect what really happened here. You have to place a can of full-fat coconut milk in the fridge overnight for cream and liquid to separate, so then you whip up the cream and use for filling. I have used this brand numerous times successfully but this time when I opened the can, it was not as separated.
think somewhere down a few feet walk from the fridge to countertop I shook the can out of habit. Honestly, my brain is spinning 1 million miles a second these days and I don't know how to stop it. House, kids, work and no help make it race no matter what I do. Also, I started gardening.
Alex been busy all weekends rebuilding our deck, so it leaves me all by myself doing everything else. I have started reading, walking and shopping to somehow get away from busy reality and it works short-term. I think it's is my 4 year old's tantrums (still!) that tire me out the most. Oh well, soon it is summer and I will feel less stressed with no school, hockey schedule and relaxing under newly built gazebo (I will demonstrate it for sure). Plus kids grow up "fast", right?!
Anyways, back to the coconut cream. I went ahead and separated cream from liquid as much as I could. Of course, some liquid got into the cream and you know what, it played to my advantage haha. Key Lime Squares would not freeze into a solid rock and could be enjoyed straight from the freezer without any time to thaw. Beautiful!
Also I want to mention – the filling doesn't have to be fluffy and airy. Mine was quite liquidy, especially after I added lime juice and honey. Make sure to scrub that precious lime zest off of the beaters.
Pour on top, freeze for 2 hours, cut into 16 squares, dress up with a piece of lime, and voila!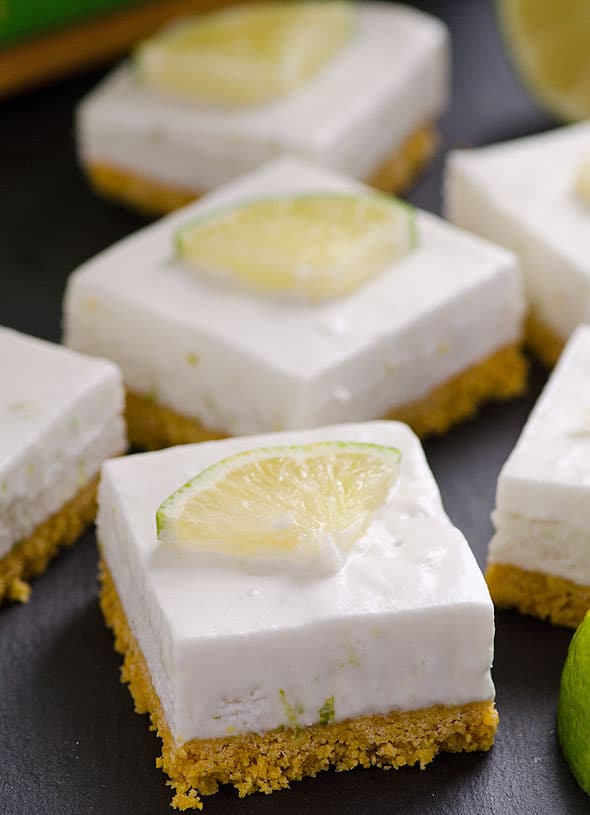 The texture was a cross between ice cream and New York style cheesecake, more like ice cream though. Crunchy corn flakes crust complemented zesty creamy filling oh so well. I'm so honestly proud of this dessert – me, Ukrainian, making delicious Key Lime Squares. I'm not only a garlic and dill girl, I guess. My kids loved these bars as well.
Nowadays, I imagine bringing down a tray of refreshing Key Lime Bars down to our newly built gazebo, passing them among friends relaxing on cushiony sofas one of the upcoming hot summer days (like this week). No pressure, Alex, no pressure! Living a dream, living a dream!
Other Frozen Dessert Recipes
You may also like this fun fruity strawberry smoothie or lime ice tea!
Healthy Key Lime Pie Bars
Healthy Key Lime Pie Bars Recipe made easy with coconut milk, coconut oil, maple syrup and gluten free crust, no baking required.
Print
Rate
Instructions
Place can of coconut milk in the fridge overnight.

Line 8" x 8" baking dish with parchment paper leaving overhangs. Place glass bowl and mixer beaters in the freezer.

In

a small food processor

or

powerful blender

, process corn flakes until finely ground. Add to a medium bowl along with remaining

Crust

ingredients and thoroughly mix with spatula until well combined. Mixture should be crumbly sticking together into big lumps. Transfer to lined baking dish and level evenly with spatula not missing the edges. With a bottom of a glass or large measuring cup, press crust down to pack tightly. Place in the freezer while you are making the filling.

Open can of refrigerated coconut milk and scoop out white cream into chilled bowl and refrigerate clear liquid separately and use in smoothies etc. It doesn't matter if some clear liquid got mixed a bit with cream. Beat coconut cream with a mixer for a few minutes. It doesn't have to get thick and fluffy as a whipped cream, and thickness will depend on how well coconut cream separated from clear liquid. Add remaining Filling ingredients and beat until well mixed.

Pour on top of previously prepared crust and level with spatula. Freeze for at least 2 hours. Holding onto flaps remove bars from the baking dish, place on a cutting board and cut into 16 squares using sharp long knife (wipe with towel in between cuts for clean look). Serve frozen or a bit thawed.**
Notes
*I recommend using Thai Kitchen, Trader Joe's Coconut Cream or Compliments canned coconut milk with creamy consistency. I wouldn't use Asian brands, it is grainy and does not mix well.
**Thawing time depends on how much clear liquid got into the filling. This time for some reason coconut milk didn't separate well so squares were soft straight from the freezer. The other time, same brand of coconut milk separated well and I had to thaw bars for around 10 - 15 minutes.
Nutrition
Serving:
1
bar
|
Calories:
130
kcal
|
Carbohydrates:
12
g
|
Protein:
1
g
|
Fat:
9
g
|
Saturated Fat:
8
g
|
Sodium:
43
mg
|
Potassium:
91
mg
|
Fiber:
1
g
|
Sugar:
7
g
|
Vitamin A:
94
IU
|
Vitamin C:
4
mg
|
Calcium:
9
mg
|
Iron:
2
mg
Join today and start saving your favorite recipes
Recipes and images are a copyright of ifoodreal.com. It is against the law to republish recipes anywhere including social media, print and all world wide web. Nutritional info is provided for informational purposes only and to the best knowledge.
Disclosure: I was compensated for my time to develop this recipe. I recommend only products I love, tried myself and fit Clean Eating lifestyle.