Pasta with Zucchini and Tomatoes is a 20 minute healthy pasta dinner that is going to become part of your summertime menu must haves! Juicy, crisp-tender zucchini and bursting baby tomatoes create a delicious sauce combined with fresh garlic, basil and parmesan that coats the perfectly al dente pasta. It's one of the best and easiest vegetarian pasta recipes your whole family will enjoy!
Quick healthy pasta dishes like penne with broccoli, healthy pasta skillet and spaghetti in tomato sauce save the day in our household many days. Enjoy!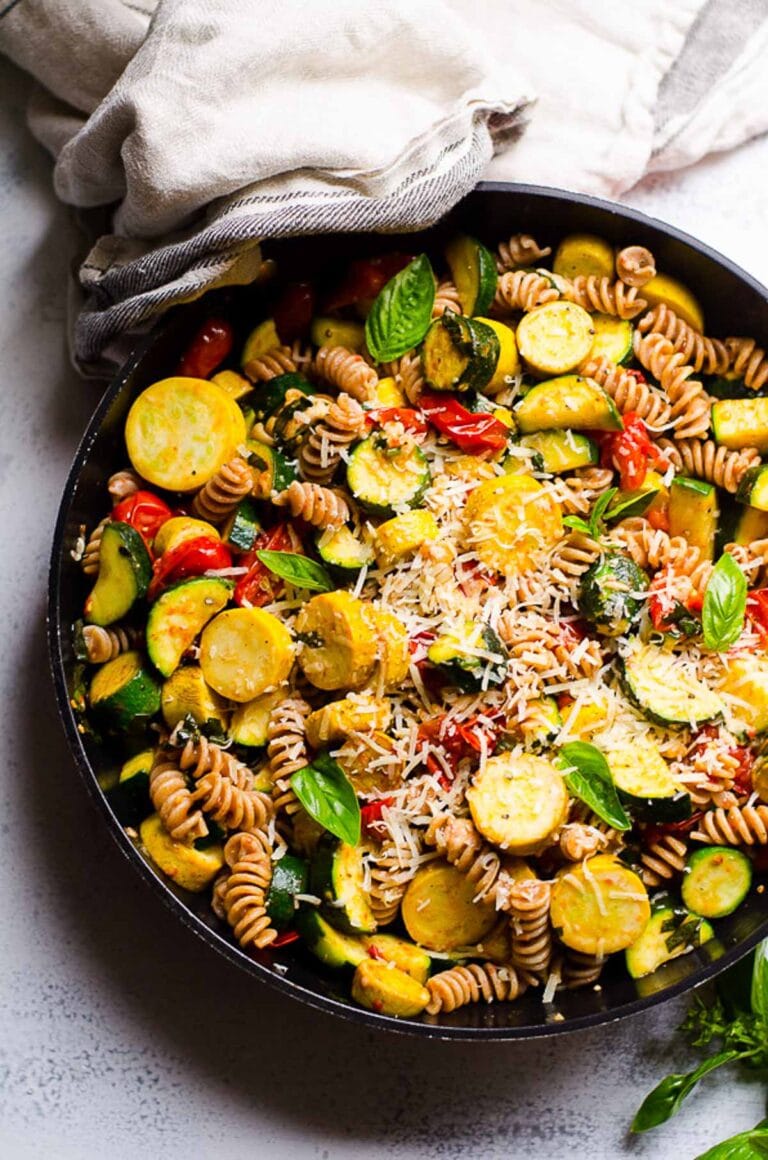 Easy Pasta with Zucchini and Tomatoes
This pasta with zucchini is nothing short of amazing. It's one of my favourite vegetarian pasta recipes that I come back to again and again. I find myself unable to stop eating it once I start. It's light, fresh and so flavourful. Plus it satisfies my inner Ukrainian with all the garlic!
I got the idea for pasta with zucchini and tomatoes from my zucchini tomato bake. The amount of pasta in this dish isn't overwhelming. In fact, it might as well be called zucchini and tomato dish with pasta rather than the other way around. There is just enough in there to make it filling. It really is the perfect ratio of tender pasta to juicy zesty tomatoes and crispy sweet zucchini.
This zucchini and pasta recipe is so good, it's a dish I don't mind eating leftovers of all week long. In fact, I crave it. Having plenty of good healthy pasta dishes on hand throughout the summer is a great way to keep the kitchen cool when you don't want to turn on the oven.
When your pasta dish contains an abundance of vegetables, that's the best way to use up whatever you've got in your fridge or the fresh vegetables growing in your garden.
I'm not usually a massive pasta-lover – that's more for my kids. This year, however, I'm really embracing this carb with dishes like Tuscan chicken pasta or a super simple Instant Pot lasagna!
Most recently, I also made my kids a healthy broccoli pesto pasta and healthy mac n' cheese and I have to admit, I had seconds myself!
Why This Recipe for Zucchini Tomato Pasta Works?
It's one of the most flexible and versatile vegetarian pasta recipes because you can substitute the veggies, use whatever pasta you have on hand, adjust the seasonings, or enjoy it exactly as is!
Fresh, healthy, wholesome and filling. Everything we look for in healthy lunch ideas or dinners.
So delicious! The garlic, parmesan, and fresh basil bring this dish over the top.
It's ridiculously easy. Boil pasta, sauté veggies, season, and combine. That's it!
Makes great leftovers for the week. Portion it in individual containers for easy meal prep.
Ingredients for Zucchini and Pasta
All you need are these 9 ingredients and 20 minutes and you'll have dinner on the table in no time!
Pasta – I use a short whole wheat fussili or rotini pasta because I like that the grooves pick up and carry that extra saucy flavour. You can really use whatever you've got on hand. Penne and farfalle are great choices as well.
Zucchini – You'll need 2 pounds of chopped up zucchini into little bite sized pieces. No need to peel. You can use a variety of green and yellow zucchini for added flare.
Tomatoes – If you have grape or cherry tomatoes hanging out in your garden, go grab them! Cherry or grape tomatoes are the best for this dish because they hold their shape better than full-grown tomatoes without making zucchini tomato pasta mushy. Cutting them in halves ensures the juices' release making a base for the sauce.
Basil and garlic – I don't think there is anything better than fresh basil. Except maybe loads of garlic. Finely chopped parsely and minced garlic added into this dish brightens it up with an incredibly vibrant freshness and bold flavour.
Parmesan cheese – Freshly grated from a block is always the way to go. Adding this sharp cheesy element adds a little extra comfort and familiarity to this pasta dish.
Olive oil, salt and pepper – Oil will be used to sauté the veggies as well as bring everything together at the end once combined and tossed. Somehow only olive oil seems suitable to me here. Probably because this pasta is kind of Mediterranean and extra virgin olive oil with a deep sweeter flavour it fits right in. The salt and pepper is a finishing touch rounding out this incredible tasting dish.
Plus, consider me officially obsessed with zucchini – just in the last month, I've made Caprese chicken zucchini tomato recipe and this shrimp with zucchini. Now I'm onto vegetarian pasta recipes like this meat-free zucchini and tomato pasta – perfect for serving up alone, with Italian chopped salad, or with your favorite protein like pan fried tofu, grilled shrimp skewers, lemon butter cod, foil-baked salmon, turkey meatballs, or oven-baked chicken breast!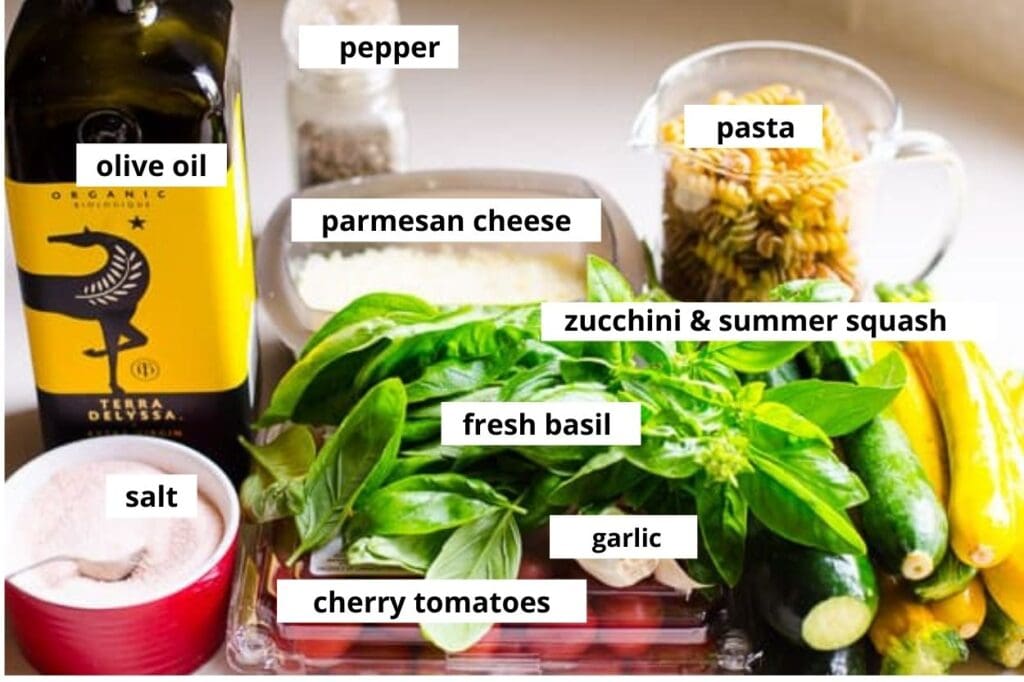 How to Make Zucchini Tomato Pasta
I will share with you my multitasking method of cooking 20-minute dinners.
Tip: Make sure you use a large deep skillet before you begin.
Chop Vegetables: I start with chopping all the veggies. All zucchini come in different sizes. Just chop it into uniform bite-sized pieces. If you end up with too much zucchini – you can save some for other simple sides like this sauteed zucchini.
Cook Veggies and Pasta at the same Time: Then, I boil water for the pasta and start cooking the vegetables at the same time. This way by the time pasta is ready the zucchini and tomatoes are ready as well. Cook zucchini fast on medium-high heat keeps them firm. Set zucchini aside, then cook tomatoes in skillet adding garlic during the last minute. You are now ready to combine everything together in the same pot.
Add Fresh Basil and Cheese last: At the end, I season it all at once with salt, pepper, herbs, and freshly grated Parmesan cheese. These flavours married together are mouthwatering and basically addicting. Add fresh basil or parsley at the end so they don't cook with the rest of it.
Enjoy!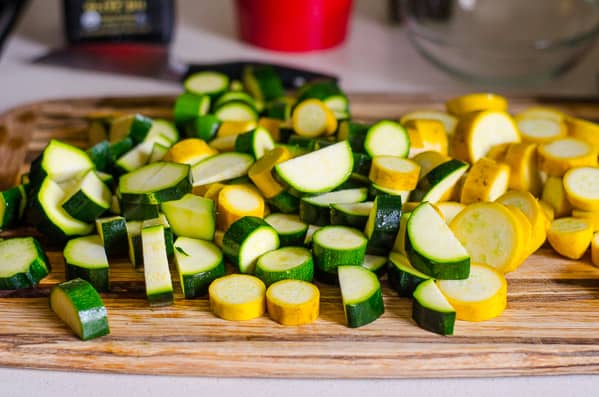 Optional Add In's and Variations
Sliced or whole kalamata olives would be a nice addition.
Toss in some chickpeas, shredded chicken breast cooked in Instant Pot, or Italian sausage for added protein.
Sauté some diced onion along with the garlic for a little extra aromatic flavour.
For a little heat sprinkle in some red pepper flakes.
Substitute parmesan cheese for feta. Or use a bit of both!
Chopped broccoli and diced bell pepper are a great way to increase the vegetables in this pasta dish.
Tips for Best Results
Wash veg ahead of time, whether it's from the store, your garden, organic or not.
Remember, when using gluten-free pasta it won't hold its structure the same way white pasta does, so make sure not to overcook.
Since this recipe only uses a few simple ingredients, it's important to strive to use the best quality for each one. Using a good quality extra virgin olive oil is an easy way to enhance your dish.
Grate parmesan from a block. Using prepackaged stuff comes with a slew of additives, anti-clumping agents and unnecessary things we don't need to be tasting.
FAQs
What pasta can I use for this zucchini and pasta dish?
Use short pasta like fusilli, penne or rigatoni. Whole wheat, brown rice, or any other gluten-free pasta that contains more fibre and nutrients also works. Keep in mind, gluten free pasta doesn't hold its shape as well as white semolina pasta. So watch it closely and do not overcook.
How should I cook my pasta for this pasta with zucchini recipe?
Chewy al dente pasta is half of the success of this tasty pasta with zucchini and tomatoes. I add al dente pasta directly from the pot to the skillet without draining. I find once the pasta is drained, it starts drying out and sticking together.
What can I make with leftover pasta if I make more than is needed for this recipe?
For ages, I always made too much pasta. It's a problem so many of us have right? On the plus side, it meant I had lots of leftovers to make dishes like this healthy pasta salad, tomato pasta salad, or Italian pasta salad.
Can I use zucchini noodles for this zucchini tomato pasta?

Some of my readers have had success with this, especially because they are so thin, they don't require any cooking. I, myself prefer diced zucchini, but it doesn't hurt to try if you'd like something a little different. Zucchini noodles (zoodles?) Are long spirals mean to mimic spaghetti noodles. So, the size and texture are like adding spaghetti noodles to your pasta dish, which might become overwhelming.
Is zucchini with pasta and tomatoes healthy?

It's totally healthy! Welcome to iFoodreal.com 😉 I always aim to provide my readers with healthy, fresh, wholesome, and easy recipes. That's not to say I don't indulge in sweets and treats once in a while, but even then they're healthier versions.

Rest assured, this pasta dish is healthy because that's always been my goal. Fresh zucchini and tomatoes are loaded with vitamins, minerals, and antioxidants. Olive oil has the benefit of good fats and helps a heart-healthy lifestyle, as well as fresh garlic and herbs, are anti-inflammatory and helps build up immune systems.
Serving Recommendations
Appetizer: If you enjoy the Mediterranean vibes of this dish as much as I do, you will LOVE serving it alongside a basket of crusty bread and this olive oil dip as an appetizer. Delicious!
Side salad: This pasta is filling and loaded with veggies as is, but there's no harm in adding more to your menu. Baby kale salad and lemon kale salad with garlic and parmesan are both great leafy green salads that would be a nice addition.
Dessert: What better way to finish off a pasta dish that celebrates summertime veggies than a light, refreshing dessert! Try homemade Dole Whip or this healthy no bake strawberry cheesecake on for size.
Making This Vegetarian Pasta Dish in Advance
Any pasta tastes best fresh. If you happen to have leftovers of pasta with zucchini, transfer to a glass container with a lid and refrigerate for up to 1 day. I find plastic transfers its taste to food.
I wouldn't go past 2 days. Pasta becomes too soggy as vegetables contain a lot of water. The recipe can be cut in half if needed.
More Healthy Zucchini Recipes to Try
Still have lots of zucchini to use up? Here you go:
Pasta with Zucchini and Tomatoes
Pasta with Zucchini and Tomatoes is a 20 minute healthy dinner that is going to become part of your summertime menu must haves! Juicy, crisp-tender zucchini and bursting baby tomatoes create a delicious sauce combined with fresh garlic, basil and parmesan that coats the perfectly al dente pasta. It's one of the best and easiest vegetarian pasta recipes your whole family will enjoy!
Ingredients
7

oz

short whole wheat pasta like penne

fusilli or farfalle

2

lbs

zucchini

chopped in bite size pieces

1

lb

grape or cherry tomatoes

cut in halves

3

tbsp

extra virgin olive oil

6

garlic cloves

minced

1/3

cup

Parmesan cheese

grated

1

cup

parsley or 1/2 cup basil

finely chopped

1

tsp

salt
Ground black pepper

to taste
Instructions
Cook pasta as per package instructions undercooking by 2-3 minutes or until pasta is al dente, cooked but firm.

While pasta is cooking, preheat large ceramic non-stick skillet on medium-high heat and swirl 1 tbsp of oil to coat. Add zucchini and cook for 5 minutes, stirring occasionally. Transfer to a bowl and set aside.

Return skillet to the stove and swirl 1 tbsp of oil to coat, add tomatoes and cook for 3 minutes, stirring occasionally. Add garlic and cook for 1 minute, stirring a few times.

Turn off heat and add cooked pasta and zucchini, remaining 1 tbsp of oil, salt, pepper, cheese and parsley or basil; stir and serve. Adjust any seasonings to taste and enjoy this 20 minute amazingness!
Notes
Store: Refrigerate in an airtight container for up to 1 day. Freeze: Do not freeze.
Nutrition
Calories:
369
kcal
|
Carbohydrates:
51
g
|
Protein:
15
g
|
Fat:
14
g
|
Saturated Fat:
3
g
|
Cholesterol:
6
mg
|
Sodium:
752
mg
|
Fiber:
4
g
|
Sugar:
9
g