Broccoli and Penne Pasta Recipe with fresh broccoli, tomato sauce, garlic, onion, and a splash of balsamic is cooked in one pan and topped with cheese for an easy healthy pasta recipe. Your whole family will love this one pot penne pasta that is ready in under 30 minutes, perfect for an easy weeknight dinner!
I love the simplicity of quick, vegetarian pasta dishes like this, easy spaghetti recipe, healthy pesto pasta with broccoli, and even a cold healthy pasta salad!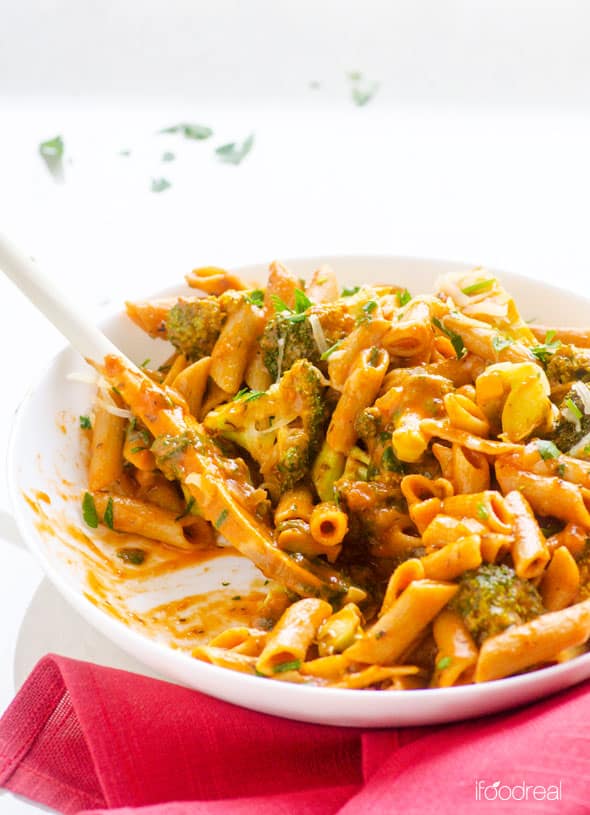 One Pot Broccoli and Penne Pasta Recipe
This penne pasta recipe with broccoli is my-go-to under 30-minute dinner for kids when my fridge is empty and they won't eat my quinoa skillet. It's affordable, quick, healthy, and versatile – use any firm veggies you have on hand/your kids like. Frozen vegetables work, too.
Oddly enough my kids love broccoli, not overcooked. Cauliflower, carrots, and snap peas are great options as well. You could also add grape tomatoes, peas and corn, why not?! Adjust this versatile penne pasta recipe to what tastes appeal to your family.
I love to make healthy pasta dishes especially when I need to use up veggies and proteins that I have in my fridge and I know that the entire family will be satisfied.
If I'm not serving this broccoli pasta, then I'm serving healthy mac and cheese, Tuscan chicken pasta, ground turkey and broccoli pasta, or one of my many other healthy pasta recipes!
If you're a broccoli lover, you'll probably also love this healthy beef and broccoli or crustless broccoli quiche.
Why This One Pot Penne Pasta Recipe Works?
Just enough cheese: I added only 3/4 cup cheese, just enough to make the dish creamy and cheesy.
Dried and fresh herbs: The combination of dried and fresh together really make this pasta dinner 'pop' with flavor.
Simple tomato sauce adds some sweetness and color.
Good quality penne pasta really makes a different in taste and texture – cooked al dente is best!
Creamy and delicious results makes the tastebuds happy!
Ingredients for Pasta Penne
Broccoli: I used fresh, but frozen would work, too.
Penne pasta: Look for a quality penne pasta that is made of durum semolina or semolina durum wheat and contains no additional additives or preservatives. Also, look for pasta that is not smooth and shiny but has a chalky, bumpy or rough texture/appearance. It's well worth it for a better pasta, it really helps soak up the sauce!
Balsamic vinegar: Adds depth of flavor and a rich taste.
Olive oil: I like extra virgin because it is less processed, but use what you have on hand.
Tomato sauce: Simple, plain in a can – low sodium if possible!
Vegetable or chicken broth: Keep this a vegetarian penne pasta by using vegetable broth or use chicken broth or Instant Pot chicken broth. Either works!
Onion and garlic: Aromatics for flavor.
Pantry spices: Thyme, rosemary and red pepper flakes give this dish a light Italian taste, adjust the amount to your taste.
Fresh herbs: I love adding a bit of fresh herbs right before serving to really ramp up the fresh flavor! Parsley and basil are my preferences.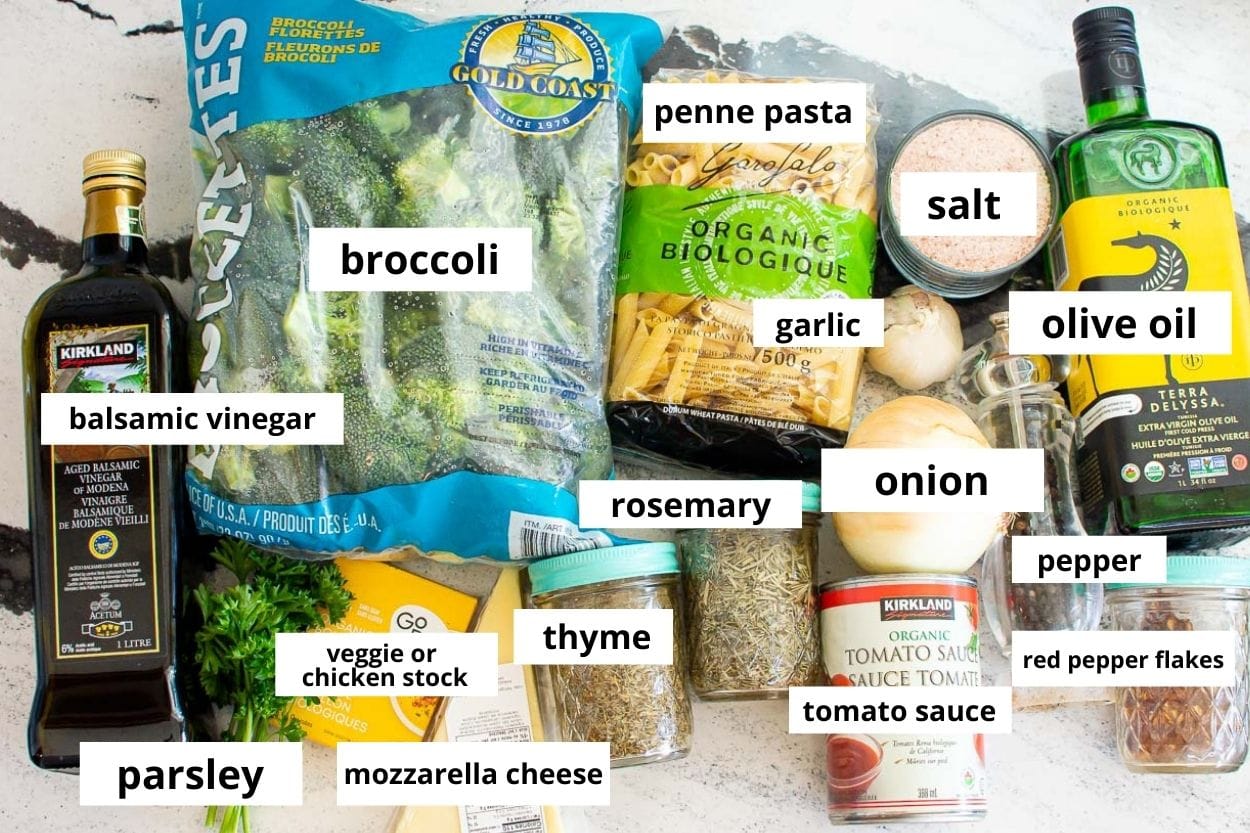 How to Make Broccoli and Penne Pasta
Sauce consists of onion, garlic, thyme, salt, pepper and tomato sauce. Pasta cooks right in the skillet. That's right, just add it all in one pot. Isn't it beautiful?!
After prepping ingredients, sauté onion and garlic in a large, deep skillet with olive oil for 3-5 minutes.
Add sauce, stock, vinegar and dried herbs, stir gently and bring to boil.
Stir in penne, bring the whole pot/skillet to a boil, cover, reduce heat to low and cook for 15 minutes. To prevent burning or sticking, stir every 5 minutes.
Add broccoli (or your desired vegetable choice), cover and steam for 3-6 minutes.
Remove from heat and stir in cheese until melted.
Just before serving, garnish with fresh herbs.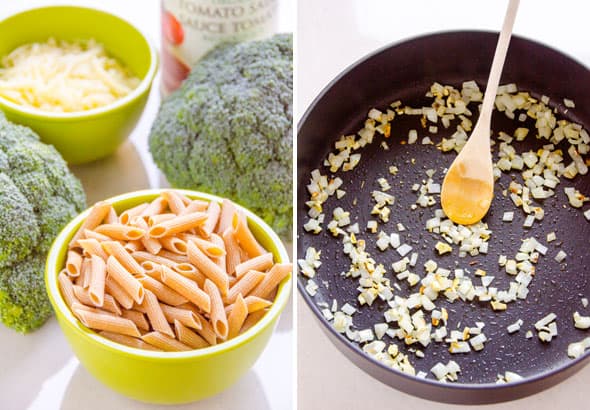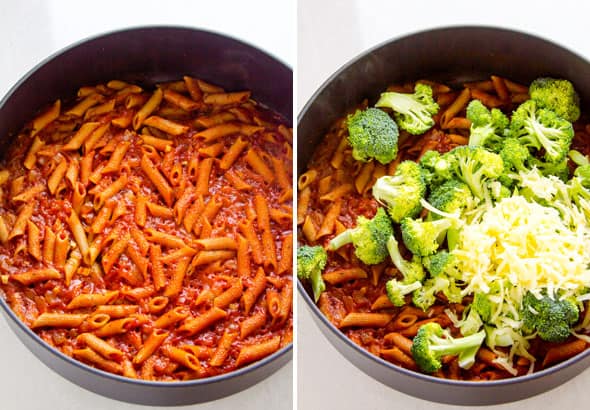 Optional Add-In's and Variations
Cooked proteins such as Instant Pot shredded chicken breast or prepared meatballs.
Gluten free pasta if needed and be sure to adjust cooking time
Dried Italian herb blend instead of thyme and rosemary.
Use what cheese you have on hand like parmesan or cheddar, feta or goat cheese would also work!
Mix up the vegetables and use cauliflower, zucchini, corn or whatever you have on hand. Note that cooking time may change! (If you like zucchini one pan dinners as much as me, check out Tex Mex chicken and zucchini or Caprese chicken zucchini tomato recipe.)
Different pasta shapes if you need to clean out pantry!
Make it restaurant worthy and right before serving add a sprinkle of fresh parmesan and cracked black pepper!
Tips for Best Results
Use a good quality pasta and cook it al dente (still chewy).
Increase cooking time for softer vegetables.
When heating leftovers add a small amount of boiled water.
Add fresh herbs right before serving.
Taste as you make it! A good pasta sauce is the one that you like and suites your tastebuds. Start with a lesser amount than called for of the dried herbs (or salt) when making your sauce, taste and add more up to the recommended amount until desired taste is reached.
FAQs
What is penne pasta?
Penne is a pasta shape in the form of a small tube with diagonal cuts on the end. It is said to have got its name from a quill and literally translates to mean 'pen'.
Is penne pasta healthy?
The word 'healthy' might mean something different from one person to the next. I like to think a healthy diet is one that includes variety. For those limiting carbs, yes, pasta is higher in carbs – but that doesn't mean it can't be consumed from time to time as part of a healthy diet. I like to use whole grain pasta or a good quality pasta when making this penne pasta (or any other pasta dinner). For those that are gluten sensitive a wheat pasta is not recommended, but there are so many nice alternatives on the market these days that do not contain wheat – for example we use brown rice pasta in these chicken lasagna roll ups!
How long do I cook pasta?
If cooking pasta 'standalone' in boiling water with salt, most pastas cook in 8-10 minutes. For this recipe, since we are cooking it in sauce, the cooking time is a bit longer.
Is pasta best ate the same day or the next day?
This really is a personal preference! Some people may like it fresh right off the stove, others may like it better the next day after the sauce really soaks into the pasta.
Is it okay to cook dry pasta in sauce?
Yes, and that is what we do in this recipe! Note, that there is added stock included in this recipe and the liquid to pasta ratio helps the penne cook right in the sauce.
Should I match pasta shape to a sauce?
I am sure some will say yes, I like to use what I have on hand. That being said, a tube shape, such as ziti or penne do well with a thicker, hearty sauce – like in this penne broccoli recipe that contains both sauce, vegetables and cheese. Thinner sauces, such as our easy spaghetti recipe work well with thinner pasta strands. Flatter pasta strands like fettuccine are often paired with healthy alfredo sauce! At the end of the day, use what your family likes or what needs to be used in the pantry – noting that some pastas might cook faster than others.
Serving Recommendations for Broccoli Penne Pasta
While I consider this a one-pot pasta a full meal in itself, you might want to serve this as part of a meal.
Making Penne Pasta Recipe in Advance
This penne with broccoli makes plenty with leftovers to be taken for lunch the next day or frozen. Super simple, isn't it?!
Make ahead: Cooked pasta will soak up the sauce as it sits, add a small amount of hot boiling water to thin out the sauce the next day.
Store: Refrigerate covered for up to 2 days.
Freezer: Cover tightly in freezer safe container and freeze up to 3 months. When ready to use, thaw overnight and pop in microwave to heat up.
More One-Pot Meals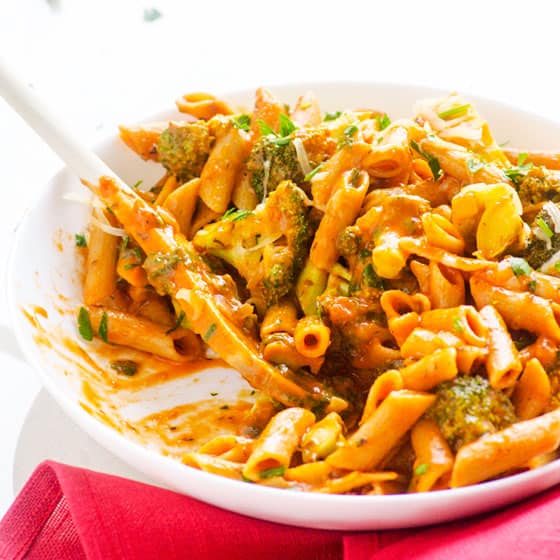 Broccoli and Penne Pasta Recipe
Broccoli and Penne Pasta Recipe with fresh broccoli, tomato sauce, garlic, onion, and a splash of balsamic is cooked in one pan and topped with cheese for an easy healthy pasta recipe. Your whole family will love this one pot penne pasta that is ready in under 30 minutes, perfect for an easy weeknight dinner!
Instructions
Preheat large deep skillet on medium heat and add olive oil, onion and garlic. Saute until translucent, stirring occasionally.

Add tomato sauce, stock, balsamic vinegar, rosemary, thyme, salt, pepper and hot pepper flakes. Stir and bring to a boil.

Add pasta and stir again.

Bring to a boil, cover, reduce heat to low and cook for 15 minutes, stirring every 5 minutes.

Add broccoli, cover and cook for 3 minutes for crispy broccoli and 5 – 6 minutes for softer vegetables.

Turn off heat, add cheese and stir until melted.

Garnish with parsley or basil and serve hot.
Notes
Store: Refrigerate covered for up to 2 days.
Nutrition
Serving:
1.5
cup
|
Calories:
394
kcal
|
Carbohydrates:
56
g
|
Protein:
15
g
|
Fat:
12
g
|
Saturated Fat:
4
g
|
Cholesterol:
15
mg
|
Sodium:
463
mg
|
Fiber:
6
g
|
Sugar:
6
g