Healthy Shrimp Salad can be enjoyed year-round. With a glass of cold drink in summer, serve at a holiday table or meal prep for easy lunches. And don't forget about camping, boating, and picnics!
This is just one of my favorite seafood salads including shrimp avocado salad, healthy tuna salad, and smoked salmon salad!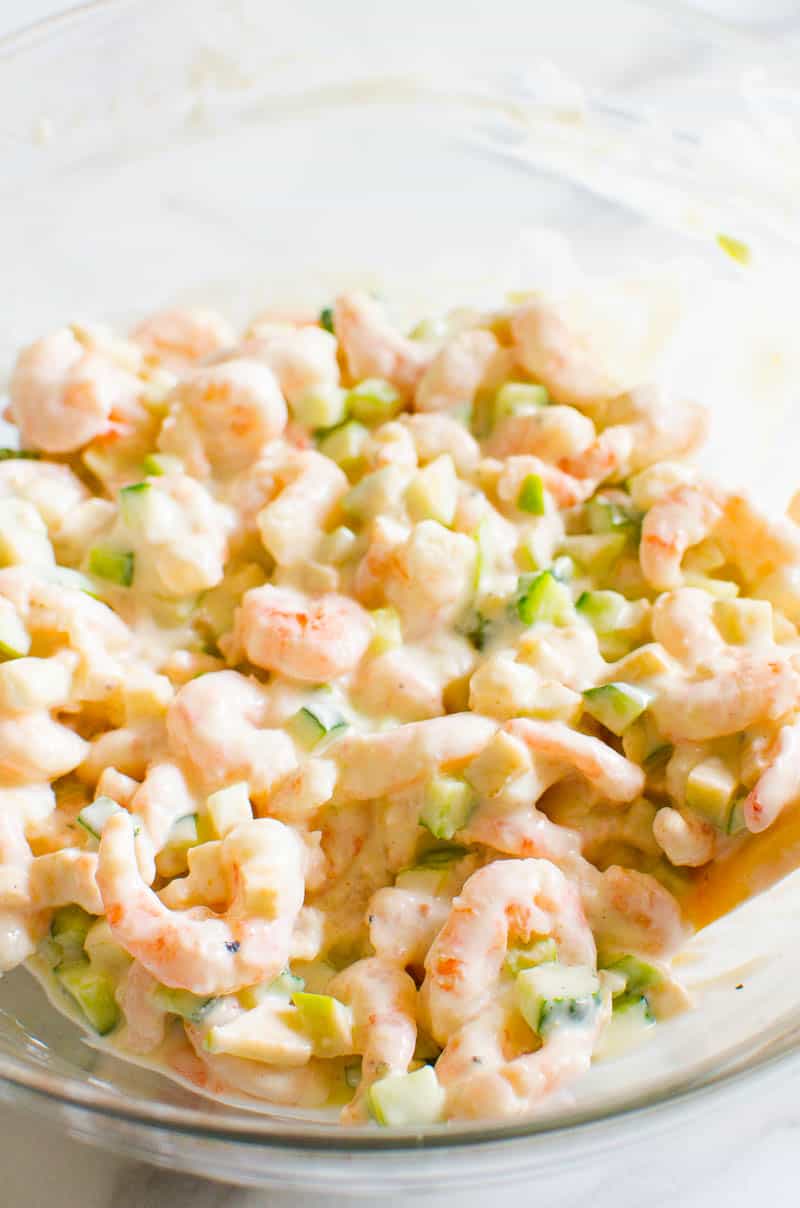 Easy Shrimp Salad
Amidst healthy Instant Pot meals we seem to make every other day, I like to vary our menu with classics like shrimp salad. To add variety and flexibility to our menu.
This healthy cold shrimp salad recipe is fantastic on a hot summer day (follow it up with grilled shrimp skewers for those true shrimp lovers or go full on shrimp boil for maximum seafood love!), as an appetizer during winter months, or as a lunch year-round. It is relatively affordable for a shrimp dish, takes 15 minutes to make, and satisfies all your creamy salad cravings.
And I have to add, as an avid local and organic food enthusiast, that this salad with shrimp is the best way to take advantage of small in size wild shrimp.
I have a shrimp recipe for every mood though. Looking for a dish that's a little less creamy with a little more tang, in which case this shrimp ceviche is perfect. How about something warm and comforting? this shrimp quinoa dish with asparagus is great. What about something with a little spice? this Thai shrimp curry would work. Warm yet light? Go for a veggie-packed shrimp stir-fry. Something for taco Tuesdays? shrimp tacos, of course!
How to Make Shrimp Salad
You need 15 minutes to make this salad with shrimp.
You start with shrimp. I highly recommend to buy cooked shrimp. It saves so much time. Look for small in size shrimp. In fact, the smaller the better because you will have to chop it anyways.
31-40 count is good. Here, on Vancouver island, we often get local wild Pacific shrimp for a good price. It is perfect. It even smells of the sea really strong (but don't worry they taste amazing!)
Then you want to dice your veggies. The smaller the better. You can use apple or cucumber to add a crunch and freshness. I do not peel either but you can. You can also seed cucumber to avoid extra moisture if you plan on meal prepping the salad.
And full disclosure – I was out of celery and fresh dill that goes so well with a shrimp salad. And it still turned out fantastic. You can really mix and match.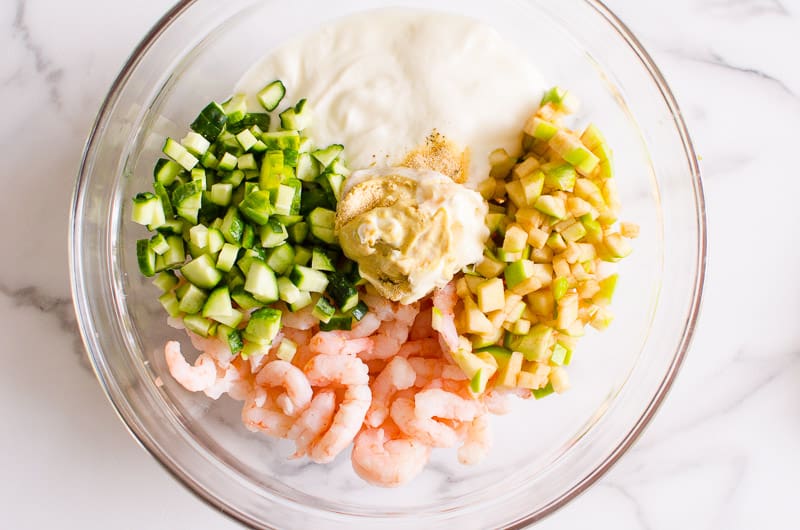 For the best shrimp salad dressing, I use plain yogurt. It has to be with at least 2% fat content. I usually buy whole milk or Greek. If you see whey separated yogurt when you open the container, it's perfect. Less liquid in your salad. Just scoop and measure the yogurt part.
Then I like to add a touch of mayo because yogurt is not mayo. And simple seasonings like garlic powder, mustard, salt and pepper.
In fact, this is a method I do with many of my salads, making them healthier by reducing the mayo content and upping yogurt is a simple (and delicious) fix. Just try it- like for this healthy egg salad, Thai chicken salad, healthy chicken salad, or even canned salmon salad! Sometimes I eliminate the mayo entirely and others I add just a spoonful or two for extra creaminess… no one misses all the extra mayo!
You can add a bit of minced red onion. I do if I make salad for home use. For the office, onion and fresh garlic maybe not such a good idea.:)
Ideas to Serve Healthy Shrimp Salad
While shrimp salad might not be an obvious family meal, I love a good shrimp salad for its versatility. We just can't be caring about the children all the time, right?!
Sandwich: Add shrimp salad on top of toasted whole-grain bread lined with as many lettuce leaves as you can handle.
Cucumber bites: Serve as an appetizer on top of cucumber slices – like here.
Pasta salad: Cook 1 cup of whole wheat or gluten-free pasta and mix with shrimp salad.
Avocado: Cut avocado in half and fill openings to the brim for a low cal, low carb and keto-friendly shrimp salad.
Crackers: Pick up whole-grain crackers and serve salad as an appetizer.
Tomato: Hollow out tomato and stuff with shrimp salad.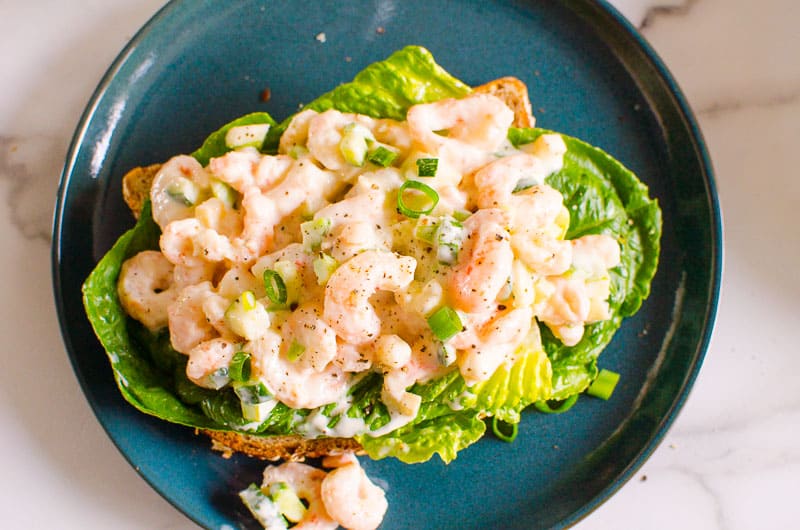 How Long Does It Last?
Refrigerate shrimp salad in an airtight glass container for up to 3 days. I do not like to store creamy food in plastic. Full disclosure – wild shrimp salad smells. It doesn't mean it went bad, it's just shrimp smells. So, tight seal helps.
More likely you will see liquid accumulated at the bottom on day 1-2. Could be from not seeded cucumbers and yogurt. It's normal. Just drain it.
Can I Freeze Leftover Shrimp Salad?
No. Shrimp and yogurt do not freeze well.
Enjoy this healthy shrimp salad!
More Healthy Salad Recipes
Healthy Shrimp Salad
Healthy Shrimp Salad can be enjoyed year round. With a glass of cold drink in summer, serve at a holiday table or meal prep for easy lunches. And don't forget about camping, boating and picnics.
Print
Rate
Ingredients
1

lb

cooked shrimp

small or chopped

3

celery stalks

diced

1

small apple or 1/3 English cucumber

diced

3/4

cup

plain

Greek yogurt, 2% fat and higher

2

tbsp

mayo

1

tbsp

Dijon or yellow mustard

1

tsp

garlic powder

1/4

tsp

salt
Ground black pepper

to taste
Instructions
In a medium bowl, add shrimp, celery, apple, yogurt, mayo, mustard, garlic powder, salt and pepper.

Stir gently to combine.

Refrigerate at least 15 minutes before serving.
Store: Refrigerate shrimp salad covered for up to 3 days. Drain liquid accumulated at the bottom if necessary.
Nutrition
Calories:
106
kcal
|
Carbohydrates:
4
g
|
Protein:
14
g
|
Fat:
4
g
|
Saturated Fat:
1
g
|
Cholesterol:
145
mg
|
Sodium:
565
mg
|
Potassium:
101
mg
|
Fiber:
1
g
|
Sugar:
3
g
|
Vitamin A:
19
IU
|
Vitamin C:
3
mg
|
Calcium:
104
mg
|
Iron:
1
mg
Join today and start saving your favorite recipes
Recipes and images are a copyright of ifoodreal.com. It is against the law to republish recipes anywhere including social media, print and all world wide web. Nutritional info is provided for informational purposes only and to the best knowledge.