Sweet Potato and Eggs is easy and delicious breakfast baked in one pan. All you need is to season potatoes, crack some eggs and sprinkle with feta and cilantro after. How easy?!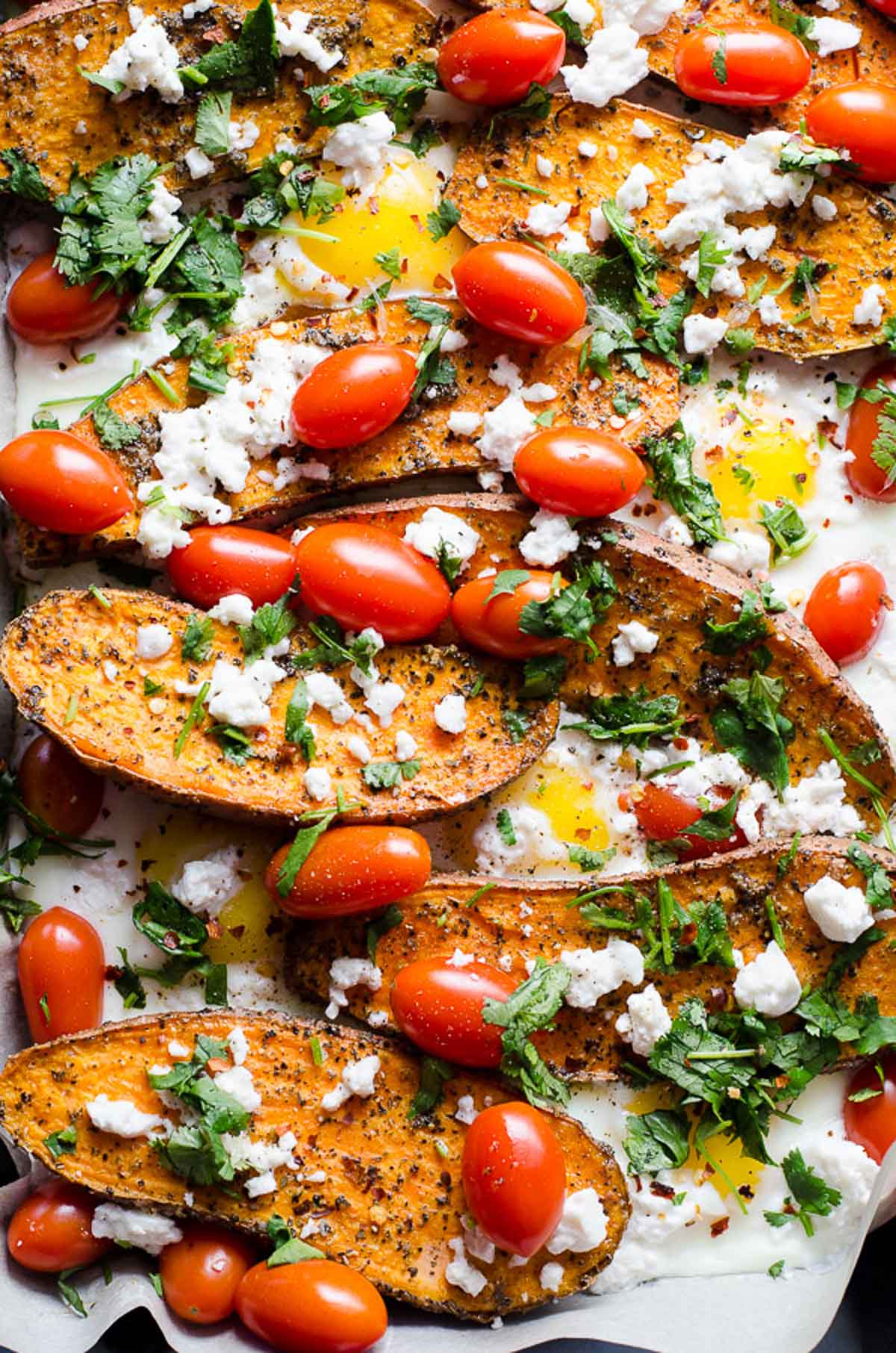 This sweet potato and eggs recipe came out of a sheer desire to make breakfast in our house easy and delicious.
It also works as a healthy dinner, especially if you have busy nights with kids' activities, like we do!
I remade this recipe again today and I had to put my laptop away and just eat, I couldn't stop.
Grape tomatoes were popping in my mouth, barely soft with tender skin. Eggs were cooked perfectly, not runny but not thick solid. And sweet potatoes with goat feta cheese, avocado, hot pepper flakes and lime juice were a flavor explosion!
We love potatoes and eggs combo like in healthy breakfast casserole, so I figured this would be a success too. And it sure was!
Are you ready to make this deliciousness?!
Ingredients and Notes
It's got so much flavor using simple ingredients but you can also swap some of the ingredients to make it your own.
Sweet potatoes: Can also swap for potatoes of any color.
Eggs: You'll need 6 large eggs.
Feta cheese: I like goat milk feta cheese, but you can also use cow's milk feta if you prefer.
Seasonings: Garlic powder, oregano, basil, salt, and pepper. You can also use fresh garlic, but it is an extra step and tool!
Grape tomatoes: I just love how easy they are to wash and throw on top. Regular diced tomatoes will work.
Garnishes: Green onions, cilantro, hot pepper flakes, avocado (or guacamole), salsa, and lime juice.
How to Make Sweet Potato and Eggs
Here are the simple steps to prep this recipe in 5 minutes! After that it's all baking time.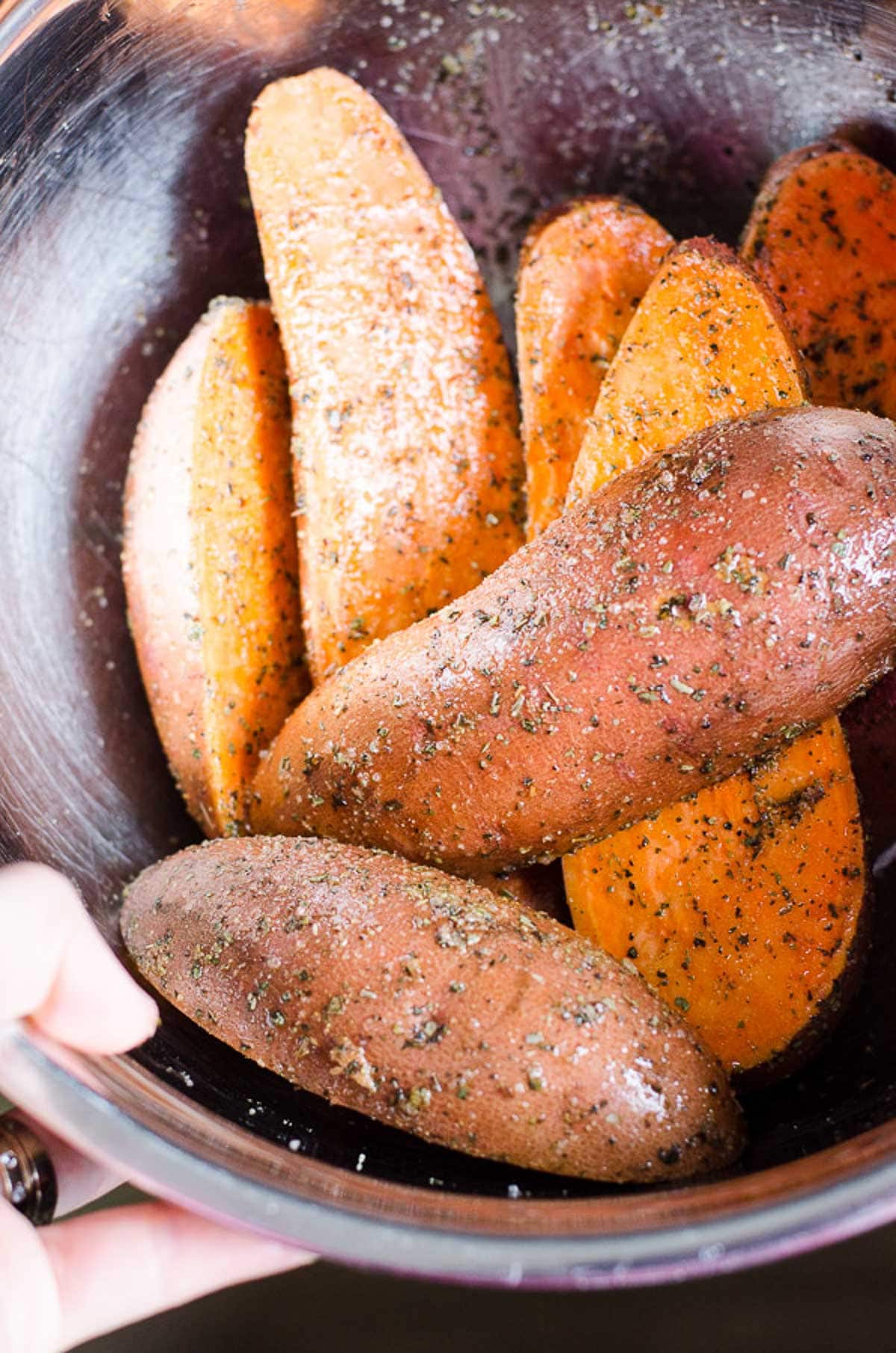 Prep: Preheat your oven to 425 degrees F and line your baking dish with parchment paper and cooking spray.
Cut and season potatoes: Cut the sweet potatoes in half lengthwise. No need to peel!
Then dump them into a deep bowl with oil and spices and toss until evenly coated. Feel free to use your fingertips to rub.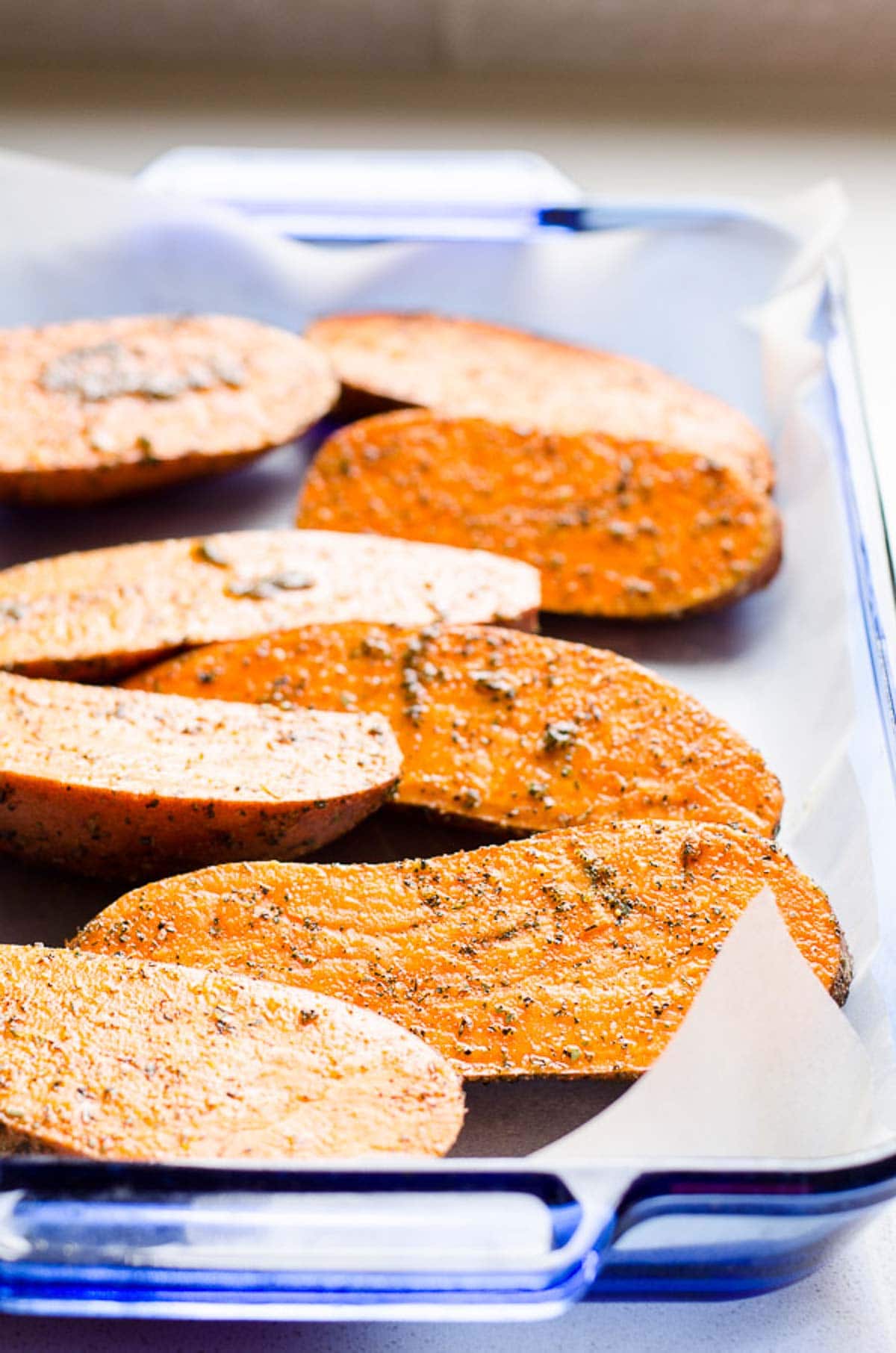 First bake: Place the seasoned sweet potatoes flesh side up in a prepared baking dish and bake for 35-40 minutes or until knife tender.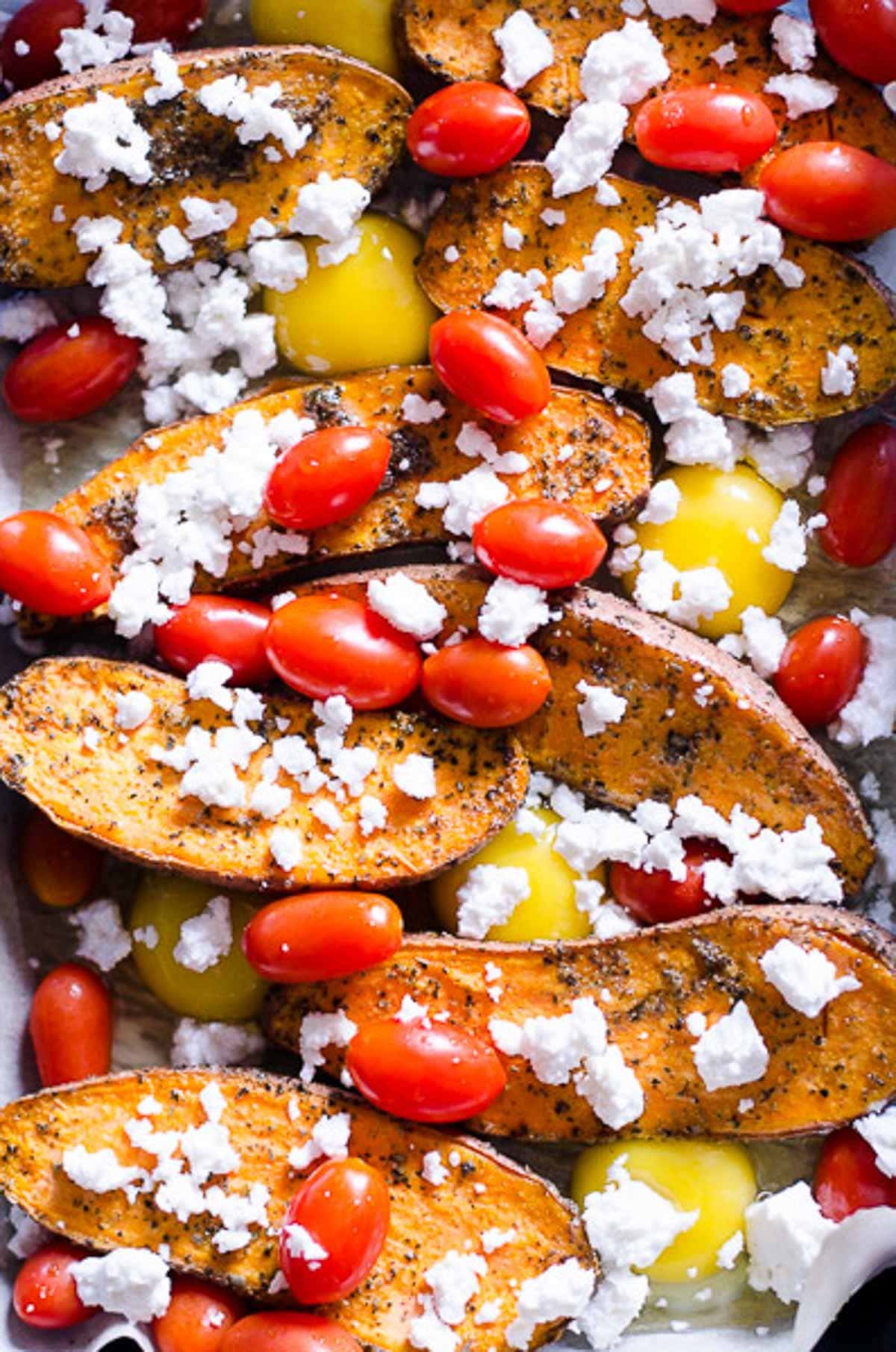 Second bake: Crack the eggs into the spaces between the potatoes. Sprinkle on the tomatoes and feta and bake again for 9-10 minutes or until the egg whites are opaque.
Garnish: Remove from the oven, garnish as desired and enjoy hot!
Tips for Making Egg and Sweet Potato
If you're worried about egg shells, crack one at a time in a small dish, then pour it into the dish.
When using a convection oven, the baking time will be reduced by 10 minutes or so.
No need to peel the potatoes. The skin has plenty of nutrients, but it also helps to keep the shape of the sweet potatoes. If by chance they're overcooked, they'll at least be too soft in their shell!
For a runny yolk, you'll want to keep an eye on it while it's in the oven. Eggs won't take too long to cook, so once the egg whites are cooked, take the dish out immediately.
Storing and Reheating
Storing and reheating: Leftovers can be stored in the refrigerator for up to 2 days.
I would say the best way to reheat would be in a microwave as you don't want to be tossing potatoes and eggs around to make a mush.
Freezing: Baked sweet potato does not freeze well, so I wouldn't recommend it.
FAQs
Are sweet potatoes good for breakfast?
Yes. They provide fiber, potassium, vitamins, especially vitamin A, minerals, and antioxidants.
What to serve it with?
For breakfast, you have a one pan meal. Serve with sliced avocado and salsa. Possibly with a fruit smoothie or orange juice.
Can you eat this dish for dinner?
Yes. That's one of the brilliant things about this dish is that it works for every single meal at any time of the day.
Can I add other vegetables?
Yes. Think about using any firm veggies like cauliflower, corn, or carrots. Onions would be great too.
More Egg Recipes to Try
More Sweet Potato Recipes
Love eggs as much as my family? Check out my collection of healthy egg recipes!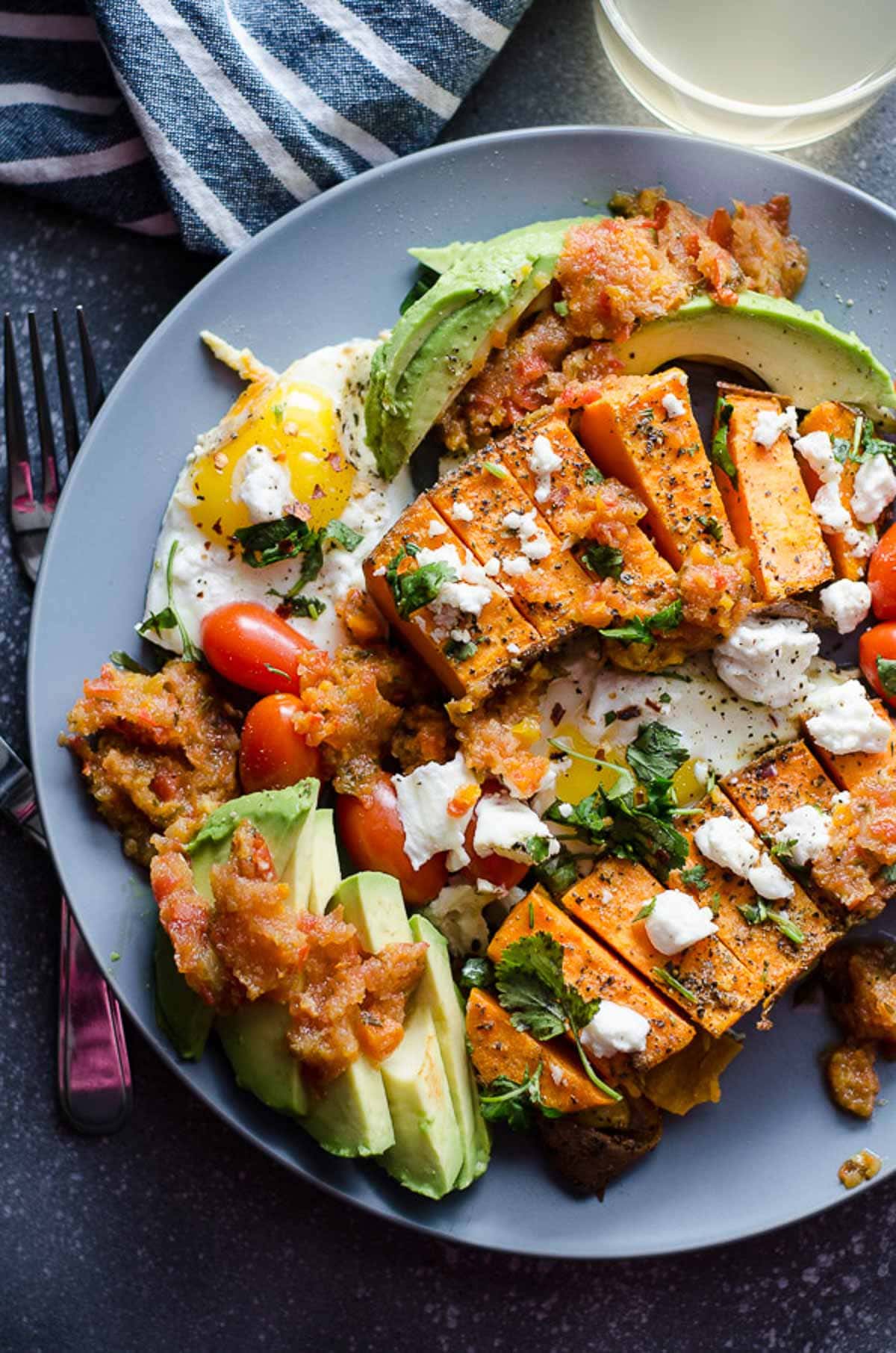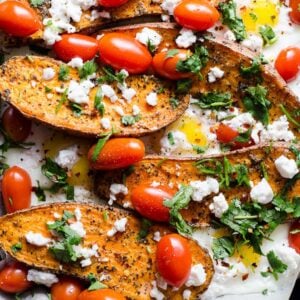 Sweet Potato and Eggs
Sweet Potato and Eggs is easy and delicious breakfast baked in one pan.
Instructions
Preheat oven to 425 degrees F, line 9 x 13 baking dish with unbleached parchment paper and spray with cooking spray.

In a large mixing bowl, add potatoes, oil, garlic powder, oregano, basil, salt and pepper. Toss well until potatoes are coated.

Lay potatoes cut side up in previously prepared baking dish and bake for 35-40 minutes (convection oven reduces baking time by 10 mins or so) or until knife tender.

Remove from the oven and carefully crack eggs in between the potatoes, top with tomatoes, sprinkle with feta cheese and bake for another 9-10 minutes or until egg whites are white.

Remove from the oven and garnish as you wish. Serve hot.
Notes
Store: Refrigerate in an airtight container for up to 2 days.
Nutrition
Calories:
378
kcal
|
Carbohydrates:
49
g
|
Protein:
15
g
|
Fat:
14
g
|
Saturated Fat:
5
g
|
Cholesterol:
262
mg
|
Sodium:
720
mg
|
Fiber:
7
g
|
Sugar:
11
g