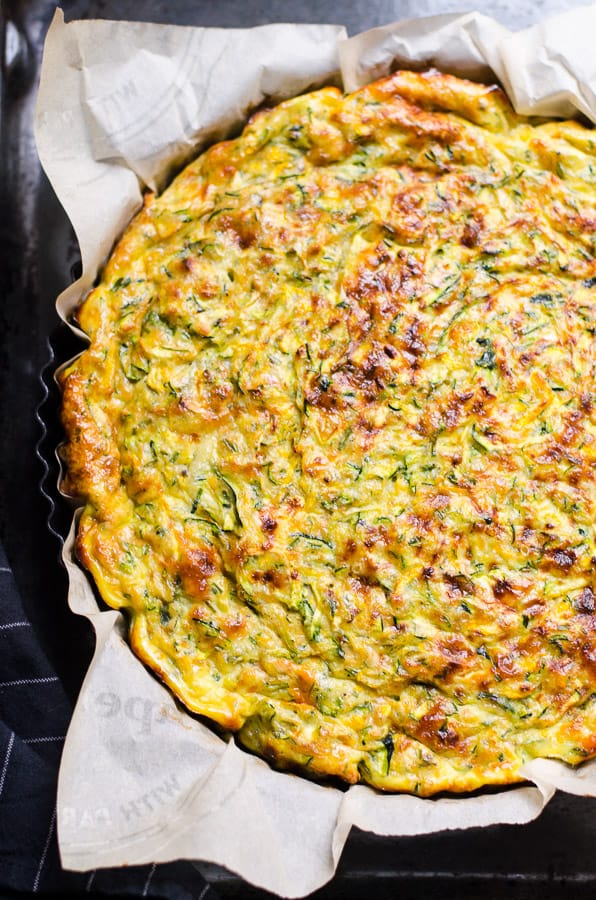 A few years ago, a health conscious neighbour shared delicious crustless quiche recipe that I loved taste of but my stomach didn't agree with amount of dairy in it. Never being able to forget an experience of a cold savoury quiche on a summer morning, which created heaven in my mouth, this year I was set to come up with my own super simple and healthy crustless zucchini quiche recipe using only a few ingredients: lots and lots of grated zucchini, many fresh local eggs and a small amount of Parmesan cheese for a punch of flavour.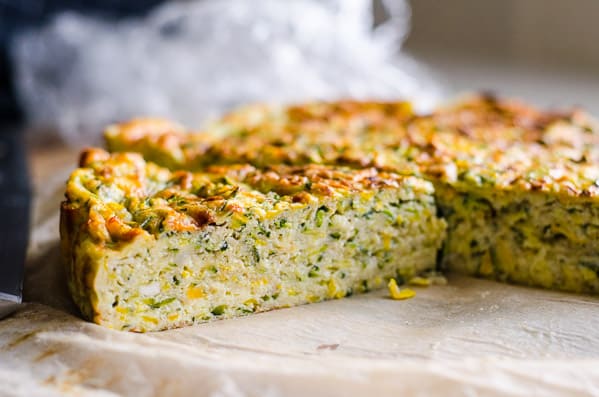 I have to say that my crustless zucchini quiche came out amazing with a delicate texture from grated vs. cubed zucchini. It didn't taste like an omelette, neither did it have a texture of a pie – bingo. And if you love round egg-y loaded with vegetables "things" I highly recommend you my crustless zucchini pie using corn tortillas and all Mexican flavours, or spaghetti squash quiche with kale and mushrooms that tastes like Fall, or my other spaghetti squash quiche with balsamic vegetables, which is perfect for August when local produce stands are overloaded with affordable delicious vegetables.
How to Make Crustless Zucchini Quiche
Using the same grated zucchini squeezing technique like in healthy zucchini bread and healthy pita pizza with zucchini – I place shredded zucchini inside a linen towel, then twist into a ball and as I keep twisting with all my mighty force, liquid starts to come out. Do it over a bowl and save liquid for smoothies or soup (last time I used it for Ukrainian borscht haha).
Let's proceed to beautiful local farm eggs of different colours. Blue ones look super cute.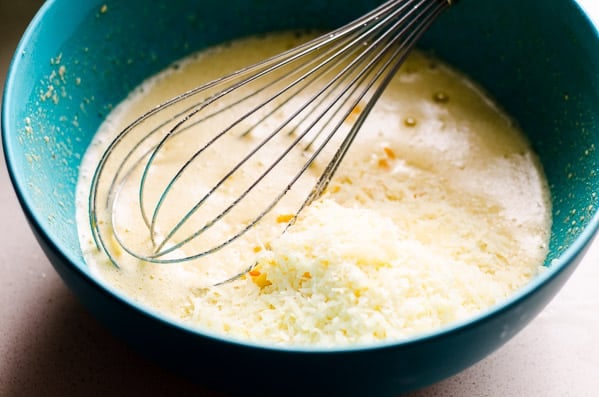 For my zucchini quiche I used 8 large eggs. Add flour and it will take some muscle power and a few minutes to combine both by whisking. I didn't use any milk because zucchini is quite a moist vegetable, on the contrary I needed absorbing ingredient to help shape a quiche and not extra liquid.
I consider chives a fancy herb. The only reason I used chives is because Alex has planted 4 chive plants this spring in hopes to get rid of moles, so did he stuff our grass with garlic cloves all around the house. So far, Alex – 0, Moles – 5. Green onions would work as well as chives, don't waste your money and use what you have. So, will dill. Dill goes with anything if you ask a Ukrainian, haha.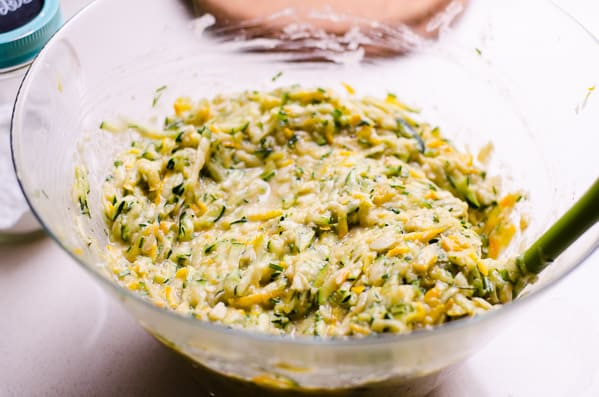 Combine both mixtures.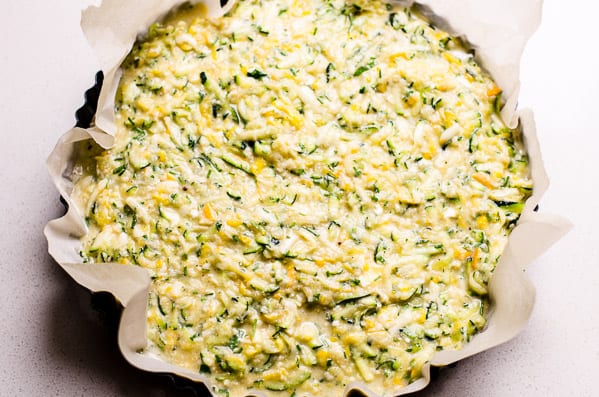 And bake. I lined my baking dish with parchment paper because it is more of a cheesecake one where bottom slides out. That is also a reason I placed baking dish on a baking tray, plus dish was too shallow, so I was scared quiche would spill all over the oven I prefer to avoid cleaning. Nothing of above mentioned has happened, so just pour mixture into well sprayed regular pie dish and you will be fine.
This crustless quiche came out amazing, tasted even better cold the next morning for breakfast. Enjoy!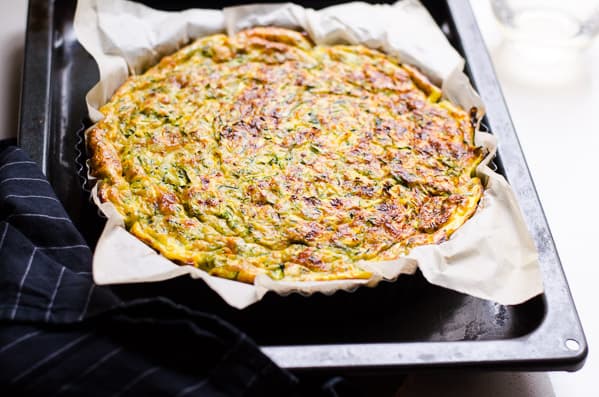 Print
Zucchini Quiche
Crustless Zucchini Quiche Recipe made healthy with few ingredients like grated zucchini, Parmesan cheese, eggs and whole wheat flour. Tastes so good cold!
Author:
Prep Time:

15 minutes

Cook Time:

45 minutes

Total Time:

1 hour

Yield:

8 servings
Ingredients
7 cups (2-2.5 lbs) shredded zucchini (measured before squeezing)
8 large eggs
1/2 cup spelt or whole wheat flour
1/2 cup any hard cheese, shredded
1/2 cup Parmesan cheese, grated
1/2 cup chives or green onions, finely chopped
1 tsp salt
Cooking spray (I use Misto)
Instructions
Give shredded zucchini a good squeeze to extract as much water as possible. I do it by placing zucchini into a linen towel and wringing into a ball (save the liquid for soup or smoothies). Transfer to a medium bowl and set aside. Preheat oven to 400 degrees F and spray pie baking dish with cooking spray.
In a medium bowl, add eggs and whisk. Add flour and whisk well to combine (it will take a few minutes). Add both cheeses, salt and pepper, and whisk one more time. To the bowl with zucchini add chives and using spatula mix, then pour egg flour mixture on top and stir well to combine.
Transfer mixture to previously prepared baking dish and bake for 45 minutes or until toothpick inserted in the middle comes out clean. Broil for a few minutes for a golden crust. Cool off a bit, cut into 8 slices and enjoy warm or cold (I love cold quiche!).
Store: Refrigerate covered for up to 5 days or freeze in an airtight container for up to 3 months.
★ Did you make this recipe? Please give it a star rating in the comments.