Crispy and tender Air Fryer Asparagus is a healthy side dish ready in under 10 minutes. With minimal oil and garlic, it is super tasty, pairs well with just about any main entree, and is so easy to make!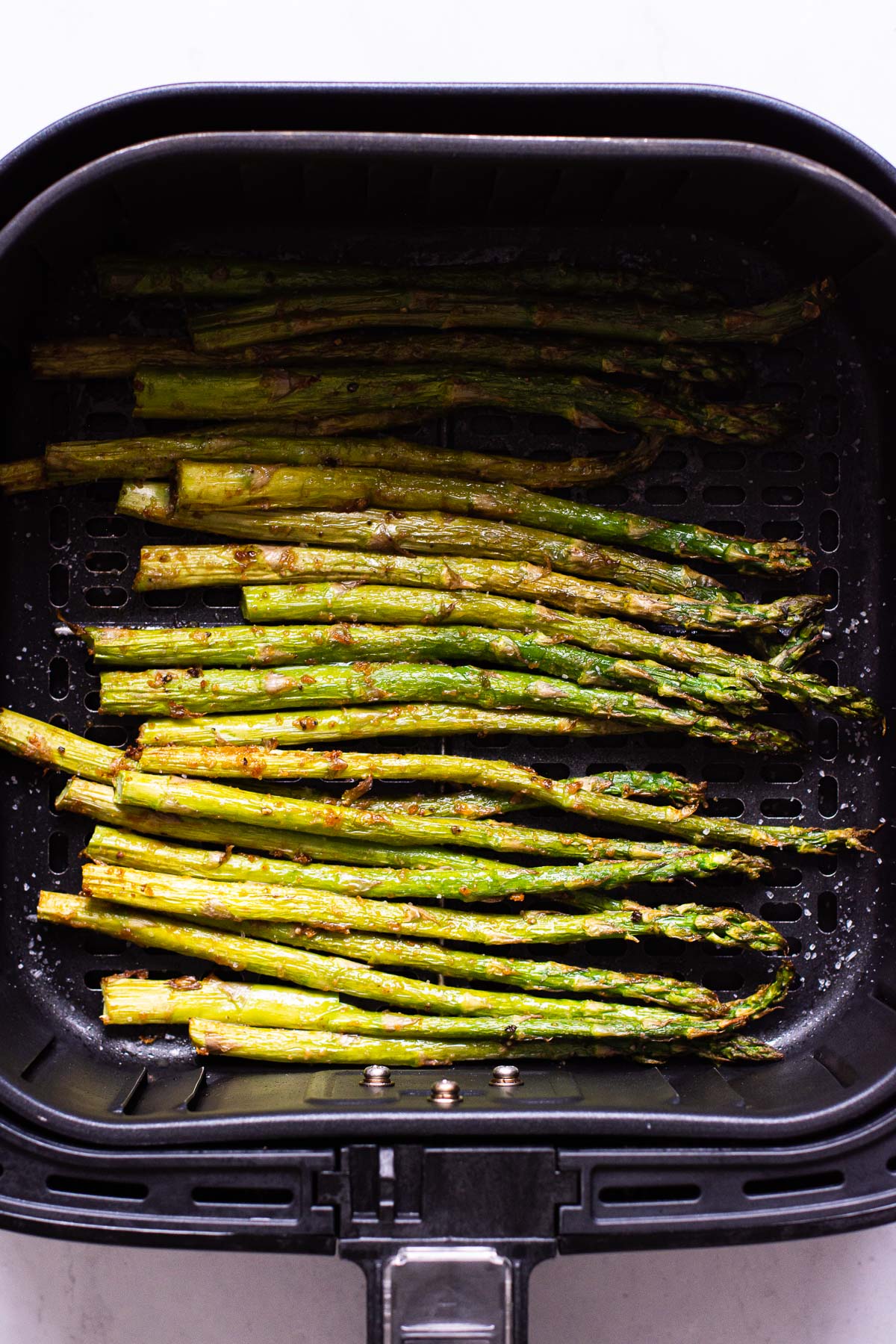 I love to make quick and simple vegetable side dishes in my air fryer! Like air fryer broccoli, air fryer cauliflower, and this air fryer asparagus!
The results are lightly crisp garlicky asparagus with a tender middle and a more robust flavor than steamed.
You will be able to knock out a fuss free, last minute vegetable side dish in just 10 minutes. Even roasted asparagus takes 20 minutes!
Why You'll Love This Recipe
Easy: Ready in under 10 minutes.
Tasty: A bit of fresh garlic, salt and pepper is all you need.
Healthy: Low calorie, low carb and naturally gluten free plus vegan.
Nutritious: Packed with fiber, antioxidants and vitamins.
Perfectly cooked: Crispy ends with tender stalks.
Ingredients You Will Need
Air fried asparagus ingredients are so simple! All you need is just fresh asparagus and pantry spices to make this recipe any time.
Asparagus: I prefer thicker asparagus spears because they come out more crunchy. But use what you can find at your local store.
Oil: I use extra virgin olive oil, but any neutral cooking oil will work like avocado oil or coconut oil.
Seasonings: I use either freshly grated garlic or garlic powder, depending on time. Then just salt and black pepper.
How to Make Air Fryer Asparagus
Trim, season, and air fry. It really is that quick and easy for this air fryer vegetable!
Trim the asparagus: Snap the woody end off of one spear, it will snap off in the correct place naturally. Then use a sharp knife to cut other spears to the same length.
Add oil: Transfer the asparagus to a large dish, drizzle with oil and toss to coat.
Add seasonings: Add fresh garlic or garlic powder, salt, pepper and toss gently more.
Air fry the asparagus: Transfer the asparagus to your air fryer basket in a single layer, with space in between. Cook at 400 degrees F for 5-7 minutes, depending on how thick the spears are.
Recipe Variations
This versatile side pairs with tons of seasonings and additional ingredients. Here are just a few of my favorite ways to enjoy this nutritious green!
Lemon: Squeeze some fresh lemon juice over the asparagus before serving for a zingy, bright flavor. You can also add a small amount of lemon zest.
Spice: A pinch of red pepper flakes or chili powder would work. Add a drizzle of honey or maple syrup for sweet and spicy.
Parmesan cheese: Add 1-2 tbsp freshly grated parmesan cheese. I like to add 1 tablespoon after cooking.
Fresh herbs: Several herbs pair wonderfully with asparagus, including fresh parsley, basil, chives, or dill.
Balsamic: Drizzle with about a tablespoon of balsamic vinegar before air frying.
How to Serve
To say that this air fryer roasted asparagus is versatile would be an understatement. It's an excellent addition to salad recipes and here are some top recommendations to serve it as healthy sides.
How to Store and Reheat
Chances are you will not have leftovers! Here is how to store them if you do, though.
Store any leftover air fryer asparagus in an airtight container in the fridge for up to two days. For the best texture, reheat in the air fryer at 300 degrees F for 3-4 minutes, or until warm.
FAQs
What is the best way to trim asparagus?
You can use a knife to cut off a few ends at a time while they lay flat on your cutting board. Alternatively, if you hold the asparagus in your hands and bend it near the base of the stalk the woody part of the stem should easily snap off.
Do I need to preheat my air fryer?
I always do, just like an oven! If you do not have a preheat button, just set it to the recipe temperature and preheat for a few minutes before adding the asparagus.
What is the best oil to use in the air fryer?
I recommend using oil with a high smoke point such as coconut oil, avocado oil, or vegetable oil. I also often use extra virgin olive oil (with a smoke point of 375F) for recipes up to 400F and have had no issues so far.

Avoid aerosol cooking spray like non-stick Pam, though, as they wear away the non-stick coating in your air fryer basket. Instead, using an oil mister is best.
How long should I cook asparagus in air fryer?
You should cook your asparagus in the air fryer for just 5-7 minutes. This range depends on how thick or thin asparagus stalk is.
More Asparagus Recipes to Try
More Air Fryer Recipes to Try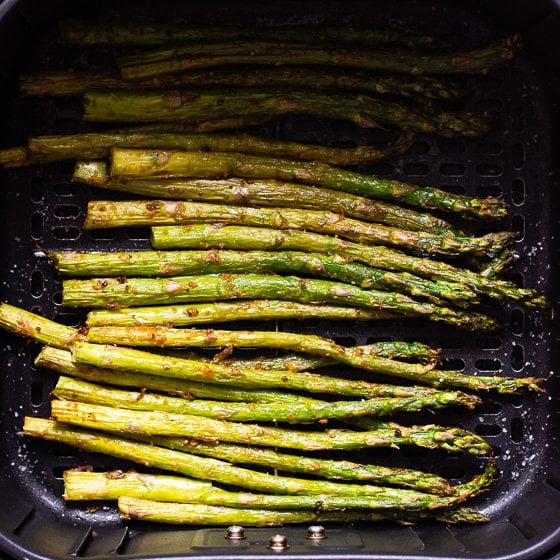 Air Fryer Asparagus
Crispy and tender Air Fryer Asparagus is a healthy side dish ready in under 10 minutes. Super tasty with minimal oil and garlic.
Instructions
Preheat air fryer at 400 F degrees. To trim asparagus, snap the end of one spear and cut remaining asparagus same length with a knife. Usually 2-3" off, that's the chewy stringy part you don't wanna eat.

Transfer to a rectangular dish, drizzle with olive oil and toss with your hands. Sprinkle with garlic powder and toss gently again. Finally sprinkle with salt and pepper, and toss a few more times.

Transfer asparagus into the basket of air fryer leveling into a single layer. Air fry at 400 degrees F for 5 – 7 minutes depending on its thickness.

Serve immediately as a side dish.
Notes
Store: Refrigerate in an airtight container for up to 2 days.
Reheat: Reheat air fried asparagus in air fryer at 300 degrees F for 3-4 minutes or until warm.
Make ahead: Refrigerate seasoned asparagus in an airtight container for up to 24 hours and then cook as per recipe.
Nutrition
Serving:
1
serving
|
Calories:
59
kcal
|
Carbohydrates:
6
g
|
Protein:
3
g
|
Fat:
4
g
|
Saturated Fat:
1
g
|
Sodium:
149
mg
|
Fiber:
3
g
|
Sugar:
2
g