Crispy Air Fryer Chicken Drumsticks with no breading are as crispy and juicy as any deep fried version you'd want to sink your teeth into but without all the grease! A tasty dinner served in just 20 minutes and any sauces on the side are optional!
Also be sure to check out air fryer chicken breast, air fryer chicken tenders, and air fryer chicken wings for more healthy air fried recipes!
Scrap ordering a bucket of fried chicken and make homemade drumsticks quickly and easily right in your air fryer!
These are big in my house, busy or not, because in just over 20 minutes, I get crispy juicy air fryer drumsticks that have that beautiful char even without breading. They're what I call finger licking amazing!
It takes almost no time to prep and I use just a handful of seasonings! I'm happy to say crispy drumsticks without all the heavy grease splatter are now on my list of healthy dinners.
There's no need to heat the kitchen by making Tex Mex chicken and zucchini in the skillet or stand out in the rain at the grill. The convenience of the air fryer makes it an efficient way to get fast chicken dinner results!
Why You're Going to Love It!
Drumsticks are cost effective. They're a great way to serve a large crowd. Swap the seasoning and you've got a different flavor every time.
Fun and versatile. As messy as they can be, they're also fun and portable to eat with your hands, making them great for kids and social gatherings.
Easy. An air fryer is a convenient appliance that takes up little room and makes it so that you don't need to turn on the oven. Same goes for making Instant Pot chicken breast in the pressure cooker, another appliance I swear by!
Healthy. With no breading this recipe is paleo friendly, gluten free, keto friendly, and all the low carb friendlies. Highly nutritious and packed with protein, serve with your choice of healthy salad recipes and you have a well rounded meal!
Great texture. Air fryer chicken drumsticks are crispy and juicy all at the same time.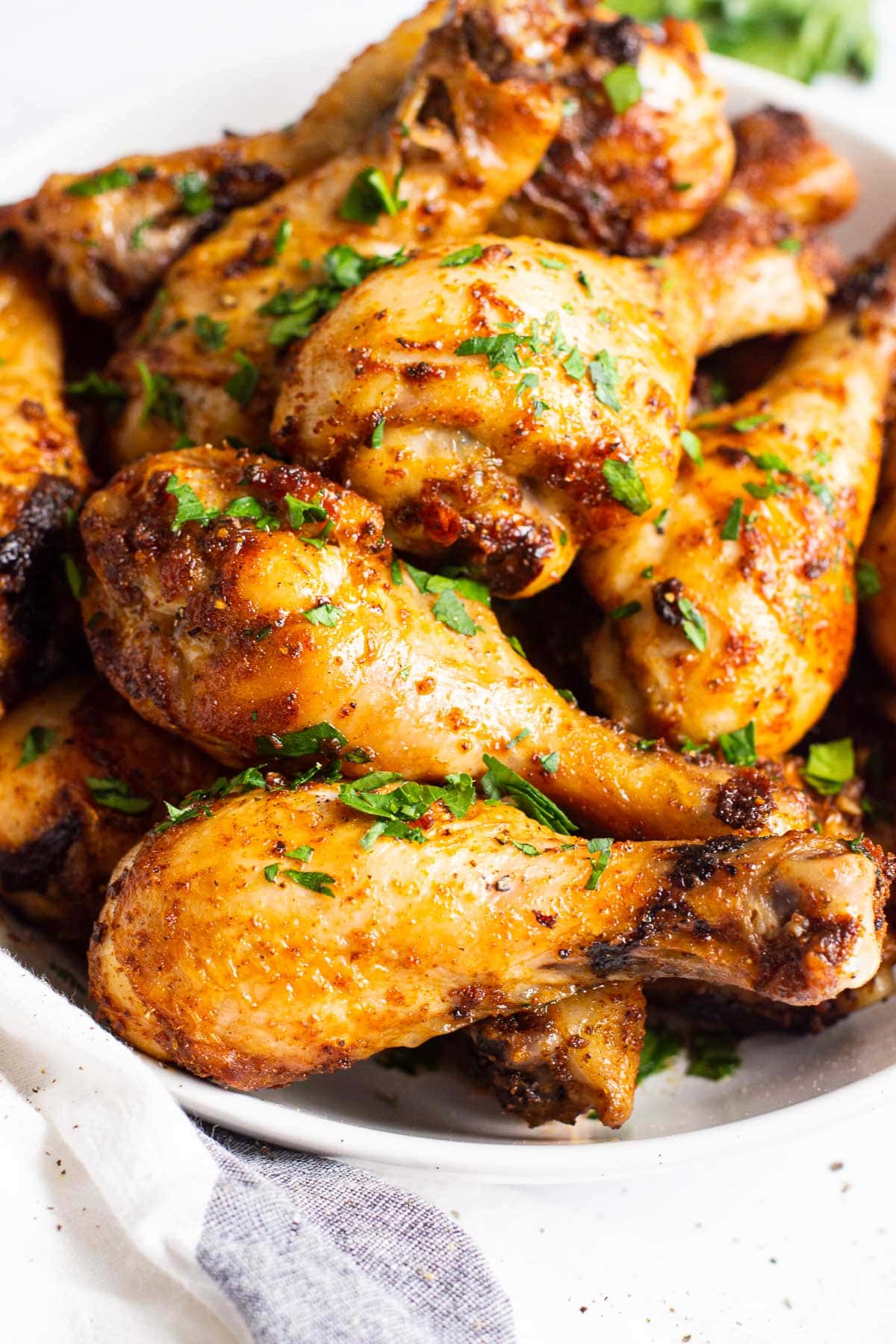 Ingredients Needed to Make Air Fryer Chicken Drumsticks Recipe
Chicken drumsticks: Skin on is best as it helps to keep the meat moist, but if you're not a fan, by all means, remove it.
Oil: Just a bit for a nonstick coating and to help get a beautiful crust without any flour. Olive oil or avocado oil is great.
Seasonings: Paprika, garlic powder, onion powder, salt, and black pepper. Use smoked or regular paprika. This combination I find easy and super tasty, and use a similar combination on oven baked chicken breast but play around with your favorite herbs and spices.
I promise you'll be making these over and over, so it's worth stocking up on drumsticks when they're on sale! Plan to make healthy fried chicken with those chicken legs, too!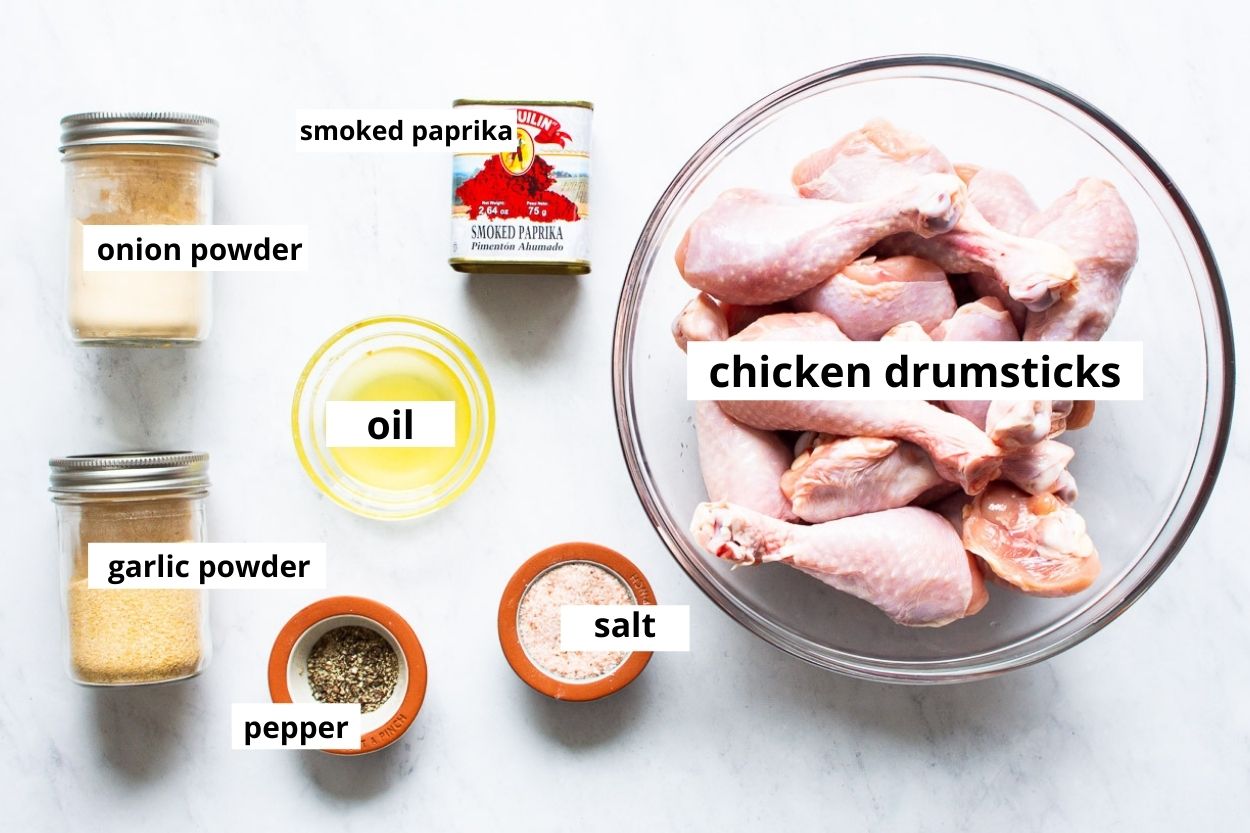 How to Make Air Fryer Chicken Drumsticks
1. This is a recipe that requires a preheat. The automatic setting for a preheat is usually 400 degrees, so you'll want to adjust it to 380 degrees.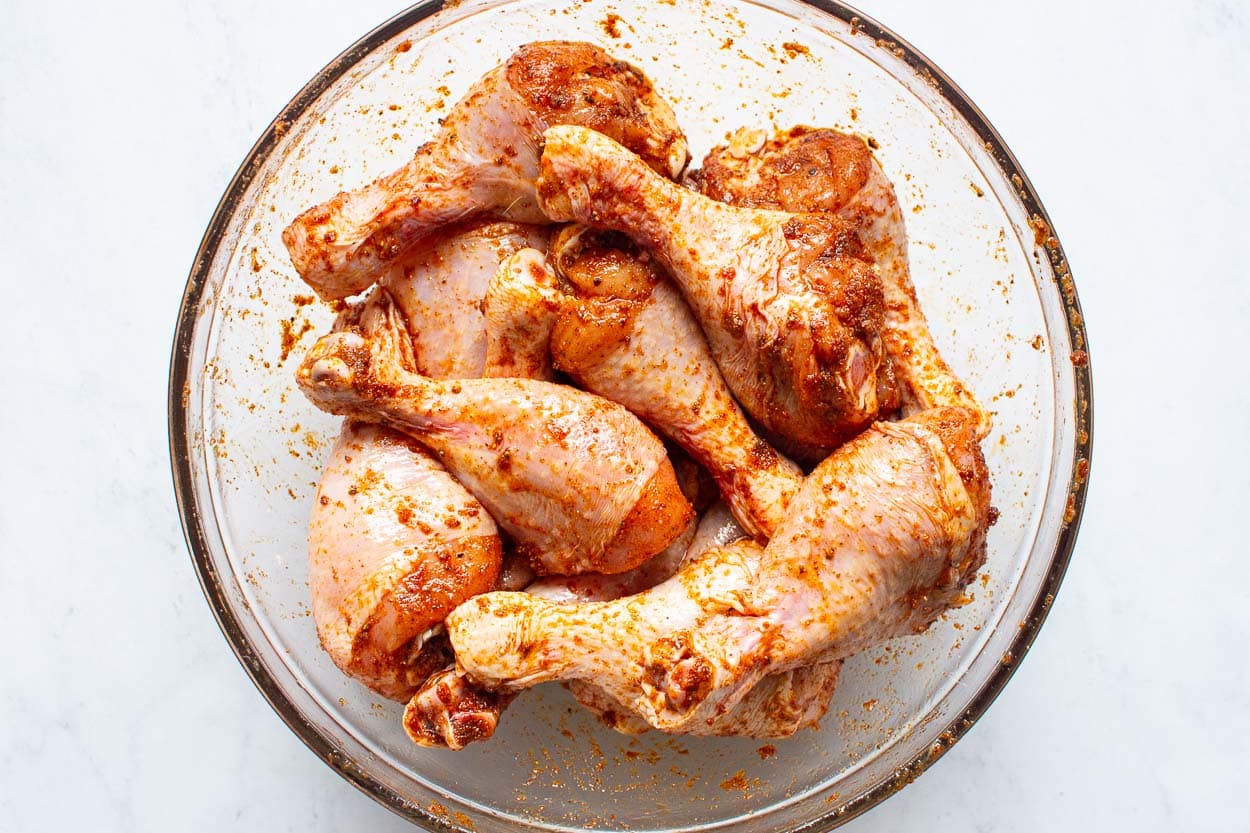 2. In a large bowl combine the drumsticks, oil, and all of the seasoning, and don't be afraid to get your hands dirty. Make sure each drumstick has an equal amount of flavorful coating.
Recipe Tip
Do you rinse your meat? It's not recommended for health and sanitation reasons. I do know that the practice is generational across many cultures, so if you do, be sure to sanitize the area after and pat the chicken dry with a paper towel before seasoning.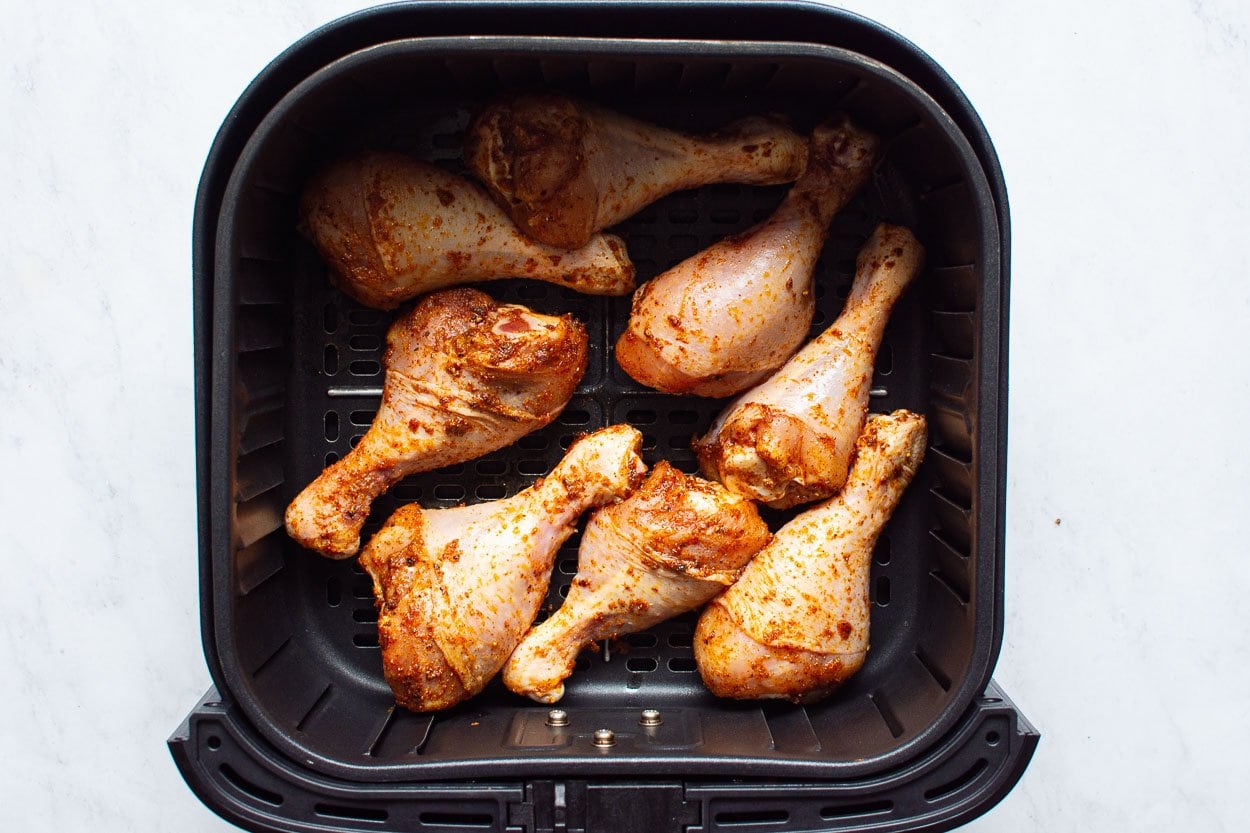 3. No need to spray the basket because the chicken is already coated in oil. Place each drumstick in the basket and cook for 10 minutes first.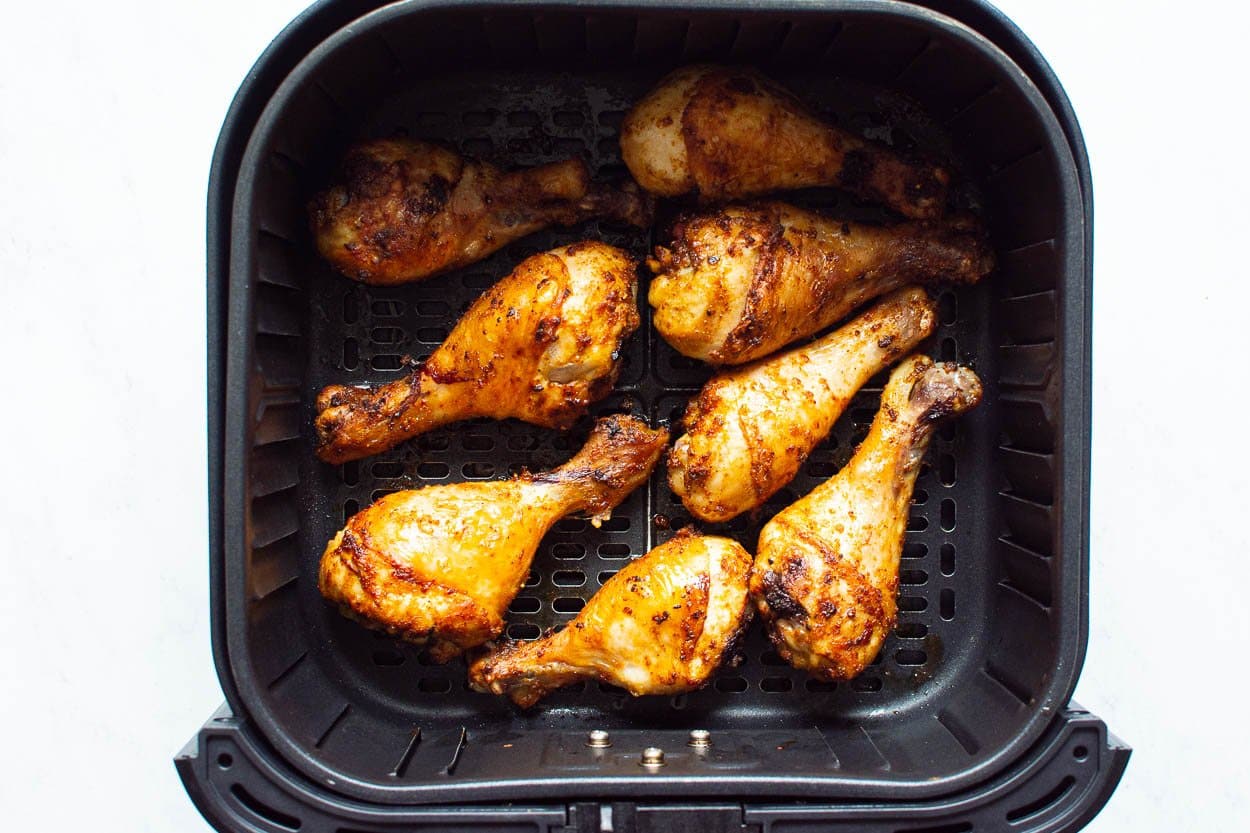 4. Then, using a pair of tongs, flip to the other side and cook for another 7 minutes.
Serve immediately while nice and hot and crispy.
FAQs
What is the difference between chicken legs and drumsticks?
The drumsticks are just a portion of the entire leg. You've probably seen them attached to the thigh as one piece, which makes up the leg. When separated you've got a thigh and a drumstick. They're super budget friendly, so even if you do by them unseparated, you'll get plenty of extra pieces of dark meat to freeze.
Do I need to flip my chicken in the air fryer?
You should, yes. The air does circulate and the heat will come up through the bottom. However, the element is at the top and to get a beautiful equal crispy outside without any breading, you want to give both sides access to the element.
How do I store air fried drumsticks?
Leftovers can be kept in an airtight container in the fridge for up to 5 days. Double your recipe and freeze some for later!

Reheat in the air fryer at 400 degrees F until crispy and heated throughout. This should be about 4-6 minutes. You could also remove the meat from the bones and use it to make chicken tostadas!
What dipping sauces go well with chicken legs?
Healthy BBQ sauce is always a classic choice. You might want to try this Hawaiian BBQ sauce, too. I love using this chimichurri recipe or Thai chili sauce for all kinds of meat. A Buffalo sauce, a ranch sauce, or even a honey garlic sauce are all options. Heck, kids even love it with just some ketchup!
Tips for Making Crispy Chicken Drumsticks
Preheat. Some air fryer recipes don't require a preheat. This one does, so make sure you do this for at least 5 minutes.
Don't crowd basket. To maximize crispness and avoid soggy skin, leave room for the air and heat to circulate all over.
Know when they're done. The juices will run clear and a digital meat thermometer will read 165 degrees F.
Fresh or frozen. For frozen, thaw them for about 30 minutes to be able to separate them. Then air fry frozen chicken for 30 minutes or more. Check the internal temperature to make sure they're cooked.
Quart size. I'm using a larger air fryer, it's an 8 quart which fits about 8 drumsticks. For smaller air fryers work in batches.
Resting the meat. It's important to allow the juices to settle and redistribute throughout the drumstick. Keep it juicy!
Healthy Air Fryer Side Dishes to Serve Chicken With
You might also love air fryer shrimp and air fryer turkey breast !
Air Fryer Chicken Drumsticks
Crispy Air Fryer Chicken Drumsticks with no breading are as crispy and juicy as any deep fried version you'd want to sink your teeth into but without all the grease!
Instructions
Preheat air fryer to 380 degrees F for 5 minutes.

In a large bowl, add chicken drumsticks, oil, paprika, garlic powder, onion powder, salt and pepper. Using your hands or tongs, mix well to coat evenly.

Place chicken drumsticks in an air fryer basket and cook at 380 degrees F for 10 minutes. After, turn on another side and cook for another 7 minutes or until juices run clear and instant read thermometer registers 165 degrees F.

Serve immediately while hot and crispy.
Notes
Store: Refrigerate leftovers in an airtight container for up to 5 days.
Reheat: Pop chicken drumsticks in the air fryer at 400 degrees F for several minutes (4-6) until warm and crispy.
What size is your air fryer? I am using large 8 quart Cosori air fryer. It fits about 2 lbs of chicken drumsticks. About 8 pieces.
Frozen chicken drumsticks: Thaw them for about an hour first to be able to separate them. Cook for 30 minutes at 380 degrees F and a bit longer if necessary.
To rinse or not to rinse? If you decide to, make sure to pat dry after with paper towels.
Nutrition
Serving:
2
drumsticks
|
Calories:
278
kcal
|
Carbohydrates:
1
g
|
Protein:
27
g
|
Fat:
18
g
|
Saturated Fat:
4
g
|
Trans Fat:
1
g
|
Cholesterol:
140
mg
|
Sodium:
450
mg
|
Fiber:
1
g
|
Sugar:
1
g