Healthy (ish) Black Bean Nachos with a thin layer of tortilla chips loaded with lime black bean sauce, juicy tomatoes, green onion and cilantro. Then baked on a sheet pan until cheese has melted.
With dishes like black bean salsa, healthy black bean burgers, and black bean brownies– you can enjoy black beans for any course of a meal!
Healthy Nachos I Say
Let me tell you what I honestly think about nachos. I mean real nachos. I LOVE nachos! Who doesn't love nachos?! So, I personally think healthy nachos exist. Yep. It is what you do to your nachos and the quality of ingredients you use.
And I'm not talking about zucchini or sweet potato nachos because while they might be veggie loaded, honestly they take forever to make and lack a real nacho crunch like my air fryer nachos do. Do you agree? Great!
Save the zucchini and sweet potato for dishes like Tex-Mex chicken and zucchini to zucchini rice and beans, or this sweet potato egg casserole or Tex-Mex sweet potato skillet!
Instead, the star of the show this time is black beans; perfect for making refried beans in Instant Pot, black bean soup, a bean and quinoa casserole, healthy black bean burgers, a mango black bean salad, and now these black bean nachos! There's no end to the uses for this little protein-packed legume!
How to Make Black Bean Sauce
So, I decided to make a killer black bean nachos. Like not just sprinkling black beans on top of chips. But making a killer zesty spicy sauce where each chip gets some.
Imagine taking a chip, dipping it into the sauce and then somehow ending up with a mouthful of that and melted cheese, fresh cilantro, zesty green onions and juicy tomatoes on top.
First, garlic is fried with jalapeño and cumin.
Then black beans are mashed with a bit of a veggie broth and a squeeze of lime.
That is it. It is to die for healthy nacho topping loaded with fiber. You will be eating it by a spoonful.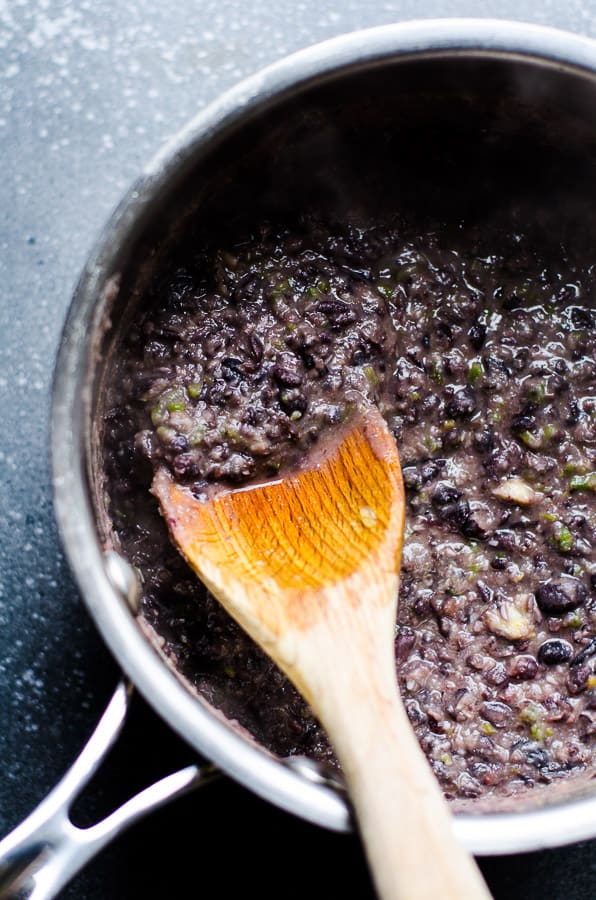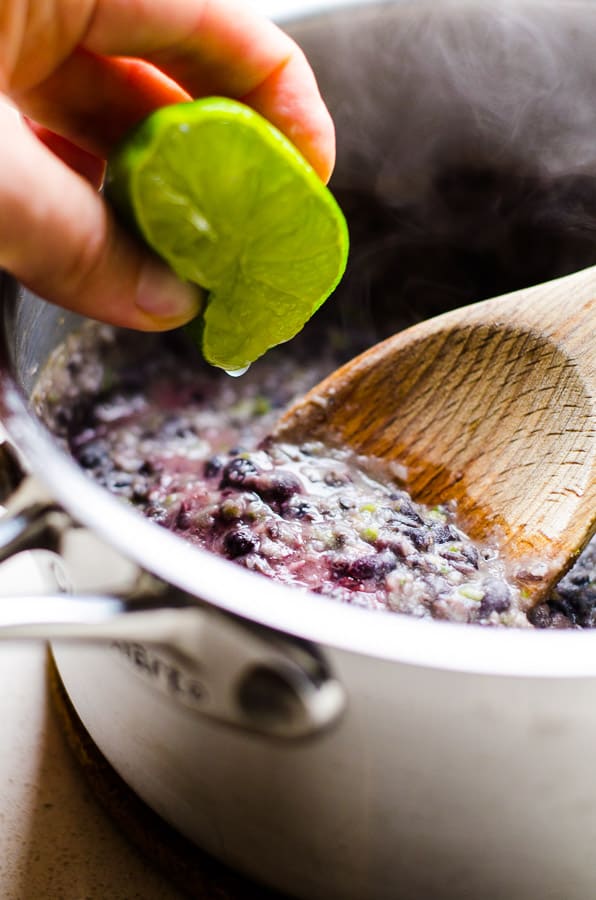 What Are the Best Chips for Nachos?
Then chips. Listen up. There is nothing wrong with organic corn tortilla chips.
There are so many myths about corn out there:
That all corn in the US is GMO. Not true.
That corn is bad for you. Not true.
That nachos are bad for you. Not true.
So, I recommend you buy organic corn tortilla chips. Baked, low sodium, triangular or round shaped. Just don't buy thin chips as they will break under the load.
You can also enjoy this chicken tortilla soup (or Instant Pot chicken tortilla soup)!
How to Avoid Soggy Nachos and Make Ahead
Nobody likes a soggy sandwich. And no one wants to eat soggy nachos.
Nachos are best served right away and the end. Otherwise black bean sauce makes chips soggy.
To make ahead, keep all ingredients prepped and sauce made up for up to a few days in advance. Assemble and bake on a sheet pan right before serving.
What to eat next?
Follow up this appetizer with your choice of Mexican or Tex-Mex mains like:
Or more – you can check out my full list of Mexican recipes for more inspiration!
More Healthy Appetizers
These nachos also make for a great healthy game day recipe!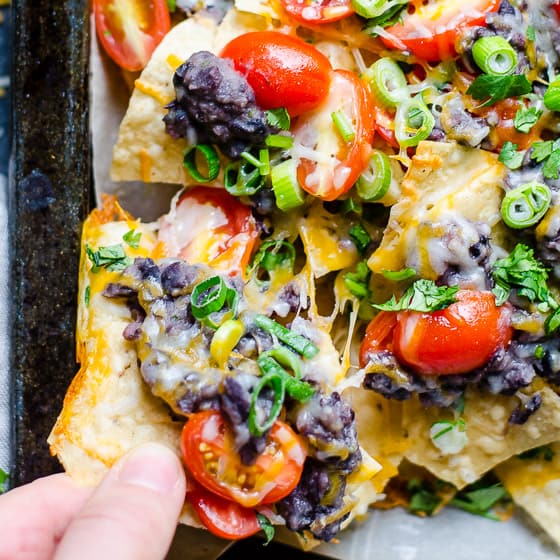 Healthy Black Bean Nachos
Healthy (ish) Black Bean Nachos with a thin layer of tortilla chips loaded with lime black bean sauce, juicy tomatoes, green onion and cilantro. Then baked on a sheet pan until cheese has melted.
Instructions
Preheat medium pot on medium heat and swirl oil to coat.

Add garlic, jalapeño and cumin; cook for 30 seconds, stirring constantly.

Add broth and black beans; bring to a boil and let beans cook for 2 minutes.

Using a masher, mash beans until half of them are mashed and thick sauce forms. Turn off heat.

Add lime juice and salt to taste.

Preheat oven to 425 degrees F and line large baking sheet with unbleached parchment paper.

Lay chips in a single layer and top with half tomatoes, green onions and cilantro.

Drop half of the black bean sauce in spoonfuls and sprinkle half of the cheese. Repeat layer.

Bake for 5 minutes or until cheese is melted and bubbly.

Serve immediately.
Notes
*For a mild version, leave some seeds in. If you want really spicy nachos, leave all seeds in. The heat is in the seeds.
**I use organic bouillon cubes diluted in water.
***Start with little salt and adjust to taste. I use unsalted cooked black beans but canned beans will have more salt.
Nutrition
Calories:
209
kcal
|
Carbohydrates:
9
g
|
Protein:
9
g
|
Fat:
11
g
|
Saturated Fat:
5
g
|
Cholesterol:
27
mg
|
Sodium:
380
mg
|
Fiber:
3
g
|
Sugar:
3
g