Woof, what a craziness this time of the year is. Alex suggests if I stop washing windows at same time as decluttering kitchen while decorating the house for Christmas, life will be much easier. I agree, in theory. So, really it is all my fault. I agree again.
I have been really going with the flow and taking not one day at a time but one hour at a time. In other words, snacking on healthy rum balls, making kombucha from scratch and lunching with black bean nachos. As you can tell, in my world things are under control. I just want to go to bed at like 5PM which I might do after decorating the tree with the boys after school today. And about once a day I wish I could be woken up in March. Otherwise, living a dream.
I can't complain, right?! Who wouldn't want to have this for lunch like every lunch and then go for a nap?! You can even call these spicy black bean nachos Christmas nachos. Hint-hint: because red and green.
Let me tell you what I honestly think about nachos. I mean real nachos. I LOVE nachos! Who doesn't love nachos?!
So, I personally think nachos can be a wholesome meal. Yep. It is what you do to your nachos and the quality of ingredients you use. And I'm not talking about zucchini or sweet potato nachos because while they might be veggie loaded, honestly they take forever to make and lack a real nacho crunch.
Do you agree? Great!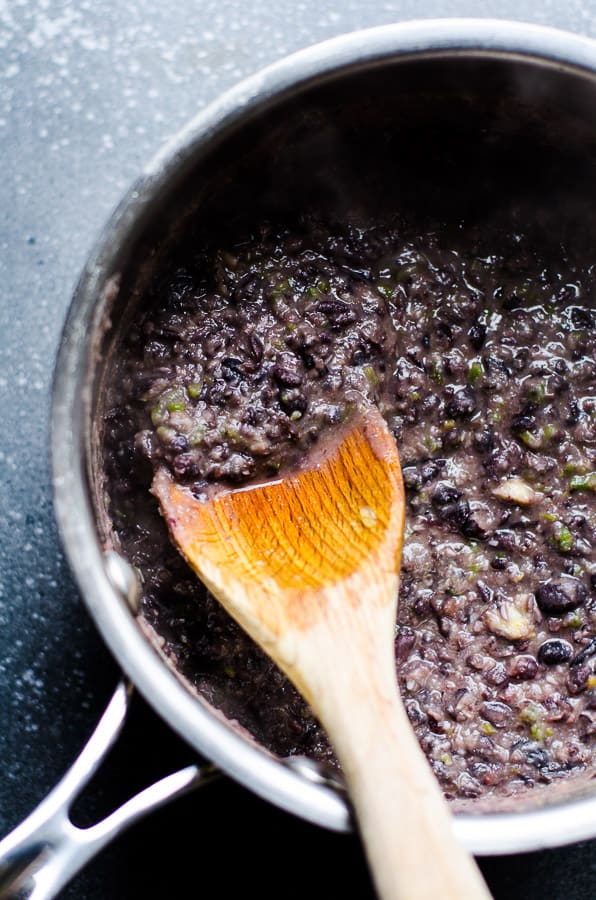 So… I decided to make a killer black bean nachos! Like not just sprinkling black beans on top of chips but making a killer zesty spicy sauce where each chip gets some. Imagine taking a chip, dipping it into the sauce and then somehow ending up with a mouthful of that and melted cheese, fresh cilantro, zesty green onions and juicy tomatoes on top. Magic, right?! Christmas magic. 
Like 10 minute ready magic. First, garlic is fried with jalapeño and cumin. Then black beans are mashed with a bit of a veggie broth. And a squeeze of lime. It is to die for! You will be eating it by a spoonful. This hearty loaded with fiber awesome sauce.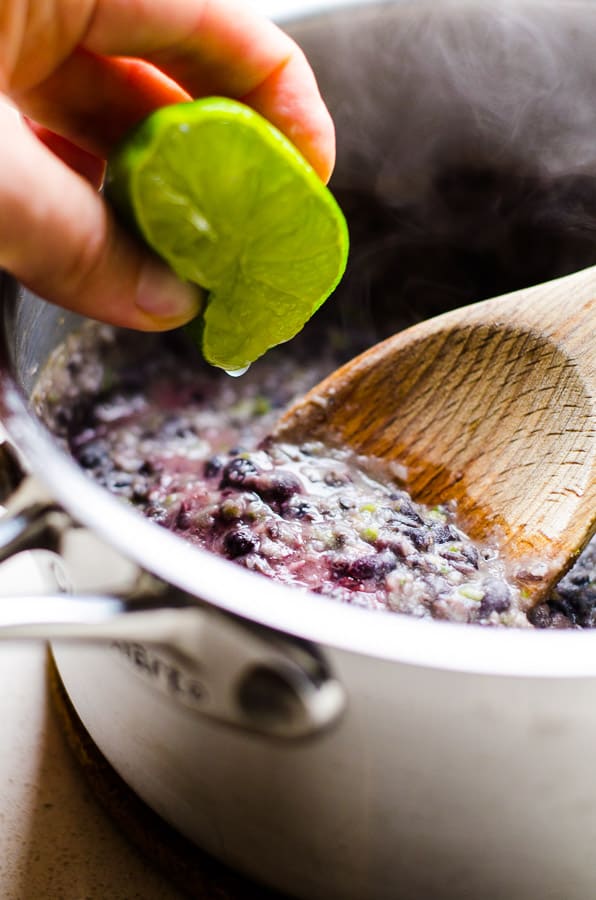 Then chips. Listen up. There is nothing wrong with organic corn tortilla chips. There are so many myths out there in the world that all corn in the US is GMO. Not true. That corn is bad for you. Not true. That nachos are bad for you. Not true.
It is what you do with your nachos, see => cauliflower purple corn nachos. Just like what you do to your burger. There is absolutely nothing wrong with homemade zucchini turkey burger. Got it? Please stop torturing yourself.
So, I recommend you buy organic corn tortilla chips. You can buy them thin, low sodium, lime flavoured etc. There are so many options nowadays. Organic chips are free of artificial colours, flavours and GMOs.
Then cheese. You sprinkle a generous layer of Horizon Organic Mexican blend cheese on top of layers of organic tortilla chips, grape tomatoes, awesome black bean sauce, green onions and cilantro. See, veggie loaded vegetarian nachos with fiber, antioxidants and vitamins.
Horizon's Mexican blend works perfectly for nachos because clearly my black bean nachos have a Mexican flavour to them. Which is perfect for Christmas, or Fourth of July or lunch. But I recommend you do not wait till July because it means 213 more days without nachos.
In the last few weeks, we ate these Mexican black bean nachos 3 times. They are mild enough for my 10 year old and I'm ignoring the other one. You can completely control the amount of heat with the amount of jalapeno's seeds you use in the sauce. Dinner under a moderate blanket of creamy melted cheese is served. Kids ate green onions. Woot woot. And I added a lot. Alex always buys two bunches of onions. So, naturally Olena has to use them up.
One thing – serve the nachos right away otherwise the black bean sauce makes the chips soggy. Obviously. But in all honesty, we still polished off half of the tray coming home from the rink. But if you want to be proper bake right before serving. You can keep all ingredients prepped and sauce made up to a few days in advance.
Happy holidays snacking or actually who says you can't have nachos for dinner tonight, under the Christmas tree?! If you wish to keep up to date with new organic products follow Horizon Organic on Facebook, Twitter, Instagram and Pinterest or subscribe to a newsletter.
P.S. Next What I Ate Weekend is coming on Wednesday.
Print
Spicy Black Bean Nachos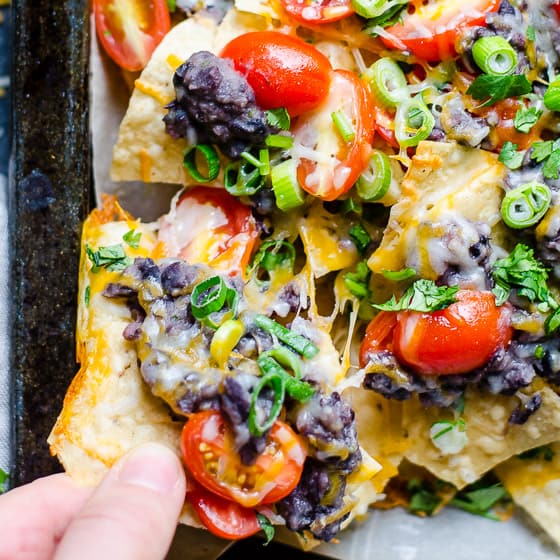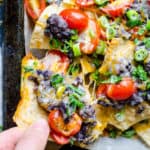 Spicy Black Bean Nachos Recipe – a thin layer of tortilla chips loaded with zesty lime black bean and jalapeño sauce, juicy tomatoes, green onions and cilantro, then covered with melted cheese. Flavour in every single bite!
Author:
Prep Time:

8 minutes

Cook Time:

7 minutes

Total Time:

15 minutes

Yield:

6

servings

1

x
Scale
Ingredients
5

large garlic cloves, minced

1

jalapeno, minced*

1 tbsp

avocado oil

1 tsp

cumin, ground

3/4 cup

vegetable broth, low sodium**

14 oz

can black beans, rinsed & drained (I cook my own)

1/2

lime, juice of

1/4 tsp

salt or to taste***

1

lb grape tomatoes, halved

1

package (1 1/2 cups) Horizon Organic Mexican cheese
Organic tortilla chips

4

–

6

green onion sprigs, thinly sliced
Handful cilantro, finely chopped
Instructions
Preheat medium pot on medium heat and swirl oil to coat. Add garlic, jalapeño and cumin; cook for 30 seconds, stirring constantly. Add broth and black beans; bring to a boil and let beans cook for 2 minutes.
Using a masher, mash beans until half of them are mashed and thick sauce forms. Turn off the heat. Add lime juice and salt to taste.
Preheat oven to 425 degrees F and line large baking sheet with unbleached parchment paper. Lay chips in a single layer and top with half tomatoes, green onions and cilantro. Drop half of the black bean sauce in spoonfuls and sprinkle half of the cheese. Repeat layer.
Bake for 5 minutes or until cheese is melted and bubbly. Serve immediately.
Notes
*For a mild version, leave some seeds in. If you want really spicy nachos, leave all seeds in. The heat is in the seeds. **I use organic bouillon cubes diluted in water. ***Start with little salt and adjust to taste. I use unsalted cooked black beans but canned beans will have more salt.
★ Did you make this recipe? Please give it a star rating in the comments.
This is a sponsored conversation written by me on behalf of Horizon Organic. The opinions and text are all mine.