Healthy 7 Layer Dip loaded with beans, yogurt, guacamole, cheese, and fresh veggies. This 15 minute appetizer is made for sharing and perfect for parties and snacking!
The name says it all. This healthy 7 layer dip recipe is full of your favorite Mexican ingredients, neatly layered together for a colorful, crunchy, and delicious party staple.
Always a crowd favorite and perfect for any occasion, I make this delicious layered dip all the time. Serve it on game day, Cinco de Mayo, or enjoy a fuss-free weeknight healthy dinner with no cooking or baking.
What Is 7-Layer Dip?
Also known as "taco dip" or "Tex-Mex dip", 7-layer dip is a popular American appetizer. There are endless variations of 7-layer dip recipes out there, you've most likely made it or tried it before.
The classic seven layer dip recipe has a base of refried beans topped with sour cream, guacamole, salsa, cheese, and fresh veggies. I like to make my dip healthier by replacing the sour cream with taco seasoned Greek yogurt, yum!
Ingredients for Healthy 7 Layer Dip
Seven layers of your favorite Mexican flavors! Here's what you need to make healthy 7 layer dip.
Refried beans: This Mexican side dish is high in dietary fiber and makes the perfect base. You can use store-bought, I love Eden Organic refried beans, or make your own refried beans in Instant Pot.
Greek yogurt: This lightened up version has been a huge hit. Instead of sour cream, mayo, or cream cheese, we use Greek yogurt or plain yogurt. It's still tangy with an extra boost of protein.
Taco seasoning: Mixed with the yogurt to really spread out the flavor. I used my homemade taco seasoning mix but you can also buy low sodium packets from the store. Cumin, chili powder, and cayenne work great too.
Guacamole: For me, nothing beats homemade guacamole made with avocado, lime, garlic, salt, and cilantro. You can also use store-bought to save on time.
Salsa: Use whatever salsa you have on hand. I usually stick to medium salsa when feeding a crowd but mild and spicy salsas work too. You can also use pico de gallo.
Shredded cheese: I like to use Tex Mex cheese, Colby Jack cheese or cheddar cheese. You can use a blend or whichever cheese you like.
Vegetables: Crisp lettuce and tomatoes. You'll want to finely shred the lettuce and cut the grape tomatoes in half for easier dipping.
Toppings: Black olives, sliced jalapeno, and fresh cilantro are a colorful addition and finish off this delicious dip.
How to Make Healthy 7-Layer Dip
Here's a quick overview of how to make healthy 7-layer dip. There's no baking required, just grab your baking dish and layer it.
There is also a full recipe card below.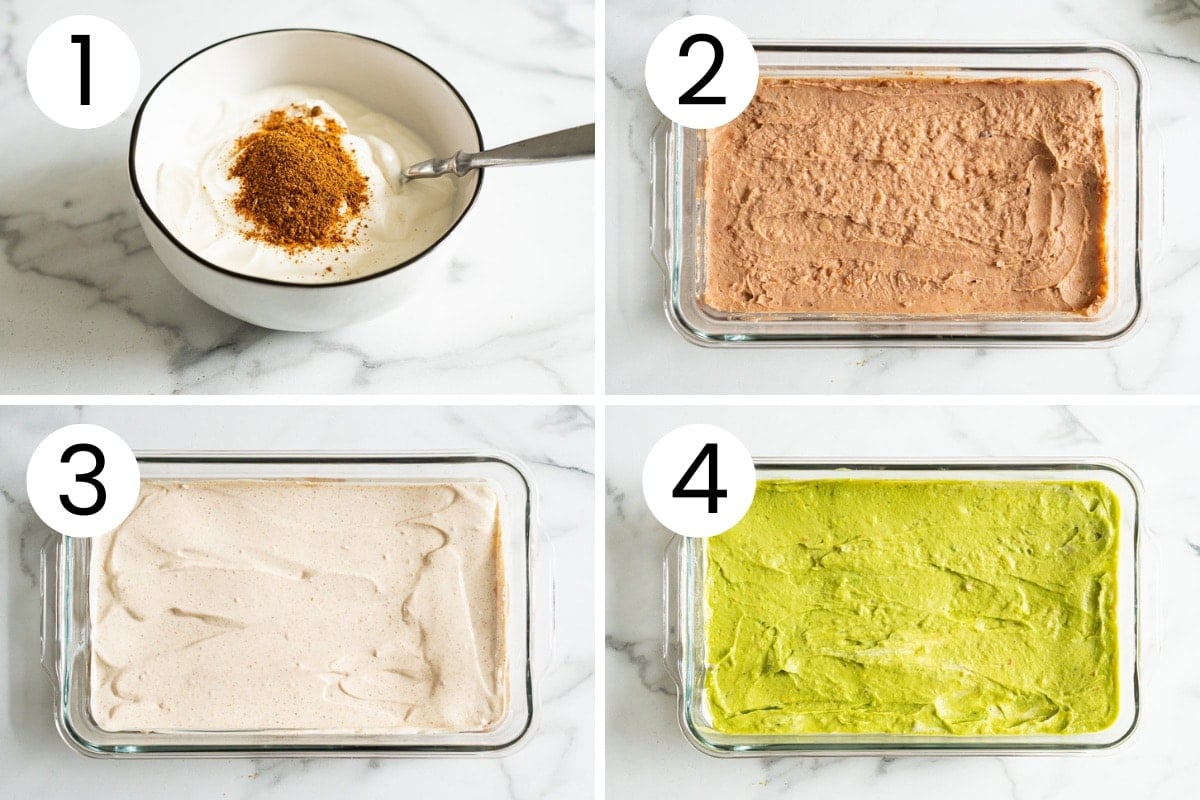 Mix yogurt and seasoning: In a small bowl, mix yogurt and taco seasoning together.
Add refried beans: In a medium-sized baking dish, I always use my 8×11 baking dish, start layering the dip. Spread the refried beans in the bottom of the dish and use a tablespoon to gently level into a clean single layer.
Add the Greek yogurt layer: Spread the seasoned yogurt over the beans and gently level into a clean layer.
Add the guacamole: Next, gently spread the guacamole in a single layer.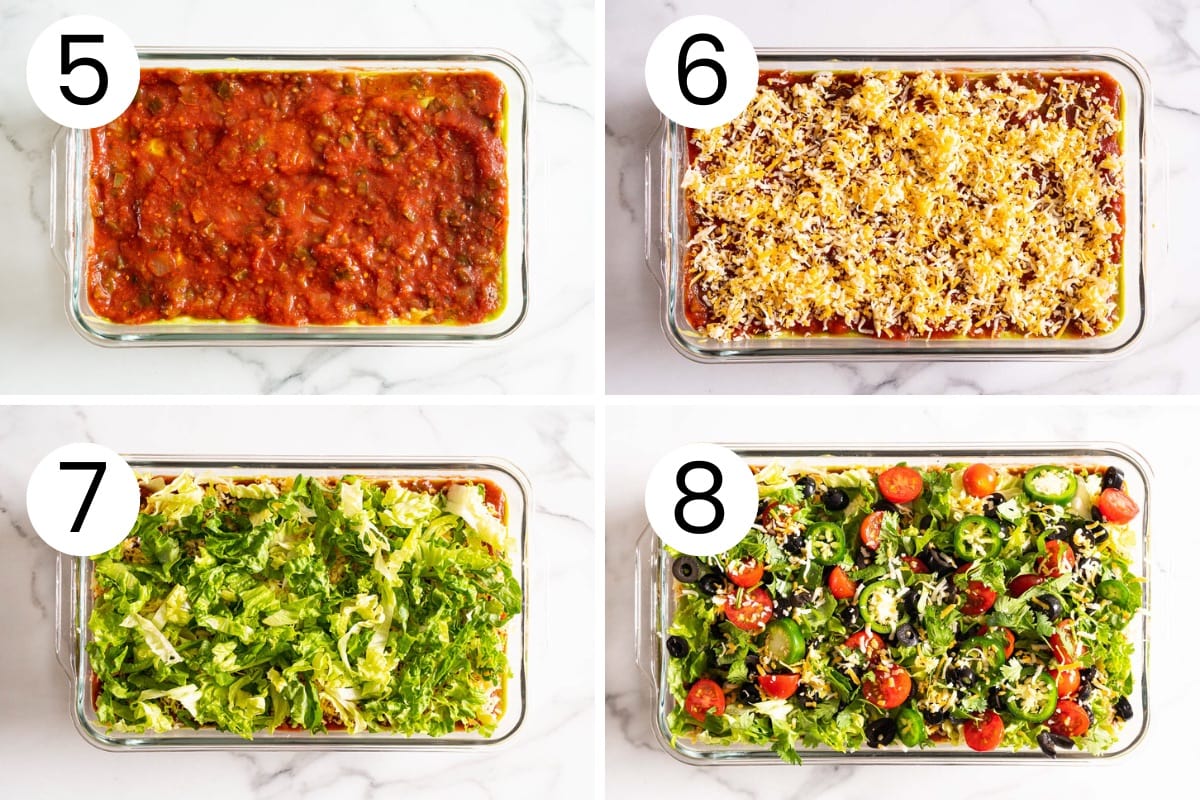 Pour on the salsa: Next comes the salsa. Pour in the salsa and spread it over the guacamole.
Add cheese and lettuce: Sprinkle with cheese and shredded lettuce.
Add toppings: To finish the dip add tomatoes, olives, cilantro and jalapenos.
Serve: Enjoy immediately with tortilla chips, or veggies for dipping or refrigerate until ready to serve.
Tips for Best Results and Variations
Here are my top tips that guarantee rave reviews for this party favorite. I've also included some fun variations for you to try.
Make it dairy-free: Super easy to make dairy-free by swapping your favorite dairy-free plain yogurt and dairy-free cheese. If you don't have those, you can omit the yogurt and cheese, the taste will be different but you can mix the taco seasoning in with the refried beans.
Use thick yogurt: The yogurt is most runny layer. You know how Greek yogurt, after sitting in the fridge for a few days, separates?! For this reason, I recommend not mixing or stirring the yogurt before scooping, instead just use thick part.
Add another layer: No need to stop at seven layers, get creative! Make it heartier with a layer of drained black beans or pinto beans. Cook up some ground beef, I'd season it with a bit of taco seasoning, let it cool and add it between the beans and yogurt. Or use up leftover shredded chicken. For additional toppings you can sprinkle some green onions or bell peppers on top.
Other cheese: Queso fresco or cotija cheese are popular choices.
Refried beans substitute: Make this dip even healthier by mashing up some drained black beans with taco seasoning, cilantro and jalapeno to taste.
If you don't like spicy dips: Not everyone likes spice, and that's OK. Omit jalapenos on top or deseed it first and then chop.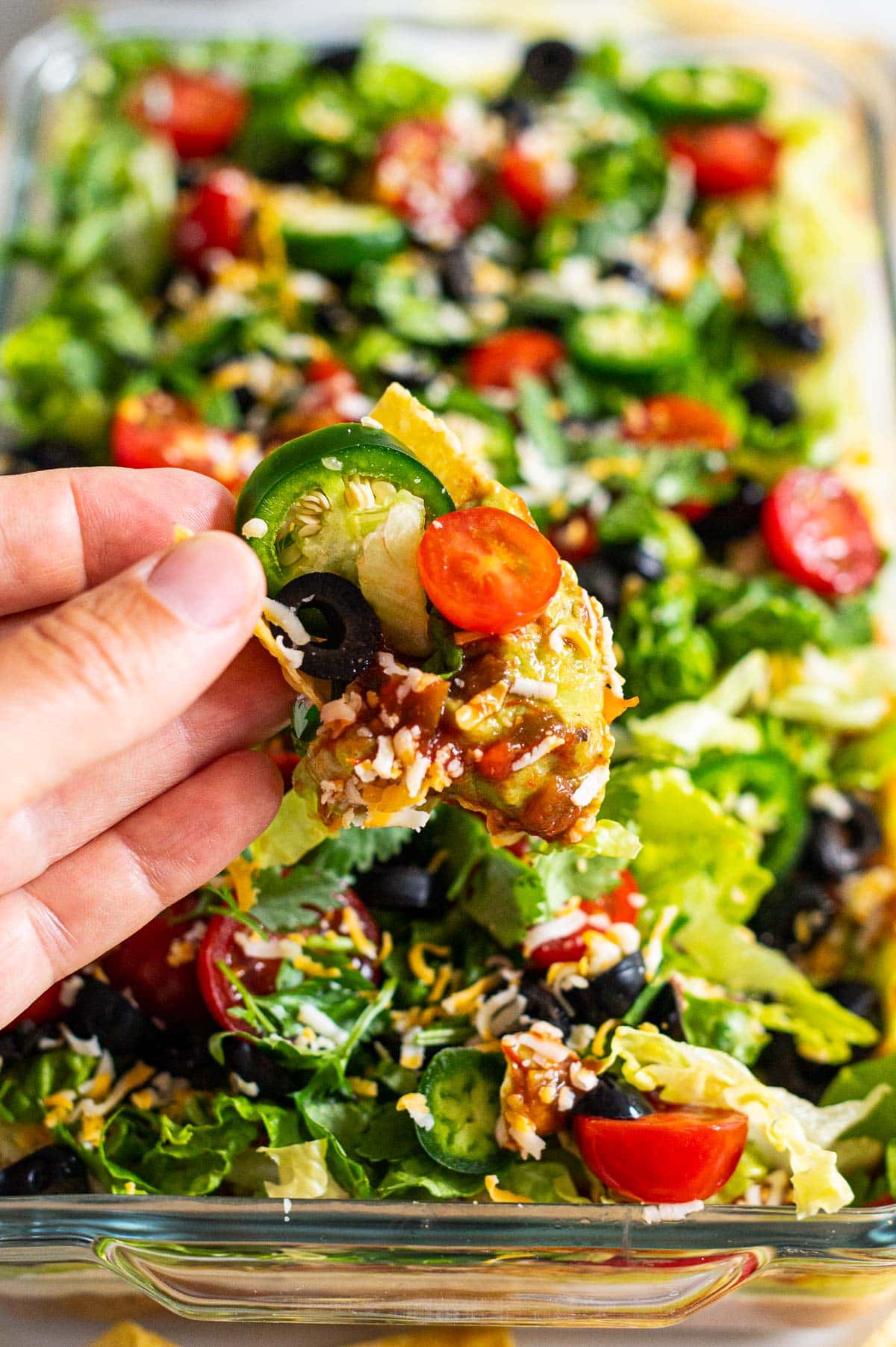 What to Serve with 7-Layer Dip?
We love entertaining and snacking! Traditional 7-layer dip is the perfect addition to any appie spread and always the first to disappear.
Our favorite dippers are crispy tortilla chips, celery sticks, carrots sticks, and cucumber. You can also serve crackers and pita chips.
If you're creating an appetizer spread I love serving this 7 layer taco dip alongside cream cheese stuffed mini peppers, healthy spinach dip, and cottage cheese dip.
While this dip is amazing for game day and parties, we've been known to polish off the entire dish ourselves. It's pretty much a healthy taco salad, and so addictive.
Can I Make It Ahead of Time?
7 layer dip is best served fresh the day you make it because of the fresh ingredients. I will always assemble it right before serving or a few hours ahead of time.
If you would like to meal prep the night before I recommend layering the beans and yogurt, cover, and refrigerate. Then finish the dip with the remaining layers when you're ready to serve.
How to Store
Store: Tightly cover leftovers, place in the fridge, and enjoy within 1-2 days. Actually, day 2 and 3 it's not bad, I found even the guacamole didn't brown and lettuce didn't wilt.
Guacamole and vegetables do not thaw well, so do not freeze.
FAQs
Can I use sour cream instead of yogurt?
Yes, sour cream or cream cheese can be used instead of yogurt.
Is this dip served warm or cold?
This dip is served cold so the veggies, guacamole, and yogurt stay fresh.
Is 7-layer dip gluten free?
Yes! All ingredients in my 7-layer dip are gluten-free, including my taco seasoning, so it's perfect for all your guests. If you have store-bought seasoning, just be sure to double check.
More Dip Recipes to Try
Healthy 7 Layer Dip
Healthy 7 Layer Dip loaded with beans, yogurt, guacamole, cheese, and fresh veggies. This 15 minute appetizer is made for sharing!
Instructions
In a small bowl, add yogurt and taco seasoning. Stir to combine.

Grab 8×11 baking dish or any medium-sized baking dish and start layering the dip. First spread refried beans, then yogurt mixture followed by guacamole, gently leveling with a tablespoon into a clean single layer.

Then spread salsa on top. Sprinkle with cheese and shredded lettuce.

Finish the dip with olives, cilantro and jalapenos.

Serve immediately or refrigerate until ready to serve. Serve with tortilla chips, celery and carrots sticks, any veggies for dipping and healthier chips.
Notes
Store: It's best to enjoy the dip within 1-2 days. Store tightly covered in the refrigerator.
Nutrition
Calories:
345
kcal
|
Carbohydrates:
40
g
|
Protein:
19
g
|
Fat:
10
g
|
Saturated Fat:
4
g
|
Trans Fat:
0.001
g
|
Cholesterol:
15
mg
|
Sodium:
408
mg
|
Fiber:
16
g
|
Sugar:
10
g