Crock Pot Shredded Chicken is a basic recipe for all-purpose chicken you must have in your back pocket. Easy, made with 4 ingredients and perfect for easy meal prep or freeze it for later.
We also love to make crockpot BBQ pulled chicken and shredded chicken tacos in Instant Pot!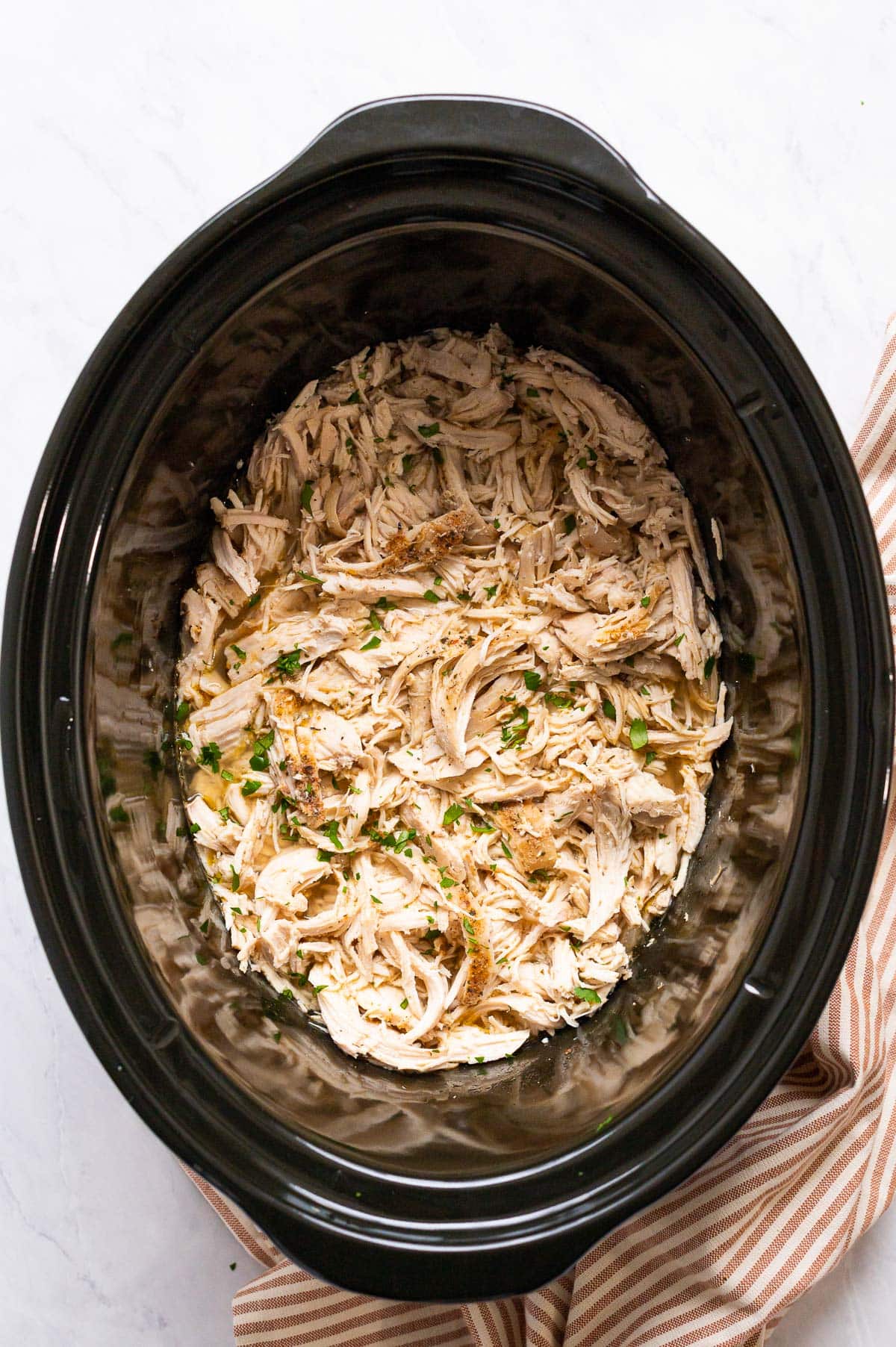 Whenever I post a chicken recipe, you guys are all over it. Today is a turn for this super easy crockpot shredded chicken.
I have been cooking more and more with my slow cooker because I like the flavor of slow cooked food. Given the popularity of my Instant Pot shredded chicken, thought those of you with a Crock Pot, would appreciate this easy recipe.
This juicy chicken is a weeknight lifesaver! You can plan your menu and use it in recipes that call for shredded chicken or rotisserie chicken leftovers. This easy slow cooker shredded chicken comes out moist from a little bit of butter and chicken broth, is tender and shreds so easily.
Ingredients You Will Need
To make basic crock pot shredded chicken, you will need only 4 simple ingredients.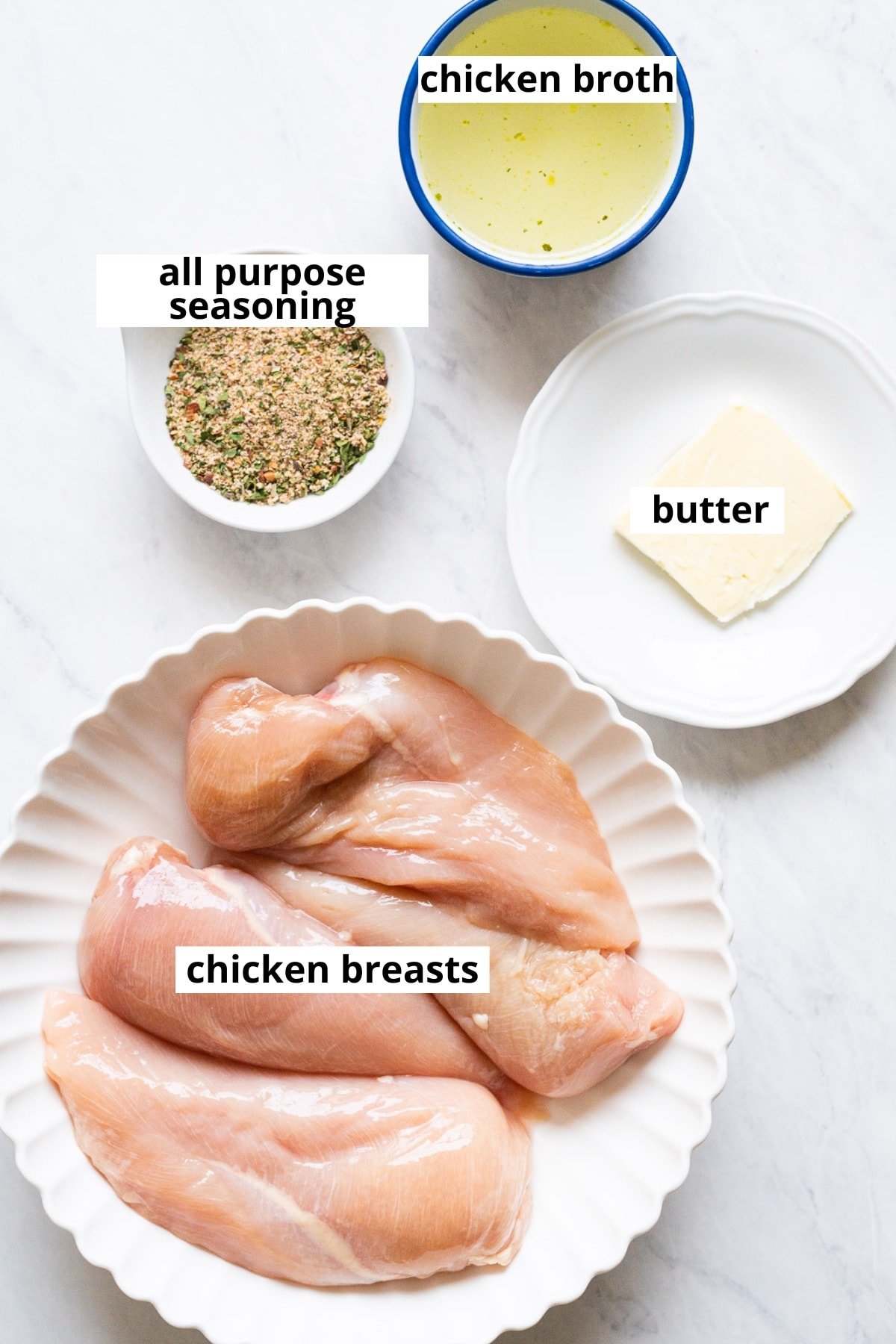 How to Make Shredded Chicken in Crockpot
Here is how to make shredded chicken in crockpot in 4 simple step-by-step photos. There is a full recipe card below.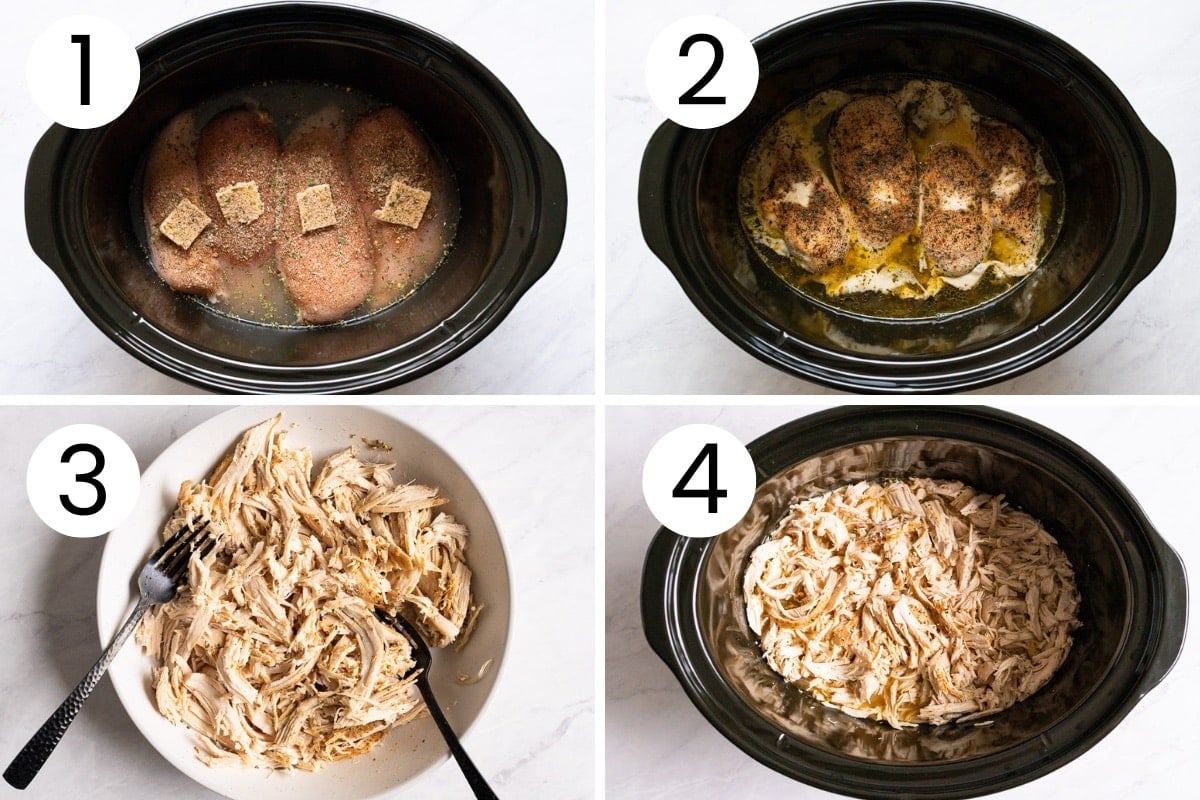 Add chicken and broth to your slow cooker: I use my 7 quart crock pot for all of my crock pot recipes. Add chicken breasts to the bottom of it in a single layer, trying to overlap minimally. Next add broth before we add spices.
Season it: Sprinkle chicken with seasonings and lay pats of butter on top. You do not have to stir or coat anything evenly as in the end we will shred chicken anyways.
Cover and cook: Place the lid on top and cook chicken breasts on low heat for 3-4 hours or for 2 hours on high heat.
Open and shred: You can either shred chicken right in slow cooker and the juices, or remove onto a cutting board, shred and return back to the pot.
How Long to Cook Crockpot Chicken?
You may ask "How long do you cook chicken in a crock pot?" and it's a valid question. With crockpot chicken breast recipe, it is more important not to overcook the chicken. When it comes to cooking shredded chicken in crock pot, you can cook it extra 1-2 hours so it shreds easier.
For tender chicken, I recommend to cook it for 3-4 hours and up to maximum of 6 hours on low heat. If cooking on high setting, cook for 2 hours and maximum of 3 hours.
You can overcook chicken in slow cooker and it will become dry and rubbery. So, do not let it cook all day.
How to Shred Chicken
There are many way to shred chicken breasts and everyone has their favorite way to do it. Honestly, I like to shred chicken with two forks. It saves to wash another bowl and small appliance.
However, you can also place chicken breasts in a large bowl and shred with an electric mixer.
How to Use Shredded Chicken
Now that we have this flavorful, juicy and tender basic crockpot shredded chicken, the question is what can you make with shredded chicken? So many things!
I love having a big batch stored in my fridge to make easy dinner or weekly meal prep a breeze.
Here are a few of our favorite ways to use this flavorful chicken: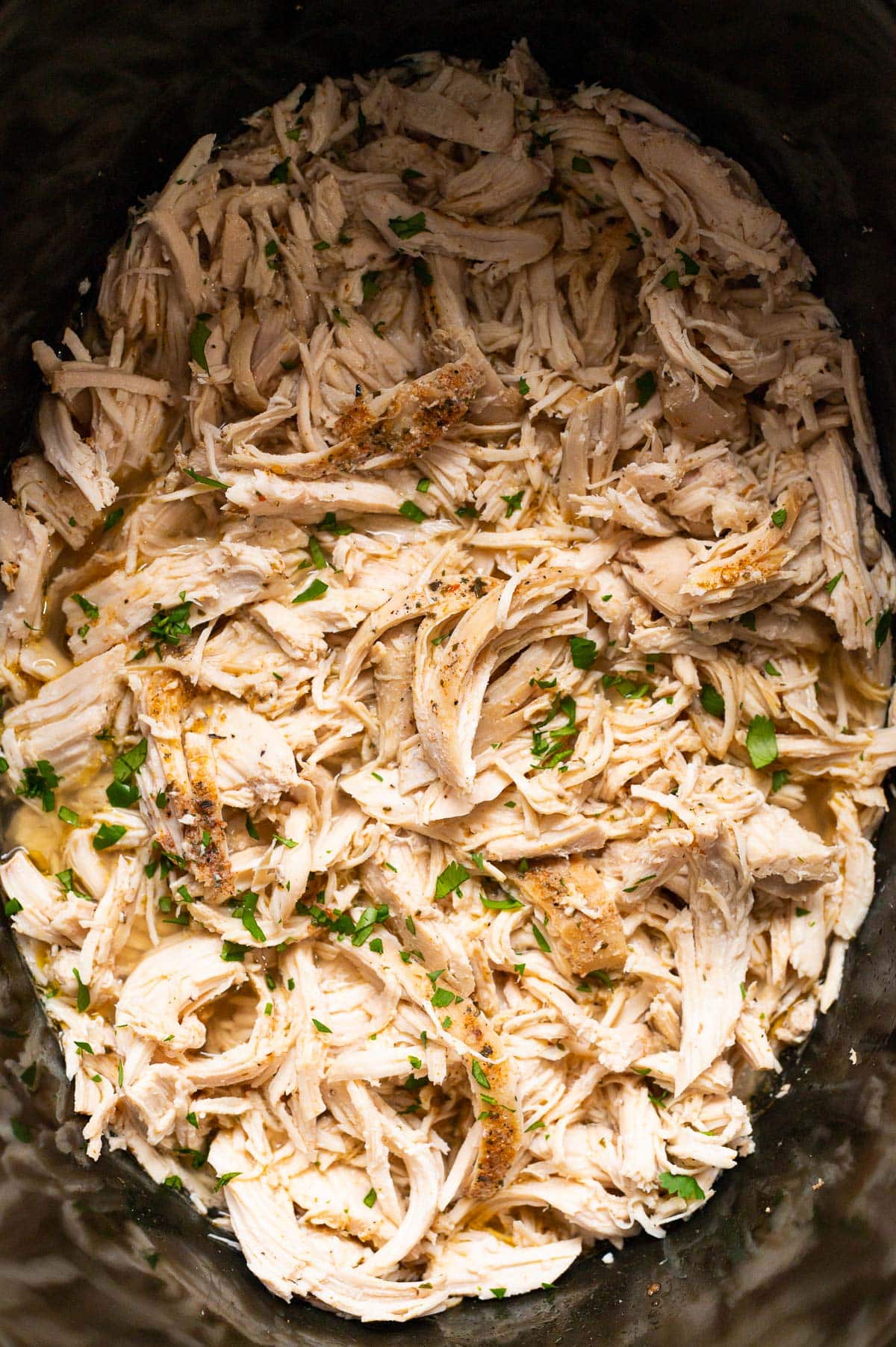 Tips for Best Results
How to Store Crock Pot Shredded Chicken
Store: Refrigerate leftovers in an airtight container for up to 5 days.
Freeze: You can also portion out about 1.5 – 2 cups of shredded chicken into each resealable freezer bag and freeze for up to 3 months. When ready to eat, thaw in the fridge overnight or on counter for a few hours.
FAQs
How do you know when chicken is done in slow cooker?
Your slow cooked chicken is ready when a meat thermometer inserted into the thickest part of chicken breasts registers 165 F. Or cut into it with a paring knife and if juices run clear, your chicken is cooked through.
Why is my chicken tough and chewy?
Probably because you cooked it too long or for not enough time. Adding some of the broth to shredded chicken or cooking it for extra time may help.
Does cooking chicken longer make it more tender?
Yes and no. There is a sweet spot when chicken breasts cooked in slow cooker are cooked and can be easily shredded. Cooking it longer will result in dry and tough chicken.
Do I need to cover chicken with liquid?
No. Technically, you don't even need any liquid or can use as little as 1/2 cup broth. As chicken cooks in crockpot, it releases its own juices.
Is it better to cook it on low or high?
I prefer to cook meat and poultry on low setting in slow cooker if time allows. You can get away with cooking on high with my favorite crockpot chicken recipe.
More Slow Cooker Chicken Recipes to Try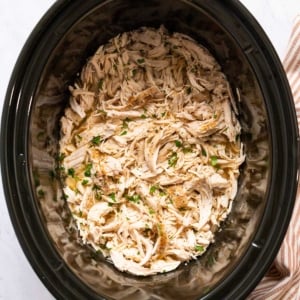 Slow Cooker Shredded Chicken
Crock Pot Shredded Chicken is a basic recipe for all-purpose chicken you must have in your back pocket.
Instructions
In a large slow cooker, add chicken breasts trying to overlap minimally. Add chicken broth.

Sprinkle chicken breasts with all purpose seasoning and add butter on top.

Cover and cook on Low for 3-4 hours or on High for 2 hours, or until internal read thermometer reads 165 degrees F when inserted in the center.

Remove onto a cutting board, cover with foil and let rest for 5-10 minutes. Then shred and use in your favorite recipes. Can also add cooking liquid to rehydrate the chicken.
Notes
Store: In an airtight container in the fridge 3-4 days. 
Reheat: In microwave or on the stovetop in a covered pan until warmed through.
Freeze: Up to 3 months in a freezer safe bag, thaw before using.
Here is a cooking time chart for reference:
Boneless chicken breasts – on Low for 3-4 hours or on High for 2-3 hours.
Bone-in chicken breasts – on Low for 4-5 hours or on High for 3-4 hours.
Chicken tenders – on Low for 2-3 hours or on High for 2 hours.
Nutrition
Serving:
1
cup
|
Calories:
212
kcal
|
Carbohydrates:
0.5
g
|
Protein:
33
g
|
Fat:
8
g
|
Saturated Fat:
3
g
|
Trans Fat:
0.2
g
|
Cholesterol:
106
mg
|
Sodium:
437
mg
|
Sugar:
0.1
g