Healthy Lemon Cookies with almond flour are thick, soft, lightly golden, and made with unrefined cane sugar and real lemons. Perfect for all your spring and summer party dessert tables!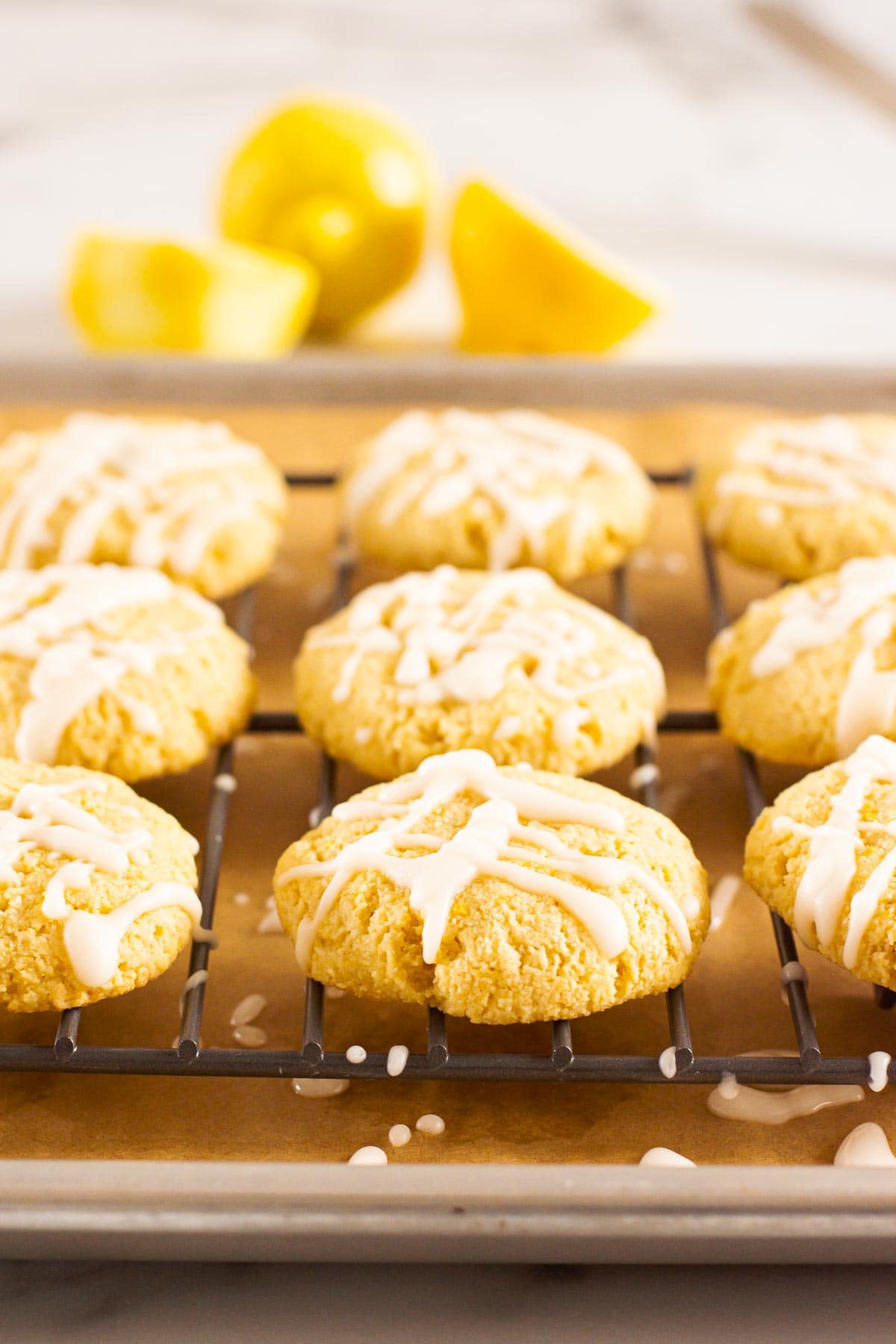 You won't believe how easy these healthy lemon cookies are! Not only that but they're perfectly sweet with just the right amount of citrusy flavor.
Cookies are generally a low-fuss treat and can go from indulgent to healthy with a few swaps. This especially comes in handy around the holidays which is why my list of healthy Christmas cookies continues to grow.
However, throughout the rest of the year, I want an easy cookie recipe that I can turn to any time for healthy snacks. And right now it's spring and the cravings for all things berry and lemon are high!
These are good for girls' nights, summer backyard parties and we even eat them for breakfast. Whatever the case, these soft, thick and delicious almond flour lemon cookies hit the spot every time!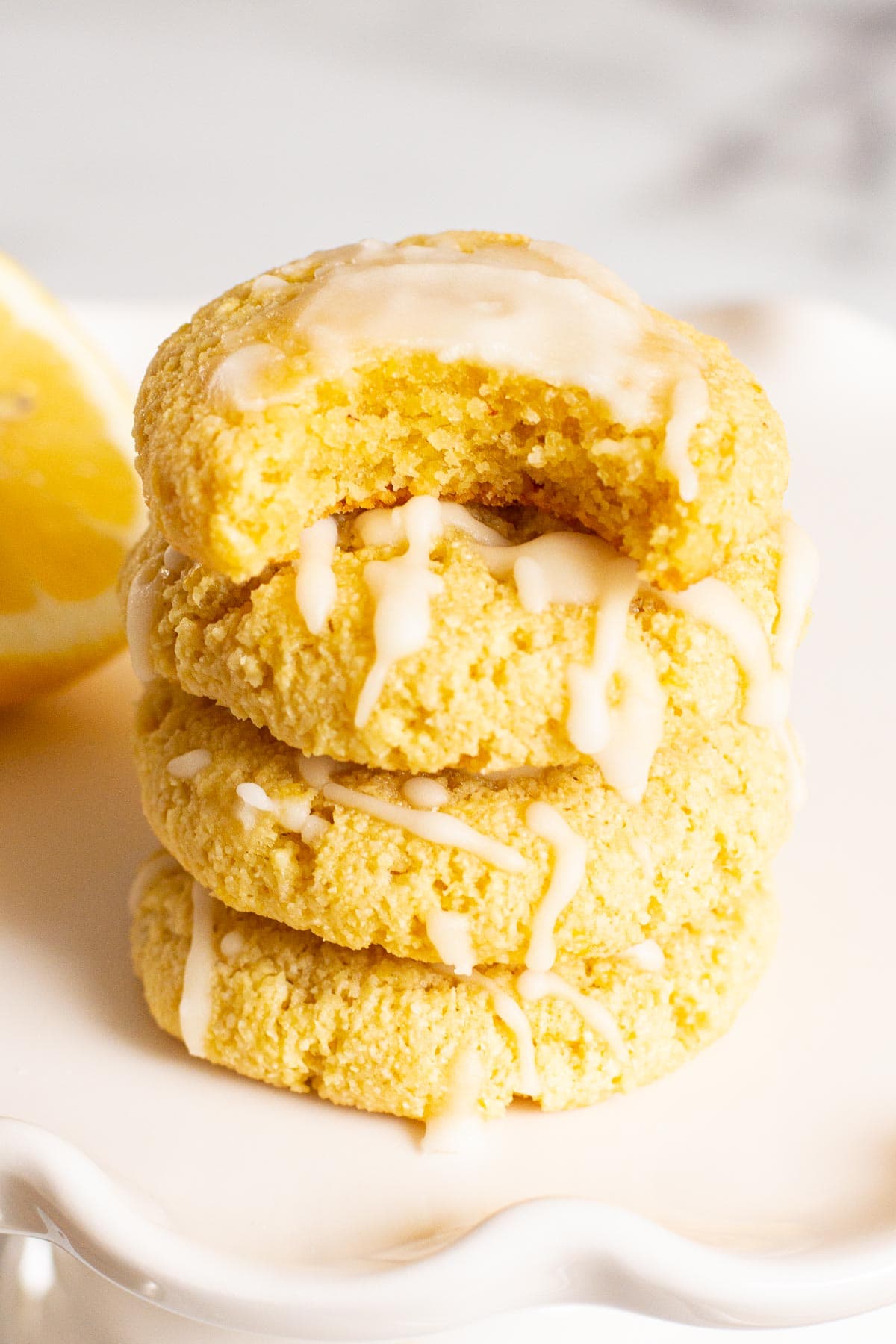 You may also love to browse these 20 almond flour recipes and never run out of baking ideas!
Ingredients You Will Need
This simple healthy lemon cookie recipe is brought up a notch with a 2 ingredient lemon glaze!
Lemon Cookies
Softened butter: Bring it to room temperature ahead of time. You want it soft and not completely melted otherwise it will result in crunchier cookies. You can use coconut oil to replace it, but again, crunchier cookies.
Egg: Needed for binding the ingredients together.
Cane sugar: Although still a type of granulated sugar, it is unrefined which is what I like.
Vanilla extract: A warming flavor that mellows out the citrus and makes it even yummier!
Baking soda: When this reacts with the acid in the lemon it works to create a nice thick cookie.
Salt: A pinch just to round out all of the flavors and enhance them for maximum taste.
Lemon zest and fresh lemon juice: I'm always a cheerleader for fresh lemons, but you can use juice from a bottle too.
Almond flour: Made from ground blanched almonds, making it nice and light. It's not easily replaced, so avoid even trying!
Lemon Glaze
Powdered sugar: I use Swerve powdered erythritol which delivers the sweetness without the sugar.
Lemon juice: You can also use water. This is a way to dial down the lemon flavor if preferred.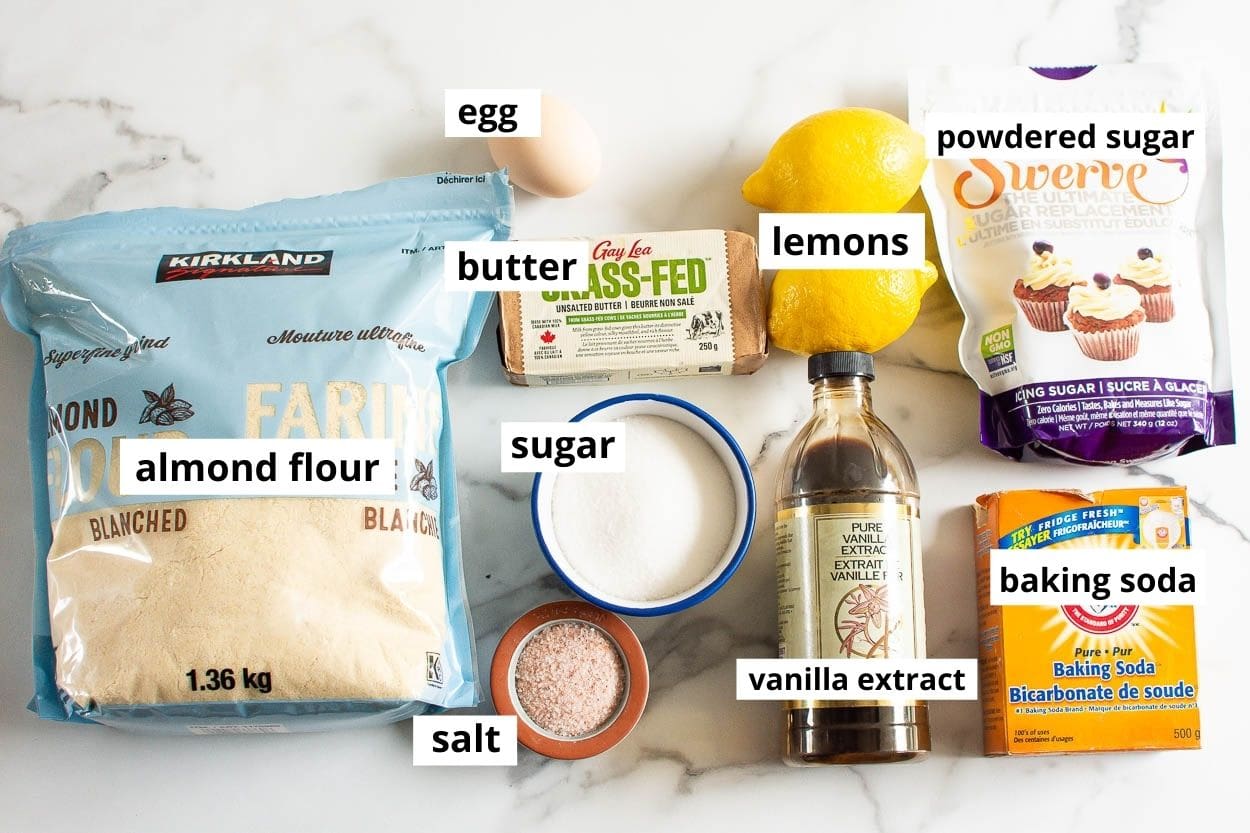 How to Make Healthy Lemon Cookies
Healthy lemon cookies are made by baking slightly chilled and flattened dough into round, flat disc shapes and topping with lemon glaze. You'll end up with 18 cookies.
Beat butter and sugar together with an electric hand mixer. Use a stand mixer if you have one with the whisk attachment.
To the same bowl, add egg, vanilla, baking soda, salt, lemon zest, and juice. Blend it for another minute before adding the almond flour.
Now add almond flour and stir it with a spatula until the cookie dough starts to form. Refrigerate the dough for 30 minutes.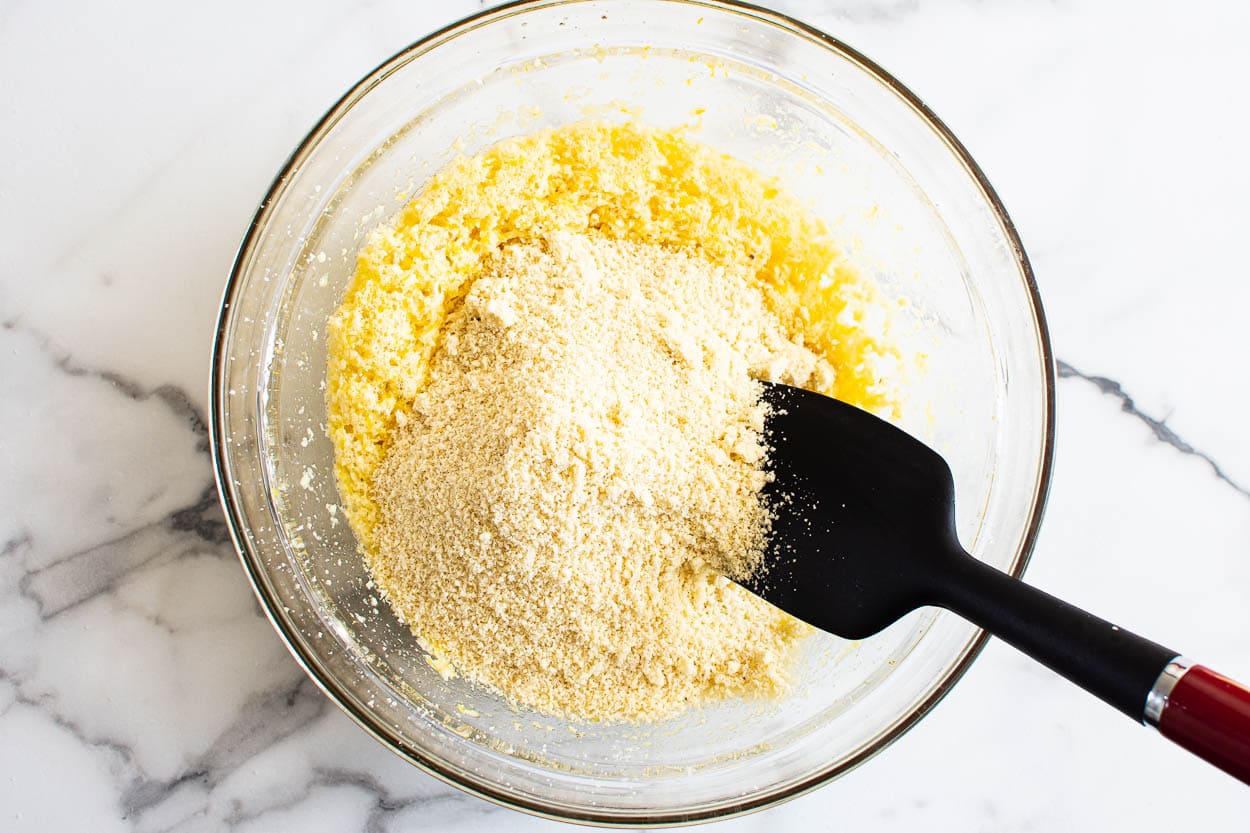 Scoop out balls of cookie dough with a small cookie scoop. Place each ball on the parchment-lined baking sheets 1.5" apart, and gently press with fingers to flatten the cookie a bit. They will only spread so far.
Bake in a preheated 350 degrees F oven on the middle rack for 12 minutes on baking sheets lined with parchment paper. No need to spray them with cooking spray.
Remove the trays and allow them to cool. In the meantime, make the lemon glaze.
How to Make Luscious Lemon Glaze
Whisk together the powdered sugar and lemon juice in a small bowl. Once your healthy lemon cookies have cooled, you can either drizzle them on top or dip each cookie in face first.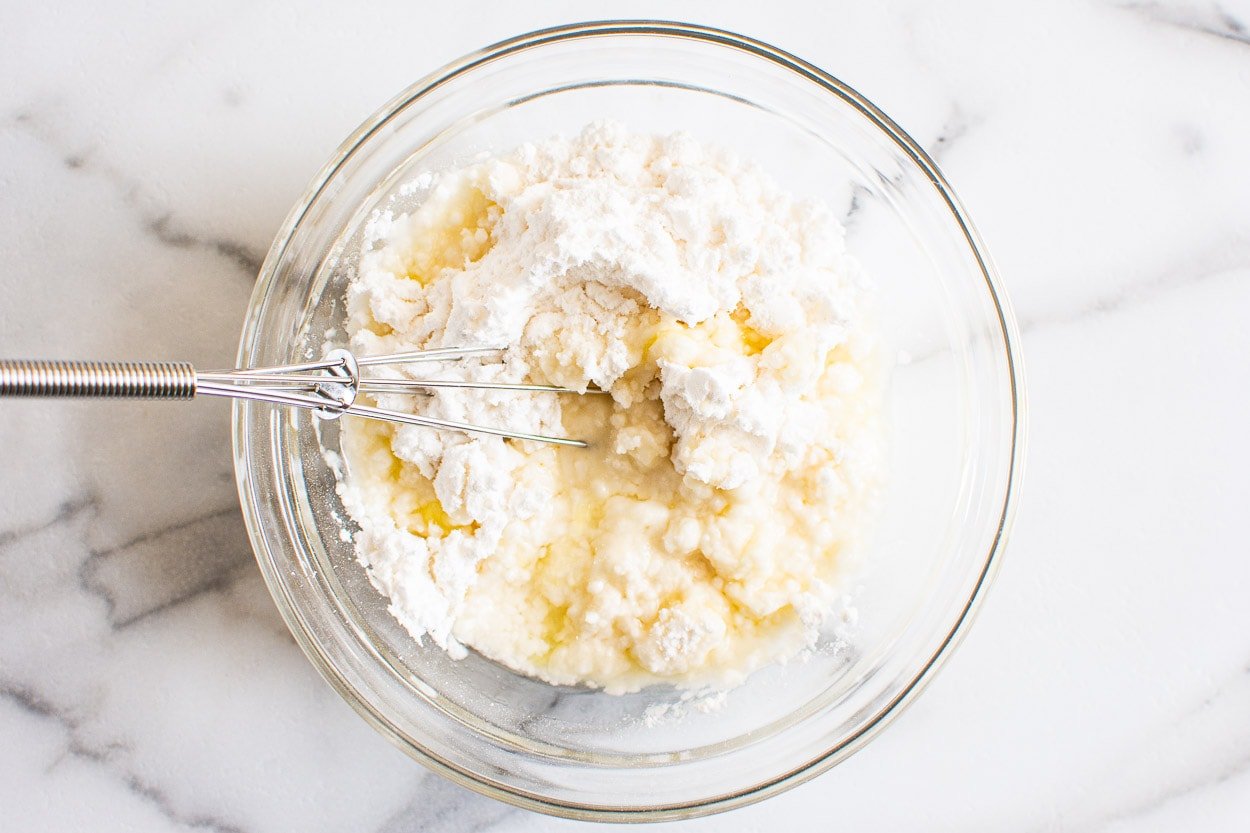 Can I Use Any Other Flour?
I would highly recommend you don't. You might try to use almond meal but I recommend to buy super fine almond flour for baking purposes. Almond meal will yield more dense cookies but it night work. I honestly haven't tried.
I definitely do not recommend to use any other gluten-free flour or wheat flour. You may like this whole wheat healthy lemon blueberry bread!
FAQs
Can I use lemon extract instead of lemon?
Yes, you can. Lemon extract is very concentrated, so you will have to add a drop or two to the final cookie dough. I have not tested with it but I don't see a reason why it won't work.

Skip the lemon then entirely.
Can I make these cookies sugar free?
Yes, you can. Use an alternative like stevia, monk fruit, or erythritol. Just make sure it's dry and not liquid.
Can I make these cookies vegan?
I haven't tried but you can substitute the butter with vegan butter and the egg with a chia egg. My concern is how they will hold up. Please report back if you try.
Tips and Tricks for Perfect Cookies
Don't skip chilling the dough for half an hour. It's just 30 minutes. If you skip it, your cookies will spread a lot.
Bake on a middle rack. Due to high oil content almond flour burns fast. Recently I started baking all almond flour goodies higher up in the oven. I like it better this way!
Flatten just a bit. Gluten-free lemon cookies don't spread much so they need a bit of help in the flattening department.
Can You Freeze Cookies?
Healthy lemon cookies freeze very well. This is great when you get that craving for citrus fruit when it's not in season!
Freeze them for up to 3 months in a freezer-friendly airtight bag and take as many out as you need when you want them. They thaw within an hour on a counter.
Storage Tips
To store: These beautiful lightly golden cookies look great in a cookie jar! Keep them stored at room temperature for up to 5 days. You might like to use leftovers as a variation in healthy trifle, yum!
To ship cookies: Do not ship them the same day you make them. Let them harden a bit for a day. Wrap two cookies at a time, back to back, in plastic wrap. Pack them in an airtight container with a piece of bread. The final destination should be no more than 5 days away.
More Healthy Lemon Recipes You'll Love
You may also like this healthy fruit salad with a honey lemon dressing!
Healthy Lemon Cookies with Almond Flour
Healthy Lemon Cookies with almond flour are thick, soft, lightly golden, and made with unrefined cane sugar and real lemons. Perfect for all your spring and summer party dessert tables!
Ingredients
For Lemon Glaze:
1/4

cup

powdered sugar

I use eryhtritol

1

tbsp

lemon juice or water

more if needed
Instructions
Preheat oven to 350 degrees F and line 2 large baking sheets with unbleached parchment paper.

In a large bowl, add butter and sugar and using an electric hand mixer or stand mixer blend until creamy. Add the egg, vanilla extract, baking soda, salt, lemon zest and juice; blend another minute. Add almond flour, stir with spatula until cookie dough forms and refrigerate for 30 minutes.

Using a small scoop, scoop dough, roll into a ball, place on previously prepared baking sheet and gently press with fingers to flatten cookies a bit. Cookies spread somewhat, so leave 1.5 inch in between. Repeat with remaining dough.

Bake on a middle rack for 12 minutes. Remove from the oven and let cool for 10 minutes.

While cookies are cooling, make glaze by whisking powdered sugar and lemon juice in a small bowl. Drizzle over cookies and enjoy!
Notes
Store: In a cookie jar for up to 5 days.
Freeze: In an airtight container for up to 3 months. Thaw on the counter for a few hours.
Shipping: Let cookie get 1 day old first. Then wrap 2 cookies bottoms to each other with plastic wrap, place in airtight container where they don't tumble around much, with a slice of bread, and ship to a not long distant destination, like 5 days max.
Coconut oil: I have not tried using it but in my experience it results in more crunchy cookies. It will work though.
Any other flour: Gluten free flours are very finicky, all flours are. I have not tested this recipe with any other flour and do not recommend to do so. Almond flour is very unique and can't be easily replaced.
Fresh lemon juice is the best but bottled will work as well.
Nutrition
Serving:
1
cookie
|
Calories:
120
kcal
|
Carbohydrates:
7
g
|
Protein:
3
g
|
Fat:
10
g
|
Saturated Fat:
3
g
|
Trans Fat:
1
g
|
Cholesterol:
19
mg
|
Sodium:
78
mg
|
Fiber:
1
g
|
Sugar:
4
g