Healthy Lemon Poppy Seed Muffins with Greek yogurt, maple syrup and drizzled with a delicate lemon glaze on top.
Another lemon favorites around here is this lemon poppy seed bread, lemon zucchini muffins and lemon blueberry muffins.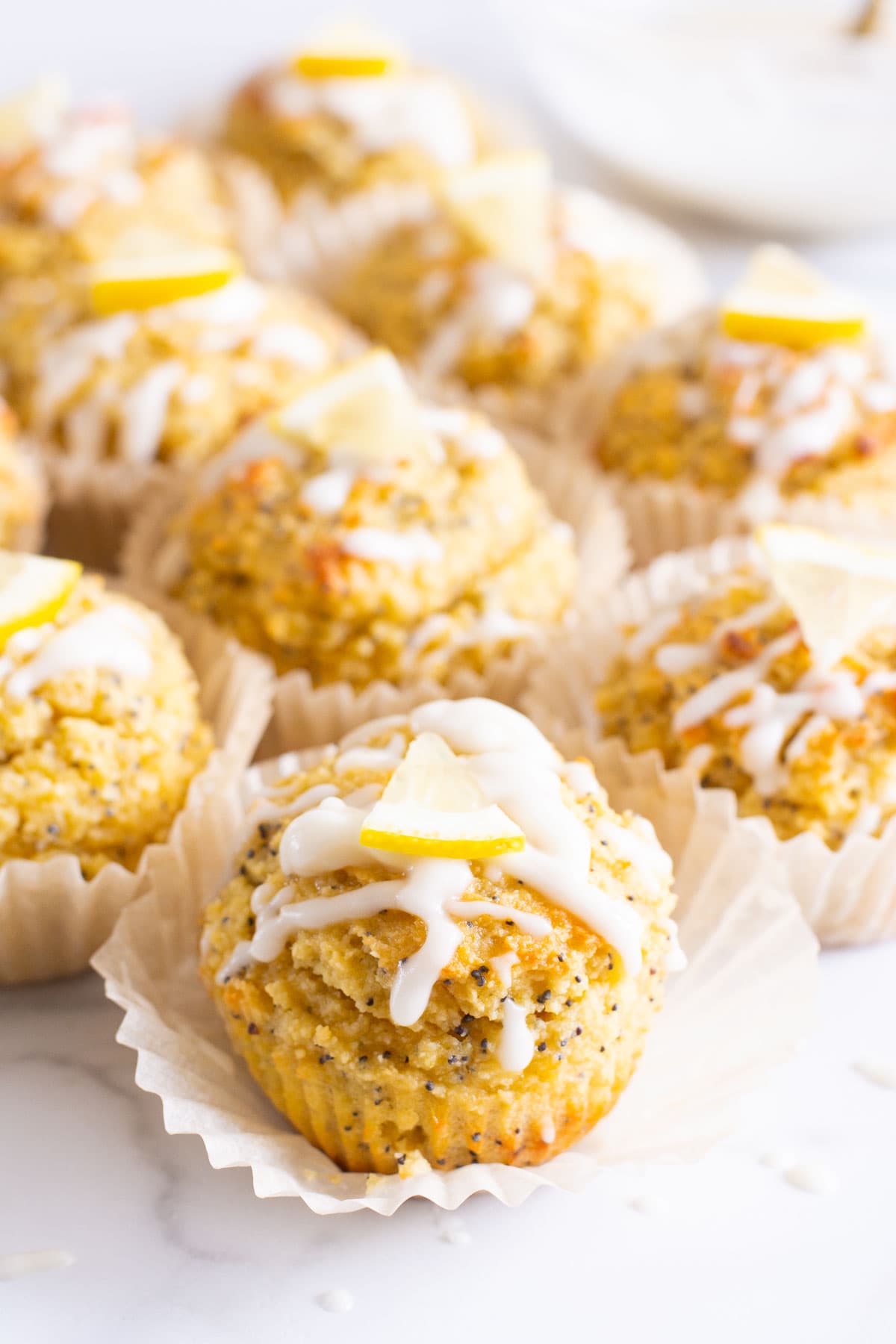 I have yet to meet anyone who doesn't love a good muffin, which means these healthy lemon poppy seed muffins are for everyone.
As much as I love any healthy muffins, I wanted something a little lighter for spring. Enter these delicious lemon poppy seed muffins drizzled with delicious lemon glaze.
Ingredients for Healthy Lemon Poppy Seed Muffins
You've probably got all simple ingredients in your kitchen already to make these healthy lemon poppy seed muffins right now.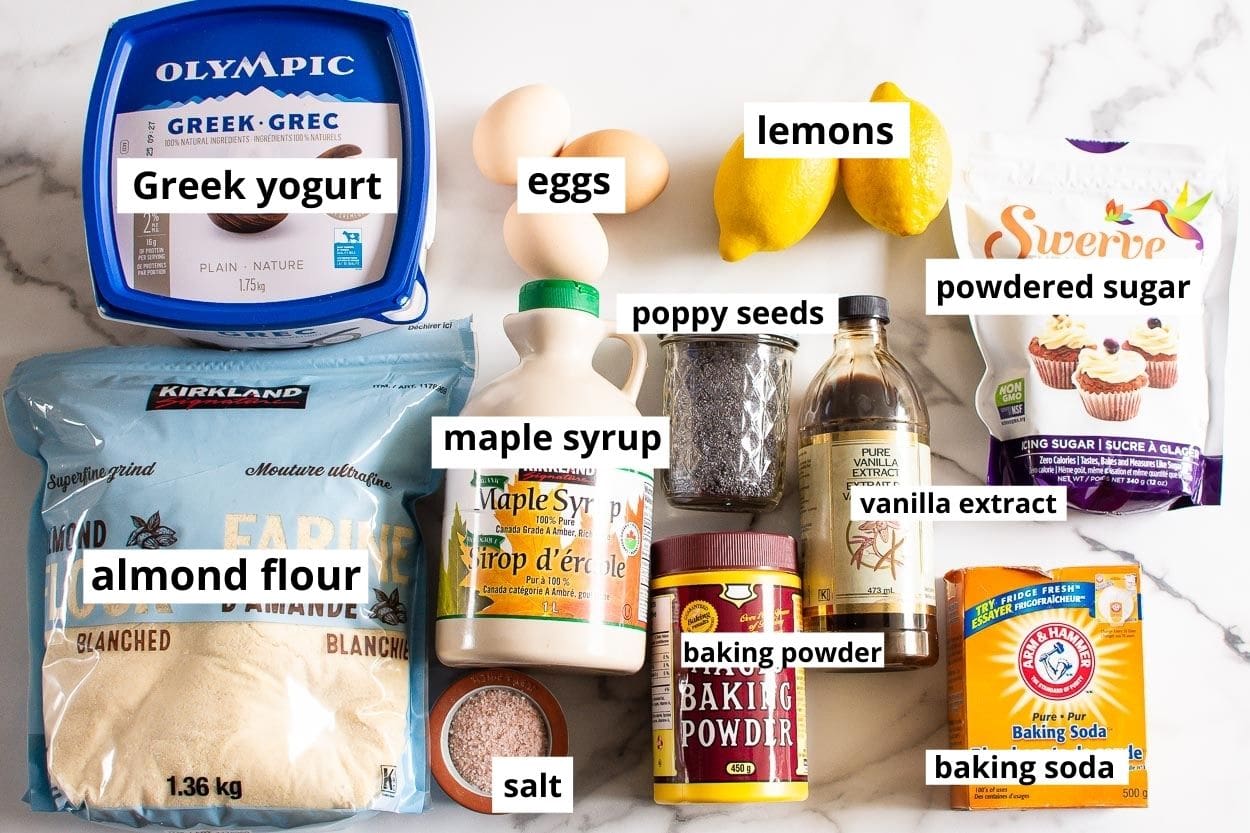 Eggs: Used for binding which is especially important when using gluten-free flour. I haven't tried these lemon poppy seed muffins with a flax egg.
Maple syrup: I love the maple and lemon flavor, however, honey and lemon also go hand in hand.
Greek yogurt: Use 2% or higher fat for richness. You can use flavored yogurt, like vanilla yogurt for a little extra taste.
Almond flour: Blanched and super fine almond flour. Keeps muffins gluten-free, light, and fluffy. Remember it isn't an almond meal.
Lemons: Double the lemon with zest and the juice! Freshly squeezed lemon juice is best. And save extra for the glaze.
Vanilla extract: A flavor enhancer that enriches many baking recipes by bringing out the other flavors.
Leavening agents and salt: Baking powder and baking soda will give these muffins a beautiful rise.
Poppy seeds: They add subtle nutty flavor and a hint of crunch.
Powdered sugar: For the glaze. If refined sugar doesn't bother you, go ahead and use the confectioner's sugar. If you want a sugar-free alternative, do what I do and use powdered erythritol.
How to Make Healthy Lemon Poppy Seed Muffins
Here is how to make healthy lemon poppy seeds muffins with 10 minutes of prep time using just one bowl!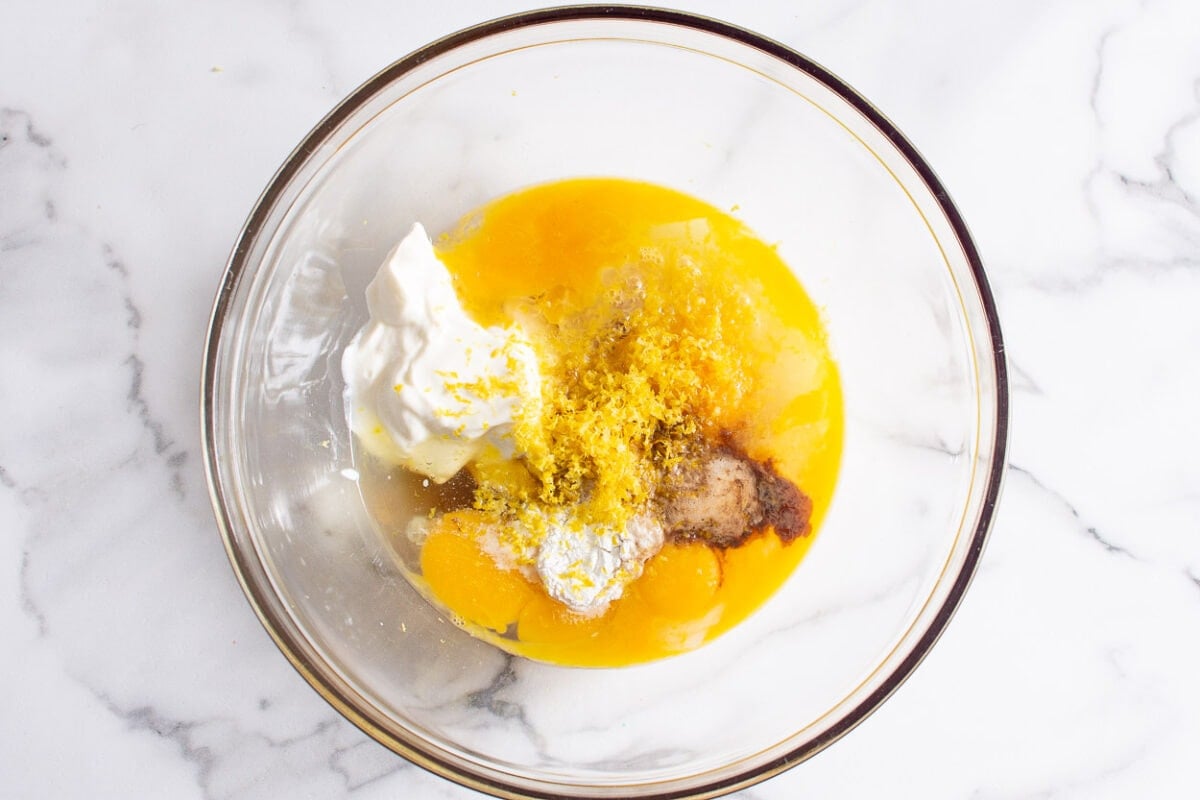 Make the base of the batter. Combine eggs, maple syrup, yogurt, zest and lemon juice, vanilla extract, baking powder, baking soda, and salt into a large mixing bowl.
Whisk liquid ingredients until well combined and smooth. There should be no lumps.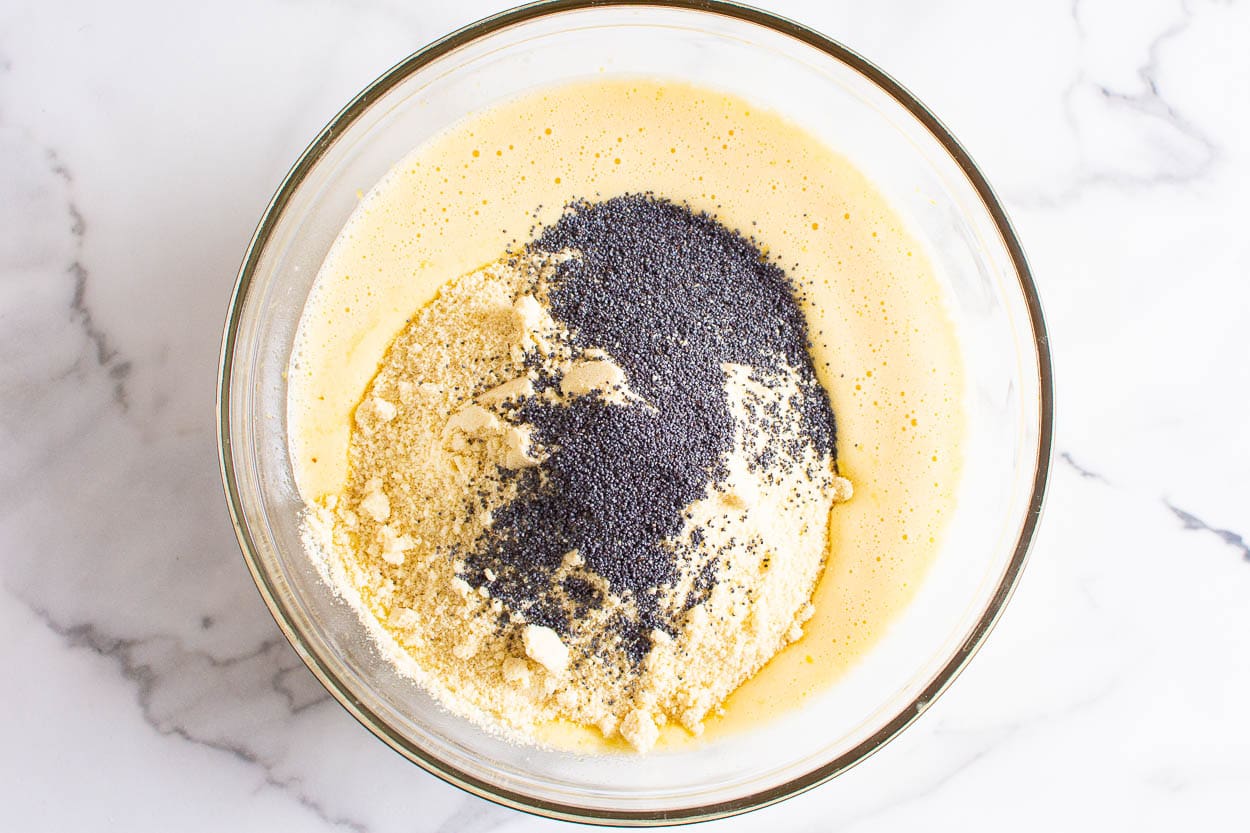 Add in the flour and poppy seeds. Measure the almond flour by using the spoon and level method and add it to the batter.
Then, follow that with the poppy seeds and stir gently using a spatula. Mix everything well.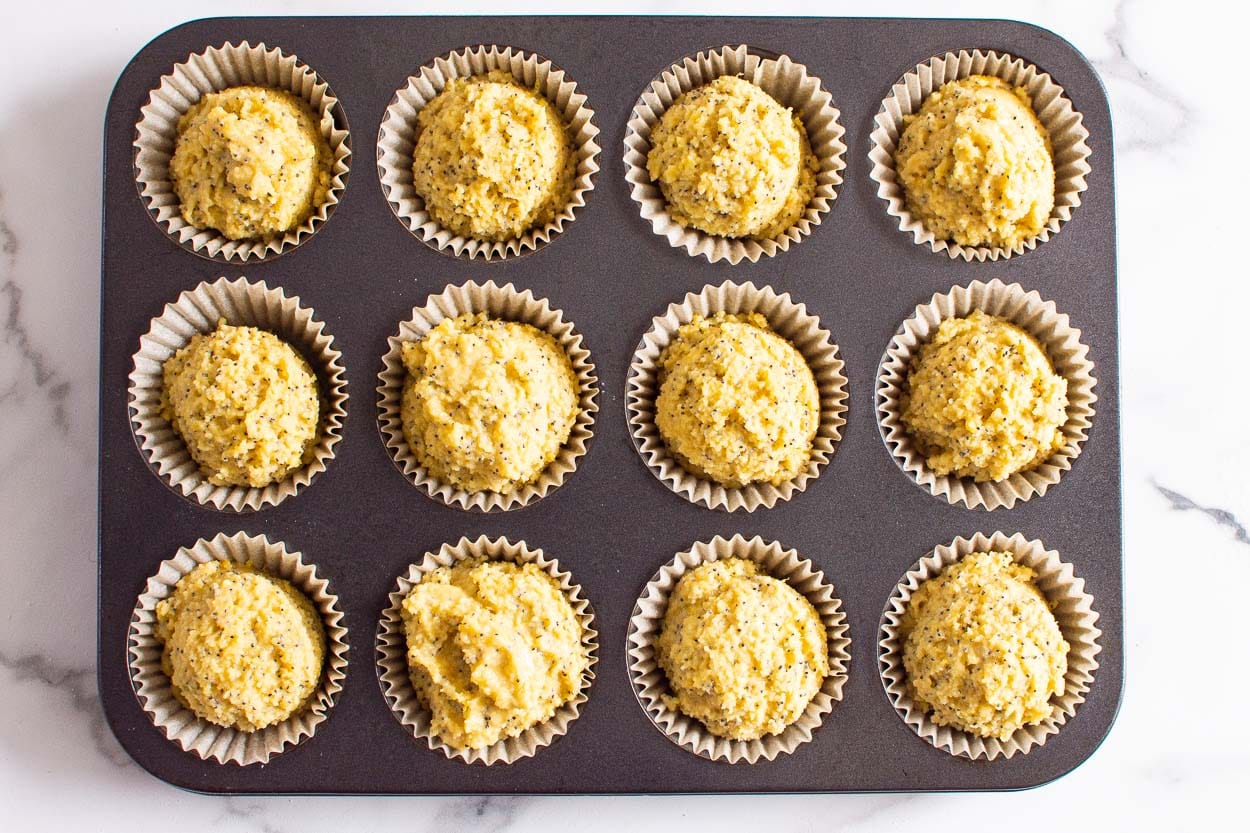 Divide batter and bake the muffins. Use an ice cream scoop to add even amounts of lemon poppy seeds muffin batter to prepared muffin tin lined with parchment liners.
Bake muffins on the middle rack of a preheated 350-degrees F oven for 20-22 minutes until golden brown. Check for doneness by inserting a toothpick into the center. If it comes out clean, your healthy lemon poppy seed muffins are ready!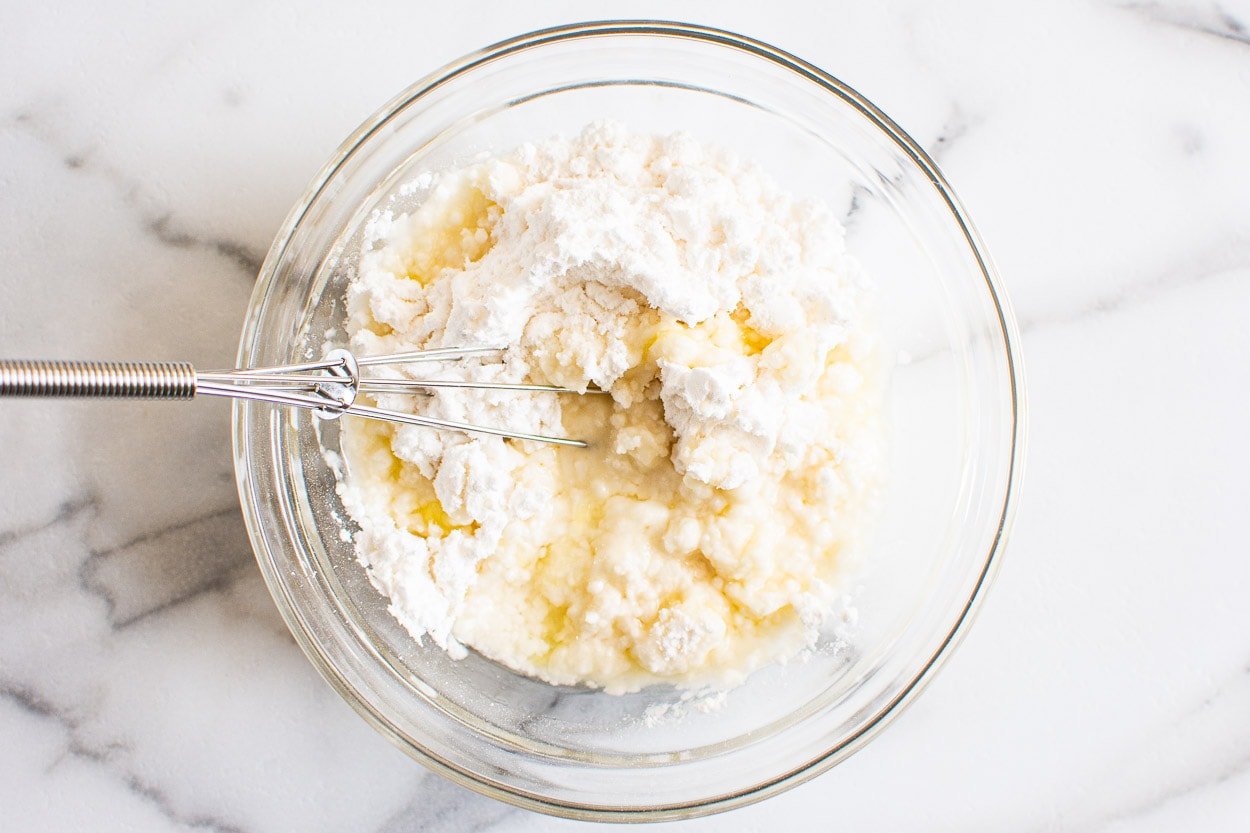 Drizzle with lemon glaze. Allow the muffins to cool for 10 minutes during which time you'll make a glaze.
Whisk powdered sugar and lemon juice in a small bowl. Once muffins cooled a bit, drizzle each of them with some of the healthy lemon glaze and enjoy!
Tips for Best Results
Here are my top tips for the best lemon poppy seed muffins with almond flour!
Only use liquid sweeteners. This muffin recipe is pretty flexible in terms of what kind of sweetener you use, as long as it's liquid sweetener. Using a dry sweetener will throw the batter consistency off.
Regular yogurt. Use it if that's what you have on hand. Yogurt is thinner than Greek yogurt and will affect the liquid to dry ratio. In this case, you might need to add extra 1/4 cup of flour to keep the muffin batter thick.
Bake muffins on a middle rack: I recommend not to bake healthy lemon poppy seed muffins on lower rack because almond flour has high oil content and tends to burn fast. Just follow the recipe.
Muffins can be made ahead. Prepare the muffin batter, minus the baking soda and baking powder, up to a day in advance. Cover the bowl and leave it in the fridge overnight. When you're ready to bake the muffins, add the leavening agents back in, stir it and continue as per directions.
Turn it into a cupcake. Top it with a Greek yogurt frosting or a thick and luscious healthy cream cheese frosting.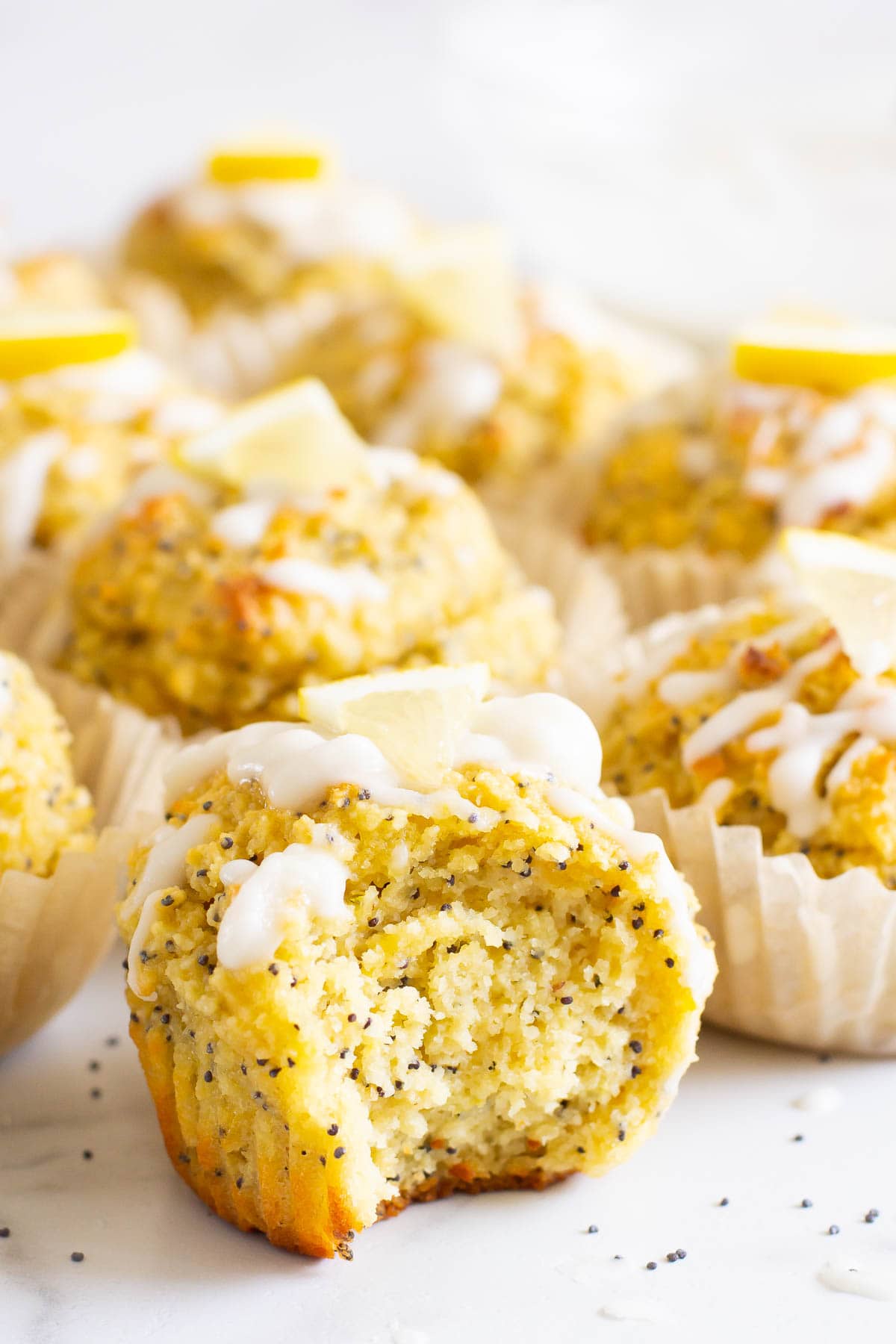 How to Store Lemon Poppy Seed Muffins
Store: If you have any leftover healthy lemon poppy seed muffins, keep them covered with linen towel at room temperature for up to 3 days. They're great for snacking, grabbing a quick breakfast, or even as an after-school snack.
After transfer muffins in airtight container and store in the fridge for 2 more days.
Freeze: These healthy muffins freeze very well. Once completely cooled, transfer them to a freezer-friendly Ziploc bag.
FAQs
Can I use any other flour to make lemon poppy seed muffins?
Not in this recipe. Almond meal is the closest thing that might work, but I find it to be heavier and more robust, which will lead to muffins being less light and fluffy. If you would like to use all-purpose flour or whole wheat flour, check out this lemon muffin recipe and just add poppy seeds to it.
Can I use sour cream instead of yogurt?
Sour cream and Greek yogurt can be used interchangeably in most cases. They both replace the oil or butter used in baking recipes and they both lend a tang and tartness. The acid reacts with the leavening agents helping baked goods to rise.

There is a nutritional difference in that Greek yogurt has more protein and less fat than sour cream does.
How can I make mini healthy lemon poppy seed muffins?
Divide batter into mini muffin tin and bake them for about 13 minutes. All ovens differ, so to be safe check in on the muffins at the 10-minute mark.
How can I jazz up these muffins?
Love the pairing of berries and lemon! Toss some blueberries into the batter similar to healthy lemon blueberry muffins. You could also add cherries, raspberries, and strawberries.

Add a swirl of your favorite jam into the batter, or add a dollop of jam in the middle.
Do I have to rinse or soak poppy seeds?
No and no.
More Lemon Recipes to Try
More Healthy Muffin Recipes to Try
Alternately, browse my favorite healthy muffin recipes!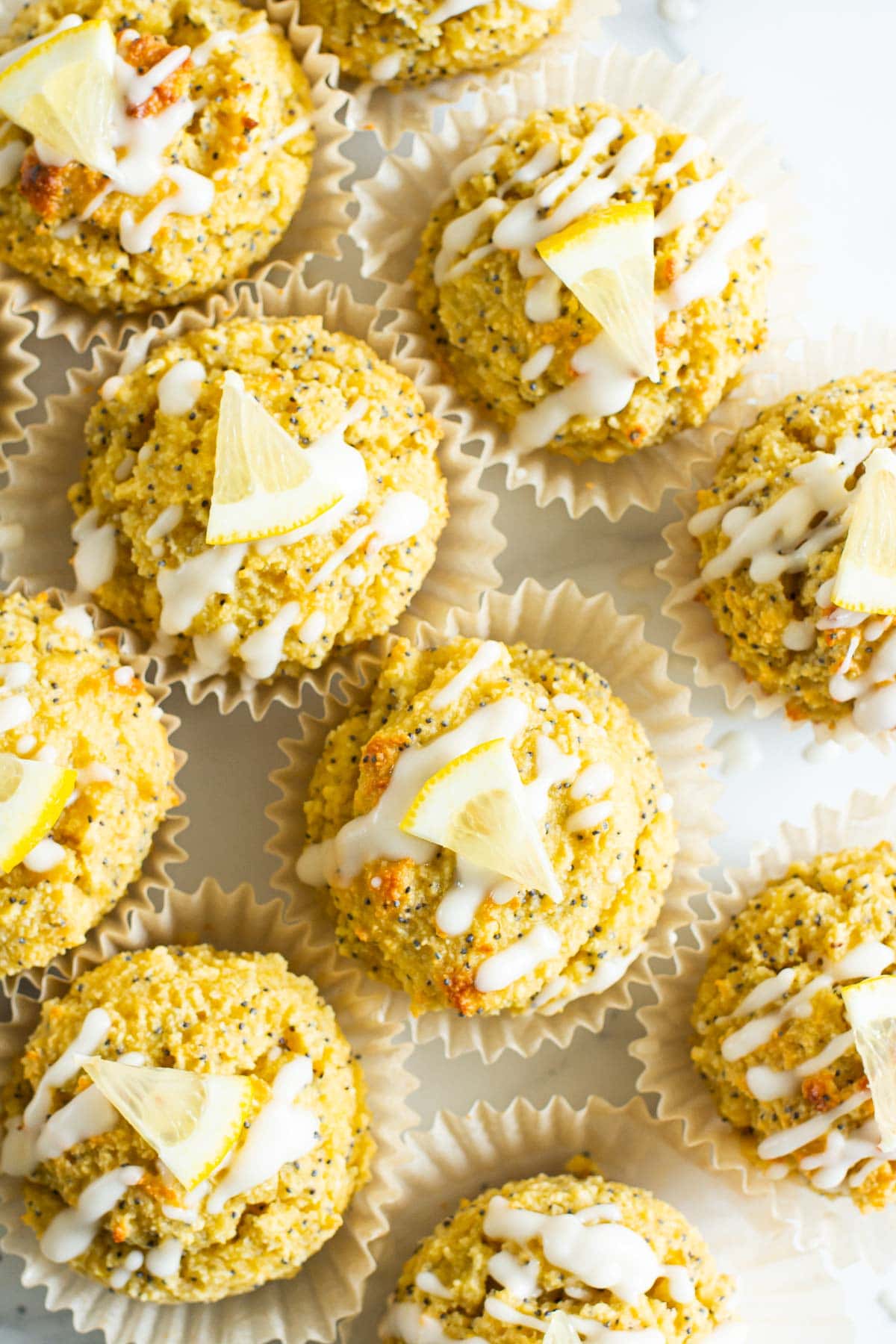 Healthy Lemon Poppy Seed Muffins
Healthy Lemon Poppy Seed Muffins with Greek yogurt, maple syrup and drizzled with a delicate lemon glaze on top.
Ingredients
For Lemon Glaze:
1/4

cup

powdered sugar

I use eryhtritol

1

tbsp

lemon juice or water

more if needed
Instructions
Preheat oven to 350 degrees F. Line 12 muffin tin with parchment paper muffin liners (highly recommended) and spray with cooking spray. Set aside.

In a large bowl, add eggs, maple syrup, yogurt, lemon zest and juice, vanilla extract, baking powder, baking soda and salt. Whisk very well until combined and no lumps.

Add almond flour and poppy seeds. Stir gently with spatula until well mixed.

Using an ice cream scoop, divide batter between 12 openings of previously prepared muffin tin. Bake for 20-22 minutes on the middle rack or until toothpick inserted in the center comes out clean and muffins are golden brown.

Remove from the oven and let cool for 10 minutes. While muffins are cooling, make glaze by whisking powdered sugar and lemon juice in a small bowl. Drizzle over muffins and enjoy!
Notes
Store:

Store muffins at room temperature for 2-3 days or within the refrigerator for 5 days.

Freeze:

Freeze in a large freezer bag for up to 3 months.

Don't substitute flour or liquid sweetener: Almond meal might work, just muffins will be more dense and rise less. If you use dry sweetener, batter consistency will be off.
Regular and other yogurt: You can use plain regular yogurt however might have to add 1/4 cup extra almond flour since it contains more liquid. Can also use flavored yogurt. The goal is to bring batter to consistency in the photos, thicker than for pancakes.
Fresh lemon juice is the best but bottled lemon juice will work as well.
Nutrition
Serving:
1
muffin
|
Calories:
260
kcal
|
Carbohydrates:
20
g
|
Protein:
10
g
|
Fat:
18
g
|
Saturated Fat:
2
g
|
Trans Fat:
1
g
|
Cholesterol:
42
mg
|
Sodium:
164
mg
|
Fiber:
4
g
|
Sugar:
13
g