Mouthwatering, easy to make Instant Pot Pulled Pork ready in less than 2 1/2 hours. Serve this tender, fall apart BBQ on a bun with creamy coleslaw for the perfect crowd pleasing meal year round.
Other hands off pressure cooker crowd pleasers include Instant Pot pork carnitas, Instant Pot pulled chicken and Instant Pot chicken burritos!
Imagine an already simple dish made even easier? This is why Instant Pot pulled pork is a game changer to making taco filling, cauliflower pizza toppings, or a side to mac and cheese. Gone are the days of low and slow for hours to get the same tender, flavourful, and fall apart results!
This healthy version of this comfort BBQ classic uses no added refined sugar that comes in commercial BBQ sauce (did I mention I've made a healthy BBQ sauce, too?!). The perfect balance of sweet, tart, and smoky comes from a combination of basic seasonings and natural sweeteners.
Why Make Easy Instant Pot Pulled Pork Recipe?
Easy to make: Season pork, cook for an hour, make the sauce, shred meat and voila, bbq pulled pork for dinner in less than 2 1/2 hours vs all day. 
Homemade BBQ rub + sauce: Garlic powder, onion powder, cayenne, smoked paprika, sweet honey or maple, liquid smoke and tomato paste create a flavorful powerhouse! 
Enjoy all year round: No need to wait for a summer backyard party to enjoy BBQ! It's a favorite summer Instant Pot recipe for a crowd, or even just a weeknight dinner!
Pulled pork sandwich: Serve on a soft or toasted bun topped with a fresh, simple creamy homemade coleslaw!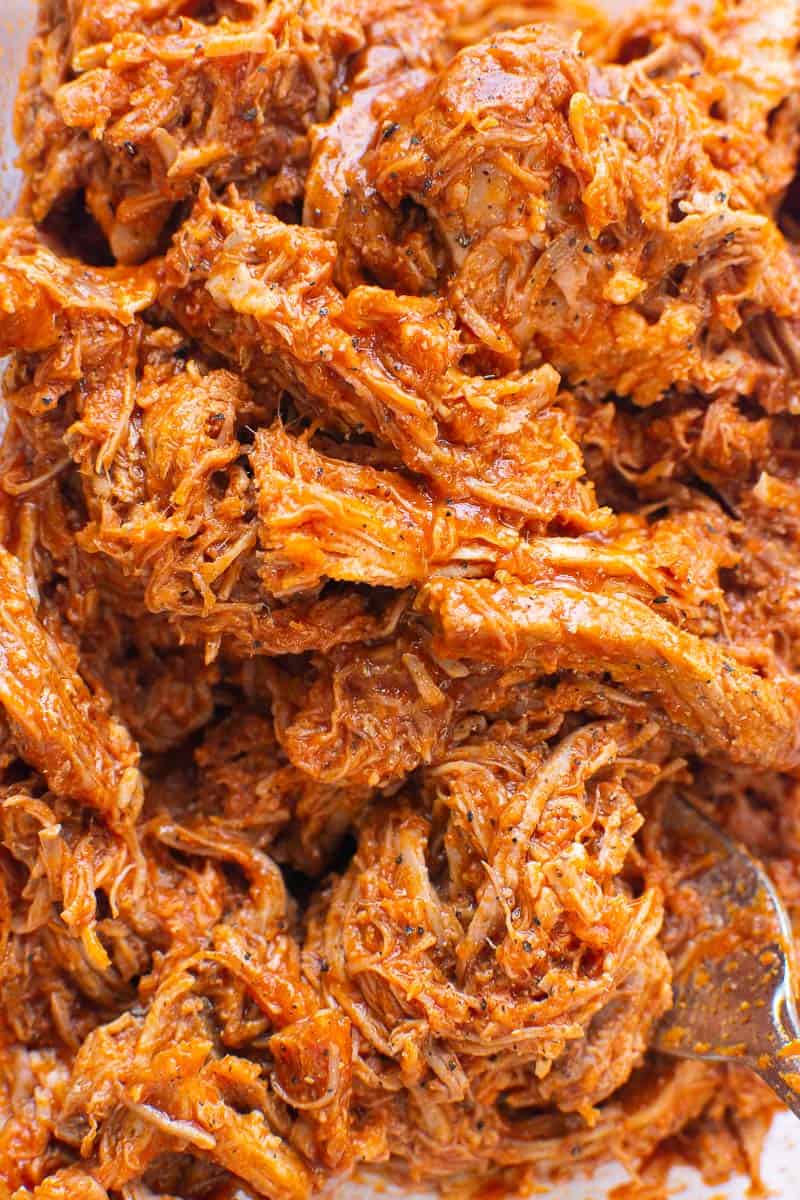 Ingredients for Pressure Cooker Pulled Pork
Pork: You'll want to trim the fat from your pork shoulder or pork butt roast. If it comes with twine, it's ok to leave it on.
What is the best cut for pulled pork? I prefer pressure cooker pork shoulder or pork butt pulled pork. They might not be the leanest cut of pork meat, but if you want juicy and flavourful results then shoulder or pork butt delivers! 
Water: As with any meat cooked in the Instant Pot you'll need `liquid at the bottom of the pot.
Seasonings: Onion powder, garlic powder, smoked paprika, salt, pepper and cayenne.
Tomato paste: Use low sodium, this will be the base of the healthy BBQ pulled pork sauce and will add thickness and acidity to it.
Sweetener: Just a touch of maple syrup or honey. Typical BBQ sauce is quite sweet thanks to all the corn syrup, glucose and fructose. Using maple syrup or honey gives you the sweetness that is MUCH better for you!
Liquid smoke: This will be super important especially if you don't have any smoked paprika. It's what gives it that incredible smoky flavor. You can find this ingredient in the same aisle as ketchup at most grocery stores.
Creamy Coleslaw Pulled Pork Sandwich Ingredients
Coleslaw: Bag of coleslaw.
Herbs: Finely chopped fresh parsley or dill. Plain yogurt (regular or Greek at least 2%).
Dressing: Greek Yogurt, mayo, salt & pepper.
Sandwich buns: Kaiser, whole grain or your favorite brand. Use rolls for pulled pork sliders!
How to Make Pulled Pork in Instant Pot
Prep: Get your 6 or 8 qt Instant Pot set up by adding water to the bottom and placing the trivet on top. You'll come back to this in a bit.
Combine: Combine bbq pulled pork rub by combining onion and garlic powders, smoked paprika, salt, black pepper, and cayenne, in a bowl. Whisk together well. If you guessed you're going to coat your pork with this amazing combination, you'd be right!
Rub: Place your should pork or pork butt roast on a plate or other flat surface you don't mind getting a little messy, sprinkle the spice mix all over it and rub it all around. Scoop up whatever falls to the sides and continue coating everything. You want all of this delicious flavour permeating the meat for best pulled pork meat flavor. Transfer to Instant Pot and place on the trivet.
Cook: Close the lid and set the valve to Sealing. Cook your pressure cooker pulled pork on High Pressure – Manual for 1 hour.
Make coleslaw: In a large bowl combine shredded cabbage or bagged coleslaw with herbs, yogurt, mayo, salt, and pepper. Mix together nicely until blended then place in the fridge until you're ready to use it.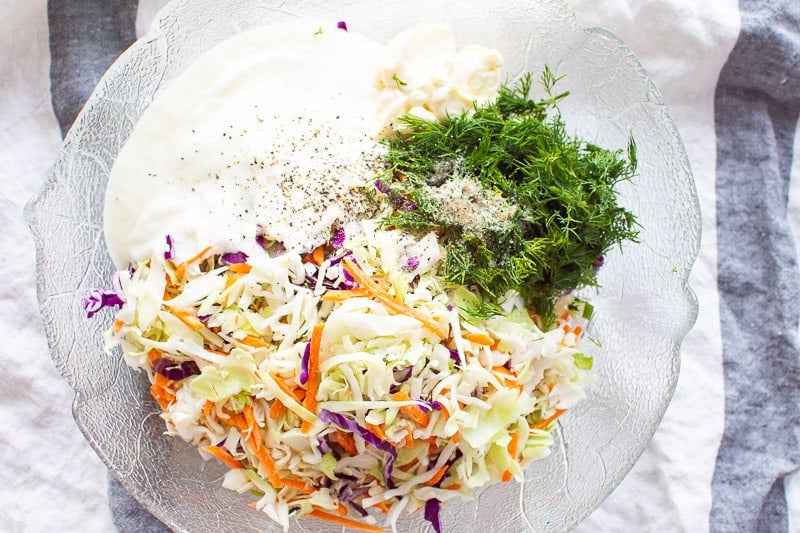 Release pressure: Once the Instant Pot cook time is done, let pressure cooker pulled pork come down on its own – Natural Release.

Remove pork roast and place it on a cutting board. Remove twine and shred the meat with two forks. It should fall apart very easily, but if there are tough areas, just chop it up with a knife. At this point your mouth is watering and the smell is amazing, but just wait, you're not quite finished yet!
Make BBQ sauce: Reserve a cup of the broth from the pot and discard the rest. Press Saute on the Instant Pot and add reserved broth back in as well as tomato paste, maple syrup, and liquid smoke. Whisk everything while it comes to a boil and let it simmer for 3 minutes before adding the shredded pulled pork meat back in.
Assemble pulled pork sandwich: Combine the pork and sauce and give it a good stir. Allow the bbq pulled pork flavours to come together and then adjust any seasonings to taste if needed. Add meat to your bun, top with creamy coleslaw, and enjoy!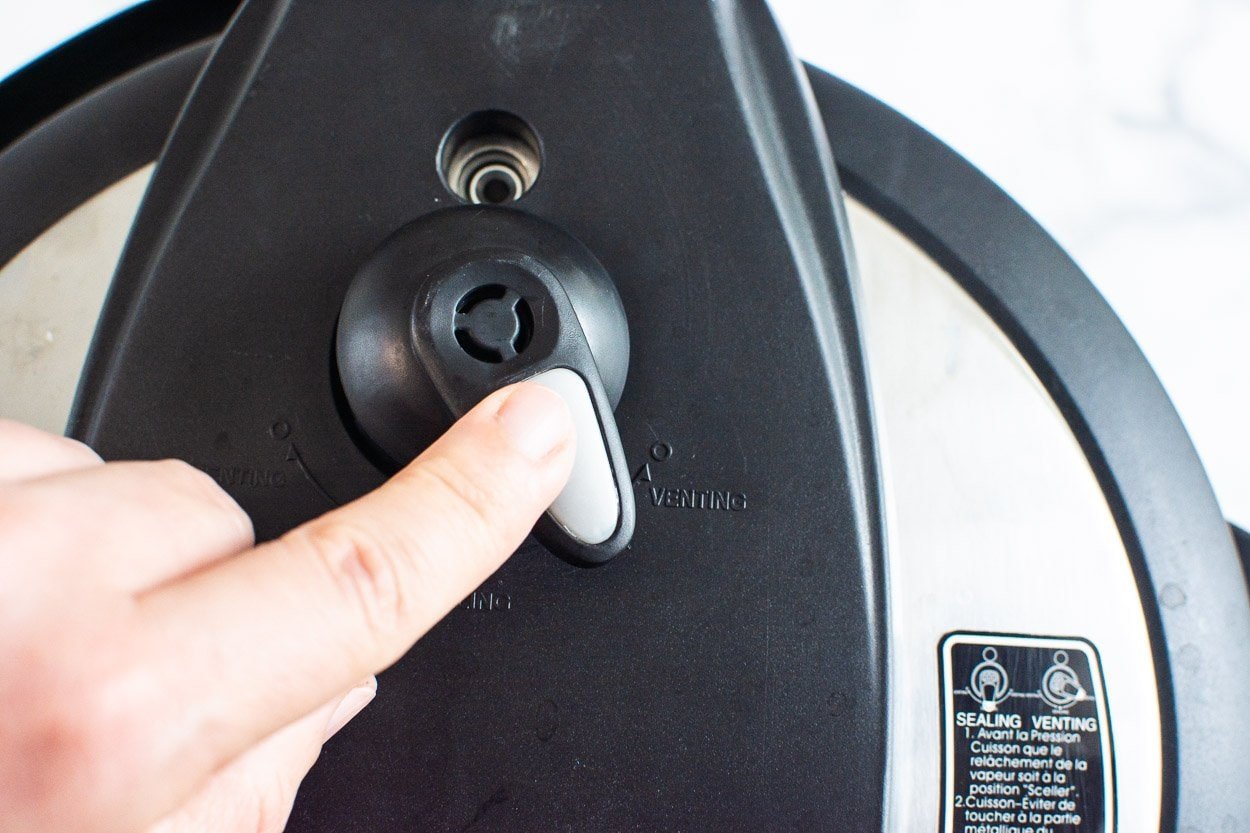 Optional Add-In's and Variations
More heat: By all means, add more cayenne to make it hot! This recipe is quite mild, so you'll be able to season to your preference. Just remember to taste test first!
BBQ sauce: For added convenience, you can skip the dry rub and use a healthy barbecue sauce instead.
Store bought sauce: Keep it super simple and use a store bought – I like Stubb's which I also use for chicken wings in air fryer.
Brown sugar: If you are all out of maple syrup/honey you can use brown sugar; you could also add some to your dry rub for a sweeter pulled pork.
Orange: Add a bit orange juice to the sauce for some sweet orange flavor.
Thicker sauce: Make a cornstarch slurry with water and add when making your sauce.
Pulled pork sandwich toppings: Sandwich pickles, cheese slices, raw thin sliced red onion, mango salsa, sliced jalapeno, sun dried tomatoes or healthy honey mustard dressing. Some people even like a potato chip on their pulled pork sammie for salty crunch!
For a party, I like to set out pulled pork sandwich toppings in small bowls and make a condiment plate with larger items. That way everyone can pick and choose how they best like to top their pork sammie.
Tips for Best Results
Pork roast size: The size of your Instant Pot will best determine what size to use. A 6 qt pot will fit a 4 lb roast and an 8 qt pot will fit a 5 lb roast.
Smoked paprika: You can for sure use regular paprika if you don't have smoked paprika. Make sure to use liquid smoke, though, otherwise you will definitely miss out on the signature smoky flavour you want. You can find liquid smoke usually in the condiment aisle of your grocery store or on Amazon.
Fresh herbs: The herbs add a lovely freshness to the slaw that is so good but totally optional.
Apple cider vinegar: To add a little acidic balance to the creaminess of the coleslaw, mixing in a bit of ACV does the trick.
Toast buns: Adds flavor and texture to your bbq pulled pork sandwich! 
FAQs
Do I need to brown my pork?
You don't need to, that is magic of the pressure cooker. If you are still convinced you need to though, in Saute mode, add a bit of oil to the Instant Pot. Brown on each side for a few minutes. After, hit Cancel and be sure to scrape up the browned bits from the bottom to prevent Burn.
Can I cook my pork roast from frozen?
You can, you will want to rinse it first so spices adhere. Add an additional 5 minutes per pound to the cooking time, as well as be prepared that it will take longer to come to pressure.
Can I use pork tenderloin for shredded Instant Pot pork?
Unfortunately, no. Pork tenderloin is leaner and does not shred as well.
Can I use this recipe for slow cooker pulled pork?
You technically probably could, but I would advise to use my crockpot pulled pork recipe for best results. If you still want to try, slow cook for 10 hours on Low or 4-5 hours on High.
What is the best way to shred pork?
This meat is so tender and fall apart, that two meat forks is all you need! Some people swear by using a food processor fitted with a slicer blade to shred pork. You may need to do so in batches.
Why is my pressure cooker pork tough?
It has not cooked long enough, cook a little longer.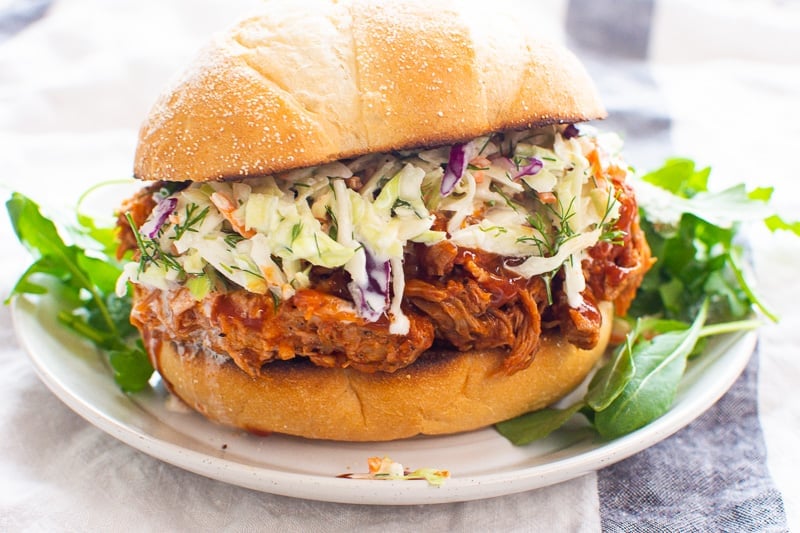 What to Serve with Pulled Pork Meat?
Along with the options mentioned above plus my favorite pulled pork sandwich with coleslaw, there are several other ways I love to enjoy this BBQ meat, including:
In a rice bowl
In a burrito or taco use it as the filling.
Over nachos
With other pasta dishes such as chili mac.
For a party, I love to serve these potluck dishes alongside the pulled pork sandwich:
How to Store Leftover BBQ Pulled Pork?
Store: This pressure cooker pulled pork will keep in the fridge for up to 5 days when covered in an airtight container in the fridge. To reheat it all you need to do is put it in a small pot with a splash of broth, cover, and simmer on low. Stir a few times.
Freeze: Once fully cooked, it can be kept frozen for up to 3 months! This is not only a great meal prep make-ahead dish, but it's also a great think ahead dish if you know you're making a big batch! Save some for down the road by keeping it in an airtight container in the freezer. Thaw in the fridge overnight and reheat as per above.
Can I Make Ahead Shredded BBQ Pork?
Make ahead: You can assemble the roast in the liner of the Instant Pot, cover it with the silicone lid, and keep it in the fridge for up to 2 days. Having the dry rub sit on the meat for this long can only enhance the flavours! When you're ready to cook it, continue with instructions as per the recipe.
More Instant Pot Recipes
You may like these 45 healthy Instant Pot recipes.
Instant Pot Pulled Pork
Mouthwatering, easy to make Instant Pot Pulled Pork ready in less than 2 1/2 hours. Serve this tender, fall apart BBQ on a bun with creamy coleslaw for the perfect crowd pleasing meal.
Ingredients
Coleslaw
1 lb

bag

coleslaw 

6 cups

1/4

cup

fresh parsley or dill

finely chopped (optional)

3/4

cup

plain regular or Greek yogurt

2% fat and higher

1/4

cup

mayo

1/2

tsp

salt
Ground black pepper

to taste
Instructions
In 6 or 8 quart Instant Pot, add water and place trivet on top. Set aside.

In a small bowl, combine onion and garlic powders, smoked paprika, salt, black and cayenne peppers. Whisk well. Place pork roast on a large plate and sprinkle/rub with a spice mix all around, scooping some from the plate.

Transfer pork roast to Instant Pot.

Place lid on top, set venting valve to Sealing and cook for 1 hour on High pressure.

While roast is cooking, make coleslaw by combining cabbage, herbs, yogurt, mayo, salt and pepper in a large bowl. Refrigerate until ready to serve.

After done let pressure come down on its own – Natural Release. Move valve to Venting. Open pressure cooker.

Remove roast on a cutting board. Cut off twine and shred meat with 2 forks. If some spots have tough tissue, chop with a knife. Reserve 1 cup broth and discard the rest. Press Saute on Instant Pot and add broth, tomato paste, maple syrup and liquid smoke. Whisk, bring to a boil and simmer for 3 minutes. Add shredded pork, stir and adjust salt and cayenne pepper to taste, if necessary.

Serve pulled pork on a bun, topped with coleslaw.
Notes
Store: Refrigerate meat in an airtight container for up to 5 days. Reheat in a small pot with a splash of broth by simmering on low while covered. Stir a few times.
Freeze: Freeze in an airtight container for up to 3 months. Thaw in the fridge overnight and then reheat as per instructions above.
Pork roast size: 4 lbs would fit 6 quart pot better and 5 lbs fits into 8 quart. Pictured is 8 quart Instant Pot.
Smoked paprika: If you don't have smoked paprika, you can use regular paprika but you absolutely have to use liquid smoke.
Where to buy liquid smoke? You can find liquid smoke in a condiment aisle of many grocery stores or on Amazon. It is necessary to create smoky flavour.
More heat: This pulled pork is mild. You can add more cayenne and make it very hot.
Additional rub spices: A pinch of brown sugar, ground mustard, ground cumin or chili powder could be added to your dry rub.
Sugar free BBQ sauce: Replace liquid sweetener with your favorite liquid sugar free syrup.
See recipe post for more tips and FAQs.
Nutrition
Calories:
445
kcal
|
Carbohydrates:
46
g
|
Protein:
31
g
|
Fat:
15
g
|
Saturated Fat:
4
g
|
Cholesterol:
77
mg
|
Sodium:
628
mg
|
Fiber:
5
g
|
Sugar:
12
g