Add these Healthy Sugar Cookies to your Christmas cookies wish list this year! Incredibly light, buttery, and classically delicious, these almond flour sugar cookies is the perfect cookie to decorate as desired.
During holidays, we also love to make almond flour thumbprint cookies and almond flour shortbread cookies.
Healthy sugar cookies do not depart from everything we love about a classic sugar cookie. A buttery, melt-in-your-mouth texture, a sweet crunch, and a surface area perfect for all kinds of decorating!
These almond flour sugar cookies are so easy to make and they're the perfect holiday treat for any dessert tray.
The kids will love getting involved and what a great beginner recipe for those looking for simple recipes to add to their holiday baking list.
Why You Will Love This Recipe
Taste: Tweaking the recipe from classic sugar cookies to a healthier version does not affect its delicious flavor at all!
Texture: Crispy, buttery, and melt-in-your-mouth cookies are everything we want in a sugar cookie.
Simple: This easy healthy sugar cookie recipe is made even easier by using just a few simple ingredients.
Freezer friendly: These cookies will keep frozen for months!
Travel friendly: Who doesn't love getting a surprise box of cookies? These make great gifts.
Ingredients You Will Need
To make healthy sugar cookies, you will need 6 simple ingredients.
Flours: I use almond flour for this recipe. It's gluten free, not as coarse and dark as an almond meal, and light enough to give it a lovely flavour. You will also need all-purpose flour or coconut flour for dusting before rolling. Almond flour does not work for dusting; if you need gluten free be sure to use coconut flour.
Baking soda: Adds a nice light and airy texture to the cookie. Helping it to rise to avoid a dense cookie.
Butter: Softened butter to give the cookies that melt in your mouth butter appeal.
Sweetener: You can use organic cane sugar or monk fruit extract. Both are great at putting the "sugar" in sugar cookies, without actually using refined sugar.
Eggs: Needed to bind the cookie dough together so the cookies don't crumble and fall apart.
Vanilla: Pure vanilla extract adds delicious flavour, as it usually does in many baking recipes!
Recipe Tip
Jazz up your healthy cookies with some icing and sprinkles, if desired. You can make a quick frosting by combining icing sugar and cold water. Then, add your favorite festive sprinkles!
How to Make Healthy Sugar Cookies
Before you begin making healthy sugar cookies, bring eggs and butter to room temperature.
Having all ingredients at the same temperature makes for even baking, but the softened butter will also be easier to blend into a creamy mixture.
Grab 2 large bowls. In the first, whisk almond flour and baking soda until lump free and smooth. And in the other bowl, beat butter and sugar with an electric mixer until combined and creamy.
Add eggs and vanilla to the butter and sugar mixture. Be careful not to over mix.
Fold in dry ingredients to the wet with a spatula and mix until a ball of dough forms. The cookie dough will be on the wetter side, no need to add more flour.
Chill the dough. Divide the cookie dough into two balls. Wrap each in plastic wrap and flatten it into disks. Chill in the fridge for 2 hours or the freezer for 1 hour.
Preheat the oven to 350 degrees F and prepare two large baking sheets with either unbleached parchment paper or silicone baking mats. Both are great as non-stick surfaces. Set those aside for now.
Roll out the dough. Remove the dough and take off the plastic wrap. Dust rolling pin with flour and roll out the dough to about 1/3" thick. This cookie dough is a bit delicate so we want it to be a bit thicker and sturdier.
Recipe Tip
The dough still hard? If, when you remove the dough from chilling, it's too hard to roll, allow it to warm up for about 5 minutes.
Cut out cookies: Using your favorite cookie cutters cut out as many cookies as you can and transfer them to the cookie sheet. These cookies will spread a bit, so be sure to leave about 2" of space in between each one. Combine the scraps, roll out again and continue cutting out cookies until you've run out of dough. Repeat with the second disk of dough.
Bake the cookies: Place cookies in the preheated oven for 12 minutes. You want to remove them before any browning starts to happen. Almond flour sugar cookies should have no more than a slight golden edge, and even that is too much for some people! Don't stray too far, keep an eye on them.
Remove and cool: Allow them to start cooling on the cookie tray for 15 minutes and then they can be moved to a wire rack to cool off completely.
How to Decorate Almond Flour Sugar Cookies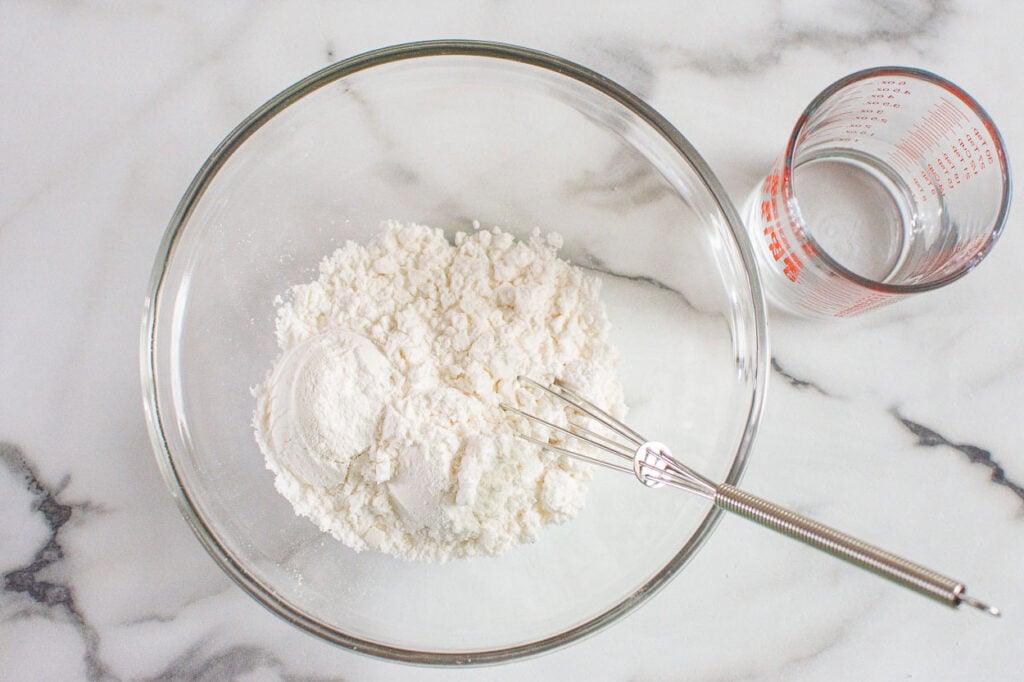 Combine powdered sugar and cold water: Stir together until there are no lumps.
Pour mixture into a piping bag if you're fancy, or a Ziploc or any sandwich-size resealable bag if you're like me. Push contents of the bag to one corner.
Cut the corner: Make a small snip in one corner of the bag and push the icing through. Start small! It's impossible to make a hole smaller, so start with a small snip and work your way up if needed.
Start with an outline first and then fill in the centre using a spatula to spread it around if necessary.
Add sprinkles, while the icing is still wet.
Set it aside to dry completely. This will take a couple of hours. Do not stack until then!
Variations
Sugar free sugar cookies: Replace with a dry sugar substitutes like erythritol or monk fruit sweetener.
Sugar free icing: Use the powdered version of either erythritol or monk fruit extract for icing. It's amazing!
Other icing: Try healthy buttercream frosting or even chocolate icing, instead.
Use for all holidays: These healthy sugar cookies are great and obviously festive for the holiday season, but they can be used for any occasion! Choose cookie cutter shapes that suit your needs, and the sprinkles to match.
Tips for Best Results
Avoid using almond meal: As similar as it is to almond flour, it's different enough. Almond flour is made from blanched almonds which creates a lighter, fluffier flour.
Measure your flour correctly: Do this by using a spoon to scoop out the flour from its original container into the measuring cup. Once you've spooned out your flour into the measuring cup, you'll notice it's probably piled high (or at least not level). Use the back of a knife, and scrape off the excess.
Don't forget, soft butter is not melted butter: Melted butter will create a crispy flatter cookie. As well, if you measure out the butter as melted butter, you'll be using a different amount of butter than what is needed.
To soften butter quickly: One of my favorite tricks is to use a tall glass or mason jar, fill it with water, and microwave the water until it's hot. While it's in the microwave, I will unwrap the stick of butter and stand it up vertically on a small plate. I then take the cup of water out of the microwave, dump the water (careful, it's hot) and place the empty glass write overtop of the butter. So now I've got a plate, a stick of butter, and a glass on top. I then transfer my setup into the microwave but don't turn it on. Let it sit there for 10 minutes and voila, soft butter.
Chill time: Do not skip this step, it is important for the cookies not to spread too thin.
Gentle mixing: Over beating your wet ingredients will cause the butter to possibly separate and no longer be smooth and creamy.
Fragile dough: Using a spatula to remove the cookie dough from the surface to transfer it to the baking sheet is sometimes helpful. This dough is delicate and soft, so a spatula can help to avoid ruining the shape of the dough.
Avoid over baking: Almond flour sugar cookies can quickly taste burnt if they cross the line from lightly golden to golden brown, which they can do quite easily. Just keep an eye on them.
Make sure your healthy treats are completely cooled before you start to add the icing: If not, the icing will thin out to a runny glaze from the heat.
How to Store Cookies
To store: Once completely cooled, healthier sugar cookies can stay at room temperature in an airtight container for up to 1 week.
To freeze: Transfer cookies to a freezer friendly bag or container. Separate layers with parchment paper and keep frozen for up to 6 months.
Shipping
Shipping: Gift a few to friends and family wrapped in a plastic bag with ties. To ship, I would let the cookie sit for 1 day first to really set for the sake of traveling.
Then, wrap 2 cookies back to back (bottoms to each other) with plastic wrap, place in an airtight container where they don't tumble around much, with a slice of bread, and ship! I wouldn't ship anywhere that takes longer than 5 days max. Just in case!
FAQs
Can I use whole wheat flour in healthy sugar cookies?
No, this recipe is for gluten-free sugar cookies. Unfortunately almond flour does not act like regular flour and your cookies will not turn out.
Can I make dairy free sugar cookies?
The only dairy in this recipe is regular butter. I don't recommend replacing it with anything, as a good sugar cookie has almost a shortbread buttery note to it, but if you want to, I suppose you could try vegan butter.
What happens if my dough is too sticky?
If you're following my recipe to the letter, you shouldn't have a dough that is too sticky. It will be a bit sticky, and more wet than dry. The dusting of the rolling pin will help it not stick, as will using a spatula to transfer from the surface to the baking sheet.
Why is rolled out cookie dough too dry?
This could be because you didn't use the correct amount of butter. Either that or it was still too cold from being in the fridge and it needs to warm up a bit. Leave it alone for a few minutes and then try again.
Can I tint my icing colours not with food coloring?
Many people have found success using natural food sources as colouring agents. For example, powdered beet, or beet juice extract or strawberry extract makes red, blueberry extract makes blue, turmeric makes yellow, you get the idea!
More Healthy Cookie Recipes to Try
Be sure to let me know how much you love these and my other healthy Christmas cookies!
Healthy Sugar Cookies
Add these Healthy Sugar Cookies to your Christmas cookies wish list this year! Incredibly light, buttery, and classically delicious, these almond flour sugar cookies is the perfect cookie to decorate as desired.
Ingredients
Icing and sprinkles (optional)
Instructions
In a large bowl, add almond flour and baking soda. Whisk until no lumps and set aside.

In another large bowl, add butter and sugar. Beat with an electric mixer until combined and creamy.

Add eggs and vanilla extract. Beat until combined well (don't overbeat to prevent butter separation).

Add flour mixture and stir with spatula until a ball of dough forms. Dough will be on a wet side.

Divide it into two balls, place on two separate sheets of plastic wrap, flatten into discs, wrap and place in the refrigerator for 2 hours or in the freezer for 1 hour.

Preheat oven to 350 degrees F and line two large baking sheets with unbleached parchment paper or silicone baking mats. Set aside.

Remove chilled dough from the fridge (or freezer) and unwrap. If very hard, let it warm up on the counter for 5 minutes. Dust the surface and rolling pin with all-purpose flour or coconut flour (see notes). You will need quite a bit as this dough is wet. Roll the dough 1/3 inch thick – a bit thicker than for regular cookies because this dough is delicate.

Using your favorite cookie cutters, cut out cookies and transfer to previously prepared baking sheet (loosening with small spatula if necessary), leaving 2 inches in between. These cookies spread a bit. Combine the dough scraps into a ball, roll it out, cut out cookies and repeat until you run out of dough. Repeat the same step with the second disc of dough.

Bake for 12 minutes. Remove them from the oven before visible browning and edges start to brown. You do not want that with sugar cookies – they should be of light color. Remove from the oven and let them cool off first on a baking tray for 15 minutes, then transfer onto a cooling rack to cool off completely.
To decorate cookies (optional)
In a small bowl, add icing sugar and water; whisk until smooth and no lumps.

Transfer to a sandwich size resealable bag, push to one corner, twist bag on top and cut a small hole at the tip.

Decorate cookies as you wish by pushing icing through the hole. Pipe the outline of the shape of a cookie, fill in the middle and push around with small spatula or tip of piping bag to cover completely.

To add sprinkles, place a few cookies while icing is still wet in a large bowl with edges, sprinkle with sprinkles, shake off excess and transfer onto flat surface to dry. You can transfer remaining sprinkles back into the bottle when done.

Let icing dry and it will harden and set within a couple of hours. Do not stack them until then.
Notes
Store: Store in an airtight container for up to 1 week.
Freeze: For up to 6 months.
Flour substitutions? Unfortunately not with this recipe.
What is softened butter? Do not confuse softened butter with melted butter.  Melted butter will not work in this recipe – baking is a science.
Do not overbake cookies: Remove them from the oven before visible browning and edges start to brown. You do not want that with sugar cookies – they should be of light color.
Nutrition
Serving:
1
cookie (with cane sugar)
|
Calories:
159
kcal
|
Carbohydrates:
12
g
|
Protein:
3
g
|
Fat:
12
g
|
Saturated Fat:
3
g
|
Trans Fat:
1
g
|
Cholesterol:
22
mg
|
Sodium:
149
mg
|
Fiber:
2
g
|
Sugar:
9
g