Giant Healthy Skillet Cookie with almond flour, chocolate chips, reduced sugar, and less butter! Made fresh right in your cast iron skillet, the results are a rich and gooey classic dessert that's chewy, soft, and irresistible.
This easy lightened up cookie recipe will become your new weeknight dessert along with almond flour chocolate chip cookies and healthy edible cookie dough. It "made the cut" here!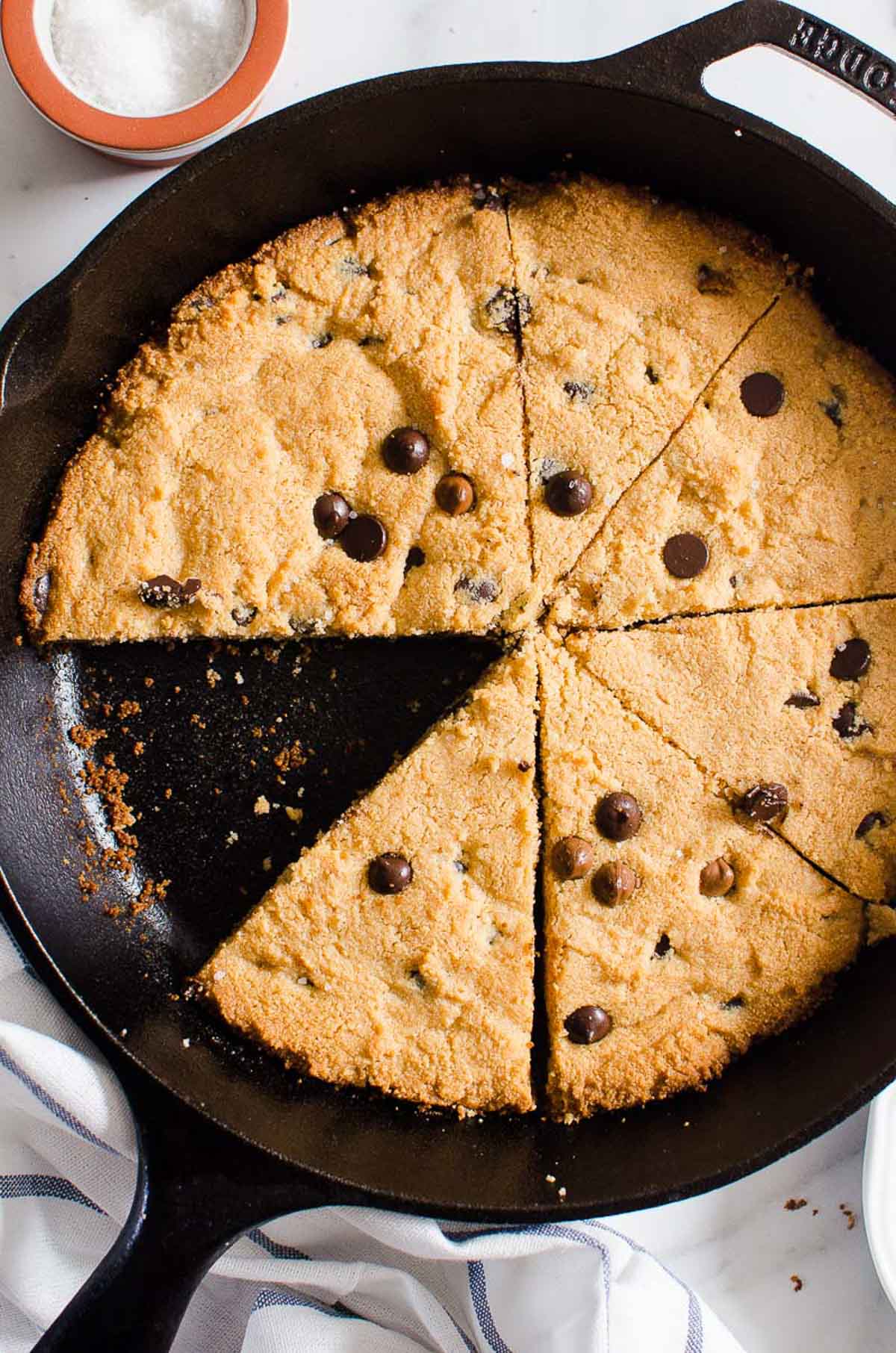 This healthy skillet cookie recipe is to die for! And I dare you to find another giant cookie recipe that contains twice less butter, six times less sugar, and ten times less carbs.
This chocolate chip skillet cookie is the best! Top with a scoop of healthy chocolate ice cream or vegan vanilla ice cream for an even more indulgent treat.
This pizookie cookie (pizza cookie) is chewy with crispy edges, sweet, and absolutely indulgent tasting. No one will be able to tell it is made with better for you ingredients, just like all my other healthy cookie recipes!
What Makes This Recipe Healthier
Coconut sugar: This natural sweetener tastes great plus has a low glycemic index.
Almond flour: Is not only grain free and naturally gluten free, it contains vitamin E and other antioxidants.
Dark chocolate chips: Are lower in sugar, dairy free, and rich in flavanols!
Ingredients You'll Need
Simple ingredients that you probably already have on hand come together easily in this grain free treat!
Almond flour: This recipe uses finely ground almond flour. Here is a quick tutorial how to make almond flour at home.
Eggs: Gotta use eggs for cookies as they act as a binder to hold your giant cookie together.
Coconut oil or butter: You can use either and consistency should be softened. Butter yields more cookie like texture, coconut oil will result in more crispy edges cookie. I used coconut oil.
Sugar: Cane sugar or refined sugar free coconut sugar are my preference.
Baking soda: Gives this giant healthy cookie in a pan recipe some rise.
Vanilla extract: Gives baked goods additional flavor.
Chocolate chips: Dark chocolate chips for a decadent cookie. I also love to use mini chocolate chips for even distribution.
Oil: To brush your cast iron skillet to prevent sticking.
How to Make a Healthy Skillet Cookie
This healthy skillet cookie is so easy to make, you may want to make it every day! You only need a few simple kitchen tools, it's made in one bowl, and ready to eat in just over 30 minutes.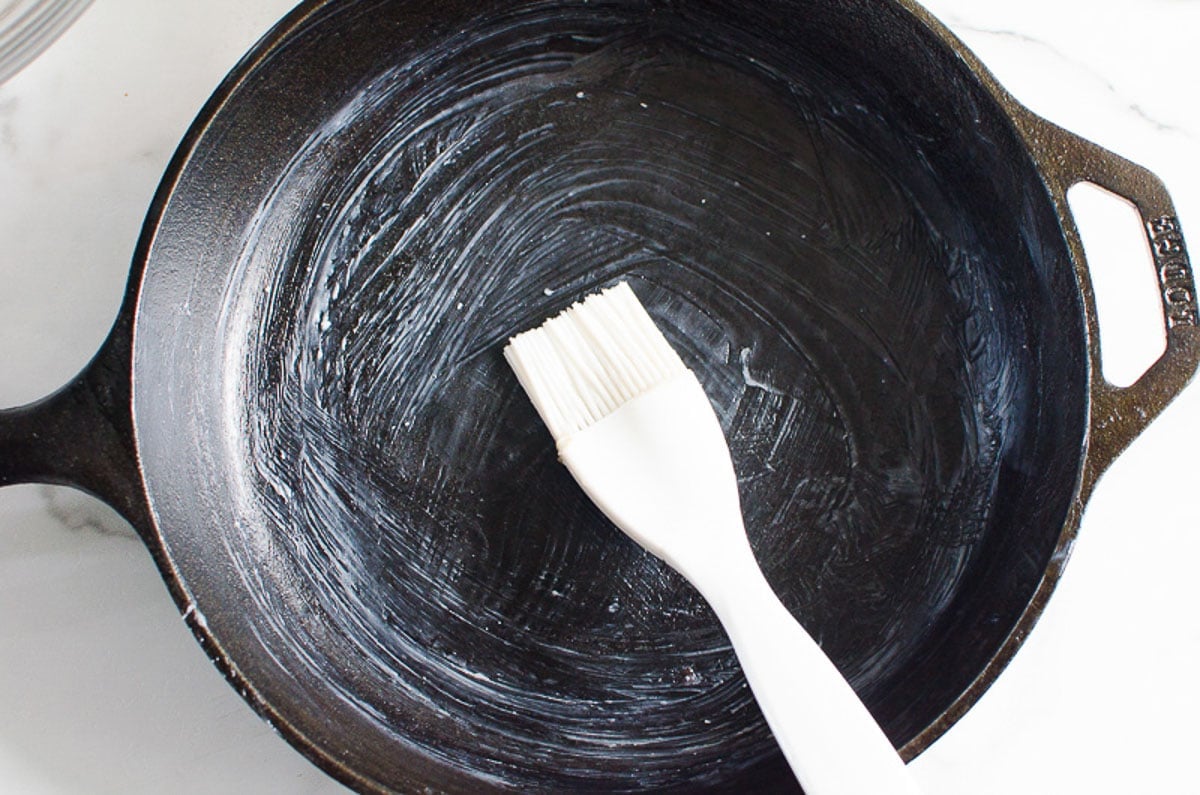 Prep. To begin, preheat oven to 375 F degrees and oil your cast iron skillet.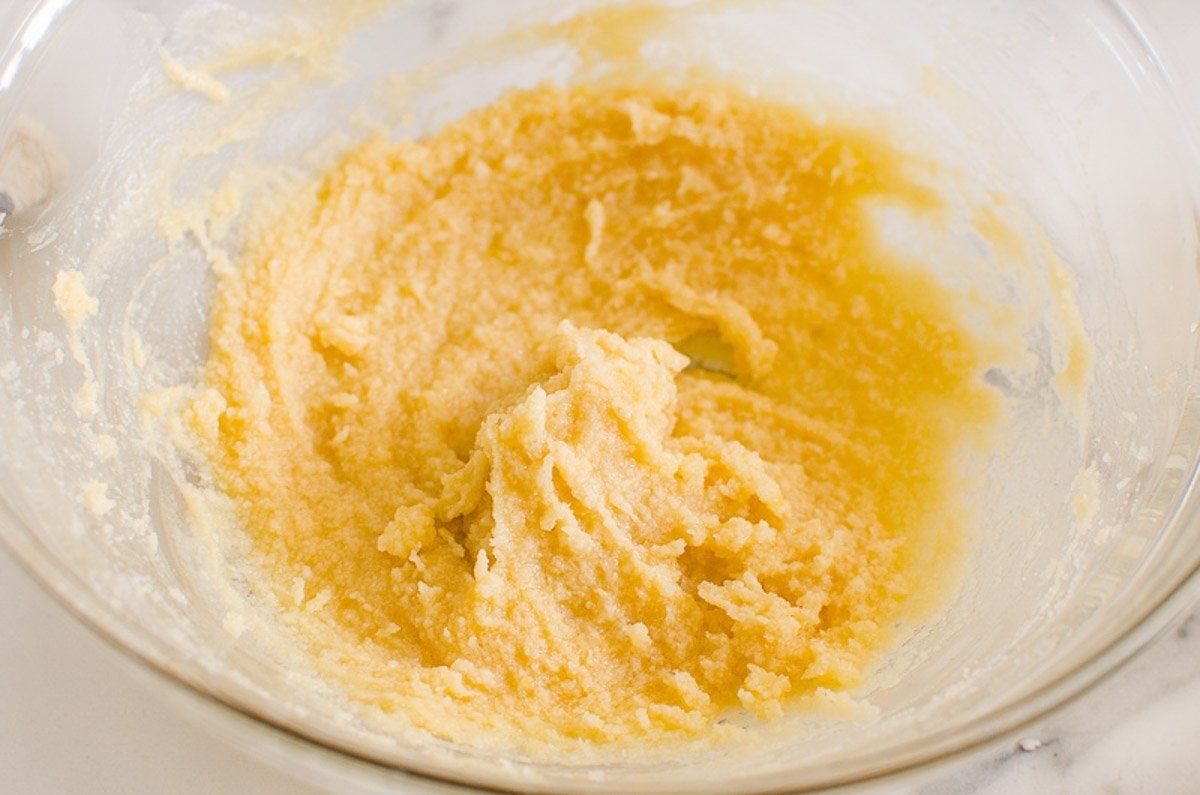 Soften the oil. Measure oil/butter before softening then place in a large mixing bowl and warm up in a microwave. It should be softened and almost melted but not piping hot.
Add sugar, eggs, baking soda, vanilla, salt and whisk well. If oil is too hot by accident, whisk in everything first, wait a few minutes and then whisk in the egg. Consistency might become very thick as egg cools off the oil and causes it to solidify.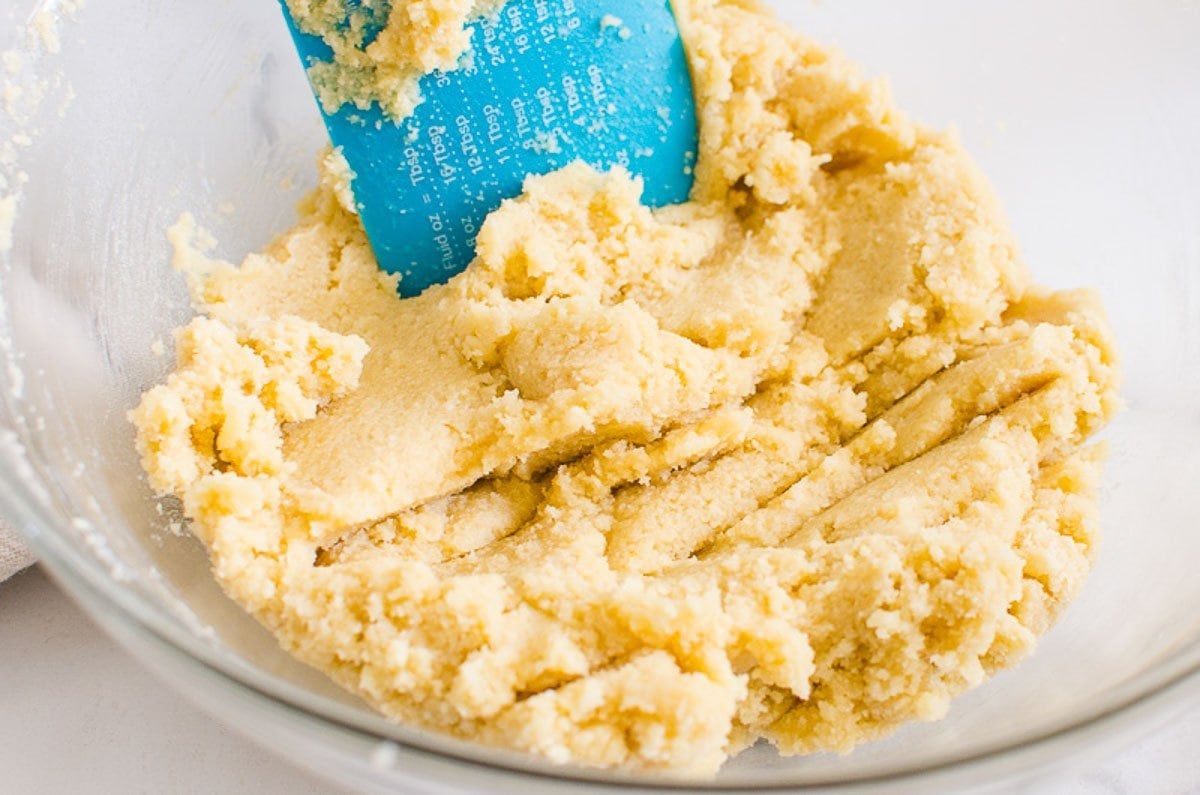 Add almond flour: Stir well with spatula. Cookie dough will be thick.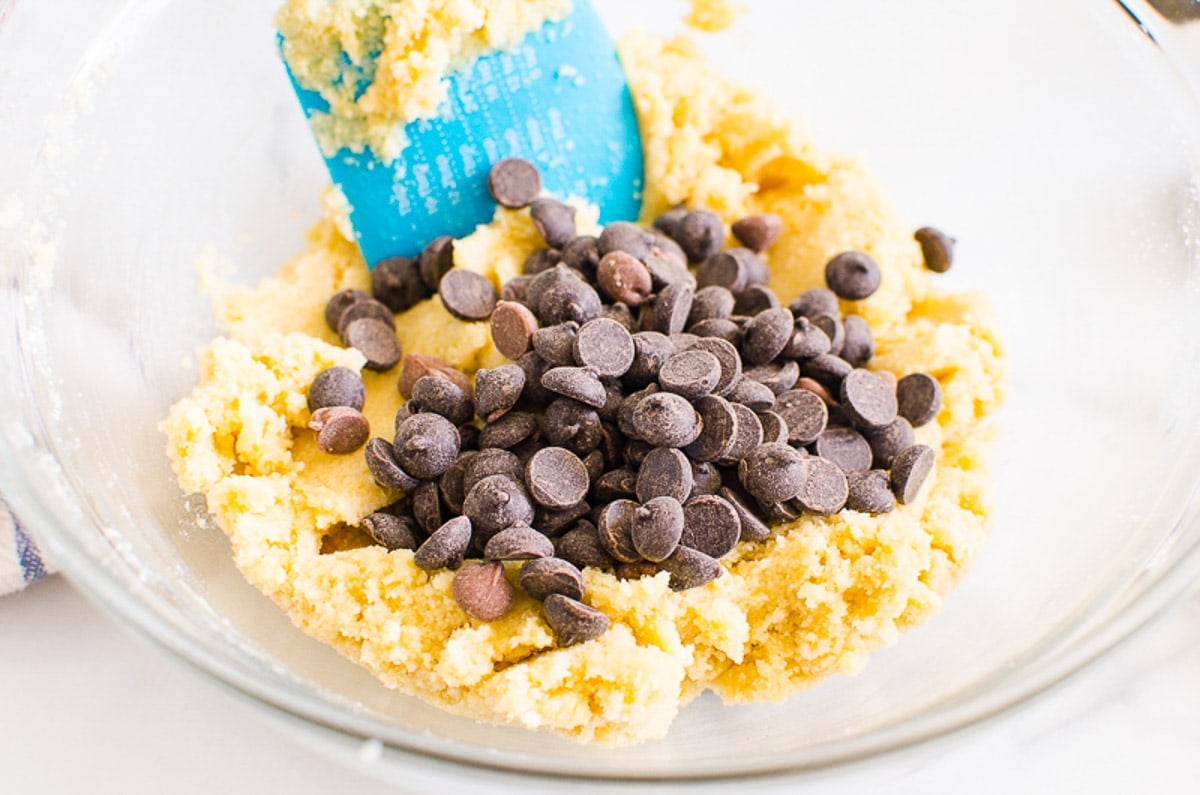 Add chocolate chips. Give a few stirs until mixed in.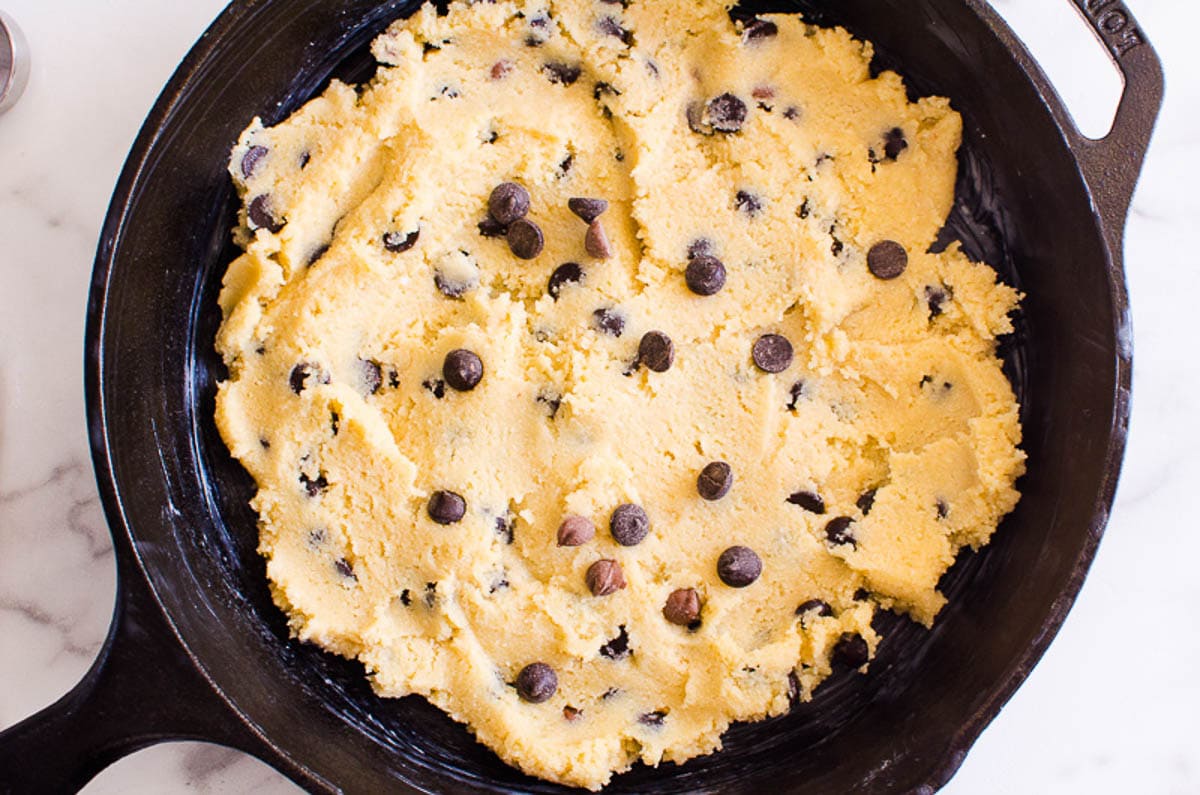 Arrange in a 10 inch cast iron skillet. Spread thick cookie dough and level with spatula in the skillet.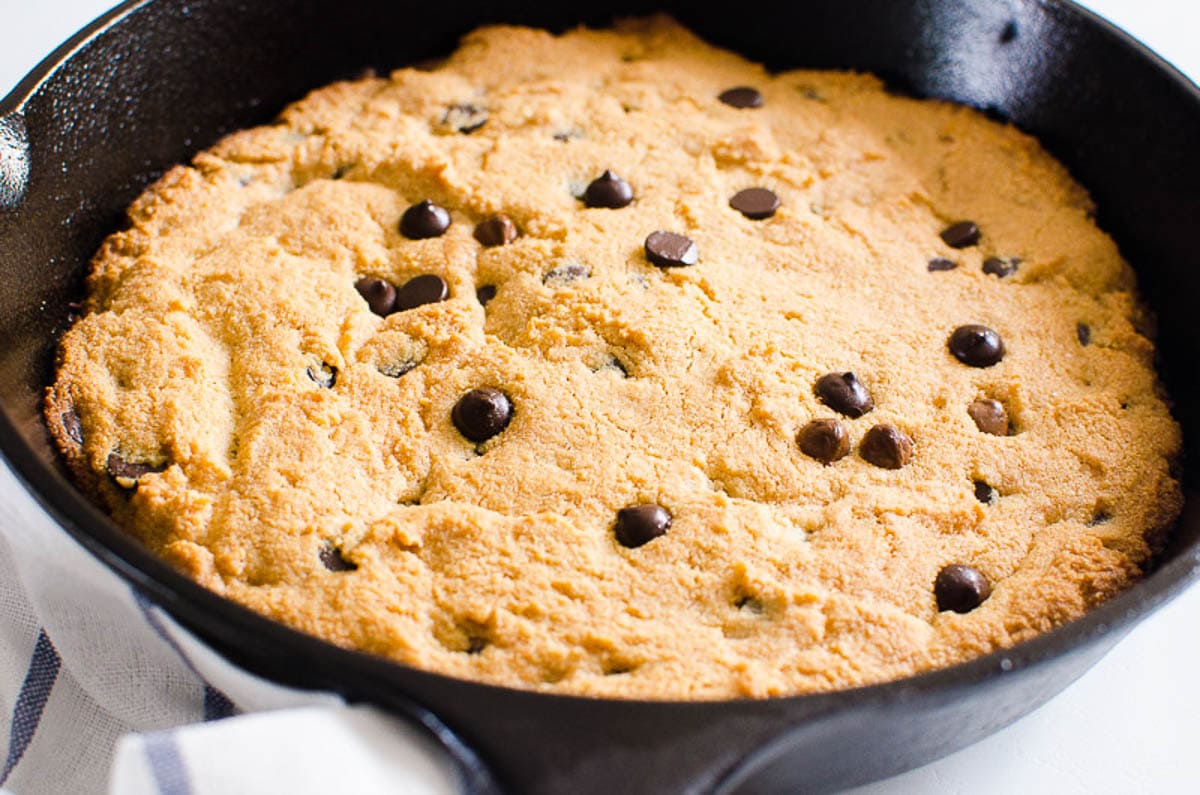 Bake for 25-30 minutes. Or until top is golden brown and your kitchen smells amazing. No need to do a toothpick test because gooey cookies actually taste great when "underbaked". Cool for 10 minutes and cut into 8 slices.
Variations and Substitutions
Whether you ran out of an ingredient or just want to customize this healthy skillet cookie here are a few options!
Almond flour: Has to be almond flour! I think almond meal would work, cookie will be more dense, but fudgy cookies are delicious. You might also want to browse all my favorite almond flour recipes.
Eggs: I personally have not tested this healthy cookie recipe with a vegan egg replacement, but I successfully used chia seed egg in almond flour banana bread so it may work! For every egg, you mix 1 tbsp of water to 3 tbsp ground chia seeds.
Sugar: Regular white granulated sugar or brown sugar will work as well. Maple syrup or honey can be used, but they will result in very cake like cookie.
Baking soda: If you are in a pinch and all out of baking soda but still want to make this giant chocolate chip cookie skillet, you can use 3x the amount of baking powder.
Chocolate chips: Try chopping up your favorite dark chocolate candy bar for a 'chunkier' healthy skillet cookie. Use your favorite milk, semi-sweet, peanut butter chips or mini chips!
Add nuts: Add in 1/4 cup of chopped pecans or walnuts when adding your chocolate chips.
Tips for Best Results
A restaurant quality chocolate chip skillet cookie is divine! Here are my best tips to bring this quality into your own kitchen.
Grease your cast iron skillet. For easy cookie removal from the skillet.
Sprinkle coarse sea salt. Right when the cookie is removed from the oven for "a salted caramel" experience.
Sugar + butter. Your healthy skillet cookie will be more chewy and cookie like.
Maple syrup + coconut oil. Giant cookie will more cakey and crispy edges like.
Do not over bake your cast iron skillet cookie. Bake only until the cookie is golden brown on the top, heat from the skillet will continue to cook it as it rests.
Wait 10 minutes before eating. Cookie will become more chewy the longer it sits.
Make ahead. Cookie dough can be refrigerated for 2 days or frozen for up to 3 months. Thaw but no need to warm up before baking.
How to Store and Reheat Leftovers
You have anything left to store?! Healthy skillet cookie never lasts that long in my house!
To store: Cover with a towel and leave on a counter to polish it off next day.
To reheat: Warm leftovers in a microwave safe bowl or container. Do not microwave in the cast iron skillet. Alternately, warm up the cookie in the skillet in the oven at 375 F degrees for a bit.
FAQs
Do I need a cast iron skillet?
Yes. Cast iron distributes heat evenly and rally bakes the crusty outside skillet cookie. I don't know anyone who bakes cookies in "regular" skillet.
What other cookie mix-in's could I add?
Try chocolate coated candies, peanut butter cups for a peanut butter cookie skillet, crushed pretzels, sprinkles, or basically anything you might want to add to a chocolate chip cookie!
How do I serve my giant skillet cookie?
While ice cream is obvious, you might also like to drizzle it with this coconut cream from or even this healthy chocolate frosting!

I love to eat it with a banana, it's almost like eating healthy banana cream pie!
Can I use a miniature cast iron skillet?
Of course! Unless you have a few skillets though, you may need to divide the recipe in half, or make some now and store some to make for later!
More Healthy Cookie Recipes To Try
Also be sure to browse these healthy Christmas cookies
Healthy Skillet Cookie with Almond Flour
Giant Healthy Skillet Cookie is a rich and gooey classic dessert that is chewy, soft, and irresistible.
Instructions
In a medium bowl, melt coconut oil or butter. Add sugar, vanilla, baking soda, salt and whisk well. Add egg and whisk very well. Make sure coconut oil isn't too hot to cook the egg.

Add almond flour and stir to combine. Add chocolate chips and give a few stirs just to incorporate. Transfer into prepared skillet and level with spatula.

Bake uncovered for 20-25 minutes or until top is nice golden brown.

Remove from the oven and let skillet cookie cool for 10 minutes. If you have a willpower to let cookie cool down longer, it will become more chewy. It is hard though. Cut into 8 slices and enjoy!
Notes
Store: Cover with a towel and leave on a counter for up to 48 hours.
Make ahead: Cookie dough can be refrigerated for 2 days or frozen for up to 3 months. Thaw but no need to warm up before baking.
Has to be almond flour. Probably almond meal will work, cookie will be more dense.
Measure oil or butter before melting approximately.
Texture: Butter will yield more soft cookie, coconut oil cookie will have more crispiness.
Nutrition
Serving:
1
slice
|
Calories:
355
kcal
|
Carbohydrates:
16
g
|
Protein:
8
g
|
Fat:
31
g
|
Saturated Fat:
15
g
|
Cholesterol:
41
mg
|
Sodium:
76
mg
|
Fiber:
3
g
|
Sugar:
8
g