This Instant Pot Chili with ground beef, canned or dried beans, and a few pantry staples is thick, hearty, and flavorful. A reader shared award-winning recipe originally called Two Day Three Bean Chili now made in under 2 hours!
Want a lighter Instant Pot chili? Try our Instant Pot turkey chili, Instant Pot white chicken chili or Instant Pot vegetarian chili.
I'm so excited to share this 4-time competition-winning chili a reader sent me! I had to try it out for myself in the Instant Pot and now I totally see why it won! It's much heavier and fattier than my slow cooker turkey chili and healthy white chicken chili but don't get it twisted, fat is full of flavour and isn't the enemy we once thought it was!
This healthy chili recipe contains a shorter-than-average list of classic ingredients like ground beef, tomatoes, beans, and a couple of spices. This ultimate cozy bowl of chili is super simple to make, brimming with flavour, and all done in one pot in under 2 hours!
That is the magic of healthy Instant Pot recipes, I am in obsessed!
Why Make Beef Chili in Instant Pot?
So easy: Fewer ingredients than many other chili recipes out there, plus a one-pot meal that cooks itself is a bonus!
Healthy & hearty: Full of protein, fibre and wholesome ingredients that is also gluten-free, dairy free, and sugar free.
Flexible: Adjust the seasonings and spice level, swap the type of beans, choose a different protein, it's up to you!
Great for leftovers: Is there anything better than leftovers for lunch or dinner the next day that you can just grab and heat up?
Ingredients for Instant Pot Chili Recipe
Instant Pot chili recipe has all the usual suspects of a beef chili recipe.
Ground beef: I used 97% lean ground beef. You can use any fat %, ground bison, or any game meat, like venison, moose etc.
Beans: This recipe uses a combination of drained and rinsed red kidney beans, cannellini beans, and black beans. You can also use cooked Instant Pot kidney beans and Instant Pot black beans, or here is step-by-step tutorial how to cook dried beans on the stove. Please see how to make this Instant Pot chili with dried beans below.
Salsa: The thick and chunky kind! You can also use Picante sauce which I had never heard of because I grew up in Ukraine. Picante means hot, so your favourite hot sauce should work.
Diced tomatoes: Do not drain diced tomatoes. And again I recommend low sodium. If you prefer the texture of crushed tomatoes, go for it.
Tomato paste: Low sodium (again!) paste makes this chili thicker, hearty, and with a deeper flavour and colour.
Spices: The usual suspect is chili powder (makes the best chili lime chicken too). That's it! However, if you like more spice and smokiness, add chipotle powder or chipotles in adobo sauce.
How to Make Instant Pot Chili with Canned Beans
Brown ground beef: Use a wooden spoon to break it up into small pieces, for about 5 minutes. Please note, in this case the meat can still be a bit pink because it will become fully cooked by the end or pressure cooking.
Brown bits stuck to the bottom? If necessary after you've browned the meat, deglaze the bottom of the pot with stock using a wooden spoon to scrape those flavorful bits. Drain the fat, if desired (I do) by tilting the pot to drain. Make sure to flatten the meat after.
Combine all ingredients in the following order: Add canned beans, stock, salsa, diced tomatoes, tomato paste, chili, and chipotle powders. Do not stir to avoid the dreaded Burn.
Pressure cook for 40 minutes: Press Manual or Pressure Cook on High pressure. Please ignore the Chili/Stew button if your Instant Pot has it. Even if you use canned beans, a longer time is necessary for the depth of flavour. Don't worry, the beans won't fall apart!
Release the pressure after 15-30 minutes: Turn the valve to Venting. You can also let it naturally release and then keep it on the warm function the entire day for even more flavour.
How to Make Instant Pot Chili with Dried Beans
I love-love-love making soup and stews, and salads with dried beans. 3 times cheaper, no BPA, and 100 times less sodium.
No need to soak: Rinse and drain dried beans. Soaking is done to speed up the cooking process and to help with digestion. The pressure cooker makes that unnecessary!
Remove these ingredients: Skip 3 cans of beans and 1/2 cup broth.
Add these ingredients: An equal mix of 2 cups of three kinds of dried beans: red kidney, cannellini, and black. Also, add 4 cups of low sodium stock.
Adjust seasoning: I recommend adding up to 1/4 tsp salt as dried beans are salt-free.
Optional Add-In's and Variations
Aromatics: There are no garlic and onions found in this specific recipe but if you like those flavours by all means add some minced garlic cloves and chopped onions in when you're cooking the ground beef.
Cumin: This is a popular addition to chili and a little bit gives it an earthy note that strikes a nice balance with the spicier chili.
Protein: Ground beef adds a lot of flavour, but if you're looking for a lighter version using this recipe think about using ground turkey or ground chicken instead.
Vegetarian: Want to make this chili without meat? You can replace it with tempeh or mushrooms, or just leave it out completely and maybe increase the number of beans if you want.
More vegetables: Bell peppers, mushrooms, zucchini, and broccoli are great add-ins if you want to increase your veggies.
Tips for Best Results
For a 3-quart Instant Pot, cut the ingredients in half but use the same cooking time.
To make this a kid-friendly milder version do not use more than 1/4 t chipotle powder.
For a spicier version add more chipotle powder to taste.
If you're using chipotle chilis in adobo sauce, freeze leftovers for later.
FAQs
Can I make beef chili on the stove?
Yes. Use the stovetop to brown the meat first. Then add the rest of the ingredients and simmer this chili for hours on the stove, stirring occasionally. Easy-peasy.
How can I make this Instant Pot chili recipe in my slow cooker?
Crockpot chili is perfect if you have a slow cooker. It's the cooking method the original recipe uses. You have to cook chili low and slow for 8 hours after browning the meat. Then you let it sit overnight for flavors to "marry each other". Then reheat for 2 more hours before serving the next day. See, why I love my Instant Pot so much? This type of stew really benefits from days of flavours blending and the Instant Pot does it in a few hours.
How can I make even thicker chili in Instant Pot?
There are a couple of ways to do this. You can remove some of the beans from the pot once they've cooked and mash them and add them back in. The portion of the mashed beans will create a thicker consistency.
If you're not into mushy beans you can make a cornstarch slurry with cornstarch and cold water. Mix it and pour it into the chili at the end.
How to do I make Instant Pot chili without burning?
Following the directions as listed, by layering the ingredients is key. The ingredients that contain more sugar (natural or otherwise) will burn quicker when placed on the bottom of the pot. The canned beans added first act as a barrier to all of the sauces, which is why it's important not to stir.
Can I use frozen ground beef for chili?
You can! Check out Instant Pot frozen ground beef for a quick and easy way to get your beef ready to add to this chili recipe.
Can I overcook chili Instant Pot?
It's hard to especially if you're following a recipe. Technically I suppose you could but this would mean you've set the cooking time for far too long. Otherwise, chili can stay warm and heated for a long time and gets more delicious on the way!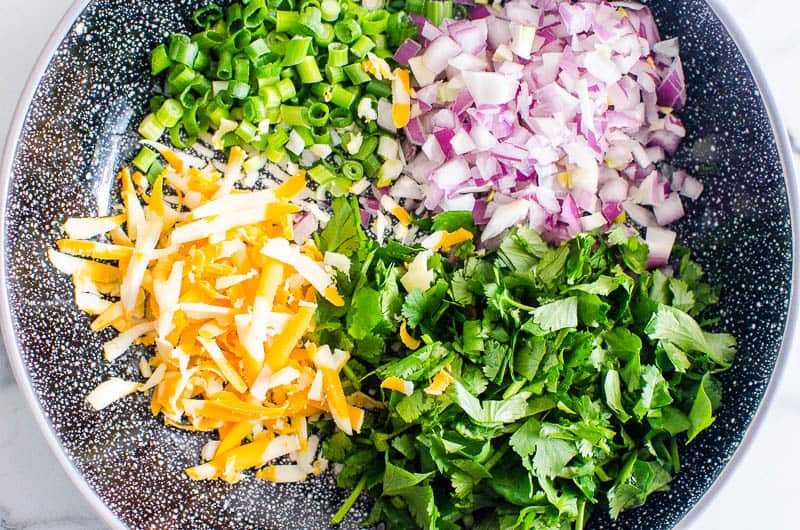 How to Top Instant Pot Chili
I am sure you have your favorite way to eat chili. I like to keep my toppings to 4-5 to get a proper taste of everything and not overwhelm the taste buds. But it's all up to you! Here are my favorite toppings:
Red onion: Adds a nice zing without being too spicy.
Green onion: Same thing with added freshness.
Cilantro: A staple in chili. Fresh herbs elevate any dish.
Shredded cheese: Melts and becomes gooey in a bowl of hot stew. I love using freshly grated cheddar cheese or Colby Jack cheese.
Sour cream or yogurt: Depending on the day for additional zing and creaminess, also tones down 'spice' if you are sensitive to that.
Avocado: Learn how to cut avocado for the perfect sliced or diced creamy addition.
Limes: Serve with lime wedges for some freshly squeezed lime juice to top it off.
Tortilla chips: Enjoy them whole and use them to scoop up some chili or cut them into strips or crush them up as a garnish.
Entertaining a crowd? Set up a DIY chili bar and have everyone pick and choose their own toppings! Keeping the pot of chili on warm is also a great way to have everyone serve themselves. Less work for you 🙂
What to Eat with Homemade Chili?
How to Store
Refrigerate chili in an airtight container for up to 5 days. Chili is like fine wine or borscht soup that only gets better the next day. You will be amazed at how good it tastes throughout the week.
Chili freezes beautifully! Transfer the same container to the freezer. Be sure it's airtight to avoid freezer burns. Then thaw on a counter for at least 6-8 hours when you're ready to enjoy it again.
Reheat chili in a pot by simmering on low until warmed through, stirring occasionally. Chili will thin out a bit as it becomes hotter and hotter.
More Instant Pot Recipes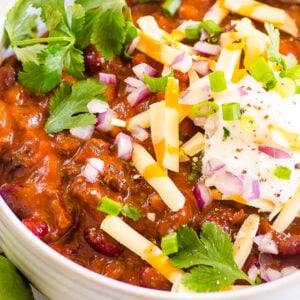 Instant Pot Chili
Instant Pot Chili with ground beef, canned or dried beans, and a few pantry staples is thick, hearty, and flavorful. A reader shared award-winning recipe originally called Two Day Three Bean Chili now made in under 2 hours!
Ingredients
1

lb

ground beef

1/2

cup

low sodium broth

stock or water

15

oz

can low sodium black beans

drained & rinsed

15

oz

can low sodium cannellini beans

drained & rinsed

15

oz

can low sodium kidney beans

drained & rinsed

24

oz

jar picante sauce or thick + chunky salsa

15

oz

can low sodium diced tomatoes

undrained

6

oz

low sodium can tomato paste

2

tsp

chili powder

1/4

tsp

ground chipotle pepper

optional
Instructions
On 6 or 8 quart Instant Pot, press Sauté and let appliance preheat until display says Hot. Add ground beef and cook for 4 minutes, breaking into small pieces with spatula often. Meat doesn't have to cook through. Press Cancel and drain the fat, if you wish.

Add canned beans (see notes for dried beans), salsa, diced tomatoes, broth, tomato paste, chili powder and chipotle powder. Do not stir to avoid Burn.

Close the lid, set pressure vent to Sealing and press Pressure Cook on High or Manual for 40 minutes.

After allow pressure to come down naturally for 15-30 minutes and release remaining pressure using

Quick Release

by turning pressure valve to Venting position, which takes 2 minutes.

Open the lid, stir and serve hot with your favourite toppings. Chili thickens with time and tastes even better the next day.
How to Make Chili in Slow Cooker
Brown ground meat in a skillet.

Combine all ingredients in large slow cooker, stir and cover.

Cook on Low for 8 hours.

Turn off slow cooker and let sit covered overnight. It allows chili to blend spice flavors naturally.

The next morning, reheat chili on low setting for 2-4 hours and then stir well.
Notes
Store: Refrigerate in an airtight container for up to 5 days.
Freeze: Fully cook, cool completely and freeze in an airtight container for up to 3 months. Thaw on a stovetop covered on low.
To make chili with dried beans (no soaking): Replace 3 cans of beans + 1/2 cup stock with 2 cups

dried

beans (equal mix of 3 kinds) + 4 cups low sodium stock + 1/4 tsp salt

.
For 3 quart Instant Pot, cut ingredients in half but keep same cooking time.
If your meat is frozen, quickly thaw it using my Instant Pot frozen ground beef.
If you like spicy chili, add more chipotle powder to taste. 1/4 tsp makes mild chili perfect for kids.
Instead of chipotle powder, you can use finely diced chiles in adobo sauce from a can. Then freeze leftovers.
Don't use Chili button, if your Instant Pot has it. Manual set time is the best.
Nutrition
Serving:
1.5
cups
|
Calories:
346
kcal
|
Carbohydrates:
32
g
|
Protein:
19
g
|
Fat:
12
g
|
Saturated Fat:
4
g
|
Cholesterol:
40
mg
|
Sodium:
557
mg
|
Fiber:
11
g
|
Sugar:
7
g