Get perfectly poached eggs every time without the stress because Instant Pot Poached Eggs are genius! Serve with Ukrainian breakfast potatoes, a slice of tomato, and some avocado toast and you've got a complete breakfast in minutes!
Eggs give us so many nutrients and are high in Omega 3's so I like to eat them whenever I can. Healthy egg salad, Instant Pot hard boiled eggs and Instant Pot Egg bites are just a couple of the ways I like to switch it up for a quick easy meal during the week.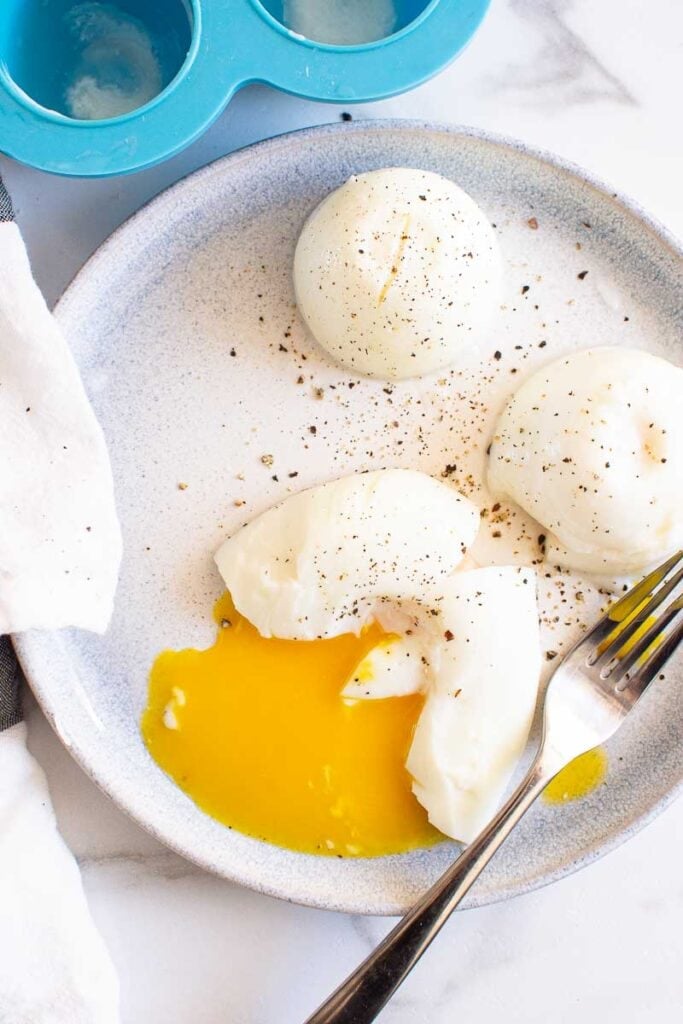 Instant Pot Poached Eggs
Instant Pot poached eggs is a life hack that is a game-changer when it comes to cooking eggs. Gone are the days of carefully trying to drop an egg into boiling water and hoping you're timing it just right. Poached eggs in Instant Pot take the guesswork (and the stress!) out of all of that and give you perfectly poached eggs every time. A simple seasoning of salt and pepper or some Everything Bagel Seasoning takes these eggs up a notch!
Serve them alongside hashbrown breakfast casserole, Ukrainian breakfast potatoes, chocolate chia pudding, or maybe a simple strawberry smoothie. Starting your day off with a filling, high protein, and complete breakfast has never been easier!
One of the best things about eating breakfast or brunch at a restaurant is ordering meals you don't normally make at home. Save yourself some time and money by cooking poached eggs in a pressure cooker. Now you can do it up big any day of the week without breaking the bank! They are super simple and ridiculously fast! Quick and easy is exactly what we want on busy mornings.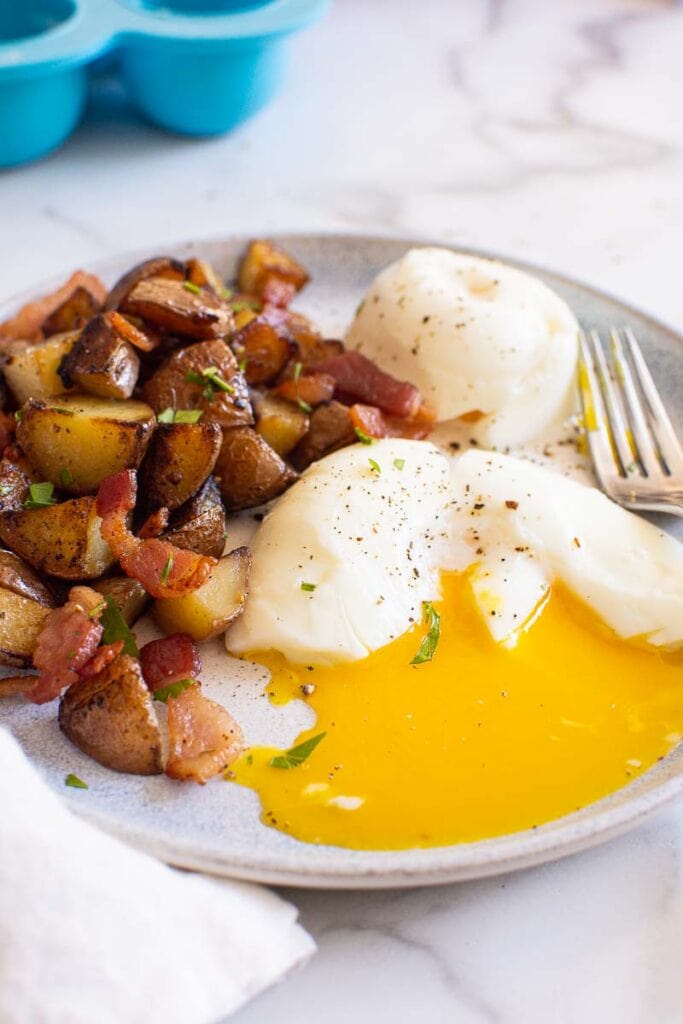 What you Need for Poached Eggs in Instant Pot
Along with these 4 basic ingredients you'll also need your silicone molds and you'll be enjoying homemade poached eggs in no time! It is also great for cheesecake bites, so it's multi-purpose!
Eggs – There is no limit to the number of eggs you can cook at a time.
Water – Need a bit of cold water to add to each individual mold as well as for the Instant Pot itself.
Cooking spray – A bit of cooking spray will help the eggs slice right out of the mold.
Seasoning – A sprinkling of Everything Bagel seasoning is delish! Salt and pepper are always a hit.
How to Cook Poached Eggs in Instant Pot
This foolproof guide to 10-minute Instant Pot poached eggs in egg bite mold allows you to cook as many as you want at a time. Check it out!
Prepare mold and add egg: Spray your molds (however many you're using) with cooking spray and add a tbsp of water. Crack an egg into each mold. If you are just using one tray, you don't need to cover it. If more than one, cover it.
Add water and trivet: Add a cup of water to the Instant Pot and use the trivet with handles to place the molds inside the pot.
Cook and release: Close the lid and set the valve to Sealing. Cook until poached eggs are done then immediately release the pressure. Remove the molds from the pot.
Serve: Carefully going along the walls of each mold, gently remove the eggs onto a plate. Serve with a simple seasoning of salt and pepper or Everything Bagel Seasoning and a generous helping of delicious Ukrainian potatoes.
How Long to Cook Poached Eggs
Below is a guideline based on the size of your Instant Pot and how long you cook them for. It may change depending on the size of your Instant Pot.
Generally speaking:
5 minutes will give you solid egg whites with a firmer yolk.
4 minutes will give you soft eggs white with a slightly runny, soft yolk.
3 minutes will give you soft whites with a runny yolk.
°6 quart Instant Pot: On High Pressure for 3 minutes.
°8 quart Instant Pot: On Low Pressure for 4 minutes. If you don't have low pressure, you can try 2-3 minutes on High. A larger pot takes longer to build up pressure, so it may come out a bit overcooked. Test and see!
More Tips
Serve immediately: For best results and an enjoyable taste experience, serve eggs immediately out of the molds.
Centering the yolk: If you're looking for pretty-looking poached eggs, here's a neat little trick. Crack your egg and separate the yolk by keeping it in the shell. Allow the egg whites to fall into the mold. Then carefully place the egg yolk in the centre of the whites. I'm not sure who needs this, but here you go!
Condensation droplets: Condensed steam may collect on the lid. When you're removing them be careful not to allow the water to drip back onto your eggs.
Same cook time: Cooking time is the same no matter how many eggs you're poaching at once.
No cooking spray? You could also try coconut oil or ghee to line the molds if you don't have any cooking spray.
Glass vs. Silicone. Glass bowls will cook differently than silicone. You'll need to lower your cook time if you choose to use ramekins.
FAQs
Can I use a ramekin in the Instant Pot?
If you don't have silicone molds made specifically for the Instant Pot, then by all means you can use a ramekin. Depending on the size of your Instant Pot, you could potentially fit about 4 in there at once. Alternatively, you could also use a mason jar as long as they are OVEN SAFE! Glass containers will heat up differently than silicone, so you may find that you need to adjust your cook time.
Do I need to add vinegar?
Traditionally, when you make poached eggs, adding vinegar to the boiled water helps keep the egg whites in tact. Cooking poached eggs in an Instant Pot means they don't make direct contact with any boiling water, therefore no vinegar is needed!
How to make Healthy Eggs Benedict?
Eggs Benedict is a North American breakfast staple, made popular by brunch enthusiasts. It's an open-faced English muffin layered with bacon, a poached egg, and a topping of Hollandaise sauce. Making a healthier version of hollandaise sauce is easy peasy. So good!
Poached vs. Boiled
Both eggs are cooked in water, but each method yields different results. A boiled egg is cooked in its shell. Once it's cooked, you peel it revealing a cooked egg with a solid yolk, depending on how hard or soft boiled it is. Boiled eggs are great for avocado egg salad, adding protein to your green salads like healthy cobb salad, having a snack on the go, and perfect for packing in lunches.
Poached eggs are not cooked in the shell. They are typically made with the yolk still runny. How long they are cooked will determine how runny the yolk is. Poached eggs are great on toast, as a signature part of Eggs Benedict and a traditional brunch item.
What to Serve it With?
Make Ahead & Reheating
Make ahead: Poached eggs are definitely best eaten right away. If you do find you have leftovers or have made enough for healthy breakfast meal prep then they will keep in the fridge in an airtight container for up to 2 days.
Reheat: To reheat, boil a bit of water in a pan and remove it from heat. Lower the eggs into the water for about a minute until heated through.
More Favorite Egg Recipes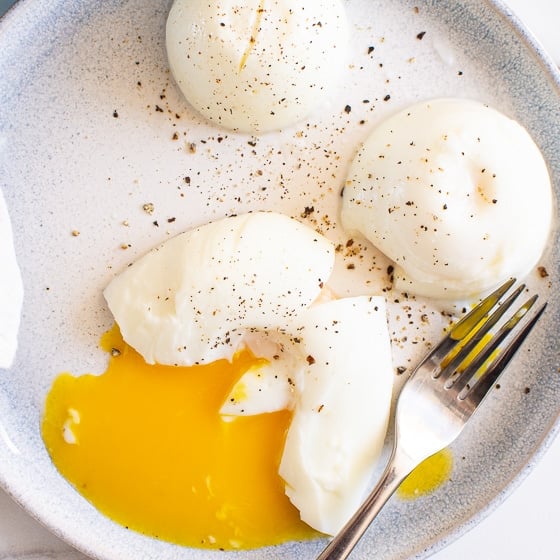 Instant Pot Poached Eggs
Get perfectly poached eggs every time without the stress because Instant Pot Poached Eggs are genius!
Print
Rate
Ingredients
1

egg

1

tbsp

cold water

Cooking spray

Salt, pepper, Everything Bagel Seasoning

for garnish
Instructions
You can cook as many poached eggs as you like at same time. Spray silicone mold with cooking spray, add 1 tbsp cold water and crack egg in it.

Cover with lid if it's silicone, or foil if it's plastic. Can also be left uncovered if cooking only 1 tray. Place mold on a trivet with handles.

Add 1 cup cold water to Instant Pot and place trivet with egg mold inside. If don't have one with handles then carefully place mold in Instant Pot on a trivet.

Close the lid, set valve to Sealing and cook:

°6 quart Instant Pot: On High Pressure for 3 minutes.°8 quart Instant Pot: On Low Pressure for 4 minutes. If you don't have low pressure, you can try 2-3 minutes on High, see which one you like more. Larger pot takes longer to build up pressure, so poached eggs come out a bit overcooked with 3 minutes.

Release pressure immediately to prevent further cooking by turning valve to Venting. Carefully remove molds, open the lid and using small silicone spatula go around the edge of inside of the mold to remove the poached egg.

Serve immediately garnished with salt and pepper, or delicious Everything Bagel Seasoning, and with breakfast potatoes.
Nutrition
Serving:
1
egg
|
Calories:
63
kcal
|
Carbohydrates:
1
g
|
Protein:
6
g
|
Fat:
4
g
|
Saturated Fat:
1
g
|
Trans Fat:
1
g
|
Cholesterol:
164
mg
|
Sodium:
62
mg
|
Potassium:
61
mg
|
Sugar:
1
g
|
Vitamin A:
238
IU
|
Calcium:
25
mg
|
Iron:
1
mg
Join today and start saving your favorite recipes
Recipes and images are a copyright of ifoodreal.com. It is against the law to republish recipes anywhere including social media, print and all world wide web. Nutritional info is provided for informational purposes only and to the best knowledge.