Can't believe it's August 1 already?! On a good note, it means zucchinis are in full bloom and are available super cheap at your local market. A couple of nights ago we stopped at a local fruit & veggie stand and I grabbed 5 lbs of these imperfectly perfect zucchinis. $1 per 1 lb. Love local non-GMO food!
I'm a fan of Eggplant Parmigiana, but love zucchini so much more (hi, Parmesan zucchini sticks). A couple minutes of thinking and Light Zucchini Parmigiana Recipe was born – layers of grilled sliced zucchini, topped with to-die-for homemade balsamic tomato sauce and of course cheese, low fat mozzarella and Parmigiano Reggiano or simply Parmesan. But easy on cheese, it's fatty and salty. A little bit is fine.:)
While "Parmigiana" means "from Parma" (part of Northern Italy), the dish is not part of Northern Italy's cuisine. It is a Southern Italian dish. In a traditional Eggplant Parmigiana, the eggplant is dredged in eggs, flour and fried or even deep fried.
To make this Zucchini Parmigiana Recipe much lighter and to get rid of extra liquid (zucchini contain a lot of water), I grilled zucchini instead. Just make sure to spray your indoor or outdoor grill with cooking spray. Let zucchini sit 15-20 minutes and drain while you are getting other ingredients ready. Discard the liquid from the bottom of the bowl.
I like my zucchini bake crunchy and not mushy. Cut zucchini into 3/4 inch thick slices, do not season and just grill on high for 3 minutes per side.
And then this homemade tomato sauce made with a bit of crushed hot (chili) peppers, balsamic vinegar and basil. Sooooo good, sweet, basil-y and so darn easy! In fact, I think it will be my go-to tomato sauce from now on and it deserves a post of it's own. I found it browsing one of the older Clean Eating magazines and with a few modifications, I L.O.V.E it!
When shopping for cheese, look for low fat (part skim) mozzarella, buy in bulk, divide in portions and freeze in Ziploc bags. Saves time and money. I always buy a large chunk of Parmigiano Reggiano and grate it myself as needed. And I'm finally a proud owner of a basil plant. I got tired of running to my nearest store and paying $3 for a tiny bunch.
This Light Zucchini Parmigiana Recipe is pretty much a vegetarian dish on its own or can be served as a side. Always serve warm!
It's so versatile – bring to a potluck, next BBQ party or just have it for dinner. It's that easy and still healthy!
Don't be intimidated by the long list of ingredients and instructions below. Most ingredients are spices and items you have in your pantry plus zucchini, cheese and detailed instructions.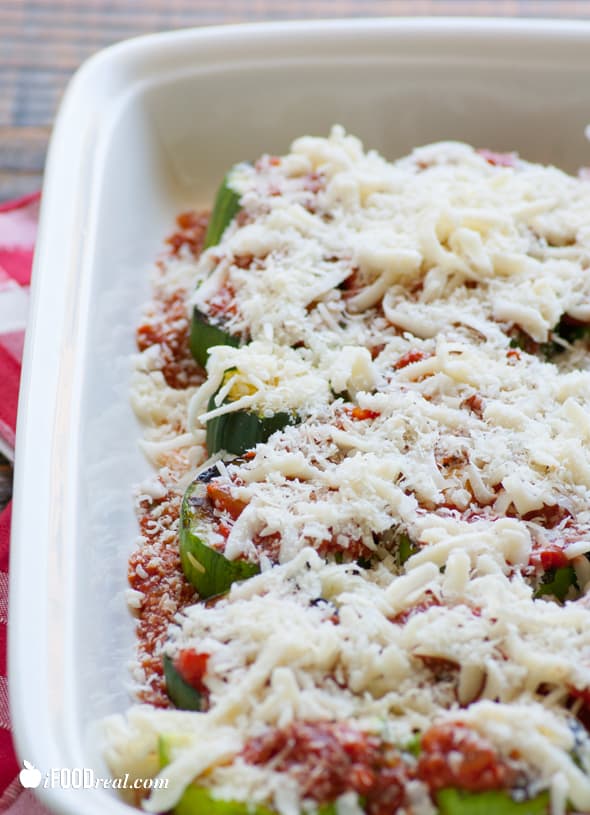 You can also assemble the casserole a night before and bake it the next day. And to save even more time, you can grill zucchini up to 3 days in advance and refrigerate. That's what I did while grilling Cilantro Coconut Chicken earlier this week.
The sauce and cheese cover zucchini like a blanket, two times, making the dish moist and juicy. You won't miss a usual cup of oil even a bit, and your guests won't even know.
Although this Zucchini Parmigiana Recipe is light in calories, only 185 and 5 WW points+, it's so filling that all I could eat was only 1 serving = 1 cup. And considering the fact we had it twice this week because of me testing the recipe, I froze the leftovers in an airtight container. That's what is so great about this vegetarian casserole – easy and fast.
Also it's gluten free if you use gluten free breadcrumbs. Layering the breadcrumbs on the bottom of the dish helps to soak up any juices from the zucchini. You might also enjoy my zucchini lasagna where I use quinoa to soak up the liquid, and try chicken zucchini casserole that tastes like enchiladas.
Enjoy!
Print
Zucchini Parmigiana Recipe
Light Zucchini Parmigiana Recipe made healthy with layers of grilled zucchini and homemade balsamic tomato sauce.
Author:
Prep Time:

25 minutes

Cook Time:

70 minutes

Total Time:

1 hour 35 minutes

Yield:

9

servings

1

x
Scale
Ingredients
For the Balsamic Tomato Sauce (adapted from Clean Eating magazine):
1 tbsp

olive oil

1

large onion, finely chopped

4

cloves garlic, crushed

1/4 tsp

dry oregano

1/4 tsp

dry thyme

1/4 tsp

hot pepper (chili) flakes

28 oz

can crushed tomatoes

1/8 tsp

salt

1/4 tsp

fresh ground black pepper

2 tbsp

balsamic vinegar

3 tbsp

fresh basil, finely chopped
Other Ingredients:
Cooking spray

4

large zucchinis, cut into

3/4

inch thick slices

1/2 cup

whole wheat or Panko breadcrumbs

1/2 cup

Parmesan cheese, shredded

2 cup

s low fat mozzarella cheese, shredded
Basil for garnish (optional)
Instructions
To Make Balsamic Tomato Sauce:
Preheat medium size saucepan on medium heat. Add 1 tbsp olive oil and onion, cook stirring often until light golden brown, approximately 4 minutes.
Add garlic, oregano, thyme and hot pepper flakes, and cook for another minute stirring frequently. Add tomatoes, salt and pepper, and bring to a boil. Cover, reduce heat to low and simmer for 30 minutes, stirring occasionally.
Add balsamic vinegar and fresh basil, and simmer for another 5 minutes uncovered. Set aside.
To Make Zucchini Parmigiana:
Preheat outdoor or indoor grill on high, spray with cooking spray, lay zucchini slices in a single layer, cover the lid and cook for 3 minutes. Open the lid, flip zucchini on the other side, close the lid and cook for another 3 minutes. Set aside while getting other ingredients ready.
Preheat oven to 375 F degrees. Discard any liquid from the bottom of the bowl with grilled zucchini. It's normal, zucchini contain a lot of water, that's why we grilled them and let sit for a bit.
Now we will make 2 layers, so spread all your ingredients evenly, like covering with a blanket, in 8 x 11 baking dish: 1/3 of the tomato sauce, breadcrumbs (all), 20 (half) zucchini slices in a single layer, 1/3 of the tomato sauce, 1/4 cup (half) Parmesan cheese, 3/4 cup (a bit less than half) Mozzarella cheese, 20 (half or remaining) zucchini slices in a single layer, 1/3 (remaining) of the tomato sauce, 1/4 cup (remaining) Parmesan cheese, 1 1/4 cups (remaining) Mozzarella cheese.
Bake uncovered for 25 minutes and then broil on High until cheese is golden brown. Cut (divide) with a serving spoon into 9 pieces and serve warm.
Store: Refrigerate covered for up to 3 days. Freeze leftovers in airtight container for up to 3 months.
★ Did you make this recipe? Please give it a star rating in the comments.