Healthy Zucchini Lasagna Rolls made with 7 simple ingredients including creamy ricotta cheese and garden zucchini. Zucchini roll ups are delicious and fun to make!
This low carb meal is a variation of my zucchini lasagna recipe with the same cheesy goodness.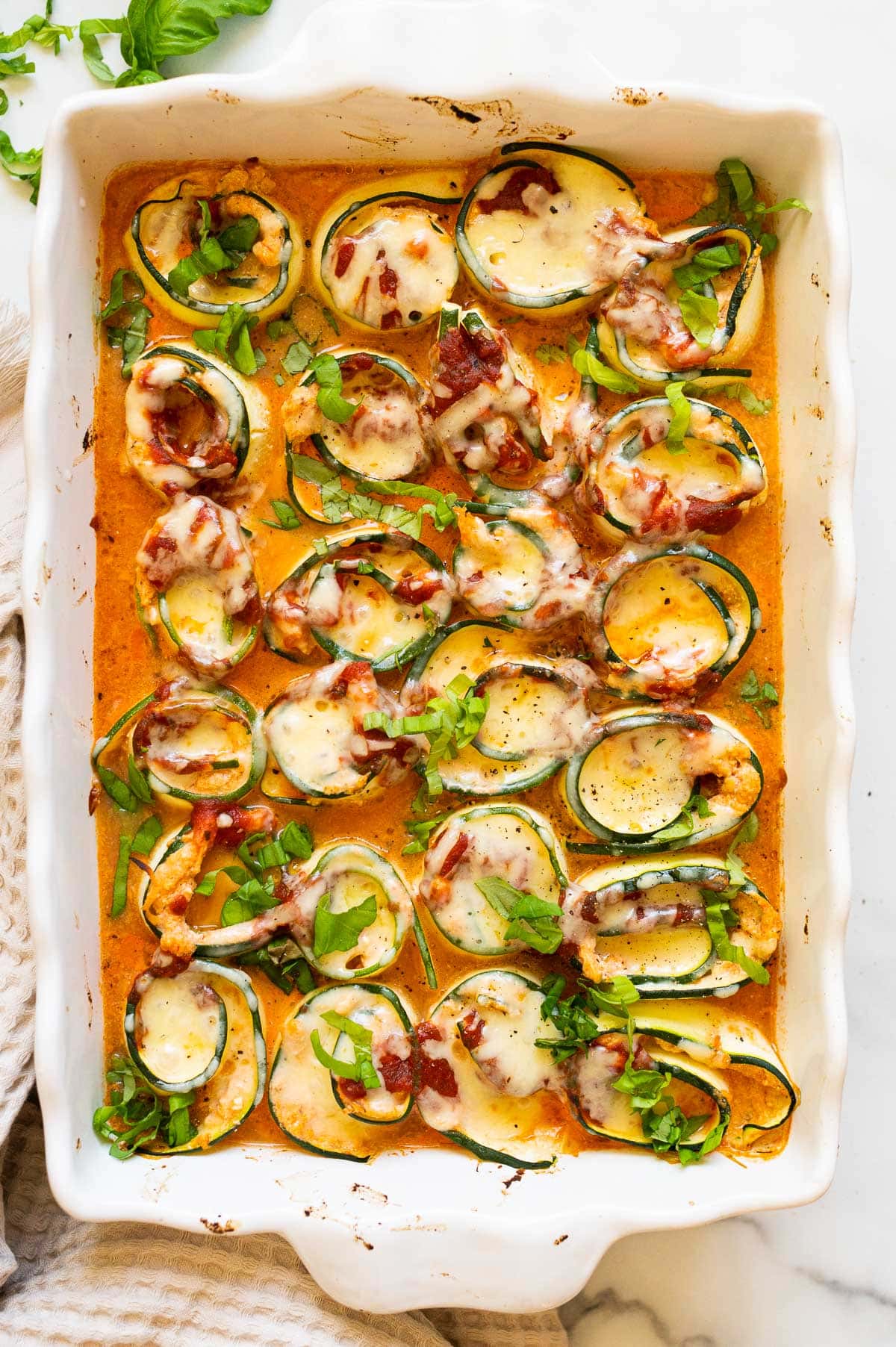 Easy zucchini lasagna rolls recipe is the perfect weeknight dinner and a fun way to serve our favorite Italian dish with layers of flavor and no guilt.
We love zucchini and its many many uses. This sweet summer produce is great for baking but also a healthy pasta replacement.
During July and August, we live off of zucchini recipes like these zucchini roll ups, chicken zucchini casserole, baked zucchini fritters and ground turkey zucchini boats.
Ingredients for Zucchini Rolls
This short list of simple ingredients fill zucchini lasagna rolls with the traditional flavors everyone loves.
Exact measurements are included in the recipe card below.
Zucchini: We swap out lasagna noodles for zucchini, a great gluten-free alternative! You'll need 3 medium-large zucchinis and you do not need to peel them.
Cheeses: Ricotta cheese and Parmesan cheese make up the rich two-cheese filling, then we garnish with freshly grated mozzarella cheese.
Egg: Helps bind the cheese mixture.
Marinara sauce: My easy homemade marinara sauce has all the herby Italian seasonings mixed right in. You can also use your favorite store-bought sauce.
Cooked chicken: Shredded chicken is optional, I decided to mix it in for some added protein but you can leave it out and make delicious vegetable lasagna rolls.
How to Make Zucchini Lasagna Rolls
These zucchini ricotta rolls take a bit more labor and prep time, but I promise it's not that hard and the results are worth it!
Prep zucchini lasagna noodles: Trim both ends of the zucchini, remove the first slice and discard. Then slice lengthwise into 1/8 inch thick sheets. I find mandoline is the best way to get even slices but you can also use a y peeler or vegetable peeler. Be sure they are thin and uniform for easy rolling.
Prep oven and cheese mixture: Set your oven to 375 F. While it heats up, add chicken, ricotta cheese, Parmesan cheese, egg, and 3/4 cup marinara sauce to a large bowl. Mix well to combine.
Grease baking dish: Evenly coat the bottom of a 9×13 baking dish with 1/2 cup marinara sauce.
Fill and roll zucchini: Lay zucchini slices flat on a counter or clean cutting board. Leaving the end empty, spread 1 tablespoon of ricotta filling over the zucchini and roll. Place the roll in the baking dish and repeat with remaining zucchini noodles. To keep them from unrolling, tuck them in tightly with a seam side close to each other. Once you've rolled them all, re-arrange them into 4 rows of 8.
Bake: Drizzle remaining marinara sauce on top and sprinkle with mozzarella cheese. Bake uncovered for 25 minutes, the cheese will melt and sauce will bubble.
Serve: Remove the dish from the oven and let them rest covered for 10 minutes. Serve hot.
Tips for Best Results
We all know zucchini is wonderfully versatile, check out my many healthy zucchini recipes! Here are my expert tips for the best zucchini roll ups.
Avoid large zucchini: Large zucchinis are more watery and have large seeds.
Slice zucchini thin: Thin slices make for easy rolling and even cooking. Using a mandoline or peeler will yield the best results, cutting by hand will result in too thick slices you won't be able to roll and they will break.
To roll up zucchini: Make sure to leave the end empty, this helps the roll stay intact and prevents filling from overflowing.
No need to salt your zucchini: This great tip saves you time. The excess water from zucchini becomes part of the sauce.
Arranging zucchini rolls ups: Place them tight first so they hold each other from unrolling, work in lines, then move them around. You can also place them seam down but be careful when removing them.
To cook chicken: Use your personal cooking preference, leftover shredded chicken, or rotisserie chicken. My favorite quick and easy method is air fryer chicken breast.
Variations and Substitutions
Low fat cheese: Make these roll ups even lighter with low-fat ricotta or mozzarella cheese.
Cottage cheese: You can replace ricotta cheese with an equal amount of cottage cheese. I do recommend regular, full fat cottage cheese because low fat cottage cheese is more watery.
Sauce: Play with different sauces and try pasta sauce, marinara sauce, vodka sauce, healthy alfredo sauce, or spaghetti sauce.
Use other meat: If you don't have cooked chicken you can add protein with 1/2 pound sautéed ground chicken, ground turkey, ground pork, or ground beef. Italian sausage is fantastic too!
Add spinach: Add extra veggies to your dinner with fresh baby spinach. Quickly sauté the spinach in a large skillet with olive oil until wilted, let cool, then combine with the ricotta mixture.
Try with pesto: Pesto brings a nutty, garlicky kick to the dish. You can add some in with the cheese mixture and with the marinara sauce topping.
What to Serve Zucchini Lasagna Rolls with?
Lasagna rolls with zucchini are healthy, delicious, and filling, so you can serve them on their own or alongside some garlic bread to soak up all that savory sauce.
For a heartier meal we like to add a light and crisp salad. Some of our recent summer favorites are simple butter lettuce salad and tomato cucumber bell pepper salad.
How to Store and Reheat
Store: Once cooled, place zucchini lasagna roll ups in an airtight container and refrigerate for up to 5 days.
Freeze: You can try to freeze your leftovers. Squash is 90% water so I'm hesitant to freeze it as I don't believe it would thaw well. If you try it, make sure to drain any excess liquid, freeze in an airtight container, and thaw in the fridge overnight.
Reheat: Set zucchini rolls in an oven safe dish, cover and place in the oven at 350 F for 15 minutes.
Can I Make Them Ahead of Time?
Yes, these roll ups are great for meal prep! Fill, arrange them in a casserole dish, cover, and refrigerate for up to 24 hours. When ready to serve, let them warm up on the counter for 15 minutes while you preheat the oven, then bake as per recipe.
I don't recommend freezing uncooked zucchini rolls because they will leak too much water when thawing. Instead freeze cooked zucchini rolls, see above.
FAQs
How do you thinly slice zucchini without a mandoline?
A vegetable peeler is best to use if you don't have a mandoline. Cut the ends off the zucchini and discard them. Pull the peeler down one side to remove the peel from that side and discard. Then run the peeler lengthwise down the zucchini until it is entirely cut into sheets.
Can I use yellow summer squash to make roll ups?
Zucchini and yellow summer squash are interchangeable in most recipes thanks to their similar taste and thin skin. I find squash isn't great for lasagna because you want straight noodles, squash is fat at the bottom and tapers at the neck. They can also have more seeds.
Do you peel zucchini before slicing?
I keep the skin on because it is thin, mild tasting, and nutritious but it depends on personal preference. You can remove the skin with a vegetable peeler and then roll as per recipe.
More Lasagna Recipes to Try
More Zucchini Recipes to Try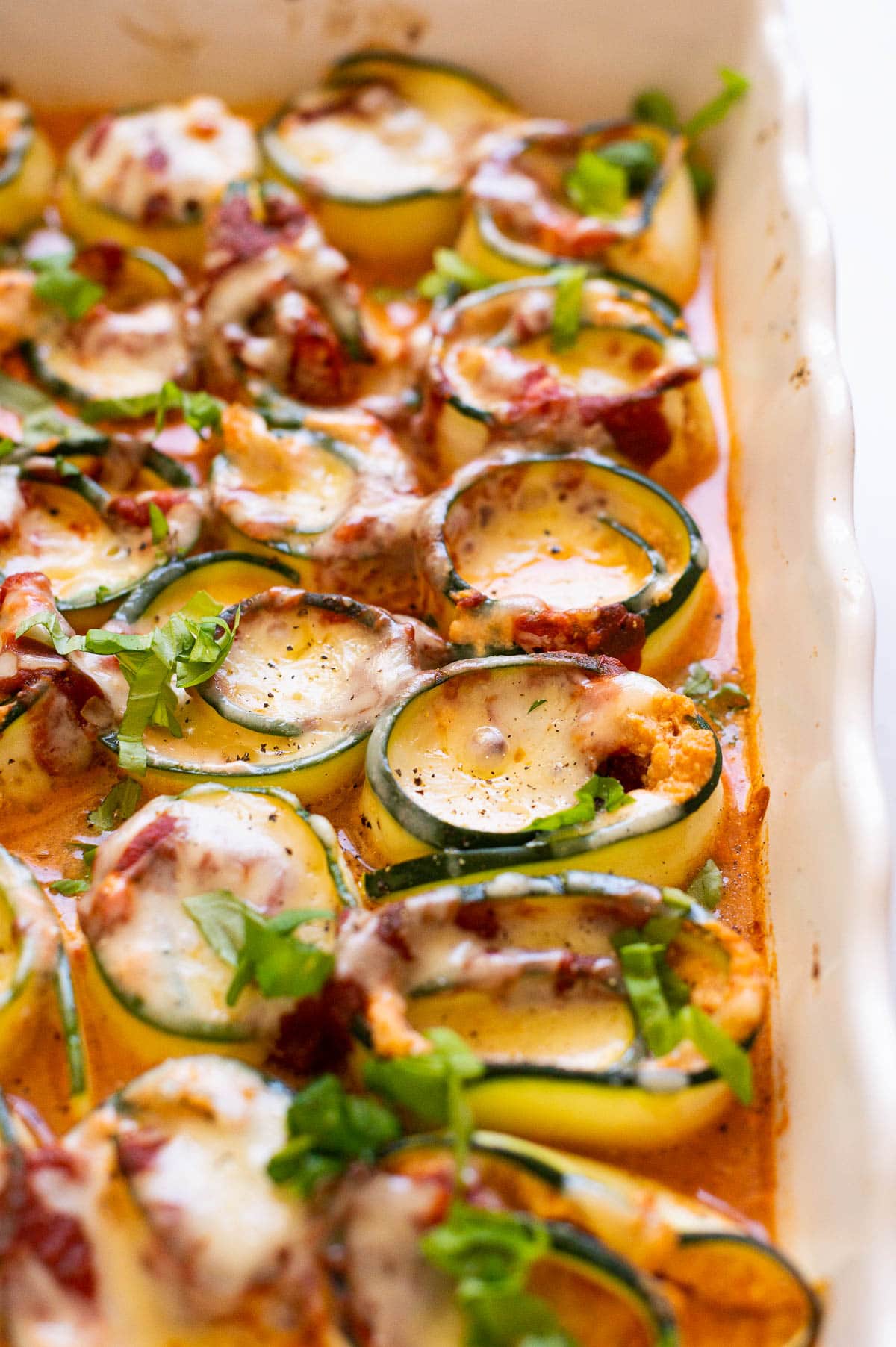 Zucchini Lasagna Rolls Recipe
Healthy Zucchini Lasagna Rolls made with 7 simple ingredients including creamy ricotta cheese and garden zucchini.
Instructions
Using a mandoline, Y peeler or vegetable peeler, slice zucchini into 1/8 inch thick slices lengthwise. To do so, trim both ends of zucchini and remove the first slice. Then slice it on a mandoline or hold one end in one hand and slice off the strips by holding a peeler in another hand. Be sure they are thin and uniform as possible, so we can roll them.

Preheat oven to 375 degrees F. In a large bowl, add chicken, ricotta cheese, Parmesan cheese, egg and 3/4 cup marinara sauce. Mix well.

Spread 1/2 cup marinara sauce at the bottom of 9×13 baking dish. Lay zucchini slice flat on a counter, spread 1 tablespoon of ricotta filling, leaving the end empty, and roll. Place in prepared baking dish. Proceed with remaining 23 roll ups, tucking them tightly with a seam side close to each other, so they don't unroll. After re-arrange them a bit in 4 rows of 8 roll ups each.

Top with remaining marinara sauce and sprinkle with mozzarella cheese. Bake uncovered for 25 minutes or until cheese has melted and sauce is bubbling.

Remove rolls from the oven, cover and let stand for 10 minutes. Serve hot.
Notes
Store:

Refrigerate in an airtight container for up to 5 days. I would be hesitant to freeze it as squash consists of 90% water & isn't a good vegetable to freeze and thaw. You can try!

Reheat: At 350 F while covered for 15 minutes.
Nutrition
Serving:
3
rolls
|
Calories:
285
kcal
|
Carbohydrates:
10
g
|
Protein:
24
g
|
Fat:
17
g
|
Saturated Fat:
10
g
|
Trans Fat:
0.01
g
|
Cholesterol:
97
mg
|
Sodium:
673
mg
|
Fiber:
2
g
|
Sugar:
6
g