This easy Chimichurri Sauce Recipe has bright and subtle spicy flavor and contains only 8 ingredients. With fresh herbs and no added sugars, chimichurri is ready in 5 minutes!
Upgrade your meat and poultry, plus more ways to eat chimichurri sauce beyond your imagination of chicken and salmon.
What Is Chimichurri?
Chimichurri originated in Argentina and Uruguay. I'm going to pause here because that was totally confusing to me. The mixture of oil, garlic, herbs, and salt is the Ukrainian way to sauce food, I assume any nation's way depending on herbs native to the region. As soon as I tasted this chimichurri recipe, I was "home".
The Argentinian condiment is made with fresh parsley, garlic, red wine vinegar, olive oil, oregano, and red pepper flakes. The result, a herby green, garlicky sauce that tastes amazing!
Every time I fire up the grill I crave the zesty, herb-infused flavor that's packed in this chimichurri sauce. I'll add a heaping spoonful on top of chimichurri chicken and grilled steak, or drizzle over grilled vegetables and kebabs.
Ingredients for Chimichurri Recipe
This chimichurri recipe requires just 8 simple ingredients that are probably already in your pantry.
Parsley: Fresh parsley makes the sauce incredibly flavorful. It's the main herb in this recipe for chimichurri, so fresh is a must!
Garlic: Fresh garlic makes all the difference for the most flavor. No need to mince it if you're using a food processor or blender.
Olive oil: Use a good quality oil, I like extra virgin olive oil.
Red wine vinegar: Essential for giving the sauce a depth of flavor. White wine vinegar also works.
Red pepper flakes: Adds a nice kick without being too spicy. You can easily adjust the spice level or use 1 small seeded and diced red chili instead.
Dried oregano: Not found in every chimichurri sauce recipe but listed in the original Chimichurri recipe in Wikipedia, and I love it.
Salt: Enhances all other ingredients.
How to Make Chimichurri Sauce
Food processor works like a charm for making the best chimichurri recipe, it saves a ton of time on chopping herbs by hand.
Here is a quick overview how to make chimichurri. There is a full recipe card below.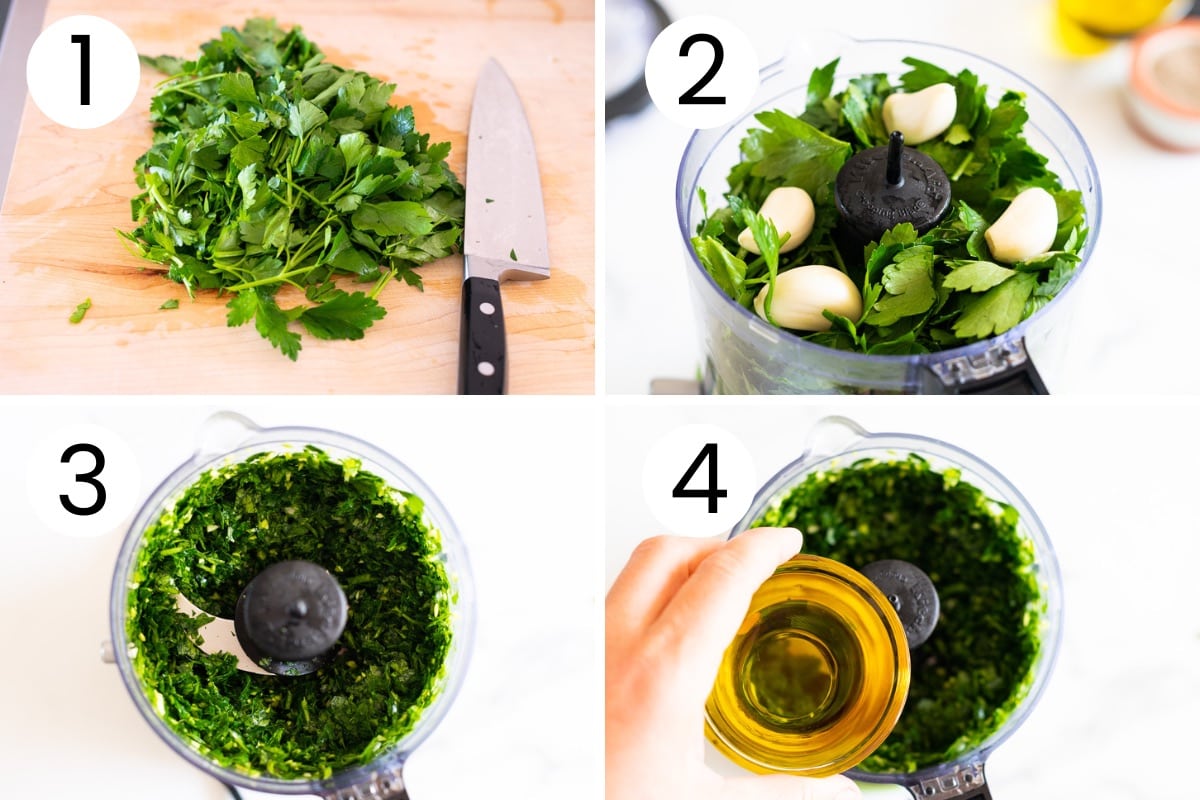 Chop parsley: Hold the parsley bundle by the stems and remove the parsley leaves. Then chop coarsely.
Mince garlic and parsley: Add parsley and garlic to a food processor or high-speed blender and process until finely minced.
Add remaining ingredients: Add in the olive oil, red wine vinegar, oregano, red pepper flakes and salt.
Pulse: Give a few pulses just to combine until chunky sauce forms. Careful not to over process, chimichurri should have some texture like a salsa and not pureed.
Rest: Let the sauce stand for 15 minutes while you plate your dinner, the flavor will deepen as it sits.
Serve: That's it! Chimichurri is ready in minutes to spoon, brush, marinate, or drizzle on protein and salads.
Tips and Variations
This chimichurri recipe is based on the classic version. There are many variations and tips to really make it vibrant and tangy.
If you don't have a food processor: Chop and mince by hand. It takes a bit more effort and time, but the result will still be delicious. Be sure to use a sharp knife to mince the garlic and parsley really well. Then add everything to a bowl and whisk strongly until all ingredients are fully incorporated.
Adjust any of the ingredients: Make it your own! All ingredients can be increased or decreased, it's completely customizable so everyone can enjoy this chimichurri sauce recipe.
Use other fresh herbs: Use fresh oregano instead of dried. Fresh cilantro instead of parsley is another popular substitution. Mint adds a dash of sweetness, and arugula would add a peppery, more garlicky taste. You can even add capers, shallots, or red onion.
Use high quality olive oil: This is my top tip and super important. Use a high-quality, great tasting olive oil. A low-quality oil will wreck the flavor and add an oily bitter taste. High-quality oils have a faint herby, even fruity taste and aroma, and that's what you want.
Light chimichurri: Instead of 1/2 cup olive oil, use 1/4 cup water and 1/4 cup olive oil.
Avocado chimichurri: Add some creamy avocado and reduce the oil to about 1/4 cup.
Spicy chimichurri: Add more red pepper flakes, or include some serrano peppers, seeded jalapeño, or cayenne powder.
What Does Chimichurri Taste Good On?
The question is what can't I use this chimichurri recipe for? It may be the most versatile sauce out there that's great on steaks, grilled meats, and vegetables.
Make a large batch and use it all week long.
Meat and seafood marinade: Lean chicken breast as in chimichurri chicken, pork tenderloin, shrimp and salmon would all marinate really well in chimichurri sauce. Then don't forget to spread some more on finished product.
Appetizer dip: With a fresh loaf of some organic crusty bread, see olive oil dip for a mouthwatering example.
Salad dressing: Especially to "marry together" all fridge leftovers.
Pizza sauce: Spread under the toppings and drizzle on top too. We love it on oatmeal pizza and cauliflower pizza.
Bread spread: Toast thin slices of bread and spread chimichurri sauce on top. Top with freshly sliced tomatoes, delicious!
Lamb roast with chimichurri is perfect for special occasions.
Rice: Blend the sauce in some rice for a delicious side dish.
Eggs: Mix it in with your morning scrambled eggs.
Pasta: It makes a simple pasta salad dressing.
How to Store It
Chimichurri sauce will last 1-2 weeks in the refrigerator, if stored properly. Because it is oil based, fresh herbs keep well preserved and fresh in it.
I highly recommend to store in a glass jar or container with a lid because oil absorbs the fragrance from plastic like a sponge.
Chimichurri can also be left at room temperature for up to 1 week. Make sure to store away from direct sunlight and refrigerate after opening to maximize shelf life.
Can Chimichurri Sauce Be Frozen?
I think you can freeze chimichurri although I have not personally tried this. Some people have frozen leftovers in an ice cube tray. I recommend transferring the frozen cubes to a Ziplock bag and they should be good for up to 3 months.
Thaw in the fridge overnight and it will be ready to use the next day. You can bring to room temperature on the kitchen counter before using but do not microwave.
FAQs
What does chimichurri sauce taste like?
Chimichurri sauce is bold, bright, and layered with flavor. Fresh parsley and dried oregano give it a grassy taste, garlic adds a sweet flavor, vinegar adds tang, and red pepper flakes give a hint of heat. The oil combines these flavors together for a delicious, well balanced sauce.
Can you make chimichurri without red wine vinegar?
Yes. You can substitute white wine vinegar or lemon juice.
What parsley is best to use for chimichurri?
Fresh flat leaf parsley is best. It is the main herb, do not use wilting parsley or dried parsley.
Is chimichurri and pesto similar?
Chimichurri looks likes a version of pesto, but it is quite different. Pesto is made of basil with the addition of Parmesan and pine nuts.
Is chimichurri salsa verde?
Chimichurri is similar to salsa verde (not Mexican one) but they are not the same. They both include parsley, garlic, and vinegar but salsa verde usually includes basil as one of the base herbs along with anchovy and capers.
More Sauces Recipes to Try
Chimichurri Recipe (How to Make Chimichurri Sauce)
Chimichurri Sauce has bright and subtle spicy flavor and contains only 8 ingredients. This chimichurri recipe is ready in 5 minutes!
Instructions
Hold the bouquet of parsley by the stems and remove (shave off) parsley leaves. Then coarsely chop.

In a food processor, add parsley and garlic, process until finely chopped.

Add olive oil, red wine vinegar, oregano, red pepper flakes and salt. Give a few pulses just to combine until chunky sauce forms.

Let chimichurri sauce stand for 15 minutes. Serve with grilled meat or chicken, or use as a marinade.
Notes
Store: Refrigerate in an airtight container for 1 – 2 weeks. It will solidify, to warm up microwave for a few seconds or place jar in a bowl with hot water for 10 minutes.
Nutrition
Calories:
86
kcal
|
Carbohydrates:
1
g
|
Protein:
0.2
g
|
Fat:
9
g
|
Saturated Fat:
1
g
|
Sodium:
200
mg
|
Fiber:
0.3
g
|
Sugar:
0.1
g