These Healthy Quinoa Granola Bars are loaded with wholesome ingredients, healthy fats and only a fraction of the sugar found in commercial bars. A true healthy snacks recipe!
These quinoa bars are also perfect for kids' lunch boxes along with healthy oatmeal cookies.
Commercial versions of protein bars, protein balls, and granola bars are usually either loaded with sugars and chemicals. Or come with a high price tag usually not worth the convenience.
That's where easy homemade bar recipes like these quinoa granola bars save the day!
With toasted quinoa, oats, and nut base, these granola bars are toasty, crunchy, and lightly sweetened with unrefined sugars and optional chocolate chips.
Even as low sugar granola bars they bind very well, after 5 rounds of tweaking, and are kid approved. Win!
Meal prep these quinoa bars in advance and enjoy them in lunchboxes and as a wholesome snack to sustain you until your next meal.
Ingredients You Will Need
Just 9 wholesome pantry staples come together to prepare the quinoa bars.
Oats: This recipe relies on quick oats or rolled oats, and steel cut oats. However, feel free to substitute the latter for more quick oats. For gluten free granola bars, use certified gluten free oats.
Quinoa: Use white quinoa, not other types.
Almonds: Or another nut like peanuts, hazelnuts, walnuts, or pistachios. Use a seed like sunflower seeds or pumpkin seeds.
Flaxseed: Ground flax seed will thicken and help bind the bars while adding protein and omegas. Ground chia seeds should also work.
Sweetener: Brown rice syrup or honey work best.
Eggs: Use either whole eggs or egg whites. These are important for binding while adding protein.
Chocolate chips: I use Enjoy Life semi-sweet chocolate chips but use what you have.
Coconut oil: Adds healthy fats and helps hold the quinoa granola bars together. I do not recommend other oil.
You'll also need a cooking spray. I use Misto.
How to Make Quinoa Granola Bars
Toast the quinoa and oats: Preheat the oven to 325 degrees F. Then bake the oats, quinoa, and roughly chopped almonds for 10-15 minutes, stirring every 5 minutes. Transfer everything to a large mixing bowl and leave them to cool completely.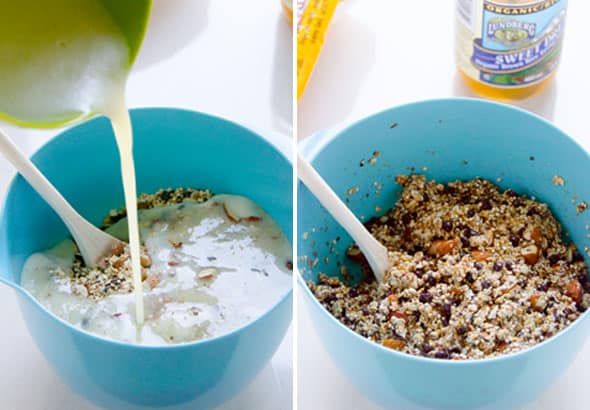 Mix the dough: Add the ground flax seed and chocolate chips to the large mixing bowl. Meanwhile, lightly beat the eggs, brown rice syrup, and coconut oil in a separate medium bowl, then add it to the larger one and mix well.
Shape the bars: Transfer the quinoa granola bars mixture onto baking sheet, press it firmly into the dish, smoothing over with a spatula.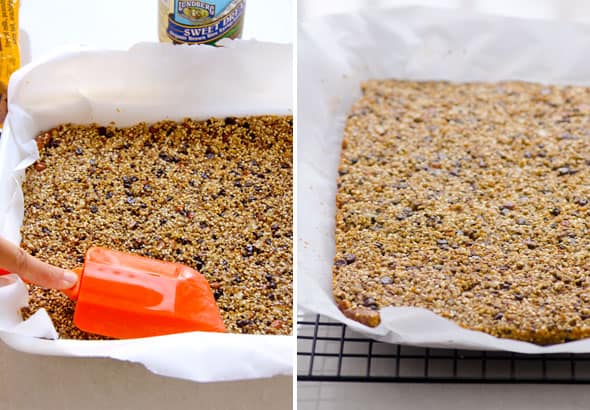 Bake the bars: Bake granola bars for 30 minutes, allow them to cool for an hour in the pan, then transfer to a cooling rack for a further hour before cutting the mixture into 16 equal bars. Enjoy!
For lower calorie granola bar bites, feel free to chop them into 32 pieces instead of 16.
FAQs
Can I make quinoa granola bars without eggs?
Eggs are important as a binder to hold the healthy granola bars together. While you could attempt the recipe with an egg replacer like flax eggs, I can't guarantee results.
Can I use other types of oil?
The way coconut oil solidifies helps to hold the bars together. I don't think other oil or butter would work. However, one reader used avocado oil and she says it was a success. Feel free to try.
Can I use any other sweetener?
The sticky syrups consistency of honey or brown rice syrup helps to function as a "glue" to bind the homemade granola bars. For that reason, I can't recommend trying the recipe with replacements like banana or applesauce.

Thinner, less sticky sweeteners like agave nectar and maple syrup will also struggle. I do not recommend to use them.

As a side note, I have previously tried reducing the sugars and increasing the egg whites as an option to further reduce sugar. However, the bars just crumbled and fell apart. So I don't recommend reducing the amount of sweetener.
What could I add to the quinoa bars?
Dried fruit is my favorite addition alongside or instead of the chocolate chips. Raisins, dried cranberries, blueberries, finely chopped dates, and apricots. We love these additions in healthy granola!

You could also experiment with adding some coconut flakes or shredded coconut. Plus, a pinch of salt and perhaps cinnamon will help to enhance the various flavors.
Why White Quinoa?
White quinoa is neutral tasting with a light texture and short cooking time that allows you to get away with roasting them in just 10-15 minutes.
Do I Need to Rinse Quinoa?
Quinoa has a saponin coating, which is bitter tasting. I've been lucky enough that the quinoa I buy is usually pre-rinsed, so no additional step is required. However, if you want to avoid any potential bitterness, feel free to rinse it first.
How to Store These Bars
These quinoa granola bars are a fantastic meal prep snack for lunch boxes for the entire family.
Storing: Once cooled, store these quinoa protein granola bars in an airtight container in a cool, dry place for 2-3 weeks. I store mine in sandwich bags in the pantry.
Freeze: Flash freeze the bars on a baking tray until solid, then transfer them to a freezer safe container or Ziplock. Or you can individually wrap them in parchment paper. Freeze for up to 3 months.
Remove a bar from the freezer and leave it on the counter until it's soft enough to enjoy.
More Healthy Bars Recipes
More Quinoa Recipes to Try
You might also like this compiled list of 30 quinoa recipes and healthy snacks!
Healthy Quinoa Granola Bars
These Healthy Quinoa Granola Bars are loaded with wholesome ingredients, healthy fats and a fraction of the sugar found in commercial bars!
Instructions
Preheat oven to 325 degrees F and spread quick oats, quinoa, steel cuts oats and almonds on a large rimmed baking sheet. Bake for 10 -15 minutes or until lightly brown, stirring occasionally. Remove from the oven, transfer to a large mixing bowl and let cool completely.

Stir in flax seed, chocolate chips and salt into cooled oats. In a medium bowl, lightly beat the egg whites, add brown rice syrup/honey and coconut oil. Mix well to combine, pour over the dry ingredients and mix well again.

Line 9 x 13 baking dish with parchment paper and spray with cooking spray. Transfer mixture into the baking dish and using spatula or wet hands press it firmly. You have to press really well for the bars to hold together!

Bake for 30 minutes, remove from the oven and let cool completely. I usually let the bars cool in the pan for an hour and then, holding by the parchment paper flaps, transfer on a cooling rack for another hour or so. Cut into 16 bars.
Notes
Store: Store in a cool dry place for a few weeks.
Freeze: In an airtight container up to 3 months.
Nutrition
Serving:
1
bar
|
Calories:
281
kcal
|
Carbohydrates:
30
g
|
Protein:
8
g
|
Fat:
16
g
|
Saturated Fat:
9
g
|
Cholesterol:
51
mg
|
Sodium:
108
mg
|
Fiber:
4
g
|
Sugar:
9
g