I just returned from Los Angeles and truly wished this Breakfast Quinoa was waiting for me on a counter this morning. I made this recipe and took pictures last week and am making again tonight. I had to send kids to school/daycare with emergency Costco's cheese pizza and at least all organic packaged snacks and baby food pouches I brought from attending the ShiftCon. I'm staring at these photos and they are very refreshing compared to the collagen diluted in water and protein shakes I have consumed today. Grocery store attack is happening tonight. I hope my washer is also ready to what it is about to see and smell.
Anyways…I have tried to make sweet breakfast quinoa before without much success. It is SO nice to have something different rather than oatmeal, muffin or yogurt + granola for breakfast (I'm not a huge fan of eggs). Especially, if this warm breakfast is waiting for you on a countertop in the morning. Yes, you can turn it on at 10PM and it won't burn by 6AM (I think 7AM is safe too considering you have a smoke alarm). If you have programmable small slow cooker – good for you (do they exist?!). If you are like me, I use a good old timer and a very simple tiny slow cooker from Walmart, like this one.
The way I made breakfast quinoa this time was fantastic!!! Before I have made it simply with almond milk and didn't give quinoa a rinse. Nah, wasn't good. You gotta give quinoa a good rinse to remove saponins – coating that makes quinoa bitter. Then my neighbour told me about quinoa porridge she had at one of the restaurants on Vancouver Island (which is very famous for farm to table, non-GMO and organic food) and hers had coconut milk and brown sugar. I used canned coconut milk which adds a lot of flavour and creaminess, and raw local honey instead of brown sugar.
This breakfast quinoa was filling – just the way breakfast should be! All of the fruit toppings, except bananas, were frozen. I can't afford to buy fresh off-season organic berries but I can afford a kitchen remodel. OK, let's just say everyone has their own priorities.:) Any nuts go well: walnuts, pecans, pistachios, almonds etc. We drizzled honey and added milk to the bowl. The idea is to cook breakfast quinoa in a slow cooker and add toppings in a bowl. You could even make ready-to-go containers for up to a few days. Kids ate my quinoa porridge! I added vanilla and cinnamon on top of mine too.
More Healthy Breakfast Recipes to Try
Enjoy and please stop eating doughnuts and Starbucks muffins for breakfast (you know who you are). If you need something sweet, try these Ukrainian Sweet lazy pierogi. 🙂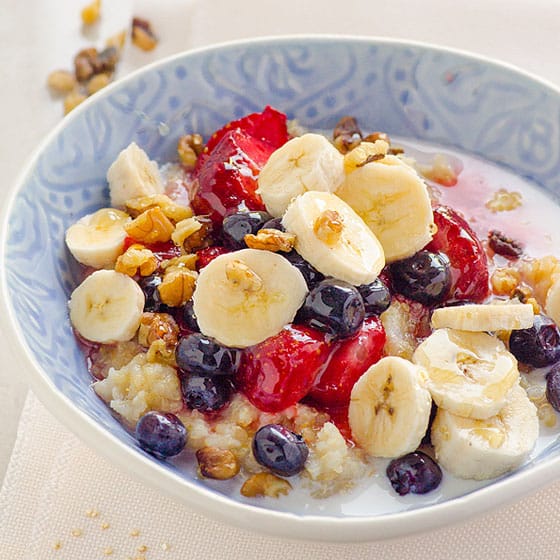 Slow Cooker Breakfast Quinoa
Breakfast Quinoa in a Slow Cooker is a healthy breakfast recipe with coconut milk, nuts and fruit. Wake up to a warm bowl of quinoa porridge.
Instructions
Place quinoa in a fine mesh colander and rinse very well under cold running water, for about a minute.

Add rinsed quinoa, water, coconut milk, maple syrup and salt to

a small slow cooker

and cover with a lid. Cook on Low for 8 hours. Serve hot with a splash of milk and toppings of choice.
Notes
Store: Refrigerate in a glass airtight container for up to 5 days.
Nutrition
Calories:
326
kcal
|
Carbohydrates:
39
g
|
Protein:
7
g
|
Fat:
17
g
|
Saturated Fat:
13
g
|
Sodium:
163
mg
|
Fiber:
4
g
|
Sugar:
11
g