These Best Quinoa Recipes will give you 30 delicious ways to make wholesome healthy meals using quinoa. Whether vegetarian quinoa or with chicken, quinoa salads, for healthy breakfast ideas or a snack, all of these healthy quinoa recipes are family friendly, delicious and incredibly easy to make!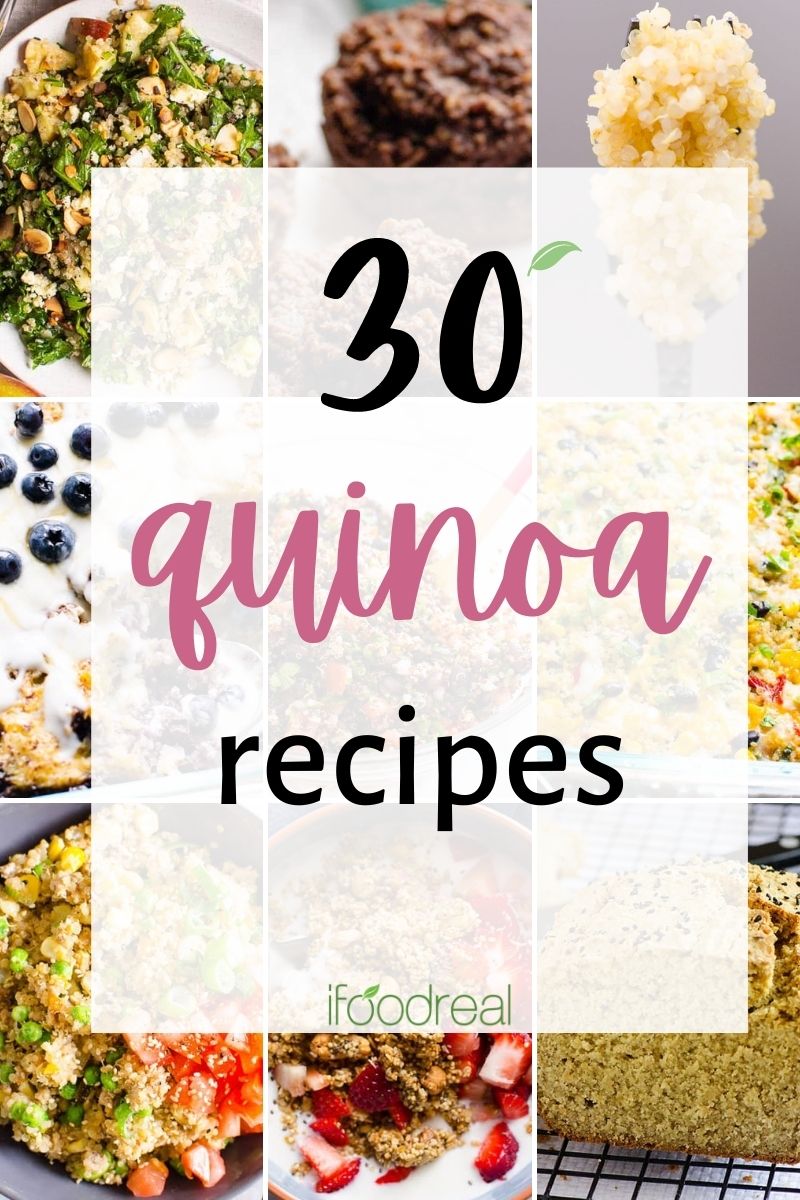 Why We Love Quinoa Recipes?
We absolutely love quinoa in our household! Not only because it is super good for you but also for so many other reasons:
Health benefits of quinoa are: High in protein and fiber, helping you to feel full for a long time after eating it. Plus, quinoa has a low glycemic index so it's a fantastic low carb, high protein and gluten free meal option. It's been proven to have heart and respiratory benefits as well.
Easy to cook – it takes only 12 minutes with this turns-out-perfect every time how to cook quinoa on the stove versus similar whole grains like Instant Pot brown rice.
Quinoa is the only plant-based complete protein which makes it a superfood and irreplaceable for vegans and vegetarians.
Versatile use from salads to breakfast dishes, check out these quinoa recipes for yourself.
Affordable and easy to find at any grocery store, pretty much.
We truly enjoy its taste!
Quinoa is definitely a staple in our pantry!
How to Cook Quinoa
Quinoa cooks similar to rice where dried grain (truly quinoa is a seed) is combined with liquid like water or broth (for more flavor) and simmered on low.
Check out Mediterranean quinoa salad for short detailed instructions how to cook quinoa. If you have an electric pressure cooker, I have Instant Pot quinoa for you. So easy!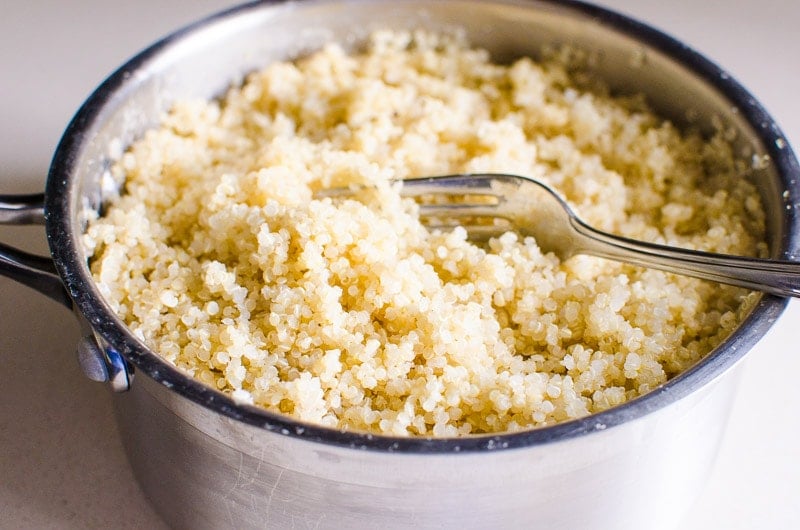 Best Quinoa to Water Ratio?
Stovetop: I personally like to cook quinoa on the stove with a ratio of 1 cup dry quinoa to 1.5 cups cold water. Most quinoa package directions state 1:2 ratio but I find quinoa comes out very mushy this way. We like it with a bit of a bite.
In Instant Pot: Because no liquid evaporates in Instant Pot, the best ratio of water to quinoa is 1 cup dry quinoa to 1.25 cups cold water.
Pro Tip: Best tip I can give you is to fluff cooked quinoa with a fork right after cooking. Then it stays separated longer instead of solidifying into a single blob.

Storing and Reheating Cooked Quinoa
One of my favorite features of quinoa is batch cooking it and storing for later in the fridge or freezer. It is perfect for any type of meal prep.
Fridge: You can refrigerate quinoa in the pot you cooked it in or airtight containers for up to 1 week. Then quick reheat and use as a side for any protein or cold in quinoa salads.
Freezer: You can freeze cooked quinoa laying flat in resealable plastic containers or airtight containers. It freezes beautifully for up to 3 months.
Reheating quinoa: Cooked quinoa really benefits from extra liquid to rehydrate it. Whether from the fridge or freezer, make sure to fluff quinoa first and then add a splash of water or broth. Reheat by simmering on low heat in a pot while covered, stirring and checking if it needs more liquid a few more times. For frozen quinoa, defrost it on a counter for 1-2 hours and then reheat.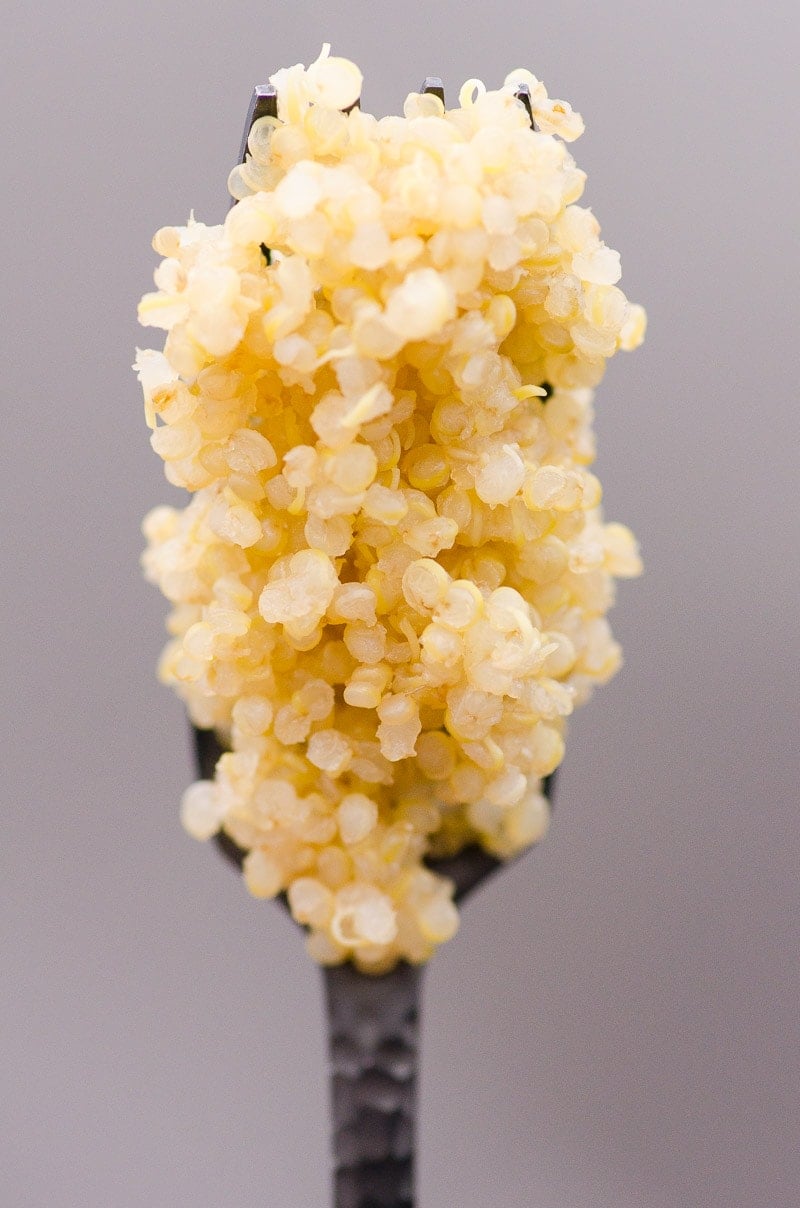 More Quinoa Recipes FAQs
What quinoa is the best?
Most common types of quinoa in our supermarkets is white, red or tri-color quinoa. White quinoa has the most delicate taste, the lightest texture and it cooks up a bit fluffier than other types of quinoa. Red quinoa is hearty and chewy. And tri-color quinoa is a blend of white, red and black quinoa.

Best quinoa is the one you like the taste of!
Do you need to rinse quinoa before cooking?
Some quinoa recipes recommend rinsing quinoa before cooking it. This is more of a recommendation than a requirement.

Quinoa has a natural coating of compounds called saponins. Many people think that quinoa tastes bitter or soapy if the saponins aren't rinsed away. Meanwhile, others might say that it just has an earthy flavor.

Regardless, quinoa is typically rinsed before being packaged for consumer purchase. You can rinse it again if you want to. To do so, place the quinoa in a fine mesh strainer and run cold water over it for a minute or two, or until the water runs clear.
When quinoa is cooked?
Quinoa is cooked when it looks like it has popped open, revealing the germ of the kernel. Also its colour will change and quinoa will appear double in size. It is normal to see a few uncooked quinoa seeds that more likely have not been covered by water enough. Just stir, close the lid and let it sit for a few more minutes.
Can quinoa go bad?
Yes, it can go sour if you leave it on a counter or on the stove and it is hot in your kitchen. It can go sour. If it comes to quinoa soup or stew, it can go bad even faster on a hot summer day. Stick in the fridge as soon as it has cooled down to room temperature. In the fridge, quinoa can go bad after 1 week.

How do you know quinoa went bad? It will taste sour and smell different.
One of the benefits of cooking with quinoa is its versatility. It can be used to create delicious breakfasts, lunches, and dinners. To make it easy for you to find the perfect recipe, the 30 quinoa recipes below are broken into the categories.
Quinoa Salad Recipes
Our quinoa salad recipes are very popular. Not only because they're nutritious and easy to pack into a lunchbox, but also because they're so easy to prep ahead of time.
Superfood Southwest Quinoa Salad that is perfect for dinner, meal prep, lunch, cookout side. It is healthy, bright and tasty. Make ahead as Southwest quinoa salad tastes even better when cold.
Quinoa and Black Bean Salad that is full of protein, tasty and easy. Meal prep it on Sunday, make ahead for a party or simply clean out the fridge.
Cozy Kale and Quinoa Salad with apples, walnuts, blue cheese and cinnamon dressing. Superfood fall in a bowl that is tasty during Holidays or any day!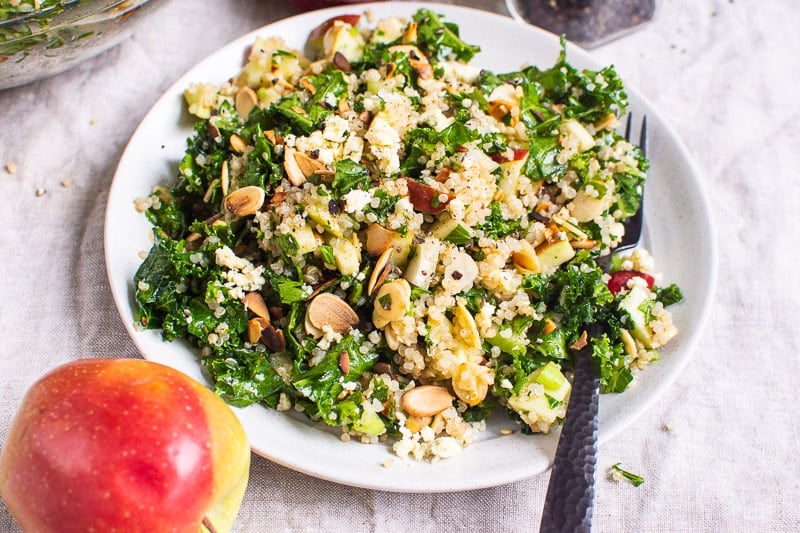 Mediterranean Quinoa Salad with tomato, cucumber, feta cheese and olives. Packed with protein, fiber and so much flavour!
Broccoli Quinoa Salad Recipe is a cold quinoa salad with raw broccoli, cooked quinoa, toasted almonds, any fresh herbs, olive oil and lemon.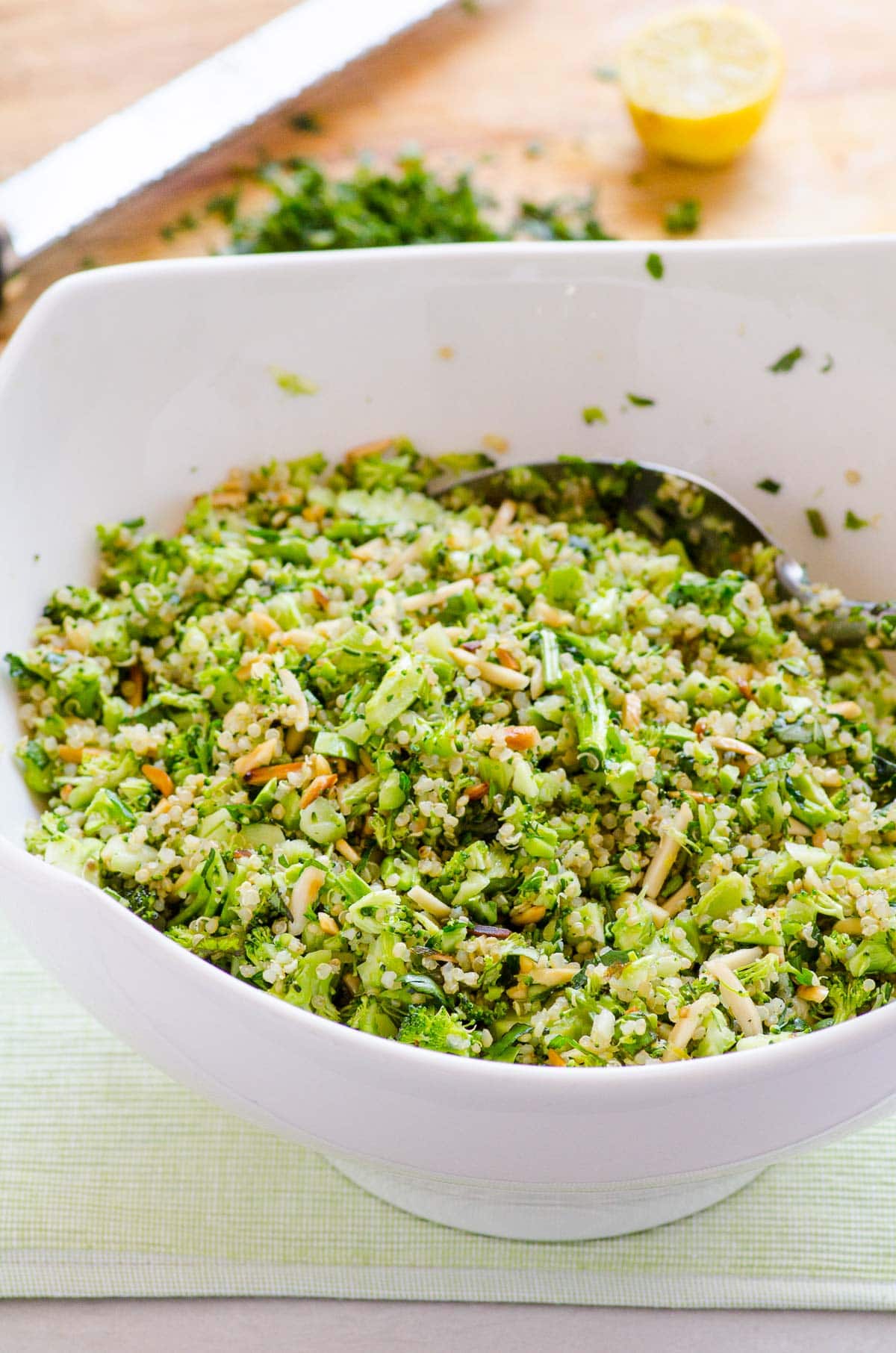 Quinoa Tabbouleh Salad is refreshing Middle Eastern salad with protein packed and gluten free quinoa, crunchy and juicy vegetables, fresh herbs and zesty lemon juice. It is a healthy party of flavours on your plate!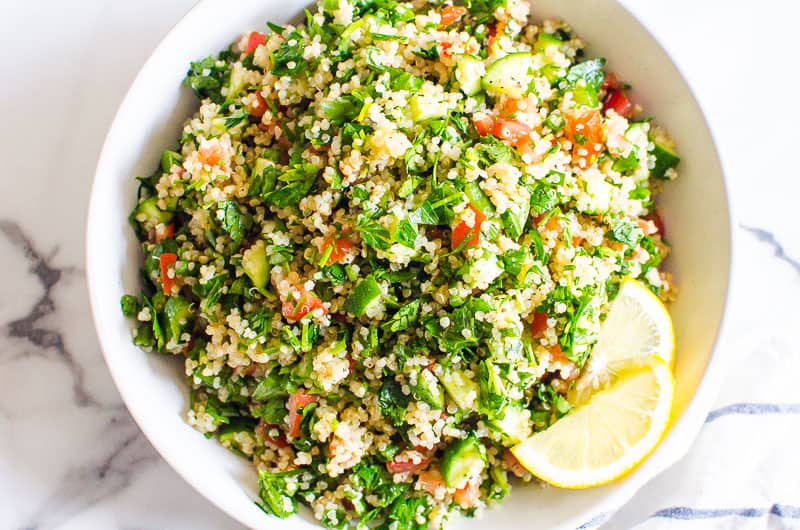 Avocado Blueberry Quinoa Salad with avocado, toasted pecans and homemade lime basil dressing. Perfect for summer and keeps well refrigerated for a few days.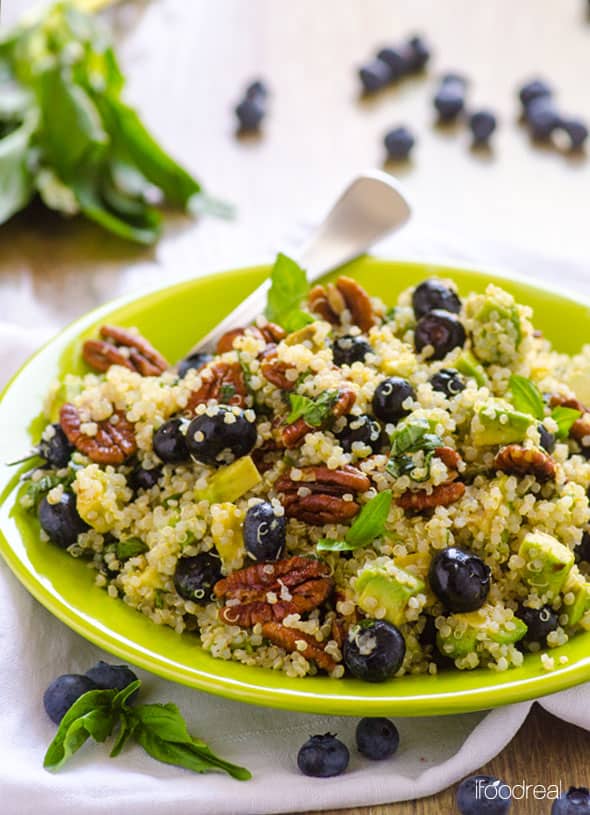 Quinoa Recipes for Dinner
Whether it's going into a slow cooked stew, hearty chili, or a simple skillet dinner, quinoa packs the dinner with protein, fiber, and essential vitamins and minerals.
One Pot Chicken Quinoa is loaded with broccoli, wholesome quinoa, juicy chicken and delicious flavours. Nothing is "boring" about this one pot meal perfect for a weeknight dinner!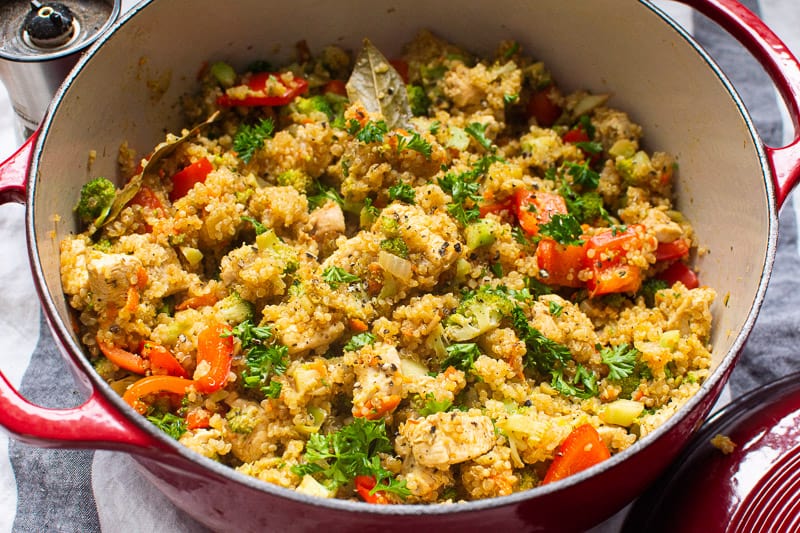 Quinoa Falafel Recipe is baked crispy on the outside and moist inside. Serve with Tahini sauce in salads or pita. Freeze leftovers for busy weeknights.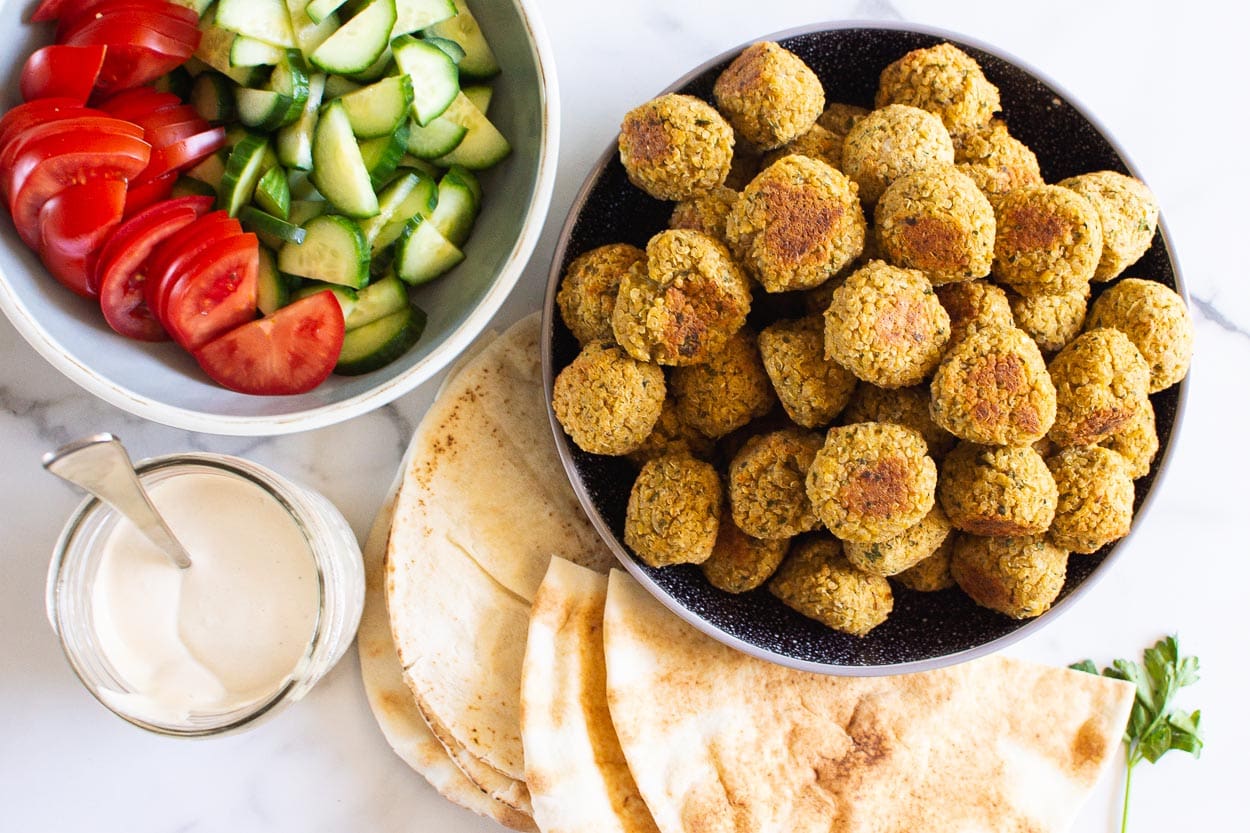 Healthy Quinoa Stew recipe filled with all your cozy favorites like tender beef, vegetables, protein rich quinoa, and savory spices. Sprinkle with fresh dill for a flavorful comfort meal!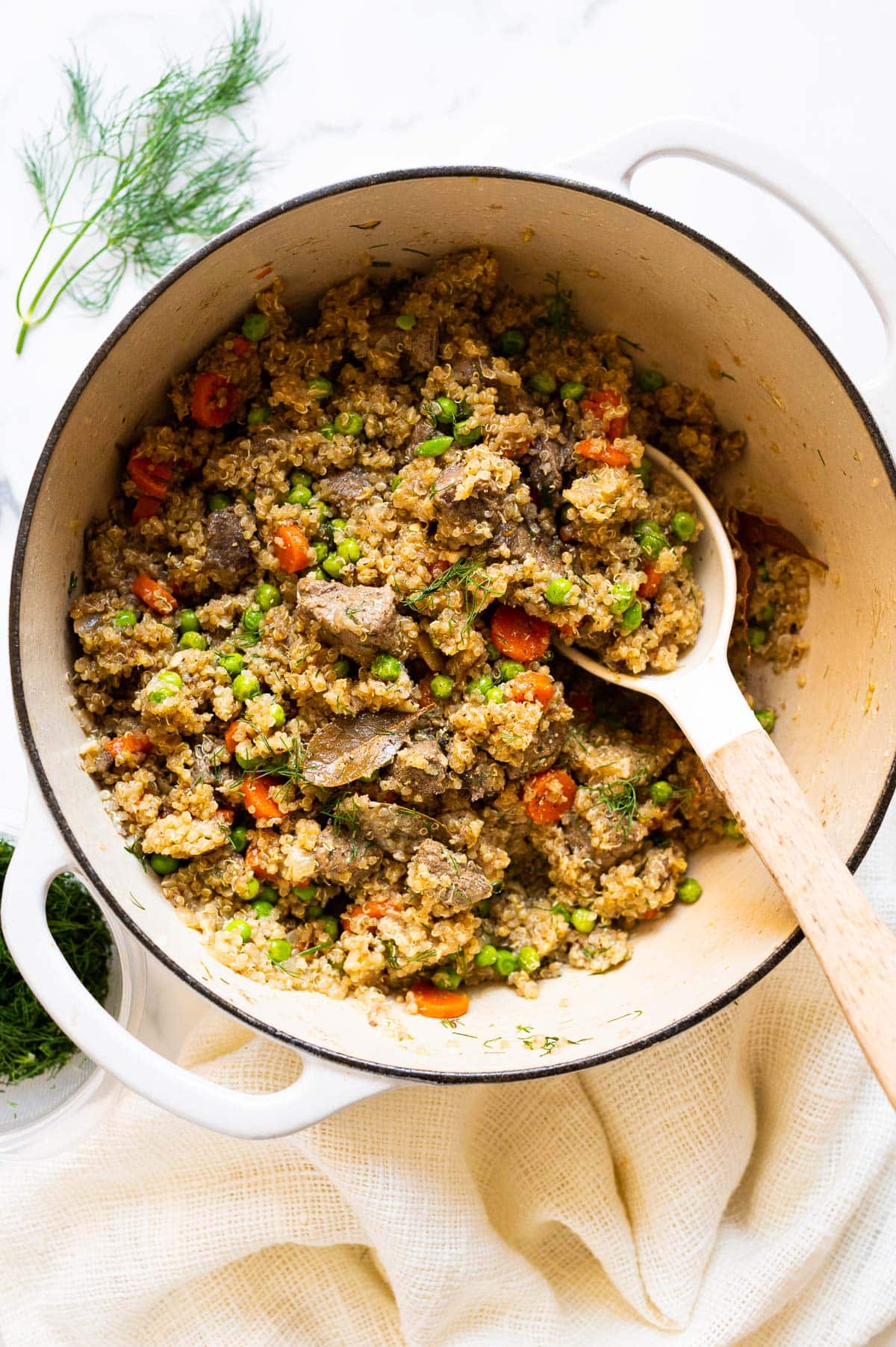 Garlic Butter Shrimp, Quinoa and Asparagus stir fry with fragrant garlic and moderate amount of butter. Delicious 30 minute healthy dinner recipe.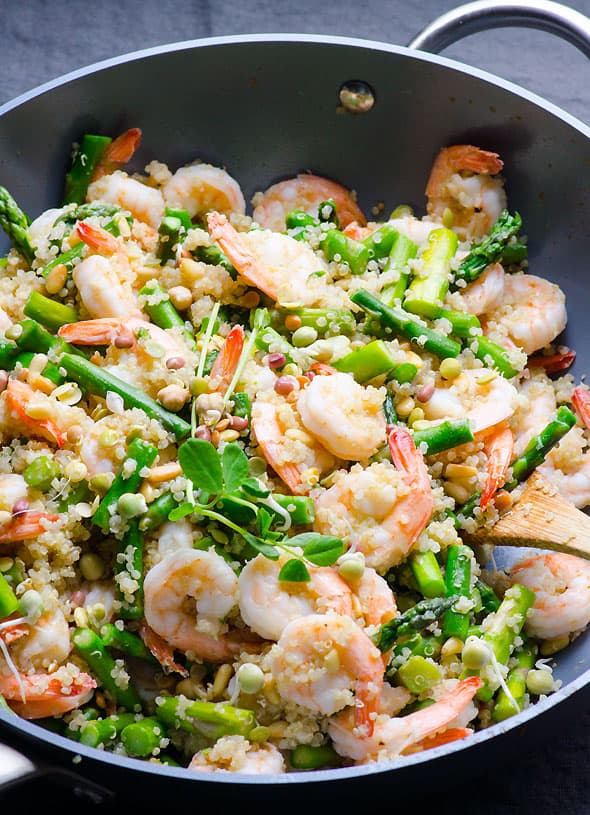 This Chicken Quinoa Skillet combines tender chicken, fresh garden vegetables and nutrient-dense quinoa for a quick 30 minute meal.
Parmesan Pumpkin Quinoa with Spinach is a comforting healthy dish with pumpkin puree, cheese, chicken stock and spinach.
Chicken Quinoa Bowl with quinoa, kale, chili chicken, mango, black beans, cilantro, jalapeños and healthy Cilantro Avocado Dressing.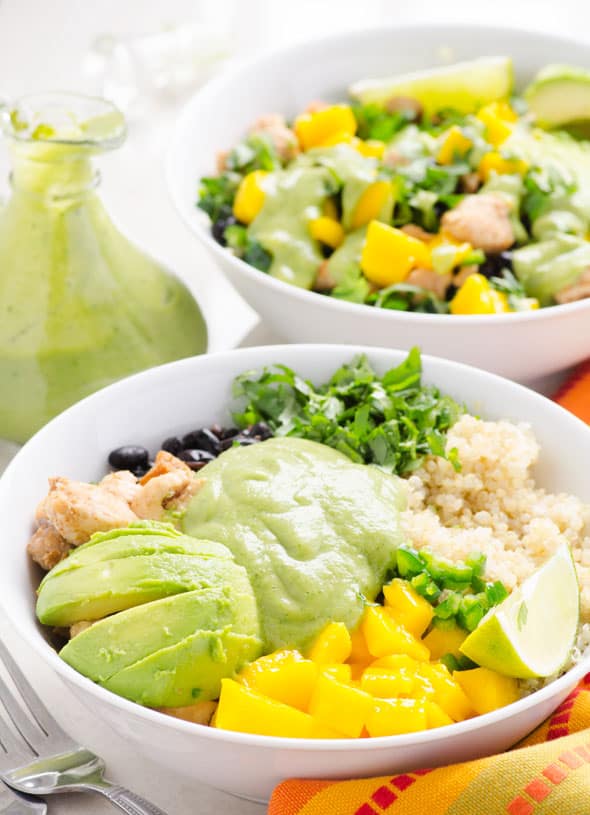 Instant Pot Quinoa Recipes
Anyone who owns an Instant Pot is likely to say that one of their favorite things to use it for is to cook whole grains. Quinoa recipes like these cook in less than 5 minutes of time under pressure!
Instant Pot Quinoa or a complete guide how to cook perfect quinoa in your pressure cooker that is fluffy, has a bite to it and simply the best!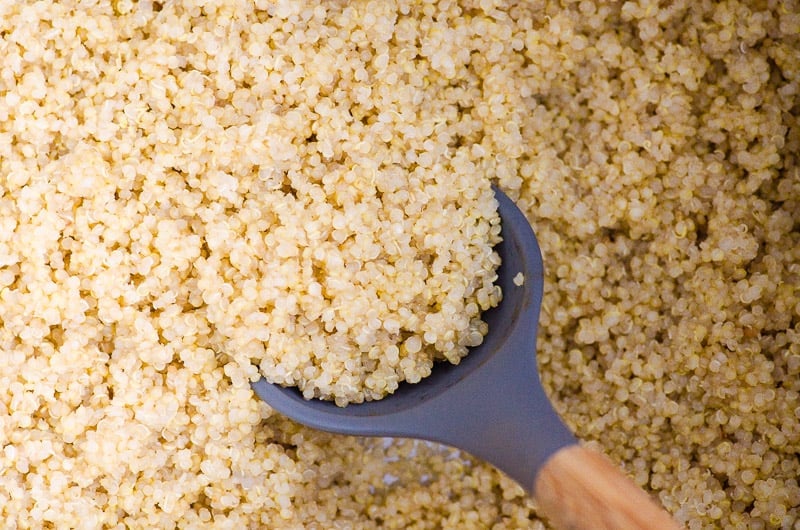 Instant Pot Ground Turkey Quinoa Bowls is a healthy 30 minute pressure cooker one pot meal. Quinoa, meat and veggies all cook in same pot with delicious Asian flavored sauce. Love ground turkey dinners? Check out 45 best ground turkey recipes to find a few new ones that your family will love!
Quinoa Casserole Recipes
When I menu plan for the week, I like to cook a batch of plain quinoa. As a result, I have it on hand, ready to toss into hearty, comforting casseroles like these.
This Ground Turkey Quinoa Casserole is a budget friendly crowd pleaser. Perfect for using up leftover quinoa, or to freeze or make ahead.
Black Bean Quinoa Casserole with corn, cheese and layers upon layers of fresh Mexican flavours. This vegetarian dinner is so easy to assemble and makes great leftovers that even carnivores will fight for!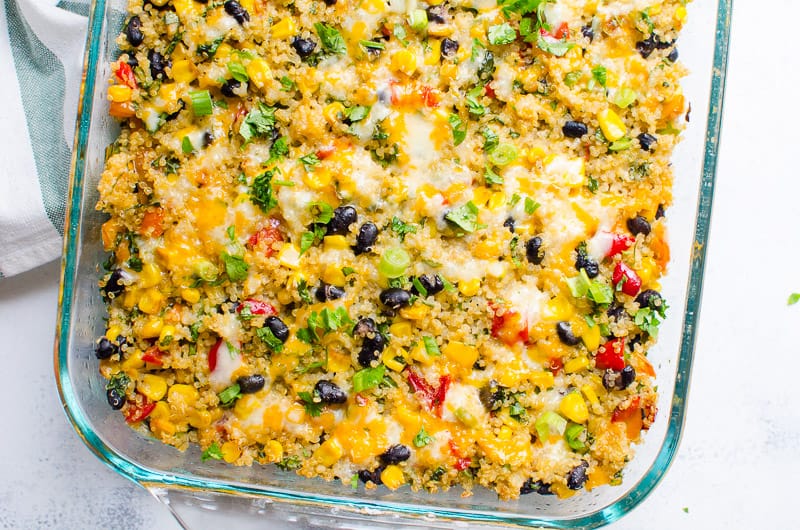 Spinach Artichoke Quinoa Casserole Recipe is packed with vegetarian protein, chock full of vegetables and super easy to make. If you love spinach artichoke dip, you will love this creamy bake.
Healthy Chicken Pot Pie Casserole has a creamy filling of veggies, juicy chicken and the best quinoa crust. This is one of our favorite quinoa recipes with chicken and is so easy to make from scratch. Classic comfort food never tasted so good!
Quinoa Breakfast Recipes
Move over, oatmeal – there's a new pseudo-grain in town! Add protein-rich quinoa to breakfast foods like muffins and bread. By doing so, you can be sure that you're creating healthy family recipes that everyone will love!
Quinoa Granola Bars Recipe with steel cut oats, flaxseed, chocolate chips and small amount of brown rice syrup for kids approved homemade healthy granola bars.
Quinoa Bread Recipe is yeast and gluten free made with dry quinoa, oat flour, coconut oil and almond milk. Very simple ingredients.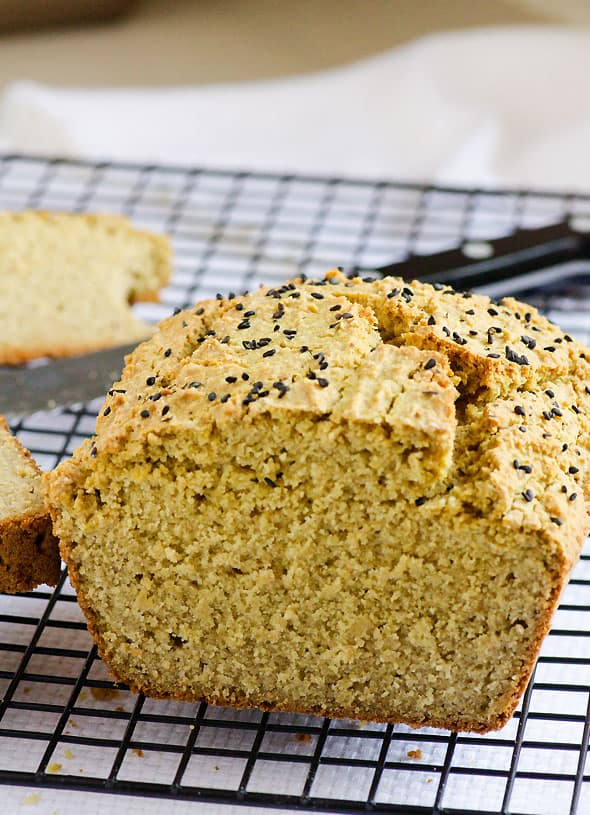 Quinoa Granola Recipe that is healthy, easy, toasted, crunchy and most importantly 6 times lower in sugar than any store-bought.
Wake up to a delicious Quinoa Breakfast Bowl. This nutritious base can be loaded with your favorite toppings for a delightful blend of flavor and texture, it's the perfect start to your day!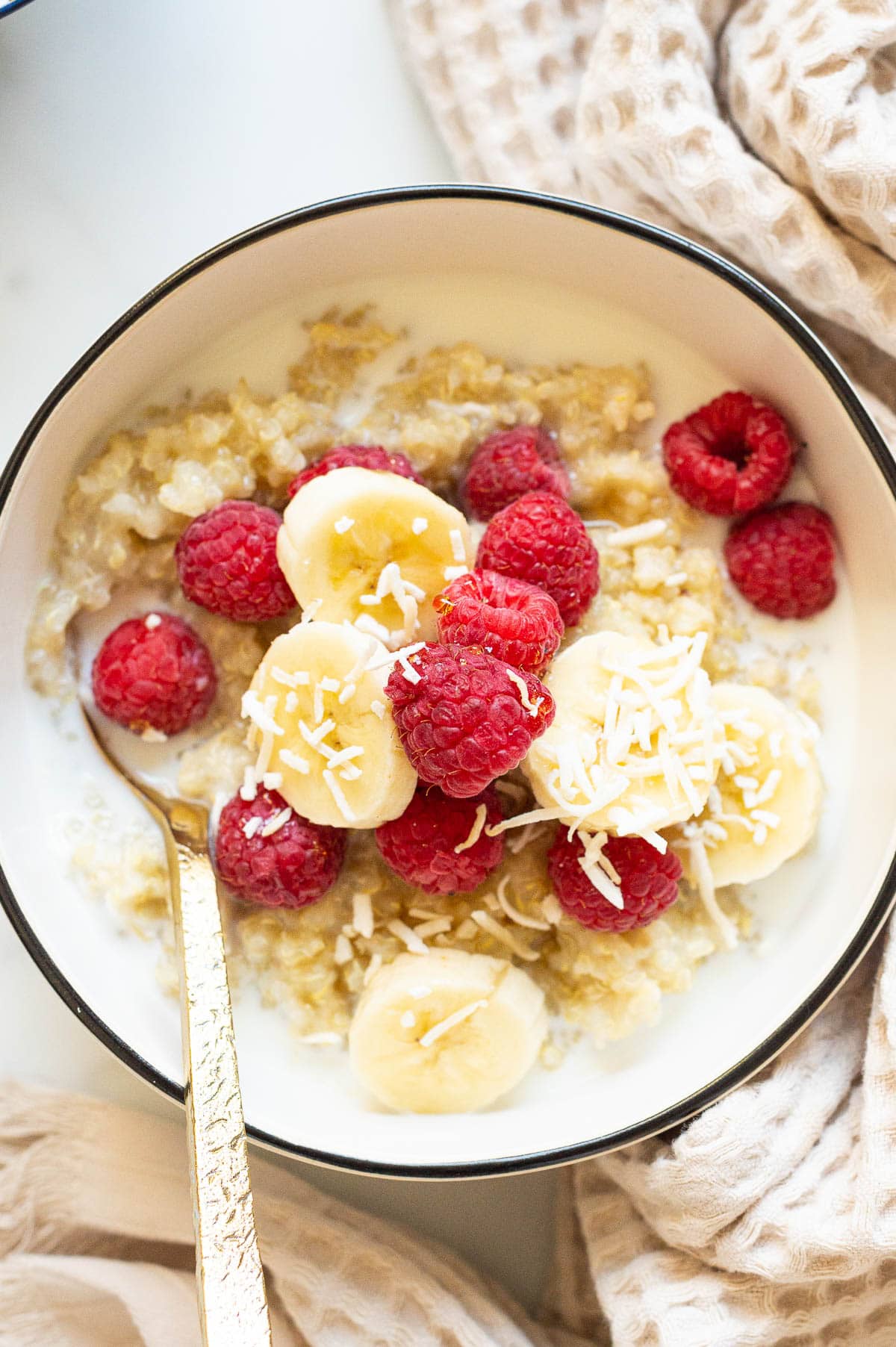 This easy Quinoa Breakfast Bake is layers of fresh fruit, quinoa, and oats smothered in a cinnamon and syrup egg mixture baked to perfection! A wholesome, healthy, and scrumptious way to start the day!
These Egg Muffins (aka frittata muffins) are high protein, nutrient-dense, easy to prepare, and ridiculously versatile. They're perfect as a freezer-friendly meal prep light breakfast or snack.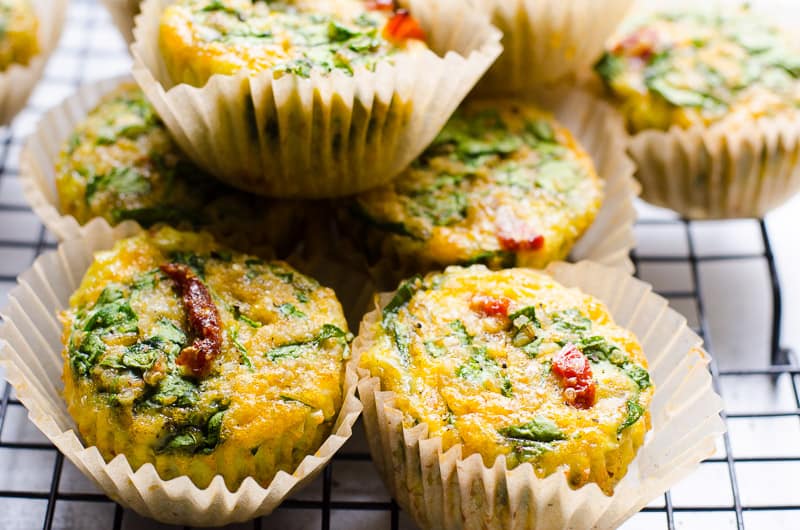 Breakfast Egg Muffins with fluffy eggs, vegetables and cheese. Make ahead and freezer friendly breakfast on-the-go.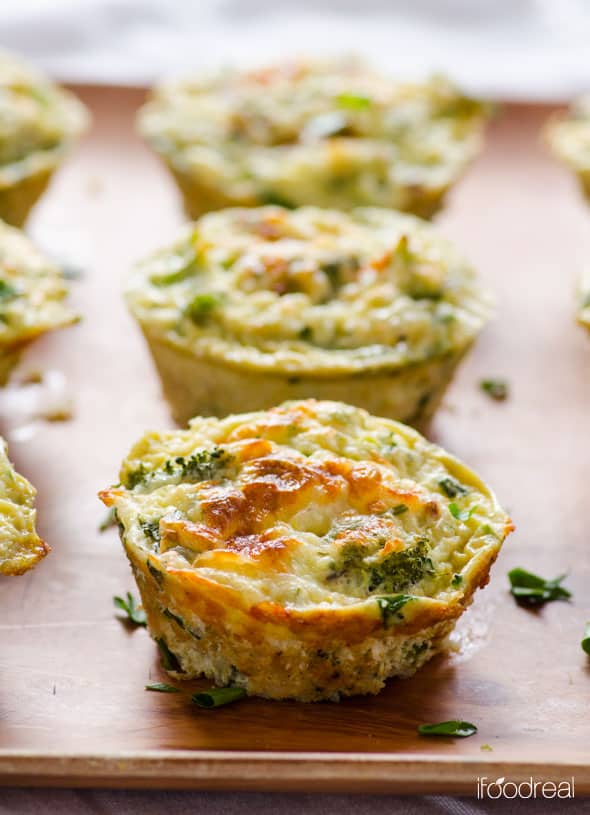 More Healthy Recipes Collections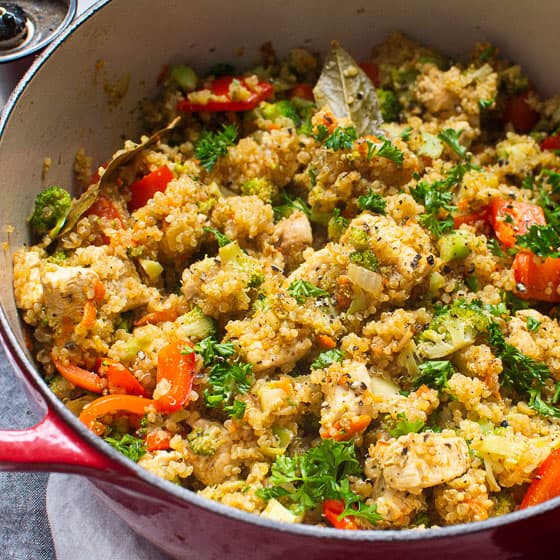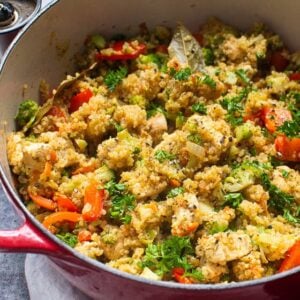 30 Best Quinoa Recipes: One Pot Chicken Quinoa
This One Pot Chicken and Quinoa meal is loaded with broccoli, quinoa, juicy chicken and delicious flavours. This easy and healthy dinner can be on your weeknight table in no time!
Ingredients
For Broccoli and Bell Peppers:
Instructions
To Cook Broccoli and Bell Peppers: In a large deep skillet or a dutch oven on medium-high heat, add enough oil to coat the bottom. Then add garlic and saute for 30 seconds, stirring often.

Next, add broccoli, bell pepper, cumin, salt, black pepper and red pepper flakes. Cook for 5 minutes while stirring occasionally. Transfer to a bowl and set aside.

To Cook Chicken and Quinoa: Return the same pot to the stove and add a bit more oil to coat. Then, add onion and carrots. Saute for 3 minutes, stirring occasionally.

Add chicken, oregano, cumin, salt, black pepper and red pepper flakes. Saute for an additional 3 minutes, making sure to stir often.

Add quinoa, stock and bay leaves; stir. Bring to a boil, cover, reduce heat to low and cook for 20 minutes.

Turn off heat. Add previously cooked broccoli and bell pepper, mix and let dish sit covered for 5 minutes for flavours to combine.

Garnish with parsley, mix and serve hot.
Notes
Store: Refrigerate for up to 3 days in an airtight container. Freeze up to 3 months.
Oil: I like to use olive oil because of it's taste. But any oil will work.
No need to rinse quinoa: 99% of the time, quinoa comes pre-washed in the bag. So to rinse or not to rinse, is entirely up to you.
Veggie substitutions: Cauliflower, zucchini, mushrooms or green beans would work well in this dish too.
Add some heat: If you like your dishes hot, try some Frank's red hot sauce or sriracha sauce.
Nutrition
Serving:
2
cups
|
Calories:
407
kcal
|
Carbohydrates:
39
g
|
Protein:
33
g
|
Fat:
13
g
|
Saturated Fat:
2
g
|
Cholesterol:
73
mg
|
Sodium:
560
mg
|
Fiber:
7
g
|
Sugar:
5
g