These 6 ingredient Homemade Protein Bars have a protein powder nutty base and dark chocolate topping for healthy, wholesome, and customizable no bake treats that take just 10 minutes prep!
Want to make more high protein healthy snacks? Enjoy these pumpkin spice protein bars, almond joy protein balls or protein pancakes.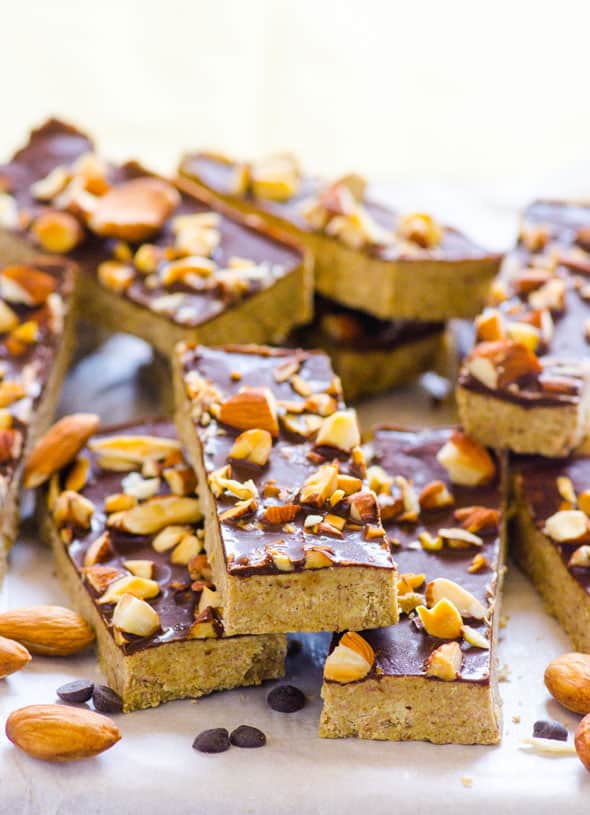 Why Make Your Own Homemade Protein Bars?
Have you ever actually looked at the ingredients list of the protein bars in the grocery store? While they may be a convenient snack, the combination of controversial ingredients and crazy prices has put me off entirely.
Luckily, not only is it easy to make your own homemade protein bars, but they're tastier, healthier, and far cheaper than commercial versions.
These no bake protein bars are chewy, fudgy, crunchy, and perfect for satisfying a sweet tooth without overindulging. We also love these crunchy quinoa granola bars!
This recipe is also versatile with practically endless customizations and 100% ingredient control. Make it nut free, without chocolate, use a protein powder that fits your dietary requirements, experiment with toppings.
They are amazing every time!
Ingredients You'll Need
Skip the unpronounceable ingredients in grocery store protein bars and rely on just 6 wholesome ingredients in this homemade protein bars recipe.
Nut Butter: Use smooth, unsalted, natural peanut butter or almond butter.
Plant based milk: Use any unsweetened dairy free milk.
Protein powder: Use your favorite vanilla plant based protein powder for delicious cookie dough vibes. I use Vega Sport.
Coconut oil: This adds heart healthy fats and helps to bind and solidify the bars.
Almond meal or almond flour: Or any nut or seed meal.
Chocolate: I use Enjoy Life semi-sweet chocolate chips for the optional topping, but use what you have.
Coconut oil: This will create the correct consistency for the chocolate topping.
Nuts or seeds: Use chopped almonds or another nut or seed.
Let's Make Some Homemade Protein Bars
Get these homemade protein bars prepped in just 10 minutes and popped in the fridge or freezer to chill. It's practically effortless!
Combine the dough: First, combine the nut butter, oil, and milk in a medium bowl. Microwave it at 30-second intervals, stirring in between, until it's melted and combined. Then add the protein powder and almond meal and mix with a spatula into a crumbly dough.
Shape the bars: Line an 8×8-inch baking dish with parchment paper, including an overhang, and then transfer the dough to it. Use your hands to spread it across the base, pressing it in tightly. Then use a spatula to even and level it out.
Prepare the topping: Combine the chocolate chips or chopped chocolate with one tablespoon of coconut oil in a small bowl. Microwave for 30 seconds, or until melted, and stir well. Pour that over the protein bars and tilt the pan to evenly coat the top. Meanwhile, toast the chopped nuts or seeds for topping in a dry pan, stirring often, until fragrant. This should take a few minutes.
Chill to set: Sprinkle the toasted nuts or seeds over the healthy protein bars and freeze them for 20 minutes or refrigerate for an hour. Finally, remove the bars from the dish, cut them into 12 protein bars, and enjoy!
Tips for Best Results
Measure the protein powder correctly: This recipe uses cup measurements rather than scoops.
The ratio may need tweaking: Certain protein powders are more absorbent than others. Adjust the amount of milk and protein powder added, a teaspoon at a time, as needed.
Don't skip the chilling time: These homemade protein bars are best when consumed directly from the fridge. In warm temperatures, they will become crumbly.
Flavor Variations
Other protein powder: I've previously made these chocolate protein bars with chocolate protein powder and have also used berry flavored powder. Peanut butter, mocha, and even pumpkin spice or chai latte flavored protein powders would also pair well with the nutty base.
Cocoa powder: Replace 2-3 tablespoons of protein powder with cacao powder for chocolate peanut butter protein bars.
Salt: Just a pinch of salt will enhance the flavors. Flaky salt would also work to sprinkle over the top.
Shredded coconut: For flavor, texture, and healthy fats. Either inside or sprinkled over the top.
Dried fruit: To mix into the dough or sprinkle over the top. Raisins, dried blueberries, dried cranberries, or chopped dates. Don't use too many if you monitor sugar levels in recipes.
Toppings: Instead of nuts, you could sprinkle cacao nibs, freeze dried berries, hemp seeds, puffed quinoa for crunch, etc., over the melted chocolate topping.
FAQs
Can I use whey protein?
I don't recommend using whey protein powder as it interacts with the wet ingredients differently than plant based protein powders. The latter absorbs, whereas whey protein makes a gloopy batter.

You could try reducing the amount of milk significantly, but I haven't tried. However, I have successfully made whey based protein cookies, which are baked, so baking may help.
Can I substitute the coconut oil?
Coconut oil will help bind and set the protein bars recipe as it solidifies in the fridge. To replace this ingredient, you need something similar. Cocoa butter or ghee could work, though I haven't tried it.
Are these protein bars healthy?
At first glance the nutritional information for these homemade protein bars may step you up. However, they're actually very healthy.

I focused on protein and heart healthy fats in these bars rather than tons of carbs and sugar (not even a drop of maple syrup in these!). Each bar contains only 0.5 tbsp coconut oil and peanut butter each, 0.5 tsp chocolate chips, 2.5 g sugar, and 5.8 g carbs.

Loaded with a heaping 2 tbsp of protein powder and almonds, each bar delivers 9 g of protein and 14 g of healthy fats.

What Kind of Protein Powder To Use?
For these protein bars, I highly recommend using plant based Vega Sport. There's no chalkiness or weird aftertaste, and I love that I can just mix it with water, and it tastes delicious.
I've previously used their vanilla protein powder, chocolate, and berry flavors, all with excellent results.
I also really like the Sunwarrior protein powder in vanilla or chocolate.
I don't recommend using plain protein powder like a pea protein or hemp protein as they have strong flavors and will change both the taste and texture of these homemade dairy free protein bars.

I also don't recommend using whey protein. Read the FAQs for more information.
Can I Make These Without Nut Butter?
Yes. The only other option to peanut butter is a seed butter like tahini or sunflower seed butter.
How to Store?
Storing: Store homemade protein bars in an airtight container in the fridge for a week.
Freeze: Flash freeze the bars on a baking tray until solid, then transfer them to a freezer safe container or Ziplock, optionally individually wrapped in parchment paper. Store them for up to 3 months.
Remove a bar from the freezer and leave it on the counter for 20 minutes, or until it's soft enough to enjoy.
More Healthy High Protein Recipes
Browse my collection of healthy snacks for recipe ideas!
Healthy Homemade Protein Bars
These 6 ingredient Homemade Protein Bars have a protein powder nutty base and dark chocolate topping.
Ingredients
Bars:
1/3

cup

coconut oil

1/3

cup

peanut or almond butter

smooth & unsalted

1/2

cup

any milk

I use almond milk

1 1/2

cups

vanilla plant based protein powder

I used Vega Sport

1/3

cup

almond meal or almond flour
Instructions
In a medium bowl, add coconut oil, peanut butter and milk. Microwave in 30 seconds intervals until melted, stirring in between. Then whisk until well mixed.

Add protein powder and almond meal, stir until combined. It will take a few minutes. Dough will be crumbly, that's fine.

Line 8" x 8" baking dish with unbleached parchment paper and fill with prepared dough. Flatten with your hands and then level with spatula, pressing dough into the dish all the time.

Combine chocolate chips and 1 tbsp coconut oil in a small bowl. Microwave for 30 seconds or until melted, then stir well. Pour over the bars and tilt the dish until all bars are coated evenly with chocolate.

Toast almonds in a small skillet on low-medium heat until lightly brown, about 5 minutes. Stir frequently and watch closely not to burn. Sprinkle on top of chocolate.

Freeze bars for 20 minutes or refrigerate for 1 hour. Remove from the dish by holding onto the flaps of parchment paper and place on a cutting board. Cut into 12 bars and enjoy chilled.
Notes
Store: Refrigerate in an airtight container for up to 1 week.
Freeze: Freeze in an airtight container for up to 3 months. Thaw at room temperature for 20 minutes.
I tried Vega Sport protein powder in vanilla, chocolate and berry flavours, as well as Sunwarrior protein powder.
I do not recommend to use plain pea, hemp or whey protein powder in this recipe for taste and texture reasons.
You can skip the topping but nutritional info won't change much.
Nutrition
Serving:
1
bar
|
Calories:
203
kcal
|
Carbohydrates:
7
g
|
Protein:
12
g
|
Fat:
15
g
|
Saturated Fat:
8
g
|
Cholesterol:
28
mg
|
Sodium:
52
mg
|
Fiber:
1
g
|
Sugar:
2
g