Stuffed Bell Pepper Soup is everything you love about stuffed peppers in a fuss-free warming bowl of soup. It is one pot meal ready in under 50 minutes!
This wholesome soup is a delicious cross between meaty stuffed peppers and tomato soup that the entire family will love!
As the weather starts to cool, I love turning family favorites into hearty, warming soups and stews that warm you to the bones and fill up your belly. And this healthy stuffed bell pepper soup is at the top of mine and my family's list!
Why You'll Love This Recipe
Easy and versatile: Cook on the stovetop, Instant Pot or slow cooker (please see FAQs below).
One pot meal: No extra pots and bowls to wash.
Budget-friendly: Made with pantry staples you probably already have on hand!
Nourishing and immune-boosting: Tender rice, veggies, ground meat and herbs provide fat, fiber and protein. Loaded with vegetables high in both antioxidants and vitamin C, A, and E.
A crowd pleaser: Even veggie-hating children gobble up this delicious soup. It is also naturally gluten-free and dairy-free which means you can serve it to a crowd.
Freezer and meal-prep friendly: A big batch of soup means you can save some for later.
Ingredients for Stuffed Bell Pepper Soup
While the list may look a little long, this stuffed pepper soup is primarily made of pantry staples and easy-to-find ingredients.
Protein: You can use ground turkey, ground beef or ground chicken. I usually use ground turkey for a lower fat, lower cholesterol and lower calorie option.
Aromatics: You'll need yellow onion, garlic cloves and a few bay leaves.
Vegetables: All you need is celery and bell peppers. You can use a combination of green, yellow, orange or red bell peppers. Note that green bell peppers aren't as sweet and are slightly bitter.
Rice: White rice or brown rice works in this soup recipe although brown rice requires longer cooking time.
Seasonings: I used a combination of dried thyme, oregano, salt and ground black pepper.
Tomatoes: Unstuffed pepper soup requires a can of diced tomatoes plus some low sodium tomato sauce.
Broth: Feel free to use vegetable broth, chicken broth, beef broth, or even water.
Sweetener: A little honey or maple syrup will help balance the acidity in the tomato products.
Vinegar: Just a teaspoon of white vinegar adds depth to the flavor of the soup. Alternatively, you can add a little lemon juice or Worcestershire sauce.
Herbs: Finely chopped fresh parsley or fresh dill will add even more flavor as garnish.
Oil: Use any neutral cooking oil like olive oil or avocado oil.
How to Make Stuffed Bell Pepper Soup
Here is a quick breakdown how to make stuffed pepper soup. There is full recipe card below.
We saute veggies, meat and cook the rice all in one pot. I use my beloved 6-quart Dutch oven.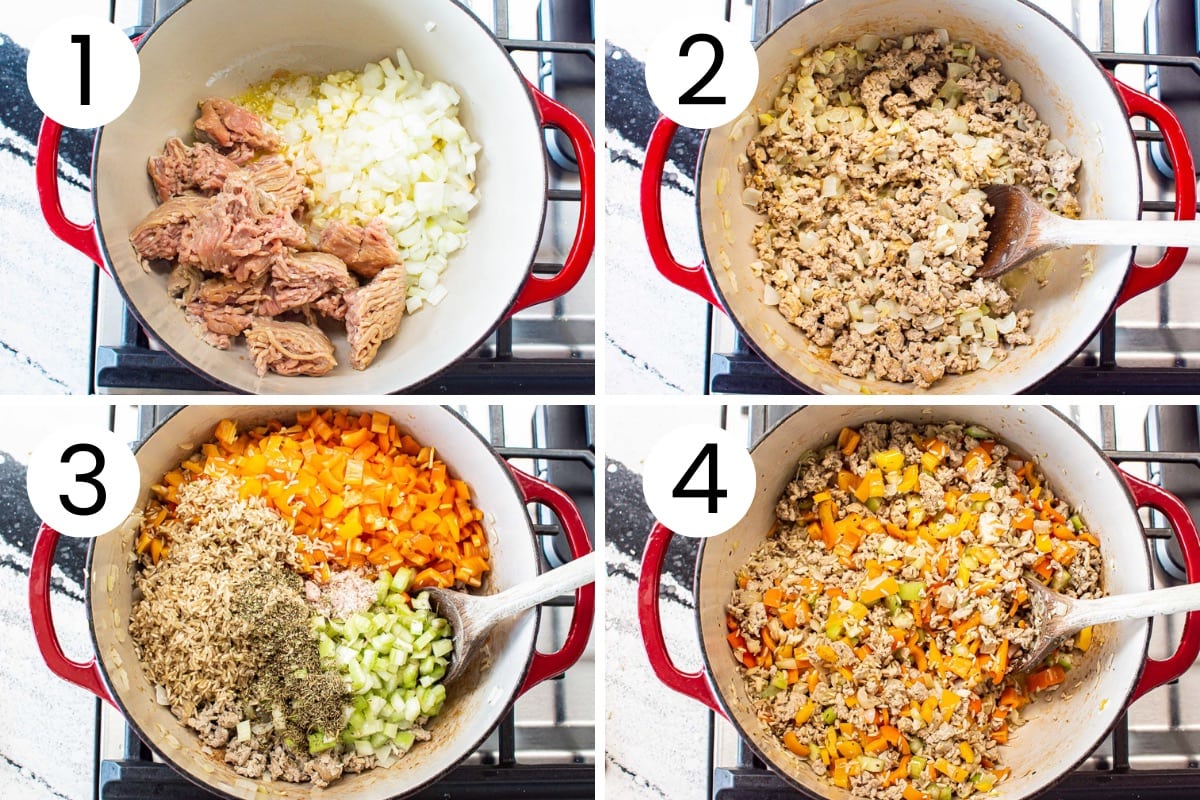 Sear the meat: Heat a large pot over high heat with a swirl of oil. Add diced onion, fresh garlic and ground meat. Saute for 5 minutes, stirring often and breaking the meat down into smaller pieces.
Saute the vegetables: Then add bell pepper, celery, rice, and spices. Saute for a further 3 minutes, stirring occasionally.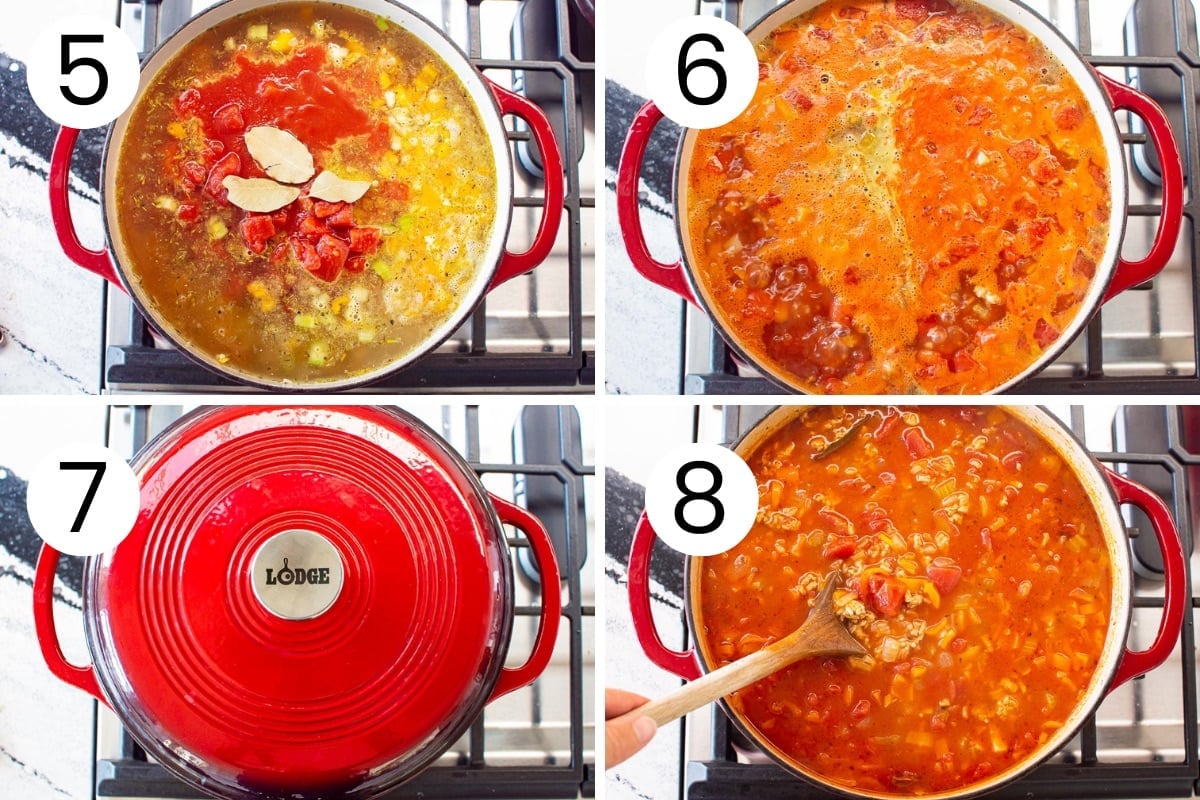 Add the broth ingredients: Add diced tomatoes, tomato sauce, broth, sweetener, vinegar, and bay leaves. Stir well and bring to a boil.
Allow the soup to simmer: Once boiling, reduce heat to low, cover pot with a lid and simmer soup for 20 minutes with white rice or for 40 minutes if using brown rice. After ensure rice is tender. If not, simmer covered for a few more minutes.
Recipe Tip
If you have time, I recommend allowing the pepper soup to sit covered for 5 minutes off the heat and then add fresh herbs. That's when flavors really develop and you will be able to tell if it's seasoned enough to your liking.
Tips for Best Results
If you decide to use ground beef: Choose a lean beef option like 90% lean ground beef whenever possible. I recommend to drain the fat after browning it.
If you would like to cook rice separately: Some people prefer to cook and store rice separately and only add to the soup bowls when serving. That way, it won't become mushy while sitting in the broth. Also reduce broth in the soup by about 2 cups then.
Using leftover rice or meat: You can use leftover cooked rice or ground beef in this soup. You can still add the meat at the beginning and add rice in the last few minutes, just enough to warm up in the broth. However, I still recommend simmering the soup broth for 30-40 minutes for the best flavor.
Don't take simmering shortcuts: Even when using leftover rice or meat, I don't recommend reducing the cook time to below 35-40 minutes for the best flavor. If you do it much less, the tomatoes will taste overly acidic and overpower entire dish.
If you don't have any low sodium products: If you use regular canned diced tomatoes and tomato sauce, I recommend to skip adding any extra salt until the very end. Then season to taste.
Fresh herbs: Add the fresh herbs to the pot right before serving. Otherwise, they will "cook".
Variations
Spice: If you'd like to add a hint of heat to this unstuffed bell pepper soup, I recommend adding either a little chili powder, red pepper flakes or even hot sauce to taste. You can also add some canned diced chilies for an extra heat kick.
Seasoning: Swap out Italian herbs for taco seasoning.
Lower carb: Use cauliflower rice in place of regular rice. No need to pre-cook it, just add at the end and hot soup broth will soften it within minutes.
Other vegetables: Beef up this soup more with extra veggies like fresh or frozen peas, frozen or canned corn, canned beans etc. at the every end of cook time.
Lemon: You can serve this stuffed pepper soup with lemon wedges to add some bright flavor to the soup like we do in lemon chicken orzo soup.
Cumin: A pinch of cumin adds a wonderful extra layer of flavor.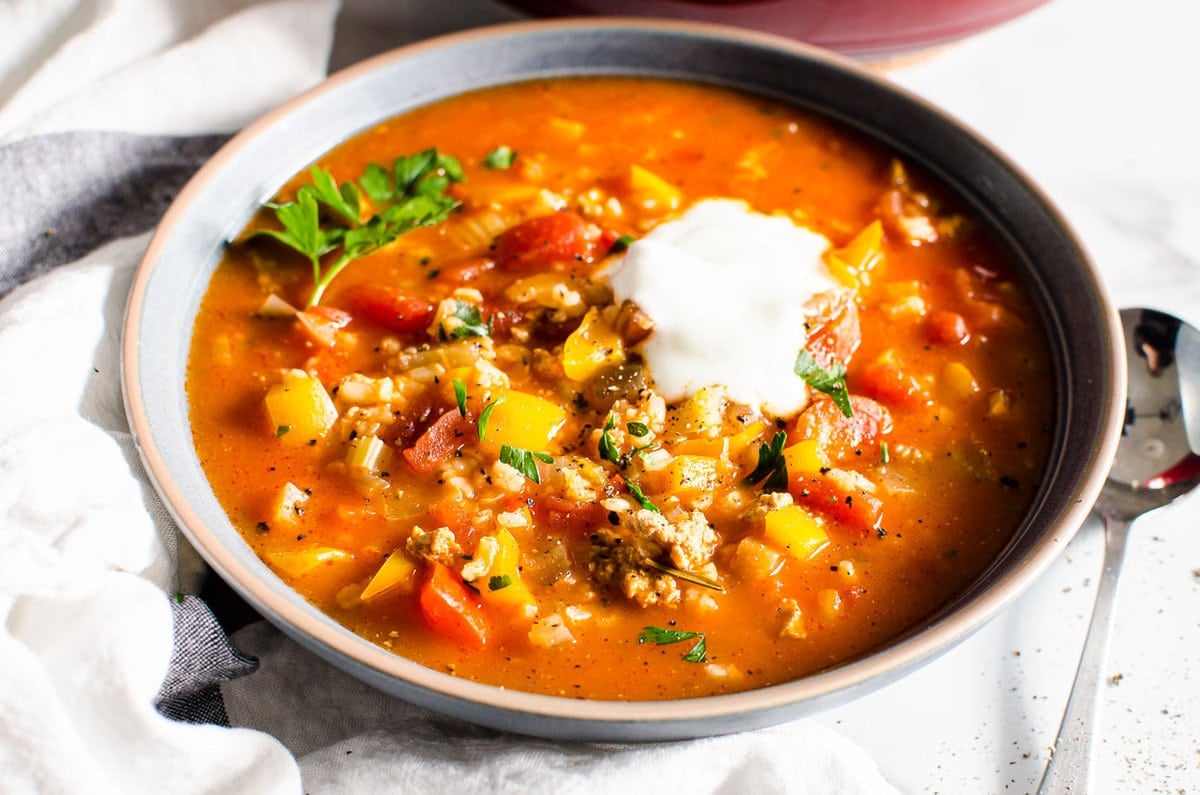 What to Serve with Stuffed Bell Pepper Soup?
We like to serve stuffed pepper soup topped with more chopped fresh herbs, a dollop of sour cream or plain yogurt in each individual bowl. And with a few slices of toasted rye bread, whole wheat bread or sourdough bread.
You could also sprinkle each hot bowl with a bit of mozzarella cheese and it will melt into it. Delicious!
As for side dishes, I don't think you need anything heavy to go with it as it's a meal on its own. But here are a few ideas if you are serving a crowd:
How to Store and Reheat
Make ahead: Truth is that majority of soup recipes, especially my beloved borscht, taste even better on day 2 and 3 after the flavors have had some time to meld. So feel free to prepare it in advance!
Store: Allow soup to cool and then store in an airtight container in the refrigerator for up to 5 days.
Freeze: Cool soup completely before transferring to airtight containers or Ziplock bags. Freezing in portions is also great for meal prep. Freeze soup for up to 3 months. You can allow soup to thaw in the fridge or add it to a small covered saucepan over low heat to thaw and reheat.
Reheat: To reheat stuffed pepper soup, I recommend adding your desired amount to a small saucepan or heating in the microwave.
Recipe Tip
Note that no matter how you store leftovers, rice will become mushier as it sits in the soup. This is normal and I do not find it becomes mushy like pasta does in any soup. In fact, I even like it as soup thickens naturally. You can always add a splash of broth to thin it out before reheating.
FAQs
Can I substitute different types of rice?
I've tested this stuffed pepper soup with white rice and brown rice with no problems. I think you can easily swap out the rice to another type of rice. However, note that cooking time will change. So check the package instructions and adjust the recipe accordingly.

You can use minute rice and other quick cooking rice. Cook it separately and then add to the soup pot at the end.
How do I thicken or thin out the soup?
It's easy to adjust the texture of this soup. For a thicker soup, you can remove some of the broth and veggies, use a blender to puree them, and then add back to the pot. Just a note that soup will thicken as it sits as the rice absorbs liquid. So, just letting it sit off of heat while covered for 30-60 minutes will also thicken the soup.

For a thinner soup, simply add a little more water or broth, or reduce the amount of rice added to the soup.
Can I substitute quinoa for rice?
Yes, I think you can use quinoa instead of rice. Simmer soup with quinoa for 20 minutes like you would with white rice. You can also use other grains like barley, farro or couscous and adjust time accordingly.
Can I make stuffed pepper soup in the crock pot?
Yes. To prepare this stuffed pepper soup recipe in the slow cooker, brown the beef with garlic and onion on the stovetop, then add to the crockpot. Add remaining ingredients and stir well. Cook on Low heat for 8 hours or High heat for 4 hours.
Can I make this stuffed bell pepper soup in the Instant Pot?
Yes. Use the Saute function to brown the meat with garlic and onion for several minutes, stirring constantly. Add all the remaining ingredients to the Instant Pot. Cook on High pressure for 15 minutes when using brown rice or 10 minutes when using white rice. Wait 10 minutes and release pressure using Quick Release. Alternately, just make my Instant Pot stuffed pepper soup.
More Stuffed Pepper Recipes
More Soup Recipes to Try
Alternately, browse 35 healthy soups recipes and 45 healthy ground turkey recipes!
Stuffed Bell Pepper Soup
Stuffed Bell Pepper Soup is everything you love about stuffed peppers in a fuss-free warming bowl of soup. One pot meal ready in 50 minutes!
Instructions
Preheat large Dutch oven or pot on high heat, swirl oil to coat and add onion, garlic and ground meat. Saute for 5 minutes, stirring often and breaking meat into pieces.

Add bell pepper, celery, rice, thyme, oregano, salt and pepper. Saute for 3 more minutes, stirring occasionally.

Add diced tomatoes, tomato sauce, broth, maple syrup, vinegar, bay leaves and bring to a boil covered. Reduce heat to low and simmer covered for 20 minutes with white rice and 40 minutes if using brown rice.

Stir and adjust any seasonings to taste. If you have time, let stuffed pepper soup sit covered for 5 minutes.

Add dill or parsley, stir and serve hot with a dollop of plain yogurt and slice of toasted bread.
Notes
Store: Refrigerate for up to 5 days. Reheat by simmering on low desired amount of soup in a small pot.
Freeze: Fully cook, cool completely and freeze in an airtight container for up to 3 months. Thaw on a stovetop covered on low.
Peppers: Green bell pepper tastes less sweet than orange, yellow or red. I love its addition, if you have it on hand. Mix as you wish or go even all one colour peppers.
Ground beef : If using ground beef, I recommend to drain the fat. Do so in a city collected compost or garbage to prevent clogging your pipes.
Not low sodium: If your canned tomatoes and broth are not low sodium, do not add salt and adjust to taste at the end.
Herbs: Add fresh herbs right before serving to the pot. Otherwise, they will "cook".
Slow cooker: Saute ground meat until broken into small pieces on the stove. Then add all ingredients to a crock pot and cook on Low for 8 hours or on High for 4 hours.
Instant Pot: To make soup in Instant Pot, saute meat first, then add remaining ingredients and cook on High pressure for 15 minutes with Quick Release.
Nutrition
Serving:
1.5
cups
|
Calories:
249
kcal
|
Carbohydrates:
32
g
|
Protein:
17
g
|
Fat:
5
g
|
Saturated Fat:
1
g
|
Cholesterol:
31
mg
|
Sodium:
577
mg
|
Fiber:
4
g
|
Sugar:
8
g