Instant Pot Stuffed Peppers recipe made with ground beef or ground turkey, rice, and simple seasonings. Then cooked in an array of beautifully colored bell peppers topped with zesty tomato sauce.
For a quicker version, try my Instant Pot stuffed pepper soup.
My mom and grandma made ground chicken stuffed peppers non-stop from September to October during the bell pepper season. These days, I make Instant Pot stuffed peppers twice as fast, anytime throughout the year.
Why You'll Love This Recipe
Easy: It's a great weeknight healthy dinner that you can pull off in under 1 hour. And it makes up to 8 or 9 peppers, depending on the size of your Instant Pot.
One pot meal: You can use pre-cooked rice or cook rice in the Instant Pot.
Classic taste: It's one of Instant Pot recipes that has the traditional flavors and feel of classic comfort dish but with modern conveniences of fast and easy.
Budget-friendly: A great money saving meal as most ingredients are in your budget or in your pantry.
Can easily serve a crowd: But the recipe can also be cut in half for a smaller meal.
Makes great leftovers: And truth be told, they taste just as good cold!
Ingredients for Instant Pot Stuffed Peppers
To make Instant Pot stuffed peppers you will need just a handful of simple ingredients.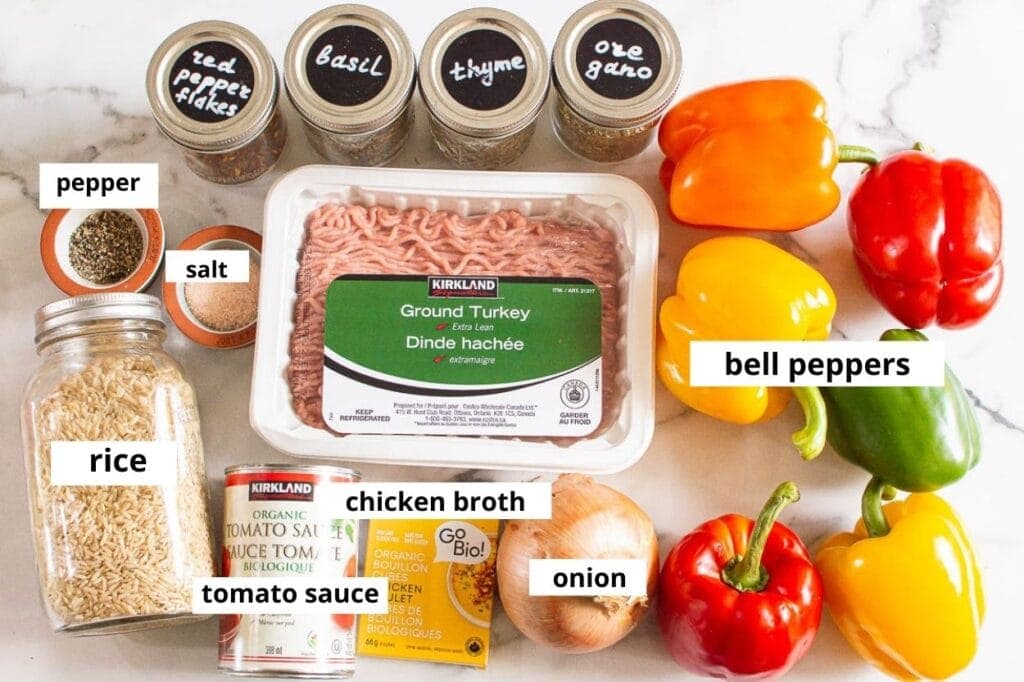 Bell peppers: Red peppers, orange peppers and yellow peppers are sweet. Green bell peppers are more bitter but can be used, I love them! Pick large and straight bell peppers, firm to the touch and without soft spots.
Ground meat: Lean ground beef, ground turkey, ground chicken, ground pork or ground lamb works. If you use ground poultry, it is more lean, so I recommend to add a few tablespoons of oil.
Rice: White rice or brown rice works. Prep time will be a bit longer because you have to pre-cook the rice and both require different cook times. If you have leftover rice, you can use that.
Tomato sauce: Low sodium canned tomato sauce.
Onion: Yellow onion or white onion.
Simple seasonings: Dried thyme, dried oregano, dried basil or replace with Italian seasoning. Red pepper flakes, salt and pepper.
How to Make Stuffed Peppers in Instant Pot
Here is a quick overview how to make stuffed peppers in Instant Pot.
Prep rice and peppers: I like to cook the rice in the Instant Pot while I am prepping the peppers. Wash bell peppers and cut the tops off with a paring knife as close to the tail part as possible. Then scoop out seeds with a tablespoon.
Make stuffing: In a large bowl, combine pre-cooked rice, ground meat, minced onion, dried oregano, thyme and basil, red pepper flakes, salt and pepper. Mix well with your hands.
Stuff the peppers: Divide stuffing evenly among the hollowed out peppers. They will be pretty full and it is fine as mixture will not double in size. Place them on top of trivet in the Instant Pot and pour broth on the side. Top each pepper generously with tomato sauce.
Pressure cook stuffed peppers in Instant Pot: Close the lid, set vent to Sealing position and press Pressure Cook button on High pressure or Manual button for 10 minutes. Once cook time is over, you can release pressure using Quick Pressure Release or let it subside on its own. Open the lid and your Instant Pot stuffed peppers are ready to be served.
What Size Instant Pot Can I Cook Stuffed Peppers in?
Size of Instant Pot you have changes how many stuffed bell peppers you can pressure cook at same time.
I have 8 quart Instant Pot and it's large enough to cook all 8-9 bell peppers at once. If you own 6 quart Instant Pot, cook stuffed peppers in 2 batches or cut the recipe in half.
3 quart Instant Pot should fit 4 large peppers. Cut recipe in half and keep same pressure cooking time.
Tips for Best Results
You can use different rice: White rice and brown rice have different cook times. White rice cooks in pressure cooker in 3 minutes and brown rice needs 22 minutes.
You can replace rice with uncooked quinoa: To skip on pre-cooking the rice step, use dry quinoa instead. Pressure cooking time will change to 15 minutes in 8 quart Instant Pot and 20 minutes in a 6 quart Instant Pot.
If using ground turkey or ground chicken: Add a few tablespoons of oil to add moisture as poultry meat is pretty dry on its own.
Stacking peppers is fine: There is enough space between peppers for pressure to build up.
Add some cheese: If you would like a bit of melted cheese on your Instant Pot stuffed bell peppers, sprinkle a little on top before serving and let the residual heat melt it. Mozzarella cheese, cheddar cheese, provolone cheese or parmesan cheese are great choices.
Make them vegetarian: You can replace ground beef with finely diced sautéed mushrooms and black beans or pinto beans, or crumbled tofu. Cook time will stay the same.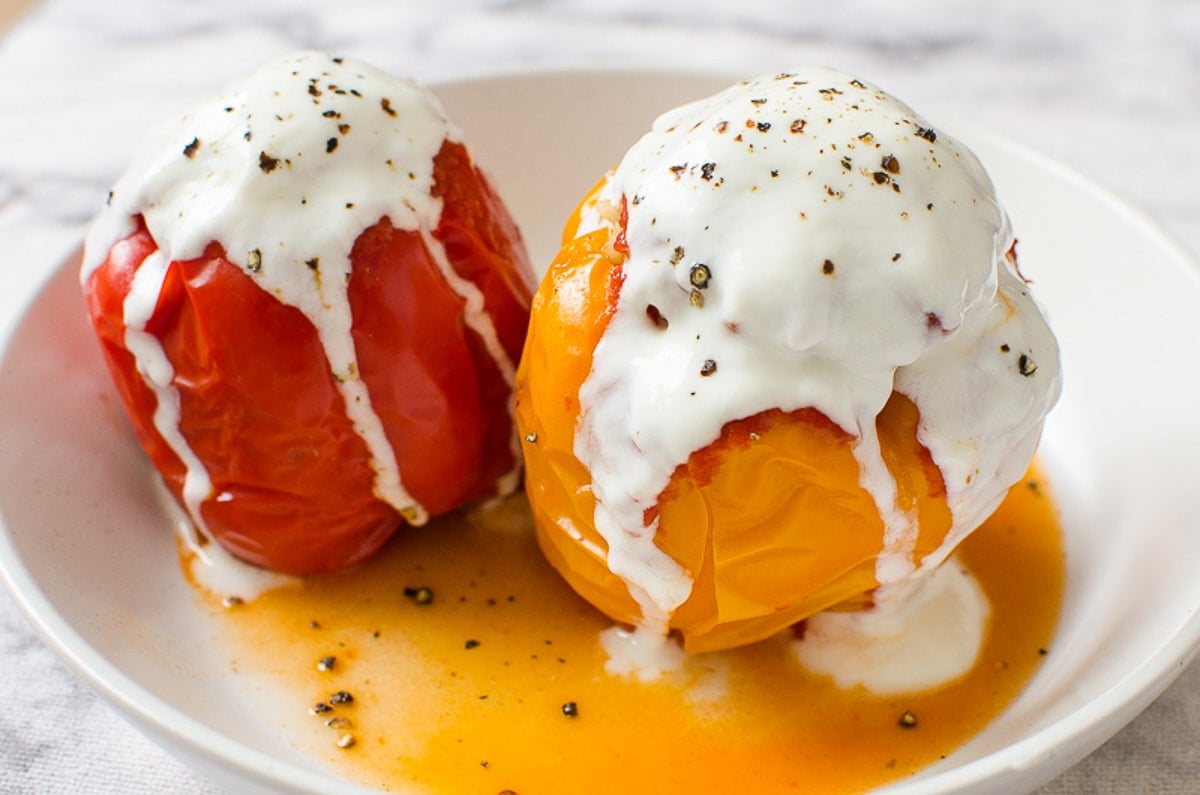 What Should I Serve Stuffed Peppers with?
These juicy stuffed peppers are filled to the brim with seasoned tender meat and rice and topped with rich tomato sauce. We like to serve them with cool creamy yogurt or sour cream and rye bread. Toasted whole wheat bread mimics freshly baked rye bread as well.
I like to break stuffed peppers on my plate, mix with yogurt and dip bread into the sauce. The flavorful combination of tomato sauce and tangy yogurt or sour cream is delicious!
Stuffed peppers are a complete meal because every bell pepper comes with a vegetable, grain, and protein. However, if we serve it with something, it's usually a simple salad like butter lettuce salad or cucumber bell pepper salad.
How to Store and Reheat
Storing: Refrigerate Instant Pot stuffed peppers for up to 5 days. I do not recommend to freeze cooked or uncooked peppers because the fibers in bell pepper are not strong enough for the freezer. Peppers will almost disintegrate once thawed.
Reheating: To reheat stuffed peppers, place them in a pot with the juices, cover and cook on low heat on the stove for 10 minutes. The steam will warm them through.
Can I Make Them Ahead of Time?
Yes, you can prepare stuffed peppers ahead of time and cook them in Instant Pot later. Stuff the bell peppers, place them in a large baking dish, cover tightly with plastic wrap and refrigerate for up to 2 days. Cook as per recipe when ready to eat!
I do not recommend to freeze assembled bell peppers because peppers will disintegrate upon thawing. Some readers still do it and are OK with the results.
FAQs
Can I skip pre-cooking the rice?
No. I don't recommend using uncooked rice because it will come out undercooked, peppers and ground beef overcooked. There is also not enough liquid in the meat mixture to cook the rice. Some readers have used uncooked instant brown rice but I haven't tried.
Can I replace rice with cauliflower rice?
My concern is that cauliflower rice will lose a lot of moisture being under pressure for 10 minutes. However, one of the readers used cauliflower rice with a few tablespoons of breadcrumbs to soak up the juices with great results. You may try and let me know!
What color of bell peppers should I use?
Use a combination of colors you like. All bell peppers are the same but the color determines when it was taken off the vine at one point. The longer bell pepper grows, the riper and sweeter it gets. Green bell peppers are harvested first, which is why they are much more bitter than their sweeter red counterpart. Orange and yellow bell peppers are in the middle.
Do you have to blanch bell peppers before stuffing?
No, there is no need to blanch bell peppers before stuffing them. Pressure cooker will cook them in minutes.
Can I make these stuffed peppers in slow cooker?
This recipe is versatile. You can cook these stuffed bell peppers in a slow cooker on low heat for 6-7 hours or high heat for about 3-4 hours.
More Stuffed Recipe to Try
More Instant Pot Recipes to Try
Looking for more dinner ideas? Check out my most popular collection of 45 healthy Instant Pot recipes.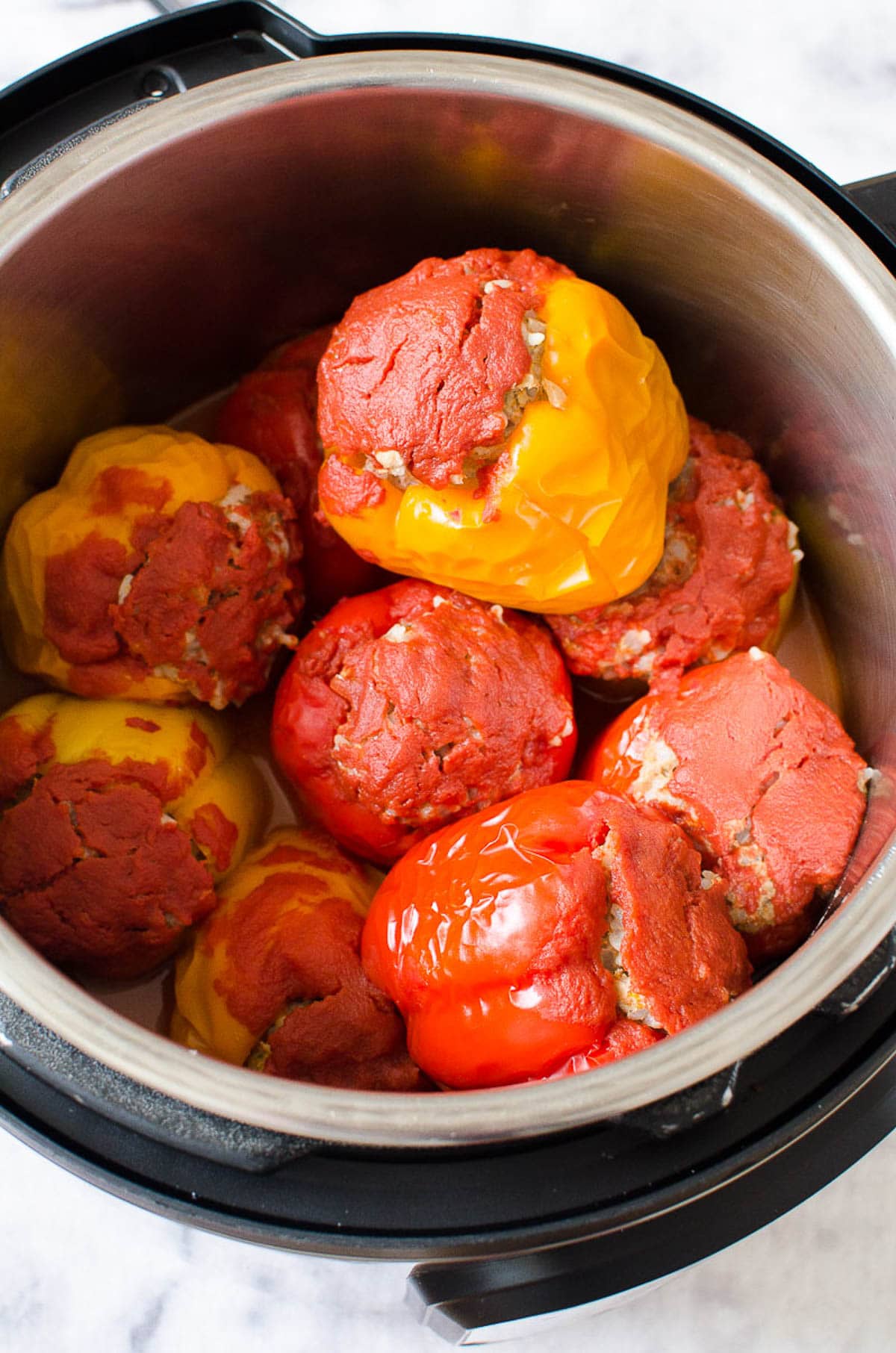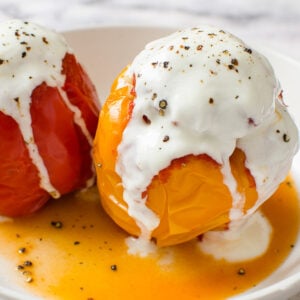 Instant Pot Stuffed Peppers
Instant Pot Stuffed Peppers with ground beef, rice, and simple seasonings cooked in bell peppers topped with tomato sauce. 1 hour one pot meal!
Instructions
In Instant Pot, add 3/4 cup rice and 3/4 cup cold water. Close the lid, set valve to Sealing and pressure cook on High pressure white rice for 3 minutes and brown rice for 22 minutes. After natural release the pressure for 10 minutes.

While rice is cooking, using the paring knife cut around the tail of each bell pepper and discard seeds using a tablespoon. Set aside.

In a large mixing bowl, add ground beef, cooked rice, onion, oregano, thyme, basil, salt, red pepper flakes and ground black pepper. Using your hands or spatula, mix really well. Stuff peppers with mixture, dividing evenly.

To Instant Pot, add trivet and vegetable stock. Arrange 1 layer of peppers and top with half of the tomato sauce. Lay remaining peppers and top with remaining sauce.

Close the lid, turn release vent to Sealing and press Pressure Cook or Manual on High Pressure for 10 minutes. Release pressure right away by turning the valve to Venting, Quick Release. Or let it subside on its own.

Serve stuffed peppers with their juices from the bottom of the pot (turkey baster is the best to scoop those up), plain yogurt or sour cream and toasted whole wheat or rye bread.
Notes
Store: Refrigerate in an airtight container for up to 3-4 days. Not recommended to freeze.
Nutrition
Serving:
1.5
peppers
|
Calories:
547
kcal
|
Carbohydrates:
34
g
|
Protein:
30
g
|
Fat:
31
g
|
Saturated Fat:
12
g
|
Cholesterol:
107
mg
|
Sodium:
615
mg
|
Fiber:
5
g
|
Sugar:
9
g