Overnight Chia Pudding made with only 4 ingredients is the perfect creamy consistency! Make ahead as part of healthy breakfast ideas or try it for a high protein, high fiber, omega 3 filling snack.
Love to meal prep? Make healthy banana muffins, healthy waffle recipe or almond flour banana bread on Sunday to enjoy all week.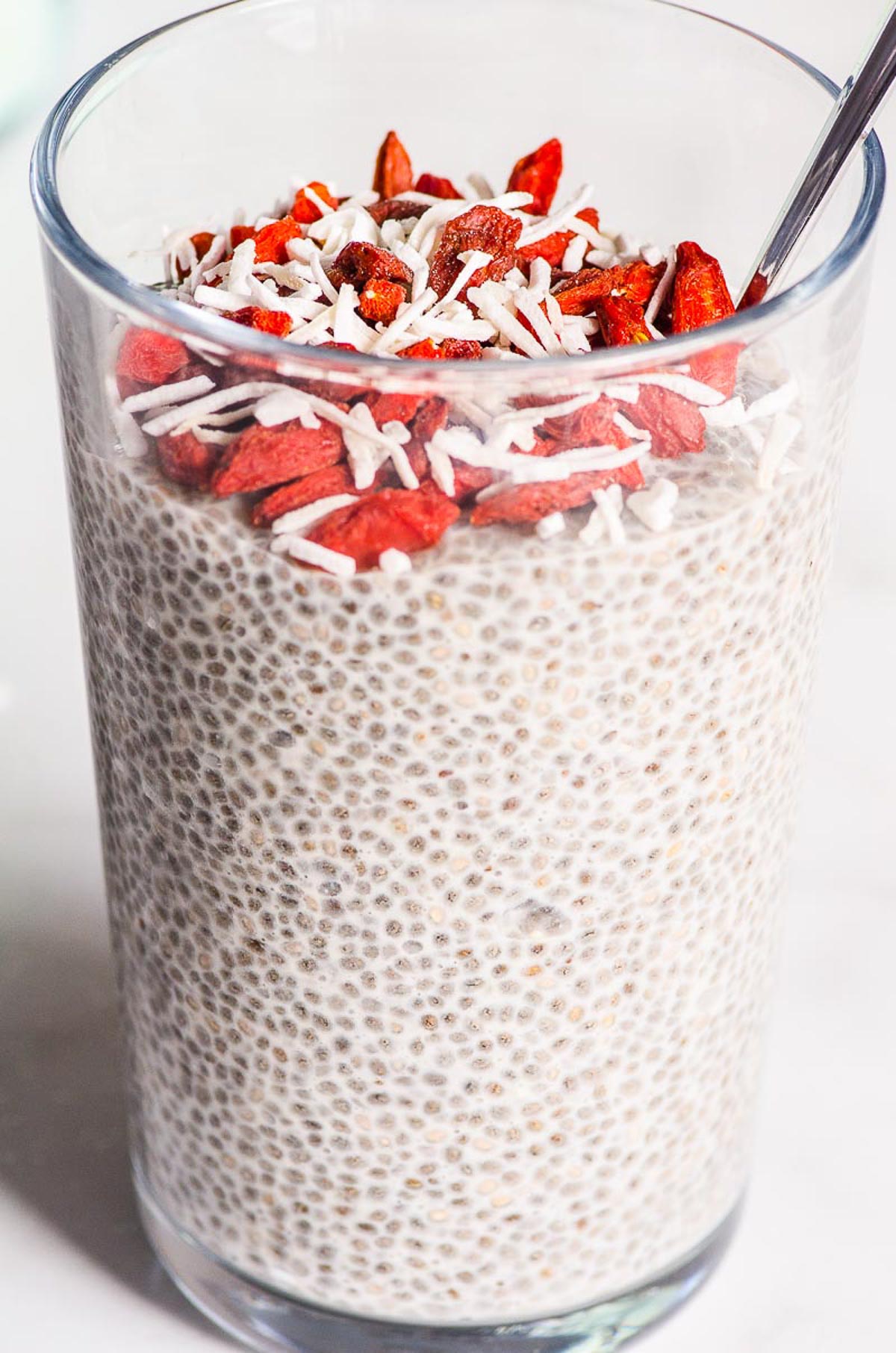 This chia pudding is so easy and simple. It takes less than 5 minutes to prep and then settles overnight in the fridge.
You can make a few chia seed puddings at a time and even add some variety with a chocolate chia seed pudding or chocolate banana chia pudding one, too!
I like to make ahead five for Monday till Friday for easy grab-and-go breakfast recipes or healthy snacks.
When meal prepped in advance, in the morning, grab a jar, top with your favorite toppings like nuts, berries, fruit, coconut flakes or even crumbled quinoa granola bars and you are good to go.
Literally, out of the door with your overnight chia pudding in hand. It's genius!
And what about protein cookies or almond flour banana muffins? See, not only learning how to make lemon water is good for you first thing in the morning.
Why Is Chia Pudding Healthy?
High protein: These tiny seeds are a complete plant based protein!
High fiber: Full of soluble fiber that is both gut friendly and helps slow digestion so you feel satiated.
Healthy fats: Chia seeds contain omega-3 fatty acids just like healthy tuna salad and honey garlic glazed salmon which is great for brain health!
Antioxidants: It boasts an impressive antioxidant profile more than any other whole food, even blueberries (although we do love healthy blueberry muffins, too!).
Excellent source of essential minerals: Calcium for bone health plus manganese, selenium, iron and magnesium to name a few.
Also, naturally gluten free and when using almond milk it's dairy free, too!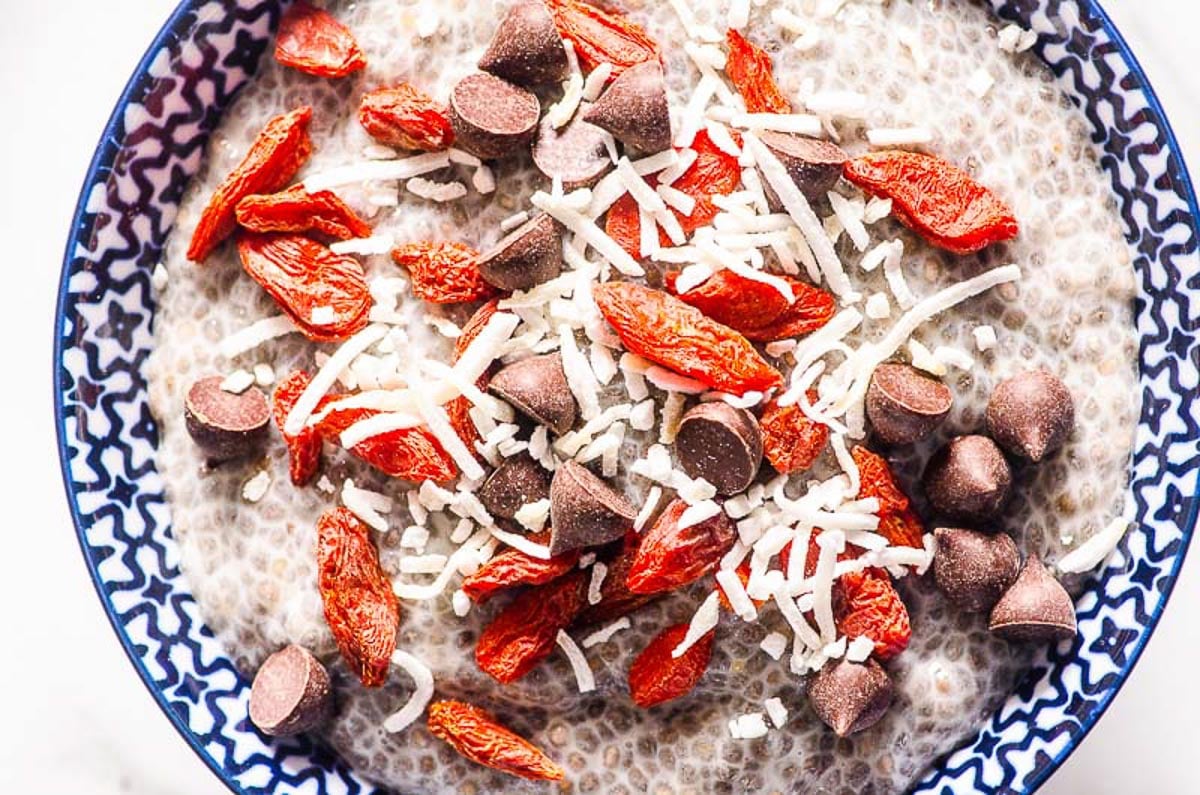 Ingredients You'll Need
This chia pudding recipe consists of a mix of chia seeds, almond milk, vanilla, and sweetener. It couldn't be more simple!
Whole chia seeds: Black chia seeds are tiny yet expand up to 9 times their original size. You want to use whole and not ground seeds to avoid bitter taste and unpleasant texture.
Almond milk: I use unsweetened almond milk. You can use any plant based milk from a carton like rice, coconut, soy, hemp, or oat milk. Adjust sweetener depending if you use unsweetened or sweetened milk. Dairy milk works too, as long as milk has watery consistency.
Liquid sweetener: I prefer maple syrup because unlike thick honey it dissolves better in cold milk. But honey works too as you can tell from my video (Costco run was overdue).
Pure vanilla extract: One teaspoon of vanilla extract for a vanilla chia pudding with excellent flavor.
Once you let mixed ingredients sit overnight, they form tapioca like pudding. Overnight chia seed pudding has similar consistency to a brown rice pudding, hence the name.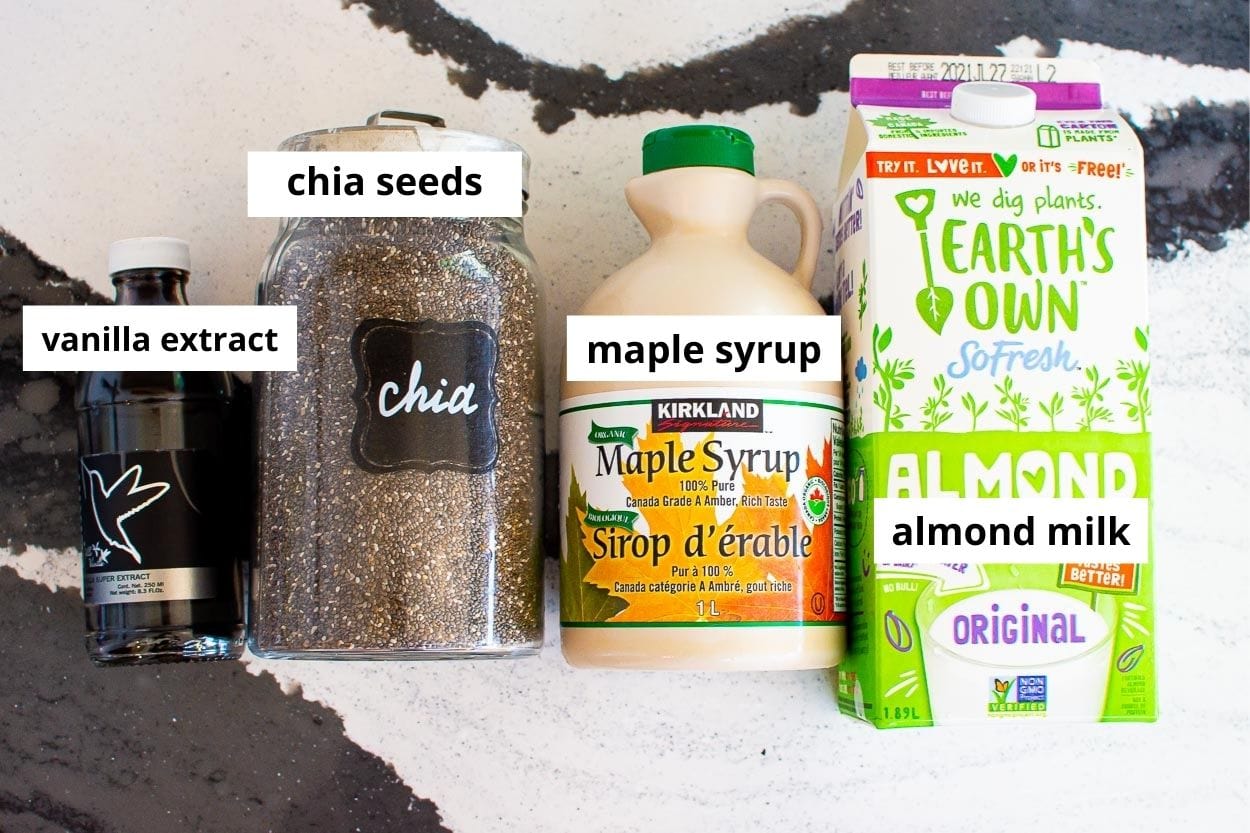 How to Make Overnight Chia Pudding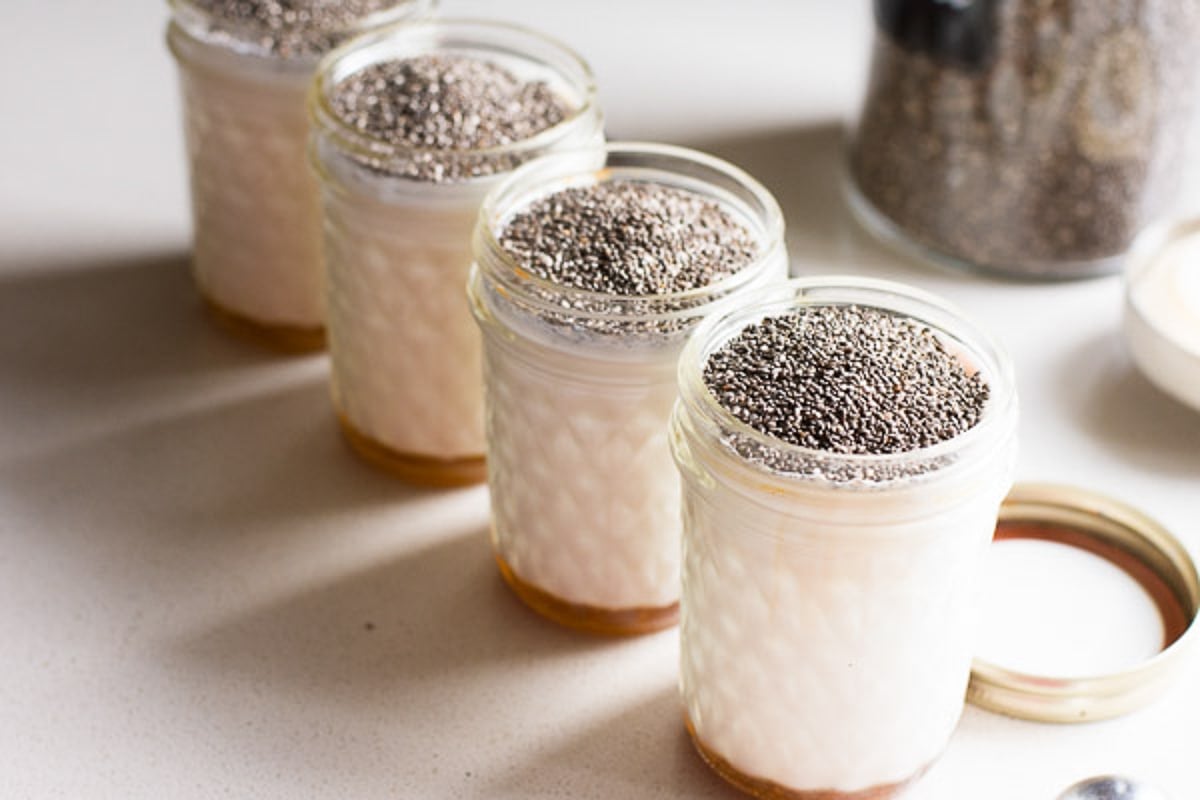 Add ingredients in this particular order: Almond milk, maple syrup, vanilla and chia seeds. This order is easy to mix, no mess and quick. Any glass container works and I prefer it to plastic for health and taste reasons. I have to say if you like toppings, use bigger 16 oz Mason jars.
Stir well with a fork or small whisk and it let sit for 1 minute: The chia seeds will start expanding immediately. You will see it settling at the bottom.
Stir 2 more times after 1 minute: Stirring a few times will prevent lumps. If you don't, not all chia seeds will expand and many will lump at the bottom. Make sure to stir maple syrup on the bottom – it settles fast.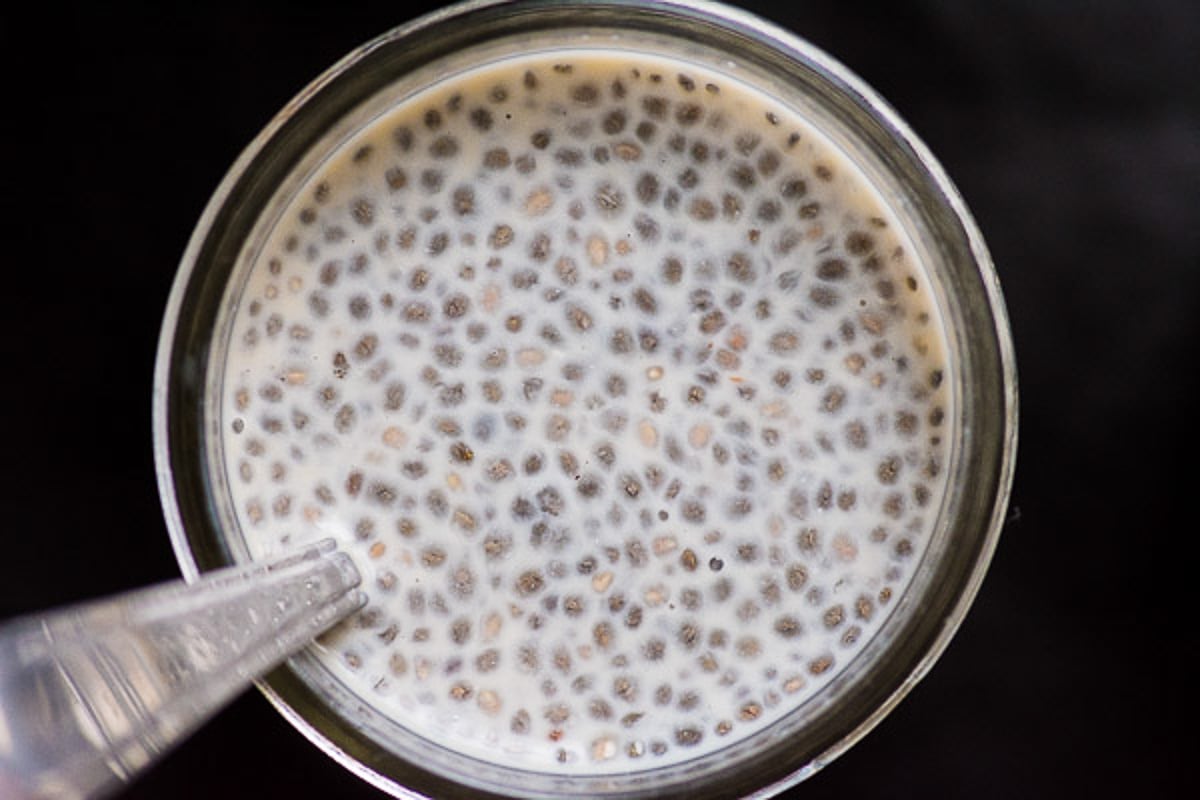 Then refrigerate overnight: The next morning stir well then eat as is or add your favorite toppings!
Pro tip: Put this easy chia seed pudding recipe together while making dinner the night before! Refrigerate overnight and breakfast is ready for the next day.
Troubleshooting
What is the Perfect Chia Seed to Liquid Ratio?
The most important part for best results is an amount of chia seeds to use per liquid added. Most people like chia pudding neither soupy nor so thick that it's dry. We all want "normal" pudding.

I find the best chia pudding consistency is to use 3/4 cup milk with 3 tbsp chia seeds.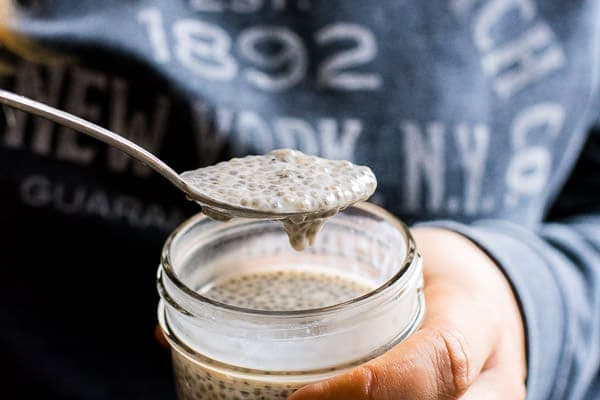 What Does Overnight Chia Pudding Taste Like?
Chia seeds do not actually have any taste, so they will absorb whatever liquid or sweetener you have added. I like vanilla chia pudding, so I use pure vanilla extract.
You could also add sweet spices like cinnamon or pumpkin pie spice for a twist on chia pudding taste.
Fruit is another great way to vary your chia pudding flavors. Blend fresh or frozen strawberries with your milk before combining with sweetener in jar.
You could also add some orange zest for a bright burst of citrus.
If this is the first time trying, you may find that the texture resembles a thick smooth pudding.
It is possible to make a whipped version, but proceed with caution! When the seeds are ground to a powder, you need to add extra sweetener to offset the bitterness. If you are in a hurry and want your pudding quickly, this method might be for you.
During cooler months, you may like to try it warmed up! Just heat on the stove or in microwave with a splash of milk.
How Long Does It Take to Thicken?
While the chia seeds do start absorbing liquid immediately, to get to a thick gel like consistency you need to wait at least 6 hours before consuming.
I find the best consistency is after 12 hours, which is why I recommended to let this sit overnight in your fridge.
What Are Some Toppings Ideas?
When ready to eat, give chia pudding a stir and top with favorite toppings. Sky is the limit.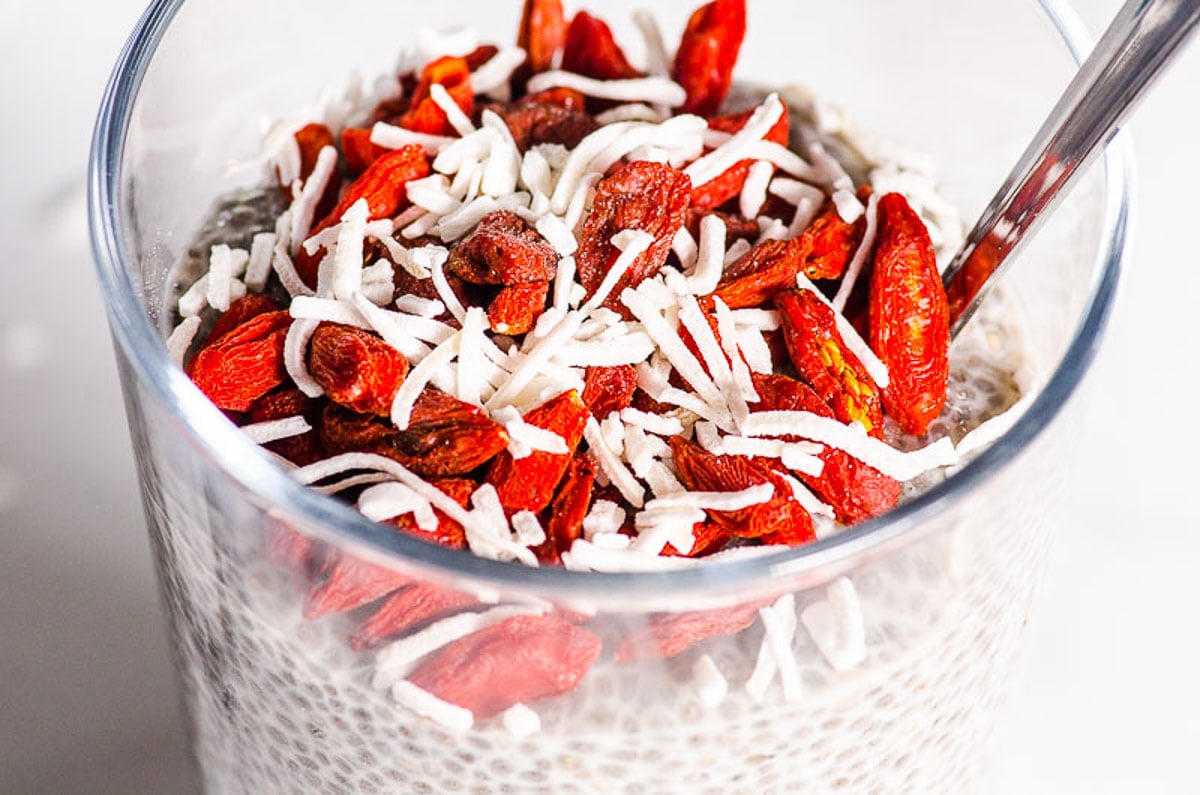 How to Meal Prep
Chia seed pudding is perfect for meal prep as it stays fresh in the fridge for up to 5 days! It actually doesn't go bad after 5 days, just will not be as fresh.
You can meal prep chia pudding in individual mason jars or in one big bowl and then distribute between your favorite leak proof containers.
More Chia Pudding Recipes
More Recipes with Chia Seeds
You may also like to learn how to make a chia seed egg!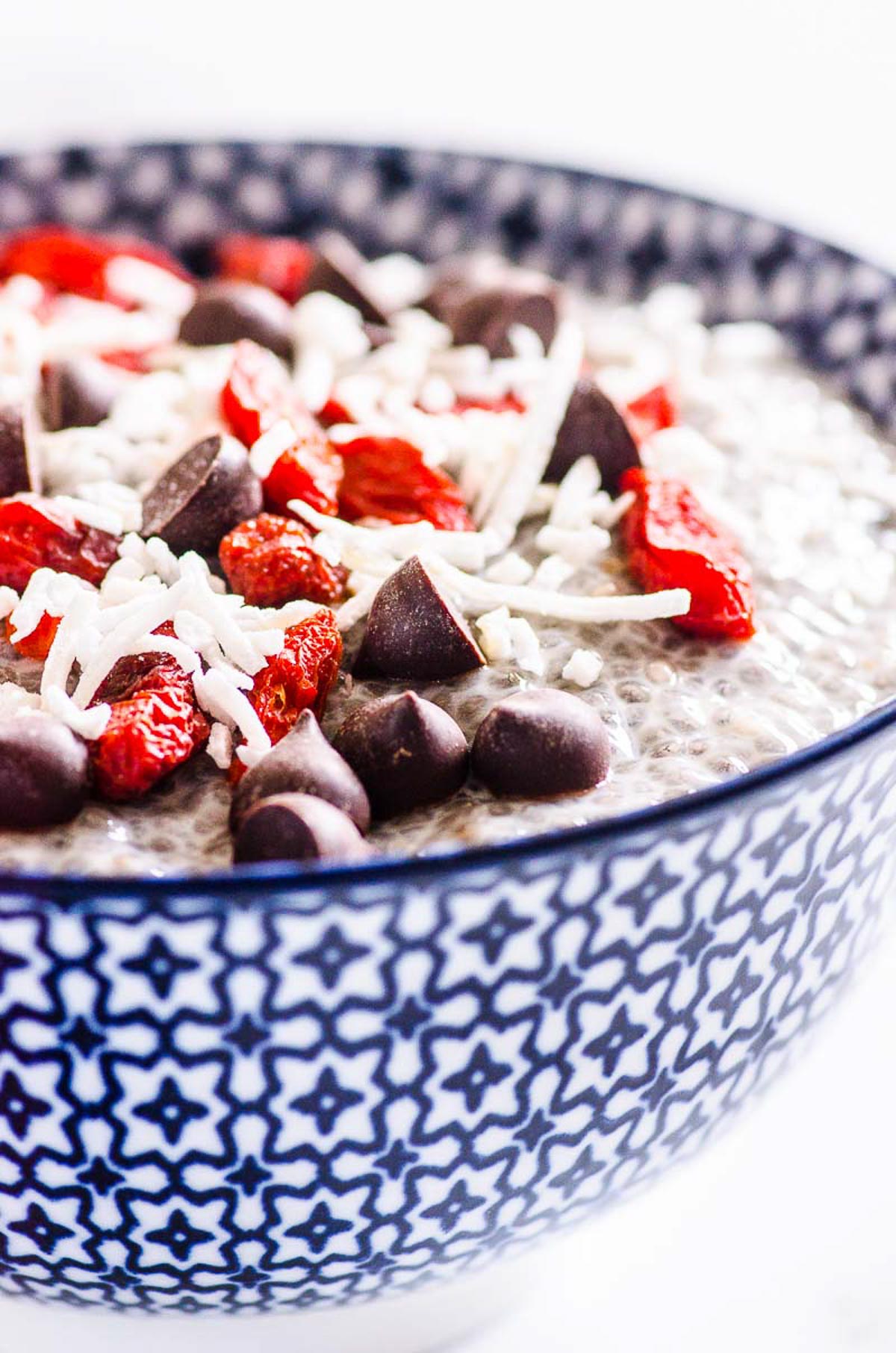 4-Ingredient Overnight Chia Pudding
Overnight Chia Pudding made with only 4 ingredients is the perfect creamy consistency!
Print
Rate
Servings:
1
serving (8 oz jar)
Instructions
In any glass container with a tight seal lid, add ingredients in the following order: milk, maple syrup, vanilla and chia seeds. If you would like to add toppings in the morning, use bigger jars, otherwise use smaller jars (pictured).

Stir well with a spoon or fork, let sit for 1 minute and stir 2 more times. This will prevent lumps.

Then refrigerate overnight.

When ready to eat, stir well and top with favourite toppings: nuts, berries, fruit, coconut flakes etc.
Store: Refrigerate for up to 5 days.
Notes
Whole chia seeds: You want to use whole and not ground chia seeds to avoid bitter taste and unpleasant texture.
Milk: Best and popular choice is plant-based milk from a carton. I do not recommend to use canned coconut milk because after a few days in the fridge pudding will taste "soapy". 
Best order of ingredients: It is important to add liquids first and then chia seeds for easy mixing.
If your chia pudding is lumpy in the morning: Stir it well with a fork. It happens.
Too thick: Add a little bit of milk and stir.
Too runny: Next time, use 4 tbsp chia seeds with 3/4 cup milk. It could be the type of chia seeds or milk that causes this issue.
See recipe post for more tips and FAQs.
Nutrition
Serving:
1
g
|
Calories:
265
kcal
|
Carbohydrates:
33
g
|
Protein:
7
g
|
Fat:
13
g
|
Saturated Fat:
1
g
|
Sodium:
250
mg
|
Fiber:
13
g
|
Sugar:
17
g
Recipes and images are a copyright of ifoodreal.com. It is against the law to republish recipes without permission. Nutritional info is approximate.