This Easy Vegetable Frittata uses a combination of vegetables, cheese, and herbs for a flavorful healthy breakfast, lunch or dinner. It is 30 minute, low carb and excellent meal prep recipe!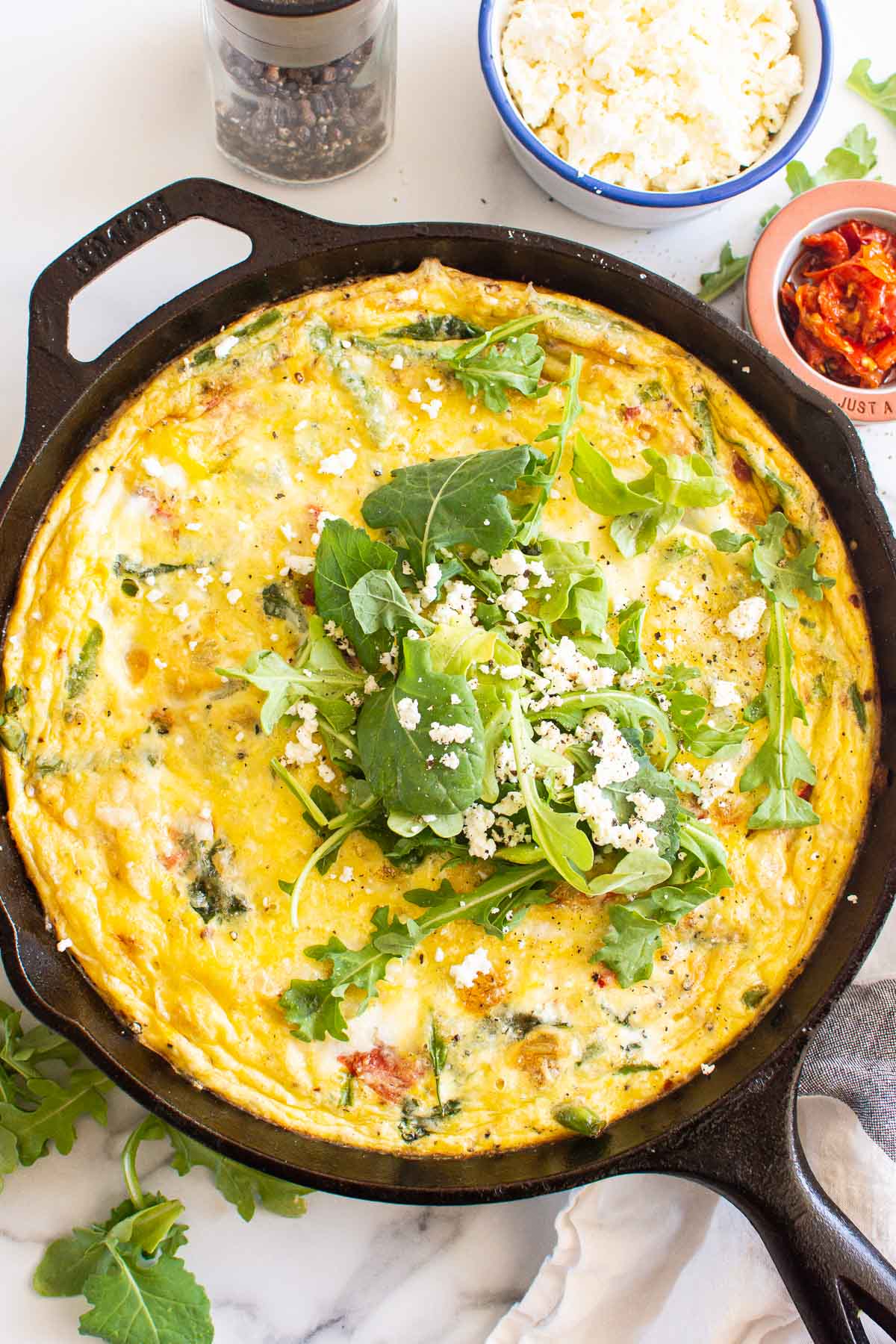 Whether you want an easy healthy breakfast or light dinner, a vegetable frittata ticks all the boxes. It's budget friendly, tastes great warm or cold and is simple to make.
Combining protein rich eggs with a versatile combination of vegetables, this healthy frittata recipe is nutrient dense, vitamin packed and crowd pleasing.
For that reason, it's in constant rotation with similar recipes like crustless zucchini quiche or Instant Pot egg bites.
Follow my tips below to learn how to make a frittata the best way! No rubbery, dry, or burnt frittatas here!
Once you know how to make the perfect frittata ratio, it will become a favorite baked egg dish year round.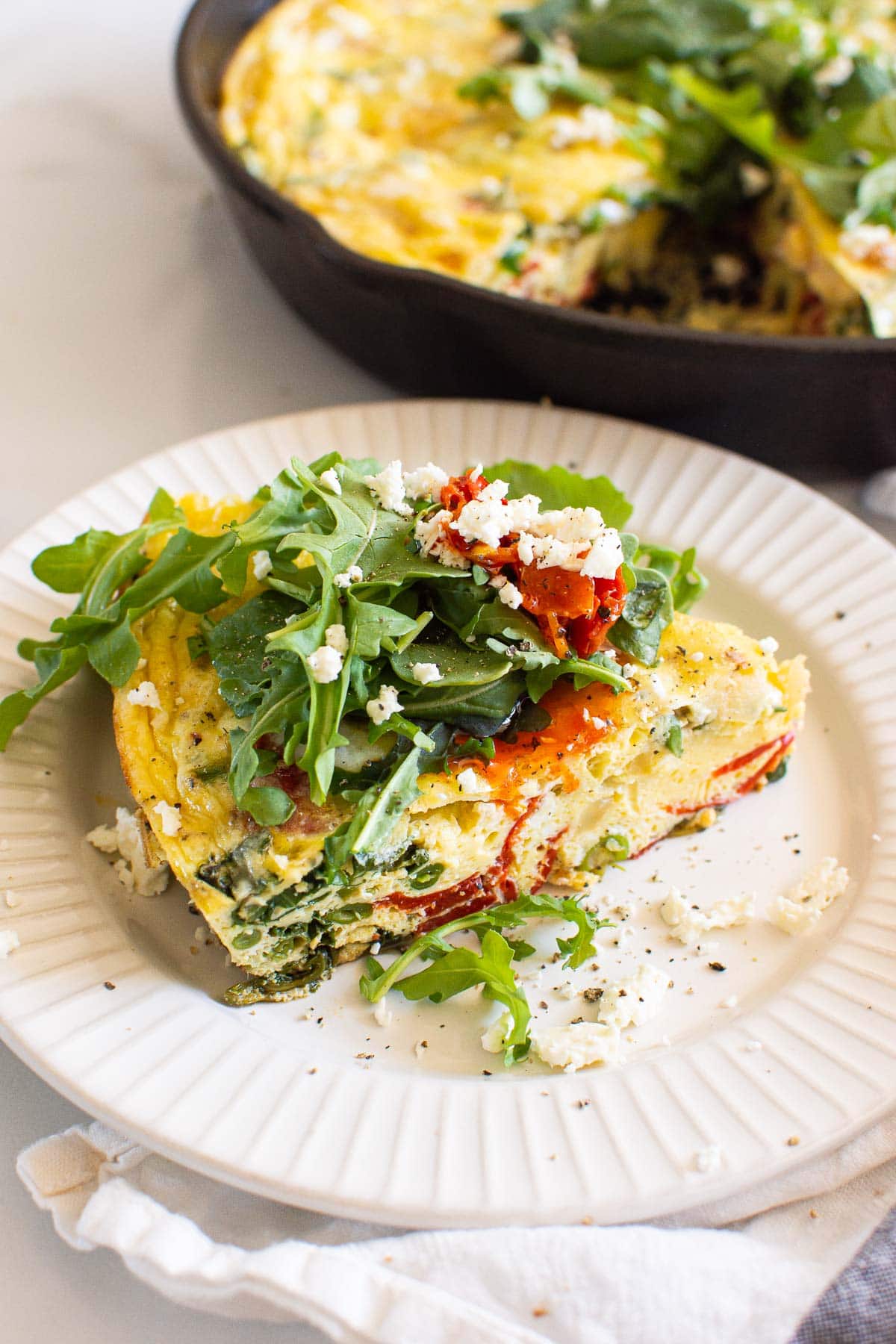 What Is a Frittata?
A frittata is an egg dish often compared to an omelette or quiche. It is thicker than an omelette, yet crust-less, unlike a quiche.
Unlike omelettes, frittatas usually have their fillings combined with the egg mixture rather than as a topping.
Frittatas are also usually thicker than regular omelettes and baked in the oven although I have even made frittata as an air fryer breakfast casserole!
Frittatas are perfect for using up those forgotten veggies at the back of the refrigerator drawer or leftovers from sauteed zucchini. Wilting spinach, herbs or frozen cheese, those all work!
Ingredients You'll Need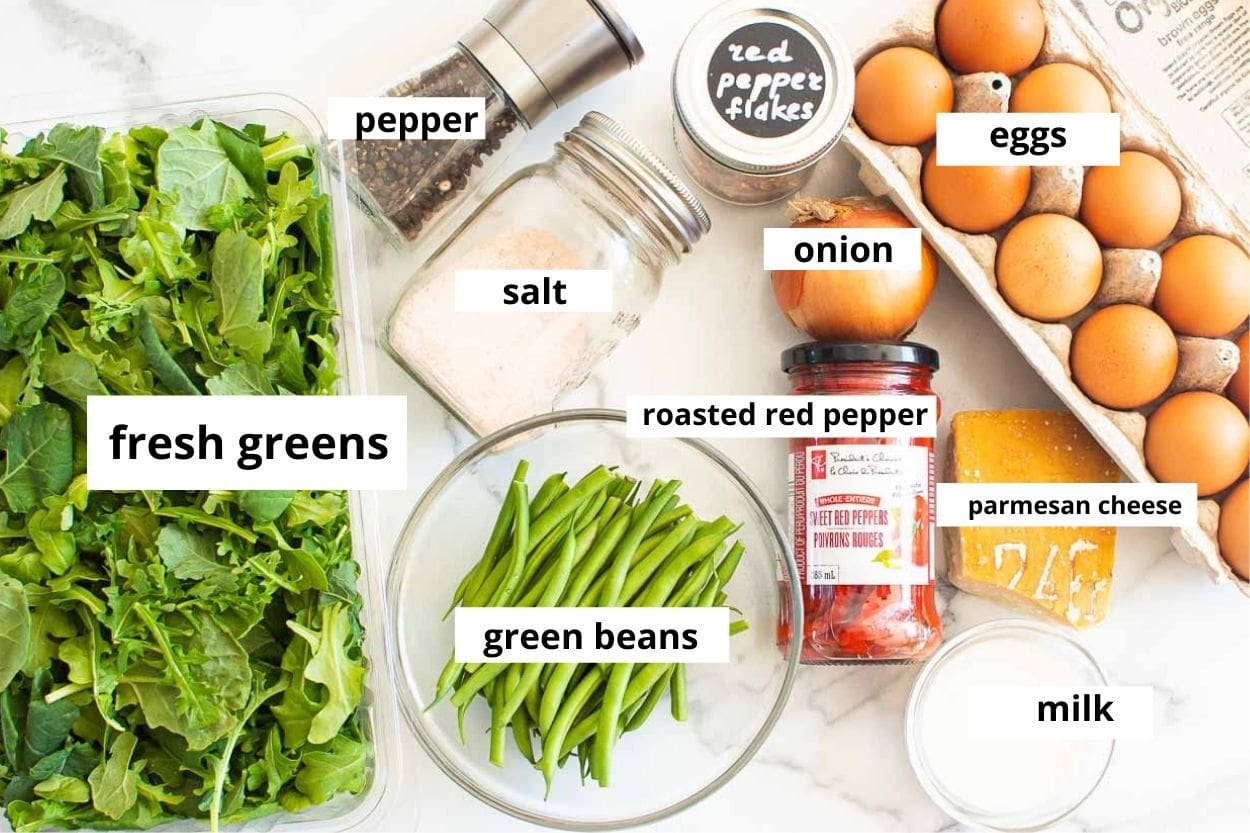 Once you know the perfect frittata ratio, you can mix and match vegetable filling combinations to use what you have on hand!
Eggs: I use 12 large eggs to create a frittata large enough for 8 servings.
Milk: You only need a few tablespoons of whole milk for this frittata recipe. Full fat dairy is the key to a creamy, custardy texture. You can alternatively use half-and-half, Instant Pot yogurt, cream, coconut cream, or even sour cream.
Oil: Use a little of your favorite neutral cooking oil for the pan. I like to use either olive oil or avocado oil.
Vegetables: You'll need 5 cups of your favorite chopped raw vegetables or 3 – 3 1/2 cups of cooked vegetables. I used green beans, leafy greens, and roasted red bell peppers. Asparagus, zucchini, potatoes, spinach, kale, broccoli, tomatoes, and mushrooms all work.
Parmesan cheese: I love the salty, tangy flavor of Parmesan. However, feel free to substitute this with a different cheese of your choice, like sharp cheddar cheese. You could even use a softer cheese like goat cheese, gruyere, or ricotta. I like to sprinkle crumbled feta cheese on top.
Seasonings: I like to use a simple combination of salt, pepper, and red pepper flakes. Feel free to experiment with the spices based on your added vegetables. I'll often add garlic powder or smoked paprika. Fresh herbs like cilantro, parsley or dill are delicious sprinkled on top.
How to Make an Easy Vegetable Frittata
You can make this easy frittata from start to finish in around 35 minutes. If you use leftover vegetables it goes even faster!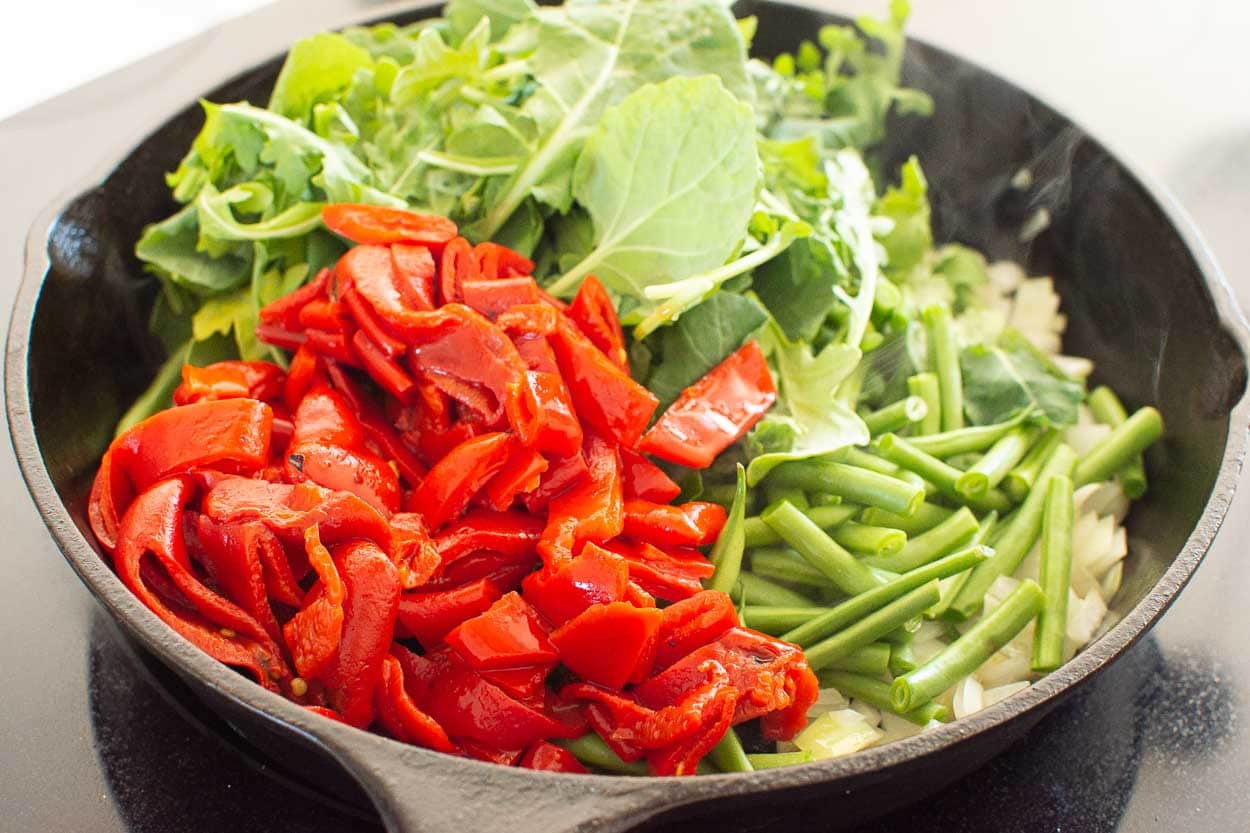 Sauté the vegetables: To avoid a watery frittata, you need to first sauté your vegetables in a 10-inch skillet over medium heat with oil, until softened.
For this vegetable combination, I first sauteed the onion for 2-3 minutes before adding the remaining vegetables and sautéing for 5 minutes.
Whisk the eggs: Combine the eggs, milk, and spices in a large bowl and whisk until combined. Try not to over whisk the eggs.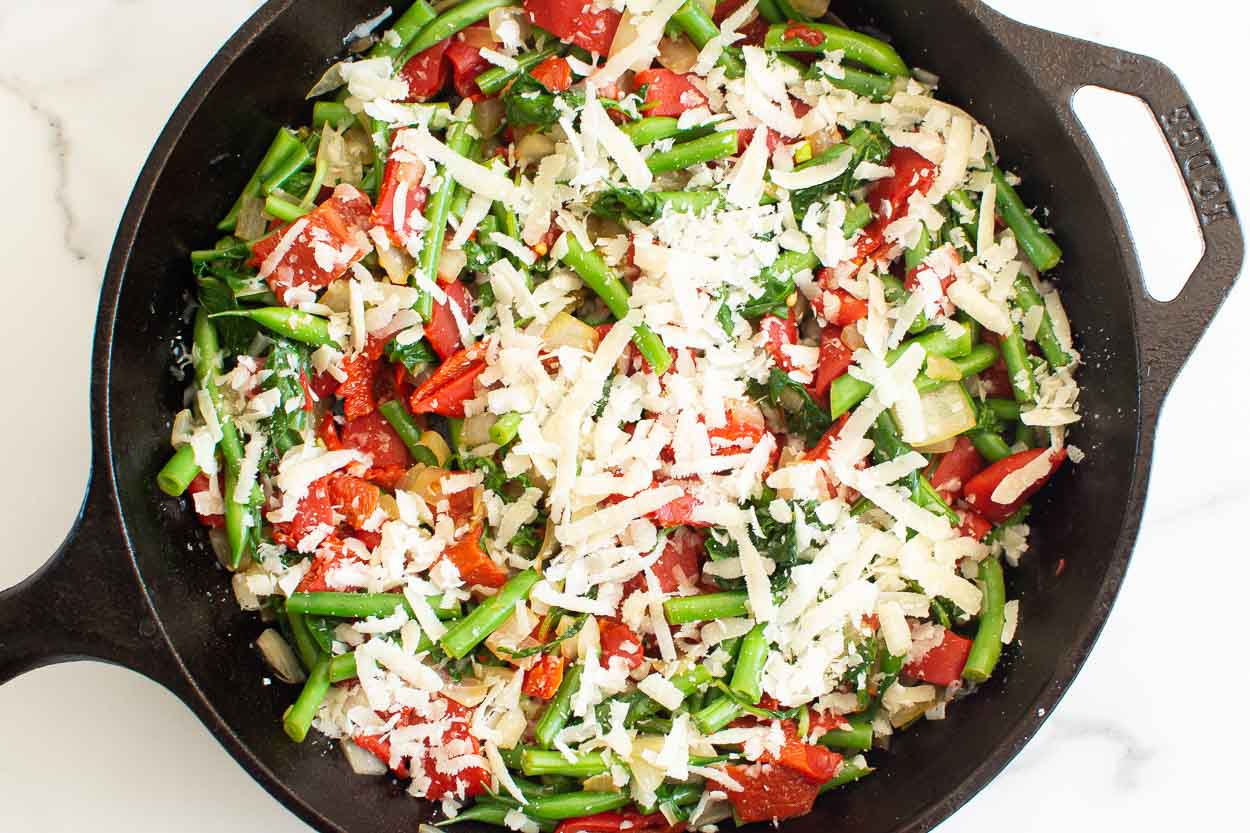 Add the eggs to the pan: Turn off heat under the skillet. Sprinkle veggies with half of the cheese, pour egg mixture on top and sprinkle with remaining cheese.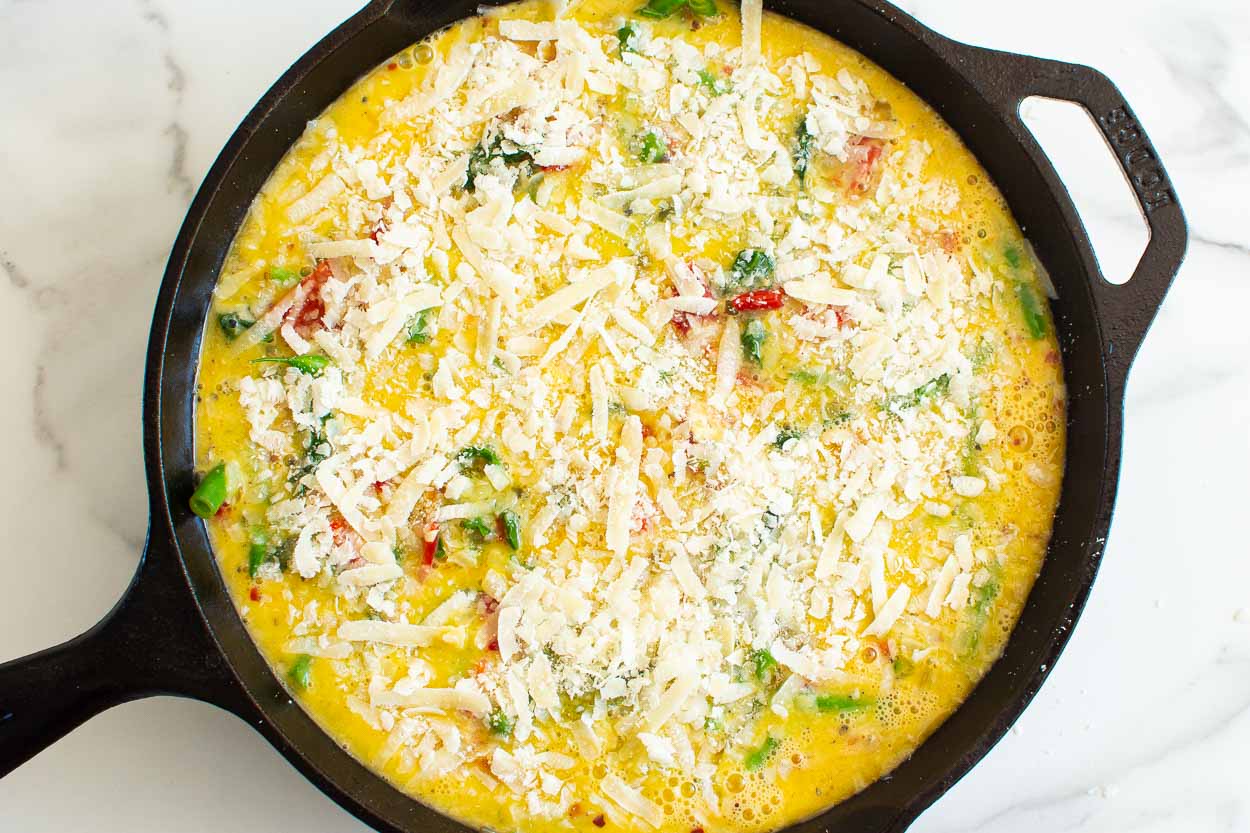 Bake: Bake the frittata for around 20 minutes at 350 degrees F, or until the eggs have puffed up in the center and it is slightly jiggly but cooked through.
Then broil the vegetarian frittata until golden on top.
Tips for Best Results
Choosing the fillings: My top tip is to select ingredients that take similar cooking times This way you don't end up with some cooked and some raw ingredients.
Precook your fillings: That way, they have a chance to slightly soften and release any juices before the eggs are added. So, the frittata doesn't end up watery.
Space veggies evenly: In your pan before pouring the eggs on top. Once you pour your egg mixture in, you won't be moving it around or you will end up with scrambled eggs.
Use oven-safe skillet, cast iron pan or baking dish: Transfer easily from stove to oven with an oven-safe, non-stick skillet or cast iron skillet. If using a baking dish, you will need to first saute your vegetables, then transfer to prepared baking dish to finish baking in the oven.
How to Store and Reheat
Store: Refrigerate baked vegetable frittata in the refrigerator, wrapped tightly or in an airtight container, for up to 5 days. Serve chilled or reheat it in the microwave for 1 minute, then further 30-40 second increments until warmed through.
Freeze: You can also freeze leftovers! Cool entirely before placing in a large Ziplock bag, squeezing out excess air, and then freezing for up to 3 months.
Allow the frittata to thaw on the counter for 3 hours or in the refrigerator overnight. The texture may change slightly upon thawing, but I love to freeze egg muffins. So, this is something I'm okay with.
FAQs
How to tell when frittata is done baking?
Be careful not to over bake it! When ready it should still have a slight jiggle in the center and will have puffed up slightly. You can insert a toothpick in the center to make sure it's cooked through.
What should I serve with vegetable frittata?
Veggie frittata is perfect for a fun brunch with easy recipes like healthy zucchini muffins and a healthy fruit salad. For a fuller meal, serve with roasted potatoes, roasted vegetables, or a side salad.
How long does frittata keep?
This recipe is great for meal prep as it can be safely stored in the refrigerator for up to 5 days.
More Healthy Egg Recipes
You might also love this whole collection of healthy egg recipes!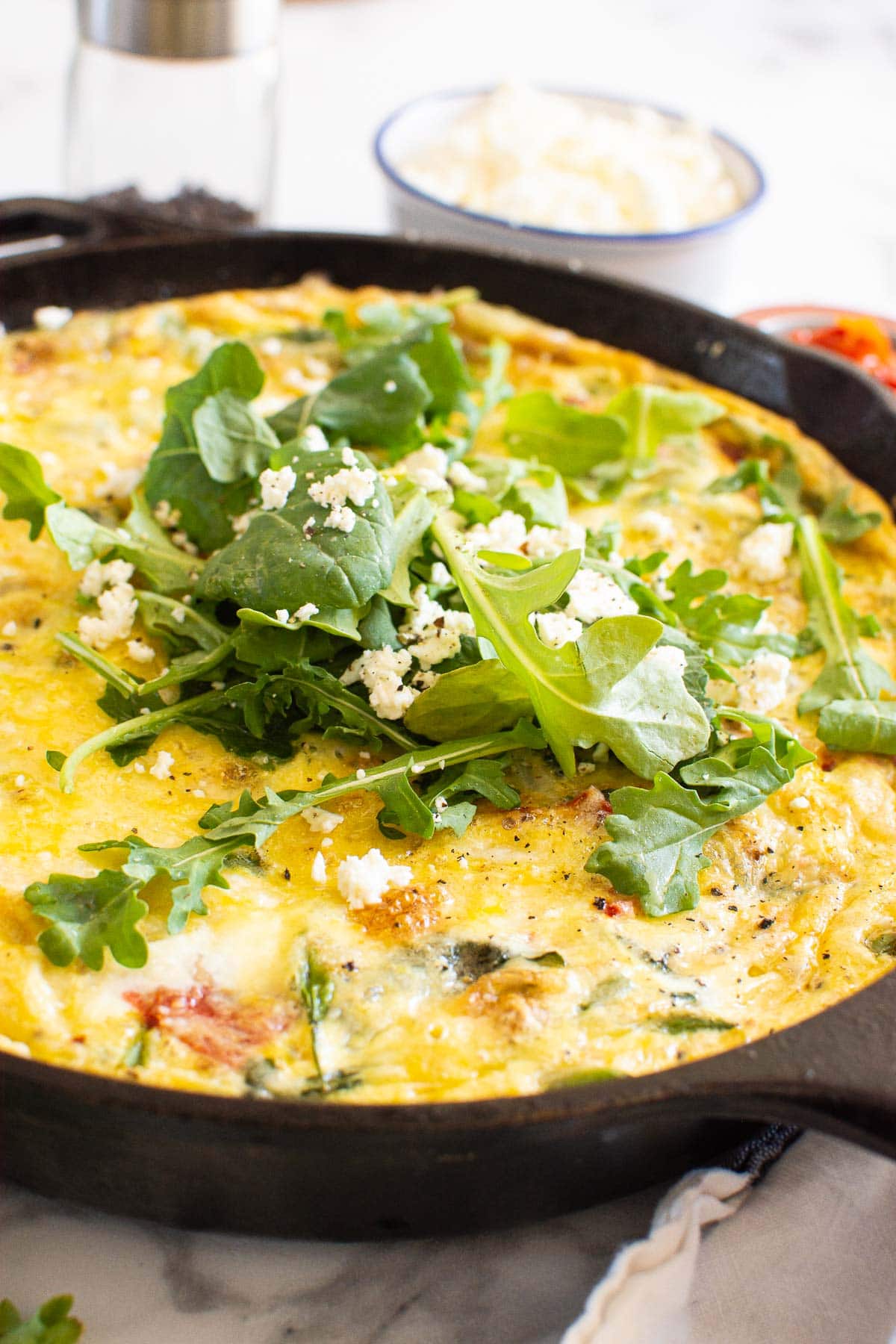 Easy Vegetable Frittata
This easy 30 minute Vegetable Frittata recipe uses a versatile combination vegetables, cheese, and herbs.
Instructions
Preheat 10" cast iron skillet on medium heat and swirl oil to coat. Add onion and cook for 3 minutes, stirring occasionally. Add vegetables, and cook for 5 more minutes, stirring occasionally. In the meanwhile, preheat oven to 400 degrees F.

In a medium bowl add eggs, milk, salt, pepper, red pepper flakes and whisk well.

Turn off heat under the skillet. Sprinkle veggies with half of the cheese, pour egg mixture on top and sprinkle with remaining cheese. Bake for 15 minutes or until eggs are puffed and center jiggles a bit when you shake the skillet. Then broil until golden brown.

Let vegetable frittata cool for 10 minutes, then slice into 8 pieces and serve warm or cold.
Notes
Store

: Leftover frittata can be stored in the refrigerator, covered for up to 5 days.

Freeze: Bake, cool completely, place in a gallon size Ziploc bag and let out air as much as possible. Freeze for up to 3 months.
Reheat

: Reheat slices in the microwave for 1 minute, then further 30-40 second increments until warmed through.

Vegetable variations: Cooked potatoes, kale, spinach, zucchini, mushrooms or tomatoes.
Cheese variations: Sharp cheddar or mozzarella cheese, or try softer cheese like goats cheese, gruyere, or ricotta. I like to sprinkle feta on top.
Nutrition
Serving:
1
slice
|
Calories:
233
kcal
|
Carbohydrates:
18
g
|
Protein:
15
g
|
Fat:
12
g
|
Saturated Fat:
4
g
|
Cholesterol:
250
mg
|
Sodium:
468
mg
|
Fiber:
5
g
|
Sugar:
1
g