Healthy Almond Flour Blueberry Muffins are tender, fluffy and naturally gluten free! Made with almond flour, Greek yogurt, and sweetened with maple syrup they are perfect for a grab and go breakfast or snack.
Almond flour banana muffins and almond flour strawberry muffins are a few of our favorites!
Considering my love for almond flour muffins and blueberries, I'm surprised these almond flour blueberry muffins haven't come sooner. They are inspired by my healthy blueberry muffins and almond muffins with berries.
Why You'll Love This Recipe
I've spent a lot of time perfecting my baking with almond flour skills. The addition of almond flour helps yield a super moist and hearty blueberry muffins with almond flour that the entire family will love.
They are naturally gluten-free blueberry muffins that are also refined sugar free, oil free, dairy-free and grain-free.
According to Healthline, almond flour is high in protein, healthy fats, vitamins, and minerals.
These healthy muffins require just 10 ingredients and are ready in 30 minutes.
Yields light, fluffy, moist, and fruity muffins.
Enjoy immediately or freeze for up to 3 months.
Ingredients in Almond Flour Blueberry Muffins
With only a few nutrient dense, real food ingredients almond flour blueberry muffins are bursting with light nutty taste and fresh blueberries!
Almond flour: Superfine blanched almond flour is best. Coarse almond flour and almond meal should work but will have a slightly denser texture. You can buy it or here is quick tutorial how to make almond flour at home.
Blueberries: You can use fresh or frozen blueberries.
Eggs: You'll need 3 large eggs.
Sweetener: Maple syrup and honey are my favorite options, though most liquid sweeteners should work. Liquid sugar free options like keto maple syrup will work.
Greek Yogurt: This helps to add fat and moisture to the muffins. Use 2% fat or higher for best results.
Baking powder and baking soda: These leavening agents provide lift and fluffy texture to the muffins.
Salt: All you need is a pinch to balance and enhance the overall flavor.
Vanilla extract: Use natural pure vanilla extract for best results.
Citrus zest: While this is technically optional, I recommend adding it for extra flavor. You can use lemon zest or orange zest.
Misto: Or cooking spray for your muffin tin and liners.
How to Make Almond Flour Blueberry Muffins
Here's a quick overview how to make almond flour blueberry muffins. Full recipe card is located below.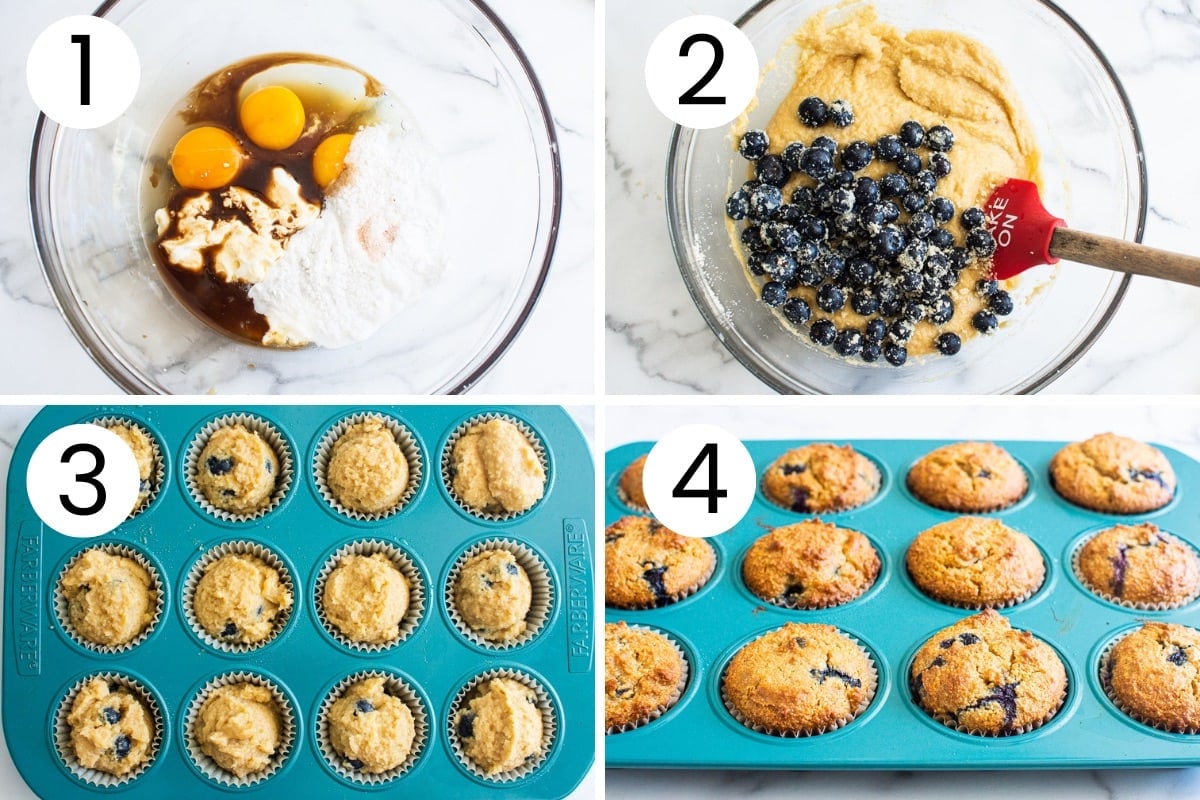 Mix the liquid ingredients: In a large bowl, combine eggs, maple syrup, yogurt, vanilla extract, citrus zest, leavening agents, and salt. Whisk well until there are no lumps. Fold in almond flour and mix.
Add the blueberries: First, combine the blueberries with 1 tablespoon of almond flour in a small bowl and toss to coat them well. Then add the blueberries to the muffin batter and carefully fold them into the mixture with a spatula.
Bake the muffins: Use an ice cream scoop to divide the muffin batter between the 12 openings of a muffin pan. Then bake muffins in the oven on the middle rack for around 20 minutes.
Cool: Remove them from the oven and allow them to cool for at least 15 minutes before enjoying!
Tips for Best Results
Don't skip coating blueberries in flour: It helps to prevent them from sinking to the bottom of the batter.
Muffins are ready when: A toothpick inserted in the center comes out mostly clean. With a few crumbs is fine, but not "wet".
Ovens vary: Almond flour tends to burn fast and bakes faster than regular flour. All ovens vary. Keep an eye on your muffins and check on them at 17 minute mark.
Frozen blueberries: You can use frozen blueberries as per recipe but don't thaw them.
Avoid dry sugar: The wet sweetener is needed for correct batter consistency, so I don't recommend trying to use a granulated sweetener instead.
Use paper liners: I highly recommend using lightly greased parchment paper muffin liners. I sprayed mine with cooking spray. That's because almond flour blueberry muffins tend to stick even to the most well sprayed muffin tray, even silicone muffin pan.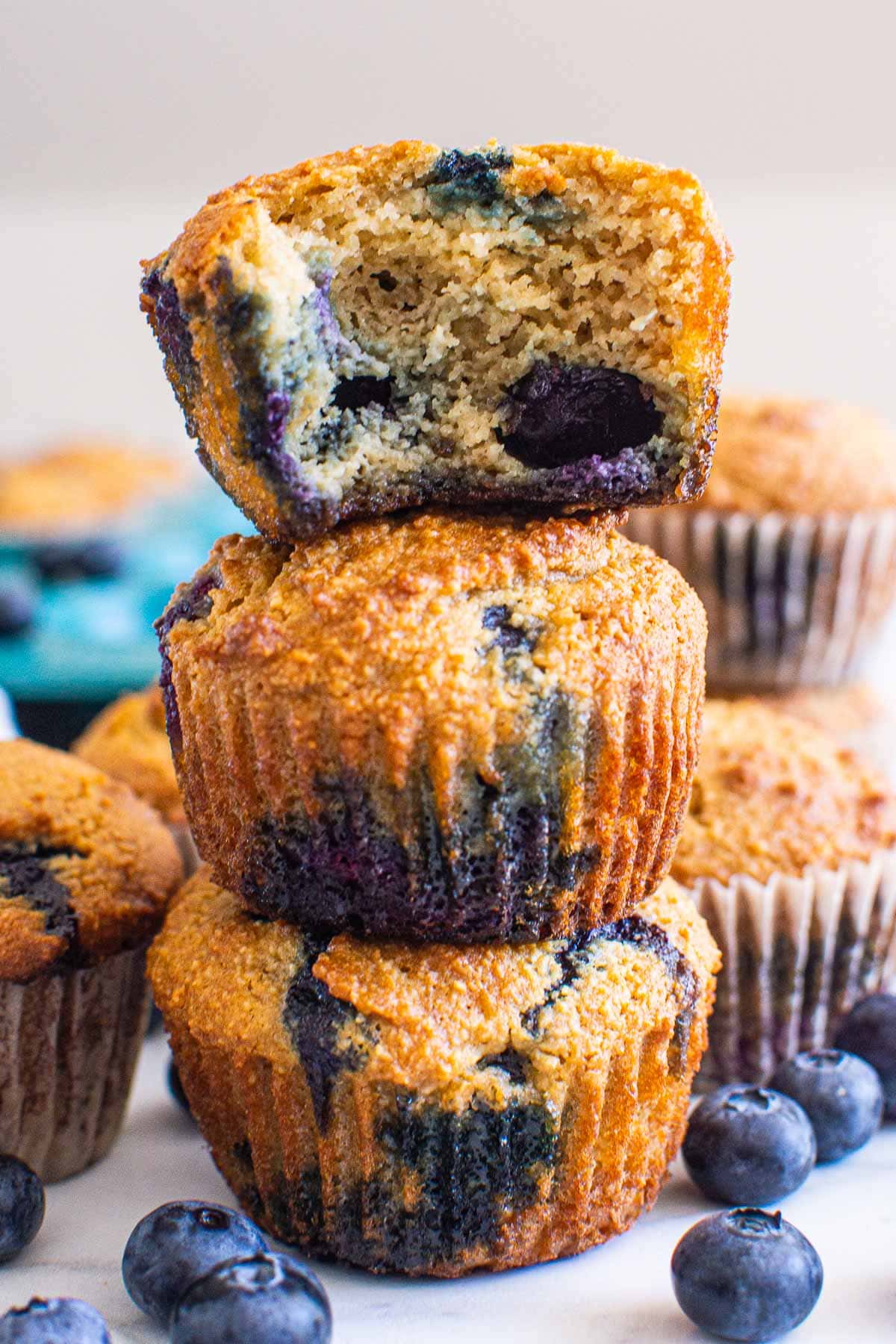 Substitutions and Additions
Other berries: It's possible to use a combination of berries or swap out the blueberries entirely for other berries like raspberries, cranberries, chopped strawberries.
Yogurt: You can use plain regular yogurt (not Greek yogurt), however might have to add 1/4 cup extra almond flour since it contains more liquid (whey). You can also use flavored yogurt. The goal is to bring batter to consistency in the photos, thicker than for pancakes.
Nuts: Add up to 1/2 cup of chopped nuts like walnuts, pecans, hazelnuts or pistachios.
Sweeter muffins: Sometimes if you use less sweet blueberries or frozen blueberries, muffins will not be sweet enough. Add 2-4 tablespoons of maple syrup to the batter next time.
Other flours: If you want to use regular all-purpose flour, whole wheat flour, or spelt flour, even coconut flour, unfortunately you can't do it with this gluten-free muffins recipe. It's because it has gluten and acts differently. Try these healthy blueberry banana muffins, healthy lemon blueberry muffins or blueberry lemon muffins instead.
How to Store
Store: Store almond flour blueberry muffins at room temperature between 2-3 days or in the refrigerator for up to 5 days, loosely covered rather than in an airtight container. Because these are moist muffins, it's best to let them "breathe" slightly.
Freeze: To freeze, place cooled muffins in an airtight container with parchment paper between the layers of muffins and freeze for up to three months. When you want one, you can allow it to thaw in the fridge overnight or warm up from frozen.
More FAQs
Are these almond flour blueberry muffins keto?
While almond flour is keto friendly, I haven't specifically designed this recipe to be low carb or keto, for example, as it contains maple syrup.
Can I use almond meal instead of almond flour?
I have not tried these almond flour muffins with almond meal, but in my experience baked goods with almond meal result in muffins with a dense texture. But it works!
Can I make mini almond flour blueberry muffins?
All you need to do is reduce the baking time for mini muffins. I recommend checking on them at 10 minutes and baking until an inserted toothpick comes out clean.
Can I make these muffins vegan?
I haven't tried to make these muffins vegan, though I have had luck by using chia seed eggs for almond flour banana bread. Then also, use a dairy free yogurt and let me know how it goes.
More Almond Flour Recipes to Try
You may also love these 21 healthy muffin recipes!
Almond Flour Blueberry Muffins
Instructions
Preheat oven to 350 degrees F. Line 12 muffin tin with parchment paper muffin liners (highly recommended) and spray with cooking spray. Set aside.

In a large bowl, add eggs, maple syrup, yogurt, vanilla extract, baking powder, baking soda and salt. Whisk very well until combined and no lumps.

Add almond flour (make sure to level the top with a knife and do not pack) and stir gently with spatula until well mixed.

In a small bowl, combine blueberries with 1 tbsp of almond flour and stir to coat evenly (this prevents them from sinking).

Add blueberries to the bowl with batter and give a few gentle stirs just enough to combine.

Using an ice cream scoop, divide batter between 12 openings of previously prepared muffin tin. Bake for 20 minutes on the middle rack or until toothpick inserted in the center comes out clean.

Remove from the oven, let cool for 15 minutes and enjoy.
Notes
Don't substitute flour or liquid sweetener: Almond meal might work, muffins will be more dense and rise less. If you use dry sweetener, batter consistency will be offset.
Frozen blueberries: No need to thaw.
Use liners: Almond flour is delicate and muffins to tend to stick even to the most well sprayed and even silicone cavities.
Storing: Store muffins at room temperature for 2-3 days or within the refrigerator for 5 days. As they're quite moist, I've found they store better when loosely covered rather than in an airtight container.
Freezing: Freeze in layers with parchment paper between, in a large freezer bag. They will store in the freezer for up to three months.
Nutrition
Serving:
1
muffin
|
Calories:
247
kcal
|
Carbohydrates:
20
g
|
Protein:
9
g
|
Fat:
17
g
|
Saturated Fat:
1
g
|
Trans Fat:
1
g
|
Cholesterol:
41
mg
|
Sodium:
193
mg
|
Fiber:
4
g
|
Sugar:
14
g