Almond Flour Zucchini Muffins are a satisfying snack made with almond flour, yogurt, cinnamon, and naturally sweetened with maple syrup. The flecks of fresh zucchini add so much moisture to these fluffy muffins!
I love sharing healthy zucchini recipes so much! Just a few of my favorites are these healthy zucchini brownies and almond flour zucchini bread.
'Tis the season for zucchini muffins! And I mean all the seasons!
The warm flavor of these cinnamon spiced muffins and crunchy walnuts are perfect for the fall. And the grated zucchini is the perfect way to show off your summer squash!
These year round family favorites are made quickly and easily in 30 minutes with just a handful of ingredients. They're soft, moist, and super fluffy.
And the natural sweetness from the maple syrup makes every bite better than the last!
You do not taste the zucchini, although you do see the flecks of green throughout which I love.
I've been using almond flour in my baking recipes for a while now and I'm equally impressed with the texture every time. Almond flour blueberry muffins, almond flour strawberry muffins and almond flour lemon poppy seed muffins are our other favorites.
Why You'll Love This Recipe
These delightful muffins are perfect for breakfast or snack! Below are just a few of the reasons why.
It's a healthy snack. These protein packed and fiber rich muffins are made without refined sugar, oil, or butter. The yogurt provides calcium and protein too!
A simple recipe. Most of the ingredients you probably have in your kitchen. They're easy to make which means you'll have a portable, on-the-go snack ready for when you leave the house in the morning.
The taste and texture. I'm always looking for ways to use almond flour in recipes. It's a unique flour that acts very similar to all purpose flour, without the gluten of course!
You may also love to browse these 45 recipes with almond flour!
Ingredients You Will Need
Here are the healthy, wholesome ingredients needed for this perfect gluten-free zucchini muffin recipe!
Large eggs
Maple syrup or honey
Plain yogurt
Pure vanilla extract
Baking powder
Baking soda
Cinnamon
Salt
Shredded zucchini, not squeezed
Chopped walnuts
Cooking spray
The only acceptable substitute for almond flour might be an almond meal. Even then the texture will be heavier and denser. Do not substitute liquid sweetener for dry sweetener because it will affect the ratio of wet to dry ingredients and offset the batter.
How to Make Almond Flour Zucchini Muffins
Here are just a few simple step-by-step instructions on how to make these muffins.
Prepare the muffin tin by placing 12 parchment paper liners in every cup. The liners are needed to help these muffins not stick as almond flour tends to do that!
Spray with cooking spray and set aside while you shred the zucchini.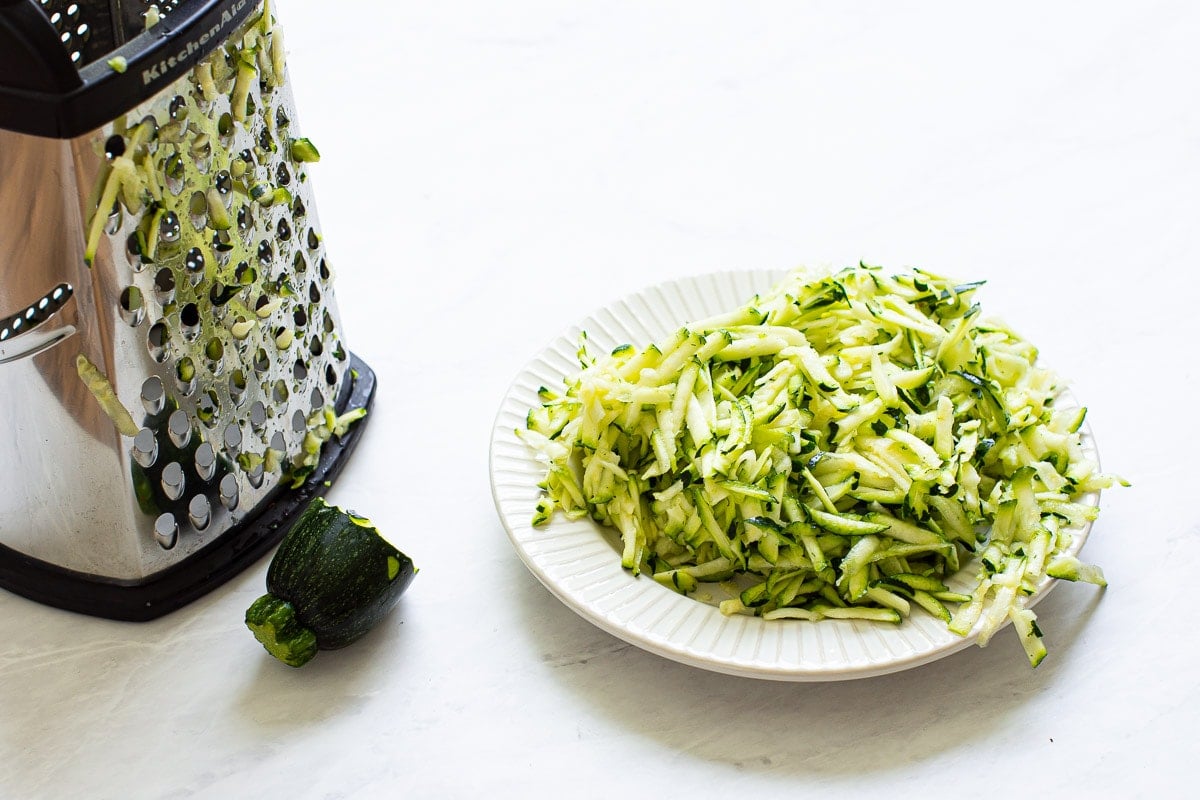 Use the side of a box grater with large holes to shred the zucchini, but do not squeeze out any of the moisture.
Sometimes you'll see recipes telling you to do this, but in this case, we want the water for added moisture.
In a large mixing bowl, whisk together eggs, maple syrup, yogurt, vanilla extract, baking powder, baking soda, cinnamon, and salt. Mix until there are no lumps.
Gently mix in the flour, zucchini, and walnuts or lamond (or any nuts) until everything is combined.
Use an ice cream scoop to ensure every muffin cup gets equal amounts of batter.
Bake muffins for 20 minutes on the middle rack and when a toothpick inserted in the middle comes out clean, they're done. Let them cool for 15 minutes and enjoy!
Variations
These muffins are a great base for adding in all kinds of extra yummy ingredients. Here are just a few ways to ramp up the flavor and texture:
Almonds
Pistachios
Pecans
Chocolate chips
Raisins
Nutmeg
FAQs
Can I make these almond flour zucchini muffins keto friendly?
Sure you can! Just swap the maple syrup for a sugar free liquid sweetener, like erythritol, and check the label for a keto approved yogurt.
Can I make these egg free?
I have yet to try that, but I don't see a reason why you couldn't use a flax egg or chia egg and see how it goes!
How do I store the muffins?
These muffins are quite moist and will retain moisture if kept covered in a loose fitting lid. Keep them stored at room temperature for up to 3 days and in the fridge for an extra couple of days.

To freeze them, transfer them to a large freezer bag and separate layers with parchment paper. Keep frozen for up to 3 months.
More Healthy Zucchini Recipes
Check out all of our healthy muffin recipes.
Almond Flour Zucchini Muffins
Almond Flour Zucchini Muffins are a satisfying snack with the flecks of fresh zucchini adding so much moisture to these fluffy muffins!
Instructions
Preheat oven to 350 degrees F. Line 12 muffin tin with parchment paper muffin liners (highly recommended) and spray with cooking spray. Set aside.

In a large bowl, add eggs, maple syrup, yogurt, vanilla extract, baking powder, baking soda, cinnamon and salt. Whisk very well until combined and no lumps.

Add almond flour, zucchini and walnuts; gently mix with spatula until combined.

Using an ice cream scoop, divide batter between 12 openings of previously prepared muffin tin. Bake for 20 minutes on the middle rack or until toothpick inserted in the center comes out clean.

Remove from the oven, let cool for 15 minutes and enjoy.
Notes
Don't substitute flour or liquid sweetener: Almond meal might work, muffins will be more dense and rise less. If you use dry sweetener, batter consistency will be offset.
Use liners: Almond flour is delicate and muffins to tend to stick even to the most well sprayed and even silicone cavities.
Storing: Store muffins at room temperature for 2-3 days or within the refrigerator for 5 days. As they're quite moist, I've found they store better when loosely covered rather than in an airtight container.
Freezing: Freeze in layers with parchment paper between, in a large freezer bag. They will store in the freezer for up to three months.
Nutrition
Serving:
1
muffin
|
Calories:
256
kcal
|
Carbohydrates:
19
g
|
Protein:
8
g
|
Fat:
18
g
|
Saturated Fat:
2
g
|
Trans Fat:
0.004
g
|
Cholesterol:
42
mg
|
Sodium:
195
mg
|
Fiber:
4
g
|
Sugar:
13
g