This refreshing Cucumber Tomato Avocado Salad is packed with crisp cucumbers, juicy tomatoes, and creamy avocado. Simple, delicious and easy salad recipe in just 15 minutes.
A salad with avocado is always in our regular rotation. We also love avocado corn salad and chickpea avocado salad.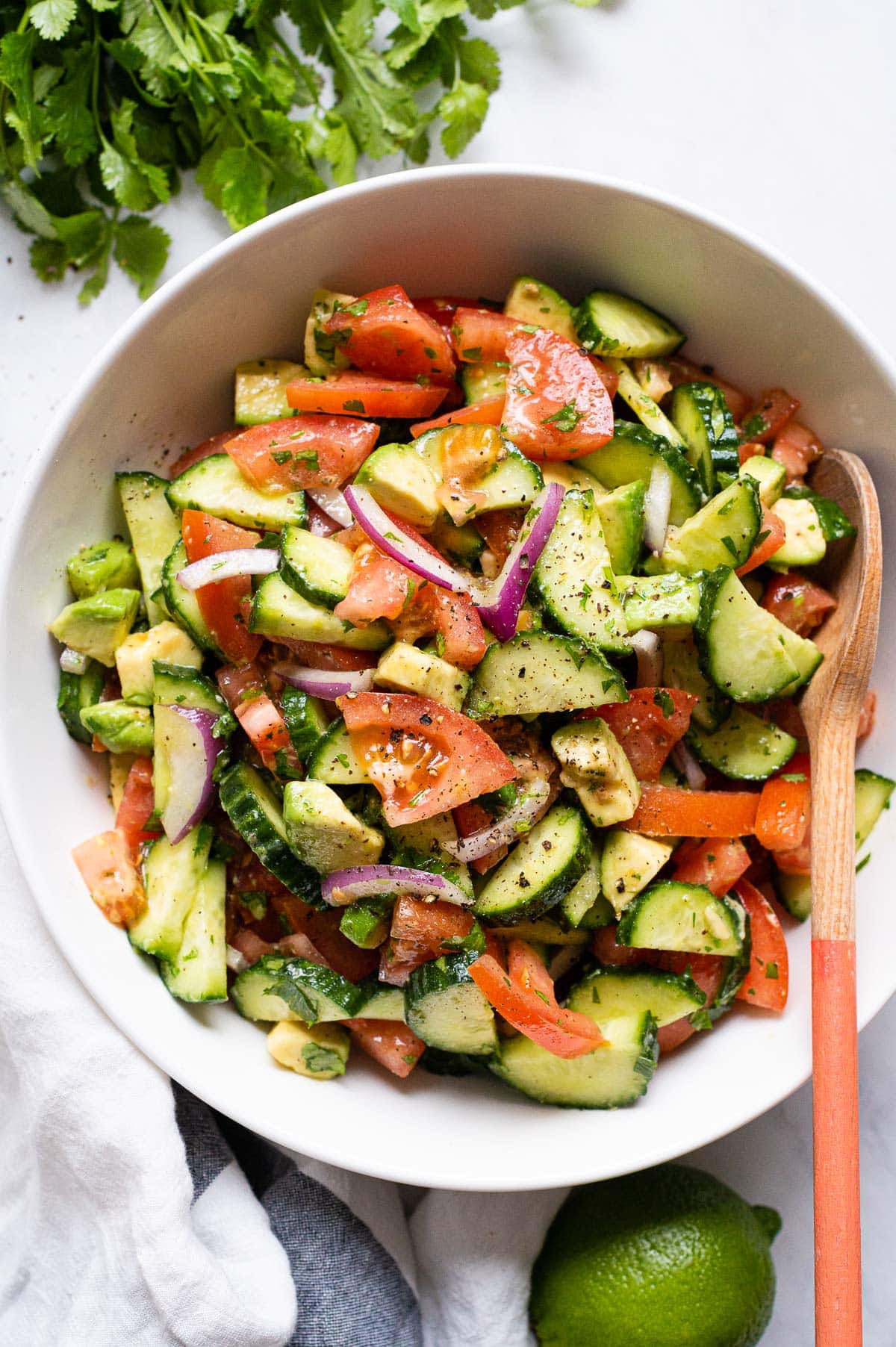 Cucumber tomato avocado salad is healthy, easy, and a personal year-round favorite. Especially during the summer months when my garden is ripe with crisp cucumbers and fresh tomatoes.
So easy to make! Slice your vegetables, add a light citrus dressing, and you have an amazing salad recipe.
Just like cucumber tomato salad and avocado salad this dish can be served as a compliment to a family favorite main, on its own, or easily doubled for large gatherings and summer picnics. I guarantee everyone will love it!
Ingredients and Notes
The simple ingredients for this cucumber tomato avocado salad recipe are easy to remember and include pantry staples.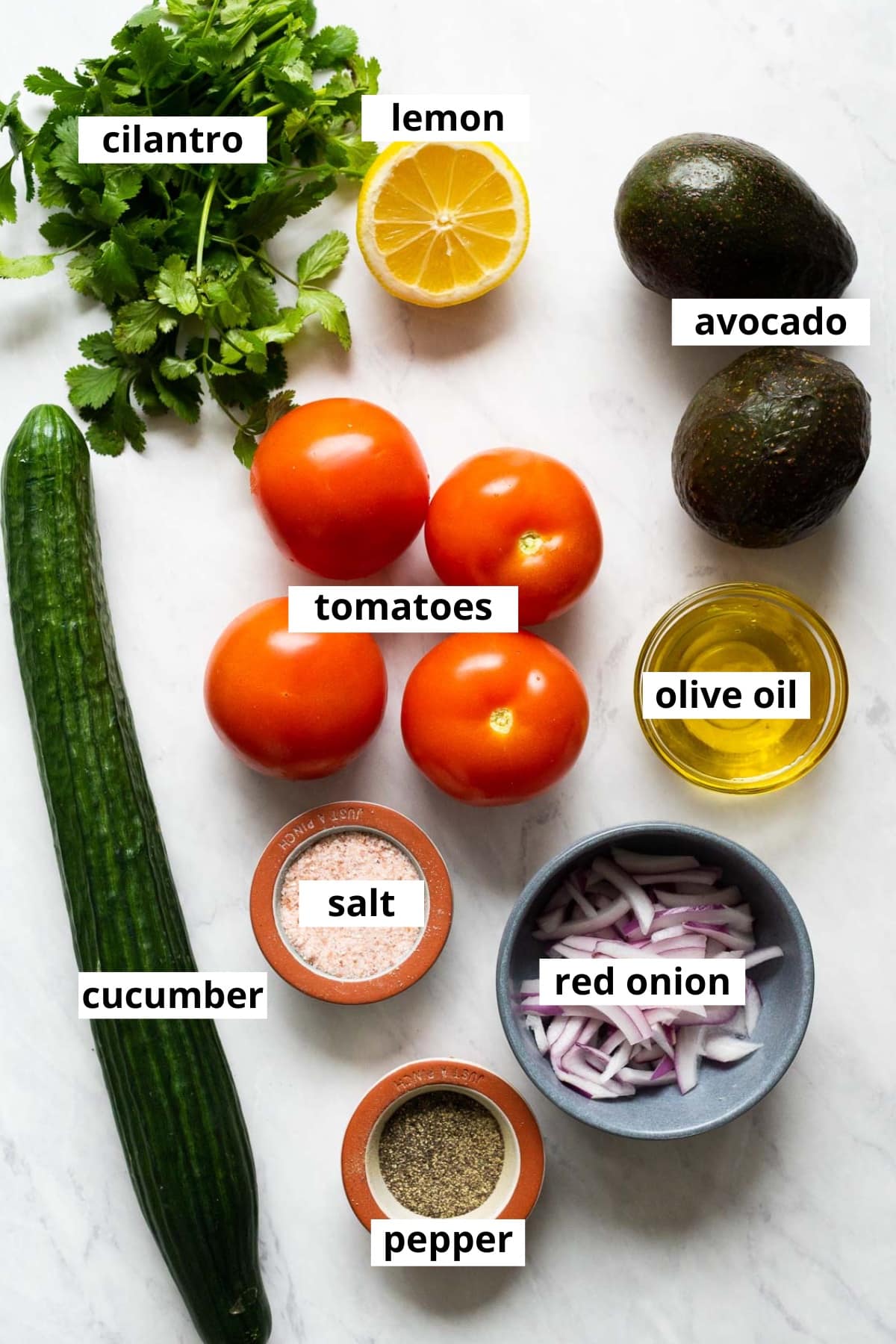 Cucumber: I like to use a long English cucumber because you can keep the skin on.
Tomatoes: I recommend "tomatoes on the vine" for grocery store tomatoes. You can also use cherry tomatoes or grape tomatoes sliced in half.
Avocado: Be sure to use ripe avocados that are still a bit firm. You want the avocado pieces to stay intact.
Red onion: I love the addition of red onions. You can substitute green onions or simply omit.
Fresh herbs: Fresh cilantro pairs well with avocado. Fresh dill or fresh parsley make great substitutes for an excellent salad.
Simple dressing: Extra virgin olive oil is the best quality oil for salad dressings. Fresh lemon juice, salt and ground pepper for seasoning. Simple! If you do not have fresh lemons, fresh lime juice, white vinegar or red wine vinegar can be used in its place.
How to Make Cucumber Tomato Avocado Salad
Here's how to make cucumber tomato avocado salad using one large bowl. It's as simple as chop, toss, and serve.
Bonus points: no cooking required, and ready in 15 minutes or less!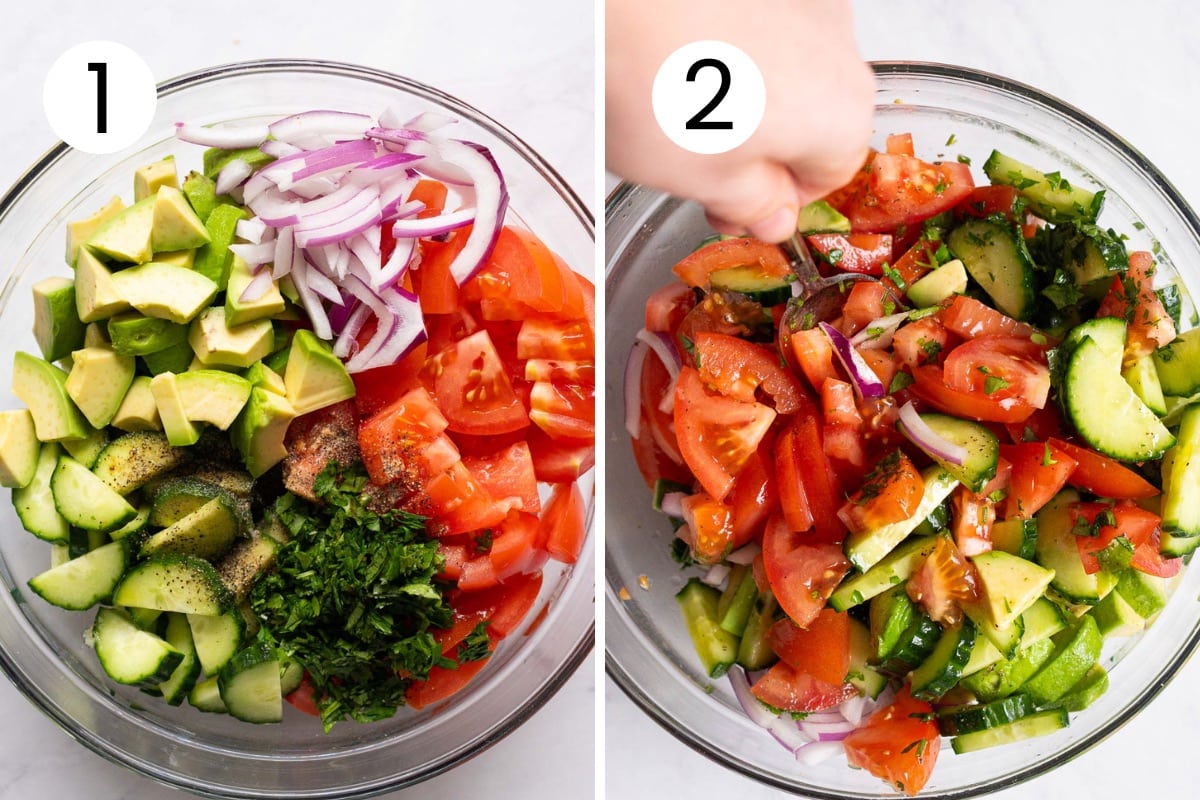 Chop veggies: Cut the cucumber, tomato, and avocado into similar-sized pieces. Chop the avocados last, so they don't turn brown. Here's a step-by-step tutorial for dicing avocados.
Chop fresh herbs: Wash and dry the cilantro. Roll the leaves into a small ball and chop.
Assemble: Combine vegetables and cilantro in a large salad bowl, then squeeze lemon juice and drizzle with olive oil on top. Season with salt and pepper.
Toss the salad: Gently stir the salad with a metal spoon so you don't mash the avocados.
Tips for Best Results
Here are some helpful tips for making this avocado tomato cucumber salad.
Cut all ingredients into same size pieces: This ensures even distribution of ingredients in every bite.
Stir gently: To prevent mashing, stir gently without mixing it too much.
Dress before serving: I recommend adding the avocado and dressing right before serving.
Season to taste: Don't be shy when it comes to fresh herbs and seasoning. Add as much as you like to this refreshing salad.
What Can I Serve This Salad With?
Make it a meal! Whether served as the entrée or as a side, cucumber tomato avocado salad is quick to prepare and endlessly tweakable.
Try serving it alongside your favorite grilled meats like this chicken breast on the grill for a simple summer salad. Or pair it with these juicy grilled shrimp skewers for a fuss-free dinner that's ready in no time!
During the winter months, this healthy salad is a great side dish next to oven baked chicken breast. It adds a splash of color to the dinner table, and a taste of summer in every bite.
You could add leafy greens like romaine lettuce, kale, arugula or spinach, add extra protein with shredded rotisserie chicken, or add the leftovers to cooked, cooled pasta for a delicious salad.
How to Make Ahead and Store
Store: I recommend to serve this salad immediately, that's when it tastes best. However, tomato cucumber avocado salad leftovers can be stored in the refrigerator for up to 24 hours in an airtight container.
Do not freeze. The vegetables become soggy, and the dressing may separate from the salad once thawed.
Make ahead: This amazing salad is great for meal prep and has all my favorite vegetables. Refrigerate the vegetables in a covered bowl then add the oils, salt and pepper right before serving.
FAQs
What are best tomatoes to use?
I personally recommend heirloom tomatoes in the summer, and tomatoes on the vine from the grocery store.
Can I use any cucumber?
Yes! Garden cucumber, field cucumber or even smaller Persian cucumber will work. If it has a thick, bitter skin it's best to peel first for this cucumber avocado tomato salad recipe.
What else can I add to the salad?
This classic cucumber tomato salad is one of the most versatile recipes out there. Ingredients such as feta cheese, fresh basil if you are not a fan of cilantro, celery, bell peppers, radishes and minced garlic add a ton of flavor. Add chopped store bought rotisserie chicken for a protein boost.
More Favorite Salad Recipes to Try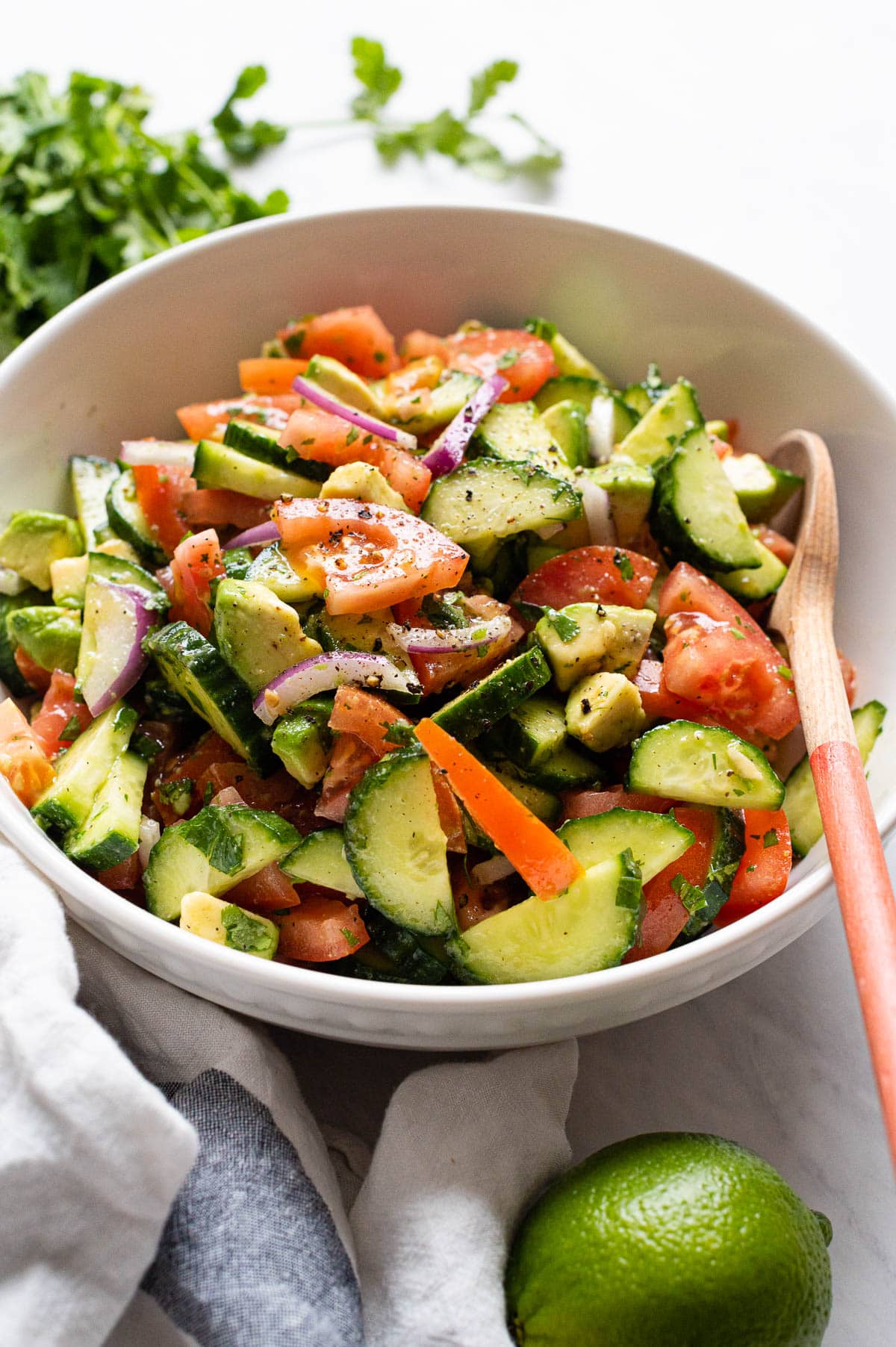 Cucumber Tomato Avocado Salad Recipe
This Simple Cucumber Tomato Avocado Salad Recipe is packed with crisp veggies, creamy avocado and simple lemon dressing. Ready in 15 minutes!
Ingredients
Instructions
In a large bowl, add cucumbers, tomatoes, avocadoes, red onion and cilantro.

Then squeeze lemon juice and drizzle olive oil on top. Sprinkle with salt and pepper.

Stir gently from the bottom in the center of the bowl until well combined. Adjust seasonings to taste, if you wish.

Salad tastes best when served immediately.
Notes
Store: Refrigerate salad for up to 24 hours.
Make ahead: Refrigerate all vegetables in a bowl covered. Then add oils, salt and pepper right before serving.
Best tomatoes to use: In summer heirloom varieties, and tomatoes on the vine when it comes to store-bought.
Don't add the salt too early. As soon as you add the salt, the juices from the tomato and cucumber will start to release.
Add garlic: Tiny grated garlic clove will add a lot of flavor.
Nutrition
Serving:
1
cup
|
Calories:
146
kcal
|
Carbohydrates:
8
g
|
Protein:
2
g
|
Fat:
13
g
|
Saturated Fat:
2
g
|
Sodium:
226
mg
|
Fiber:
5
g
|
Sugar:
3
g