Simple Avocado Cilantro Dressing with creamy avocado, fresh cilantro, zesty lime and savory garlic will be one of your new favorite healthy salad dressings. Drizzle on a salad, flavor load your favorite tacos or just scoop with a tortilla chip (or veggies!). Seriously easy, deliciously addictive and best of all a super healthy!
Avocado dressing is just one way we love to use the superfood avocado! Mashed into guacamole, diced in avocado corn salad and sliced in chicken quinoa bowl are just a few other ways we love to use it.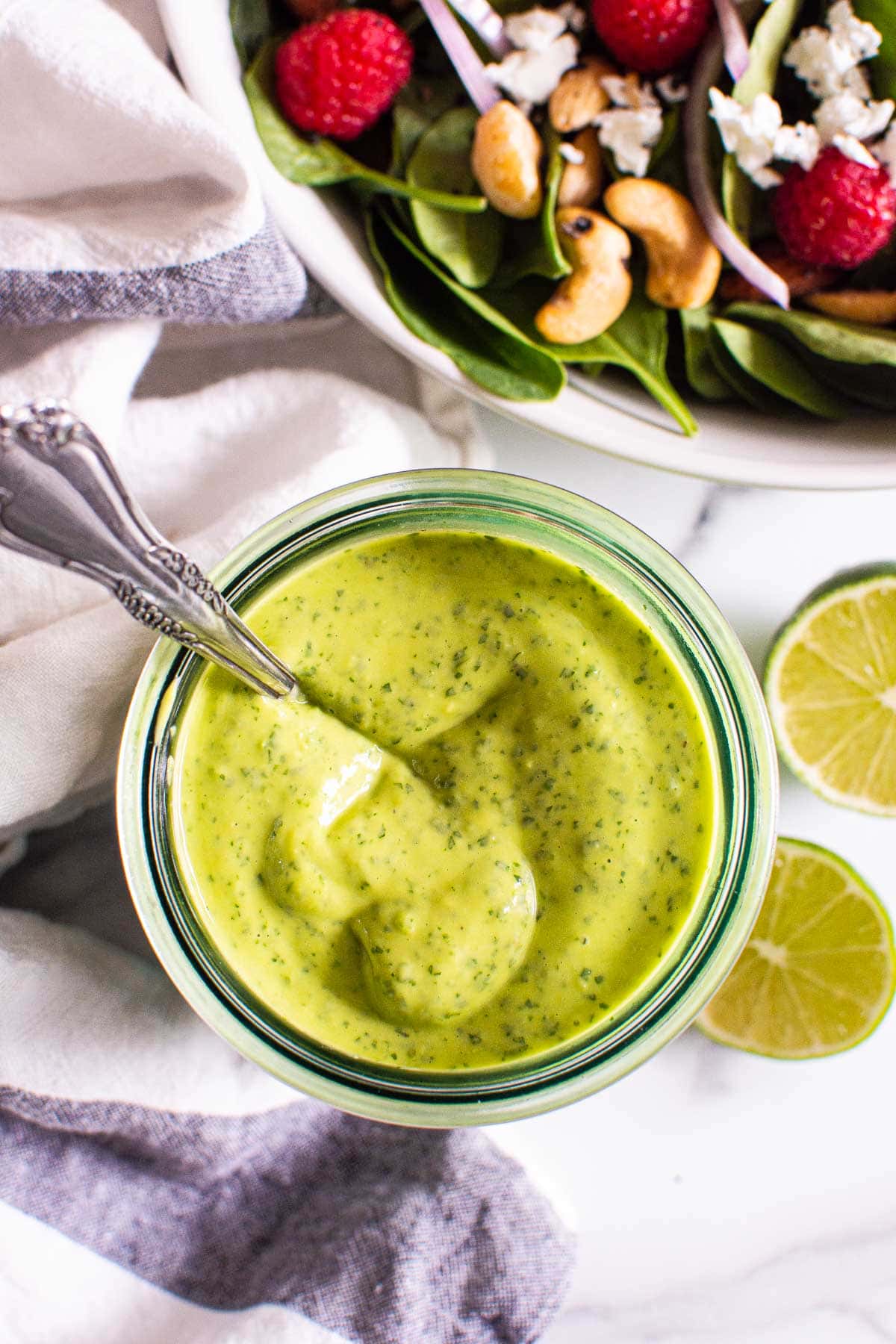 Creamy Avocado Cilantro Dressing
I think it's crucial to have several salad dressings in your recipe arsenal so you'll never get bored. Alongside a fruity raspberry vinaigrette, light poppy seed dressing and savory healthy Caesar dressing, this creamy avocado cilantro dressing is perfect for guacamole lovers everywhere! As much as I love a simple vinaigrette, I know they're not for everyone. Sometimes you just want something creamy and flavor-packed; this avocado dressing hits the nail on the head there!
If you're an avocado lover, then you're sure to appreciate this simple avocado salad dressing. Combining just 5 simple ingredients with a slight garlicky punch, this dressing has become one of my go-to sauces! Unlike supermarket options, this sauce contains no unnecessary sugars, massive amounts of sodium, or excess amounts of oil/additives either!
I'll admit, I pretty much always have a stash of avocados in my kitchen (even in my freezer, just in case). Whether I'm using it to garnish taco skillets or cauliflower rice, and even making simple avocado salad– I could fill a cookbook with the ways I enjoy this fruit… So why not as a creamy avocado dressing, too?
I mean, avocados are creamy, rich, and packed with heart-healthy fats and antioxidants?! What's not to love?! Even better, this dressing is highly adaptable, swap out the herbs, add a touch of heat, or even adjust the consistency based on where you want a dipping sauce, sauce, or dressing.
Best of all, you don't even have to try to eat it all in one sitting. Instead, once prepared, store the avocado cilantro dressing in the fridge for several days of delicious salads and meals!
Why This Recipe for Avocado Dressing Works?
This avocado cilantro lime dressing is super fresh, bright, and creamy!
It contains just 5 simple 'clean' ingredients – no unnecessary sugar, preservatives, or other additives!
This avocado dressing also combines the heart-healthy, high-potassium, antioxidant-rich benefits of avocado with heavy-metal binding, liver-boosting cilantro!
Ready in just 5-minutes (or less), this avocado salad dressing is perfect for a last-minute salad lunch/dinner!
All you need is just a blender or food processor and a knife to prepare this avocado dressing.
It is naturally gluten-free, dairy-free, egg-free, and vegan!
As always, this recipe is super adaptable, too; mix out the herbs, add some heat, adjust the consistency, etc.!
There's ½ tablespoon of heart-healthy olive oil per serving!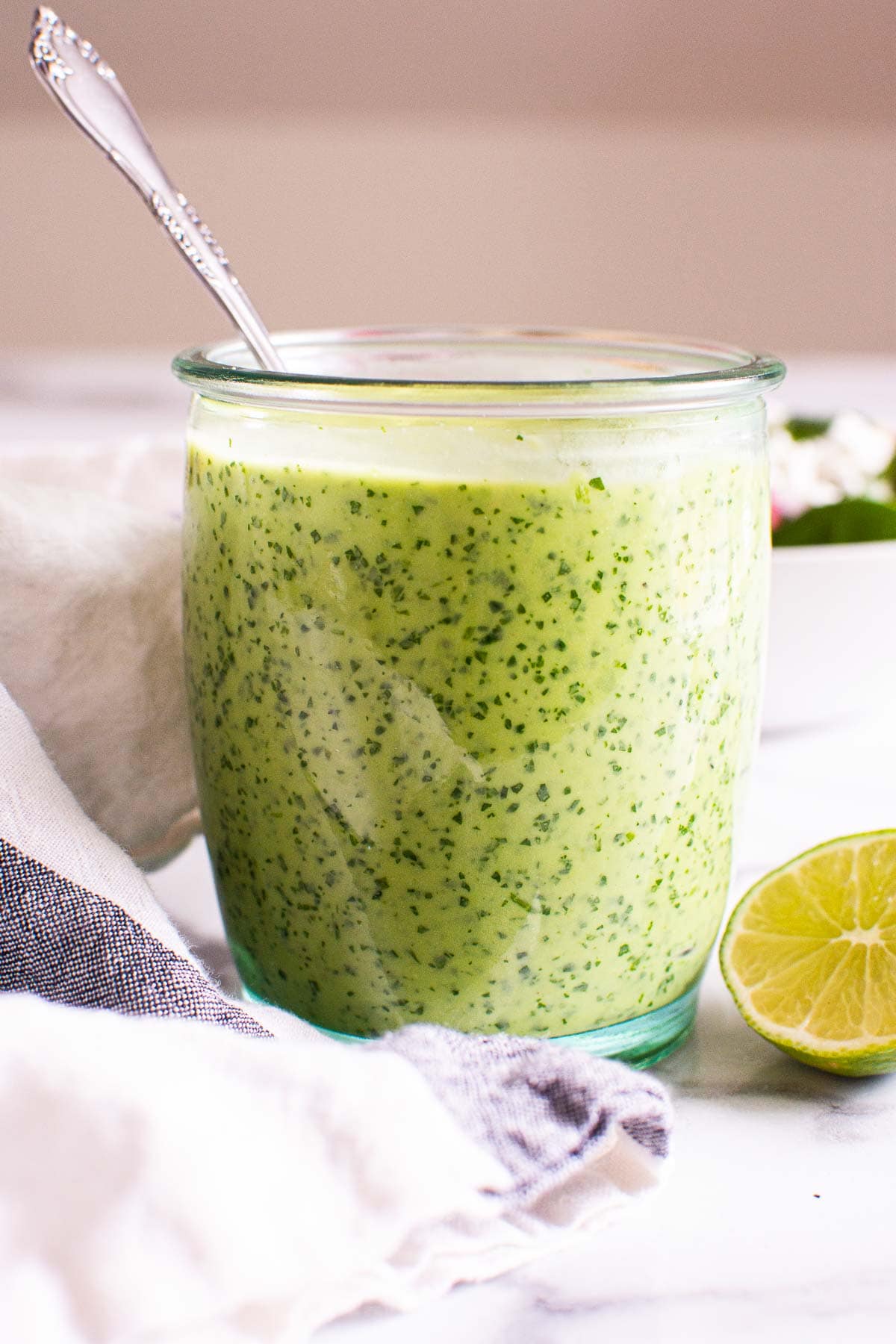 Ingredients in Avocado Cilantro Lime Salad Dressing
Avocado: Use a pitted and scooped ripe avocado.
Olive oil: Use high-quality extra virgin olive oil for the best results. For a subtler flavor, use light olive oil.
Cilantro: I recommend using just the leaves as stems tend to make the dressing more bitter.
Lime: Fresh lime juice is best. Lemon would also work. You can even try orange juice for slightly sweeter results.
Garlic: Feel free to adjust the amount based on how garlicky you like this (I like it strong!). If you don't have fresh garlic, use garlic powder instead.
Water: Needed to thin the avocado cilantro lime dressing to the desired consistency based on whether you want – a dip or avocado salad dressing.
Salt & Pepper: Adjust to personal taste.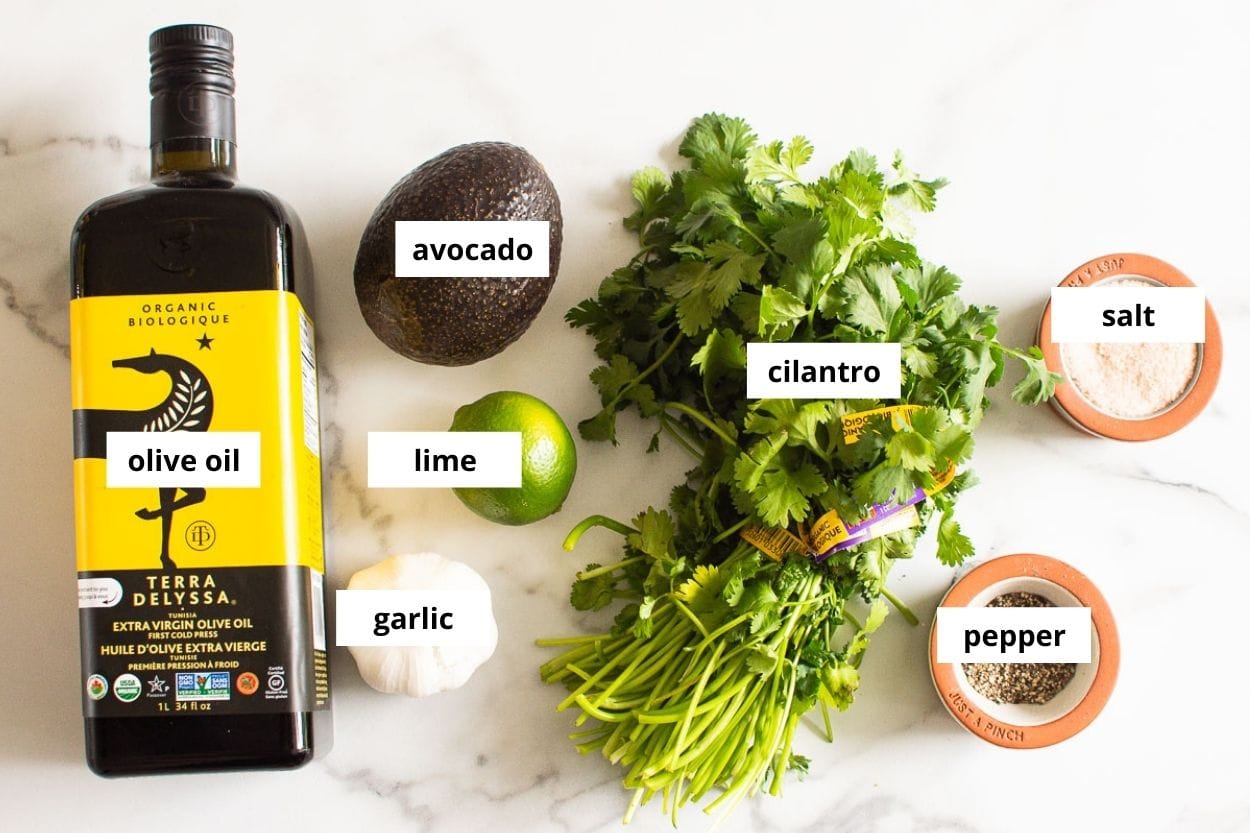 How to Make Fresh Avocado Salad Dressing
Blend the ingredients: In a food processor or blender, combine all of the ingredients and process until smooth.
Add water if needed: Depending on how thick you want the avocado dressing/sauce to be, you may need to drizzle in a little extra water and blend in-between until it reaches your desired consistency.
Make sure to give the avocado cilantro lime dressing a taste and adjust any of the ingredients as desired before serving; lime for tang, salt and pepper for extra seasoning, cilantro for a punch of flavor, or garlic because yummy!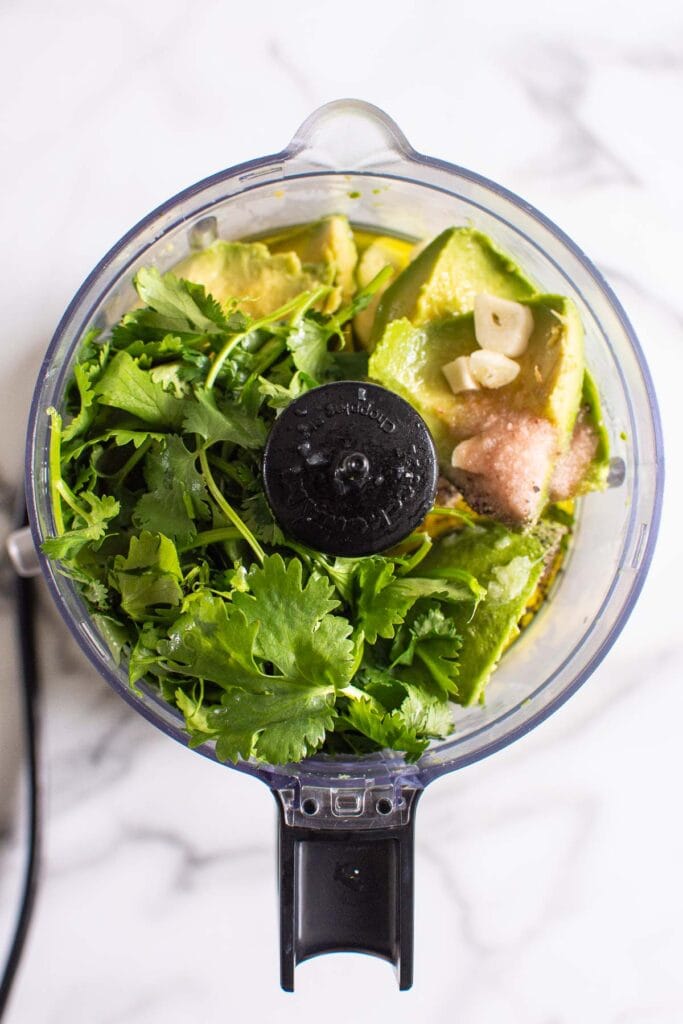 Tips for Best Results
Omit the oil: If you're on an oil-free diet, feel free to omit the oil, though the dressing won't be quite as creamy/ emulsified. Use extra water instead.
To make this FODMAP friendly: You can omit the fresh garlic and use garlic-unfused oil in place of regular olive oil.
Using the best avocado: For the tips listed here for picking (and ripening in needed) your avocado!
If you don't have a blender/food processor: You can also make this avocado cilantro dressing using an immersion blender or hand mixer. Alternatively, mix it by hand using a mortar and pestle. First, finely chop the ingredients and mix the avocado and garlic, then add the lime and olive oil (a bit at a time). Finally, add the herbs and seasonings and try not to crush them too much. Then transfer the avocado cilantro sauce to a bowl and add water, whisking in-between, until it reaches your desired consistency.
Add-ins and Variations
For avocado ranch dressing: Substitute the olive oil for yogurt instead.
Creamier avocado dressing: Instead of omitting the oil entirely, you can make a slightly creamier, richer avocado cilantro lime dressing with the addition of just a few spoonfuls of yogurt or sour cream.
Add spice: Add a pinch of red pepper flakes (or more) for spice. Alternatively, you could add a little fresh chili like a green jalapeno (remove seeds for less heat).
Cumin: A little cumin helps to add depth of flavor to the avocado cilantro dressing.
Sweetness: I've never found the need to add any additional sugar to this recipe. However, if you want to balance the sharp flavors slightly, I recommend adding a drizzle of honey or maple syrup to the dressing.
Apple cider vinegar: This avocado cilantro dressing is already tangy, thanks to the lime juice. However, combining the lime with apple cider vinegar can help to add depths of flavor to the dressing.
FAQs
Can I substitute the cilantro in this avocado cilantro dressing ?
Don't worry, I know not everyone is a cilantro fan. If you want to substitute the ingredient, I recommend using parsley or basil. Dill may also work – though each will change the flavor and 'vibe' of this dressing.

Can I freeze avocado salad dressing?
I wouldn't recommend it because the herbs and avocado will be affected in the freezing/thawing process. However, you can use previously frozen avocado to make this creamy dressing – it will already be wonderfully creamy after thawing!

Serving Recommendations
The ways you can enjoy this avocado cilantro lime dressing depends on whether you're serving it as a dipping sauce or dressing.
As a dipping sauce:
Avocado and cilantro make for perfect accompaniments to many types of Asian cuisine and Mexican cuisine.
As a dressing:
You can also serve this avocado cilantro dressing as part of a party spread alongside other appetizers/sides (including falafel and Greek chicken kabobs), dips (like healthy healthy 7 layer dip), crudites, and crackers.
How to Store the Avocado Cilantro Dressing?
Store the prepared avocado cilantro lime dressing in an airtight glass container for up to five days, this way it shouldn't brown. Make sure to stir it before use.
If you notice it beginning to brown, add a little additional lemon/lime juice to the dressing.  You could also store it with a bit of water or olive oil over the top to help keep it from oxidizing.
More Healthy Salad Dressing Recipes
You might also enjoy browsing through my favorite collection of healthy salads and healthy homemade salad dressings!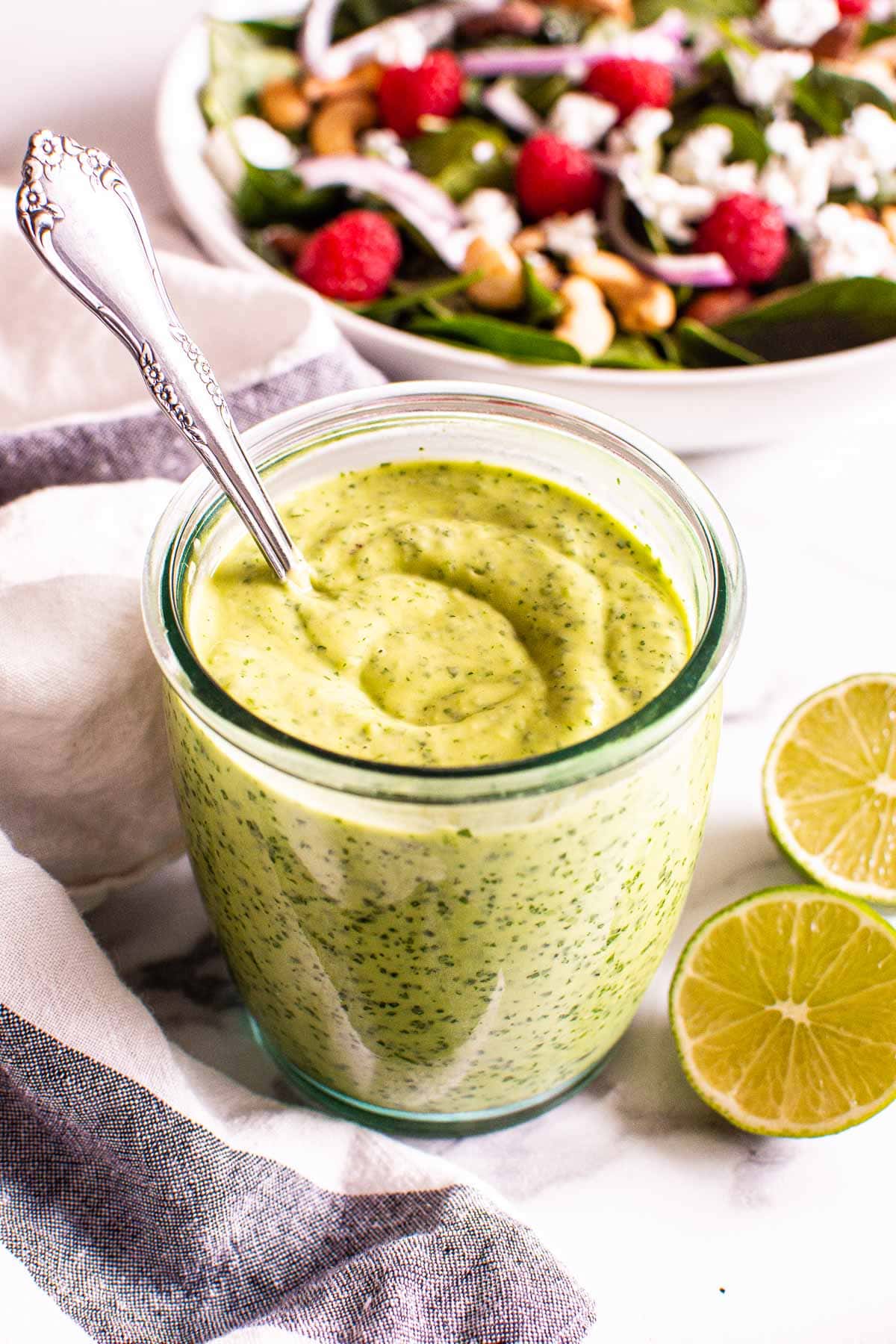 Avocado Cilantro Dressing
Simple Avocado Cilantro Dressing with creamy avocado, fresh cilantro, zesty lime and savory garlic will be your new favorite salad dressing. Drizzle on a salad, flavor load your favorite tacos or just scoop with a tortilla chip (or veggies!). Seriously easy, deliciously addictive and best of all a super healthy!
Ingredients
1

large avocado

pitted and scooped

1/4

cup

olive oil

extra virgin

1/2

cup

water

1

cup

cilantro leaves

1

lime

juice of

1

garlic clove

1/2

tsp

salt

1/4

tsp

ground black pepper
Instructions
In a food processor or high speed blender, add avocado, olive oil, water, cilantro, lime juice, garlic, salt and pepper.

Process until smooth, adjusting consistency with more water if necessary.
Notes
Store: Dressing doesn't turn brown if kept refrigerated in a glass airtight container for up 5 days. Stir before use.
Cilantro stems make dressing more bitter, so I recommend using only the leaves.
Avocado ranch: Substitute 1/4 cup olive oil with yogurt.
Cumin or a heat kick: Add a pinch of cumin or red pepper flakes, to spice things up.
See recipe post for additional notes and tips.
Nutrition
Serving:
3
tbsp
|
Calories:
104
kcal
|
Carbohydrates:
3
g
|
Protein:
1
g
|
Fat:
10
g
|
Saturated Fat:
1
g
|
Sodium:
149
mg
|
Fiber:
2
g
|
Sugar:
1
g