Healthy Apple Muffins combine whole wheat flour (or spelt flour), apples, applesauce, and warm fall spices topped off with a crunchy cinnamon sugar topping for perfectly fluffy, moist seasonal healthy muffins. Better yet, though, they're naturally sweetened with dates!
Can't get enough apple desserts for healthy snacks? Then you'll probably love healthy apple bread and healthy apple oatmeal bars, too!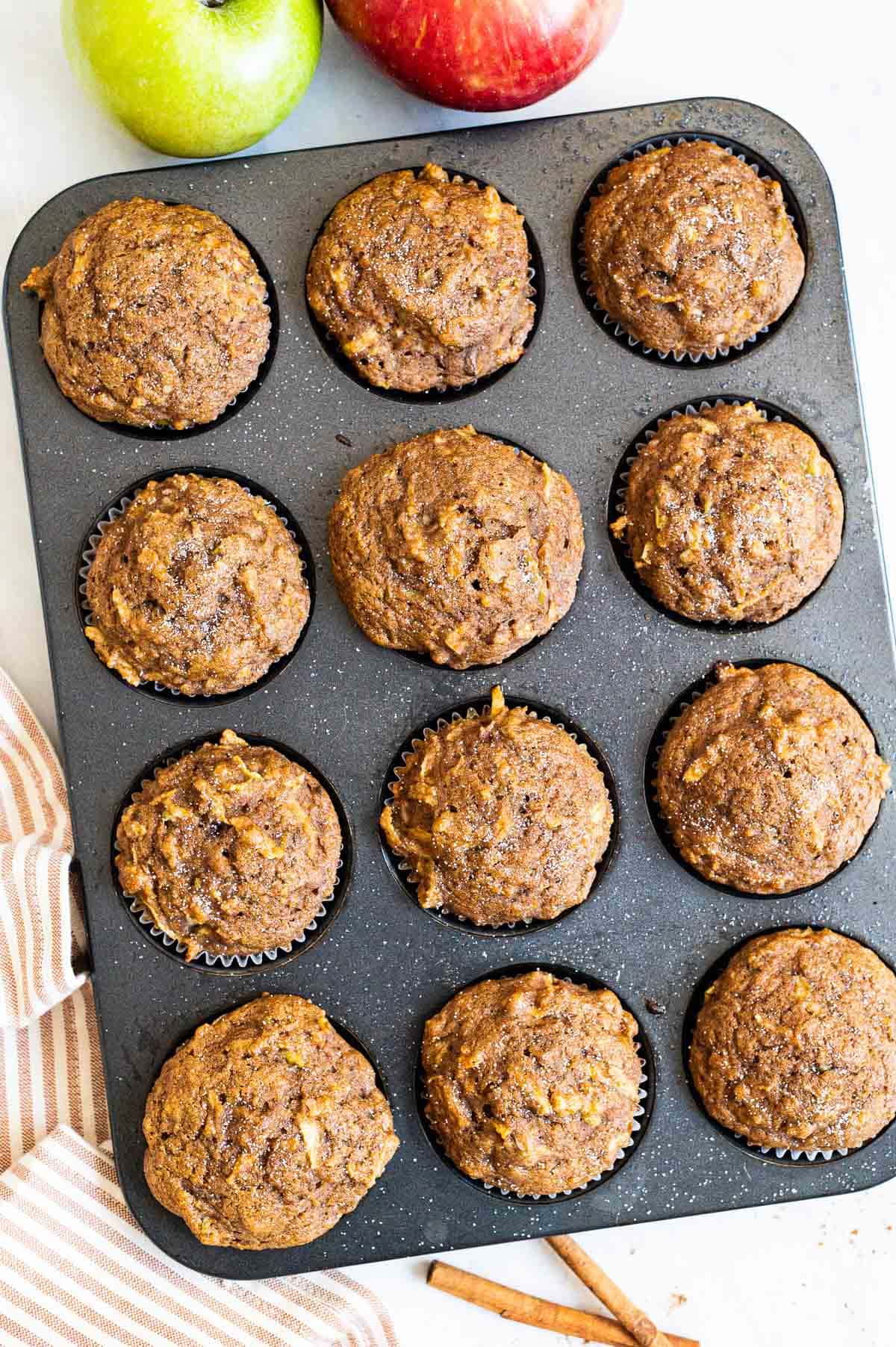 Cozy Healthy Apple Muffins
With fall creeping up on the calendar, I can't wait to harvest the apples from our apple tree, make tons of homemade applesauce, and bake multiple batches of these healthy apple muffins. I can't overstate how amazing the warming spices make the house smell during baking, like the perfect Fall candle (but better!)- as good as gingerbread loaf, pumpkin bread, or pumpkin pie! I'm practically salivating already!
Even better, they're all healthy bakes too! For example, with these healthy apple cinnamon muffins, I've made the recipe as spelt flour or whole wheat apple muffins, and both versions taste amazing. So much so that spelt has become a new 'staple' for healthy pumpkin muffins, healthy carrot muffins, and healthy oat bran muffins. I usually use a combination of whole wheat and AP flour, but these healthy apple muffins taste seriously impressive without any white flour at all!
Along with the more nutritional flour, these whole wheat apple muffins are further lightened up by using dates to sweeten naturally and applesauce to substitute part of the oil. The result is wonderfully fluffy, light, moist, 'just sweet enough' muffins.
Honestly, you don't need all the sugar and fat for a delicious muffin, trust me! Plus, homemade applesauce is perfect for healthier bakes – like healthy coffee cake, chocolate muffins, almond flour waffles, and chocolate zucchini bread.
Finish off the apple date muffins recipe with an optional cinnamon-sugar topping for extra crunch and sweetness, or leave them sugar-free; it's up to you!
Best of all, these healthy apple muffins are freezer-friendly, so you can whip up multiple batches and store them for the whole fall season, ready to thaw/warm as needed!
And if you're interested in more autumn-inspired treats, why not try this pumpkin choc chip bread, pumpkin cake, or oatmeal cranberry cookies!
Why This Healthy Apple Cinnamon Muffin Recipe Works?
These healthy apple cinnamon muffins are packed with nutrient-rich ingredients and are refined sugar-free, low-fat, high-fiber, and nutrient-dense.
With the combination of heart-healthy oil and applesauce, these whole wheat apple muffins are wonderfully moist, light, and fluffy.
These healthy apple muffins are naturally sweetened with dates and contain no added sugar, relying on the natural sweetness of the fruit and dates.
They can be made with whole wheat or spelt flour – for a nutritious, wholesome apple date muffins recipe.
The combination of apples, applesauce, and warming Fall spices make these the perfect treat for Fall/Winter!
You can optionally add a cinnamon sugar (or sweetener) topping for slightly more sweetness and decadence.
Ingredients for Whole Wheat Apple Muffins
Wet Ingredients
Applesauce: User unsweetened applesauce. I use Instant Pot applesauce.
Medjool dates: These are the best dates to use as they're naturally softer and sweeter than many other varieties. Other varieties will likely need to be increased. See FAQs for substitutes.
Oil: I recommend using avocado oil or coconut oil (for the healthiest results), though any neutral vegetable oil would work.
Eggs: Use two large, room-temperature eggs.
Vanilla extract: Use natural extract (or paste) for the best flavor.
Dry Ingredients
Flour: You can use whole wheat flour or spelt flour (I used sprouted spelt flour) for these healthy apple muffins. You could also use a 50/50 blend of both.
Leavening agents: These healthy apple muffins require baking powder and baking soda to provide lift and a fluffy texture.
Spices: These whole wheat apple muffins require a combination of warming Fall spices, including allspice, cinnamon, nutmeg, cloves, and a pinch of salt (to enhance the flavors in the muffins). Alternatively, you could use a store-bought apple pie spice blend.
Other Ingredients
Apples: You'll need 1 ½ cups of any sweet apples, cored and finely chopped (skin-on) for these healthy apple cinnamon muffins. I used Red Delicious (check FAQs for more info).
Cinnamon Sugar topping: If you want to include the topping, you'll need extra cinnamon and coconut sugar/ brown sugar – or another granulated sugar (or sweetener, for a sugar-free option). Luckily, this apple date muffins recipe uses no other sugar, which means you can add the topping without feeling guilty.
You'll also need a little cooking spray (I use Misto) for spraying the muffin tin/liners.
How to Make Healthy Apple Muffins
Prepare the muffin pan: First, preheat the oven to 350F/125C and spray a silicone muffin tin, or line a 12-muffin tin with parchment paper muffin liners sprayed with a bit of cooking spray. Set aside.
Process the wet ingredients: Add all the wet ingredients to a high-speed blender or food processor and process until smooth – then set aside.
This is mainly needed to process the dates until smooth. If you decide to use another sweetener (or use pre-made date paste), then you could simply whisk these ingredients in a bowl.
Prepare the cinnamon sugar topping: If you want to include this, combine the sugar and cinnamon in a small bowl, mix well, and set aside.
Prepare the apple muffin batter: In a large mixing bowl, whisk the dry ingredients together. Then pour in the blended wet ingredients and fold with a spatula until 'just folded.' Then add the chopped apples and fold in just a few times.
Be careful not to overmix the batter; otherwise, the gluten in the flour can become overworked, and you'll end up with tough, stodgy whole wheat apple muffins.
Bake the healthy apple muffins: Divide the batter between the muffin tray, filling each until about ¾ full. Then, optionally sprinkle each with a little of the cinnamon-sugar topping, and bake for around 25 minutes, or until a toothpick inserted in the center comes out mostly clean (with a few crumbs is fine, but not 'wet').
I recommend leaving some of the sugar topping to one side to sprinkle over the baked healthy apple cinnamon muffins.
Allow to cool: Then, remove them from the oven and allow them to cool for around 30 minutes before transferring to a cooling rack to finish cooling.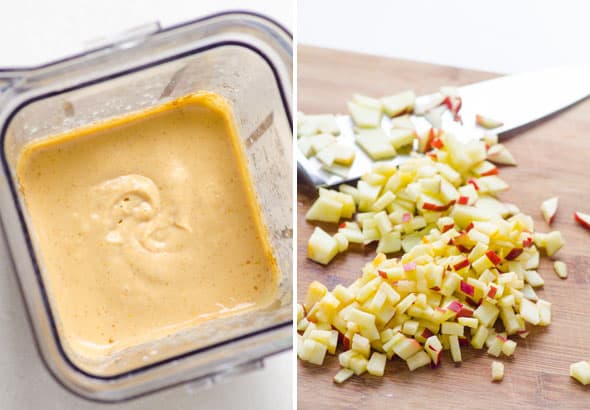 Optional Add-Ins and Variations
Nuts: Walnuts and pecans work particularly well with these whole wheat apple muffins. I recommend using around ½ cup chopped nuts. For a nut-free version, sunflower seeds could work. For extra flavor, lightly toast the nuts until fragrant beforehand.
Chocolate: You can add a handful of chocolate chips or chocolate chunks to these healthy apple muffins.
Maple extract: Maple and apple flavors go well together. Feel free to add 1-2tsp extract to the healthy apple muffin batter.
Cranberries: The tartness of cranberries pairs well with the sweetness of the apple. I recommend adding 1/3-1/2 cup, chopped.
Oat streusel topping: To make a simple oat streusel topping for this apple date muffins recipe, combine the cinnamon sugar topping with around 1tbsp whole wheat flour, 2 tbsp oats, and 1 tbsp coconut oil (soft). Mix to combine, then sprinkle over the muffins before baking. You may want to increase the sugar by a teaspoon or so.
Tips for Best Apple Muffins Results
Make sure to use the spoon and level method: When measuring the flour (rather than scooping the cup directly into the flour bag), to avoid dense, healthy apple cinnamon muffins. Spoon the flour into the cup, then level with a knife.
For mini muffins: I recommend checking on the mini apple date muffins at 12-14 minutes and baking until an inserted toothpick comes out clean.
If your dates are dry: This usually isn't the case with Medjool dates; however, if you're using dry dates, they won't blend easily into the batter. To combat this, soak them in boiling water for 30 minutes before blending.
To make vegan apple muffins: I haven't tried this personally; however, a reader in the comments had success with using chia/flaxseed eggs (combine 2.5tbsp water and 1tbsp ground chia/flax per egg, mix, and rest for 10 minutes to thicken) for these whole wheat apple muffins.
Experiment with apple texture: I've tried this recipe using grated apple (like I do in healthy morning glory muffins), chopped apple, and a combination of the two (when I don't mind adding some extra effort to the recipe). Feel free to experiment to find your preferred consistency.
FAQs
What are the best apples for muffins?
Since these whole wheat apple muffins get tons of flavor and sweetness from the apples, make sure to use a sweet variety. I used Red Delicious; however, you could also use Fuji or Pink Lady. Honeycrisp, Fuji, and Braeburn (which are tarter) could also work. Avoid very tart apples, though; otherwise, you may find that these healthy apple muffins aren't sweet enough.
My apple muffins don't seem done in the center?
The best way to test if the apple date muffins are fully-baked, is by inserting a toothpick into the center. If it comes out with a few crumbs, it's fine – but it shouldn't be wet at all. If it is, continue baking for a further few minutes.
Why are my cinnamon apple muffins gummy?
This can happen if you've over-mixed the batter, used too much leavening agents, or swap out too much of the oil from the recipe.
Can you freeze apple muffins?
Yes, this apple date muffins recipe is very freezer-friendly – for up to three months. Read my 'storage' section for the full instructions.

Can I substitute the dates?
You may be able to substitute the dates with date syrup, maple syrup, honey, or molasses – add a little additional flour to make up for the extra liquid content, if needed. I haven't tried, though, so I can't guarantee results. Granulated sugars may also work, but the amount will vary based on the type used (it's usually recommended to use around double the amount of sugar, in weight, compared to the dates- but this is adjustable).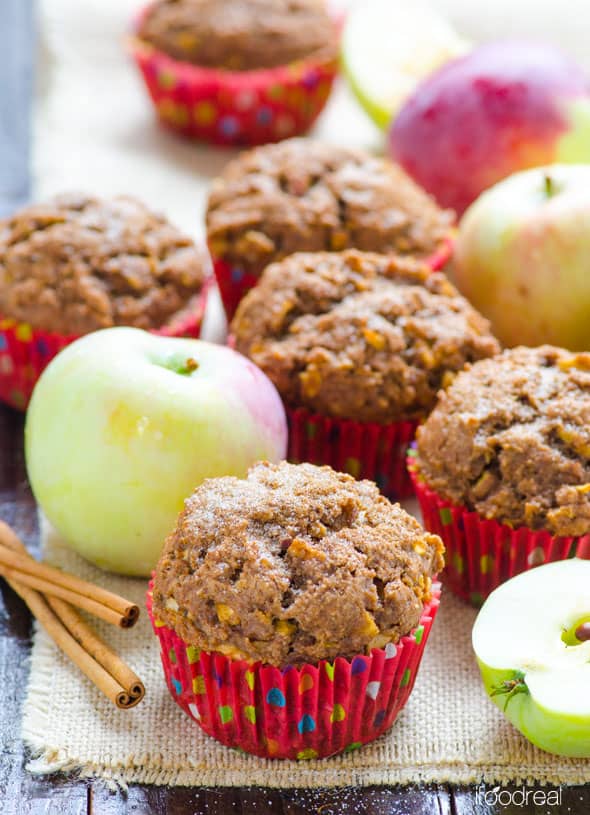 Serving recommendations
Breakfast: Warm up and topped with a dollop of yogurt and honey (or honey butter!). Alternately, apple or pumpkin butter would taste amazing on these healthy muffins.
Snack: You can enjoy one of these healthy apple cinnamon muffins alone or spread with some almond butter/peanut butter.
Dessert: Alternatively, enjoy one warmed up as a simple dessert with a scoop of vegan vanilla ice cream; you won't regret it!
Making Cinnamon Apple Recipe in Advance and Storing
Make ahead: You can prepare the batter (minus the leavening agents and chopped apple) a day in advance. Store it, covered, in the fridge. When you're ready to bake, fold in the leavening agents and apples and bake.
Storing: Transfer the cooled healthy apple muffins to an airtight container and store them in the refrigerator for up to a week.
Freeze: Place the cooled muffins in an airtight container with parchment paper between the layers of muffins and freeze for up to three months. When you want one, allow it to thaw in the fridge overnight or heat from frozen.
Reheat: To reheat a healthy apple cinnamon muffin from frozen, either do so in the microwave (in 20-second increments) or wrap the muffin/s in foil and bake for around 15 minutes, or until warmed through, at 400F/205C.To reheat from chilled, a microwave or toaster oven will work well.
More Healthy Muffin Recipes
You can also browse through a complete list of my muffins recipes!
Healthy Apple Muffins
These Healthy Apple Muffins combine whole wheat flour, apples, applesauce, and warm fall spices. Topped off with a crunchy cinnamon-sugar topping.
Print
Rate
Ingredients
Instructions
In a small mixing bowl, add Cinnamon Sugar Topping ingredients and mix. Set aside.

In a large mixing bowl, whisk to combine Dry Ingredients. Add Wet Ingredients from the blender into the bowl and gently mix just enough to combine. Do not over mix otherwise muffins won't rise properly. Add chopped apples and give a few gentle stirs.

Fill each tin 3/4 full with batter, sprinkle with Cinnamon Sugar Topping (I left some for sprinkling after baking) and bake for 25 minutes or until a toothpick inserted in the centre comes out clean. Let muffins cool for about 30 minutes and transfer to a cooling rack to cool off completely.
Make ahead: Prepare the batter (minus the leavening agents and chopped apple) a day in advance. Store covered, in the fridge. When ready to bake, fold in leavening agents and apples and bake.
Store: Refrigerate in an airtight container for up to 1 week or freeze for up to 3 months.
Notes
Nutrition
Serving:
1
muffin
|
Calories:
187
kcal
|
Carbohydrates:
33
g
|
Protein:
4
g
|
Fat:
6
g
|
Saturated Fat:
1
g
|
Cholesterol:
27
mg
|
Sodium:
295
mg
|
Fiber:
4
g
|
Sugar:
15
g
Recipes and images are a copyright of ifoodreal.com. It is against the law to republish recipes without permission. Nutritional info is approximate.