Ukrainian Cucumber and Tomato Salad is a classic fresh and light salad that goes with everything! This easy salad with juicy tomatoes, crunchy cucumbers, slivers of red onion and fresh dill will become your go-to year-round.
This salad is a staple on our summer table alongside vinegar based coleslaw, tomato mozzarella avocado salad and lettuce salad recipe.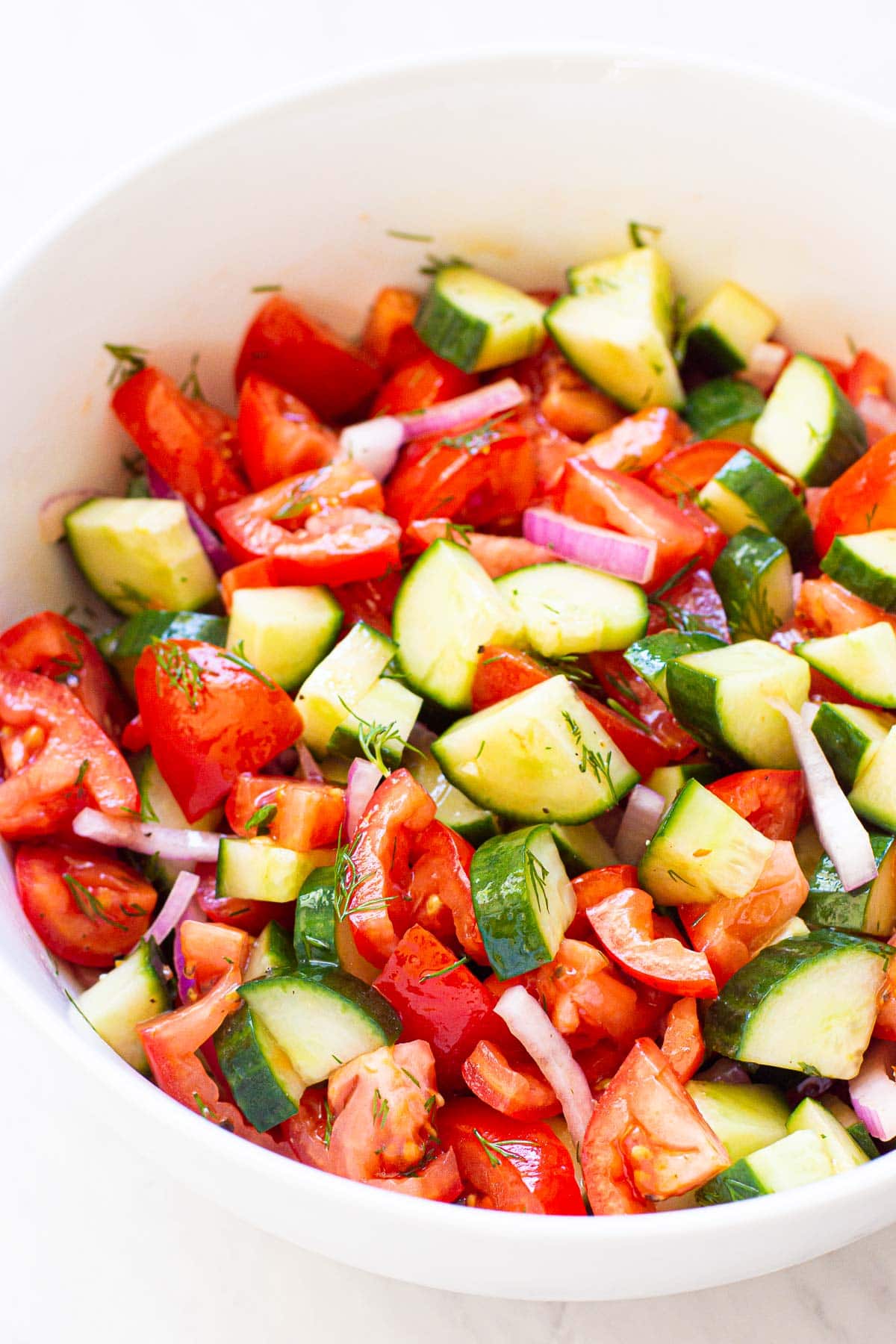 This salad is something I ate every other day during the summer as a child along with healthy cucumber salad. It is the most popular salad recipe in Ukraine, Russia and many other Slavic countries.
It's on the same level of popularity as Olivier salad.
I also believe this salad combination is incredibly popular all over the globe. With its own regional twist, of course.
Because it's that good! It's healthy, affordable, and easy to make any time of the year.
I love to make this salad during summer with my homegrown cucumbers and tomatoes or farmer's market produce. That's when it's the best! However, we make it for dinner all the time and there is nothing more cheerful on a dreary rainy winter night than a bowl of fresh and crunchy salad.
Ingredients You Will Need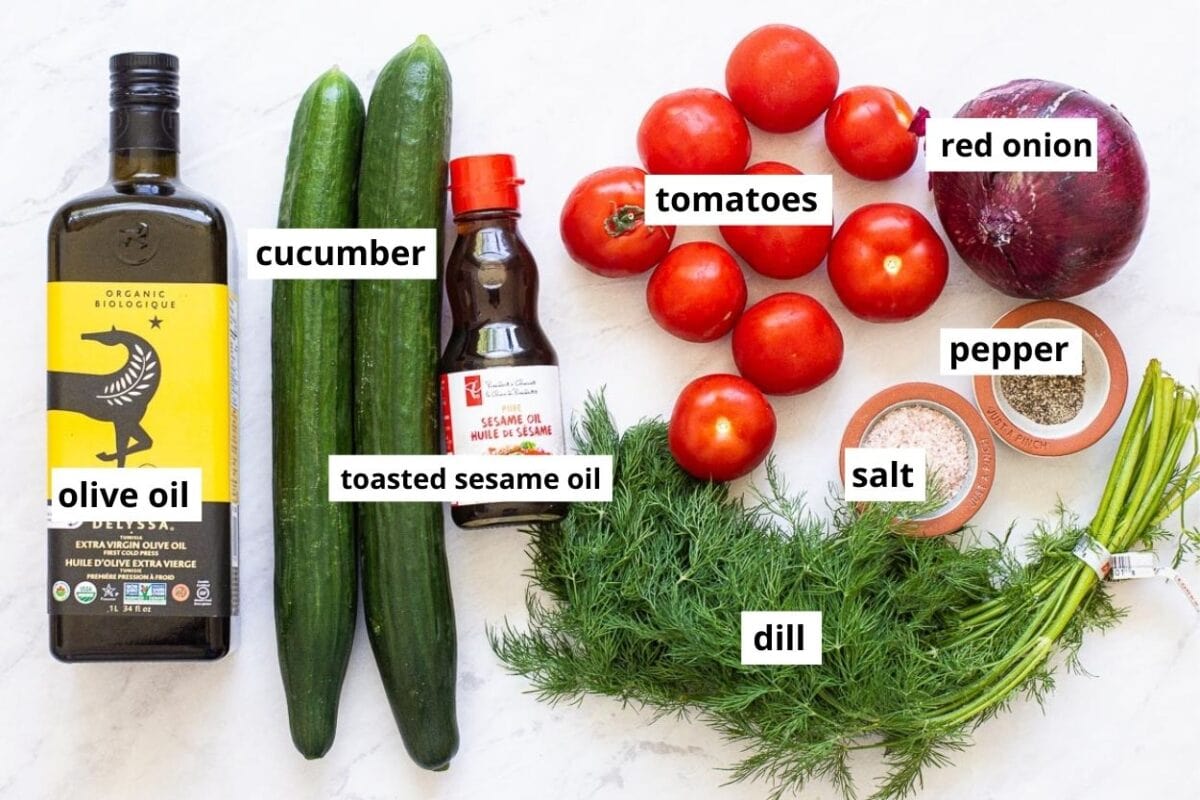 The key to making this salad is to select the best tomatoes and cucumbers at the grocery store. And I am also using one ingredient that makes salad special but you can omit it. Here is what you need:
Cucumber: I like to use either long English cucumber or pickle cucumbers. Select firm and plum ones.
Tomatoes: My preferred store-bought variety is "tomatoes on the vine". During summer, any heirloom variety, beefsteak or Roma tomatoes in season will be great. Cherry or grape tomatoes are great too.
Onion: I prefer to use red onion or shallots in fresh salads, as they aren't as harsh. But yellow or white onion would also work. Alternatively, you could omit it entirely.
Dill: It's a classic herb for Ukrainian cucumber tomato onion salad. Alternatively use parsley, cilantro, or scallions.
Olive oil: I like extra virgin olive oil for a more pronounced taste.
Toasted sesame oil: This is my secret ingredient that is reminiscent of unrefined sunflower oil we always used to dress up this salad. You can omit it and use more of olive oil, it's not a deal breaker.
Salt and black pepper.
How to Make Cucumber and Tomato Salad
The key to making this salad is to prep it right before serving as it tastes best fresh!
The process is really very simple. All you have to do is chop the tomatoes and cucumbers into same sized pieces, ensuring the even distribution of ingredients in every bite. Make sure your knife is sharpened because there is nothing worse than a dull knife squishing juicy tomatoes.
I do not peel cucumbers unless it is full grown garden cucumber that has thick and bitter skin. Or any cucumber with a tough skin. No fun to eat that.
Then, finely slice the red onion and transfer all three to a large serving bowl. Chop the dill.
We never made the dressing separately, there is no need. Add the oils, salt and pepper to the bowl and toss lightly.
With soft salads like this, it's best to toss them gently with a large spoon rather than using tongs. Start in the middle of the bowl going under all ingredients with a large spoon, and rotate the bowl as you keep stirring.
This will help you avoid squashing the tomatoes or bruising any ingredients.
Then taste the tomato cucumber salad and adjust any of the seasonings, if necessary.
I have to stress that it's best to eat this salad within a few hours of making it. That's when it tastes fresh and crunchy!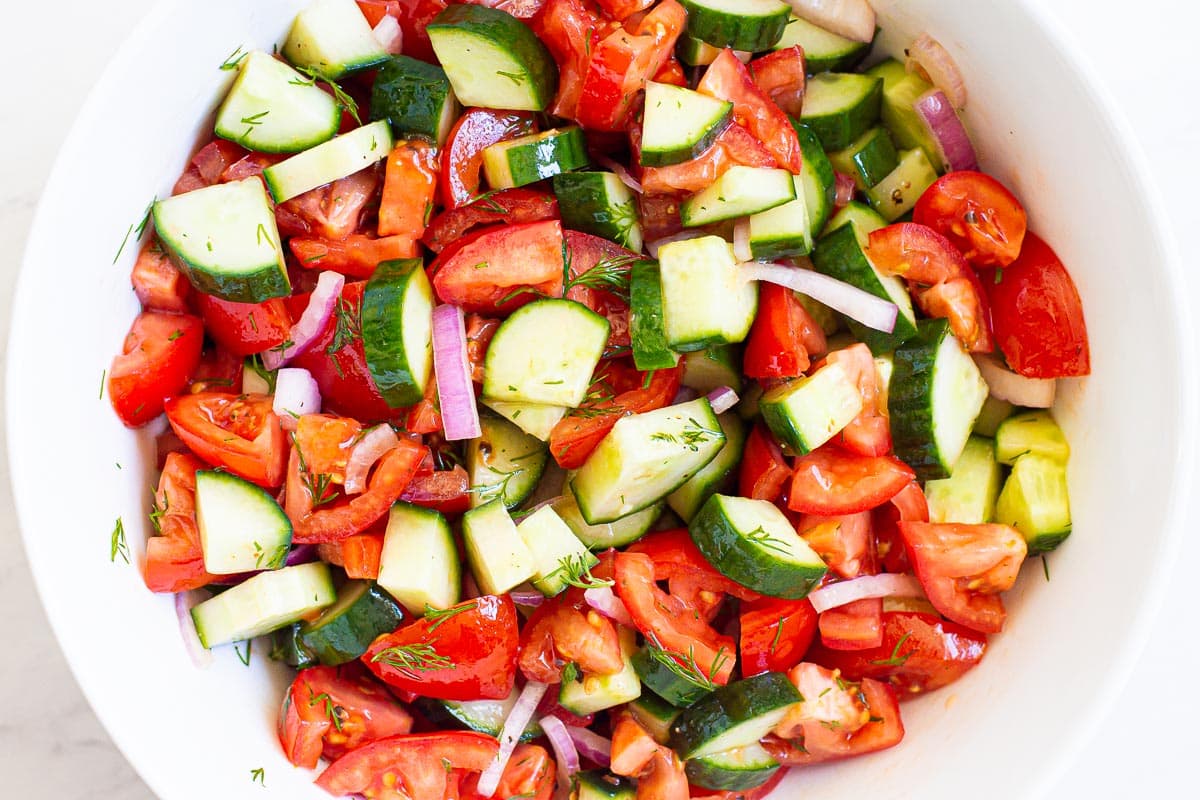 Can I Make It Ahead?
Yes, for sure. If you want to prepare the tomato cucumber salad in advance, add veggies and herbs to a bowl. Cover and refrigerate for up to 24 hours. When you're ready to serve, add olive oil, toasted sesame oil, salt, and pepper.
As soon as you add the salt, pepper and oil to the salad, it will encourage the veggies to release their juices. Otherwise, keep salad ingredients "dry" and you can make it ahead for sure. It literally takes 1 minute to season the salad!
More Fun Additions
Because of the simplicity of this salad recipe, there are tons of ways to adjust the recipe and use it as a foundation to layer other fresh and tasty ingredients!
Add a splash of your favorite vinegar or squeeze fresh lemon or lime juice for a zing. Make it creamy with plain Instant Pot yogurt or sour cream and omit the oils like I do in creamy cucumber tomato salad.
Toss in crumbled feta cheese or mini bocconcini (mozzarella balls) like I do in Italian pasta salad!
Add diced avocado. The sky's the limit!
How to Serve the Salad?
Honestly, this cucumber tomato salad is one of the most versatile salads on the blog and can be served with practically any main dish. Here are some of my favorite suggestions, though.
With healthy mashed potatoes and grandma's chicken patties ("kotlety"), that's how I remember this salad most of the times!
With healthy turkey burgers at a BBQ.
During a holiday meal of boneless leg of lamb roast.
To enjoy leftover salad, I recommend using some rye bread or other crusty bread to dip into all the juices at the bottom of the salad. I did that all the time as a child and my goodness, it's delicious!
FAQs
Can you use dried dill in this tomato cucumber salad?
I do not recommend it. Dried dill tastes very different from fresh dill. You will not like it in this salad, I promise. Trust me!
How long will it last in the refrigerator?
As both ingredients have high water content, the salad can quickly go limp. For that reason, it's best to enjoy it at soon as possible.

Though it can last 1-2 days in the fridge. If you want it to last as long as possible, only season the salad (with dressing) just before serving.
More Salad Recipes You Will Love
You might also enjoy my list of 52 healthy salad recipes!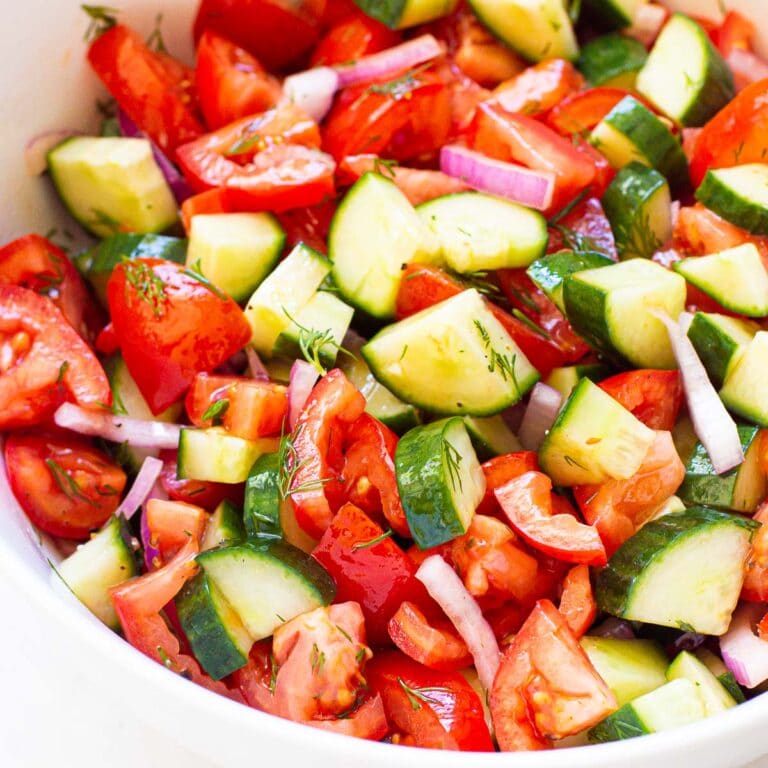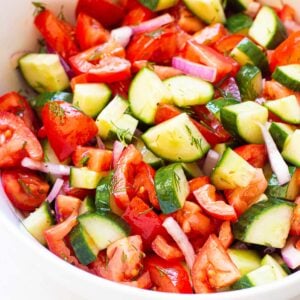 Ukrainian Cucumber and Tomato Salad
Ukrainian Cucumber and Tomato Salad is a classic fresh and light salad that goes with everything!
Instructions
In a large bowl, add cucumbers, tomatoes, onion, dill, olive oil, toasted sesame oil, salt and pepper.

Stir gently from the bottom in the center of the bowl until well combined.

Salad tastes best when served immediately.
Notes
Store: Refrigerate salad for up to 24 hours.
Make Ahead: Refrigerate all vegetables in a bowl covered. Then add oils, salt and pepper right before serving.
Best tomatoes to use: In summer heirloom varieties, and tomatoes on the vine when it comes to store-bought.
Don't add the salt too early. As soon as you add the salt, the juices from the tomato and cucumber will start to release.
Substitute for toasted sesame oil: Use more of olive oil.
Add garlic: Tiny grated garlic clove will add a lot of flavor.
Nutrition
Serving:
1
cup
|
Calories:
88
kcal
|
Carbohydrates:
6
g
|
Protein:
1
g
|
Fat:
7
g
|
Saturated Fat:
1
g
|
Sodium:
151
mg
|
Fiber:
1
g
|
Sugar:
3
g