Pasta with Zucchini and Tomatoes is a 20 minute pasta dinner with crisp-tender zucchini and bursting baby tomatoes creating delicious sauce with fresh garlic, basil and parmesan cheese that coats the perfectly al dente pasta.
Our other summer pasta favorites is this zucchini ricotta pasta, healthy pesto pasta and caprese pasta.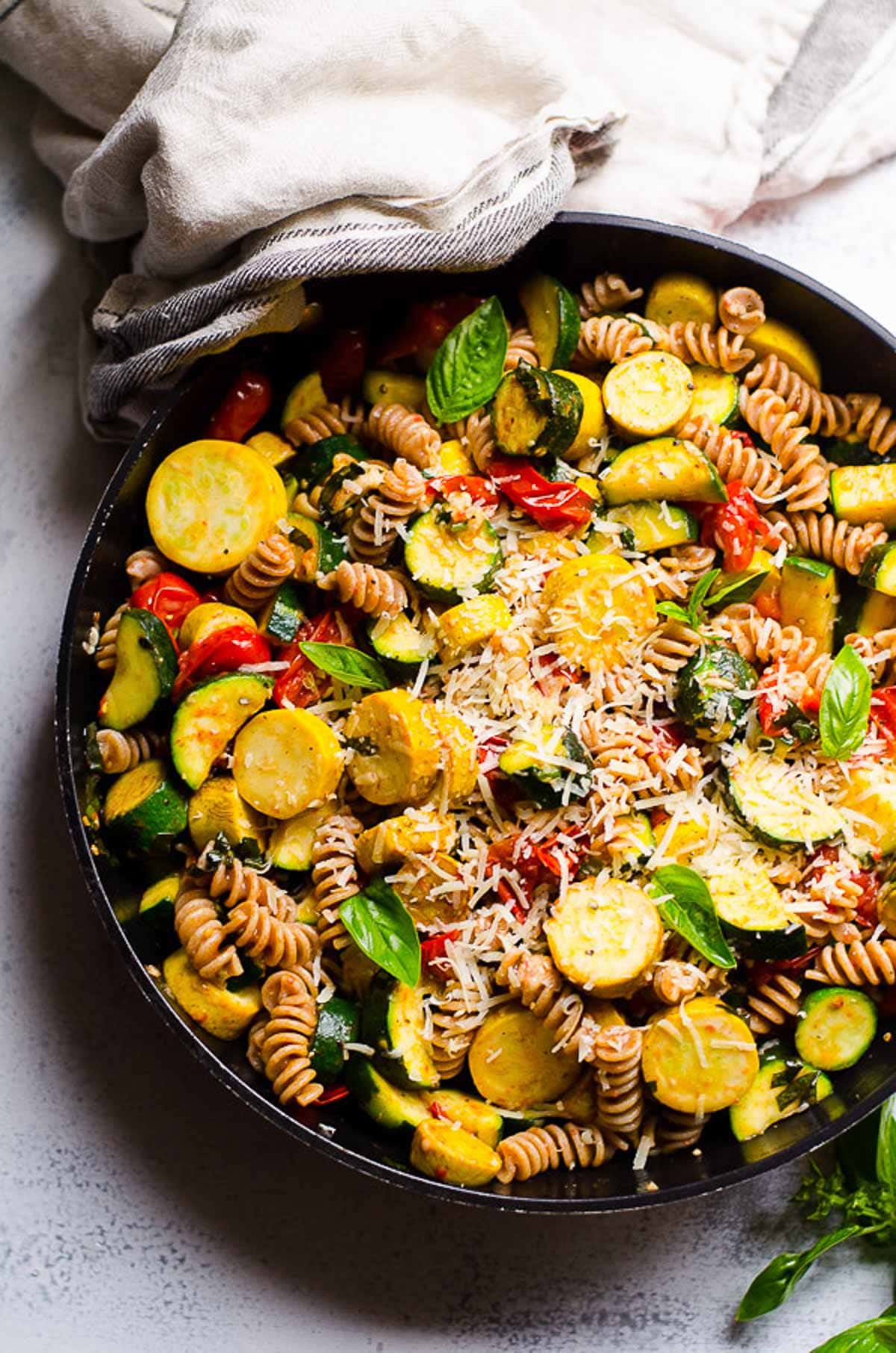 This pasta with zucchini and tomatoes is nothing short of amazing. It's one of my favorite vegetarian pasta recipes that I come back to again and again.
I find myself unable to stop eating it once I start. It's light, fresh and so flavorful. Plus this zucchini pasta recipe satisfies my inner Ukrainian with all the garlic!
I got the idea for zucchini tomato pasta from my zucchini tomato bake. The amount of pasta in this pasta dish isn't overwhelming. There is just enough in there to make it filling.
In fact, it is so good, I don't mind eating leftovers all week long. Actually, I crave it.
Ingredients for Pasta with Zucchini
All you need for pasta with zucchini recipe are just 9 simple ingredients.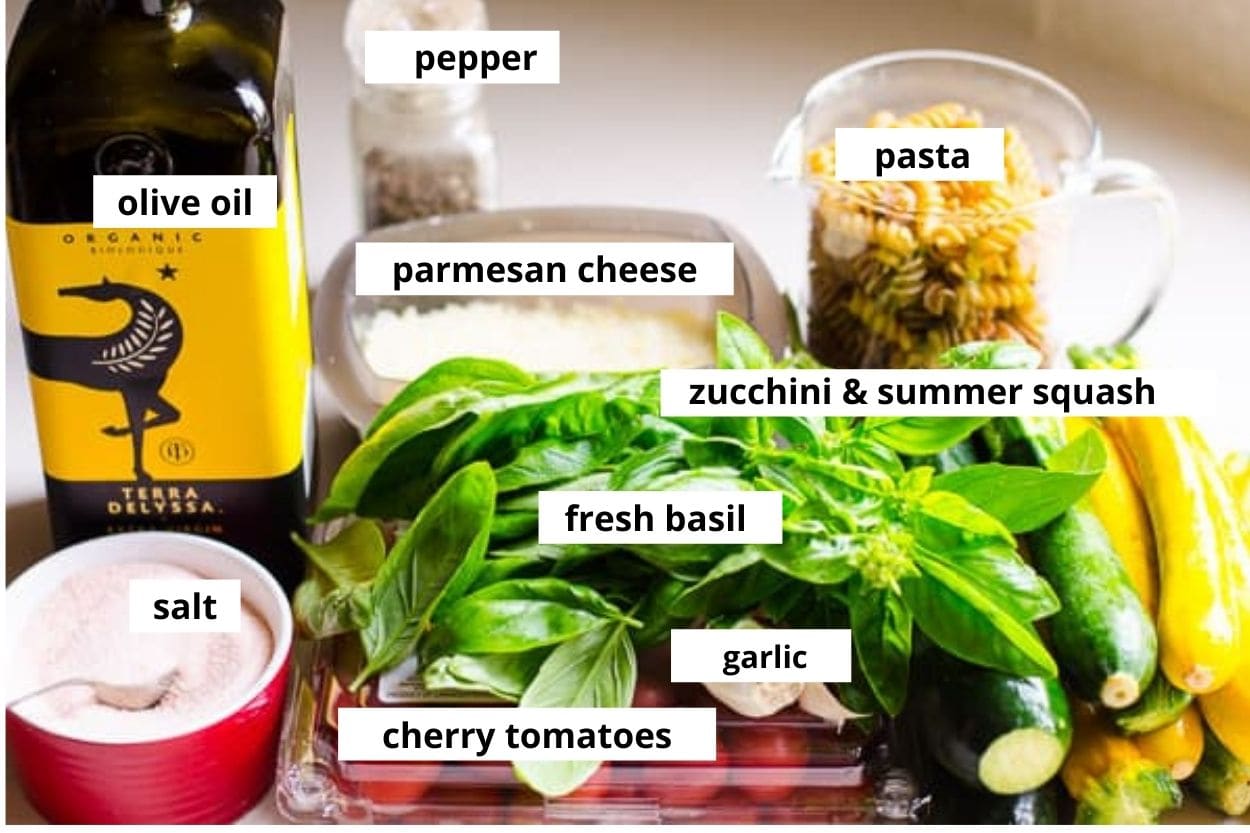 Pasta: I use short whole wheat fusilli or rotini pasta because I like that the grooves pick up and carry that extra sauce. Penne and farfalle are great choices as well.
Zucchini: You'll need 2 pounds of chopped into little bite sized pieces zucchini. No need to peel the squash. You can use a variety of green zucchini and yellow zucchini for added flare.
Tomatoes: Cherry tomatoes or grape tomatoes are the best for pasta with zucchini because they hold their shape better than full-grown tomatoes without making zucchini tomato pasta mushy. Cutting them in halves ensures the juices release making a base for the sauce.
Basil and garlic: I don't think there is anything better than fresh basil. Except maybe loads of garlic. Finely chopped basil or parsley and minced garlic added into this zucchini pasta recipe brightens it up with an incredibly vibrant freshness and bold flavor.
Parmesan cheese: Freshly grated parmigiano reggiano from a block is always the way to go. Adding this sharp cheesy element adds a little extra comfort and familiarity to this pasta recipe.
Extra virgin olive oil, salt and pepper: Oil to sauté the veggies as well as bring everything together at the end once combined and tossed. Somehow only olive oil seems suitable to me here. Probably because this pasta is kind of Mediterranean and extra virgin olive oil with a deep sweeter flavor fits right in. The salt and pepper is a finishing touch.
How to Make Pasta with Zucchini
Here is a quick overview how to make pasta with zucchini and tomatoes. All you need is large skillet and 20 minutes, you'll have dinner on the table in no time!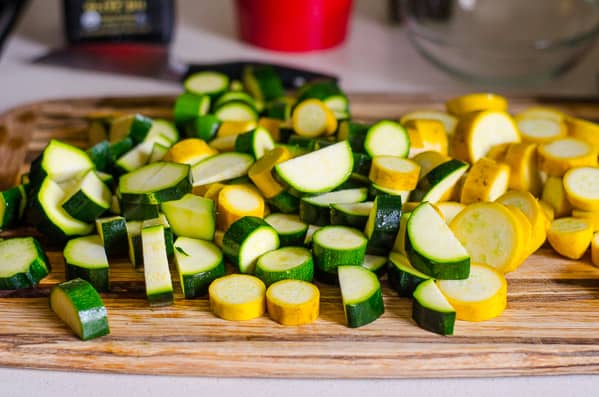 Chop the vegetables: I start with chopping all the veggies. All zucchini come in different sizes. Just chop squash of all sizes into uniform bite-sized pieces.
Cut the grape tomatoes in halves. If you lay them on a cutting board, press lightly with one hand and using a sharp chef's knife slice through the middle.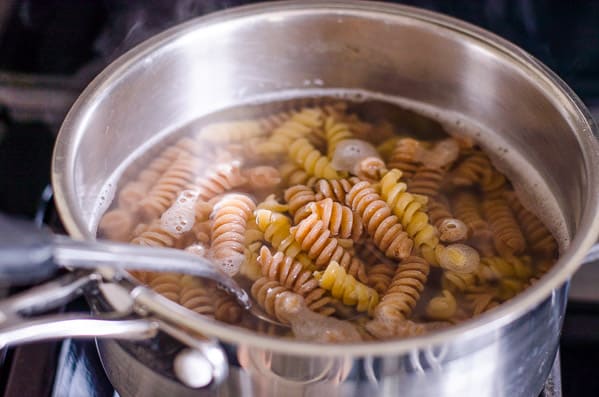 Cook vegetables and pasta: Then I boil pot of salted water for the pasta and start cooking the vegetables at the same time. This way by the time pasta is ready, the zucchini and tomatoes are ready as well.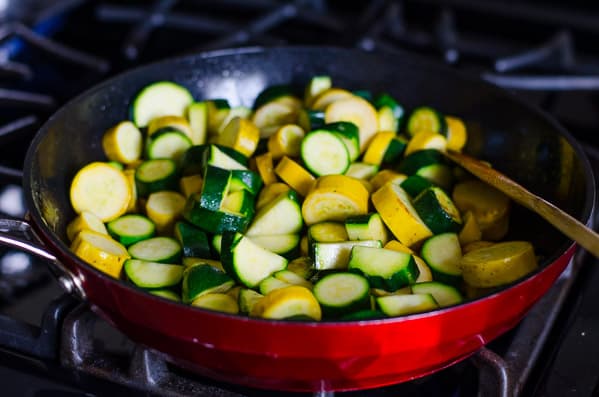 Cook zucchini quickly on medium-high with a bit of olive oil until cooked but still firm.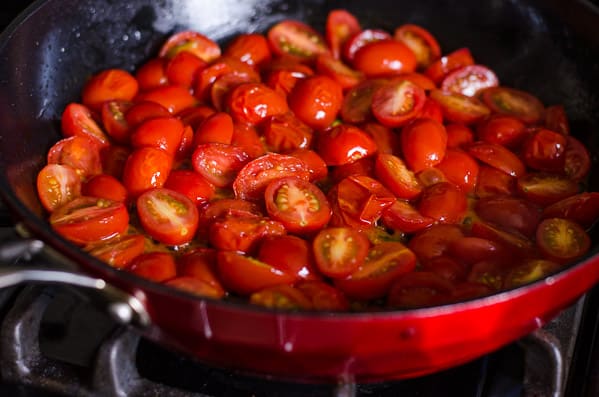 Set fried zucchini aside in a bowl, then cook tomatoes with more olive oil, adding garlic during the last minute. You are now ready to combine pasta with zucchini and tomatoes together in the same pan.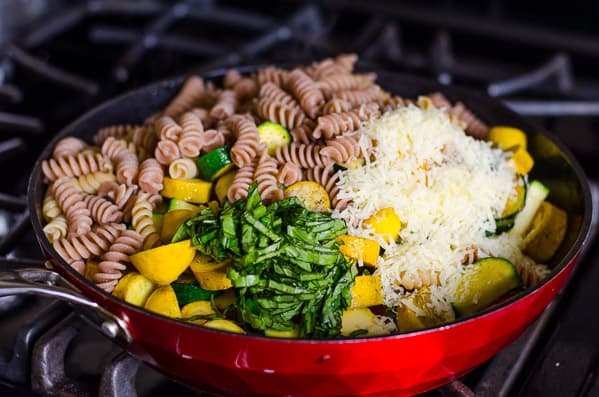 Add fresh basil and cheese: At the end, I add pasta and season it all at once with salt, pepper, fresh herbs, and freshly grated Parmesan cheese.
These flavors married together are mouthwatering and basically addicting. Add fresh basil or fresh parsley at the end, so they don't cook with the rest of it.
Variations
Make this pasta with zucchini your own with a few of our ideas below.
Sliced or whole pitted kalamata olives would be a nice addition.
Toss in some Instant Pot chickpeas, shredded chicken breast cooked in Instant Pot, grilled shrimp or Italian sausage for added protein.
Sauté some diced onion along with the garlic for a little extra aromatic flavor.
For a little heat, sprinkle in some red pepper flakes.
Substitute parmesan cheese for feta cheese or pecorino romano. Or use a bit of both!
Chopped broccoli and diced bell pepper are a great way to increase the vegetables in this zucchini pasta recipe.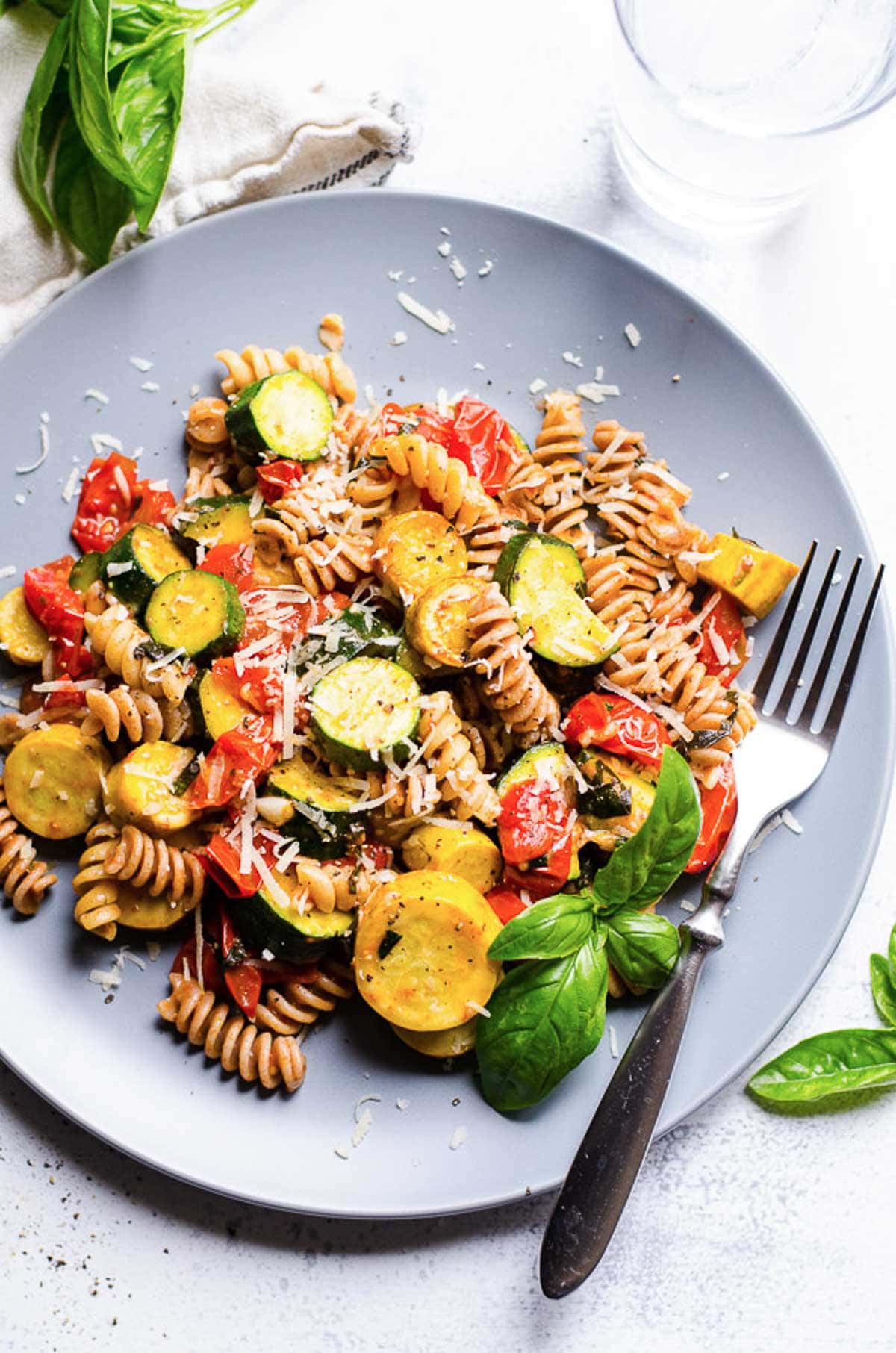 Tips for Best Results
Here are my top tips for the best pasta with zucchini and tomatoes from the first try!
Don't overcook your pasta: Chewy al dente pasta is half of the success of this tasty pasta recipe. I add al dente pasta directly from the pot to the skillet without draining. I find once the pasta is drained, it starts drying out and sticking together.
Gluten free pasta: Remember, when using gluten-free pasta it won't hold its structure the same way white pasta does, so make sure not to overcook it and cook for shorter amount of time.
Use fresh ingredients: Since this zucchini pasta recipe uses only a few simple ingredients, it's important to strive to use the best quality for each one. Using a good quality extra virgin olive oil, in season tomatoes and fresh zucchini is highly recommended. That's why this pasta dish is a perfect summer recipe!
Grate parmesan from a block: Using pre-grated parmesan from a shaker comes with a slew of additives, anti-clumping agents and unnecessary things we don't need to be tasting.
How Do I Serve Pasta with Zucchini and Tomatoes?
If you enjoy the Mediterranean vibes of pasta with zucchini as much as I do, you will love serving it alongside a basket of crusty bread and this olive oil dip as an appetizer. Delicious!
This zucchini pasta recipe is filling and loaded with veggies as is, but there's no harm in adding more to your menu. Baby kale salad and lemon kale salad with garlic and parmesan are both great leafy green salads that would be a nice addition.
How to Store
Store: Any pasta tastes best fresh. If you happen to have leftovers of pasta with zucchini, transfer to an airtight container and refrigerate for up to 1 day. I find plastic transfers its taste to food, so I prefer glass containers.
I wouldn't store leftovers in refrigerator for longer than 2 days. Pasta becomes too soggy as zucchini and tomatoes contain a lot of water. The recipe can be cut in half if needed.
Reheat: Reheat in a microwave. I do not recommend to reheat pasta with vegetables leftovers in a skillet, as it will make it more mushy.
Do not freeze: Neither pasta nor zucchini do not freeze well.
FAQs
What is the best pasta to use for this pasta with zucchini recipe?
Use short pasta like fusilli, penne or rigatoni that has crevices to hold the sauce. It can be whole wheat pasta, regular pasta or any gluten-free pasta.
Is pasta with zucchini and tomatoes healthy?
According to Healthline, fresh zucchini and tomatoes are loaded with vitamins, minerals, and antioxidants. As well as low in calories, fat and sugar. Olive oil has the benefit of good fats and helps a heart-healthy lifestyle, as well as fresh garlic and herbs are anti-inflammatory and helps build up immune systems.
Can I make it ahead of time?
Yes. Pasta with zucchini and tomatoes is a quick 20 minute recipe. But if you want to save even more time, you can pre chop zucchini and tomatoes and store them in separate containers until ready to cook. Do not chop fresh basil in advance because it turns black.
More Pasta Recipes to Try
More Zucchini Recipes to Try
If you are a fan of zucchini, check out my collection of 30 healthy zucchini recipes.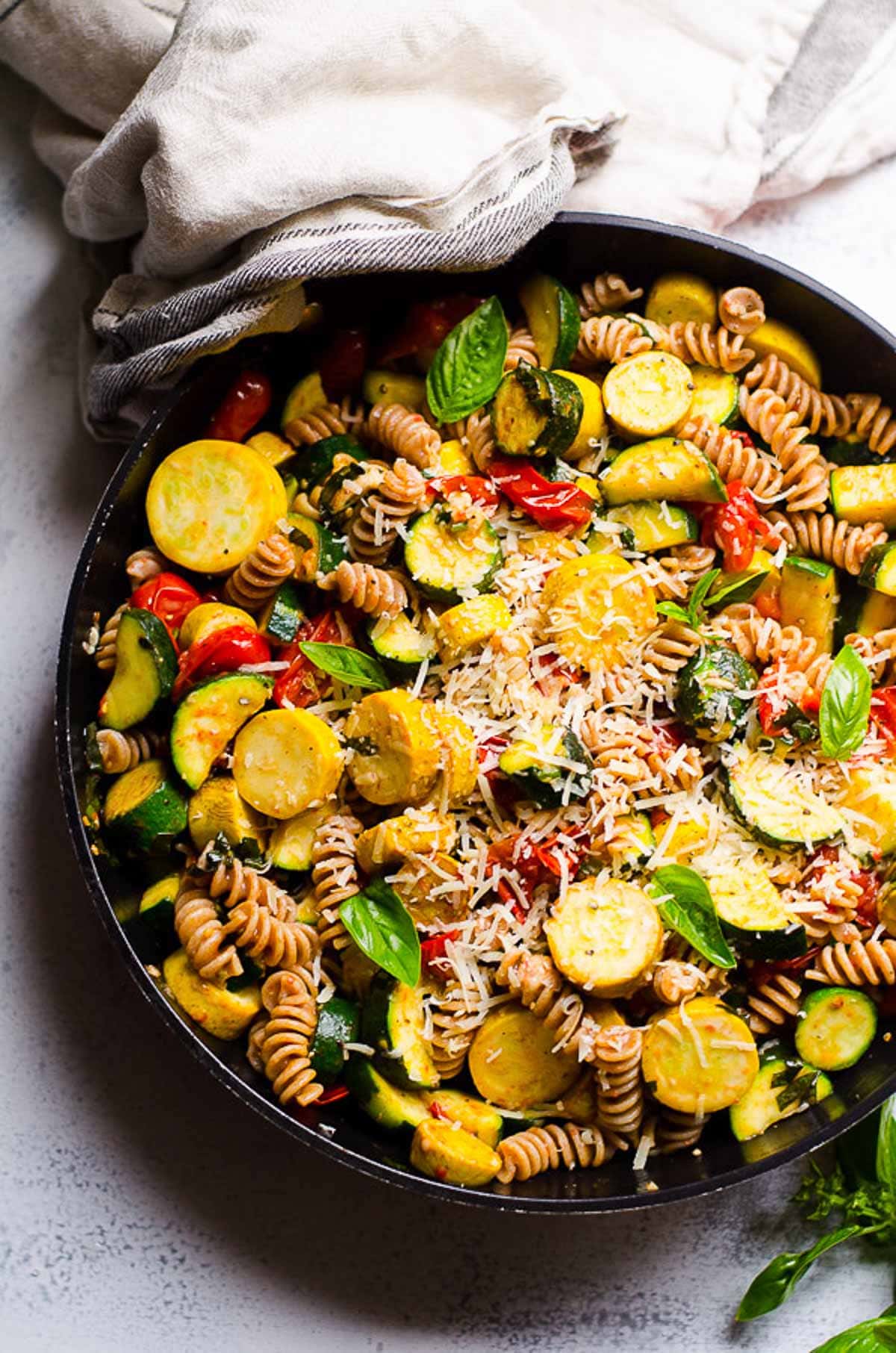 Pasta with Zucchini and Tomatoes
Pasta with Zucchini and Tomatoes is a 20 minute vegetarian pasta recipe with zucchini, tomatoes, fresh garlic, basil and parmesan.
Instructions
Cook pasta as per package instructions undercooking by 2-3 minutes or until pasta is al dente, cooked but firm.

While pasta is cooking, preheat large ceramic non-stick skillet on medium-high heat and swirl 1 tbsp of oil to coat. Add zucchini and cook for 5 minutes, stirring occasionally. Transfer to a bowl and set aside.

Return skillet to the stove and swirl 1 tbsp of oil to coat, add tomatoes and cook for 3 minutes, stirring occasionally. Add garlic and cook for 1 minute, stirring a few times.

Turn off heat and add cooked pasta and zucchini, remaining 1 tbsp of oil, salt, pepper, cheese and parsley or basil; stir and serve. Adjust any seasonings to taste and enjoy this 20 minute amazingness!
Notes
Store: Refrigerate in an airtight container for up to 1 day. Freeze: Do not freeze.
Nutrition
Calories:
369
kcal
|
Carbohydrates:
51
g
|
Protein:
15
g
|
Fat:
14
g
|
Saturated Fat:
3
g
|
Cholesterol:
6
mg
|
Sodium:
752
mg
|
Fiber:
4
g
|
Sugar:
9
g