Creamy Cucumber Tomato Salad made with crispy cucumbers, juicy tomatoes, and tossed in creamy garlic and dill dressing. It's 15 minute side dish you will make all summer long!
Check out my other Ukrainian childhood salads like cucumber and tomato salad, healthy cucumber salad, and creamy cucumber salad.
I'm always looking for healthy salad recipes that I can whip up quickly. The fewer ingredients the better!
This easy creamy cucumber tomato salad checks all the boxes. It is one of childhood favorites I grew up eating in Ukraine.
The combo of sour cream and garlic is the bomb dot com on the highest level! The base of the salad is fresh and delicious garden bounty like cukes, tomatoes and dill. Then it's got some red onions and all of that gets tossed in a creamy garlic and dill dressing.
Sour cream is so good although yogurt would be a healthier choice. I use either or depending on my mood and fridge contents. Sour cream is definitely when I am feeling naughty.
I love to serve it with grandma's ground chicken burgers, grilled chicken breast, or Greek chicken kebabs!
There you have it! Simple, light, and refreshing summer meal. Also with a few of my tips you can make this flavorful salad year-round.
Ingredients You'll Need
Cucumbers
Tomatoes
Red onion
Fresh dill
Garlic
Sour cream
Salt & pepper
How to Make Creamy Cucumber Tomato Salad
One bowl and 15 minutes is all that's needed to make this salad.
Chop up more tomatoes and cucumbers than you need and set them aside, so you can make this salad again tomorrow!
Grab a large salad bowl first.
Cut the cucumber into slices, probably around 1/4″ thick. Not too thin so that they are flimsy but also not too thick.
Then, cut those rounds in half. It's easier to eat when they're about the same size as the tomatoes. Add to the bowl.
Use a sharp knife to cut tomato wedges. First, cut the whole tomato in half, place the flesh side up, and cut 1″ wedges. Repeat with the other half and transfer to the salad bowl as you are chopping.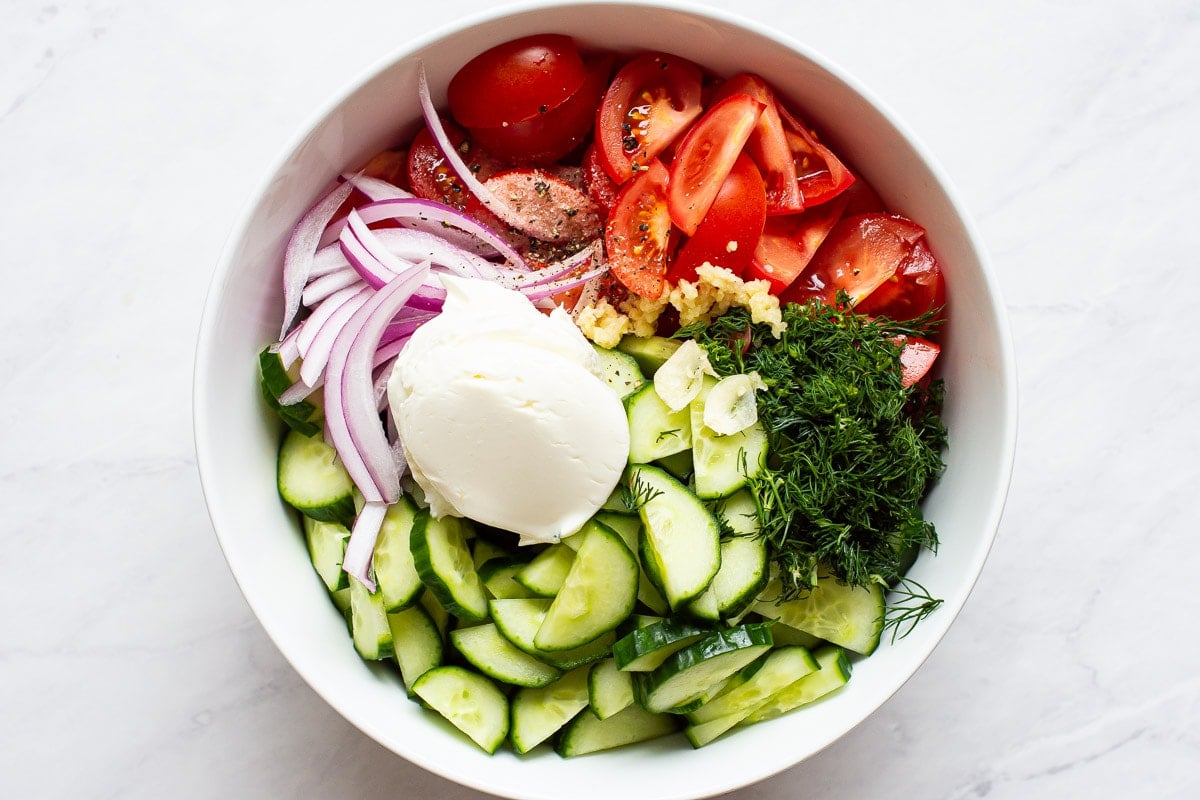 Slice tomatoes and chop dill, add to the bowl. Now add sour cream, grated garlic, salt and pepper. No need to make salad dressing separately but you can if you wish.
Using a spoon rather than tongs, gently stir the ingredients together. Start from the bottom of the dish in the middle and use a circular scooping motion upwards.
It might appear hard thing to do at first but veggie juices will soon mix with sour cream thinning it out and forming delicious creamy dressing.
Rotate the bowl as you go just to make sure everything is combined. We're aiming to avoid destroying the tomatoes!
Best to serve immediately or within next 6 hours, and cover any leftovers for 24 hours.
What Cucumbers and Tomatoes are Best to Use?
Long English cucumbers are good because they have thin skin and fewer seeds. You can also use smaller Persian cucumbers.
If using farmer's market cukes with thick bitter skin, peel them first.
My absolute favorite store-bought tomato of all times are tomatoes on the vine. That's why you can make this light salad year round! They are smaller round tomatoes often still attached to their stalk.
In the summer, use any local fresh tomatoes or heirloom variety is extra special. Avoid store-bought roma or field tomatoes pretty much most of the time. They do not have much flavor.
Optional Add-In's
Some yummy ways to boost flavor and texture could be to add one or two of the following:
Can I Make This Salad Ahead?
Make this salad up to 24 hours again by prepping and not stirring! Place all of the ingredients into a salad bowl, but leave it as is. Stir just before serving, otherwise, things will get soggy and the dressing will be watery.
What Can I Serve with This Vegetable Salad?
It's a staple during grilling season, but it's definitely a year round salad as well.
I always remember eating it with a side of healthy mashed potatoes and a stove top version of these Instant Pot pork chops.
Pair it with air fryer lamb chops or Greek chicken!
More FAQs
Can I use yogurt instead of sour cream?
You can! It's just as creamy and tangy, however with less fat making it the lighter choice.
Can I use white onion instead of red onion?
Sure you can! It's great if that's the onions you normally have at home. Keep in mind they're more pungent than red onions, so you might find you want to use less.
Can I add mayo?
Yes. Reduce sour cream to 1/4 cup and add 2 tbsp of mayo. Extra naughty but so good!
Can I use garlic powder?
Yes, use 1 tsp garlic powder instead of fresh garlic. Although it is not the same but still delicious quick shortcut.
More Salad Recipes to Try
You may also like to browse all my healthy salad recipes!
Creamy Cucumber Tomato Salad
15 minute Creamy Cucumber Tomato Salad made with crispy cucumbers, juicy tomatoes, and tossed in creamy garlic and dill dressing.
Instructions
In a large bowl, add cucumbers, tomatoes, red onion, dill, garlic, sour cream, salt and pepper.

Stir gently from the bottom in the center of the bowl until well combined. Serve salad within next 6 hours or so.
Notes
Store: Refrigerate leftovers for up to 24 hours.
Make Ahead: Refrigerate salad ingredients prepped in a bowl, but not stirred, and covered for up to 24 hours. Stir before serving.
Best tomatoes to use: In summer, heirloom varieties. And any time of the year, store-bought tomatoes on the vine.
Best cucumbers to use: Long English os smaller Persian cucumbers as they have thin skin. Peel farmer's market cucumbers.
Greek yogurt: Use instead of sour cream for lighter salad.
Nutrition
Serving:
1
cup
|
Calories:
55
kcal
|
Carbohydrates:
7
g
|
Protein:
2
g
|
Fat:
3
g
|
Saturated Fat:
2
g
|
Cholesterol:
8
mg
|
Sodium:
156
mg
|
Fiber:
1
g
|
Sugar:
4
g