Tuna Zucchini Cakes with canned tuna, Parmesan cheese and a hefty dose of vegetables are pan fried until crispy perfection. Easy and delicious appetizer, side dish or dinner.
You may also love these baked zucchini fritters or canned salmon cakes.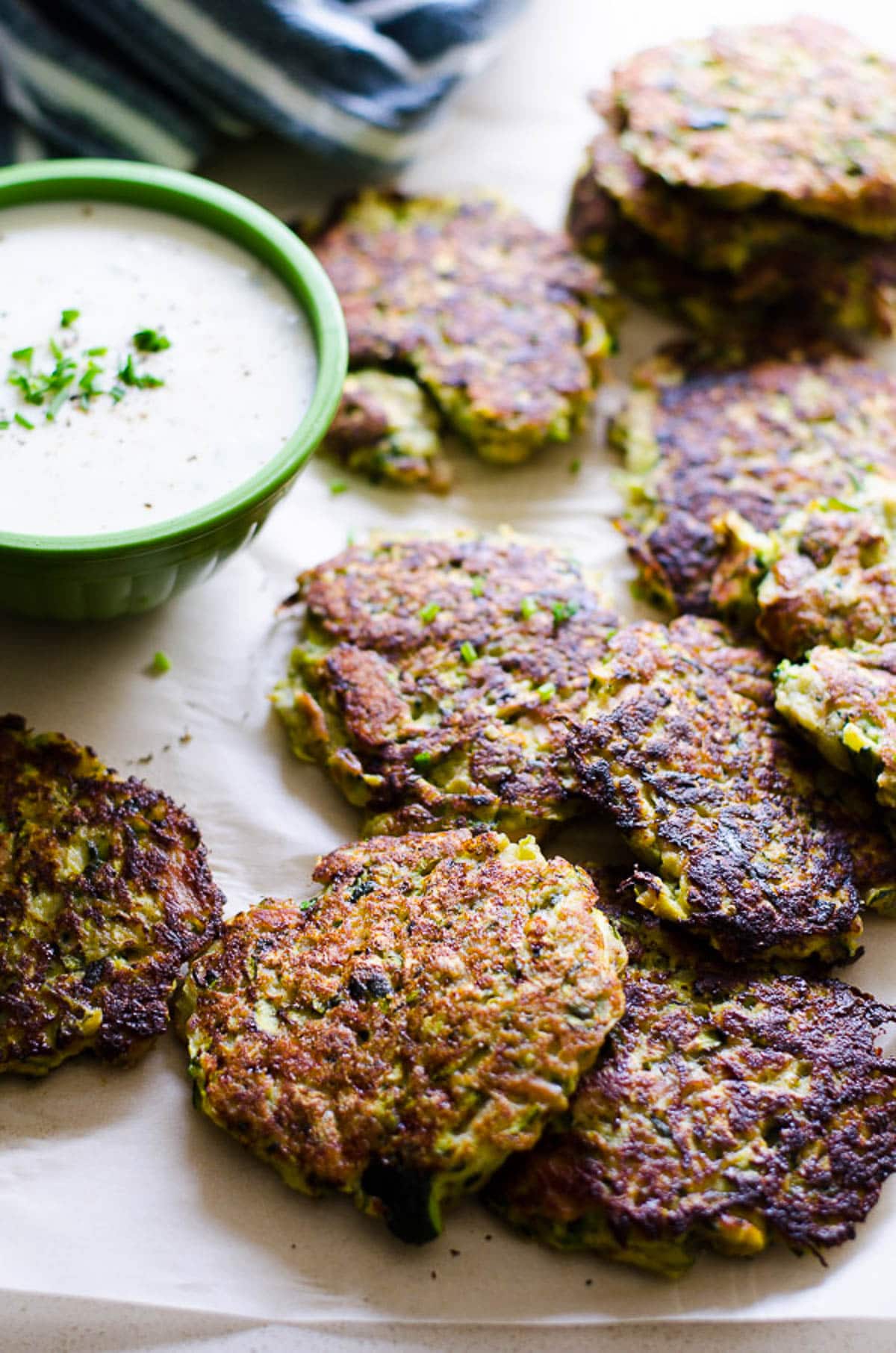 These fried zucchini cakes with tuna came out so good! And we are going heavy on zucchini adding about 2.5 pounds. Perfect to use up a surplus of squash, if you have one.
Zucchini and tuna are a match made in heaven. First one undeniably dry and salty, and latter bursting with water and bland. Combine both, flavor with freshly grated Parmesan cheese and a bit of mayo, add just enough whole grain flour to "glue" them together, and you have got the most delicious tuna zucchini cakes kids will love!
These zucchini patties taste great hot or cold. If you are a sauce type of person, I recommend whipping a batch of my cottage cheese ranch dip to dip them into. So good!!!
Ingredients for Fried Zucchini Cakes
To make fried zucchini fritters you will need just a handful of simple ingredients.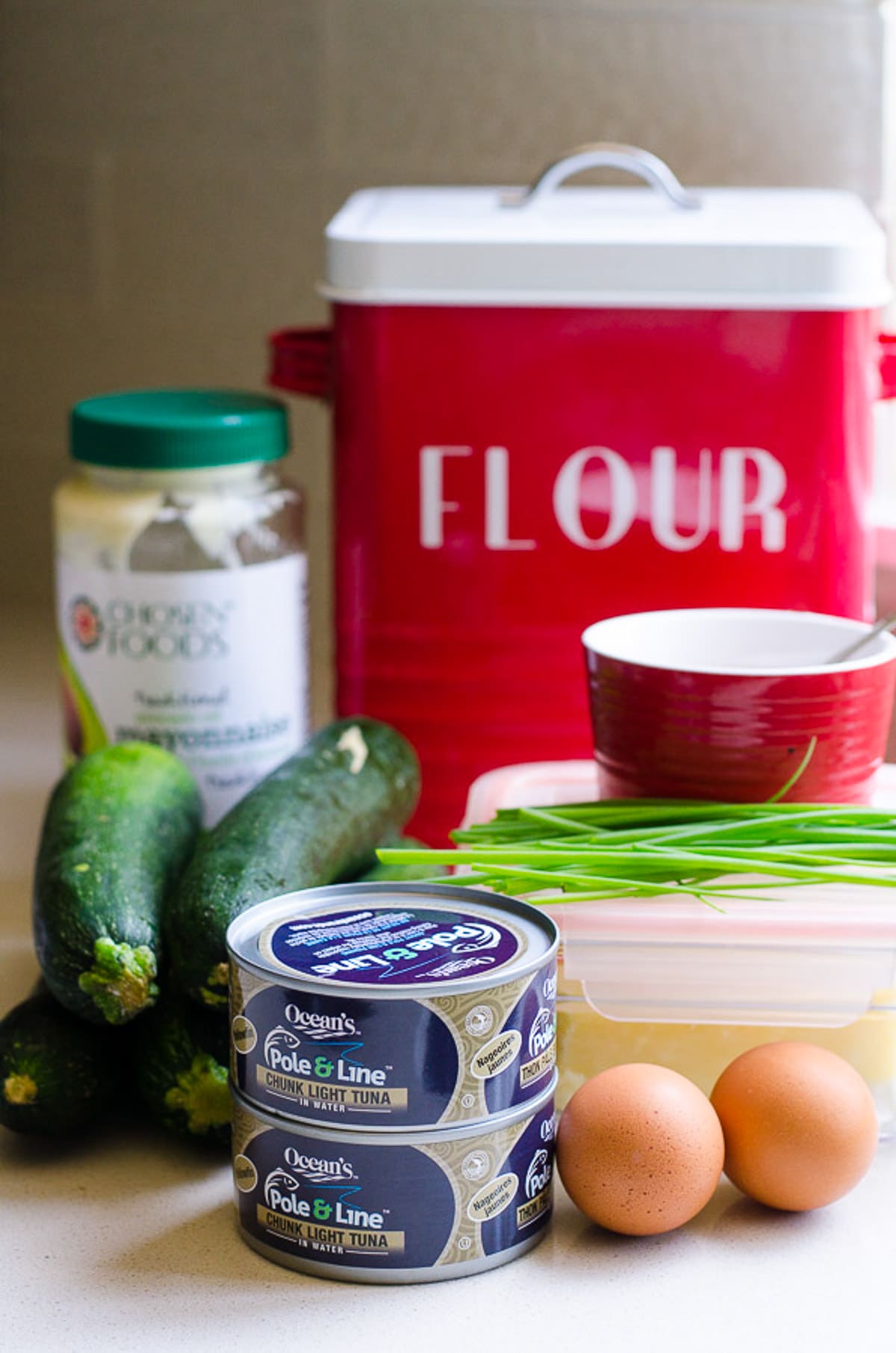 Zucchini: You can use dark green zucchini, light green zucchini or yellow summer squash. This zucchini recipe is perfect to use up extra large garden zucchini! Just beware, it might be more watery.
Canned tuna: I used chunk light tuna packed in water. It is quite affordable. You can use any tuna like albacore tuna. Just be sure it's packed in water and not in oil.
Eggs: Eggs are needed for binding the cakes.
Mayonnaise: I love to use avocado oil mayo in all of my recipes. Small amount adds a lot of flavor to these zucchini cakes.
Parmesan cheese: Freshly grated from a large hunk of Parmigiano-Reggiano is the best. I recommend to avoid Parmesan cheese from a shaker.
Fresh herbs: Use what you have on hand or in your garden. Fresh parsley, fresh dill, green onion or chives will work great.
Whole wheat flour: All-purpose flour or gluten-free flour will be fine too.
Salt: For seasoning.
How to Make Tuna Zucchini Cakes
Here is a quick overview how to make tuna zucchini cakes. Full recipe card is located below.
Shred zucchini: Line large mixing bowl with linen towel, place box grater inside and grate zucchini.
Squeeze water out: Remove grater, twist the towel at the top and pressing with other hand at "the ball", start squeezing the water out. Do it for a few minutes and you will end up with approximately 1/2 cup liquid in a bowl and still a generous amount of shredded zucchini inside the towel.
Make the batter: In the same bowl, mix zucchini, tuna, eggs, cheese, mayo and salt, breaking tuna into small pieces with a spatula. Zucchini mixture should have some creaminess to it. Then sprinkle flour on top and mix again, this ensures no lumps.
Fry zucchini cakes: To fry tuna zucchini fritters, you can use either cooking spray or oil. I prefer avocado oil because zucchini cakes come out more crispy on the outside. Pan fry them for 4-5 minutes per side or until golden brown.
Tips for Best Results
Here are my top tips for the best tuna zucchini cakes that are crispy and delicious!
Use food processor: To save time, grate zucchini in a food processor with a shredding disc.
Squeeze zucchini thoroughly: Be sure to take your time and squeeze as much liquid as possible from shredded zucchini. Don't bother with salting it prior to squeezing. I never found this method too helpful.
Drain tuna well: Again moisture is the main culprit in mushy fritters. Drain canned tuna well, using your hands.
Use oil for frying: If you like crispy fried zucchini cakes, I recommend to stick to frying them in oil.
Use ceramic non-stick skillet: If you choose to make patties with cooking spray, make sure your skillet is still truly non-stick and didn't lose this quality.
Do not overcrowd the pan: If you use large skillet (12 inches) or a griddle, you should be able to make these cakes in 3 batches. Just be sure to leave an inch or two of space between the fritters, so they can crisp up and are easy to flip.
Do not move the fritters: When zucchini cakes are frying, do not peak under them. This will break the seal and disturb the golden crust and make them fall apart. Cakes are ready to flip when their edges are golden brown a bit.
What to Serve Fried Zucchini Cakes with?
This recipe for tuna zucchini cakes makes a lot just because I like to serve them as a main dish on their own. That's what we did in Ukraine.
For dipping, you can combine yogurt or sour cream, grated garlic clove, chopped chives and ground black pepper to taste in a small bowl. Or make a batch of healthy ranch or cottage cheese ranch dip.
If you would like to serve them with a side dish, I recommend this creamy cucumber salad or creamy cucumber tomato salad.
How to Store and Reheat
Keep tuna zucchini cakes warm while cooking by placing them on a baking sheet in preheated oven to 200 F.
Reheat: To reheat cold zucchini patties, place them on a baking sheet in 375 F oven for 10 to 12 minutes.
Store: Refrigerate fritters in an airtight container for up to 5 days.
Freeze: Freeze in a resealable Ziplock bag for up to 3 months. Thaw in the fridge overnight.
FAQs
Why are my fried zucchini cakes mushy inside?
Your zucchini cakes are mushy inside because you did not squeeze enough moisture from zucchini or tuna.
How do you keep tuna zucchini cakes from falling apart?
When frying tuna zucchini cakes, be sure not to flip them too early, use good spatula and avoid peeking underneath too soon.
Can I bake them instead of frying?
Yes. If you are looking for non-fried fritters, try this recipe following my baked zucchini fritters cooking technique.
How do you keep zucchini crisp when cooking?
Use oil for frying and make sure to spread it with spatula around the skillet. You want oil underneath the fritter and around it in order to be crispy. Cook zucchini fritters undisturbed for 4-5 minutes, then flip.
More Tuna Recipes to Try
More Zucchini Recipes to Try
You might also enjoy this compiled list of healthy zucchini recipes!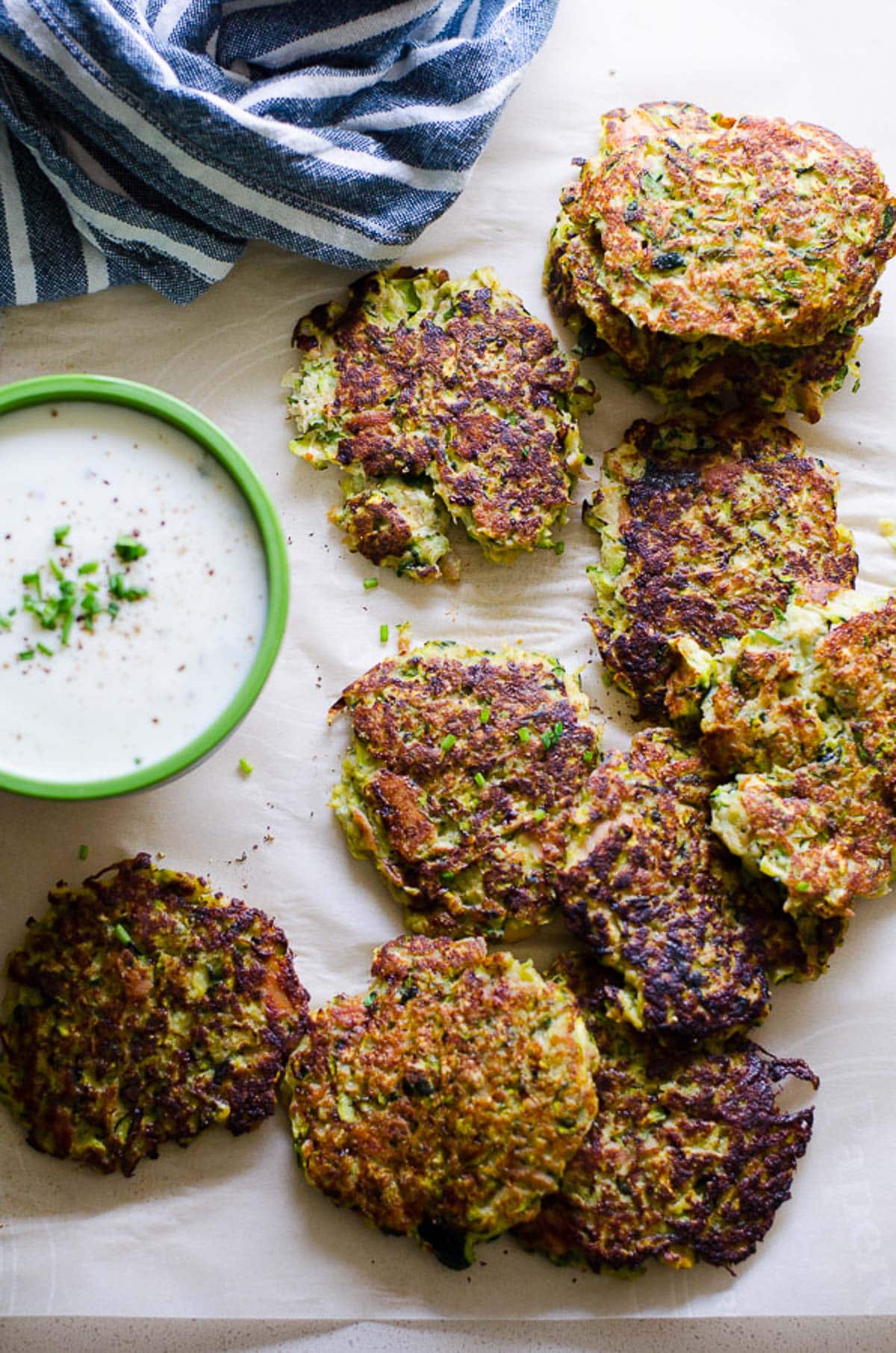 Fried Tuna Zucchini Cakes
Tuna Zucchini Cakes with canned tuna, Parmesan cheese and a hefty dose of vegetables are pan fried until crispy perfection.
Ingredients
2

cans (6 ounces each)

tuna

well drained

2.5

pounds

zucchini

4 medium or 4 cups shredded

2

large

eggs

1/2

cup

Parmesan cheese

grated

3

tablespoons

mayo

I use avocado oil mayo

3/4

teaspoon

salt

3/4

cup

whole wheat flour

all-purpose or gluten-free flour

2

sprigs

green onions or chives

finely chopped

Oil

for frying
Instructions
Place shredded zucchini in a linen towel and squeeze really well, twisting at the top and pressing on the "ball" with zucchini. I have squeezed about 1/2 cup of water.

Discard liquid and transfer zucchini to a large bowl along with tuna, eggs, Parmesan cheese, mayo and salt. Mix really well, breaking tuna into pieces. Sprinkle flour on top and mix until well combined.

Preheat large skillet or griddle on medium heat and add a bit of oil to coat. Add about 1/3 cup mixture (don't flatten too thin), fry for 4-5 minutes, carefully flip and cook another 4 minutes or until golden brown. Work in batches. Fritters fry faster as skillet gets hotter, so watch closely.
Notes
Store: Refrigerate in an airtight container for up to 3 days.
Freeze: Fully cook, cool completely and freeze in an airtight container for up to 3 months.
Nutrition
Serving:
1
fritter
|
Calories:
67
kcal
|
Carbohydrates:
5
g
|
Protein:
6
g
|
Fat:
3
g
|
Saturated Fat:
1
g
|
Cholesterol:
24
mg
|
Sodium:
184
mg
|
Fiber:
1
g
|
Sugar:
1
g