These Tuna Zucchini Fritters are a high-protein, vitamin-rich appetizer or healthy lunch idea with just enough cheese to taste decadent while remaining lighter!
Have lots of zucchini to use up? You might also enjoy these Mediterranean baked zucchini sticks and zucchini sticks with parmesan!
Zucchini and tuna are a match made in heaven, just like rhubarb and strawberry. First one undeniably dry and salty, and latter bursting with water and bland. Combine both, flavour with freshly grated Parmesan cheese and a bit of mayo (those few tablespoons make all the difference, and I prefer organic or avocado oil kind), add just enough to "glue" whole grain flour, and you have got the most delicious tuna zucchini fritters kids will love. And we are going heavy on zucchini – 2.5 lbs. Courgette and tuna fritters taste great hot or cold. If you are a sauce type of person, I recommend whisking a mixture of Greek yogurt/kefir, garlic/chives/green onion and ground black pepper to taste.
Recently I ended up with practically a sack-full of zucchini to use – I'm not mad about it either. I've already made a zucchini tomato bake, crustless zucchini quiche, and chicken zucchini with garlic and corn, where you just give zucchini a rough chop. If feeling more adventurous, zucchini lasagna, a healthy zucchini casserole, or zoodle pad Thai will do. Whatever you choose to cook, be sure you will consume a lot of vitamins A and C, fiber, folate, riboflavin, potassium and manganese, a mineral that helps your body to process fats, carbs and glucose.
I'm loving tuna at the moment too – it's so easy to prepare and you can have it on the table in this healthy tuna salad or tuna melt (plus the kids love it too!)
How to Make Tuna Zucchini Fritters
Here is the easiest way to squeeze most liquid from zucchini. Line large mixing bowl with linen towel, place grater inside and grate zucchini.
I also do this the same way with cucumber for tzatziki and when I'm making tuna-free zucchini fritters!
Remove grater, twist towel at the top and pressing with other hand at "the ball" start squeezing water out. Do it for a few minutes and you will end up with approximately 1/2 cup liquid in a bowl and still a generous amount of shredded zucchini inside the towel. All those vegetables and not only cheese, kids.
In the same bowl, mix well zucchini, tuna, eggs, cheese, mayo and salt; breaking tuna into small pieces with a spatula (tuna comes out quite packed from the can and after squeezing). Mixture should have some creaminess to it. Then sprinkle flour on top and mix again, this insures no lumps.
I have recently acquired ceramic non-stick griddle and can't get over how fast cooking pancakes, eggs and fritters now is. Skillet is OK too, I probably would have two of them going at same time.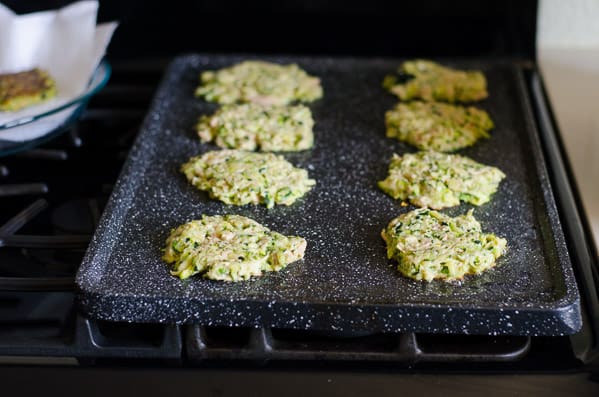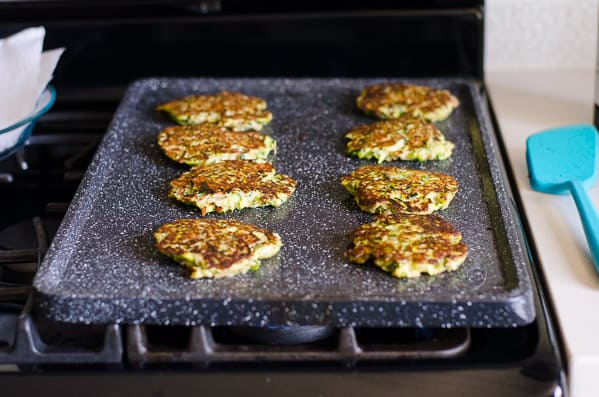 To fry tuna zucchini fritters, you can use either cooking spray (if your griddle/skillet is non-stick) or oil. I prefer avocado oil simply because I do not see harm in consuming extra healthy fats and I like simmering fritters with more browning (not that these fritters are crispy when fried in oil). If you are looking for non-fried fritters, try my baked zucchini fritters.
I mixed eyeballed amount of organic kefir, grated garlic clove, chopped chives and ground black pepper to top tuna zucchini fritters.
Enjoy!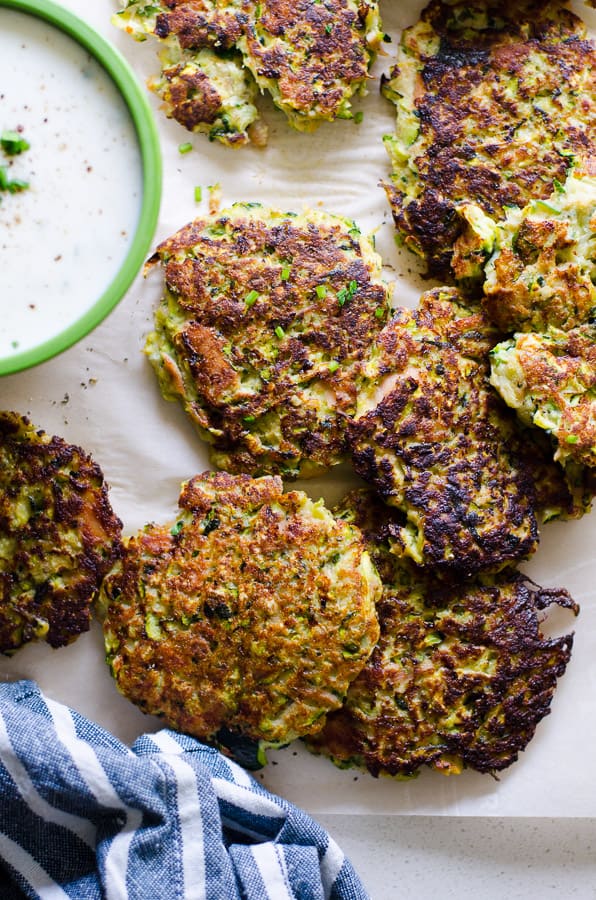 More Healthy Zucchini Recipes
You might also enjoy this compiled list of healthy zucchini recipes!
Tuna Zucchini Fritters
Tuna Zucchini Fritters for a 30 minute kid friendly healthy recipe with canned tuna, Parmesan cheese and a hefty dose of vegetables.
Instructions
Place shredded zucchini in

a linen towel

and squeeze really well, twisting at the top and pressing on the "ball" with zucchini. I have squeezed about 1/2 cup of water.

Discard liquid and transfer zucchini to

a large mixing bowl

along with tuna, eggs, Parmesan cheese, mayo and salt. Mix really well, breaking tuna into pieces. Sprinkle flour on top and mix until well combined.

Preheat

large ceramic non-stick skillet

or griddle on medium heat and spray with cooking spray or add a bit of oil and spread with spatula (my preference). Add about 1/3 cup mixture (don't flatten too thin), fry for 4-5 minutes, carefully flip and cook another 4 minutes or until brown. Work in batches. Fritters fry faster as skillet gets hotter, so watch closely.

Serve hot or cold, with a simple Greek yogurt/kefir + garlic + black pepper sauce if you wish (optional but so good).
Notes
Store: Refrigerate in an airtight container for up to 3 days.
Freeze: Fully cook, cool completely and freeze in an airtight container for up to 3 months.
Nutrition
Serving:
1
fritter
|
Calories:
67
kcal
|
Carbohydrates:
5
g
|
Protein:
6
g
|
Fat:
3
g
|
Saturated Fat:
1
g
|
Cholesterol:
24
mg
|
Sodium:
184
mg
|
Fiber:
1
g
|
Sugar:
1
g